Stats & Info:

Ken Griffey Jr.
September, 2, 2012
9/02/12
5:02
PM ET
By
ESPN Stats & Information
| ESPN.com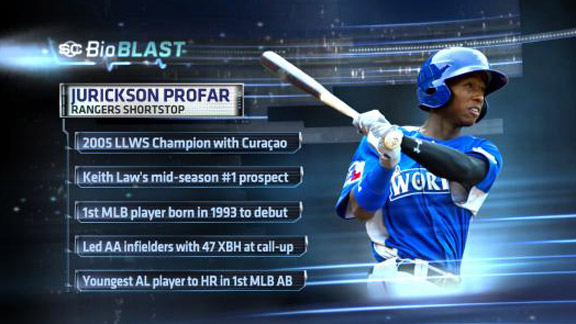 From Little League World Series champion to top prospect and now a budding Major League star.
Jurickson Profar
is the second-youngest player and third teenager in Major League Baseball history to hit a home run in his first career at-bat. Only 18-year-old Whitey Lockman was younger when he homered in his first at-bat in 1945, according to the Elias Sports Bureau.
At 19 years, 195 days old, Profar is the first teenager and youngest player in American League history to accomplish this feat.
But there's more:
• Profar is the youngest Rangers player ever to hit a homer, breaking
Ivan Rodriguez
's mark on Aug. 30, 1991 (Rodriguez was 19 years, 276 days old). He's the third player in Rangers franchise history to homer in his first career at-bat (the first since Brant Alyea in 1965) and the first since the franchise moved to Texas.
• Profar is the youngest player to hit a home run in any game since his current Rangers teammate
Adrian Beltre
(19 years, 171 days) did so on Sept. 25, 1998 for the
Los Angeles Dodgers
.
• Profar is the third player this year to homer in his first major-league at-bat.
Eddy Rodriguez
of the
San Diego Padres
did so on August 2, a week after
Starling Marte
homered for the
Pittsburgh Pirates
(July 26).
• Profar is the first Texas Ranger to homer in his first at-bat, but he's the third player in franchise history to do so (Brant Alyea, on September 12, 1965, and John Kennedy, on September 5, 1962, both as Washington Senators).
• The last Ranger to homer in his first career game was
Ruben Mateo
on June 12, 1999.
• Profar is the youngest player to hit a home run and a double in a game since
Andruw Jones
(19 years, 126 days) on Aug. 27, 1996 for the
Atlanta Braves
. Profar and Jones were both born in Willemstad, Curaçao.
• He's the youngest AL player to do so since Ken Griffey Jr. (19 years, 181 days) on May 21, 1989 for the
Seattle Mariners
.
• Profar is the second teenager in the Live Ball Era (since 1920) with a homer and a double in his first career game. Only Lockman was younger in 1945.
• Profar, Ted Kazanski (19 years, 151 days old in 1953) and Johnny Callison (19 years, 181 days old in 1958) are the only teenagers with at least two extra-base hits in their MLB debut since 1900, according to Elias.
• Profar, currently the youngest active MLB player, debuted at 19 years, 195 days old, the exact same age
Bryce Harper
debuted at earlier this season on April 28.
• In Profar's first at-bat, he had already seen two pitches down-and-in before he crushed a 2-1 90 MPH fastball down-and-in 391 feet for a homer. In his second at-bat, he doubled on a 1-1 88 MPH curveball up in the zone, nearly in the same spot he saw a fastball on the previous pitch. (see pitch location chart below)
April, 16, 2012
4/16/12
11:58
AM ET
By
ESPN Stats & Information
| ESPN.com
John Munson/US Presswire
Mark Teixeira has continued his trend of starting off slowly at the plate since joining the Yankees. He's hitting only .222 heading into tonight's game.
The
Minnesota Twins
begin a four-game set in the Bronx tonight (ESPN, 7 ET) against the
New York Yankees
, a team they have struggled against lately. Since 2002, the Yankees are 51-18 against the Twins in the regular season, and in postseason play, New York has won nine straight and 12 of the 14 games the teams have played since 2002.
Pitching Matchup
Carl Pavano
signed a four-year, $39.95 million contract with the Yankees before the 2005 season but his tenure there was marred by injury and ineffectiveness. As a Yankee, Pavano made only 26 starts and missed the entire 2006 season. However, since leaving the Bronx, he has made 100 starts, including being named the Twins Opening Day starter the last two seasons.
This is only Pavano's second start in New York since leaving the Yankees after the 2008 season. On April 19, 2009 - then with
Cleveland
– Pavano went six innings, allowing four hits, one run, one walk and four strikeouts as he took a no-decision in New York's 7-3 win.
For the Yankees,
Freddy Garcia
will take the mound for his second start of the season. In his first start, Garcia threw five wild pitches against the
Baltimore Orioles
, but came out with a no-decision as New York rallied for a 5-4 win. Garcia is 10-7 with a 4.04 in 22 career starts against the Twins, but is 1-2 with a 5.24 ERA in four starts since joining the Yankees.
Player to Watch
Mark Teixeira
is off to another slow start this season, but that is nothing new for him since joining the Yankees. The bad news is that after rebounding well in 2009, his performance the rest of the season has gotten worse.
His trouble so far this season has been from the left side of the plate, particularly against fastballs. Pitchers work away from Teixeira with fastballs on both sides of the plate, but he only makes them pay while hitting right-handed. He's 1-for-12 against righties and 3-for-8 against lefties.
Stat of the Game
Alex Rodriguez
is tied with Ken Griffey Jr. for fifth all-time with 630 home runs. Let's take a quick look at some similarities between the two players.
• A-Rod has hit 112 of his 630 HR in the first inning; Griffey has hit 111.
• 330 of A-Rod's home runs have come with the bases empty, compared to 337 of Junior's.
• A-Rod has hit the first pitch for a home run 108 times, while Griffey has connected on the first pitch 114 times.
John Fisher contributed to this post
April, 21, 2011
4/21/11
2:01
PM ET
Today's Trivia:
Want to feel old?
Los Angeles Angels
starter
Tyler Chatwood
was born 16 days too soon to be the first pitcher born in the 1990s. Who was the first pitcher born in the 1980s to appear in an MLB game?
Quick Hits:
Let's take a look at some surprising league leaders so far this season.
•
Howie Kendrick
leads the majors with five HRs off of left-handed pitchers. That's three more than he had last season.

Rodriguez
• Your MLB leader in triples?
Sean Rodriguez
with three. Though he's hitting just .206, six of his seven hits this season have been for extra bases.
•
Jonny Gomes
leads the league with five home runs in day games, one more than he had last season.
•
Juan Pierre
has been caught stealing five times already. The last time an AL player was caught more in April? 1988, when both
Rickey Henderson
and
Mark McLemore
were caught six times.
•
Billy Butler
has already been intentionally walked five times, just three shy of his career high. Over the past 50 years, the most intentional walks for an AL player in April is seven (Ken Griffey Jr. in 1993 and
Travis Hafner
in 2007).
• Teammates
Ryan Raburn
(25) and
Austin Jackson
(24) have struck out more than any other hitters. Combined, those two have more strikeouts than 22 of the other 29 outfields in baseball.

Burnett
•
A.J. Burnett
already has six wild pitches. Over the past 50 years, only three AL pitchers have had more in April:
Ricky Romero
in 2010, Jaime Navarro in 1997 and
Bobby Witt
in 1986.
•
Clay Buchholz
has allowed six home runs, after allowing seven all last season. But that's not even the more surprising number in the AL.
Erik Bedard
's seven home runs allowed are the most in the majors. He's never allowed more than 19 in a season.
•
David Price
has already hit four batters, most in the majors and one shy of his career high.
•
Brad Thomas
has pitched just 6 2/3 innings, but has still allowed the most sac flies this season (5).
Trivia Answer:
In April 2001,
CC Sabathia
became the first pitcher born in the 1980s to appear in a game.
April, 12, 2011
4/12/11
1:16
PM ET
By
Steven Glasser
| ESPN.com
In what seemed to be an ordinary game on an ordinary night, the
Toronto Blue Jays
and
Seattle Mariners
turned in one of the best games of the young season. However, it also prevented something from happening that baseball hasn't seen since 1890.


Mariners-Blue Jays, By the Numbers:
10
Number of games played on Monday night, with the Mariners and Blue Jays being the final one to finish.
9
Number of games that had
already
been won by the road team Monday, leaving this possibility open: For just the second time in MLB's 136-year history, on a day in which there were at least 10 games, all 10 had a chance to be won by the road team (source: Elias Sports Bureau).
8
Unanswered runs scored by the Mariners to win 8-7, making Seattle the lone home team to win on Monday.
7
Number of runs the Mariners were down entering the seventh inning. The comeback marked the first time in franchise history Seattle erased a deficit of at least seven runs in the sixth inning or later.
6

Hernandez
Innings pitched by reigning Cy Young winner
Felix Hernandez
, who allowed seven earned runs, tying his career-high.
Seattle came back and took its ace off the hook, perhaps repaying him for last year. In 2010, Hernandez allowed two earned runs or fewer in 25 of his 34 starts. In 12 of those starts, he either received a no-decision or took the loss.
5
Runs scored in the eighth inning by the Mariners, the most runs they have scored in any inning this season. In fact, it was the first time they scored at least five runs in the eighth inning of a game since 2008.
4
Number of pitchers used by the Blue Jays in the eighth inning. The four pitchers combined to issue four walks, including three consecutive which each brought in a run.
3
July 3, 1999 -- That's the last time the Mariners came back from a seven-run deficit. (Trailing 9-2, they came back to beat the
Texas Rangers
13-12.) That Mariners team featured Ken Griffey Jr. and
Alex Rodriguez
, who hit two home runs.
2
The second career walk-off hit for Luiz Rodriguez, who came into the game when
Chone Figgins
left in the fourth inning. Rodriguez finally broke through on the 10th pitch of the at-bat that gave the Mariners the victory.
1
Despite Monday's best efforts, the Mariners ensured that there remains only one day in MLB history featuring at least 10 games, in which each game was won by the road team. That was July 30, 1890 when 12 games were played and the visitors won all 12.
June, 2, 2010
6/02/10
9:40
PM ET
By
ESPN Stats & Info
| ESPN.com
Ken Griffey Jr.
's long and historic career appears to have come to an end with the announcement that he has retired. The first-overall pick in the 1987 draft retires with the same team that drafted him exactly 23 years ago to the day.
Griffey's power hitting is what helped burst him onto the national scene early in his career. In the summer of 1993 as a 23-year old, he tied Don Mattingly and Dale Long's MLB record for most consecutive games with a HR at 8. He hit 398 HR before turning 30 years old, breaking a record that Jimmie Foxx had held since 1937. The 13-time All-Star finishes in fifth place on the all-time HR list with 630. He was the active leader with 1,836 RBI. He finished in the top five of MVP balloting five times, but walked away with the award just once, in 1997.
Right or wrong, Griffey's monster HR total is often seen as a more pure number than some of his contemporaries'. Only one other player hit more HR than Griffey since he made his MLB debut on April 3, 1989 and it was Barry Bonds. The only player to hit more HR than Griffey in the 1990s was
Mark McGwire
.
Overlooked because of those power numbers is the fact the Griffey will go down as one of the best defensive centerfielders of all time. He was a 10-time Gold Glove winner. Only Roberto Clemente and Willie Mays had more as an outfielder.
Still some people will be hard on Griffey because he never consistently dominated in the postseason. He has the most HR of a player to never appear in the World Series. He appeared in the postseason three times for a total of 18 games. After he clinched the franchise-saving, series-winning run in the 1995 ALDS for the
Seattle Mariners
, Griffey's teams went 4-9 in postseason games and Griffey himself had just three extra-base hits in that stretch.
But in the end, Griffey was more than just a compiler. He often had a flare for the dramatic. On September 14, 1990, Griffey and his father become first father-son combo to hit back-to-back HR. In 1997, his 56th HR of the season at the time set the record for the most in the AL since Roger Maris in 1961. On June 24, 2007, he hit his 583rd and 584th career HR in his return to Seattle against the Mariners.
Statisically speaking, he will go down as one of the all-time greats. But in the eyes of Mariners fans, he will be remembered as so much more than that.
April, 1, 2010
4/01/10
10:04
AM ET
By
Eric Seidman, Baseball Prospectus
| ESPN.com
The Diamondbacks enter the 2010 season with a slew of question marks about their roster. Will
Brandon Webb
successfully return from shoulder surgery? Can
Edwin Jackson
make fans forget the questionable trade of
Max Scherzer
? Is this the year
Stephen Drew
finally establishes himself as a legit threat? And will
Chris Young
stop hitting like he's the other
Chris Young
? With so much up in the air, it's easy to forget the Snakes boast superstar-in-the-making
Justin Upton
-- and the numbers show he might be the best young talent in the game. We've spent a lot of time this spring
talking about what Jason Heyward might do
; it's easy to forget that Upton is already doing it.
Upton's 2009 campaign was so good that there are few to which you can compare it. After all, how many 21-year-olds are capable of producing a .366 OBP/.532 SLG in the major leagues with 20-plus dingers and 20-plus steals? To find out, we sifted through about the past half-century of players, looking for those who met the following criteria in a season:
• 21 or younger
• 450 plate appearances or more
• .350 OBP or higher
• .500 SLG or higher
• 20 home runs or more
• 10 stolen bases or more
And only seven players qualified:
Upton placed himself in extremely limited company last season, and his peers don't need any introduction. Even the lesser-known names above -- like Vada Pinson and Cesar Cedeno -- carved out solid careers, with the former racking up more than 2,700 hits, 256 homers and 305 steals, and the latter bopping 199 dingers to go with 550 steals.
But here's another way to put Upton's 2009 season in perspective: How many players his age or younger have produced a .230
Isolated Power
? Fourteen.
Players who have achieved the feat include Eddie Matthews, Mel Ott, Frank Robinson,
Albert Pujols
,
Alex Rodriguez
, Jimmie Foxx, Ted Williams and Joe DiMaggio, among others.
PECOTA forecasts Upton to hit a nice .282 BA/.357 OBP/.501 SLG in his third full season -- a bit of a regression from his fantastic 2009 campaign. But when a slash line like that seems low to the naked eye, you know you have something special. Although Upton hasn't forced his way into the spotlight by hitting 40 home runs or stealing 50 bases, it's only a matter of time before he does.
Eric Seidman is an author of Baseball Prospectus.
March, 6, 2010
3/06/10
2:10
PM ET
By
Mark Simon, ESPN Stats & Info
| ESPN.com
This made me laugh, but it also got me thinking? What are the chances.Let's work off a couple of presumptions, flawed as they may be:

1-That Ichiro works his way to 700 at-bats this season. He's done that once- in 2004, when he had 262 hits.
2- That in any situation in which he registers an at-bat, Ichiro has approximately a 35 percent chance to get a hit.
What are the chances of an event that occurs with a 35 percent chance, happening 300+ times within a span of
I'm not an expert in probability, but I have a colleague who is, fellow researcher Alok Pattani. He ran the calculation and found that the odds are pretty slim: approximately seven in a million.
I wanted to look at this from the perspective of baseball history too. Let's take one of baseball's most successful runs of batting success:
During Joe DiMaggio's 56-game hit streak in 1941, he hit .408 with 91 hits. If Ichiro could operate at a DiMaggio pace (1.63 hits per game) over 162 games, how many hits would he end up with?
The bad news: Only 263. To reach 300, you need to average 1.85 hits per game over 162 games.
The good news: There is a silver lining for failing to meet "The Griffey Challenge."
The 263 hits would break the major league record, set by Ichiro, by one.