Stats & Info:

Kevin Harvick
June, 14, 2014
Jun 14
4:12
PM ET
By
Trevor Ebaugh, ESPN Stats & Info
| ESPN.com
Here are our projections for Sunday's Sprint Cup race at Michigan.
Our projection system takes into account, among other factors, drivers' past performances at the current track, prerace on-track activity (practices and qualifying) and probability of finishing the race. All of the data is then adjusted for the track type (in this case, a 2-mile D-oval superspeedway) and time of year.
Harvick's driving a rocket
Kevin Harvick's
No. 4 Chevrolet has looked more like a rocket ship than a stock car this week. Harvick finished fourth, third, third and first in prerace workouts, and rolls off from the pole.
According to Jayski.com, Harvick is running chassis No. 842 this weekend. He last raced this car at Kansas, where he won the pole and finished second.
Before that, the car led 224 of 312 laps en route to winning at Phoenix. Combined with the fact that Harvick finished second in both Michigan races last year makes him the driver to watch.
Earnhardt looking for back-to-back wins
Dale Earnhardt Jr.
picked up the win last week at Pocono, passing
Brad Keselowski
with five laps to go when trash on Keselowski's grill threatened to overheat his car.
Now, Earnhardt will try to do something he's never done in his Cup career: win back-to-back races. Michigan could be his best bet. Two of his four wins since joining Hendrick Motorsports have come at Michigan.
Hendrick Motorsports going for fifth straight
Hendrick Motorsports has won the last four Sprint Cup Series races -- one apiece by
Jeff Gordon
and Earnhardt, and two by
Jimmie Johnson
.
Dating back to 1970, there have been only three win streaks of at least five races by a single NSCS team. Hendrick itself did it twice in 2007 and Petty Enterprises did it in 1971, when
Richard Petty
won five straight on his own.
Expect drama late in the race
Late-race drama is always in play at Michigan, as six of the last 12 races here have been decided by a lead change in the final 10 laps, including in the fall race here.
In that race,
Joey Logano
passed
Mark Martin
with four to go to pick up his third career Cup Series win.
May, 24, 2014
May 24
6:40
PM ET
By
Trevor Ebaugh, ESPN Stats & Info
| ESPN.com
Here are the projections for Sunday's Sprint Cup race at Charlotte. Our projection system takes into account, among other factors, drivers' past performances at the current track, pre-race on-track activity (practices and qualifying) and probability of finishing the race. All of the data is then adjusted for the track type (in this case, a 1.5-mile Quad-Oval) and time of year.
• Projected winner
Kevin Harvick
has won two of the last three Coca-Cola 600s. Harvick's projection is influenced heavily by his past history in this race as his car appears to be top-five capable, but not quite elite - he qualified sixth and finished sixth in the final practice.
•
Kurt Busch
will attempt to become the fourth driver to start both the Indianapolis 500 and the 600-mile race at Charlotte in the same day.
John Andretti
,
Robby Gordon
and
Tony Stewart
have done it before, but only Tony Stewart in 2001 completed all 1,100 miles. It's important for Busch to make it to Charlotte in time for the start of the race because only the driver who starts a Sprint Cup race receives points for the race.
•
Jimmie Johnson
is still looking for his first win of the season, and on the surface, Charlotte looks like a good site for that to happen. He's tied with
Bobby Allison
and
Darrell Waltrip
for the most career wins there with six. However, Johnson has just one win in the last 16 Charlotte races, after winning five of the previous six.
•
Jeff Gordon
leads the points, but it was his win two weeks ago at Kansas that all but locked in his Chase berth. But don't expect an encore this week, as drivers this season have a 21.6 average finish in the next race following a win, with more DNF's (three) than top-10 finishes (two).
• In the last points race at Kansas,
Danica Patrick
finished a career-best seventh, the best Cup finish by a woman since
Janet Guthrie
finished sixth at Bristol in 1977. However, Patrick has averaged a 32nd-place finish in the races following her previous three best finishes. After her 8th-place finish in the 2013 Daytona 500, her only other career top 10, she was 39th the following week at Phoenix after being in a wreck.
May, 9, 2014
May 9
8:31
PM ET
By
Trevor Ebaugh, ESPN Stats & Info
| ESPN.com
Here are the projections for Saturday's Sprint Cup race at Kansas City. Our projection system takes into account, among other factors, drivers' past performances at the current track, pre-race on-track activity (practices and qualifying) and probability of finishing the race. All of the data is then adjusted for the track type (in this case, a 1.5-mile D-Oval) and time of year.
•
Kevin Harvick
led 138 laps en route to winning the last race at this track after finishing 12th in the spring race last season. Kansas prerace ratings peg Harvick's No. 4 and
Jimmie Johnson
's No. 48 as the class of the field, with a sizable gap between them and the No. 99 of
Carl Edwards
.
• Johnson is still winless 10 races into the season for just the third time in his Sprint Cup Series career. However, Kansas has been a slump-buster for him in the past, as he snapped a career-long 21-race winless streak here in 2011. Johnson should have a top-three car and contend for the win Saturday night.
•
Kyle Busch
has struggled at Kansas –- it's the only track where he's raced and failed to record a top-five finish. He's also wrecked out of each of the last three races here, giving him a 23.3 career average finish at the track, his worst anywhere on the Cup circuit.
• Busch's teammate
Denny Hamlin
is coming off a win at Talladega, but that momentum might not carry over to Saturday. This season on the two restrictor-plate tracks (Daytona and Talladega), Hamlin has finished second and first, plus wins in two non-points events (Sprint Unlimited, Budweiser Duel). But he has yet to record a top five in seven races on the other tracks, with an average finish of 15.7.
• Kansas native
Clint Bowyer
is making his 300th career Sprint Cup Series start this weekend at Kansas. Last week at Talladega, Denny Hamlin won in his 300th career NSCS start. Only five drivers in series history have won in their 300th Cup start, but it's now happened in each of the last three seasons.
April, 25, 2014
Apr 25
6:52
PM ET
By
ESPN Stats & Information
| ESPN.com
Robert Laberge/Getty ImagesKevin Harvick looks to win back-to-back Richmond races.
Here are the projections for Saturday's Sprint Cup race at Richmond. Our projection system takes into account, among other factors, drivers' past performances at the current track, prerace on-track activity (practices and qualifying) and probability of finishing the race. All of the data is then adjusted for the track type (in this case, a ¾-mile D-Oval short track) and time of year.
Kevin Harvick
, defending race winner and wins leader this season, is projected to win again Saturday. Harvick has posted a stellar average driver rating of 102 over the last three races at this track while finishing 11th or better each time.
Kyle Busch
has won four of the last five NSCS spring races at Richmond. With a win Saturday, he'd join
Jeff Gordon
and
Richard Petty
as the only drivers to win at least 30 Cup Series races before turning 30. Despite an excellent track record, Busch finished 19th and 20th in the two practices this week, which slightly reduced his value in the projections (to eighth).
Denny Hamlin
is winless this season, but Richmond could be a good place for the Virginia native to pick up his first win. Since the start of the 2008 season, Hamlin has led 1,323 laps at the track, more than twice as many as any other driver.
Jimmie Johnson
also remains winless eight races into the season. In each of his six championship seasons, Johnson won within the first eight races of the season. Although he's a three-time winner at Richmond, his 17.3 career average finish at the track is his worst at any active track. Our method projects Johnson to struggle to crack the top 10, as he finished 40th and 12th here last season.
November, 13, 2013
11/13/13
3:42
PM ET
By
Matt Willis, ESPN Stats & Info
| ESPN.com
Jonathan Ferrey/Getty Images
Kevin Harvick won at Phoenix last Sunday to stay mathematically alive for a Sprint Cup title.
Kevin Harvick's win last week at Phoenix was his fourth of the season, just one off his Sprint Cup career high, set in 2006. It also kept him in championship contention, albeit as a longshot, entering Sunday's season finale at Homestead (3 p.m. ET, ESPN and WatchESPN).
Harvick has the best career numbers at Homestead among the three drivers still in championship contention (Harvick,
Jimmie Johnson
and
Matt Kenseth
). His 7.9 average finish at the track is the second-best mark there all-time among drivers with multiple starts, trailing only
Carl Edwards
.
To compare, championship leader Jimmie Johnson has a 15.3 career average finish at the track, and Matt Kenseth has a 17.6.
A title seems out of reach for Harvick, as Johnson needs to finish 32nd or better to mathematically eliminate Harvick. But a top-five points finish seems like a safe bet, given that Harvick has a 46-point cushion over sixth place entering the weekend.
Sunday's race could very well be Mark Martin's final Sprint Cup Series race. Martin, despite 40 Cup Series wins and five runner-up finishes in points, never won a Cup championship. Harvick is quickly joining him on the list of the most-accomplished drivers to never win a title.
If Harvick finishes in the top five in points, it would be the sixth time in his career that he has done so, including three times in the past four seasons after finishing third in both 2010 and 2011. He would become the fourth driver in Cup Series history, dating back to 1949, to finish in the top five in points at least six times without ever winning a title.
What the other three have done that Harvick has yet to do is finish runner-up in points. However, Harvick could change that by gaining at least seven points on Kenseth at Homestead.
Harvick has some big wins on his resume. Besides being a two-time Nationwide Series champion, he also won the 2003 Brickyard 400 and the 2007 Daytona 500 in a thrilling side-by-side finish with
Mark Martin
.
Overall, Harvick has 23 wins in his Sprint Cup Series career, making him one of eight drivers to win that many Cup races without ever having won a championship. Among the other drivers on the list are Martin once again, and
Kyle Busch
, who is fourth in points this season but mathematically eliminated from title contention.
What makes Harvick's performance noteworthy this season is he and his team have been doing it with the knowledge that this is Harvick's final season with
Richard Childress
Racing, as he made the decision to move to Stewart-Haas Racing starting in 2014.
Harvick will then try to replicate Kenseth's performance this season, his first with Joe Gibbs Racing. But history won't be on his side, as only one driver in the modern era (since 1972) has won a championship in his first season with a team:
Darrell Waltrip
in 1981 driving for
Junior Johnson
.
October, 11, 2013
10/11/13
6:13
PM ET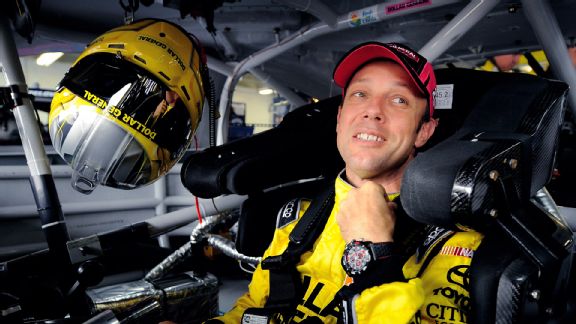 Jared C. Tilton/NASCAR/Getty ImagesThrough four Chase races, Matt Kenseth leads Jimmie Johnson by three points.
After Saturday's race at Charlotte, the 2013 Chase will be half over, and the story through the first four races has been
Matt Kenseth
and
Jimmie Johnson
separating from the pack.
Those two are separated by three points, with Kenseth holding the edge entering the weekend, with
Kevin Harvick
25 points back in third place.
But who has the edge the rest of the way?
The Case for Matt Kenseth
Kenseth has a three-point lead over the five-time champion through four races, and historically, that pencils him in as the favorite.
Over the previous five seasons, the leader at this point went on to win four of the five championships. The exception was Kenseth's former teammate
Carl Edwards
, who lost the 2011 title on a tiebreaker to
Tony Stewart
.
Also in Kenseth's favor are the tracks remaining on the schedule. Three of the final six races will be held on 1.5-mile tracks (Charlotte, Texas, Homestead). This season, six of the eight races on 1.5-mile tracks have been won by drivers from Joe Gibbs Racing, including four by Kenseth.
The other two were won by
Richard Childress
Racing's Kevin Harvick, meaning Johnson and the rest of the powerhouse Hendrick Motorsports organization have been shut out in such races this season.
The Case for Jimmie Johnson
This is the fifth race of the 2013 Chase, and races 5-7 of the Chase have been Jimmie's time to shine.
In the nine previous Chases, Johnson has 10 wins in 27 starts in races 5-7 of the Chase, with a 5.6 average finish. To compare, Kenseth has won two of those races with a career average finish of 14.5.
And despite Kenseth holding the points lead, Johnson has an edge over Kenseth in average finish, laps led and fastest laps run during the 2013 Chase. In fact, Johnson leads all drivers in those three areas during the 2013 Chase, with Kenseth ranking second in all three.
The Case Against Jimmie Johnson
Looking at the overall numbers, Johnson seems like a favorite for Saturday night's race at Charlotte. His six wins at the track are the most among active drivers, and tied with Hall of Famers
Bobby Allison
and
Darrell Waltrip
for the most all-time. His 11.9 average finish is the best in track history among drivers with more than 10 starts.
But five of those six wins came in a six-race span from 2003-05, and he has just a single win in the last 15 Charlotte races, and an average finish close to 20th in the seven races there over the past four seasons.
Dating back to 2007, Johnson's average finish at Charlotte is 17th, his third-worst mark at any of the 23 tracks on the current schedule in that time.
September, 16, 2013
9/16/13
8:23
PM ET
By
Matt Willis, ESPN Stats & Info
| ESPN.com
John Harrelson/Getty ImagesMatt Kenseth won the Geico 400 at Chicago Sunday night, his sixth Sprint Cup win of the season.
How important was Sunday's Chase opener in Chicago in previewing the whole Chase?
For Matt Kenseth – A Win at Chicago Bodes Well for a Title
This is the third time that there's been a Chase race at Chicago.
All three times it's been the Chase opener.
In each of the previous two years, the driver who won the Chicago race went on to win the title.
In the previous seven Chases, the opener was held at New Hampshire, and only one of the seven winners went on to win the title:
Kurt Busch
in 2004.
Jimmie Johnson, Jeff Gordon, Kyle Busch, Kurt Busch and Kevin Harvick
Should Feel Good Too
The top six finishers Sunday were all Chasers. In seven of the previous nine Chase openers, the eventual Chase champion finished in the top six.
The only driver to recover from a finish outside the top six in the opener to win a Chase championship was Johnson, who did so in 2006 and 2010.
It Doesn't Look Good for Dale Earnhardt Jr. or Joey Logano
NASCAR's most popular driver and the driver with the chance to become the youngest Cup Series champion both struggled, finishing 35th (Earnhardt Jr.) and 37th (Logano) after having engine issues.
Both are more than 50 points off the lead.
Since the Chase field expanded from 10 drivers for the 2007 season, the six Chase champions have a combined one finish outside the top 25 in 60 combined races.
That was a 38th-place finish by Jimmie Johnson at Texas in 2009, a race he entered with a lead bigger than the amount of points a driver could make up in a single race.
In fact, no Chase champion has had more than one finish outside the top 20 since the field expanded from 10.
August, 28, 2013
8/28/13
8:48
AM ET
Jared C. Tilton/Getty ImagesKevin Harvick is looking for bigger reasons to celebrate.
Kevin Harvick
sits fourth in the Sprint Cup Series standings with two races until the Chase, basically a lock to make the Chase for a fourth straight season and the seventh time in the last eight years.
He's only one of five drivers in the series with multiple wins this season, joining championship favorites
Matt Kenseth
,
Jimmie Johnson
,
Kyle Busch
and
Kasey Kahne
.
However, a deeper look shows that he might not be quite the championship threat that his wins and points position make him out to be.
Inside the numbers
Two of the best measures of a driver's performance are average running position, an average of where he's been on the track for every lap, and fastest laps run, a count of the amount of times the driver was the fastest on the track on a given green-flag lap.
Harvick ranks eighth in both of these categories, which would put him firmly in the 12-driver Chase, but not among the favorites.
"Happy" has also rarely been found running at the front of the pack this season.
Despite winning a pair of races, he's led just 51 laps in the 24 races this season, ranking 21st in the series. He led 28 of 400 laps in his Charlotte win in May, and only three of 400 for his win at Richmond in April.
Harvick is labeled "The Closer" for his ability to appear at the front of the pack late in race. The nickname is deserved, but also is a label for his inability to run up front consistently and dominate races.
Last year, Harvick led just 256 laps, 13th among all drivers. This season, seven drivers have already reached that mark and an eighth,
Martin Truex
Jr., is at 255.
But Harvick should never be ruled out of a race just because he didn't lead early or much at all. In five of his 11 wins dating back to the 2007 Daytona 500, Harvick has led four or fewer laps.
In NASCAR's modern era, going back to 1972, no other driver has more than three such wins, and only eight have won multiple races when leading four or fewer laps.
Despite Harvick's high overall season points ranking, he has been sliding recently. Over the last five races, Harvick ranks 17th in points, behind drivers way outside of Chase contention such as
Marcos Ambrose
and
Juan Pablo Montoya
.
However, in that same span, he still has more points than the perennial championship favorite, Jimmie Johnson, who is 19th in that span.
May, 25, 2013
5/25/13
3:48
PM ET
By
Tom McKean, Chris Lees, Matt Willis
| ESPN.com
Sunday is arguably the biggest day of auto racing of the year, with the F1 Grand Prix of Monaco, the IZOD IndyCar Series Indianapolis 500 and the Sprint Cup Series 600-mile race at Charlotte filling the day.
Winning any of these three races will check an item off a driver's to-do list, but what are the keys to getting to victory lane?
Grand Prix of Monaco –- Qualify Up Front
The Grand Prix of Monaco is like no other Formula One event. Held on the twisty streets of Monte Carlo, overtaking is exceedingly difficult, meaning pole position is crucial. The winner has come from pole in eight of the last nine Monaco Grand Prix.
Mercedes has flashed its qualifying pace this year, but has struggled to keep speed during longer runs. Monaco's emphasis on downforce rather than speed, however, should make Mercedes drivers
Lewis Hamilton
and
Nico Rosberg
appealing choices.
But the safer bet may be Red Bull, which has had an immense edge at Monte Carlo, leading 91.9 percent of laps in the last three trips. This year, Red Bull will look to join BRM (1963-1966) and McLaren (1988-1993) as the only constructors to win at least four straight at Monaco.
Mark Webber
has struggled this season, but he should not be overlooked, having won two of the last three here. He and
Fernando Alonso
are the only two active drivers with multiple Monaco wins.
Webber's teammate,
Sebastian Vettel
, has continued his torrid pace. His 230 points since Singapore last season are 59 more than any other driver. In that span, he's won six of 12 Grand Prix.
Indianapolis 500 – Running Second the Best Bet?
If recent history holds true, the 2013 Indianapolis 500 should be a thriller. Since 1995, 10 races had the final lead change within the final 10 laps.
By comparison, in the first 78 Indy 500s (1911-94), there were just nine races in which the final lead change was in the final ten laps.
The best place to be late has proved to be second place, instead of the lead. In 2006,
Sam Hornish
Jr. trailed
Marco Andretti
heading down the frontstretch on the final lap,but he slingshot his way around Andretti to score the victory.
Five years later,
Dan Wheldon
was beneficiary of race leader JR Hildebrand's Turn 4 crash. Wheldon navigated around Hildebrand and registered his second 500 victory. Those were the only time a driver won the Indy 500 with a last-lap pass.
Expect to see the lead swapped many times. When the current chassis made its 500 debut last year, it set the event record for lead changes with 34. The previous record (29) had stood since 1960.
NSCS at Charlotte – Survive the Day, Thrive at Night
Since 1960, the spring race at Charlotte has been 600 miles, making it the longest race on the Sprint Cup schedule, a test of endurance for driver and machinery.
The key to the 600 has been to stay in contention early, not peaking or using up equipment, and then hit the set-up for the stretch run.
Last year, race winner
Kasey Kahne
had the fifth-fastest average green-flag lap time over the first quarter of the race. It was the fourth-fastest in the second quarter, second-fastest in the third, and the fastest in the final 100 laps.
Compare that to 2011, when
Kevin Harvick
won in a wild finish. Harvick was only the 20th-fastest in the first 100 laps, and still outside the top 10 in average lap time in the second and third quarters.
But in the final segment, Harvick's lap time improved to the fourth-fastest in the field, putting him position to take advantage of
Dale Earnhardt
Jr. running out of gas on the last lap.
November, 16, 2012
11/16/12
8:55
AM ET
By
Matt Willis, ESPN Stats & Information
| ESPN.com
AP Photo/Larry PapkeBrad Keselowski leads Jimmie Johnson by 20 points entering the finale in Homestead.
To lock up his first Sprint Cup Series championship Sunday at Homestead-Miami Speedway,
Brad Keselowski
needs only to finish in the top 15. It seems a virtual lock, seeing as in the last 21 starts, more than half of the season schedule, Keselowski has only finished outside the top 15 once, a 30th-place run at Bristol.
If he clinches the title on Sunday, Keselowski will have won his first championship in just his third full Sprint Cup season. In NASCAR's modern era (starting in 1972), only two drivers have won a title within their first three full seasons:
Jeff Gordon
and Dale Earnhardt.
Earnhardt ended up winning a record-tying seven championships in his career, while Gordon is at four and still counting.
Two seasons ago, despite winning a Nationwide Series championship, Keselowski's Sprint Cup performance was disappointing. He finished 25th in points, failing to finish better than 10th in any start.
The next season, with the addition of crew chief
Paul Wolfe
, Keselowski won three times and finished fifth in points. He was just the second driver in the modern era to run a full season and finish 25th or worse in points, and then rebound to win at least three races the following season, joining
Kurt Busch
.
This year, with a title, he'll become the sixth driver in series history to win a Cup championship after finishing 25th or worse in points in the previous two seasons. But the other five didn't run a full season the year they finished 25th or worse.
Keselowski had already made history prior to this year, dating back to his time racing part-time for Phoenix Racing and Hendrick Motorsports in 2009.
In just his fifth career start, Keselowski won his first Cup race. It was one of the most memorable races in recent history, a door-to-door battle that sent
Carl Edwards
flying into the catchfence. The win made him the first driver in series history to make his first career lap led the final lap of a race.
The win was one of the largest upsets in Cup history at the time. It remains the only Cup win for Phoenix Racing and made Keselowski one of just five drivers to win within his first five starts in series history, joining
Trevor Bayne
,
Jamie McMurray
,
Kevin Harvick
and Mark Donohue.
Keselowski can also complete the resume of his team, Penske Racing, which has won 15 Indianapolis 500s but has yet to win a NASCAR Cup Series title, coming closest in 1993 when
Rusty Wallace
finished second.
What's more, Keselowski has five wins in 2012 and assuming he holds on for the championship, only one driver since 1990 would have more wins during his first Cup title season (seven by Jeff Gordon).
Keselowski will turn 29 next year, but he already has a career's worth of accolades.
February, 9, 2011
2/09/11
2:27
PM ET
Less than three years after replacing future Hall-of-Famer
Brett Favre
in Green Bay,
Aaron Rodgers
led the Packers to a fourth Super Bowl title. His performance earned him the No. 1 spot in this week's
Cross-Sport Power Rankings
.

Rodgers
Since taking over in 2008, Rodgers ranks among the league leaders in passing yards (fourth), touchdown passes (fourth) and passer rating (third). More importantly, he's matched Favre in the most crucial stat of all: championships.
Is Rodgers on his way to having the best career by a player or coach who faced the tough task of replacing a legend? The Stats & Information Group has compiled a list of 10 worthy contenders for that title. Do you disagree with anyone on our list? Feel free to comment below.
10. Kevin Harvick
He replaced Dale Earnhardt for Richard Childress Racing following Earnhardt's death in the 2001 Daytona 500. Just weeks after the tragedy, Harvick won at Atlanta in only his third career Sprint Cup start. Harvick has won 13 other NSCS races in a career that's spanned 10 seasons. In 2010, Harvick's third-place finish in the points race was the best of his career.
9. Leroy Kelly
After Jim Brown completed arguably the greatest career by a running back in NFL history in 1965, Kelly faced the nearly impossible task of replacing the Browns legend. Kelly, who had just 43 rushes in the two seasons he played alongside Brown, rushed for more than 1,100 yards in 1966, leading the league with 5.5 yards per rush. He was inducted into the Pro Football Hall of Fame in 1994.
8. George Seifert
Taking over for three-time Super Bowl champion Bill Walsh in 1989, Seifert and
Joe Montana
led the 49ers to a Super Bowl win over the
Denver Broncos
, joining Don McCafferty as the only head coaches to win the Super Bowl in their first season. (Seifert added a second ring five years later with a different starting quaterback,
Steve Young
.) During his eight seasons in San Francisco (1989-96), the 49ers won 98 games, 13 more than any other franchise.
7. Cristiano Ronaldo
Ronaldo
The 2008 FIFA World Player of the Year took over the storied No. 7 jersey for Manchester United in 2003, following in the footsteps of George Best, Eric Cantona and David Beckham. Ronaldo scored more than 80 goals in the Barclays Premier League and led the Red Devils to three straight league championships (2007-2009).
6. Jimmy Johnson
Dallas went 1-15 in 1989, Johnson's first season after taking over for Tom Landry, the head coach of the Cowboys for the team's first 29 seasons. Things improved quickly for Johnson after drafting
Emmitt Smith
in 1990. The team won back-to-back Super Bowls following the 1992-93 seasons.
5. Sidney Crosby
The 2007 Hart Trophy winner and Stanley Cup champion benefited from playing with the man he replaced as the face of the Penguins franchise when Mario Lemieux came out of retirement in 2005. Since his one season with Lemieux, Crosby has led the league in points (2006-07) and goals (2009-10 along with Steven Stamkos). He also took the Penguins to consecutive Stanley Cup Finals, beating the Red Wings in 2009.
4. Carl Yastrzemski
Yastrzemski had more to worry about than playing left field in the shadow of the Green Monster during his 1961 rookie season with the Boston Red Sox. He was replacing Ted Williams, arguably the greatest hitter in the history of baseball. Yaz hit .266 as a rookie, but finished his 23-year career with a .285 batting average, 452 HR and more than 1,800 RBI. The Hall of Famer was a near-unanimous choice for the 1967 AL MVP Award after winning the Triple Crown, a feat no other major leaguer has accomplished since.
3. Tim Duncan
Duncan was lucky to land on a Spurs team just one season removed from seven straight playoff appearances. The Spurs also featured an established post presence in 1994-95 NBA MVP David Robinson.

Duncan
They quickly formed one of the league's best defensive duos, leading the Spurs to NBA titles in 1999 and 2003. Duncan won consecutive NBA MVP awards playing alongside Robinson in 2001-02 and 2002-03, and continued to dominate following Robinson's retirement. To date, the four-time NBA champion is one of just 13 players in league history with 21,000 points and 11,000 rebounds.
2. Mickey Mantle
Mantle replaced Joe DiMaggio in centerfield for the Yankees in 1952, the second season for the 20-year-old. That summer, Mantle earned the first of 14 straight All-Star selections. Overall, the three-time American League MVP finished his career with 536 HR, third-most in MLB history at the time of his retirement in 1968.
1. Steve Young
He finally took over as the 49ers starting quarterback in 1991, after serving as an understudy to Hall-of-Famer Joe Montana from 1987-90. In 1992, he was named the league MVP and started a stretch of seven straight Pro Bowl selections. Young added another MVP Award in 1994, guiding the 49ers to their fifth Super Bowl title.
Young was inducted into the Pro Football Hall of Fame in 2005, and entered the 2010 season as the top-rated passer in league history among qualifiers. However, Young no longer holds that distinction, having been dislodged atop the career passer rating list by none other than Aaron Rodgers.