Stats & Info:

Kevin Siegrist
October, 6, 2013
10/06/13
10:45
PM ET
By
ESPN Stats & Information
| ESPN.com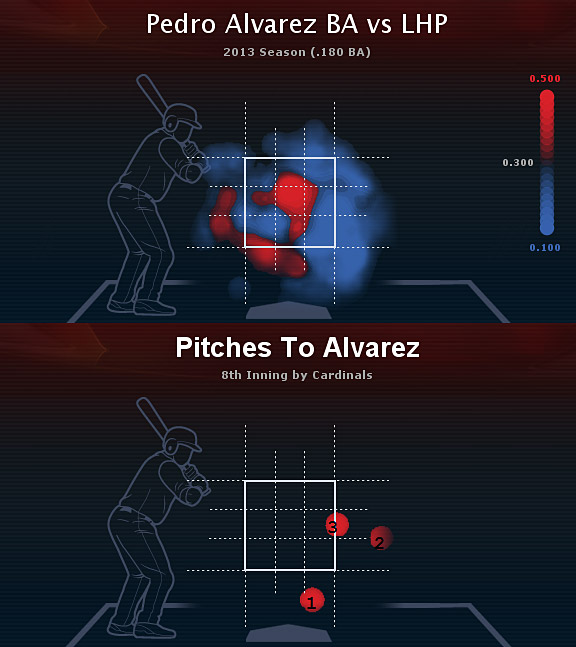 Pedro Alvarez
entered Sunday hitting .180 against left-handed pitching. That was the fourth-lowest batting average of any hitter who had at least 100 at-bats against lefties in 2013.
But there was more to know about Alvarez that made what happened in his decisive at-bat in the Pittsburgh Pirates' Game 3 win over the St. Louis Cardinals even more unlikely.
Alvarez was facing Cardinals left-hander
Kevin Siegrist
with the score tied and runners on first and second with one out in the bottom of the eighth inning.
The two had gone head-to-head five times previously. In those five meetings, Siegrist threw 23 pitches, 18 of them that were either on or just off the outer third of the plate.
Alvarez took 13 swings against Siegrist, fouling off eight, missing two and putting three in play (a fly ball to shallow center, a ground out to shortstop and a grounder to second). The five at-bats all ended in outs, including that grounder to second in Game 2.
Siegrist had the right idea in pitching Alvarez away. A look at pitch-performance data shows that Alvarez was feeble against those pitches for the past couple of months.
On July 22, Alvarez got a base hit on a 93-mph fastball just off the outside corner from Nationals left-hander
Ian Krol
.
Over the remainder of the regular season and including Game 2, Alvarez saw 147 pitches from left-handers that were on, or just off, the outside edge.
Those pitches resulted in 33 outs, three walks, and most notably no hits.
Alvarez missed on nearly half his swings (27 of 59) against them.
On top of that was something else working against Alvarez.
Siegrist throws his fastball hard enough to clock in the mid- to upper 90s on the radar gun.
Alvarez saw 46 pitches from lefties during the 2013 regular season that registered at least 95 mph. He had little chance against them. He went 0-for-10, reaching base once when one missed for ball four.
Alvarez did not have a hit against a fastball thrown that hard by a lefty since July 16, 2012, when he homered against
Rex Brothers
of the
Colorado Rockies
.
When Siegrist got Alvarez out in Game 2, it was on a pitch thrown 97 mph.
After seeing a pair of fastballs to the outer edge at 96 and 97 mph from Siegrist in Sunday's at-bat, Alvarez had a pretty good idea what was coming.
He was able to time his swing on a fastball thrown 95 mph and ground it to the right side. This one got through, plating
Josh Harrison
with the go-ahead run.
Alvarez (and
Marlon Byrd
) has now driven in five runs in four games this postseason. That matches the most in Pirates history through a player's first four postseason games (Bob Robertson had five for the 1971 Pirates).
And he moved them one step closer to advancing to the National League Championship Series.
August, 27, 2013
8/27/13
11:30
AM ET
Today on Sweet Spot,
Anna McDonald profiled five
of the
St. Louis Cardinals
top young arms who could be key to the team's hopes of a division title.
We looked at each of those pitchers from a statistical perspective (and threw in one other,
Kevin Siegrist
). Here's our take on what they've done and what to watch for moving forward.
Joe Kelly
Kelly
What's to like:
Kelly is 5-0 with a 1.79 ERA in his last seven starts, dating back to July 12. One of the keys to that has been a changeup, against which opponents have made 44 outs and allowed 12 baserunners. Opponents are 2-for-their-last 23 with two walks against that pitch.
Room for improvement:
Kelly is not a strike thrower. He's struck out 24 and walked 18 (one intentional) in 40 1/3 innings in this seven-start stretch. Within that timeframe, Kelly is getting misses on only 13 percent of the swings taken against him, the second-worst rate of any pitcher in that stretch.
Seth Maness
What's to like:
Maness is just about as good as it gets at inducing ground balls. His ground-ball rate of 72 percent is second-best in the majors, half-a-percentage point behind Diamondbacks submariner
Brad Ziegler
. Maness allowed a run in his last outing, snapping a streak of 14 2/3 innings of scoreless work.
Room for improvement:
Maness is very hittable. Nearly half of the swings against him have been put into play, a rate that ranks among the 10 highest in baseball. Both lefties and righties hit him equally well, combining for a .294 batting average against him.
Shelby Miller
What's to like:
The Stats & Info blog has
written about
Miller's strengths
a few times, most notably a fastball that gets hitters to miss on about one-fourth of their swings.
Room for improvement:
Miller has been up and down as the season has moved along. He had a 1.91 ERA in his first 12 starts this season, but a 4.06 ERA in his last 13. The primary culprit has been home runs.
He's yielded 12 in his last 64 1/3 innings, including four in his last three starts.
Trevor Rosenthal
Rosenthal
What's to like:
Rosenthal is among the game's hardest throwers. His fastball averages 97.3 mph, which ranks third-best among those with at least 50 innings pitched. Only
Aroldis Chapman
(98 mph) and
Nate Jones
(97.5) throw harder. Rosenthal is using that pitch to average 12.6 strikeouts per 9 innings, sixth-best in the majors.
Room for improvement:
If Rosenthal does eventually transition into the starting rotation, he'll likely need to throw his breaking ball more. Rosenthal has thrown 72 curves and sliders this season and they've combined to yield eight baserunners, while netting only nine outs.
Kevin Siegrist
What's to like:
Siegrist currently has a 12 1/3 inning scoreless streak during which he hasn't allowed any inherited runners to score either.
Opponents are 9-for-88 against him, with right-handed hitters being as meek (5-for-44) as lefties (4-for-44). Thus far, he's been able to get away with throwing his fastball over the heart of the plate. He's thrown exactly 100 heaters into the area covering the middle-third of the strike zone, width-wise and gotten 25 outs, yielding only one baserunner.
Room for improvement:
Siegrist is a little wild. He's walked 15 in 27 innings, mainly because when he throws the ball below the knees, hitters know to let it go. Of the 99 times he's thrown a pitch to that area, he's only gotten 10 "chases" (swings at pitches out of the strike zone), well-below the major-league average of 27 percent.
Michael Wacha
Wacha
What's to like:
Wacha had two good starts in three appearances after initially being recalled in late May. In his second stint with the team, he's held opponents scoreless in four of five relief appearances. Wacha has shown he can get hitters out from the left side. Lefties are 12-for-59 against him with 14 strikeouts and two walks.
Room for improvement:
Wacha has had three games this season in which he significantly struggled at getting right-handed hitters out. Overall, they're 15-for-52 against him with eight extra-base hits and four walks.