Stats & Info:

Kirk Gibson
November, 26, 2011
11/26/11
4:53
PM ET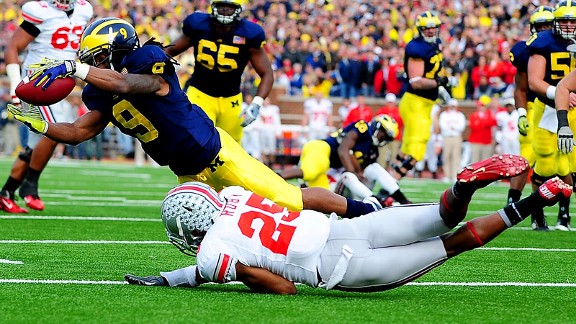 Andrew Weber/US PresswireMartavious Odoms and his teammates gave the extra effort needed to get a win over Ohio State
Most
Michigan Wolverines
football fans weren't alive, and their parents might not have been alive, the last time their team put up 40 points against the
Ohio State Buckeyes
.
The 40-34 win snapped a seven-game losing streak for Michigan against Ohio State, its longest losing streak ever against the Buckeyes and tied for their second-longest against any team in school history (the Wolverines lost nine straight from Minnesota from 1934 to 1942). It was the first time Michigan scored that many points in a game versus Ohio State since tallying 58 in 1946.
Denard Robinson
became the third FBS player since 2000 to pass for 150 or more yards, rush for 150 or more yards and account for five touchdowns in a single game. The others are Chris Nickson of Vanderbilt (2006 vs Duke) and Cam Newton (2010 vs South Carolina and Arkansas State).
Among his other accolades:
• Robinson rushed for 170 yards, more than he'd run for in his previous three games combined (168). Robinson's 170 yards are the third-most by a Michigan player against Ohio State, the most since Tim Biakabutuka rushed for 313 against them in 1995.
• Robinson became the fourth Michigan quarterback to throw for three touchdowns in a game against the Buckeyes, joining Bob Chappuis (1946), Jim Harbaugh (1985) and Drew Henson (2000).
• Robinson's first touchdown pass gave him 36 for his career, passing Tom Brady on Michigan's all-time list. His last gave him 38, passing Todd Collins for sixth-most.
• Robinson's two rushing touchdowns gave him 35 for his career, passing Rick Leach (who went on to play major league baseball) for fifth-most in team history.
• Robinson and teammate
Fitzgerald Toussaint
each cleared 1,000 yards rushing for the season. It's the second time in team history that the Wolverines had a pair of 1,000-yard rushers in the same season. The only other was 1975, when Gordon Bell rushed for 1,390 yards and Rob Lytle rushed for 1,040.
Ohio State's loss ensured that it would finish under .500 in Big Ten play for the first time since 1999, when it went 6-6 overall, 3-5 in league play.
Elsewhere in some of the day's earlier action:
Cousins, Cunningham move up in the record books
Kirk Cousins
threw two touchdown passes for the
Michigan State Spartans
, passing Jeff Smoker for the most in team history, in a 31-17 win over the
Northwestern Wildcats
.
Both scores went to
B.J. Cunningham
, who now has 22 touchdown receptions, passing Plaxico Burress and Andre Rison for third place in school history. Next up-- former Spartans great receiver and current Arizona Diamondbacks manager, Kirk Gibson.
What a comeback!
The
North Carolina State Wolfpack
outscored the
Maryland Terrapins
, 35-0 in the fourth quarter of a 56-41 win. The 35 points are tied for the second most any FBS teams has scored in the fourth quarter to tie or win a game in FBS history, trailing only a 36-point effort from BYU in rallying from a 29-14 deficit entering the fourth quarter against Washington State.
September, 24, 2011
9/24/11
3:00
AM ET

They've only been around since 1998, but the
Arizona Diamondbacks
already have five division titles under their belt. Number five came Friday when they beat the
San Francisco Giants
3-1. Arizona's last division title came in 2007 when they got as far as the NLCS before the
Colorado Rockies
swept them.
The Diamondbacks were 65-97 (.401) in 2010 posting the third-worst win percentage in all of baseball. According to the Elias Sports Bureau, Arizona tied the major-league record for most losses in the previous season by a team that finished in first place. Two other teams won division titles coming off 65-97 records the previous year: the 1991 Braves (who lost in the World Series) and the 1999 Diamondbacks (who were defeated in the N.L. Division Series).
Kirk Gibson joined former manager Bob Brenly as the only Diamondbacks' managers to win a division title in their first FULL season as an MLB manager. Brenly's 2001 team went on to win the World Series against the
New York Yankees
. Buck Showalter and Bob Melvin also won division titles with the Diamondbacks.
November, 14, 2010
11/14/10
12:51
PM ET
Early Sunday morning, the bat Kirk Gibson used to hit his famous walk-off home run in Game 1 of the 1988 World Series sold for $575,912.40 in an auction from which partial proceeds (totaling slightly less than $200,000) went to the Kirk Gibson Foundation. Gibson's bat, helmet and jersey combined to bring in more than $1 million.
A little more than a month ago, Gibson was featured in a series that ran on "SportsCenter" and "Baseball Tonight," "I Hit A Walk-Off Home Run," spotlighting the most famous walk-off home runs in postseason history.
Here's what Gibson had to say about his prized, or not-so-prized, bat during his interview:
"You can see the whole at-bat right there on the bat. The red ink from the foul balls, the cleat marks in the head of the bat, from me hitting my cleats in between pitches the tar that was all over it. It was a Worth WC157.
"You get 12 bats in an order, and what you do is you go through and you weigh them all, and then you pick them up and you kind of can feel which ones feel balanced and which ones don't feel balanced.
"That bat right there was a reject bat. I used to use a 33-34-35 inch bat, and that bat was a 31-31½- inch bat, and I never felt comfortable with it, so I just kind of stocked it in the back room.
"But, at the end of the year, I started to get really tired, and then when I got hurt, I started going to look for all my light bats because I really didn't have my legs under me and that one's got an X on the end for x-out, no-good bat. It turned out to be a pretty good bat, didn't it?"
Most familiar with the home run may know that this was the one from which the term "walk-off" was coined (Dennis Eckersley used the term when speaking afterward), but here are a few things you may not know about that magic moment.
Man for the moment
–- Gibson hit four come-from-behind, walk-off home runs in the regular season, one shy of the major league record shared by Babe Ruth, Frank Robinson, and
Fred McGriff
.
How rare it was
–- At the time, Gibson was the second player in postseason history to hit a walk-off hit with his team trailing and down to its last out. The first was Cookie Lavagetto, whose two-run walk-off double not only gave the 1947 Dodgers a win over the Yankees but also broke up a no-hitter by Bill Bevens. Three players have had this sort of walk-off hit since –- Francisco Cabrera,
Ivan Rodriguez
and
Jimmy Rollins
.
He stands alone
–- The Dodgers have won 48 postseason games in their home ballpark but have only won on a walk-off home run once. They have four other postseason walk-off hits.
Pinch him
-- To that point in his career, Gibson had 57 pinch-hit at-bats. He had 12 hits, a .211 batting average and no home runs. He'd finish his career with three pinch-hit regular-season home runs but didn't hit any of them until 1994.
Eckersley knew what to do next time
-- Gibson's next meaningful at-bat against Eckersley didn't come until Opening Day 1993, when Gibson came up with runners on second and third with two outs in the eighth inning. With a one-run lead, Eckersley took no chances and issued an intentional walk. He struck out Rob Deer to end the inning, and the Athletics went on to win the game.
To read Gibson's take on that historic moment, check out the story at
ESPNLA.com
May, 28, 2010
5/28/10
11:24
AM ET
By
Ryan McCrystal, ESPN Stats
and
Info
| ESPN.com
Quick Hits:
Here's a look at some hitters who have been hot in certain situations over the past two weeks:
Chipper Jones has a .632 OBP and a 1.232 OPS with RISP.
Billy Butler is batting .522 (12-23) in at bats ending in fastballs.
Mike Napoli is batting .438 (7-16) against off-speed pitches.
Casey Blake is batting .375 (9-24) in two-strike counts.
Brennan Boesch is batting .500 (8-16) on balls up in the zone.
Adrian Beltre is batting .429 (6-14) on balls out of the strike zone.
Today's Trivia:
Kirk Gibson, who turns 53 today, won the MVP in 1988 with just 25 home runs. Since that year, only two players have won the NL MVP with fewer home runs. Can you name them?
Today's Leaderboard:
The Yankees have struggled against sinkers this year, which is bad news for them tonight as they face sinkerballer Fausto Carmona.
Key Matchups:
The Yankees have struggled against the sinker as a team, but no one has struggled quite like Alex Rodriguez. A-Rod is 0-7 against sinkers this year. He's 2-8 in his career against Carmona.
Chris Carpenter is no stranger to facing the Chicago Cubs, especially their three sluggers Derrek Lee, Aramis Ramirez and Alfonso Soriano, facing them a combined 103 times since joining the Cardinals in 2004. Carpenter has had mixed results against them depending on the pitch type, as they are a combined 21-for-50 (.420) against his fastball, but have managed just 1 hit in 22 ABs (.045) against his curve.
Trivia Answer:
Terry Pendleton (22 HR) in 1991 and Barry Larkin (15 HR) in 1995.