Stats & Info:

Koji Uehara
October, 29, 2013
10/29/13
12:01
AM ET
By
ESPN Stats & Information
| ESPN.com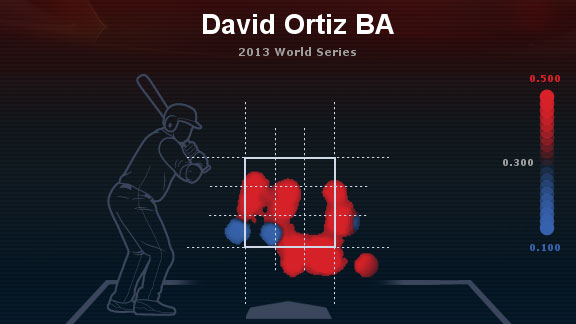 David Ortiz has been impossible to get out this World Series.
There were no wacky endings this time around, just a clean, well-pitched baseball game between the teams that entered Game 5 of the World Series with the same number of wins this season and in this matchup.
And in this game, the
Boston Red Sox
were just a little bit better than the
St. Louis Cardinals
, edging them 3-1 to take a three-games-to-two lead in the Series.
With a win on Wednesday, the Red Sox can clinch a World Series at home for the first time since beating the Cubs to close out the 1918 World Series.
Lester the better pitcher again
Red Sox starter
Jon Lester
became the second left-hander in team history with three World Series wins, joining Babe Ruth.
Lester became the fifth pitcher to allow one run or fewer in at least three straight World Series starts to begin his career, the first whose career began after World War II ended in 1945.
Elias noted that Lester's streak of 16⅓ scoreless innings in the World Series was broken by Matt Holliday's fourth-inning home run. That's the third-longest scoreless innings streak to begin a career in World Series history. Christy Mathewson holds that record; he began his career with 28 consecutive scoreless innings in the World Series; Jim Lonborg ranks second with 17 straight for the Red Sox in 1967.
He also became the first Red Sox pitcher with at least seven strikeouts and no walks in a World Series game in 98 years. The last was Rube Foster against the Phillies in 1915.
Lester had a great cutter for the second straight game. He threw the pitch 30 times, netting 21 strikes. Lester got four strikeouts with his cutter in the first four innings, then got three groundouts and a popout with it in the last four innings. It yielded only one baserunner --
David Freese
's eighth-inning double.
Ortiz delivers again
Red Sox first baseman
David Ortiz
was 3-for-4 with an RBI double in the first inning.
Ortiz became the third player to reach base safely in nine straight plate appearances in the World Series, joining Joe Gordon (1939/1941 Yankees) and Billy Hatcher (1990 Reds). Ortiz and Hatcher are the only two to do so in a single World Series.
Ortiz has 11 hits, two shy of the record for most in a World Series, which is shared by Bobby Richardson (1964 Yankees), Lou Brock (1968 Cardinals) and former Red Sox second baseman Marty Barrett (1986 Red Sox).
Wainwright tough in defeat
Adam Wainwright's
first six outs came via strikeout. He finished with 10 strikeouts in seven innings.
He is the third different pitcher with at least 10 strikeouts against the Red Sox in a World Series game, joining Deacon Phillippe (who had 10 against them in the very first World Series game) and Bob Gibson (who reached double figures in Games 1 and 7 of the 1967 World Series).
Wainwright had the first 10-strikeout game by a Cardinals pitcher in a World Series game since Gibson against the Tigers in 1968. Gibson had five 10-strikeout games in the World Series for them. Grover Cleveland Alexander and Mort Cooper had one each.
At-bat of the game: Matt Adams vs. Koji Uehara
The Red Sox pulled Lester with two outs in the eighth inning, bringing in a right-hander, closer Koji Uehara, to pitch to left-handed hitting Matt Adams.
John Farrell did this knowing that Adams entered the day with a .292 batting average and .502 slugging percentage against right-handed pitching between the regular season and postseason, and a .219/.384 split against lefties.
But Uehara was the choice because of
his
numbers. His strikeout of Adams made left-handed hitters 17-for-151 against him in 2013.
Uehara's seven saves this postseason ties a record for a single postseason. The four pitchers with whom he shares the record are John Wetteland (1996 Yankees),
Troy Percival
(2002 Angels),
Robb Nen
(2002 Giants) and
Brad Lidge
(2008 Phillies).
Did you know?
The Red Sox have twice gotten a go-ahead hit in the seventh inning or later of a World Series game from their catcher. The first was Carlton Fisk's game-winning home run in Game 6 of the 1975 World Series. The other was by
David Ross
in this game.
The challenge for the Cardinals
The Cardinals have to win Game 6 and Game 7 on the road to win the World Series. The last team to do that was the 1979 Pirates against the Orioles.
October, 28, 2013
10/28/13
12:37
AM ET
By
ESPN Stats & Information
| ESPN.com
Tim Kurkjian likes to say that the best thing about baseball is that you'll see something new every day.
In the case of this World Series, that's been true with the final play of the past two games.
Game 3 featured the first game-ending obstruction call in postseason history. Game 4 had the first game-ending pickoff.
Another weird ending
Koji Uehara
picked
Kolten Wong
off first base with
Carlos Beltran
representing the tying run at the plate to close the game. Uehara had only two pickoffs in his career entering the day. This was his first one since Aug. 6, 2011, when he picked off
Asdrubal Cabrera
of the Indians.
There had been one prior pickoff to preserve a lead with one out in the ninth inning -- Mike Marshall of the Dodgers nailed pinch runner Herb Washington of the Athletics in Game 2 of the 1974 World Series -- but never before had there been one with two outs.
The Cardinals had been on the right side of a baserunning blunder of a somewhat similar nature once before.
They threw Yankees slugger Babe Ruth out trying to steal second base with two outs in the ninth inning in a one-run game to end Game 7 of the 1926 World Series.
Turning point: Gomes homers
Jonny Gomes
entered the day with the lowest career postseason batting average of any active player with at least 40 at-bats (.125).
But he made up for that with his three-run homer against
Seth Maness
that put the Red Sox ahead for good.
Gomes hit a sinking Maness fastball out, which isn't easy to do. Only two players --
Rick Ankiel
and
Marlon Byrd
-- homered against Maness' fastball in 2013, with Byrd being the last to do so on June 12.
Ortiz carrying the load
David Ortiz
went 3-for-3, making him 8-for-11 in the World Series.
The Elias Sports Bureau notes that he's the second-fastest player to reach eight hits in a World Series. The only one faster was Billy Hatcher, who was 8-for-his-first-9 for the 1990 Reds.
Duffy Lewis last appeared in a World Series in 1916, but he still holds one prominent Red Sox World Series mark. Lewis had six career multihit games, the most in franchise history. But Ortiz now trails him by only one.
Ortiz is the third Red Sox first baseman with three hits in a World Series game. The others are Dick Hoblitzell (1915) and Carl Yastrzemski (1975).
Ortiz will have either the highest or second-highest batting average of any player through his first 40 World Series at-bats, as noted in the chart on the right. His next turn will be the 40th of his career.
Doubront, Tazawa and Lackey come through
The Red Sox got four very impressive innings from their middle relievers after
Clay Buchholz
got hooked prior to the fifth inning.
Felix Doubront
was charged with one run (yielded by
Craig Breslow
) but got through 2 2/3 innings. He's allowed one run in seven innings this postseason.
Tazawa recorded his fifth hold of this postseason, matching Mike Timlin's 2003 single-season record for a Red Sox pitcher.
Tazawa has pitched in 13 games this postseason and entered 12 times in the middle of an inning. In 11 of those instances, he came in with at least one man on base. Game 4 marked the sixth time he came in with two men on base.
He's now stranded 12 of the 15 baserunners he's been handed this postseason.
Lackey made his first relief appearance since June 27, 2004, against the Dodgers. On Sunday, he escaped a runner-on-third, one-out jam for the first hold of his major or minor league career.
October, 23, 2013
10/23/13
10:36
AM ET
By
ESPN Stats & Information
| ESPN.com
The
St. Louis Cardinals
and
Boston Red Sox
will meet in the World Series for the fourth time, starting with Game 1 tonight at Fenway Park. It's a matchup of the teams that shared the best record in baseball.
Each has 104 wins, including postseason. The team that gets to 108 will be crowned champion.
Here are some of the notes and numbers you'll see and hear discussed on Baseball Tonight and on the ESPN Radio game broadcast with Dan Shulman and Orel Hershiser.
Game 1 pitching matchup
Adam Wainwright
is 2-1 with a 1.57 ERA in three starts this postseason. He has 20 strikeouts and one walk in 23 innings.
Wainwright won't be fazed by the big stage. He's allowed exactly one run in five of his seven postseason starts and is one of two pitchers who pitched in 2013 to have at least four postseason wins and four postseason saves in his career (the other being
Mariano Rivera
).
Jon Lester
is 2-1 with a 2.33 ERA this postseason. He'll be the third Red Sox lefty to start Game 1 of the World Series. The other two -- Babe Ruth (1918 against the Cubs) and Bruce Hurst (1986 against the Mets) pitched a combined 17 scoreless innings.
Key returnee: Allen Craig
The Cardinals get Allen Craig back after he missed the first two rounds of the postseason due to a foot injury.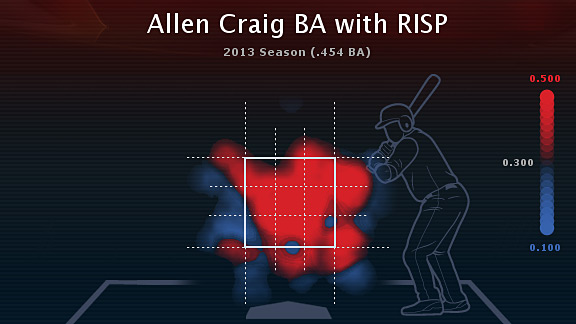 As the heat map above shows, a good chunk of Craig's value is how he fared in prime RBI opportunities, as he hit .454 with runners in scoring position during the regular season.
Only two players fared better in that situation in the last 40 seasons- George Brett (.469 in 1980) and
Tony Gwynn
(.459 in 1997).
The Cardinals as a team hit .330 with runners in scoring position during the regular season (the best mark ever recorded for a team since 1961, the first year for which full play-by-play data is available). In the NLCS win over the Dodgers, they bumped that to .349.
Endgame: The unhittable Uehara
American League Championship Series MVP
Koji Uehara
will try to finish off what has been an amazing run to the end of the 2013 season.
Since he became the closer on June 26, Uehara has posted a 0.51 ERA (three earned runs in 53 1/3 IP) and 0.39 WHIP (19 hits, two walks) in 49 appearances.
None of the Cardinals have seen Uehara before in the regular season or postseason, save for
Carlos Beltran
, who is 1-for-3 in his career against him.
The heat maps below show that Uehara has had success with pitches thrown almost anywhere.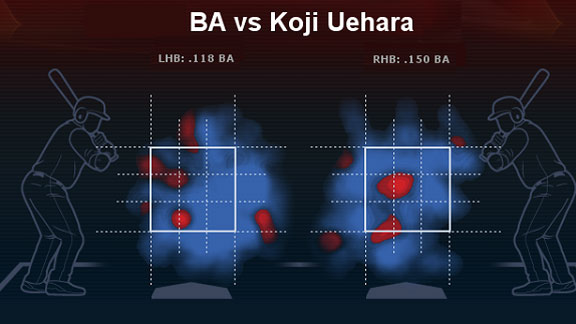 Did You Know?
• This is the third time in the Wild Card era that the team with the best record in the American League has faced the team with the best record in the National League in the World Series. The other instances were 1995 (Braves defeated Indians) and 1999 (Yankees defeated Braves).
• There are three World Series matchups that have taken place more often than the Red Sox and Cardinals-- Dodgers versus Yankees (11 times), Giants versus Yankees (seven times) and Cardinals versus Yankees (five times).
• The Red Sox have reached the World Series a season after finishing in last place in the AL East.
They are the third team in the last seven seasons to go from last place to the World Series, joining the 2007 Rockies and 2008 Rays. The Elias Sports Bureau notes that the most recent team to go from last place to
winning
the World Series is the 1991 Twins.
• The Cardinals have 18 homegrown players on their roster (acquired either via the amateur draft or signed as an amateur free agent). That's the most on any team's World Series roster since 1995, the year of the first World Series in the Wild Card era.
October, 20, 2013
10/20/13
1:06
AM ET
By
ESPN Stats & Information
| ESPN.com
Robert Deutsch/USA TODAY SportsShane Victorino's seventh inning grand slam propelled the Red Sox into the World Series.
The
Boston Red Sox
advanced to its 12th World Series in franchise history and first since sweeping the
Colorado Rockies
in 2007 by virtue of a 5-2 win against the
Detroit Tigers
in Game 6 of the ALCS.
This sets the table for a World Series between the Red Sox and
St. Louis Cardinals
for the fourth time. The Cardinals won the first two meetings in 1946 and 1967 (both in seven games). Boston swept the Cardinals in 2004 to famously win its first World Series since 1918.
It will be the first World Series featuring teams with the best regular season records in the American and National Leagues since 1999 when the
New York Yankees
played the
Atlanta Braves
.
The pennant is even sweeter considering this was a last-place team a year ago.
According to the Elias Sports Bureau, the Red Sox are the seventh team since 1990 to reach the World Series following a season in which they finished in last place.
FLYIN' HAWAIIAN BREAKS SLUMP IN GRAND WAY
The winning hit for Boston came off the bat of
Shane Victorino
, who hit the go-ahead grand slam in the seventh inning to give the Red Sox a 5-2 lead. At the time, Victorino was mired in a 2-for-23 slump).
He's the eighth player in MLB postseason history to hit a go-ahead grand slam in the seventh inning or later and the first in baseball history with multiple go-ahead grand slams in the postseason.
Victorino's hit came on an 0-2 curveball from
Jose Veras
. He might have had an indication of what was to come as over the last three regular seasons, Veras had thrown 171 pitches on 0-2 counts, with 81 percent of them being curveballs.
That's the highest curveball usage on an 0-2 count in the majors over this span (minimum 100 pitches thrown).
Boston is the first team in MLB history to hit two game-tying/go-ahead grand slams in the seventh inning or later in a single postseason (
David Ortiz
hit the other one in Game 2 of this series).
ALCS FACTS
•
Koji Uehara
is the third relief pitcher to win the ALCS MVP, joining
Mariano Rivera
in 2003 and Dennis Eckersley in 1988.
• The Red Sox improved to 6-0 all-time in ALCS Game 6s and won their first best-of-7 postseason series after being tied 2-2.
In this series, Uehara went 1-0 with three saves while allowing no runs on four hits in six innings pitched.
• In relief of
Max Scherzer
, the Tigers bullpen threw 2⅔ innings, allowing seven earned runs on six hits (including those two grand slams).
•
Prince Fielder
went 4-for-22 (.182) with five strikeouts and no home runs or RBI in this series.
October, 18, 2013
10/18/13
12:56
AM ET
By
ESPN Stats & Information
| ESPN.com
AP Photo/Charlie Riedel
Mike Napoli's big beard didn't get in the way of his big swing in Game 5.
The
Boston Red Sox
are one win away from their first World Series appearance since 2007.
In a series in which four of the five games have been decided by one run, the Red Sox got their third one-run victory of the series, edging the
Detroit Tigers
, 4-3.
Difference-Maker: Mike Napoli
Mike Napoli was 3-for-4 with a home run, coming up a triple shy of the cycle.
He's the first Red Sox player with a single, double and homer in a postseason game since
Jason Bay
in 2008.
Napoli's homer was a monstrous one—calculated at 460 feet to straightaway center.
He has four home runs this season of at least 460 feet. No one else in the majors has more than two.
The last player with that long a home run in a postseason game was
Prince Fielder
for the 2008 Brewers (also 460 feet). The last player with a longer homer was
Manny Ramirez
, who hit a 479-footer for the Red Sox in 2007.
Napoli is 6-for-12 with four extra-bases hits in his last three games.
All six of the hits have come against pitches in the upper half of the strike zone or above the top of the zone.
In the six games prior to this hot streak, Napoli saw 51 pitches in that area. They resulted in 10 outs, two walks and no hits.
The Bambino's name is no longer a curse
Babe Ruth found his way onto a couple of items of note from this game.
Red Sox starter
Jon Lester
earned his fourth career postseason win. That's the most by a left-handed pitcher in Red Sox history, surpassing Ruth and Bruce Hurst.
Xander Bogaerts
had a hit, a walk and a run scored, and started a key double play. He surpassed Ruth as the youngest player to start a postseason game in Red Sox history (age 21).
Key double plays
The Red Sox turned three double plays, including huge rally killers in the sixth and seventh innings.
Dustin Pedroia
made a great pivot on the one in the sixth inning against
Austin Jackson
, with Tigers catcher
Brayan Pena
barreling into him.
Baseball Info Solutions, a video-review service for major-league teams and media credited Pedroia with 7 "double plays despite aggressive slide" in the regular season. That was tied for second-most among second basemen in the majors with
Brandon Phillips
, one behind
Mark Ellis
.
Over the last 3 seasons, Pedroia has 20 such double-play turns, the most by a second baseman in that span.
Uehara shuts the door again
Red Sox closer
Koji Uehara
got the final five outs, giving him as many saves of at least five outs in this postseason (one) as he had in the regular season.
It was the first five-out save by a Red Sox pitcher since
Jonathan Papelbon
got one to close out the 2007 World Series against the Rockies.
Uehara has a 1.13 ERA and four saves this postseason. He has 11 strikeouts and no walks. The postseason record for most strikeouts without a walk is 14 by Kevin Millwood of the 2002 Braves,
Mariano Rivera
for the 2003 Yankees and
David Price
for the 2010 Rays.
Elias Sports Bureau: Did you know?
The four one-run games matches the most in a single ALCS series (the LCS expanded to best-of-7 in 1985). In 1997 the Indians and Orioles also played four one-run games in a six-game series
The LCS record for one run games is five by the Mets and Braves in 1999. The postseason record is six by the Athletics and Reds in the 1972 World Series.
September, 15, 2013
9/15/13
2:41
PM ET
The
Boston Red Sox
go for a three-game sweep of the arch-rival
New York Yankees
tonight on "Sunday Night Baseball" (8 ET on ESPN and WatchESPN) and move closer toward clinching the AL East title. Boston's magic number for doing so is six.
Here are five storylines the broadcast crew will be talking about tonight.
1. It's been a long time since the Red Sox have enjoyed this kind of success against their long-time nemesis. Boston is seeking its 13th win against the Yankees this season in the final game of the season series. The Red Sox haven't won 13 games against New York in a single season since winning 14 in 1973.
2.
The return of
Clay Buchholz
, who makes his second start tonight since returning from a nearly three-month long stint on the DL, is a big deal for the Red Sox rotation.
When Buchholz went on the disabled list in June, he was 9-0 with a major-league leading 1.71 ERA.
Many credit Buchholz's return to his All-Star form to the return of his former pitching coach John Farrell, who is now Boston's manager. His difference in performance is noted in the chart on the right.
Batters have a had a hard time figuring out Buchholz this season as 44 of his 87 strikeouts (51 percent) have been looking this season. That's the highest percentage of strikeouts looking of any pitcher with at least 10 starts this season.
Even worse news for the Yankees is that Buchholz has won both of his starts against New York this season, holding the Yanks to one run in 12 innings. Before this season, he hadn't fared well against New York, posting a 2-5 record with a 7.19 ERA in 9 starts.
3.
Ivan Nova
, who will oppose Buchholz, has relied on his curveball this season. He's thrown by far the highest percentage of curveballs among AL pitchers with at least 15 starts this season at 35 percent overall.
Nova's curve is generating an eye-popping 48 percent miss per swing rate and opponents are batting only .148 in at-bats ending with his curveball this season. He's generated 125 outs with the pitch versus 33 total bases allowed. The only pitcher with a higher miss-rate with his curveball is
Yu Darvish
, 52 percent.
4.
The Red Sox are very pleased with the job
Koji Uehara
has done as their closer.
His 0.56 WHIP would stand up as the lowest single-season total (minimum 60 IP) in major league history if he can maintain similar numbers through the end of the season.
Since became the closer on June 26, Uehara has posted an 0.24 ERA with 18 saves in 35 appearances.
5.
This will be Mariano Rivera's last regular-season game against the Red Sox. His career save percentage against Boston is 78 percent (0including the postseason), his lowest against any AL opponent.
The Elias Sports Bureau notes that Rivera already tied the major-league record for most saves by a pitcher in his final season in the majors.
Jeff Shaw
(2001 Dodgers) and
Robb Nen
(2002 Giants) each registered 43 saves in his last major-league season; no other pitcher saved as many as 40.
September, 4, 2013
9/04/13
11:48
AM ET
By
Will Cohen, ESPN Stats & Info
| ESPN.com
AP Photo/Elise AmendolaKoji Uehara has retired the last 21 batters he's faced, including 3 straight Tigers last night.
The
Boston Red Sox
lead the
Detroit Tigers
by 1.5 games for the best record in the American League. The two division leaders wrap up their three-game series from Fenway Park tonight on Wednesday Night Baseball (7 ET on ESPN/WatchESPN).
Here are five stats the broadcast crew will be talking about during the game.
1
. As mentioned, this game features the two best teams in the AL.
According to Coolstandings.com simulations powered by Fangraphs.com projections, the Red Sox and Tigers have the best chances to win the World Series this season.
2
. Both teams have gotten to the top of the league fueled by solid pitching combined with excellent offense. The Tigers and Red Sox rank first and second, respectively, in baseball in BA, OBP, OPS and runs per game.
3
.
Rick Porcello
hasn't fared well against the Red Sox in his career, going 1-2 with a 9.00 ERA and 2.00 WHIP over 14 innings in four starts.
This season, he's feasted on AL Central opponents (7-2, 3.08 ERA), but he's only 1-5 with a 7.36 ERA against opponents from the rest of the American League.
One player Porcello does not want to face tonight will be
Jacoby Ellsbury
, who's 6-for-7 with a home run in his career against him.
4
. Since becoming the Red Sox closer on June 26,
Koji Uehara
has a 0.28 ERA and 0.37 WHIP. After retiring the Tigers in order last night for his 17th save, Uehara has now retired the last 21 batters he has faced.
5
. With the
Tampa Bay Rays
struggling, Boston has opened a 5.5 game lead in the AL East after finishing last in the division in 2012.
The Red Sox are looking to become just the seventh team since the current divisional format began in 1995 to go from worst-to-first in its division.
One of the keys to the turnaround has been improved health. Last year, only five hitters played in 100 games. This season, eight hitters have already played 100 games and
Jonny Gomes
has played 99.
September, 1, 2013
9/01/13
8:17
PM ET
By
ESPN Stats & Information
| ESPN.com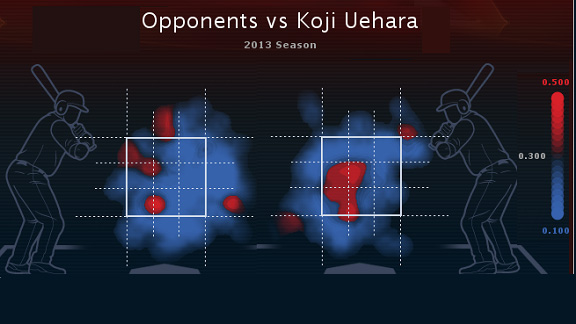 There aren't a lot of hot spots for opposing hitters against Koji Uehara.
The
Boston Red Sox
have made their share of smart moves in transitioning from worst to first in the AL East, but the best move may have been one made out of necessity- making
Koji Uehara
their closer.
After injuries to
Andrew Bailey
and
Joel Hanrahan
, Uehara got the call to finish games.
And though there are a number of closers who have been fantastic of late (particularly
Kenley Jansen
of the
Los Angeles Dodgers
), the best has been Uehara. He wrapped up another Red Sox win on Sunday.
As the heat map above shows, no one has been able to hit Uehara this season. Here's a closer look at his dominant work.
Total dominance
Uehara has an 0.29 ERA, .097 opponents' batting average, 37 percent miss rate and a strikeout-to-walk rate of 41-to-2 since becoming the Red Sox full-time closer on June 26.
All of those rank the best in baseball in that span.
Uehara's current scoreless streak is 24 innings, during which opponents are 6-for-73 with one walk against him.
Key to success: The Splitter
Orel Hershiser (whose 59-inning scoreless streak began 25 years ago last Friday) likes to frequently bring up that the key to pitching is getting hitters out with balls that look like strikes.
Uehara has a pitch that does that in his split-fingered fastball.
He's thrown 200 of them since June 26 and they've resulted in 58 outs and only five baserunners. Opponents have missed on 46 percent of their swings against it.
One way to get him: The home-run ball
Uehara's history is such that his one weakness has been the home run. He allowed 11 in 65 innings in 2011, and four in 36 innings in 2012. He gave up five to the 131 hitters he faced through the end of June, but has not allowed any to the 91 he faced since.
Uehara has kept the ball down a little more often of late, lowering his rate of pitches in the upper half of the strike zone and above from 51 percent to 46 percent.
Did You Know?
Uehara has a 1.17 ERA in 61 1/3 innings pitched this season. The Red Sox record for lowest single-season ERA (minimum 60 inings) is 0.92, set by
Jonathan Papelbon
in 2006.
December, 9, 2012
12/09/12
11:09
AM ET
By
ESPN Stats & Information
| ESPN.com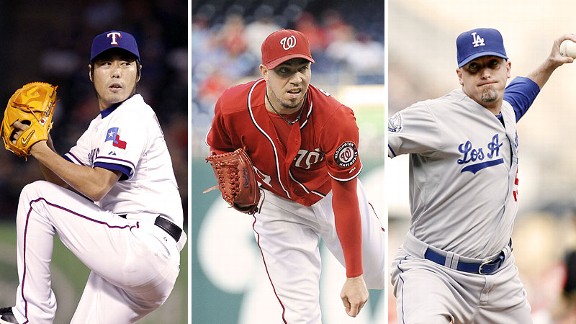 AP Photo/USA Today SportsKoji Uehara, Sean Burnett and Randy Choate each bring something noteworthy to their new teams
Throughout the offseason, we'll feature regular in-depth reviews of MLB moves. This week's piece looks at three middle relievers/setup men who were prominent signings at this year's Winter Meetings-- Koji Uehara, Sean Burnett, and Randy Choate.
Red Sox agree to deal with Koji Uehara
Since becoming a reliever for the 2010 season,
Koji Uehara
has thrown nearly 72 percent of his pitches for strikes, the highest strike rate in baseball.
His 7.97 career strikeout-to-walk ratio is best all-time among pitchers with at least 35 innings; Uehara has done it over more than 200 innings.
Uehara threw just 13 percent of his pitches when behind in the count last season, the lowest rate in baseball, and went to zero 3-0 counts and only two 3-1 counts to the 130 hitters he faced.
Uehara is one of the toughest pitchers in baseball to face with a two-strike count. Opponents were 8-for-80 in two-strike situations against him last season.
Uehara's .122 opponents' on-base percentage with two strikes rated second-lowest in the majors, trailing only
Craig Kimbrel
.
Uehara's fastball-splitter combo was outstanding in those situations. He got a 35 percent miss rate and 27 strikeouts with his splitter. Of the 30 hitters for whom an at-bat ended with a two-strike fastball, 29 made an out.
Uehara is also someone the Red Sox can count on coming in with runners on.
In his career, Uehara's inherited 56 runners and allowed only nine to score (16 percent), well below the league average of about 30 percent. In his 145 career relief appearances, he's retired the first hitter 121 times (83 percent).
Finishing the season strong hasn't been a problem for Uehara.
In the regular season, he's faced 115 hitters in September or October; amazingly, he's struck out 54 and walked only one.
The Rangers may have collapsed memorably down the stretch last season, but don't blame Uehara; in September and October, including the postseason, Uehara struck out 22 hitters and walked one in 12 2/3 innings, allowing no runs and only two hits.
--Dan Braunstein
Angels sign Sean Burnett; Cardinals sign Randy Choate
Two of baseball's best left-handed relievers got multi-year contracts last Wednesday. Let's take a look at what each brings to his new team.
Sean Burnett
joins a
Angels
bullpen that last year held lefties to a .661 OPS, slightly better than league average. Burnett is a control artist and groundball machine that also has the ability to get a strikeout when needed.
Burnett walked one lefty batter all season –-
Jason Heyward
in a 9-4 game on July 20 – and reached only 12 3-ball counts in his 95 plate appearances against lefties. His 68 percent ground-ball rate versus lefties was second among southpaws behind
Eric O'Flaherty
(min. 75 PA).
Burnett doesn't have overpowering stuff, with a fastball that barely hits 90 MPH, but he can still miss bats when it counts.
He struck out nearly one-third of the left-handed batters he faced with men on base, a rate that was the highest among all lefty relievers (min. 55 PA).
Randy Choate
has found a new home in
St. Louis
after mowing down NL East lefties with the
Marlins
last year. Choate is a true lefty specialist, with a 243-point difference in OPS versus lefties (.563) and righties (.806) for his career.
His slider was nearly unhittable last year, netting him 41 outs in the 43 plate appearances against lefties that ended with the pitch. He allowed two singles with his slider in a five-appearance span from June 13-July 2, and zero hits with the pitch the rest of the season.
--Katie Sharp
July, 30, 2011
7/30/11
7:09
PM ET

Uehara
With the acquisition of reliever
Koji Uehara
from the Orioles Saturday afternoon, the Rangers are the latest team to wheel and deal before the trade deadline.
The Rangers had to give up a lot (
Tommy Hunter
and
Chris Davis
) to land Uehara, but the deal should definitely help them improve a floundering bullpen.
Entering Saturday, the Rangers' relief corps was in the bottom five among American League teams in ERA, opponents' batting average, save percentage and strikeouts per nine IP.
At the minimum, Uehara should help the strikeout numbers.
He is averaging 11.9 strikeouts per nine innings pitched (fifth-best among AL relievers), and his 62 strikeouts are second-most among AL relievers.
Uehara also doesn't walk many hitters. His 7.75 K/BB rate this season is best among AL relievers (
Mariano Rivera
is second at 7.20).
In his career as a reliever (past two seasons), he's struck out 117 hitters and walked 13 in 91 innings. Last season after July 31, Uehara struck out 38 hitters and walked none in 27 2/3 innings.
Uehara is also very hot as of late. He hasn't surrendered a run in his last 13 games (15 IP). During that stretch, he has yielded only five hits while striking out 23 hitters and walking two.
In other early Saturday trades:
• The Tigers acquired starter
Doug Fister
and reliever
David Pauley
from the Mariners in exchange for outfielder
Casper Wells
, infielder Francisco Martinez, left-hander
Charlie Furbush
and a player to be named later.
• The Nationals made two deals, trading utilityman
Jerry
Hairston Jr.
to the Brewers for prospect Erik Komatsu and dealing starter
Jason Marquis
to the Diamondbacks for infielder Zach Walters.