Stats & Info:

Kolten Wong
November, 10, 2014
Nov 10
10:43
AM ET
By
ESPN Stats & Information
| ESPN.com
AP Photo/Charles Rex ArbogastThis swing produced 36 home runs in 2014.
Awards season kicks off on Monday with the announcement of the AL and NL Rookie of the Year awards.
In the American League, the choice is clear-cut, with
Chicago White Sox
first baseman
Jose Abreu
heavily favored over
New York Yankees
pitcher
Dellin Betances
and
Los Angeles Angels
pitcher
Matt Shoemaker
.
In the National League,
New York Mets
pitcher
Jacob deGrom
,
Cincinnati Reds
outfielder
Billy Hamilton
and
St. Louis Cardinals
second baseman
Kolten Wong
are the three finalists in what should be a close race.
AL: Abreu's award to lose
Abreu is trying to become the first White Sox player to win the AL Rookie of the Year award since Ozzie Guillen in 1985 and the sixth White Sox player overall, joining Hall of Famer Luis Aparicio (1956), Gary Peters (1963), Tommie Agee (1966) and Ron Kittle (1983).
Abreu led all rookies in home runs (36), RBIs (107), hits (176), doubles (35), runs scored (80), OBP (.383), slugging percentage (.581) and OPS (.964). He's the first rookie in major league history to finish in the top five of all three Triple Crown categories.
Abreu became the first player in MLB history to win both the player of the month and the rookie of the month awards twice in the same season.
Abreu would be the first first baseman to win the award since
Ryan Howard
of the Phillies won in 2005.
That's not to say that Betances and Shoemaker didn't have good seasons.
Betances had a 1.40 ERA and averaged 13.5 strikeouts per nine innings, both the lowest totals for anyone who threw at least 80 innings this season. Betances also ranked best among those pitchers in opponents' batting average (.149) and OPS (.442).
At age 28, Shoemaker had one of the best rookie seasons for an Angels pitcher. He finished 16-4 and was 7-0 with a 1.29 ERA in his last eight appearances of the season.
NL: deGrom vs. Hamilton
DeGrom is trying to become the first Mets player to win rookie of the year honors since Dwight Gooden in 1984. The other Mets to win the honor are Tom Seaver (1967), Jon Matlack (1972) and Darryl Strawberry (1983).
DeGrom didn't figure to be in the rookie of the year running after starting the season 0-4, but he was dominant the rest of the year, going 9-2 with a 1.99 ERA in his last 15 starts. DeGrom allowed 20 runs in his first seven starts and only 24 in those last 15.
Included in that was a start against the Marlins in which he tied a major league record by striking out the first eight batters of the game.
Hamilton is trying to become the first Reds player to win the award since pitcher Scott Williamson won in 1999. The last Reds position player to win was third baseman Chris Sabo of the Reds in 1988. Other Reds to take the honors: Pete Rose (1963), Tommy Helms (1966), Johnny Bench (1968) and Pat Zachry (1976).
Hamilton excelled in two areas: baserunning, as he finished second in the NL with 56 stolen bases, and defense. He led NL center fielders with 10 assists and ranked third among them with 14 defensive runs saved.
Hamilton's 56 steals are tied for the second most by a rookie in the wild-card era, behind only Tony Womack's 60 for the Diamondbacks in 1997.
Wong is an unlikely candidate to win, but he did close the season very strong. He would be the first Cardinals player to win rookie of the year since
Albert Pujols
in 2001.
October, 13, 2014
Oct 13
3:17
AM ET
By
ESPN Stats & Info Staff
| ESPN.com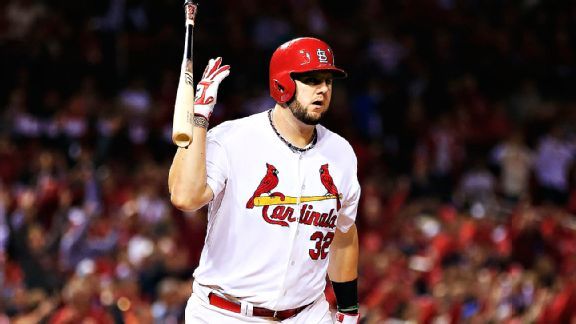 Jamie Squire/Getty ImagesMatt Adams' eighth-inning blast was one of four Cardinals home runs of historic proportion in Game 2.
To say that the 2014
St. Louis Cardinals
were not a home run hitting team during the regular season would be a gross understatement. St. Louis' 105 home runs ranked last in the National League, and 29th overall in the majors, only ahead of the
Kansas City Royals
with 95. That was the lowest home runs total by a Cardinals team in the wild-card era, which includes the shortened 1995 season. But few teams have been more adept at hitting home runs in the postseason -- at least so far this October -- than St. Louis.
This postseason the Cardinals are launching one home run every 17 at-bats, which more than three times more frequently than their rate of one home run every 52 at-bats during the regular season.
Matt Carpenter
started off Sunday's long ball barrage with his third-inning blast off of perennial Cardinals postseason victim
Jake Peavy
. The solo shot was the fourth of this postseason by Carpenter in his 22nd at-bat. He hit eight home runs in 595 at-bats during the regular season.
Carpenter's four home runs are tied with fellow Missouri third baseman
Mike Moustakas
for the most this postseason. All four of those came as a leadoff hitter, which ties him with
Carl Crawford
for third most in any postseason by a leadoff hitter. Crawford hit his for the Dodgers last season. Another Dodger, Davey Lopes hit five home runs from the leadoff spot in 1978, which is one behind Lenny Dykstra's six leadoff home runs for the 1993 Phillies.
Next to join the home run parade was
Oscar Taveras
, who became the second-youngest Cardinal to hit a postseason home run by depositing a
Jean Machi
pitch down around the right-field foul pole. Only 21-year old
Albert Pujols
, who took
Randy Johnson
deep in Game 2 of the 2001 National League Division Series, was a greener Redbird than the 22-year-old Taveras.
Taveras was pinch-hitting for reliever
Carlos Martinez
when he hit the game-tying shot, becoming the first player in Cardinals postseason history with a game-tying or go-ahead pinch-hit home run.
The seventh inning has been disproportionately productive for the Cardinals this postseason. The team has scored 23 total runs, 14 in the stretch inning.
The eighth inning brought more heroics as
Matt Adams
stepped to the plate against hard-throwing
Hunter Strickland
. Adams went down 1-2 in the count but ripped Strickland's offering 394 feet into the sea of red. Adams was the batter who sank
Clayton Kershaw
with a seventh-inning, three-run shot in the Cardinals' NLDS Game 4 comeback victory. With that second swing Adams became the first player with two go-ahead homers in the seventh inning or later in a postseason since
David Ortiz
in 2004, according to Elias Sports Bureau research.
Adams' home run was the fourth that Strickland has allowed in four postseason appearances. In 50 appearances during the regular season in the minors and majors combined, Strickland allowed three home runs.
But closer
Trevor Rosenthal
couldn't hold the lead, surrendering the game-tying run on a wild pitch that allowed pinch runner
Matt Duffy
to speed around from second base.
However in the bottom of the ninth,
Kolten Wong
, who until Sunday was best remembered for getting picked off first base to end Game 4 of the 2013 World Series, hit the fourth St. Louis home run of the night, a walk-off job, to even up the series.
Wong became the fourth Cardinal to walk-off with a home run, joining
David Freese
in the bottom of the 11th inning against the Rangers in Game 6 of the 2011 World Series,
Jim Edmonds
in the 12th inning of Game 6 of the 2004 NLCS against the Astros and Ozzie Smith in the bottom of the ninth off Dodgers closer Tom Niedenfuer in the 1985 NLCS.
Wong also became just the fourth second baseman to end a postseason game with a home run, joining
Jeff Kent
in the 2004 NLCS for the Astros,
Alfonso Soriano
in the 2001 ALCS for the Yankees and Bill Mazeroski, who hit one of the most famous home run in baseball history, in Game 7 of the 1961 World Series for the Pirates.
July, 9, 2014
Jul 9
12:08
AM ET
By
ESPN Stats & Information
| ESPN.com
St. Louis Cardinals
second baseman
Kolten Wong
seems to have recovered well from the left shoulder bruise that sidelined him for a couple of weeks at the end of June into early July.
Wong
Wong capped the Cardinals' win over the
Pittsburgh Pirates
with his first career walk-off home run.
He's 4-for-10 with two home runs and four RBIs in three games since his activation. He hit only one home run in his first 45 games of the season and was 4-for-45 in the 15 games prior to being placed on the disabled list.
The Cardinals have won back-to-back games on walk-off home runs after not hitting one since Game 6 of the 2011 World Series (David Freese's winner against the
Texas Rangers
).
The last time the Cardinals hit walk-off home runs in consecutive games was June 4-5, 2011. Both home runs were hit by
Albert Pujols
.
Prior to these games, the Cardinals hadn't beaten the Pirates on a walk-off home run since
Jim Edmonds
hit one in 2003.
Second Base is First Priority for Improvement
Entering Tuesday, the Cardinals had gotten little from the second base position all season, the drawback of moving
Matt Carpenter
to third base.
Cardinals second basemen entered the day hitting .204 with a .539 OPS, which ranked third-worst and second-worst in baseball, respectively.
Wong is doing a couple of things decently. He's hitting .259 with a .420 slugging percentage in 112 at-bats at home. He's also hitting a respectable .227 with two strikes this season.
Wong has managed to put his bat on the ball at a good rate. He has missed on only 12 percent of his swings this season. That ranks sixth-lowest among the 140 National League hitters with at least 150 plate appearances this season.
Frieri again
Ninth-inning troubles continued for Pirates reliever
Ernesto Frieri
, who yielded Wong's home run.
Frieri has now allowed eight ninth-inning home runs this season, tied with Addison Reed for the most of any pitcher in the major leagues, and has now given up a walk-off home run for two teams this season.
October, 28, 2013
10/28/13
12:37
AM ET
By
ESPN Stats & Information
| ESPN.com
Tim Kurkjian likes to say that the best thing about baseball is that you'll see something new every day.
In the case of this World Series, that's been true with the final play of the past two games.
Game 3 featured the first game-ending obstruction call in postseason history. Game 4 had the first game-ending pickoff.
Another weird ending
Koji Uehara
picked
Kolten Wong
off first base with
Carlos Beltran
representing the tying run at the plate to close the game. Uehara had only two pickoffs in his career entering the day. This was his first one since Aug. 6, 2011, when he picked off
Asdrubal Cabrera
of the Indians.
There had been one prior pickoff to preserve a lead with one out in the ninth inning -- Mike Marshall of the Dodgers nailed pinch runner Herb Washington of the Athletics in Game 2 of the 1974 World Series -- but never before had there been one with two outs.
The Cardinals had been on the right side of a baserunning blunder of a somewhat similar nature once before.
They threw Yankees slugger Babe Ruth out trying to steal second base with two outs in the ninth inning in a one-run game to end Game 7 of the 1926 World Series.
Turning point: Gomes homers
Jonny Gomes
entered the day with the lowest career postseason batting average of any active player with at least 40 at-bats (.125).
But he made up for that with his three-run homer against
Seth Maness
that put the Red Sox ahead for good.
Gomes hit a sinking Maness fastball out, which isn't easy to do. Only two players --
Rick Ankiel
and
Marlon Byrd
-- homered against Maness' fastball in 2013, with Byrd being the last to do so on June 12.
Ortiz carrying the load
David Ortiz
went 3-for-3, making him 8-for-11 in the World Series.
The Elias Sports Bureau notes that he's the second-fastest player to reach eight hits in a World Series. The only one faster was Billy Hatcher, who was 8-for-his-first-9 for the 1990 Reds.
Duffy Lewis last appeared in a World Series in 1916, but he still holds one prominent Red Sox World Series mark. Lewis had six career multihit games, the most in franchise history. But Ortiz now trails him by only one.
Ortiz is the third Red Sox first baseman with three hits in a World Series game. The others are Dick Hoblitzell (1915) and Carl Yastrzemski (1975).
Ortiz will have either the highest or second-highest batting average of any player through his first 40 World Series at-bats, as noted in the chart on the right. His next turn will be the 40th of his career.
Doubront, Tazawa and Lackey come through
The Red Sox got four very impressive innings from their middle relievers after
Clay Buchholz
got hooked prior to the fifth inning.
Felix Doubront
was charged with one run (yielded by
Craig Breslow
) but got through 2 2/3 innings. He's allowed one run in seven innings this postseason.
Tazawa recorded his fifth hold of this postseason, matching Mike Timlin's 2003 single-season record for a Red Sox pitcher.
Tazawa has pitched in 13 games this postseason and entered 12 times in the middle of an inning. In 11 of those instances, he came in with at least one man on base. Game 4 marked the sixth time he came in with two men on base.
He's now stranded 12 of the 15 baserunners he's been handed this postseason.
Lackey made his first relief appearance since June 27, 2004, against the Dodgers. On Sunday, he escaped a runner-on-third, one-out jam for the first hold of his major or minor league career.