July, 24, 2014
Jul 24
2:17
PM ET
Dozier Mobley/Getty ImagesJeff Gordon won the inaugural Brickyard 400 in 1994, and has added three more since.
This Sunday, NASCAR will go racing at one of the most historic tracks in motorsports, Indianapolis Motor Speedway. And two of NASCAR's most-accomplished drivers,
Jimmie Johnson
and
Jeff Gordon
, will have the chance to do something that only one other driver has ever done at the Brickyard, visit Victory Lane five times in a major race.
No driver has won the Indianapolis 500 more than four times -- A.J. Foyt, Rick Mears and Al Unser each have four wins in that race. But Johnson and Gordon will look to join Formula 1 legend
Michael Schumacher
, who won the U.S. Grand Prix five times when the race was held at Indy.
With four wins apiece, both Johnson and Gordon have more Brickyard 400 wins than any other
team
combined in the race. Those two are responsible for all eight of Hendrick Motorsports' wins in this race, while no other team has more than three.
The teammates will be on the short list of favorites for the race. Gordon is a regular in the top 10, with 16 in 20 Brickyard 400 starts. Johnson has won this race in four of the past eight years, and finished second behind
Ryan Newman
last year.
Those two don't just have elite results, but they've been among the most dominant drivers in terms of raw speed. Since 2008 at Indianapolis, Johnson has paced the field with 153 fastest laps run, while Gordon is third with 97. From there, it's a drop, as the fourth-place driver has 49 fastest laps.
Who else should we be watching for Sunday afternoon?
Busch and Montoya make return visit
The driver between Johnson and Gordon in fastest laps run is
Juan Pablo Montoya
, who will attempt to make the field in a third Team Penske entry this week.
Both Montoya, who finished fifth in the Indianapolis 500 earlier this season, and
Kurt Busch
(who was sixth), will attempt to be the fifth and sixth drivers to run both the Indy 500 and the Brickyard 400 in the same season.
Both also have a chance to join
Tony Stewart
as the only drivers to finish in the top 10 in both races in the same year. Stewart finished ninth in the 1999 Indianapolis 500, and seventh in the same year's Brickyard 400.
Wider range of winners?
For the first 16 runnings of the Brickyard 400, every winner came from the top 10 in points, with the lowest points position of a winner being 10th, when Jeff Gordon won in 1994 for his second of 89 career wins.
But in the past four seasons, three of the winners entered 18th or lower in points, with Ryan Newman winning last year after entering 19th in the standings.
That being said, 40 percent (eight of 20) of the time this race's winner has gone on to win the championship that same season.
June, 21, 2014
Jun 21
9:03
PM ET
By
ESPN Stats & Information
| ESPN.com
Here are the projections for Sunday's Sprint Cup race at Sonoma. Our projection system takes into account, among other factors, drivers' past performances at the current track, pre-race on-track activity (practices and qualifying) and probability of finishing the race. All of the data is then adjusted for the track type (in this case, a 1.99-mile road course) and time of year.
The first road course race of the year could be an opportunity for a non-familiar name to put themselves in the Chase. In seven of the past nine years, the Sonoma winner was a driver who had not yet won on the season. Our projected winner,
Clint Bowyer
, has not yet won this season. Bowyer qualified 25th but finished first and second in race trim during practices.
Jimmie Johnson
won at Michigan for the first time last week, giving him 69 career victories. With his next win he would become the fourth-youngest to 70 wins, trailing only the top three drivers in wins in series history:
Richard Petty
,
David Pearson
and
Jeff Gordon
.
Speaking of Gordon, he's finished second at Sonoma in two of the past three years and has eight straight top 10s at the track. Gordon is the series' all-time leader with nine career road course wins, and his five wins at Sonoma is one shy of Bobby Allison's record for the most at a single road course.
A driver to keep an eye on is
Marcos Ambrose
, a two-time road-course winner who's still looking to break through at Sonoma. Ambrose is 23rd in points, but a win would make him a favorite to make the Chase. Since the start of 2009 Ambrose has been fastest driver on 172 laps in road course races, 106 laps more than anyone else.
June, 7, 2014
Jun 7
3:24
PM ET
By
Trevor Ebaugh, ESPN Stats & Info
| ESPN.com
Here are the projections for Sunday's Sprint Cup race at Pocono.
Our projection system takes into account, among other factors, drivers' past performances at the current track, pre-race on-track activity (practices and qualifying) and probability of finishing the race.

All of the data is then adjusted for the track type (in this case, a 2.5-mile tri-oval) and time of year.
Can Busch avoid a wreck?
Kurt Busch
appears to be the driver to beat on Sunday, that is, if he can keep the car in one piece. Busch has wrecked twice in the last eight races at Pocono (finishing 30th and 33rd), but has finishes of third, seventh, third, second, sixth, and ninth during that span when avoiding a collision.
His car was also dominant this week in pre-race workouts, never finishing worse than ninth in any session.
Johnson going for 3 straight
Jimmie Johnson
picked up his second straight win last week at Dover after going winless for the first 11 races of the season. Johnson will now go for his third straight win, which would be his third such streak since 2000 - no other driver has done it even once in that time.
Pocono could be a good track for him to pick up another win, as he led more than half of all laps run there last year.
Pole position is key
Qualifying has been important at Pocono, as each of the last two June races at the track have been won from the pole, with the winner in 2011 starting second (Kurt Busch starts second on Sunday).
In the last 16 Pocono races, polesitters have six wins and 12 finishes in the top three.
Halfway to the Chase
We're at the halfway point to the Chase, with 10 drivers having won (after 26 races, the top 16 drivers in wins, with points as a tiebreaker, make the Chase).
Of the 10 previous Chase champions, eight of them had a win at this point of the season (only
Tony Stewart
has been winless), and all were in the top 10 in points.
May, 23, 2014
May 23
9:45
AM ET
Thirty-three drivers will take the green flag early Sunday afternoon (11 a.m. ET on ABC) for the 98th Indianapolis 500, each with their own story. But some are in position to make history.
Kurt Busch's Marathon Day
It's actually been a marathon couple of weeks for
Kurt Busch
, who will attempt to become the fourth driver to run the Indianapolis 500 and the NASCAR Sprint Cup Series 600-mile race at Charlotte in the same day. Here's how the past three have fared.
• John Andretti (part of the storied Andretti family tree) was the first to pull it off in 1994, finishing 10th in Indianapolis but 36th in Charlotte.
• Tony Stewart had the most success, finishing in the top 10 in both races in both of his attempts, 1999 and 2001. In 2001, Stewart became the only driver to complete all 1,100 miles of racing.
• Robby Gordon started both races in the same day in 2002, 2003 and 2004, but also is the best example for what could go wrong. In 2000, Gordon ran the Indianapolis 500, but didn't make it to Charlotte in time for the start of the race. If that happens to Busch, he wouldn't receive any points, damaging his hopes to make the Chase for the NASCAR Sprint Cup.
Helio's Place in History
Helio Castroneves won in his first Indianapolis 500 start in 2001, and quickly added another in 2002.
Since then, he's tacked on a third victory, leaving him one shy of tying Rick Mears,
A.J. Foyt
and
Al Unser
for the most career Indianapolis 500 victories.
Castroneves will be making his 14th start in the race, which would tie Mears for the fastest to reach four wins. Foyt won his fourth in his 20th attempt. Unser in his 22nd.
Juan Pablo's Return
In 2000, Indianapolis 500 rookie
Juan Pablo Montoya
dominated, leading 167 of 200 laps and winning by more than seven seconds. That is his only career start in this race. Montoya will now try to join Castroneves as the only drivers to win their first two Indianapolis 500 starts.
Hometown Hero?
Indianapolis native
Ed Carpenter
is on the pole for a second straight year, the first driver to do that since Castroneves in 2009-10.
Now, he'll try to pull off a win in front of his hometown crowd.
Only two Indianapolis natives have ever won this race, and none since Bill Cummings in 1934. Historically, the front is the best place to start, as 43 of 97 Indy 500s (44 percent) have been won from the front row.
Will Youth be Served?
Last year, Carlos Muñoz started second and finished second as a 21-year-old Indianapolis 500 rookie behind 38-year-old winner
Tony Kanaan
.
This year, he'll roll off second again, and with a win would become the second-youngest winner in the race's history, behind only
Troy Ruttman
, who was about a month younger when he won in 1952.
Up For Another Classic?
If you're not excited by any of the main contenders, the race itself is set up to be another classic.
Last year's Indianapolis 500 featured 68 lead changes, doubling the previous record set in 2012. Besides that, last year's Indianapolis 500 was the fastest in event history (averaging 187.433 MPH), and also had a record 14 leaders.
April, 5, 2014
Apr 5
7:18
PM ET
By
ESPN Stats & Information
| ESPN.com
Here are the projections for Sunday's Sprint Cup race at Texas. Our projection system takes into account, among other factors, drivers' past performances at the current track, prerace on-track activity (practices and qualifying) and probability of finishing the race. All of the data is then adjusted for the track type (in this case, a 1.5-mile quad-oval) and time of year.
Expect another different winner
There have been six different winners in each of the Sprint Cup Series races this season -- the first time that's happened in the Chase era. Only four times in Cup Series history has a season started with seven different winners in a row, most recently in 2003 (nine straight). Our projections this week anticipate that trend continuing, with
Greg Biffle
picking up his first win of the year.
Expect No. 48 to finish well
Jimmie Johnson
, the projected winner in each of the past two races, led more than half the laps in each race but came away winless both times. He had a flat tire while leading inside the final 10 laps at California and was passed for the lead with 11 laps to go at Martinsville but should be good again this week, as he's won two of the past three races at Texas.
Busch eye smaller gap between wins
Last week at Martinsville,
Kurt Busch
passed Jimmie Johnson late to pick up his first win since October 2011, snapping an 83-race winless streak. Between his past two NSCS wins, Busch drove for four different teams, starting with Team Penske and finishing up at Stewart-Haas Racing.
Can Junior stay hot?
In six races this season, Dale Earnhardt Jr. already has four top-3 finishes, including a third-place finish last week at Martinsville. In his first five years with Hendrick Motorsports (2008-12), he never had more than five top-3 finishes in a season. Last year he had seven but was held winless.
Make it a weekend
The spring Texas race has been held on Saturday nights in recent years, but instead of competing with the Final Four in Arlington, the track is offering fans a combination ticket package, including tickets to the race, along with Saturday and Monday's NCAA men's semifinal and championship games.
February, 21, 2014
Feb 21
4:15
PM ET
Tom Pennington/Getty ImagesDenny Hamlin has already won the Sprint Unlimited and his Budweiser Duel this year.
The most important part of SpeedWeeks, the three points races for the Camping World Truck, Nationwide and Sprint Cup series, are still yet to come, but the past week of action at Daytona has already made an impression.
Who has already made an impact, and who in line to make even more history?
It's Denny Hamlin's Week
Denny Hamlin
put a bright spin on a largely downer 2013 season by winning the season finale at Homestead last year, and he carried that momentum into 2014, starting by winning last Saturday's Sprint Unlimited, along with his Budweiser Duel race on Thursday.
Winning both of those races in a single season is not an unusual feat. In fact, it's now happened in three of the last four years (2013:
Kevin Harvick
, 2011:
Kurt Busch
).
What would be unusual is if he went on to win Sunday's Daytona 500. This is the 14th time a driver has won both the Unlimited and his qualifying race in the same season. None of the previous 13 went on to win the 500 that same year.
In fact, since 2000 it's been done five other times, and more often than not the driver has finished outside the top 35 in the Daytona 500.
Due for a Second?
The 1993 Daytona 500 was one of the most memorable in event history.
Dale Jarrett
won in an upset, holding off
Dale Earnhardt
by 0.16 seconds for his second career Cup Series win, and the first for Joe Gibbs Racing, with his father Ned cheering him on from the broadcast booth.
Twenty years later, and Joe Gibbs Racing has grown to become one of the premier NASCAR teams, but it still has just the one Daytona 500 victory.
SpeedWeeks has gone excellently for Gibbs so far, as Hamlin won the Unlimited and his Duel, and
Matt Kenseth
won the first Duel race.
According to Racing Resources, JGR is the first team to sweep both Duel races in the same season.
Got a Second?
The theme with many drivers' Daytona histories focuses around second place.
•
Terry Labonte
: the last-lap wreck in the second Duel race helped him get in. It's his 32nd Daytona 500 start, second all-time to
Dave Marcis
(33). His best finish? Second.
• Kurt Busch: He's a three-time Daytona 500 runner-up. That ties him with Terry Labonte for the most second-place finishes in the Daytona 500 without a win.
•
Dale Earnhardt Jr.
: He's finished second in three of the last four 500's. His four career second-place finishes in the Daytona 500 are tied for second all-time behind Dale Earnhardt Sr.
•
Tony Stewart
: A win in the 500 would not only give him a long-awaited victory in the Great American Race, but would make him the second driver with 20 career Daytona wins (in all major races, points and non-points). He'd be second to Dale Earnhardt (34).
September, 16, 2013
9/16/13
8:23
PM ET
By
Matt Willis, ESPN Stats & Info
| ESPN.com
John Harrelson/Getty ImagesMatt Kenseth won the Geico 400 at Chicago Sunday night, his sixth Sprint Cup win of the season.
How important was Sunday's Chase opener in Chicago in previewing the whole Chase?
For Matt Kenseth – A Win at Chicago Bodes Well for a Title
This is the third time that there's been a Chase race at Chicago.
All three times it's been the Chase opener.
In each of the previous two years, the driver who won the Chicago race went on to win the title.
In the previous seven Chases, the opener was held at New Hampshire, and only one of the seven winners went on to win the title:
Kurt Busch
in 2004.
Jimmie Johnson, Jeff Gordon, Kyle Busch, Kurt Busch and Kevin Harvick
Should Feel Good Too
The top six finishers Sunday were all Chasers. In seven of the previous nine Chase openers, the eventual Chase champion finished in the top six.
The only driver to recover from a finish outside the top six in the opener to win a Chase championship was Johnson, who did so in 2006 and 2010.
It Doesn't Look Good for Dale Earnhardt Jr. or Joey Logano
NASCAR's most popular driver and the driver with the chance to become the youngest Cup Series champion both struggled, finishing 35th (Earnhardt Jr.) and 37th (Logano) after having engine issues.
Both are more than 50 points off the lead.
Since the Chase field expanded from 10 drivers for the 2007 season, the six Chase champions have a combined one finish outside the top 25 in 60 combined races.
That was a 38th-place finish by Jimmie Johnson at Texas in 2009, a race he entered with a lead bigger than the amount of points a driver could make up in a single race.
In fact, no Chase champion has had more than one finish outside the top 20 since the field expanded from 10.
August, 6, 2013
8/06/13
12:20
PM ET
By
Matt Willis, ESPN Stats & Info
| ESPN.com
Andy Lyons/Getty ImagesTony Stewart will miss his 1st Sprint Cup Series race this weekend after breaking his leg on Monday.
Tony Stewart
broke his right leg and required surgery after a race Monday night at Southern Iowa Speedway. The injury will cause Stewart to miss at least Sunday's race at Watkins Glen, a severe blow to his Chase hopes. Stewart is currently 11th in points and leading the Wild Card standings.
If there was ever a race Stewart didn't want to miss, it's Watkins Glen, where he's won five of the last 11 races and holds the track record for NCSC wins.
In addition, this will be the first Sprint Cup Series race that Stewart will miss since his debut in the 1999 Daytona 500. That is currently the third-longest active consecutive starts streak.
Monday's wreck was the third sprint car crash Stewart has been involved in in the last three weeks. On July 16, Stewart went uninjured in a 15-car wreck, but a 19-year-old girl suffered a compression fracture in her back. On July 29, he was also uninjured after flipping five times in a race in Canada.
Impact of Missing Races on Chase
Since the Chase started in 2004, no driver has ever missed a race during the "regular season" and gone on to make the Chase. Two drivers did make the Chase and then miss races inside the Chase.
In 2005,
Kurt Busch
missed the final two races after being removed from the car by his team. Busch finished last among the 10 Chasers. In 2012,
Dale Earnhardt Jr.
missed two races due to a concussion and finished last among a dozen Chase drivers.
Career Perspective
Stewart's credential's already put him among the legends of the sport.
• He's one of only nine drivers to win at least three Sprint Cup Series championships
• First driver to win a championship as an owner/driver since
Alan Kulwicki
in 1992 (only two to do so since 1980)
• Tied for 13th-all time in Cup Series wins (48), second-most among all drivers since the start of the 1999 season (
Jimmie Johnson
, 64)
February, 22, 2013
2/22/13
1:30
PM ET
By
Tom McKean, Stats & Info
| ESPN.com
AP Photo/Terry RennaDanica Patrick became the first woman to win the pole in a Cup Series race.
The Daytona 500 will usher in the start of the Sprint Cup season Sunday, with several storylines taking center stage. Here's a look at a few notable drivers and key stats for them heading into the Cup season:
BRAD KESELOWSKI

Keselowski
Brad Keselowski
looks to defend his Cup championship, but it will not be an easy road. Since 2000, only one first-time Cup champion has gone on to win the Cup the very next season (
Jimmie Johnson
).
Kurt Busch
,
Matt Kenseth
,
Tony Stewart
and
Bobby Labonte
all attempted it in that span, but none finished in the top five of the standings the following season.
Keselowski performed at his best last season at just the right time, posting an average finish of 6.1 in his final 12 starts. That was three positions better than any other driver in that span.
DANICA PATRICK

Patrick
Danica Patrick
will be competing in her first full season in the Cup series, and although there will likely be a learning curve, she's gotten off to a nice start by claiming the Daytona 500 pole. She's the first woman to win a Cup pole and she'll seek to become the first Daytona 500 pole winner to win the event since 2000 (
Dale Jarrett
).
Patrick had a trying 2012 season but did show improvement down the stretch. In her final two starts, she completed 99.8 percent of laps run, compared to just 90.2 percent in her first eight starts. Patrick (10) will likely break the record for the most Cup starts by a woman this season, a mark currently held by
Janet Guthrie
. Guthrie had 33 starts between 1976 and 1980.
JIMMIE JOHNSON

Johnson
Jimmie Johnson
will be making his 400th Cup start at Daytona, and could certainly be considered the favorite to win the championship this season. Although he came up just short last year, he was a factor until the very end and it is easy to see why.
His five wins were tied for the most in the Cup series, and he also led all drivers in top fives, top tens and laps led last season. If he were to win his sixth Cup championship in 2013, he would be just one shy of the record held by both
Richard Petty
and
Dale Earnhardt
.
DALE EARNHARDT JR.

Earnhardt Jr.
Dale Earnhardt Jr.
had a resurgent 2012, even leading the Cup standings during the summer for the first time since 2004. He was sidelined during part of the Chase while recovering from a concussion, but his overall season was stronger than both his 2010 and 2011 campaigns. The key? Earnhardt Jr. put himself in better contention for wins.
In 2012, he had an average running position of 11.6 (an average of a driver's position on every lap), compared to 16.1 in 2011 and 18.9 in 2010.
November, 16, 2012
11/16/12
8:55
AM ET
By
Matt Willis, ESPN Stats & Information
| ESPN.com
AP Photo/Larry PapkeBrad Keselowski leads Jimmie Johnson by 20 points entering the finale in Homestead.
To lock up his first Sprint Cup Series championship Sunday at Homestead-Miami Speedway,
Brad Keselowski
needs only to finish in the top 15. It seems a virtual lock, seeing as in the last 21 starts, more than half of the season schedule, Keselowski has only finished outside the top 15 once, a 30th-place run at Bristol.
If he clinches the title on Sunday, Keselowski will have won his first championship in just his third full Sprint Cup season. In NASCAR's modern era (starting in 1972), only two drivers have won a title within their first three full seasons:
Jeff Gordon
and Dale Earnhardt.
Earnhardt ended up winning a record-tying seven championships in his career, while Gordon is at four and still counting.
Two seasons ago, despite winning a Nationwide Series championship, Keselowski's Sprint Cup performance was disappointing. He finished 25th in points, failing to finish better than 10th in any start.
The next season, with the addition of crew chief
Paul Wolfe
, Keselowski won three times and finished fifth in points. He was just the second driver in the modern era to run a full season and finish 25th or worse in points, and then rebound to win at least three races the following season, joining
Kurt Busch
.
This year, with a title, he'll become the sixth driver in series history to win a Cup championship after finishing 25th or worse in points in the previous two seasons. But the other five didn't run a full season the year they finished 25th or worse.
Keselowski had already made history prior to this year, dating back to his time racing part-time for Phoenix Racing and Hendrick Motorsports in 2009.
In just his fifth career start, Keselowski won his first Cup race. It was one of the most memorable races in recent history, a door-to-door battle that sent
Carl Edwards
flying into the catchfence. The win made him the first driver in series history to make his first career lap led the final lap of a race.
The win was one of the largest upsets in Cup history at the time. It remains the only Cup win for Phoenix Racing and made Keselowski one of just five drivers to win within his first five starts in series history, joining
Trevor Bayne
,
Jamie McMurray
,
Kevin Harvick
and Mark Donohue.
Keselowski can also complete the resume of his team, Penske Racing, which has won 15 Indianapolis 500s but has yet to win a NASCAR Cup Series title, coming closest in 1993 when
Rusty Wallace
finished second.
What's more, Keselowski has five wins in 2012 and assuming he holds on for the championship, only one driver since 1990 would have more wins during his first Cup title season (seven by Jeff Gordon).
Keselowski will turn 29 next year, but he already has a career's worth of accolades.
February, 28, 2012
2/28/12
10:31
AM ET
By
Trevor Ebaugh, ESPN Stats & Info
| ESPN.com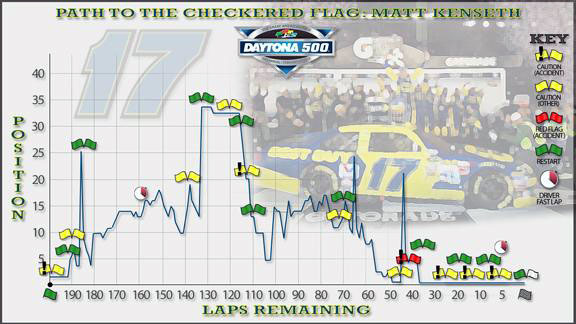 ESPN Stats & InformationAfter languishing near the back of the pack in the early laps, Matt Kenseth led the final 38 laps on the way to his second career Daytona 500 win.
Matt Kenseth
overcame overheating problems early in the race to win the Daytona 500 for the second time in the past four years. Here's a look at the road he took to Victory Lane.
Lap 2
Kurt Busch
,
Danica Patrick
,
Trevor Bayne
and
Jimmie Johnson
are involved in a wreck in Turn 1. It's the earliest accident in the Great American Race since 1990, as there hadn't been a wreck before Lap 5 in the previous 22 Daytona 500s. It was Johnson's fifth accident in the past six 500s, the second-most among drivers over that span.
Lap 43
Kenseth turns a blistering lap of 44.861 seconds, which remains his fastest time until he tops it with a time of 44.746 with six laps to go.
Lap 81
Jeff Gordon
's engine explodes and catches fire. With teammate Jimmie Johnson in the garage after completing only one lap, Hendrick Motorsports is having a 500 to forget. Gordon and Johnson combine to record 82 laps and only seven points.
Lap 92
In the 12 laps following Gordon's engine failure, Kenseth trims a whopping 55-second deficit to a 0.1650 one, moving from 32nd to fifth in the process. Kenseth takes advantage of
Terry Labonte
's caution on Lap 88 (spun by
Marcos Ambrose
), entering the pits in 10th place and leaving them in fifth.
Lap 142
Kenseth chases down leader
Denny Hamlin
and passes him three laps later. Running ninth on Lap 137, Kenseth charges through the field and takes the lead on Lap 146. Following a pit stop for
David Stremme
's blown engine (and a 2-hour, 5-minute red flag after
Juan Pablo Montoya
hit a jet-dryer truck under caution), Kenseth retakes the lead for good on Lap 165.
Lap 201
Kenseth holds off
Dale Earnhardt Jr.
and teammate
Greg Biffle
by hundredths of a second on the race's final restart to claim the checkered flag.
February, 26, 2012
2/26/12
5:03
AM ET
Jason Smith/Getty ImagesMark Martin hopes to take home his first win at the Daytona 500

Several drivers have had bad luck in the past at the Daytona 500. Here's a look at several veterans who are looking to break the curse.
Mark Martin
Martin will be making his 28th Daytona 500 start on Sunday, rolling off from the 22nd starting spot. But for all Martin's accomplished in his career, he's never won a Daytona 500.
When you think Martin and the Daytona 500, you have to think of 2007, when he lost by the slimmest of margins to
Kevin Harvick
, as cars wildly spun behind him. But the heartbreak goes deeper than that.
Martin is tied for the fourth-most Daytona 500 starts without a win. Only
Dave Marcis
,
Terry Labonte
and
Ricky Rudd
have made more 500 starts without a victory.
The problems go deeper than just in the 500. Martin's actually never won a Cup points race at Daytona, going 0-for-53.
However, he has seen Victory Lane at Daytona before, winning a Trucks race in 2006, the 1999 Budweiser Shootout and two IROC races.
Tony Stewart
It's easier, and probably very apt, to compare Tony Stewart and Dale Earnhardt's Daytona record.
Those two have the most wins at Daytona, Stewart's Gatorade Duel win on Thursday gave him 17, and only
Dale Earnhardt
has more with 34.
Sunday will be Stewart's 14th attempt at the Great American Race. Dale Earnhardt won in his 20th Daytona 500 start, the most 500 starts a driver has ever made before winning it for the first time.
Kurt Busch
Kurt Busch enters the season with a lot of questions, but while the main questions have been about the level of success he can have with Phoenix Racing and whether he can hook up with one of the power teams for next season, for this week at least, you can add in "Will he ever win a Daytona 500?"
Last year, Busch got his first wins at Daytona by taking the Shootout and his Duel, but he again came up just short in the 500, getting his fifth top-five finish in 11 career starts.
Three of those top fives have been runner up finishes, coming home second to
Michael Waltrip
in 2003,
Jeff Gordon
in 2005 and then-teammate
Ryan Newman
in 2008.
In Daytona 500 history, only two drivers have finished second in the Daytona 500 more than Busch, Dale Earnhardt and
Cale Yarborough
. Although both of them also won the 500.
At least Busch has company in his misery, as he and Terry Labonte are the only drivers with three Daytona 500 runner-up finishes without a win.