Stats & Info:

Kyle Davies
October, 3, 2011
10/03/11
1:08
PM ET
As the
Tampa Bay Rays
look to take a 2-1 edge Monday in the series,
David Price
looks to do something he's never done before: Defeat the
Texas Rangers
.
Price is winless in six career regular season starts and two postseason starts against the Rangers. All together, Price is 0-5 with a 5.48 ERA. That's his most losses against a single opponent, and Texas is just one of two teams against which he is two or more games under .500.
Among active starters,
Kyle Davies
(also 0-5) is the only other pitcher with more than four starts against the Rangers and no wins. In fact, you have to go all the way back to Scott Bailes to find a pitcher with a worse career record against Texas. Bailes, who last faced the Rangers in 1992, finished 0-7 against them.
In the 2010 ALDS, Price lost both Game 1 and the deciding Game 5 against the Rangers despite both starts coming at home. Oddly, the road team has won six of seven postseason games between these clubs. Price came up short despite a 14-0 strikeout-to-walk ratio.
Price has handled two of the Rangers' top offensive weapons.
Josh Hamilton
, is 3-for-20 with six strikeouts in his career against the southpaw.
Michael Young
(2-for-19, 8 K) has also struggled against Price.
However, it's been a much different story against
Nelson Cruz
. He is 7-for-13 (.538) lifetime against Price with two home runs. Among those with at least 10 plate appearances against Price, only
Alex Rios
and
Victor Martinez
have higher slugging percentages.
Both of Cruz's home runs off of Price came on fastballs that drifted up and in. Coincidentally, that's been an area of concern for Price.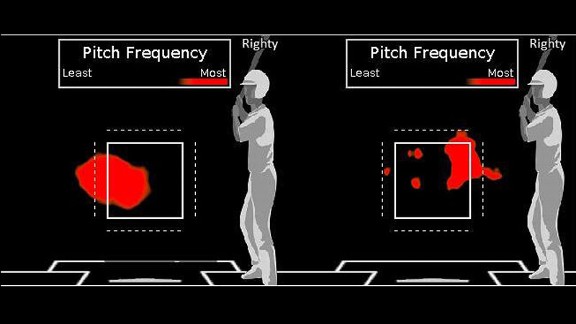 ESPN Stats & Information
The frequency of David Price's fastball against right-handed hitters in his first 32 starts (left) and his last two starts (right).
In his last two starts, Price is 0-1 with a 6.30 ERA. Those came after Price was struck by a Mike Aviles line drive on September 18 against the Boston Red Sox.
Right-handed hitters have given him particular trouble over this time, as they have a .387 OBP and are slugging .577. Price typically works away to righties with his fastball, as the above heat map indicates. However, since being hit with the line drive, Price has lived up in the zone and inside to righties, with poor results that include a pair of home runs allowed. In his first 32 starts, 22.6 percent of Price's fastballs to righties went up and in. In those last two starts, that's jumped to 41.5 percent.
March, 29, 2011
3/29/11
11:59
AM ET
Chicago White Sox

They owned the league's lowest WAR from designated hitters (-0.8) last season. If
Adam Dunn
's WAR this season is somewhere around 3.4 (approximately what it would have been over the last six seasons if he didn't have to play any defense), then he should greatly impact an offense that ranked seventh in runs in the American League in 2010.
Has
Gordon Beckham
turned the corner? Last season he entered the All-Star break with a .216 batting average and .581 OPS. But in the second half, he hit .310 with an .877 OPS.
Cleveland Indians

Their bullpen rated among the best in the American League in the second half of the 2010 season. Among the standouts was
Chris Perez
, who was amazing after the All-Star break (16 saves in 17 chances, 0.63 ERA, 28 ⅔ IP, 0 HR allowed, 32 K). Among pitchers with at least 60 innings, Perez's 1.71 ERA was the sixth lowest by an Indians pitcher in the expansion era (since 1961).
Shin-Soo Choo
ranked second in the American League in Wins Above Replacement at 7.3, according to
Baseball-Reference.com
.
Detroit Tigers

Their starting rotation may have an emerging star in
Max Scherzer
, whose 2010 season did a 180 after a brief demotion to the minor leagues. He was 1-4 with a 7.29 ERA when he was sent down, but returned to go 11-7 with a 2.46 ERA in his final 23 starts.
Justin Verlander
averaged a Game Score of 61 over his last 17 starts in 2010. To put that into perspective,
Roy Halladay
, the NL Cy Young Award winner last season, averaged a Game Score of 63 for the entire season. In other words, Verlander pitched at a near-Cy Young-level over the second half of his season.
Kansas City Royals

The quintent of
Kyle Davies
,
Jeff Francis
,
Luke Hochevar
,
Bruce Chen
and
Vin Mazzaro
appear to be the Royals' rotation to start the season. Those five pitchers combined to have a 7.2 WAR last season. As starting pitchers, their respective MLB ranks in that category were 85th, 91st, 93rd, 110th and 133rd last season.
In four seasons,
Joakim Soria
has 132 saves and a WHIP of 0.99.
Mariano Rivera
is the only other pitcher with 130 saves and a WHIP under 1.00 since 2007.
Minnesota Twins

Justin Morneau
was an MVP contender last season before suffering a season-ending concussion. Despite missing the final 78 games of the season, Morneau finished as the team's leader in Wins Above Replacement (5.3). However, the Twins offense actually averaged more runs per game after his injury (5.0) than it did before (4.7).
Closer
Joe Nathan
is back after missing a season because of Tommy John surgery. He saved at least 35 games each season from 2004 to 2009. The only players with more consecutive seasons with 35 saves are
Trevor Hoffman
and
Robb Nen
(seven each).
-- Justin Havens, Paul Carr and Derek Czenczelewski contributed to this report
July, 24, 2010
7/24/10
10:23
AM ET
By
ESPN Stats & Info
| ESPN.com
BOSTON RED SOX

Jon Lester
at
Seattle Mariners
:
- Against his changeup, opponents are missing 35 percent (38/112) of the time.
- The Mariners are batting .198 (84/424) this season against the changeup which is 49 percentage points lower than the league average.
CHICAGO CUBS
-
Geovany Soto
is having a great rebound year after a dismal 2009. Part of his success comes from his hitting to the opposite field:
2009 - .211 BA (12-for-57), .281 slug pct, 0 HR
2010 - .415 BA (17-for-41), .659 slug pct, 2 HR
CHICAGO WHITE SOX
-
Freddy Garcia
: .304 opp BA vs offspeed pitches this season. His changeup may be extra effective against the Athletics today, as they're hitting 42 points worse than the rest of the league against that pitch.
LOS ANGELES ANGELS
-
Vladimir Guerrero
has punished the
Los Angeles Angels
this season for perhaps giving up on him a bit too soon. Vlad is 11-for-26 this season against his former team, good for a .423 average in seven games. Guerrero is slugging 1.000 against the Halos this season with the Rangers, dwarfing the .425 MLB average.
One of the keys to his success has been his confidence with two strikes. Vlad boasts a .462 OBP with two strikes against the Angels, well above the .266 league average.
NEW YORK METS
Watch out for
Mike Pelfrey
's splitter vs Arizona today. Since June 25, he's thrown his splitter in the strike zone 46.4 percent of the time, getting hitters to miss 18.5 percent and chase 20.0 percent out of the strike zone. All better numbers than before his June 25th win against the Twins.
NEW YORK YANKEES

- And you knew we couldn't get through a post without mentioning
Alex Rodriguez
and his quest for his 600th HR today. He's hitting .314 (11-35) and has a .600 slugging percentage (21-35) with two strikes during the month of July (League average is .186 and .283, respectively).
A-Rod is seeking #600 coincidentally against
Kyle Davies
. Rodriguez hit his 500th career HR off of Davies on a Saturday afternoon back in 2007.
Alex Rodriguez - Career vs Kyle Davies

H-AB: 3-4
HR: 1<<<
RBI: 3
Slug pct: 1.750
<< 500th career HR on Aug. 4, 2007
July, 23, 2010
7/23/10
12:25
PM ET
By
Mark Malzewski, ESPN Stats & Info
| ESPN.com
Today's Trivia
:
Alex Rodriguez
hit his 599th career HR Thursday night, this one off Kansas City's
Robinson Tejeda
, the 365th different pitcher he's homered against. A-Rod also hit his first and 500th career home runs against the Royals. Who were the pitchers that gave up each of the long balls?
Quick Hits
: Baseball Commissioner Allan H. (Bud) Selig announced that, effective immediately, minor league players will be subject to random blood testing for the detection of human growth hormone under Major League Baseball's Minor League Drug Prevention and Treatment Program. Major League Baseball is the first United States professional sports league to conduct blood testing. All blood samples will be collected postgame from the non-dominant arms of randomly selected non-40-man roster players at select Minor League affiliates.
Carl Pavano
pitched a five-hitter to earn his career-high seventh straight victory as the Twins beat the Orioles 5-0. In 32 starts since coming to Minnesota in a trade with Cleveland during the 2009 season, Pavano is 17-10 with 5 complete games. After signing a 4-year, $39.95 million deal with the Yankees in December of 2004, Pavano made only 26 starts for New York, going 9-8 with one complete game.
Cliff Lee
allowed two runs in 8 1/3 IP in the Rangers' 3-2 win over Los Angeles. Lee - who won for the first time in three starts since joining the Rangers - extended his streak of at least eight IP and one or fewer walks to 7 straight starts. In the divisional era (since 1969), only Ferguson Jenkins in 1974 had a longer streak (eight).
The
Kansas City Royals
traded third baseman
Alberto Callaspo
to the
Los Angeles Angels
for two pitchers Thursday: Sean O'Sullivan and minor-league lefty Will Smith. According to the Kansas City Star, plans call for O'Sullivan, 22, to join the big-league rotation — possibly as soon as Sunday's series finale at Yankee Stadium. O'Sullivan made his season debut Tuesday against the Yankees (despite knowing he was being called up, he did not know until he got to New York that he was starting that night). According to the Elias Sports Bureau, only four other pitchers since 2000 have started against one team...for two different teams (within a span of seven days or less): In 2000,
Andy Ashby
started against Baltimore while pitching for the Phillies and Braves;
Kris Benson
in 2004 started against the Braves as a Pirate and a Met;
Cory Lidle
threw against the Rockies as a member of the Reds and Phillies in 2004; and Carl Pavano faced Detroit in 2009 as an Indian and a Twin.
From ESPN Stats and Information: Red Sox starter
John Lackey
threw 7 2/3 innings of no-hit ball against the Mariners before allowing a
Josh Bard
single. That tied the longest no-hit bid for the Red Sox this season.
Daisuke Matsuzaka
also went 7 2/3 IP with a no-hitter on May 22 at the Phillies. Lackey represents the 13th time a pitcher has taken a no-hitter into the eighth inning this season. So that means 33 percent of the previous 12 instances ended up finishing off the no-hitter.
Additional Notes from ESPN Stats and Information:
Jason Bay
is being overly aggressive against fastballs compared to previous years. And in this month, he's striking out frequently and unable to get the ball in the air, which obviously doesn't help his chances of hitting more homers.
Before his injury this season, opponents were hitting .500 (10-20) against Josh Beckett's change-up. Last season, opponents hit just .198 against Beckett's change.
Opponents are hitting .250 (10-40) against
Randy Wells
' fastball in July after hitting .348 (63-181) against the right-hander's heater in the first 3 months of the season.
Opposing batters are only hitting .200 (9-45) off
Mark Buehrle
's fastball this month (MLB avg .279) after hitting .377 (29-77) off heater in June.
Joe Saunders
is walking just 4 percent of his batters faced in July (3/82) compared to 10 percent during the first three months.
In
Vicente Padilla
's first five starts (through June 19) opponents hit .325 (25/77) against his fastball. In his last five starts (since June 19) opponents have hit .165 (13/79) against his fastball.
Johan Santana
looks to continue his July success. From April through June (5-5, 3.55 ERA in 16 starts), opponents hit .286 (61/213) against his fastball. In July (2-0, 0.58 ERA, 4 starts) opponents have hit .175 (11/63) against his fastball.
C.J. Wilson
: On first pitch of the at bat: .333 BA, .854 OPS, PA/EBH 11.5. On all others: .230 BA, .603 OPS, PA/EBH: 18.92
Notable Elias Sports Bureau notes from Thursday night:
As mentioned above, the Twins defeated the Orioles, 5–0. That raised their record against
Kevin Millwood
to 9–0. That's the most victories without a loss by any team against an active pitcher, breaking a tie with the Dodgers, who are 8–0 against
Matt Cain
. The Senators/Twins franchise won its first nine or more decisions against only three other pitchers: Sid Monge (their first 10, 1975–1981), Ted Blankenship (1922–1925), and Gordon Rhodes (1929–1933).
Josh Johnson
lowered his ERA to 1.61, allowing one run in 6 1/3 innings in the Marlins' 3–2 win over the Rockies. But for the fifth time this season, Florida's bullpen cost Johnson a victory. That tied
Johnny Cueto
for the highest total in the majors this season, and it matched Johnson's total of squandered wins in 2009. In fact, he's the first pitcher in the Marlins' 17-year history to lose five or more potential wins in consecutive seasons. It was also the fifth time this season that Johnson failed to win a start in which he allowed fewer than two runs. The only other pitchers with at least five such starts are John Santana (six),
Gavin Floyd
(five), and Randy Wells (five).
Matt Holliday's fourth-inning single off
Cole Hamels
was the Cardinals' only hit in the Phillies' 2–0, 11-inning win at St. Louis on Thursday. It was only the third game since 1900 that went beyond the 10th inning in which a team allowed only one hit. One was the game in 1959 in which Harvey Haddix of the Pirates was perfect through 12 innings before losing, 1–0, to the Braves, with Joe Adcock's baserunning blunder turning a potential home run into a game-winning double. The other was a 2–1 Yankees victory over the Angels in 1962 in which Whitey Ford pitched seven hitless innings and Jim Coates allowed a ninth-inning single to Buck Rodgers. That was also the game in which Roger Maris set an AL record that still stands when he was walked intentionally four times.
Derek Jeter
hit his first inside-the-park home run since his rookie season in the Yankees' 10-4 win over the Royals. Jeter's previous inside-the-parker was also against Kansas City (Aug. 2, 1996). Only two other active players have more than one IPHR against the same team:
Randy Winn
against the Yankees and
Chase Utley
against the Reds (2 each). At age 36, Jeter became the oldest Yankees player to hit an inside-the-park home run since Earle Combs did it against the Washington Senators in 1935. Combs was 20 days older at the time than Jeter was on Thursday.
Today's Leaderboard
: As we know, Alex Rodriguez is 1 HR shy of becoming only the 7th player in baseball history to hit 600 career HR. A-Rod would probably prefer to hit the milestone HR in front of adoring Yankee fans rather than on the road (the Yankees start seven-game road trip through Cleveland and Tampa Bay on Monday). Luckily for A-Rod, there are 3 more games this weekend against Kansas City, a team he hit milestone HR No. 1 and 500 against (he also hit HR No. 499 and 599 against KC).
A-Rod's 41 career HR against the Royals are second-most among active players and tied for 2nd with
Rafael Palmeiro
among ALL players.
Key Matchup
:
Brian Bannister
takes the hill Friday night for the Royals at Yankee Stadium. Among pitchers he has faced at least 10 times in his career, Alex Rodriguez's best AB per HR rate is against Bannister. Overall, A-Rod is hitting .571 (4-for-7) with 3 HR and 6 RBI while posting a 1.857 slugging percentage against the righty. According to ESPN Stats and Information, on Bannister's most common pitch, the fastball, Rodriguez is batting .500 with a 2.000 slugging percentage, .600 on-base percentage and two home runs in four at-bats.
Trivia Answer
: Alex Rodriguez hit his first career HR on June 12, 1995 against
Tom Gordon
. His 500th career HR was on August 4, 2007 off
Kyle Davies
.
June, 9, 2010
6/09/10
2:25
PM ET
By
Jeremy Lundblad, ESPN Stats & Info
| ESPN.com
Quick Hits
: What is there left to say about Stephen Strasburg's debut? With help from researcher Ryan McCrystal, let's empty out the notebook of more obscure fun facts (while saving the best for last).
It wasn't until the 9th game of this season that the Nationals' starters combined to reach 14 strikeouts.
Strasburg's 14 K are the most since the franchise moved to Washington. It would have marked the most strikeouts in Rays history and matched the Rockies record.
It would have been the most by a Cardinals pitcher since Bob Gibson in 1972.
Strasburg had the most strikeouts in a game in Washington, D.C. since Juan Pizarro of the White Sox struck out 14 Senators on July 31, 1964.
The last time the home team had a pitcher with this many strikeouts in our nation's capital? Camilo Pascual struck out 15 against the Red Sox on April 18, 1960.
In the last 50 years, the only other pitcher to strike out at least 10 without walking a batter in his debut was Johnny Cueto in 2008.
You'd have to combine totals from the top two Marlins strikeout debuts in order to match Strasburg. Dontrelle Willis and Scott Olsen share Florida's record for strikeouts in a debut with seven.
In 1933, Reds pitcher Benny Frey pitched 132 innings and finished with two fewer strikeouts than Strasburg had on Tuesday.
Steve Rogers, Dennis Martinez, Bryn Smith and Steve Renko - the pitchers with the four most starts in Expos/Nationals history, combined to start 1,011 games for the franchise. None of them ever struck out 14 batters in a game.
As Strasburg approaches a Chuck Norris level of legend, keep this in mind: Rearrange the letters to Stephen James Strasburg and you get "Bear Strength, Jumps Seas." Is there anything he can't do?
Today's Trivia
: Who has the most strikeouts in MLB history among pitchers who never had at least 14 in a game?
Today's Leaderboard
: Strasburg already has more strikeouts than 175 pitchers who have appeared in the majors this season. Brian Moehler's 32 1/3 innings are the most for any pitcher with fewer than 14 strikeouts. The Tigers, including
Armando Galarraga
, are well represented on the list.
Key Matchups
:
Justin Morneau
was hitless in his first eight at-bats against
Kyle Davies
before finally singling off of him. However, since that single, he is hitless in seven at-bats. Overall, Morneau is just 1-for-16 against Davies, a .063 batting average that is his lowest against any pitcher he has faced at least 15 times. Similarly, that .063 average is the lowest of any hitter that Davies has faced 15 times.
Albert Pujols
is a .571 career hitter against
Clayton Kershaw
. Factor in four walks, and Pujols has a .727 on-base percentage against the Dodgers' youngster, his fifth highest against a pitcher that he has faced 10 times. The only other hitter with an OBP over .500 against Kershaw?
Matt Holliday
(.571), the man who hits directly behind Pujols.
Trivia Answer
: Don Sutton is seventh on the all-time strikeout list with 3,574, but never had more than 12 in a game.