Stats & Info:

Kyle Kendrick
April, 21, 2013
4/21/13
3:00
PM ET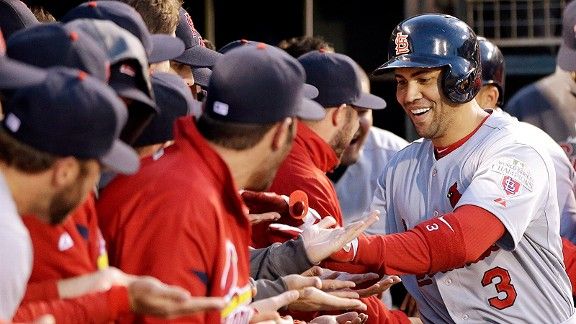 AP Photo/David J. PhillipCarlos Beltran has been getting plenty of positive receptions from teammates recently.
Five stats you'll likely hear quite a bit more about on tonight's telecast of the St. Louis Cardinals-
Philadelphia Phillies
game at 8 p.m. ET on ESPN.
1--
Expect to hear a lot of pontificating from Orel Hershiser on the art of getting the ground ball. Both of Sunday's starters ranked in the top 10 in the majors in number of sinkers thrown last season.
2--
Jake Westbrook
(99-96) is going for his 100th career win. He'd be the 26th active pitcher with 100 or more. Westbrook hasn't allowed an earned run in his first 15 2/3 innings.
Only three Cardinals pitchers in the last 50 years have had a streak of 20 innings without allowing an earned run to start a season- Al Jackson (22 in 1966),
Woody Williams
(24 2/3 in 2003) and
Chris Carpenter
(24 in 2009).
3--
Phillies starter
Kyle Kendrick
averages only 4.68 strikeouts per 9 innings. Entering Sunday that ranked second-lowest among active pitchers with at least 500 innings pitched. But Kendrick has become more of a strikeout pitcher the last two seasons, averaging 6.5 whiffs per 9.
4--
Carlos Beltran
has hit a home run in three straight games for the first time since July 19-21, 2007. He last did so in four straight games in August 2004 when he actually had a home run in five straight games from Aug. 23-27.
Beltran has passed a number of interesting names on baseball's all-time home run list recently. He's currently tied for 95th with Don Baylor and
Mark Teixeira
(338 homers). His next longball will tie him with the trio of
Tino Martinez
, Dave Parker, and Boog Powell.
5--
Phillies hitters have shown an overwhelming penchant for swinging the bat recently. On Friday, they snapped a streak of 137 straight plate appearances without receiving a walk. The Phillies are averaging 16.5 plate appearances per walk, the second-worst rate in the NL, trailing the
Chicago Cubs
(17.2).
The Phillies are coming off of their worst offensive season in 15 years. In 2012 they averaged 4.2 runs per game, the team's lowest total since averaging 4.1 per game in 1997. This season, the team is averaging 3.8 runs per game.
September, 13, 2012
9/13/12
12:43
AM ET
By
ESPN Stats & Information
| ESPN.com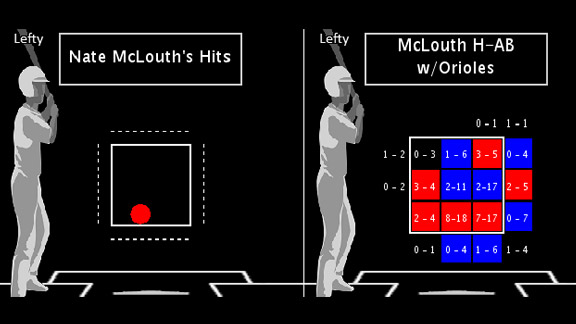 Nate McLouth got a pitch in a good spot for his walk-off winner.
This seems to be the week of "Who would have thought he'd be the star?" as baseball's pennant pushes move into the home stretch.
In each of the last three days, there have been some unlikely difference makers on contending teams. Pitchers like
Philadelphia Phillies
starter
Kyle Kendrick
and
Oakland Athletics
closer-for-a-day
Jerry Blevins
have made significant impacts.
On Wednesday, it was a day for a hitter.
Orioles outfielder
Nate McLouth
was the night's unlikely star. He continued a run of fine play since the Orioles picked him up not long ago. McLouth got the second walk-off hit of his career in the win over the Rays.
The game-ending hit came on a pitch right to the hottest of McLouth's hot zones-- knee-high over the middle of the plate. He's found his hitting stroke on pitches down in the strike zone.
Earlier this season, when McLouth was struggling, he was 3-for-15 against pitches in the lower-third of the strike zone, putting 45 percent of his swings against those lower-third strikes into play.
But with the Orioles, McLouth is has three hot spots (as noted in the heat map above) on those pitches—and instead of fouling them off, he's making good contact. Sixty percent of his swings have been put into play.
McLouth got the winning hit on a slider-- his third hit against a breaking pitch in his last two games. In his season-opening stint with the Pittsburgh Pirates, McLouth managed just one hit off a breaking ball among the 50 he saw.
Who would have thought it?
Other Players this week

Monday:
Phillies starter Kyle Kendrick beats the Marlins, with his pitch of choice being a changeup that netted seven strikeouts and 13 outs overall.
After going 4-9 with a 4.86 ERA in his first 27 outings of the season, Kendrick is 5-1 with a 1.49 ERA in his last six starts.

Blevins
Tuesday:
Athletics reliever Jerry Blevins came out of the bullpen to escape a first-and-third-no-out jam to protect a one-run ninth inning lead against the
Los Angeles Angels
of Anaheim.
Blevins got a strikeout and a ground-ball double play to end the game. It earned him his second save in 205 career major league appearances, his first since the 2010 season.

Wednesday:
In addition to McLouth, utility infielder
Marco Scutaro
had two RBI for the
San Francisco Giants
in a win over the Rockies, giving him 30 RBI in 179 at-bats with his new team. Scutaro had the same 30-RBI total with the Rockies earlier this season, but did so in 377 at-bats.
Who would have thought when Scutaro played his first game with the Giants on July 28 that his RBI total from then to Sept. 13 would match
Hunter Pence
and be one better than
Buster Posey
?
July, 7, 2012
7/07/12
12:58
AM ET
Ryan Howard
was back in the lineup for the
Philadelphia Phillies
for the first time since last year's playoffs, but strong pitching and a late rally by the
Atlanta Braves
spoiled his return.
The game was a scoreless tie until the eighth inning, when the Braves scored five runs on a bases-loaded walk and
Brian McCann
grand slam. It was the second grand slam of the season for McCann, with both coming against the Phillies.
McCann has nine career grand slams, with one as a pinch hitter and eight while he was behind the plate. According to our friends at the Elias Sports Bureau, his eight grand slams as a catcher are tied for fourth among backstops who debuted in the last 50 years.
Mike Piazza
leads the way among catchers with 14.
Tim Hudson
picked up the win for the Braves by tossing seven scoreless innings. Hudson was able to get outs early in the count. Fourteen batters saw only one or two pitches, and six of his seven innings were completed in 12 or fewer pitches.

Hudson
He averaged 3.04 pitches per plate appearance, his lowest in a game since September 2009. Hudson did not record a strikeout, and induced just three swings-and-misses, tied for the fewest in his past 48 starts.
The key pitch for Hudson on Friday was his sinker. He threw the sinker 47 times out of his 79 pitches. That 57 percent usage was well above his average of 41 percent of pitches over the past two seasons. The sinker averaged 10.3 inches of horizontal break, his most in a game since May 2010.
Hudson's outing spoiled the return of Howard to the Philadelphia lineup. He doubled to the centerfield warning track in his first at-bat and singled in the seventh. That marks the third straight year that Howard has recorded a multi-hit game in his first game of the season.
Kyle Kendrick
pitched seven shutout innings for the Phillies, his first quality start since May. But the call to the bullpen marked the end of Philadelphia's pitching success.
Antonio Bastardo
allowed five runs in the eighth inning. He has allowed 17 runs in 28⅔ innings this season. That's the same number of runs he allowed in 58 innings while compiling a 6-1 record last season.
In 2011, the slider was the money pitch for Bastardo. In 70 at-bats that ended with the pitch, he allowed only nine hits (.129). McCann's grand slam came on a slider, the 10th hit that Bastardo has allowed on a slider already this season in 46 at-bats.
April, 24, 2012
4/24/12
12:55
AM ET


One of the greatest improvements
Philadelphia Phillies
pitcher
Kyle Kendrick
made from 2010 to 2011 was his effectiveness against left-handed batters. As a right-handed pitcher, it was an issue for him in 2010 as they hit .312 with a .902 OPS and strikeout rate of just under 10 percent. In 2011, those numbers improved to .234 BA, .763 OPS and a 13.0 percent strikeout rate. And entering Monday, his 2012 performance against left-handers had continued to improve, with a .200 BA, .585 OPS and a strikeout rate north of 15 percent. And then the
Arizona Diamondbacks
came along.
Monday's action stopped Kendrick's improving trend right in its tracks. The Diamondbacks may have been aware of the trends, but they may have been paying attention to a different one - in four career appearances against Arizona, Kendrick had allowed a line of .357/.379/.607 (BA/OBP/SLG) to left-handed hitters, compared to a .234/.333/.404 line against right-handers. On Monday, left-handed batters registered four hits in eight at-bats against Kendrick, including two extra-base hits.
It becomes additionally painful when one considers who was supposed to start Monday's game - Cliff Lee. Not only has Lee held Diamondbacks lefties to a .229/.222/.314 line in his career, very few pitchers have been tougher on lefties overall since Lee came to the National League - he ranks fourth among starters in opponents batting average (.191) and second in OPS (.501).
For some historical perspective on just how ineffective Kendrick's start was, consider that he became the first Phillies starter to allow 10 or more hits and and seven or more earned runs in three or fewer innings pitched since Mike Mimbs did so on May 11, 1996. In fact, it's only the fourth time it's been done since 1980.
Sabathia leaning on slider
:
CC Sabathia
's slider was effective on Monday against the
Texas Rangers
– he threw it to register six of his eight strikeouts. Sabathia threw a total of 34 sliders, increasing the number of times he's used the pitch for the third consecutive start. It also continues a multi-year trend of increased slider usage; Sabathia threw it 12.9 percent of the time in 2010, 22.9 percent last season and 27.3 percent this season. The merits of such an increase can be debated, but what cannot be is the effectiveness it has had this season – only one qualified starting pitcher has a higher strikeout rate with the slider than Sabathia (
Jered Weaver
).
Lincecum velocity issues remain
: Tim Lincecum's season-long struggles with his fastball continued in the win over the
New York Mets
. His average velocity on the pitch continues to drop, going under 90 MPH for the first time since July 2010. Despite the issues with his fastball velocity, Lincecum threw it 70 times, which is 21 more than he used it in his previous 2012 high.
Overall, his average fastball velocity now stands at 90.1 this season, compared to 92.2 last season. He has yet to hit above 93.1 miles per hour this season, whereas he topped out at 96.6 last season.
September, 26, 2010
9/26/10
12:09
AM ET

Saturday night in Colorado,
Troy Tulowitzki
continued his September to remember with a home run and five RBI. And, oh yeah, his fifth RBI also just happened to come on a walk-off double in the 10th inning. It's Tulo's fifth career walk-off hit
The
Colorado Rockies
' shortstop now has 15 home runs and 40 RBI this month as he continues one of the finest Septembers in baseball history. He is two home runs shy of matching the MLB record for September home runs, which is currently shared by Albert Belle (1995) and Babe Ruth (1927).
His 40 RBI are the second most any player has had in September since RBI became an official stat in 1920. Ruth's 43 September RBI in 1927 are the most, according to the Elias Sports Bureau.
Tulowitzki is the first player with 40 RBI in
any
month since
Ryan Howard
's 41 RBI in August 2006. He is just the fifth player in the last 50 years to drive in at least 40 runs in a calendar month.
Ryan Klesko
did this in 2001,
Sammy Sosa
in 1998, and Frank Howard in 1962.
In other action:
• With their victory over the
Oakland Athletics
, the
Texas Rangers
clinched their first postseason berth since 1999. The Rangers have lost in the ALDS in each of their previous three postseason appearances and are the only active MLB franchise that has never won a postseason series.
• The
New York Mets
topped the
Philadelphia Phillies
, snapping the Phillies' 11-game win streak.
Kyle Kendrick
took the loss for the Phillies, meaning that a pair of Kendrick losses to the Mets sandwiched both ends of the Phillies' win streak. In fact, Kendrick has taken three of the Phillies' last four losses.
•
Jon Lester
tossed seven scoreless innings as the
Boston Red Sox
knocked off the
New York Yankees
. Lester has won six straight starts, making him the first Red Sox lefty to win six straight starts since Bob Ojeda in 1983. Furthermore, Lester's 19 wins this season are the most by a Red Sox southpaw since Mel Parnell's 21 in 1953.
•
Chris Denorfia
's second career walk-off hit gave the
San Diego Padres
a win over the
Cincinnati Reds
. Denorfia's other walk-off hit came back in 2006.
• The
Detroit Tigers
defeated the
Minnesota Twins
, 11-10, on
Brandon Inge
's walk-off single in the 13th inning. It was Inge's seventh career walk-off hit. Three of those have come in extra-innings.
August, 21, 2010
8/21/10
2:55
PM ET
With the
New York Yankees
and
Seattle Mariners
the only early East Coast start on Saturday, let's look ahead to some of the later games:

Braves at Cubs, 4:10 ET: In seven starts since the All-Star break,
Atlanta Braves
starter
Tommy Hanson
is 0-3 with a 1.77 ERA. If those numbers seem a little incongruous, that's because they most certainly are. Hanson has pitched at least six innings and allowed no more than one run in each of his past five starts, but has an 0-2 record over the span. According to our friends at the Elias Sports Bureau, Hanson is the first pitcher with a streak of five such starts to not earn a win in any of them since 1913, which was the first season in which earned runs were official in the American and National Leagues. Perhaps Hanson's luck will change against a
Chicago Cubs
team that enters Saturday on a five-game losing streak.
Rangers at Orioles, 4:10 ET:
Cliff Lee
takes the hill for the
Texas Rangers
looking to buck a trend that has emerged for him this season: struggles against the AL East. Though he sports an 8-2 record and 2.06 ERA against baseball's five other divisions, he is just 2-4 with a 3.92 ERA against the AL East. In fact, five of the nine homers Lee has allowed this season have been against the AL East. Lee is 1-1 with a 3.86 ERA in two starts against the
Baltimore Orioles
this season.
Angels at Twins, 4:10 ET:
Minnesota Twins
starter
Kevin Slowey
, removed from his most recent start after seven no-hit innings, is unbeaten in his past nine starts (4-0) with a 3.31 ERA. The Twins have won each of his past four starts.

Nationals at Phillies, 7:05 ET:
Stephen Strasburg
makes his third start since returning from the DL. He has gone 0-1 with a 6.75 ERA in the first two.
Philadelphia Phillies
starter
Kyle Kendrick
will make his third start of the season against the Nationals. The other two were his first two starts of the season and he was torched in both games. He managed two no-decisions, but sports a 17.47 ERA versus Washington this season.
Giants at Cardinals, 7:15 ET: Great starting pitching matchup here:
Tim Lincecum
versus
Chris Carpenter
. The duo have accounted for three of the past five NL Cy Young Awards (with Lincecum winning the past two). Carpenter is 14-2 after the All-Star break the past two seasons and is sporting a 2.10 ERA in his past seven starts. Lincecum enters having lost three consecutive starts for the first time in his career. With a loss on Saturday, he'd set a career high with his eighth loss of the season.
Rockies at Diamondbacks, 8:10 ET:
Colorado Rockies
ace
Ubaldo Jimenez
looks to become the first pitcher in franchise history to rack up 18 wins in a season. He's sporting a 1.86 ERA in his past four starts.
Rays at Athletics, 9:05 ET:
David Price
, already the first 15-game winner in
Tampa Bay Rays
history, aims for his 16th win of the season. He's 1-0 with a spotless ERA in his lone career start versus the
Oakland Athletics
.
July, 24, 2010
7/24/10
4:23
PM ET
By
ESPN Stats & Info
| ESPN.com
Phillies 10, Rockies 2
The Phillies win their third straight game following a 4-game losing streak. The Phillies 10 runs are their most since scoring 12 in a win vs the Pirates on July 3.
Jimmy Rollins
records 3 hits and 3 RBI. It's Rollins' 139th career 3-hit game, 1 behind Del Ennis for the third-most by a Phillies player in the live-ball era.
Ryan Howard
has 3 RBI, giving him 23 RBI in 21 games in July. It's Howard's 90th 3-RBI game since his rookie season in 2005, most in the majors over that span. The Rockies have lost 4 straight, their longest losing streak this season. Ubaldo Jimemez now has a 7.64 ERA in his last 6 starts (1.15 ERA in first 14 starts this season).
Ubaldo Jiménez was pulled after giving up 6 ER in only 2 IP on Saturday vs the Phillies. This is the 3rd time in his career he's been pulled after only 2 innings. The last time was August 9, 2007 (gave up 5 ER to the Cubs).

A problem for Ubaldo over his last few starts has been falling behind in the count. Sure enough, he faced 15 batters today and went to NINE three-ball counts. Two batters put the first pitch in play. Of the other 13, he was behind 12 of them at some point; the only exception was opposing pitcher
Kyle Kendrick
(who struck out on three pitches).
July, 13, 2010
7/13/10
3:00
PM ET
By
Katie Sharp
and
Albert Larcada, ESPN Stats & Info
| ESPN.com
The first half of the baseball season was highlighted by several incredible individual pitching performances, with four no-hitters in the books and 18 different pitchers with enough innings to qualify for the ERA title that have an ERA under 3.00. Hurlers have dominated the headlines so much during the first few months that 2010 is already being dubbed "The Year of the Pitcher" by experts and pundits across the country.
Prior to the season, we set out to redefine the traditional quality start stat (6 IP, 3 ER or fewer), with the intent to make it a more legitimate statistic that would reward the best performances by a starting pitcher. Little did we know that pitchers would redefine quality over and over again throughout the first half of the season.
First, a quick summary of our method to define a "Superior Start": we took the two elements of a starter's pitching line that are now used in current definition of a quality start (innings and earned runs) and assigned a 0-100 grade on each outing based on the expected team winning percentage, given the combo of innings and earned runs allowed by the starter.
Since our last update in May, we made one significant change to the model: the grade on each start is now season-dependent, meaning that it is now calculated relative to all starts made that season. Even with this adjustment, a Superior Start is still defined as any start with a grade of 75 or greater.
Now, here's a look at the first-half leaders in Superior Starts:
Not surprisingly, six of the top seven pitchers in Superior Starts are slated to take the mound tonight in Anaheim.
David Price
, the American League All-Star Game starter is just off this list with nine superior starts this season
The Yankees – who enter the break with the most wins – also lead in Superior Starts and are the only team in the majors with five pitchers that have at least five superior starts each. The Pirates have the fewest number of superior starts with 14, which is only one more than the individual leader, Josh Johnson!
Speaking of bad pitching, there actually was some in the first half of the season, and to make sure that it gets proper recognition, we also have created an Inferior Start metric. It is defined as any start with a grade of 25 or below.
Here are the "leaders in inferiority" at the break:
Scott Kazmir wins the award for the worst start of the first half, with his five-inning, 13-run disaster this past Saturday against the Athletics. And it should come as no surprise to see the Pirates, Indians and Orioles leading the list of most Inferior Starts, as they also rank second, first, and fourth, respectively, in the most losses among major-league teams entering the second half of the season.
Be sure to look for our Superior Starts leaderboard later this month on Baseball Tonight, and for further updates during the rest of the season.
May, 30, 2010
5/30/10
1:07
PM ET
By
Albert Larcada & Katie Sharp
| ESPN.com
Avid TMI readers may recall that during spring training, we took our first foray into trying to retool the quality start metric (if you don't recall,
click this link
).
With the Rangers and Twins dueling on Sunday Night Baseball at 8 eastern this evening, and lots of talk over the last two seasons about Nolan Ryan's efforts to fix the Rangers starting pitching staff, we thought it would be an appropriate time to take a look at some results, of which Ryan would figure to be most proud.
The results of our initial study (done via regression analysis) told us that the two elements of a pitching line that best predicted whether a team won or lost were the starters innings pitched and the number of earned runs allowed.
Using the data from the regression, we were able to figure out the team's chance of winning for any possible innings/earned runs combination by a starting pitcher. And finally, we defined our "Superior Start" statistic as any outing where the starter gave his team at least a 75 percent chance of winning the game.
Now that we've passed the quarter pole in the baseball season, let's take a look at some leaderboards.
Ubaldo Jimenez and Roy Halladay top our list for pitchers with the most "Superior Starts" with seven such outings. Jimenez has completely baffled hitters this season. His league and park adjusted ERA+ this season is 515, over 150 points better than second-place
Jaime Garcia
. According to our friends at AccuScore, Jimenez actually has a 26 percent chance of winning 25+ games, a feat which has not been accomplished since Bob Welch in 1990. Halladay, fresh off of his perfect game, has kept the all-of-a-sudden offensively challenged Phillies afloat in his first season in Philadelphia.
And with a hat tip to Tom Tango, we now bring you our "Inferior Start" metric. These are the pitchers who have the most starts this season with an innings/earned runs combination that gives the team less than a 25 percent chance of winning that game.
As you can see, Charlie Morton tops (or bottoms?) this list of inferiority. All six of Morton's Inferior Starts have actually had a team win probability less than 19 percent, well below our 25 percent threshold.
Interestingly, our Inferior Starts leader Charlie Morton has a 1-9 record, which is the inverse of our Superior Starts leader Ubaldo Jimenez, who is 9-1.
As for tonight's starters,
Scott Baker
enters with a pair of Superior Starts for the Twins, one fewer than team leader
Francisco Liriano
, and one more than his opposing moundsman, Rangers starter,
Derek Holland
. Baker also has a pair of Inferior Starts, though none have come in the month of May.
We will be updating this leader board periodically throughout the season. Hopefully this sheds a little more light on who is a quality starter, and who is a superior one. We think we can come up with something for which both the math and Nolan Ryan agree.
Alok Pattani and Mark Simon also contributed to this project.
April, 15, 2010
4/15/10
5:33
AM ET
By
ESPN Stats & Info
| ESPN.com
Wednesday featured plenty of great pitching performances. We'll delve into why some pitchers dominated and why the starters in the Phillies-Nationals game did everything BUT dominate.
Why Giants starter Jonathan Sanchez dominated:
- Finished off Pirates hitters: of 17 batters to reach two-strike counts he struck out 11 and just two reached base (both on walks).
- 6 of 8 innings pitched were 1-2-3 innings.
- 9 of 11 strikeouts were on off-speed pitches. Hitters chased 38 percent of pitches out of the strike zone (MLB avg. is 31 percent).
Why Cardinals starter Brad Penny won:
- Great command of pitches: 73 percent of fastballs and 70 percent of off-speed pitches were thrown for strikes. (MLB avg. is 64 percent and 61 percent respectively).
- Batters chased the off-speed stuff: hitters chased 50 percent of off-speed pitches (MLB avg. is 31 percent).
- He started strong: after allowing a leadoff single in the first inning, he got the first batter out of the next 6 innings he pitched. (86 percent compared to MLB average 68 percent).
Why White Sox starter John Danks won:
- Hitters went 2-14 (4 K) against offspeed pitches and chased 44 percent of pitches out of the zone (MLB avg. is 31 percent).
- Generated 13 swinging strikes against offspeed pitches, his most in a start since May 9, 2009; hitters missed 46 percent of swings on his offspeed pitches.
- Finished off 10 of 11 hitters that reached 2 strikes.
Why Angels starter Joel Pineiro won:
- Good command of fastball (71 percent strikes; MLB avg is 64); generated 9 swinging strikes and 6 of 7 strikeouts with fastball.
- Stayed ahead of hitters: reached 2-0 count just twice and 3-ball count just 4 times against 26 hitters.
Why Nationals starter Craig Stammen and Phillies starter Kyle Kendrick were awful (combined numbers):
- Hitters missed on just 4 of 42 swings (9.5 percent; MLB avg.: 18.8 percent).
- Fooled no one with offspeed stuff: hitters went 5-for-6, missed 1 of 11 swings, chased 15 percent of pitches out of the strike zone (MLB avg: 31 percent).
- Retired just 4 of 10 batters that reached 2 strikes (MLB avg.: 72 percent).
- Reached 3-ball count on 8 of 26 hitters faced (31 percent; MLB avg.: 19 percent).
Hitter of the Night:
Wednesday night
Chase Utley
had his 18th career multi–HR game. So far in 2010 he's batting .400 with a 1.491 OPS and hit all four of his HR against fastballs. Perhaps even more impressive is that Utley only has 1 strikeout on the year, which gives him a 4:1 HR to K ratio. Though it's still far too early to assume Utley can keep up this kind of pace, the last time a player finished the season with more than 20 HR and had more HR than K was
Barry Bonds
in 2004 (45 HR, 41 K). In fact, it's only happened one other time since 1956 (George Brett in 1980 when he hit 24 HR and struck out 22 K).
March, 30, 2010
3/30/10
9:00
AM ET
By
John Fisher, ESPN Stats & Info
| ESPN.com
As the
Philadelphia Phillies
prepare for a run to a third consecutive World Series, they enter 2010 as the favorites in the National League. But they are far from a sure thing, with questions up and down the pitching staff. In the offseason the Phils acquired former Cy Young Award winner
Roy Halladay
to front their rotation, and expect a bounceback season from 2008 postseason MVP
Cole Hamels
.
But it's 28-year-old lefthander
J.A. Happ
who is the One2Watch4 in Philadelphia this season.
Happ went 12-4 with a 2.93 ERA after forcing his way into the rotation at the end of May, and the Phightin' Phils need something close to a repeat performance if they plan to be playing in October. Phillies fans shouldn't hold their breath though, as Happ should have a more pedestrian season in 2010.
Last season, among pitchers with at least 140 innings pitched, he led the league in LOB% -- the percentage of baserunners he stranded -- by a wide margin. He was one of just three pitchers with a mark over 80%, when the league average was 71.9%. Happ stranded 85.2% of his runners – and the gap between 1st and 2nd was as large as the gap between 2nd and 11th. Expect that number to drop, and likely by a significant amount.
On top of that, Happ had an unusually low BABIP (batting average on balls in play) of .270, the fifth-lowest mark in the league (min. 140 IP). The league average was .303, and pitchers who came in above that include NL wins leader
Adam Wainwright
and AL Cy Young winner
Zack Greinke
. In addition, Happ struck out fewer than 6.5 batters per nine innings, which will need to increase to keep both his LOB% and his BABIP steady this year.
Lastly, Happ led the league (min. 140 IP) by a
huge
margin in FIP minus ERA – the difference between his Fielding Independent Pitching and his actual Earned Run Average. FIP helps to determine how well a pitcher pitched, regardless of the defense behind him. Happ's FIP was 4.33 while his ERA was just 2.93, a difference of nearly a run and a half! Kevin Millwood's difference was 1.13, and only two other pitchers had their FIP more than a run higher than their ERA.
If J.A. Happ can keep his LOB%, BABIP and FIP minus ERA near their 2009 levels, the Phillies should cruise to a fourth straight NL East title. If Happ regresses to the mean in 2010, the Phillies will need the NL bump from Roy Halladay, a return to form (and regression to the mean) from Cole Hamels, and the right combination of starts from
Jamie Moyer
and
Kyle Kendrick
to make their return to October baseball.
And that makes J.A. Happ One2Watch4.