July, 9, 2014
Jul 9
12:05
PM ET
By
ESPN Stats & Information
| ESPN.com
AP Photo/J Pat CarterSince making his major league debut, Gregory Polanco has reached base safely in 24 of his 27 games.
The
Pittsburgh Pirates
and
St. Louis Cardinals
play the third game of their four-game series tonight at Busch Stadium (8 ET on ESPN/WatchESPN). The Cardinals won the first two games of the series with consecutive walk-off home runs.
Here are some storylines our broadcast crew will touch upon tonight.
Pirates Starting Pitching
After play on June 20, the Pirates were 35-38 and nine games out of first in the NL Central. Since that time, Pittsburgh has won 12 of its past 17 games to move within 4½ games of the
Milwaukee Brewers
.
Pittsburgh was expected to start
Gerrit Cole
, but he will be placed on the 15-day disabled list due to a tight lat muscle. Cole has pitched well against the Cardinals in his career, with a 2.16 ERA in four career starts (two in the regular season, two in the postseason).
Expected to take his place is
Brandon Cumpton
, who will be recalled from Triple-A Indianapolis. Cumpton has made nine starts for the Pirates this season and has gone 3-2 with a 4.61 ERA. He has one career start against St. Louis, a 6-0 Pittsburgh win on July 30, 2013, in which he threw seven shutout innings.
Lance Lynn's Fastball
This season, Lance Lynn
is using his fastball 78.6 percent of the time. Only Bartolo Colón (81.7 percent) uses the pitch more.
Last year, Lynn was second in the majors in the stat, but he has increased his usage this season.
Gregory Polanco Channeling His Inner Barry Bonds
Since his MLB debut on June 10, Polanco has reached base safely in 24 of his 27 games. Included in that was an 11-game hitting streak to begin his career, the longest such streak in franchise history.
Overall, the start of his career is eerily similar to that of another Pirates outfielder -- Barry Bonds.
Matt Holiday Struggles
Matt Holliday
is having one of the worst seasons of his career. His batting average (.260), slugging percentage (.375) and at-bats per home run (64.6) are the lowest in his career, while his on-base percentage (.366) is his worst since 2005, his second year in the majors.
June, 1, 2014
Jun 1
10:49
PM ET
Our weekly roundup of the interesting and unusual finds that It was a week of firsts for rookies and veterans alike.
• On May 22 the list of most career plate appearances without a home run (among active non-pitchers) featured
Ben Revere
(1,547),
Austin Romine
(264), and
Brock Holt
(190).
Romine went deep the next day. On Tuesday, Revere's three-plus seasons of home-run futility finally ended
when he launched a 357-footer
into the front row in right field. That put Holt on the hook, and he didn't take long.
On Saturday he hit a two-run shot
that included the game-winning RBI for the
Boston Red Sox
. (He added
four doubles on Sunday
, a first for Boston since
Victor Martinez
did it exactly four years earlier.)
Your new top three in plate appearances without a homer:
Kolten Wong
(198),
Leury Garcia
(162), and
Luis Jimenez
(139).
• As for the most career plate appearances with only
one
homer, that belongs to
San Francisco Giants
broadcaster Duane Kuiper with 3,754-- a distinction that earned him his own bobblehead night at AT&T Park earlier this season.
•
Aaron Brooks
made his first start
for the
Kansas City Royals
. It didn't go quite as well as hoped. The first eight batters all reached, and Brooks left the game after only two outs and seven runs. It wasn't Brooks' debut (he made one prior relief appearance), but he is the second pitcher in the live-ball era to have either of his first two appearances be a seven-run start that lasted less than an inning. Ron Robinson of the Reds did it in 1984, but only one of his runs was earned.
• The Texas Rangers pinch-hit for starter
Nick Tepesch
in the third inning Saturday
. Sent to the plate was
Nick Martinez
, who is himself a pitcher. Although he had pitched in 10 games, it was his first major-league plate appearance. He grounded out. But in so doing, he became just the fifth pitcher since 1973 (the DH era) to make his batting debut as a pinch hitter, the last being
Chris Hatcher
of the Marlins (2010). And Martinez was just the second pitcher in franchise history to pinch hit within the first three innings of a game. Claude Osteen batted for starter Don Rudolph
exactly
half a century earlier-- against the
Cleveland Indians
on May 31, 1964.
•
Yovani Gallardo
of the
Milwaukee Brewers
also made
his first-ever pinch-hitting appearance
on Tuesday. It was in the 10th inning. He hit a walk-off double to beat the
Baltimore Orioles
. It was the the first walk-off hit by any pitcher since
Randy Keisler
of the Reds earned his own victory with a 14th-inning single in 2005. And it was the first one by a pitcher as pinch hitter since another Brewer,
Glendon Rusch
, blooped a bunt attempt over the second baseman's head (!) on April 19, 2003.
• Newly-called-up
Oscar Taveras
of the
St. Louis Cardinals
homered in his second big-league at-bat
Saturday. He's the first major-leaguer this season to homer in his debut, and the first Cardinal since Steven Hill in 2010. Still a couple weeks shy of his 22nd birthday, he's also the youngest Cardinal to do it since outfielder Eddie Morgan in 1936.
•
Lance Lynn
of the Cardinals, in his 75th career start,
finally threw a complete game
. He needed 126 pitches to shut out the
New York Yankees
, but that made him the first Cardinals pitcher to throw
any
complete game against the Bronx Bombers in regular-season interleague play. Their last complete game against the Yankees was by Bob Gibson in Game 7 of the 1964 World Series, and their last shutout came from Ernie White in 1942.
•
Arizona Diamondbacks
starter
Josh Collmenter
allowed three hits in
his
first career complete game and shutout
on Thursday. All three runners were retired on double plays. Collmenter threw the rare "FM", a shutout in which the pitcher faces the minimum, but which isn't a perfect game because he allowed at least one baserunner. It was the first one in Diamondbacks history; their only other pitcher to face 27 batters in a complete game was
Randy Johnson
's perfecto in 2004.
Andrew Cashner
's one-hitter for the
San Diego Padres
was the only "FM" last year
, and there were none in 2012. Since the start of 2009, there have been six perfect games ... but only four pitchers have faced the minimum and
not
thrown a perfect game.
May, 28, 2014
May 28
1:00
AM ET
Lance Lynn
wasn't dominant, but he was sharp enough to earn his first career shutout by blanking the
New York Yankees
on Tuesday.
Lynn now has 39 wins over the past three seasons, but it looks like he's headed to his best season in that span, with a 3.13 ERA so far. The past two seasons, his ERA was 3.78 and 3.97.
How he won
Lynn triumphed with a fastball that ranged from 92 to 95 mph and netted him 19 outs. But Cardinals manager
Mike Matheny
said Lynn's breaking stuff was the best he'd seen all season, even though Lynn didn't get a swing and miss on any of the 28 breaking balls he threw.
Lynn threw a season-high 18 percent curveballs (22 of his 126 pitches), and those resulted in seven outs while yielding only one baserunner.
The Yankees went 2 for 17 when hitting ground balls against Lynn, who has benefited from improved infield defense: Cardinals infielders have turned 78 percent of ground balls hit against Lynn into outs. Last season, their out rate was 72 percent.
Interleague shutout of the Yankees a rarity
No pitcher had thrown a shutout in interleague play against the Yankees since the 1997 season, when
Dave Mlicki
(Mets),
Greg Maddux
(Braves) and Mike Grace (Phillies) did so.
The last Cardinals pitcher to shut out the Yankees in either the regular season or postseason was Ernie White, who threw a six-hitter against them in Game 3 of the 1942 World Series.
The last Cardinals pitcher to throw a complete game against the Yankees is a more recognizable name — Hall-of-Famer Bob Gibson, in clinching Game 7 of the 1964 World Series.
As the Elias Sports Bureau noted, Gibson beat a Missouri native in Mel Stottlemyre that day. Lynn beat one as well in Yankees starter
David Phelps
.
Matt Adams continues to rake
Matt Adams supported Lynn's effort by going 3 for 4 with an RBI. He is now 5 for 9 in the series and 18 for 40 in his past 11 games.
Adams continues to excel against pitches on (or just off) the outside edge of the plate. He has three hits in the series on pitches to the outer third or off the corner (including one on Tuesday), giving him 37 for the season.
Last season, Adams saw 693 pitches to that location (266 more than he's seen so far this season) and had only 28 hits. He also has 32 line drives on such pitches in 2014, more than twice as many as he had in 2013 (15).
May, 4, 2014
May 4
2:15
PM ET
By
Justin Havens
| ESPN.com
One of baseball's best rivalries will get special treatment at 8 p.m. ET today (ESPN/Watch ESPN), with "Sunday Night Baseball" broadcasting the game between the
St. Louis Cardinals
and
Chicago Cubs
live from the Wrigley Field bleachers.
Here are some of the statistical storylines our broadcast crew will be looking at.
Jason Hammel's surprising success
Jason Hammel's 4-1 record, 2.08 ERA and league-leading 0.69 WHIP is one of the biggest early surprises of the 2014 season.
What have been the keys to Hammel's success?
Hammel has thrown a much higher percentage of pitches at the bottom of the strike zone than he has in the past.
His rate of pitches in the lower-third of the strike zone or below in five starts this season is 46 percent, up from 35 percent from 2009 to 2013.
While Hammel has done a much better job neutralizing left-handers than he has in the past, he has been downright dominant against right-handed batters.
Righties are hitting .098 against him entering the day, the lowest opponents batting average for any ERA-title qualifier (two points better than Jose Fernandez entering the day). They're 1-for-40 against him in two-strike counts.
Stats to Watch: Lance Lynn
Lance Lynn has had a lot of success for the Cardinals the past three seasons and he can thank his team's offense in part for that. The Cardinals average 5.4 runs per game in Lynn's starts over the past three seasons, the third-highest rate in the majors.
The thing to be wary of when Lynn struggles is the big inning. He has allowed three or more runs in an inning 27 times over the past three seasons. Only
Jordan Lyles
has yielded more big innings (29).
Lynn has always had more trouble with left-handed batters than right-handed batters. From 2012 to the present, he has allowed righties to hit .240 with a .637 OPS and lefties to hit .267 with an .808 OPS. That gap has been only more pronounced this season, with lefties hitting .291/.371/.509 in 62 plate appearances in 2014.
The struggles of the Cardinals' outfield
Without
Carlos Beltran
, the Cardinals outfield has not been able to replicate its past success.
Cardinals outfielders rank 14th in the NL in batting average and slugging percentage, and 13th in on-base percentage.
The difference from last season to this season is stark and can be seen in the chart on the right.
Starlin Castro's turnaround
Cubs shortstop
Starlin Castro
has gotten off to a good start this season, hitting .313 with four home runs in his first 112 at-bats.
One reason for that is that Castro has been much more effective handling pitches on the inner half of the plate from right-handers this season. Pitchers have been attacking him there more often than they did last season, and he appears to be adjusting.
He's hitting .370 with three homers in at-bats that end against righties that end with a pitch on the inner-half. Last season, he hit .264 with five homers on those pitches.
October, 27, 2013
10/27/13
2:16
PM ET
By
ESPN Stats & information
| ESPN.com
After an unprecedented Game 3 win by the
St. Louis Cardinals
to take a 2-1 series lead over the
Boston Red Sox
Saturday night, the two teams square off again for Game 4 Sunday night.
Here are some of the top stats to know for Game 4:
Clay Buchholz stats to know
Buchholz is 0-0 with a 4.98 ERA in four career postseason starts and a 5.40 ERA this postseason. He has never faced a current Cardinals player.
Buchholz is leaving his fastball and cutter up in the zone way too frequently against left-handed batters, and they are crushing the pitch.
He's allowed nine hits in 17 at-bats off his fastball/cutter in the postseason, good for a .529 batting average. That number was .165 in the regular season.
Buchholz averaged 90.2 mph with his fastball in his last start, his second-lowest average fastball velocity in a start this season.
Lance Lynn stats to know
Lynn is 1-1 with a 6.52 ERA in two starts this postseason (he also pitched two scoreless innings in a relief appearance this postseason).
Lynn has made a fairly dramatic change in his pitch selection this postseason compared to the regular season. He's throwing his curveball 24 percent of the time in the postseason after throwing it just 10 percent in the regular season – and to good effect.
Seven of his 12 strikeouts this season have come with the curveball in the postseason after only 17 out of 198 came via the pitch in the regular season.
Red Sox striking out
Red Sox batters have struck out 134 times this postseason. That's the fourth-most strikeouts by a team in a single postseason all time.
The team is just nine strikeouts away from topping the list.
The Red Sox player who is struggling the most is
Stephen Drew
. Drew has 17 strikeouts and a .091 batting average in the postseason. He's 1-for-9 with five strikeouts in the World Series.
Cardinals big bats
The Cardinals have gotten the kinds of performances they were looking for from their veterans in the middle of the order.
Yadier Molina
had the biggest hit of last night's game, the double against
Koji Uehara
that set up the final play of the game. Molina became the third catcher to have three career three-hit games in the World Series, joining Roy Campanella and Thurman Munson.
Molina has 12 RBI in his World Series career, which is the second most in Cardinals franchise history. Only Lou Brock has more (13).
Matt Holliday
has a .333 batting average, along with two home runs and seven RBI in seven World Series games against the Red Sox. The only player with more career World Series RBIs against the Red Sox than Holliday is Hall-of-Famer Gary Carter (nine for the Mets in 1986).
Home-field advantage
The Cardinals have won seven of their last eight home games in the World Series dating back to 2006.
American League teams are 3-12 on the road in the last six World Series.
June, 9, 2013
6/09/13
3:39
PM ET
Five stats you'll likely hear quite a bit more about on the matchup between the St. Louis Cardinals and Cincinnati Reds on "Sunday Night Baseball" at 8 ET (ESPN/WatchESPN).

1.
The Cardinals enter the day with the best record in baseball (40-22) and are 21-10 on the road. The biggest key to the Cardinals' success is timely hitting.
The team is hitting .339 with runners in scoring position. The last NL team to hit at least .300 in those situations over a full season was the 2000 Rockies (.309).
No other NL team is even hitting .300.
The team has five of the NL's top 15 in hitting with runners in scoring position, including major league leader
Carlos Beltran
(22-for-47, .468).
2.
The pitching matchup pits
Lance Lynn
against
Bronson Arroyo
. The Elias Sports Bureau notes that Lynn is one of three pitchers in the past 20 seasons to win at least eight of his first nine decisions in back-to-back years, joining
Curt Schilling
and
Kevin Brown
.
Arroyo has a rough recent history against the Cardinals (1-7 in his last 11 starts) but has been great at home this season (5-1 with a 2.64 ERA). His 48 wins at Great American Ball Park are 11 more than any other pitcher.
3.
The Cardinals have a couple of hot hitters. One of them is
David Freese
, who enters the game with the longest current hitting streak in the majors at 18 games. Should Freese get a hit tonight, he'd have the longest hitting streak by a Cardinals third baseman since Terry Pendleton hit in 19 straight games in 1987.
The last Cardinals third baseman with a 20-game hitting streak was Joe Torre, who hit in 22 straight games en route to the NL MVP in 1971.
Notable for Freese is that he's been able to get hits against pitches out of the strike zone (you can see the two red squares near the right-hand batter's box in our interactive heat map above).
Freese has seven hits on pitches out of the zone during the streak. He had only two all season prior to that.
4.
The other red-hot Cardinals hitter is
Matt Carpenter
, whose hitting streak is currently 17 games. Carpenter has been a huge boost to the leadoff spot since taking it over on May 2. Prior to that, Cardinals leadoff hitters were batting .211 with a .295 on-base percentage. Since then, those numbers are a major league best .361 and .456.
Carpenter is among the NL's most disciplined hitters. His swing rate of 39 percent ranked second-lowest in the NL entering Sunday. His rate of missing swings was just 10 percent, ranking eighth in the league.
5.
The Reds' lineup is keyed by
Joey Votto
and
Shin-Soo Choo
, who rank 1-2 in the NL in on-base percentage this season.
But one hitter who has been particularly valuable this year is cleanup batter
Brandon Phillips
.
Phillips is hitting .429 with runners in scoring position (fourth in the NL) and an NL-best .328 with two strikes. Phillips is on pace for the first 100-RBI season of his career.
For more notes, stats and trends on the game, follow along with the "Sunday Night Baseball" Gamecast, which can be found on the Scoreboard page.
May, 13, 2013
5/13/13
12:55
PM ET
By
Will Cohen, ESPN Stats & Info
| ESPN.com
The
St. Louis Cardinals
host the
New York Mets
tonight in a battle of two teams headed in different directions (7 ET, ESPN and WatchESPN).
Red-hot Cards
The Cardinals boast the NL's best record and have been fueled by excellent starting pitching (MLB-best 2.25 ERA), and clutch hitting (MLB-best .323 BA w/ RISP).
On Monday,
Lance Lynn
looks to start a new win streak after a hard-luck 2-1 loss his last time out snapped a streak of 10 straight starts without a loss, dating to last season. He was 9-0 over that span with a 2.52 ERA.
Lynn has gotten impressive results when throwing sliders and curveballs this season, recording 38 outs with those pitches versus just 13 total bases allowed, a ratio of nearly 3 to 1.
Last year his ratio of outs to total bases allowed with breaking pitches was about half that: 1.6 to 1. Opponents are batting .186 in at-bats ending with Lynn's breaking stuff, a drop of over 100 points from last year (.288).
The biggest change has come against righties, where you can see how Lynn has improved the location of his pitches:
Mets slowing down
The Mets, on the other hand, have cooled off after a decent start to the season. They are 4-11 over their past 15, scoring just 2.9 runs per game in that span.
Jeremy Hefner
starts on the mound tonight for the Mets. They have lost all six of his starts this season (he's 0-4), providing him just 3.3 runs per game of support in those starts.
The Mets have really struggled without
Matt Harvey
on the mound this year. They are 6-2 in his starts and 8-18 with other pitchers starting. The Mets rotation aside from Harvey has posted a 5.59 ERA.
Offense has also been a major issue for the Mets of late. The team has the league's worst combined production from their 1, 4 and 5 spots in the lineup this year -- a .196 BA and .591 OPS, with the majority of those plate appearances coming from John Buck, Ike Davis, Lucas Duda and Ruben Tejada.
Wright on track
David Wright
has been an exception to the Mets' overall offensive woes this season.
From from 2009 to 2011, Wright struck out in nearly a quarter of his plate appearances (23 percent of PA), and his average fell to .284 in those years accordingly, well below his previous career rate of .309.
But last year, Wright reduced his strikeouts to his previously established rates (15 percent of PA), and his batting average rose back up to .305.
Wright has adopted a much more disciplined approach at the plate - he's not swinging at pitches out of the zone as often. By laying off pitches outside the strikezone, Wright has increased his walk rate to a career-high 17 percent of plate appearances and his OBP has never been higher.
October, 19, 2012
10/19/12
12:38
PM ET
By
ESPN Stats & Information
| ESPN.com
(Game 5 of the NLCS between the St. Louis Cardinals and San Francisco Giants can be heard Friday on ESPN Radio at 7 ET.)
Down 3-1 to the
St. Louis Cardinals
in the National League Championship Series, the
San Francisco Giants
will send
Barry Zito
to the mound to keep their season alive.


In his only other start this postseason, Zito lasted just 2⅔ innings against the
Cincinnati Reds
. One key for the Reds was their ability to hit Zito's curveball, which was his best pitch over the past two months. Three of the four hits Zito allowed were on curveballs, including a home run by
Ryan Ludwick
.
But there are reasons Zito will need to stay with his big hook in Game 5. In an August start against the Cardinals that he won, Zito allowed two earned runs (both solo HR) in 6⅔ innings. In that game, St. Louis went 2-for-8 with three strikeouts in at-bats that ended with a Zito curveball. The two hits, both singles, were by
Matt Holliday
and
David Freese
. They are the only players in the Cardinals' current lineup who have a hit off Zito's curveball.
Speaking of Freese, he has 37 hits in 99 career postseason at-bats. Freese has already tied the major league record for most hits by a player in his first 100 postseason at-bats, according to the Elias Sports Bureau. In 1978, both Thurman Munson and Steve Garvey reached 37 hits in their first 100 postseason at-bats.
Zito will be opposed by
Lance Lynn
, who is 0-2 with a 7.15 ERA in two career starts against the Giants. It's Lynn's highest ERA (by more than 2.5 runs) among teams he's made at least two starts against in his career.
The Giants have had success hitting pitches that Lynn has thrown on the outer third of the plate. Current Giants players are 5-for-12 with two home runs against Lynn in at-bats that end on a pitch away. Perhaps Lynn will throw inside more -- current Giants players are 1-for-7 with four strikeouts in at-bats that end with a pitch inside.
The Giants won three straight elimination games in the NLDS, and will have to repeat that feat if they want to get back to the World Series. However, the Cardinals have not blown a 3-1 series lead since the 1996 NLCS, when they were outscored 32-1 by the
Atlanta Braves
in Games 5, 6 and 7.
October, 14, 2012
10/14/12
3:42
PM ET
By
ESPN Stats & Information
| ESPN.com


If there is one thing you can predict about the NLCS this year, it's that no lead will be safe.
Both the
St. Louis Cardinals
and
San Francisco Giants
staged epic comebacks to reach baseball's final four:
• Cardinals became the first team in major-league history to overcome a deficit of more than four runs in a winner-take-all game when they rallied from six runs down to beat the
Washington Nationals
in Game 5 of the NLDS
• Giants became the first team ever to erase a 2-0 deficit in a best-of-five series by winning the final three games on the road when they beat the
Cincinnati Reds
in the NLDS
Lance Lynn Stats to Watch
Lynn is making his first start since September 30 when he gave up four runs over 5⅓ innings against the Nationals. He has made four relief appearances in the playoffs but hasn't fared much better with three runs and four hits allowed in 3⅔ innings.
Lynn's fastball averaged a career-high 96.1 MPH in his last outing in Game 4 of the NLDS but it wasn't fast enough to get
Jayson Werth
out in the ninth inning. Werth homered on a 96-MPH heater to give the Nationals the walk-off win and force a decisive Game 5.
It was the first home run allowed by Lynn on a pitch of at least 95 MPH in his career. He had thrown 371 pitches of 95-plus MPH in his career before the pitch that Werth hit, and opponents had managed just 11 hits in 106 at-bats (.104) ending in a pitch that fast against Lynn.
The Giants have a .777 OPS against pitches of at least 95 MPH this season, well above the major-league average of .681. Among the Giants' regulars,
Pablo Sandoval
(1.150 OPS) and
Brandon Belt
(1.145 OPS) have the best chance to tag Lynn's high heat in Game 1.
Madison Bumgarner Stats to Watch
The Cardinals faced Bumgarner twice this season and beat him both times. St. Louis was 31-17 in the regular season when the opponent started a left-handed pitcher, compared with 57-57 against right-handed starters.
In his two starts against the Cardinals this year, Bumgarner struck out 10 and allowed 10 hits over 13⅓ innings. However, he allowed seven runs, all earned, as five of the 10 hits he allowed went for extra bases.
Bumgarner's fastball was effective in those two starts against the Cardinals, netting him 18 outs and just one hit allowed in at-bats ending in the pitch. However, the Cardinals crushed his offspeed offerings, going 9-for-29 with five extra-base hits.
Stat of the Game
This is the first time in major-league history the previous two World Series champions are playing each other for the right to go the World Series, according the Elias Sports Bureau.
October, 11, 2012
10/11/12
9:04
PM ET
By
ESPN Stats & Information
| ESPN.com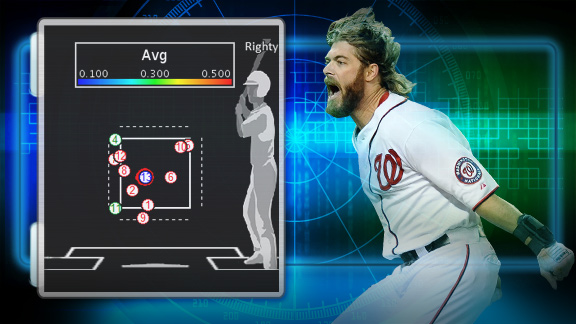 ESPN.com IllustrationJayson Werth's walk-off home run against Lance Lynn came on the 13th pitch of the at-bat.
Over the past five years, no one has seen more pitches per plate appearance than
Jayson Werth
.
That patience paid off on Thursday. Werth needed 13 pitches to etch his name in Nationals lore.
Werth's walk-off solo home run gave the
Washington Nationals
a 2-1 win, forcing a Game 5 against the
St. Louis Cardinals
.
It was the first postseason walk-off home run ever hit in Washington, DC.
He's just the third player to hit a postseason walk-off home run against the Cardinals, joining
Jeff Kent
(2004 NLCS) and Mickey Mantle (1964 World Series).
Werth is also just the fifth leadoff hitter with a postseason walk-off home run, and the first since Scott Podsednik in the 2005 World Series.
Facing the first batter of the inning,
Lance Lynn
got ahead to an 0-2 count. Werth hadn't hit a home run after falling behind 0-2 this season.
But 11 pitches later, Lynn threw a 96 mile-per-hour fastball right down the middle.
In his career, Lynn had thrown 371 pitches of at least 95 mph. This was the first that wound up in a home run.
The 13 pitches matched the longest plate appearance of Werth's career, and he once hit a home run on the 12th pitch against
Oliver Perez
. The last known walk-off homer on the 13th pitch or later was by
Garret Anderson
on September 15, 1997.
Werth now has 14 career postseason home runs, one shy of tying Babe Ruth for eighth all-time. Only Albert Pujols (18) has more postseason home runs in the National League.
It is the 12th walk-off home run hit with a team facing postseason elimination. Of the previous 11, all but Carlton Fisk's 1975 Red Sox went on to win the series.
May, 18, 2012
5/18/12
2:06
PM ET
By
Jeremy Lundblad, ESPN Stats & Info
| ESPN.com
Two of this season's most surprising starters face each other on Friday in Los Angeles, as the
St. Louis Cardinals
'
Lance Lynn
(6-1, 1.81) meets the
Los Angeles Dodgers
'
Ted Lilly
(5-0, 2.11).
Both Lynn and Lilly are getting great results on their fastballs, and Lynn's fastball is generating a lot of swings and misses in the zone (see chart).
Opponents are hitting a major-league low .150 against Lynn's fastball, and .162 against Lilly's heater.
As good as Lilly's fastball has been, his changeup has been even better. Opponents are 1-for-27 (.037) on at-bats ending in Lilly's changeup.
If Lilly earns the win, he will be the first Dodgers starter to begin the season 6-0 since Kaz Ishii in 2002. Before that it was Orel Hershiser in 1988.
Verlander Feasts on National League Teams
It's no surprise that Justin Verlander has the highest miss percent this season on fastball in the strike zone at 26 percent. That's one reason he's dominated in Interleague play, which starts on Friday.
Verlander, who will face the
Pittsburgh Pirates
, is 15-2 with a 2.94 ERA in 20 interleague starts. That's the best win percentage in interleague play among pitchers with at least eight decisions.
Time to Panic About Albert Pujols Adrian Gonzalez?
So
Albert Pujols
has gone deep in back-to-back games. With three on the season, Pujols has one more than the
Boston Red Sox
' Adrian Gonzalez.
Gonzalez last homered on April 17. That's 106 at-bats without a home run. In that span, 280 players have gone deep at least once.
Typically, Gonzalez' power stroke is going the other way. Last year, 12 of his 27 home runs were hit to the opposite field. In 2012, he doesn't have one.
One reason for that is Gonzalez isn't hitting outside pitches for power. Last year he hit .310 with a .518 slug percentage on outside pitches. This season? His average is .163 and slug percentage is .204.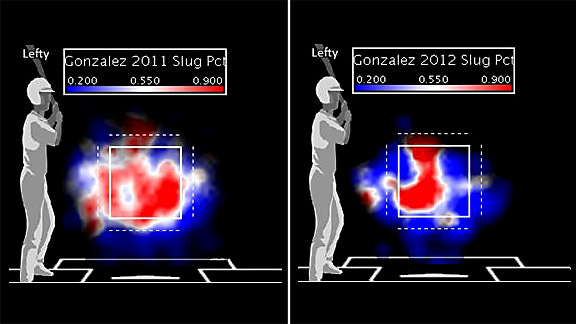 ESPN Stats & InfoAdrian Gonzalez' slug percentage, especially on pitches in the zone, is down considerably from 2011.