December, 25, 2013
12/25/13
11:43
AM ET
By
Justin Page
| ESPN.com
The Lakers take on the Heat in the Staples Center at 5 p.m. ET on ABC.
According to the Elias Sports Bureau, this is the 15th consecutive year that the Lakers are playing on Christmas (since 1999), second only to the Knicks, who played on Christmas for 38 straight years (1950 to 1987).
Kobe Bryant
has played in an NBA-record 14 straight Christmas games, a streak that will end Wednesday. The longest active streak of games played on Christmas now belongs to
LeBron James
, who will have played in seven straight after Wednesday.
The Heat are a perfect 6-0 against the Western Conference this season. They're averaging 110.2 points per game and shooting 56.1 percent in those games, both best in the NBA.
On top of that, the Heat are 4-0 all time against the Lakers on Christmas. The teams last met on Dec. 25 back in 2010, the first season in which the Big Three was formed. James recorded a triple-double in that game, totaling 27 points, 11 rebounds and 10 assists.
Let's take a look at some important stats to keep an eye on during Wednesday's game.
James' torrid pace
LeBron is on pace to have one of the most efficient seasons in NBA history. King James is averaging 24.9 points on a career-best 60.1 percent shooting. The only player in NBA history who averaged at least 25 points while shooting 60 percent or better from the field in a single season was
Kevin McHale
in 1986-87.
James shot 56.5 percent from the field last season. Should he increase his field goal percentage again this season, it would be the seventh straight season he's done so.
[+] Enlarge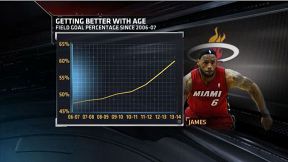 ESPN Stats & InformationJames has improved his field goal percentage in each of the past six seasons. If he continues this pace, he will become only the second player in NBA history to accomplish that.

Lenny Wilkens is the only player in NBA history who increased his field goal percentage in seven consecutive seasons, and his highest shooting percentage during that streak was 44.0 percent.
LeBron is averaging 28.2 points in 20 career games against the Lakers, the fourth-highest mark all time. Only
Wilt Chamberlain
,
Kareem Abdul-Jabbar
and
Michael Jordan
had higher averages against the Lakers.
James can join some legendary ranks this season. He is seeking to join Larry Bird, Wilt Chamberlain and Bill Russell as the only players in NBA history to win three straight MVPs.
On top of that, he can win his fifth MVP award. The only players to win at least five are Abdul-Jabbar (six), Jordan (five) and Russell (five).
He also can become the first player in NBA history to win five MVP awards in a six-season span.
Lakers better without Kobe?
Bryant holds the record for appearances (15) and total points (383) on Christmas Day. The last time the Lakers played a Christmas game without Bryant was in 1991, when they defeated the Clippers 85-75.
But the Lakers are 11-11 without their superstar, compared to 2-4 with Bryant active. L.A. has won seven of its past 11 games without Bryant.
Nick Young
leads the Lakers in scoring average this season with 15.4 points per game. That's the second-fewest points by a team's leading scorer this season. Only
O.J. Mayo
, who leads the Bucks in scoring, has a lower average (13.9).
October, 18, 2013
10/18/13
9:43
AM ET
By
Andrew Davis, ESPN Stats & Info
| ESPN.com
Andrew D. Bernstein/NBAE/Getty Images
Larry Bird and Magic Johnson met in the NBA Finals three times in the 1980s.
This Saturday night, UFC Heavyweight Champion Cain Velasquez will fight Junior dos Santos in Houston for the third time. It could go down as the greatest trilogy in Mixed Martial Arts. It also joins these other notable trilogies in sports.
Boxing: Muhammad Ali vs. Joe Frazier
Muhammad Ali and Joe Frazier fought three times over a span over four years, with Ali winning the final two matchups. The final matchup was billed as the "Thrilla in Manila" and ended by TKO after Frazier's corner threw in the towel.
Horse Racing: Affirmed vs. Alydar
In 1978, Affirmed became the 11th horse to win the Triple Crown. In each of the three victories, Alydar finished second. That includes the Belmont Stakes where Affirmed won by a head. Affirmed remains the last horse to win the Triple Crown.
NBA: Bird vs. Magic in the NBA Finals
Larry Bird and Magic Johnson were synonymous with the NBA Finals in the 1980s, facing one another three times. Bird won the Finals MVP in 1984 as the Celtics won, but Magic and the Lakers won in 1985 and 1987. Johnson won Finals MVP in 1987.
NFL: Steelers vs. Cowboys in the Super Bowl
The only Super Bowl matchup to happen three times took 20 years to complete. The Pittsburgh Steelers won Super Bowls X and XIII against the Dallas Cowboys. At Super Bowl XXX in 1996, the Cowboys defeated the Steelers for their fifth Vince Lombardi Trophy.
Tennis: Federer vs. Nadal at Wimbledon
And on the courts of Wimbledon, Roger Federer won the gentlemen's singles title from 2003-2007. He defeated rival Rafael Nadal in 2006 and 2007, but the Spaniard would grab the title from Federer in 2008 over a 4-hour, 48 minute battle in five sets.
July, 12, 2012
7/12/12
1:11
AM ET
By
Ryan Feldman & Gregg Found, ESPN Stats & Info
| ESPN.com
US PresswireWould the current U.S. Olympic team have a chance against the Dream Team?
Kobe Bryant
believes the 2012 U.S. Olympic team would beat the 1992 Olympic team. Is he correct?
According to AccuScore, which ran 10,000 computer simulations, the 1992 team would win 53.1 percent of the time and by an average margin of one point per game.
No one will ever know the true answer, but let's take a look at the Next Level analytical facts about the rosters at each point of their careers to help make the case either way.
REBOUNDING AND DEFENSE
Much has been made about the current team's weak frontcourt. The 1992 team had four players who grabbed at least 15 percent of available rebounds in 1991-92 (
Charles Barkley
,
Patrick Ewing
,
Karl Malone
,
David Robinson
). The current team has three players at that rebound rate last season (
Tyson Chandler
,
Blake Griffin
,
Kevin Love
).
The 1992 team had two players (Ewing, Robinson) who blocked at least 5 percent of the shot attempts they faced in 1991-92. No 2012 player had a block percentage higher than 3.4 last season (Chandler).
SHOOTING
Four current members had a true shooting percentage (a measure of shooting efficiency that takes into account 2-pointers, 3-pointers and free throws) of at least 60 last season (Chandler,
Kevin Durant
,
James Harden
,
LeBron James
). Chandler (70.8 in 2011-12) led the NBA each of the past two seasons. Only one of the 1992 members had a 60 true shooting percentage (Barkley), although three others fell just short of that threshold in 1991-92 (Malone, Robinson,
John Stockton
).
PASSING
Five Dream Team members assisted on at least 25 percent of their teammates' field goals in 1991-92 (Larry Bird,
Clyde Drexler
,
Michael Jordan
,
Scottie Pippen
, Stockton), plus Magic Johnson had a 49.3 assist percentage in his most recent NBA season (1990-91). LeBron,
Chris Paul
,
Russell Westbrook
and
Deron Williams
had a 25 assist percentage or better last season, but none were as high as Stockton (53.7), who was in the midst of leading the league in assist percentage for 10 straight seasons.
AGE, EXPERIENCE AND CHAMPIONSHIPS
The 1992 team was about 2½ years older on average (28.8-26.2). Other than Bird and Magic, every Dream Team member was 30 years old or younger. Every member of the current team is 29 or younger, other than Kobe, who is 33.
But the NBA experience level is about the same. The 1992 team had, on average, 7.3 years of experience per player. This year's team has 7.1.
As far as NBA titles, give the edge to the 1992 team. Its players had a combined 12 championships as they entered the Olympics -- five by Magic, three by Bird and two each from Jordan and Pippen.
The 2012 version has seven championships among them, carried by Kobe's five. LeBron and Chandler each have one. The current team has members of each of the past four NBA champions, while the 1992 team had members of the then-past two champions.
PLAYER VALUE/EFFICIENCY
Using average win shares per 48 minutes in their previous NBA seasons, (including Magic's 1990-91 season and not including
Christian Laettner
), the 1992 squad's average is higher by 9 percent (.215-.198). Prefer player efficiency rating to win shares? The Dream Team's PER was 3 percent higher (23.8-23.0).
IN THEIR PRIME?
Other than Laettner, all 11 Dream Team members are Hall of Famers. And only two could be considered in the twilight of their careers. Bird had just finished his last NBA season, while Magic had retired the previous year, although he made a brief comeback in 1995-96. As for this edition, one could make the case that all but the 33-year-old Kobe on the roster could appear on another Olympic team again.
The 2012 team gets under way with an exhibition game Thursday against the Dominican Republic on ESPN at 9 p.m. ET. Only time will tell whether this team is the modern-day Dream Team.
March, 4, 2012
3/04/12
6:59
PM ET
Both of Sunday afternoon's ABC games provided unique and historically significant statistical achievements and results. Below is a quick-hit look at the best of the best from the
New York Knicks
at
Boston Celtics
and the
Miami Heat
at
Los Angeles Lakers
.


• Celtics point guard
Rajon Rondo
provided one of the great individual games in NBA history. Rondo (18 points, 17 rebounds, 20 assists) became just the third player in NBA history to record at least 15 points, 20 assists and 15 rebounds in a single game, joining Oscar Robertson in 1961 and Wilt Chamberlain in 1968, according to the Elias Sports Bureau.
• The last Celtics player to tally 15 points, 15 assists, and 15 rebounds was Larry Bird on April 1, 1987, in a regulation win against the Bullets.
• The Celtics have won their last 11 home games against the Knicks (since Feb. 28, 2007). According to Elias, its Boston's longest current home winning streak against any opponent.
•
Jeremy Lin
had 14 points, 5 assists and 6 turnovers, his 3rd game since becoming a starter in which he recorded more turnovers than assists.


•
LeBron James
recorded his 16th double-double of the season, which came in his 36th game. Last season, he had 31 double-doubles in 79 games. In other words, last season he averaged a double-double in 39 percent of his games; this year, that number is up over 44 percent.
• While James did record a double-double, his effectiveness declined considerably when he was guarded by
Metta World Peace
. Against World Peace, James shot 4-13 with eight points and two turnovers; in all other situations, he was 8-13 with 17 points and one turnover.
•
Dwyane Wade
fouled out of a game for the first time since October 29, 2008.
• Not only did Wade foul out, but, like James, he found one matchup to be particularly frustrating. When
Kobe Bryant
guarded Wade, he made just one-third of his shots (3-9), while racking up almost as many turnovers (four) as points (six). Against all others, he shot 50 percent from the field (4-8), had 10 points and just one turnover.
• Bryant, on the other hand, was much the opposite. When guarded by Wade, he was made four shots on six attempts, had nine points and committed zero turnovers; when guarded by all others, he missed 7 of 17 shots taken and had three turnovers.