Stats & Info:

Larry Walker
January, 1, 2014
1/01/14
10:31
AM ET
By
Matt Willis & Justin Havens
| ESPN.com
Brian Bahr/AllSportLarry Walker is one of the most prolific hitters on this year's Hall of Fame ballot.
Back for his fourth season on the Baseball Hall of Fame ballot,
Larry Walker
hasn't received much of a response or movement in his voting. It was 20 percent in 2011, 23 percent in 2012 and, right in the middle, 21.6 percent, last year.
This isn't likely to change much this year as the candidate pool deepens, but Walker's candidacy is worthy of examination within that context.
Walker's career 72.4 WAR ranks 21st all-time among players who played at least 50 percent of their games in the outfield. Of the players ahead of him, 18 are in the Hall of Fame, one is
Barry Bonds
, and the other isn't yet eligible (
Ken Griffey Jr
.).
Among position players on the 2014 ballot, Walker ranks fourth in Wins Above Replacement among those on the Hall of Fame ballot, trailing Bonds,
Jeff Bagwell
and
Frank Thomas
, and ahead of players such as
Tim Raines
,
Edgar Martinez
,
Craig Biggio
,
Mike Piazza
– all of whom received a higher percentage of votes than Walker on the 2013 ballot.
However, looking at Walker's numbers, the obvious question is, how did playing in Colorado affect his career?
Walker came to the
Colorado Rockies
from the Montreal Expos just as he was entering the prime of his career, and from 1995-2002, Walker had a .341 BA, and a 1.062 OPS. He also averaged 39 homers, 44 doubles and 123 RBI per 162 games.
He won three batting titles in that time, giving him the same number for his career as Hall of Famers George Brett and Carl Yastrzemski, and baseball's all-time hit king, Pete Rose.
However, Walker missed large parts of the 1996 and 2000 seasons, and for his entire career, only once played more than 143 games in a season. In 1997, Walker played 153 games and won the National League MVP, leading the league in on-base percentage and slugging percentage.
While Walker's numbers take a hit due to injuries, they also get a big boost from him playing at Coors Field.
In that same span from 1995-2002, Walker had a .392 batting average and a 1.207 OPS at home. He batted just .286 with a .906 OPS on the road in that time, and in a similar number of games, hit 52 fewer home runs.
But the fact that Walker was better in the confines of Coors Field than on the road is not surprising, nor would it be surprising even if his home games occurred elsewhere – many players, great or otherwise, play better at home.
In the last 50 seasons, 168 players have accumulated at least 4,000 plate appearances on the road, and Walker's OPS ranks 23rd, ahead of players such as
Reggie Jackson
, Griffey Jr. and
Sammy Sosa
.
In addition, Adjusted OPS, or OPS+, can help us compare Walker's contributions to players across eras. Even considering the offense-heavy era in which he played, Walker's OPS+ ranks 14th among all outfielders to debut since 1920. Of the 13 players ahead of him, nine are already in the Hall of Fame, with the candidacies of Bonds,
Manny Ramirez
and
Lance Berkman
still to be determined.
May, 15, 2012
5/15/12
3:02
PM ET
By
ESPN Stats & Information
| ESPN.com
AP Photo/Chris Carlson Matt Kemp was just the third player to bat .400 with 10+ HR and 25+ RBI in April, joining Larry Walker in 1997 and Tony Perez in 1970.
The
Los Angeles Dodgers
placed
Matt Kemp
on the 15-day disabled list with a strained left hamstring after Monday night's game against the
Arizona Diamondbacks
, and Kemp's absence will certainly be felt offensively.
Kemp saw his MLB-leading active streak of 399 games played come to an end Monday, and while his production decreased this month, his early-season performance was impressive. His 12 home runs by April 30th were the fifth-most in MLB history, and according to Elias, was just the third player since 1920 (when RBI became official) to hit .400 with 10+ HR and 25+ RBI in April (excluding any March games).
Without Kemp, the Dodgers also lose one of the best high-ball hitters in baseball. Kemp is 11-for-21 (.524) against high pitches in 2012, tied with
Ryan Sweeney
for the best batting average on such pitches in baseball entering Tuesday.
For all of these reasons and more, Kemp has been one of the most valuable position players in baseball over the last two seasons. Using the Baseball Reference metric "Wins Above Replacement," Kemp is second in the National League and fourth in Major League Baseball in WAR since the start of the 2011 season. Only
Dustin Pedroia
,
Ben Zobrist
and
Ryan Braun
have a higher WAR than Kemp in that span.
Kemp, however, did see his production trail off drastically in May. During this month, Kemp was batting just .212 in 11 games and had not gone deep. The difference has primarily come against the fastball. During April, Kemp batted .465 against the heater with nine home runs. In May, that average dipped to .250. His strikeout percentage against the fastball also jumped significantly, increasing from 11.3 percent in April to 28.6 percent in May.
April, 19, 2012
4/19/12
7:32
PM ET
By
Justin Havens, ESPN Stats & Info
| ESPN.com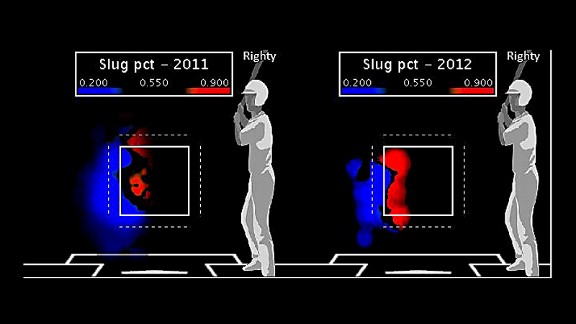 ESPN Stats & InformationMatt Kemp has doubled his slugging percentage against outside pitches since last season.
After narrowly missing out on the Triple Crown last season,
Matt Kemp
is off to a fast start in 2012.
Through 13 games, Kemp is hitting .451 with seven home runs and 18 runs batted in. According to the Elias Sports Bureau, he is the third player since RBI became official in 1920 to reach each of those thresholds in his team's first 13 games. The others were
Larry Walker
for the
Colorado Rockies
in 1997 and Willie Mays for the
San Francisco Giants
in 1964.
Kemp has shown tremendous power to the opposite field in the early going, in large part because of how he is handling pitches on the outside part of the plate.
As shown in the heat maps at the top of the article, Kemp's ability to drive pitches on the outer portion of the plate has markedly improved since last season. In 2011, he had six home runs in 207 at-bats that ended on outside pitches. Through the first two weeks this season, he has three home runs in 22 at-bats ending on such pitches.
This isn't the case of Kemp doing better against outside pitches as a function of doing better against everything. His numbers against inside pitches are slightly improved from last year, with his slugging percentage up from .672 to .727. Against outside pitches, his slugging percentage has more than doubled from .362 to .727.
Kemp hit his fifth opposite-field home run of the season in Thursday's win against the
Milwaukee Brewers
. Entering Thursday evening's games,
Derek Jeter
is the only other player in the majors with more than two opposite-field homers this year. Kemp hit eight home runs to the opposite field all last season.
March, 31, 2011
3/31/11
1:05
PM ET
Today's Trivia:
Former top picks
Luke Hochevar
and
David Price
will start on Opening Day for the first time in their respective careers. Who was the last No. 1 overall draft pick to start on Opening Day?
Quick Hits:
A quick look at some Opening Day longevity.
*
Jorge Posada
will start his 12th straight opener in pinstripes. That's the most by a New York Yankee since Willie Randolph suited up for 14 in a row.
*
Derek Jeter
will make his 10th straight Opening Day start at shortstop for the Yankees, passing Phil Rizzuto's nine-game streak from 1947 to 1955.

Jones
*
Chipper Jones
is making his 15th straight Opening Day start for the
Atlanta Braves
, the longest current stretch with one team. That's the longest streak by a Brave since Eddie Mathews also started 15 in a row. Hank Aaron started 20 of 21 openers while with the Braves, but that was divided into streaks of nine and 11.
* Make it 11 straight openers where
Albert Pujols
will be penciled into the
St. Louis Cardinals
lineup, the longest streak for the franchise since Lou Brock started 15 in a row.
*
Alex Gordon
will be the
Kansas City Royals
12th consecutive different Opening Day starter in left field.
Johnny Damon
is the most recent Royal to start back-to-back Opening Days there, in 1999 and 2000.
* The
Los Angeles Angels
of Anaheim's
Howard Kendrick
will start on Opening Day for the fifth straight year. The only Angels second baseman with a longer streak of Opening Day starts is Bobby Knoop, who was in seven straight opening lineups from 1964 to 1969.
*
Aaron Harang
signed with the
San Diego Padres
in the offseason, meaning that he will not be the
Cincinnati Reds
Opening Day starter for the first time since 2005.
Edinson Volquez
will get the nod, ending Harang's five-season streak, which matches Mario Soto and Pete Donohue for the longest Reds stretch since 1920.
*
Ryan Ludwick
will be the Padres' 20th different starter in left in the past 24 years. The last player to start three straight openers in left was Gene Richards (1980-83). Meanwhile,
Cameron Maybin
will make it nine straight years with a different Opening Day centerfielder.

* For the second straight year, there's a complete overhaul to the
Washington Nationals
outfield. The last time the franchise repeated an Opening Day outfield was 1993-94:
Moises Alou
,
Marquis Grissom
,
Larry Walker
.
Trivia Answer:
Paul Wilson
started the opener for the Reds in 2005, though he lasted only eight more games in the big leagues. Before that,
Kris Benson
got the Opening Day start for the Pirates in 2003.