Stats & Info:

Lonnie Chisenhall
June, 16, 2014
Jun 16
12:38
PM ET
Our weekly look at the interesting and unusual in Major League Baseball shows us that something new happens every day.
Monday:
Chisenhall
The
Cleveland Indians
put up a football score
on the
Texas Rangers
, winning 17-7, but it was
Lonnie Chisenhall
who was the talk of the game. Chisenhall went 5-for-5 with three homers and drove in
nine
of those 17 runs. It was the first nine-RBI game in the majors since
Carlos Delgado
in 2008, and just the second Clevelander ever. Infielder Chris James did it in a 20-6 rout of Oakland in 1991. And the last player with five hits, three homers, and nine RBI in a game was Jim Rice, who knocked in 10 of Boston's 15 runs against Detroit on June 18, 1975.
Rangers starter
Nick Martinez
gave up eight runs before
Scott Baker
came on and allowed the other nine. They're the first pair of pitchers in franchise history to each allow eight or more runs in a game.
Tuesday:
The Braves scored seven in the first inning as part of
a 13-10 slugfest in Colorado
. Their last time scoring seven or more in the first inning of a
road
game was way back on July 3, 1966, at Candlestick Park. Joe Torre had a three-run shot and pitcher Tony Cloninger hit a grand slam in a 17-3 win over the Giants. Cloninger would hit another slam in the fourth inning, and is still the only pitcher ever with two in a game.
Juan Nicasio
was charged with 10 runs on 11 hits Tuesday, after giving up seven runs on 11 hits in his prior start. He and
John Thomson
(1998) are the only Rockies pitchers to give up at least 11 hits and seven earned runs in back-to-back starts.
Wednesday:
Reid Brignac
's three-run homer gave the
Philadelphia Phillies
a 3-0 walk-off victory
over the
San Diego Padres
. It was just the second game this season where the only scoring came on a walk-off homer, the other being
Neil Walker
's solo shot on Opening Day.
However, the Phillies hadn't won such a game in over four decades. On July 28, 1972, Willie Montañez hit a two-run shot off Milt Pappas to beat the
Chicago Cubs
.
Thursday:
Chris Carter
's walk-off home run gave the
Houston Astros
a 5-4 win
over the
Arizona Diamondbacks
. Carter had gone deep twice the day before. According to Elias, he is the first Astros hitter ever to follow a two-homer game with a walk-off homer.
The top of the 10th featured a catcher's interference giving
Paul Goldschmidt
first base; it's his fourth such award this season. That already ties last year's leader,
Jacoby Ellsbury
, and Goldy's career total of five matches
Craig Counsell
's franchise record. Two of this year's calls, and three of his total, have come in extra innings, making Goldschmidt the first player in the live-ball era with two extra-inning CI's in a season, and tying Dale Berra of the Pirates (1979-81) for the career mark.
Friday:
Polanco
Playing in just his fourth major-league game,
Gregory Polanco
of the
Pittsburgh Pirates
went
5-for-7 and cranked a 13th-inning homer
to beat the
Miami Marlins
, 8-6. Polanco became the first player in over 80 years with a five-hit game so early in his career (Cecil Travis of the Senators did it in his debut in 1933), and the first Pirate with five hits including an extra-inning homer since Hall of Famer Pie Traynor in 1930.
The game was just the fourth in the last 100 years to go exactly 13 innings on a Friday the 13th. The Pirates have been the winning team in three of those.
Saturday:
Brandon Barnes
of the
Colorado Rockies
hit
his second inside-the-park home run
of the season. He's the first Colorado batter ever with two in a season, and the first in the majors since
Tony Gwynn Jr.
in 2010.
Clint Barmes
and
Ellis Burks
are the only other players with two in a Rockies uniform (neither in the same season).
It was the seventh inside-the-park homer at AT&T Park, but just the second by a visiting player. Fernando Viña of the Cardinals hit the other one in the stadium's 16th game on May 9, 2000.
Sunday:
The Astros moved reliever
Tony Sipp
to the outfield so that lefty
Josh Zeid
could face (and strike out) the Rays'
Evan Longoria
. At the start of the next inning,
Sipp returned to the mound and recorded two more outs
.
It's the
second time this week
that
Bo Porter
has moved Sipp to the outfield for one batter, a stunt the Astros also did a couple times with
Wesley Wright
.
The last non-Houston team to try it was the Cubs, who moved
Sean Marshall
to left for one batter at the end of a 2009 doubleheader. But Sipp is the first player in the designated-hitter era (1973) to go from the mound to the field and back again multiple times in one season.
June, 10, 2014
Jun 10
1:06
AM ET
By
ESPN Stats & Information
| ESPN.com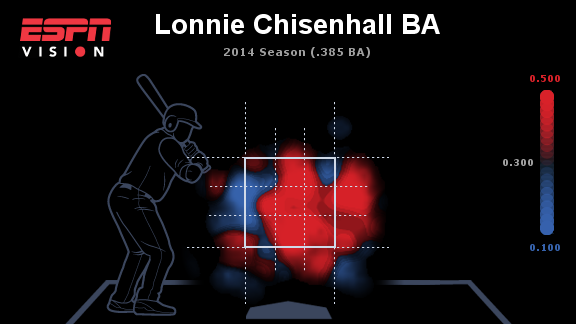 Lonnie Chisenhall is hitting everything in 2014.
It would have been reasonable to dismiss
Lonnie Chisenhall's
start to the 2014 season as a fluke, given that his .365 batting average was driven partly by a success rate of getting hits on ground balls considerably above his career norms.
But Monday could put an end to the fluke thoughts.
Chisenhall had five hits, three home runs and nine RBIs in the
Cleveland Indians
' 17-7 win over the
Texas Rangers
on Monday night. The Indians are surging to the top of the AL Central, with nine wins in their past 10 games.
The history
Chisenhall became the fourth player with five hits, three home runs and nine RBIs in one game since RBIs became an official stat in 1920. The other three were Walker Cooper (1949 Reds), Gil Hodges (1950 Dodgers) and Fred Lynn (1975 Red Sox).
Chisenhall is the only one of those hitters who was also perfect at the plate (he went 5-for-5).
The Elias Sports Bureau also confirmed that the 25-year-old Chisenhall was the fourth-youngest player with three home runs, five hits and 15 total bases in a single game. The three younger ones were Lynn (age 23),
Albert Pujols
(age 24 in 2004) and Jimmie Foxx (age 24 in 1932).
Chisenhall's nine RBIs tied a club record, matching the mark set by Chris James in 1991. He's also the first player with a three-homer, nine-RBI game since
Alex Rodriguez
in 2005.
He's the third player with a three-homer game this season, along with
Chris Davis
and
Ryan Braun
.
How he's hitting
Chisenhall is succeeding on a number of fronts where he struggled prior to this season.
His strikeout rate is only 14 percent this season, compared to 19 percent from 2011 to 2013.
The reduction in strikeouts has come with an improvement against pitches on the outer half of the plate or off the outside corner. The miss rate has dipped on those pitches, coincidentally also from 19 percent (in his first three seasons) to 14 percent (this season).
Chisenhall has 45 hits and only 61 outs against pitches to that area this season, with 12 doubles and five home runs. His batting average against those pitches is .441.
Chisenhall got four of his five hits on Monday -- including two of the three home runs -- on pitches to the outer half.
The Rangers never brought in a lefty to pitch to Chisenhall, though that may have been for good reason.
Chisenhall entered this season a career .194 hitter against left-handed pitching. He's 13-for-25 against lefties in 2014.
Did You Know?
Chisenhall is currently hitting .385. He's 18 plate appearances shy of being eligible for the AL batting lead. He currently is hitting 50 points better than the AL's batting leader,
Alex Rios
.
Chisenhall entered this season a career .244 hitter.
For Chisenhall's batting average to dip to .244 in 2014, he'd have to go 0 for his next 93.