December, 14, 2013
Dec 14
8:07
PM ET
By
ESPN Stats & Information
| ESPN.com
Mack Brown announced he would step down as head football coach at
Texas
following the team's appearance in the Alamo Bowl.
Brown ranks as the school's second-winningest coach with 158 victories, nine shy of Darrell K Royal's all-time mark.
Brown led the Longhorns to the 2005 BCS Championship, their first national title since 1970 and won at least 10 games in every season from 2001 to 2009.
From 2004 to 2009, Texas was tied with Boise State for the best win percentage in the FBS. But since the 2010 season, Texas is 30-20. Its .600 winning percentage ranks 39th in the FBS. The Longhorns were 43-7 in Big 12 play from 2004 to 2009, but only 18-17 since then.
In the last four seasons, Texas has the fifth-best winning percentage among schools in its own state, trailing
Baylor
,
Texas A&M
,
TCU
and
Houston
.
The Longhorns have lost four or more games in each of those four seasons. The last time Texas had that long of a run of such seasons was from 1991 to 1994.
The 20 losses in the last four seasons match the most by any senior class since the 1999 class also had 20.
Texas' new coach will want to prioritize fixing its defense. The Longhorns have allowed an average of 27 points and 403 yards per game over the last two seasons. Opponents averaged only three yards per rush against Texas from 2004 to 2011, but that jumped to 4.5 per run in the 2012 and 2013 seasons.
November, 1, 2013
Nov 1
9:38
AM ET
By
Mackenzie Kraemer, ESPN Stats & Info
| ESPN.com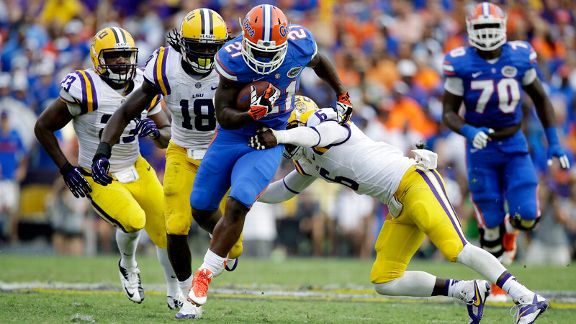 AP Photo/Gerald HerbertKelvin Taylor can be a high-impact runner for Florida beginning on Saturday.
Florida's
offense has statistically been the worst in the SEC, averaging the fewest yards per game (337) and yards per play (4.9). While its quarterback play has been inconsistent, perhaps the most alarming part of Florida's offense has been the decline of its running game.
Florida averages 4.4 yards per carry on designed rushes, worst in the SEC. Last season it was fourth in the SEC, averaging 5.5 yards per designed rush.
With running back
Mack Brown
struggling in place of the injured
Matt Jones
, Will Muschamp will turn to highly touted true freshman
Kelvin Taylor
to make his first career start Saturday. If the Gators use Taylor outside the tackle box, it might find success against a
Georgia
defense that has allowed multiple rushing touchdowns in four straight weeks.
Where Florida has struggled
The Gators have had little running room for most of this season. They average an SEC-low 2.8 yards before contact per rush on designed runs.
Florida has especially struggled between the tackles, averaging just 3.0 yards per designed run, second-worst among automatic-qualifying schools.
In their last game against Missouri on Oct. 19, Florida ran the ball eight times between the tackles, gaining a total of nine yards. Only once was a Florida back able to gain more than one yard up the middle before being hit by a defender (a nine-yard run by Taylor).
Georgia may feature the best interior run defense Florida has faced all season. The Bulldogs allow 3.1 yards per carry on designed runs between the tackles, best in the SEC.
One reason why is that they have missed only 44 tackles this season, second-fewest in the SEC.
How Kelvin Taylor can help
As good as Georgia has been on inside runs, it has been equally vulnerable outside the tackle box. Georgia allows the most yards per carry outside the tackles in the SEC (6.3)
Taylor should be a big upgrade on Brown in this area for Florida.
Of Taylor's 27 carries, 21 have come outside the tackle box, where he averages 7.0 yards per rush. Brown averages only 3.3 yards per rush on such runs, worst in the SEC (minimum 20 carries).
Taylor's outside running has been a rare bright spot for Florida's offense.
Over the last two weeks, Taylor has 105 rushing yards on 6.6 yards per carry outside the tackles. Florida's other offensive plays average just 2.6 yards per play.
Taylor has been especially good running to the left side. He averages 7.1 yards per carry over left tackle, and his 20-yard touchdown run against
Missouri
came over left end.
Unfortunately for Florida, starting left tackle
D.J. Humphries
will miss Saturday's game with a knee injury.
The Gators will have to find a way to run to have a chance to snap their two-game losing streak. Under Will Muschamp, Florida is 2-10 when it rushes for 122 or fewer yards, including losing all three such games this season.
August, 14, 2012
8/14/12
12:44
PM ET
By
Chris Fallica, ESPN Stats & Information
| ESPN.com
Brendan Maloney/US PresswireMack Brown and the Texas Longhorns have gone a combined 13-12 over the last two seasons.
After posting nine straight 10-win seasons from 2001-2009,
Texas
has slipped to 5-7 and 8-5 over the last two years. Even worse, the Longhorns are just 6-11 in Big 12 play. It is believed there is a lot of talent on the field in Austin, but how much talent is there?
For the first time since 1993-1994, Texas failed to produce a first-round pick in consecutive years.
For the first time since 2000, Texas did not have a player selected in the first three rounds in the NFL Draft.

So what are the biggest reasons for the Longhorns struggles the last two years?
First, they haven't been able to protect the football. Their 56 turnovers are the most by any AQ school over that span.
They haven't been able to replace record-setting QB Colt McCoy.
In 2009, McCoy threw 27 touchdowns in leading Texas to the BCS Championship Game. Since then, three different Texas quarterbacks have combined to throw 26 touchdowns, with a conference-high 32 interceptions. Their struggles in the red zone are highlighted in the chart below.
Texas has to get better in the Red Zone in 2012, especially when passing the ball. The Horns ranked dead last in the FBS last season in yards per pass attempt in the Red Zone (1.6).
Home-field advantage at Darrell K. Royal Texas Memorial Stadium is nonexistent these days. Texas is 2-6 in Big 12 home games the last two years, with the two wins coming last year over
Kansas
and
Texas Tech
. Those two were a combined 2-16 in conference games last year.
In the last two years, just seven AQ teams have won fewer than two conference home games, and three others have won exactly two (
Northwestern
, Texas Tech and
Vanderbilt
).
Under new defensive coordinator Manny Diaz, the defense was strong statistically, especially against the pass. The Horns allowed only two touchdown passes of 20 yards or more in 2011, tied for fewest among all FBS teams – with
LSU
and
Alabama
. Both of those touchdowns the Horns allowed came against Heisman winner Robert Griffin III and Baylor.
On the flip side however, in four games against ranked teams (all losses), Texas allowed 39.5 points-per-game. Eliminate
Kansas State
, and that number balloons to 47.0 points-per-game in losses to
Baylor
,
Oklahoma
and
Oklahoma State
.
With both
Case McCoy
and
David Ash
returning at quarterback, and
Malcolm Brown
,
Joe Bergeron
and highly touted freshman
Johnathan Gray
at RB, this could be the year where the Texas clicks on offense. If it doesn't, what changes could be in store for 2013?
October, 12, 2011
10/12/11
2:03
PM ET


After picking up their first loss of the season last week against the
Oklahoma Sooners
, the
Texas Longhorns
turn their eyes north of the Red River again for a home game against the
Oklahoma State Cowboys
on Saturday at 3:30 Eastern on ABC.
Oklahoma State arrives in Austin ranked sixth in the AP Poll. The Cowboys lead the Big 12 and are in the Top 5 in the FBS in five offensive categories: scoring (51.4 points per game), total offense (577.4 yards per game), passing offense (431.2 yards per game), 20-plus yard passes (31) and turnover margin (+10).
The Cowboys are looking to start 6-0 for just the fifth time in school history but the third time in the last four years. This is the seventh time that Oklahoma State has been unbeaten heading into a game against Texas. The Longhorns handed the Cowboys their first loss of the season in all six previous instances, including the only time in Big 12 play (2008).
Oklahoma State has won seven straight road games. That's the third-longest active streak in the FBS, and includes a win in Austin last year.
The Cowboys are riding a hot-streak against opponents from the Lone Star state. Last year, they swept the four Big 12 Texas teams for the first time since the conference was formed in 1996. Going back to 2009, they have won six straight games against Big 12 teams from Texas.
Last year's game is the only time that the Cowboys have been able to beat a Texas team led by
Mack Brown
. Brown's Longhorns are 12-1 against Oklahoma State and are averaging 38 points per game. The Longhorns have controlled the ball throughout the series, outgaining the Cowboys by an average of 132 yards while forcing 14 more turnovers.
The Longhorns under Brown have also been successful after the Red River Rivalry. Texas is a perfect 13-0 after playing Oklahoma, winning by an average of 20 points per game. Six of those wins have been against Top 25 opponents, including last year's win at Number 5 Nebraska.
Through the first six weeks of the season, 2011 is shaping up as the year of the comeback. Iowa, Houston and Nebraska have already set records for the largest comeback in school history. Oklahoma State didn't break the school mark, but the Cowboys rallied from a 20-3 deficit to beat Texas A&M in September.
If the Longhorns fall behind early in the game, they could join in the comeback parade. Three of the largest deficits Texas has overcome came in games against Oklahoma State. The school record was set in 2004, when the Longhorns rallied from a 28-point deficit in the second quarter to win 56-35.
November, 9, 2010
11/09/10
2:46
PM ET
By
Dave Bearman
| ESPN.com

The
Texas Longhorns
played and lost in last year's BCS title game. How historically bad has the hangover been? Well, they already have five losses and still have ranked teams Oklahoma State and Texas A&M to play. The five losses tie last year's Oklahoma team for the second-most losses by a team that lost in the BCS title game the year before (since 1998's first BCS title game). Only Nebraska in 2002 had more, finishing at 7-7, but it was highly controversial that Nebraska even made the title game in 2001 after failing to win its division, not to mention conference.
The Longhorns have lost three straight at home for the first time since 1997 and host 10th-ranked Oklahoma State this week. The last time Texas lost four consecutive home games was over the 1988-89 seasons. The last time Texas lost four true home games in a season: 1956, when Texas went 1-9 on the season, including an 0-5 home slate.
Texas has played in a bowl game in every season since
Mack Brown
took over in 1998. The Longhorns (4-5), need to go at least 2-1 (with home games remaining against No. 10 Oklahoma State, FAU, and No. 25 Texas A&M) to have that streak continue.
November, 4, 2010
11/04/10
1:04
PM ET
1.
With the top two teams in the BCS Standings (Oregon and Auburn) both being led by a head coach in his second season at that school, there's a good chance a recent trend will continue. Nine of the last 10 coaches to win the BCS National Championship were within their first four seasons with that program.
In fact, since Bobby Bowden won the 1999 BCS title in his 24th season at Florida State, the last 10 coaches to lead their teams to the championship have averaged 3.3 years of tenure.
2.
When Washington travels to No. 1 Oregon this week, the 3-5 Huskies will have the odds stacked against them -- and not just because they'll be playing without starting QB
Jake Locker
(ribs). The top team in the AP poll hasn't lost a November home game to an opponent with a losing record since 1961 (TCU over Texas).
3.
TCU and Utah hook up in a game with huge conference and national implications. Both are unbeaten and ranked in the top five of the BCS Standings.

Since the start of 2009, TCU has faced 20 FBS opponents. The Horned Frogs have held 13 of the 20 to their season-low in points (including seven of the eight FBS teams they have faced in 2010). They have also held eight of the 20 to season-lows in both points and yards, including Boise State in the Fiesta Bowl last season, TCU's only loss over that stretch.
4.
Over the last 40 years, the Alabama-LSU series has been dominated by the road team. 'Bama is an impressive 16-3-1 in Baton Rouge during this stretch, and to make matters worse for the Tigers … two of their three wins came when Nick Saban was LSU head coach.

5.
As you've probably read or heard by now, Joe Paterno is seeking his 400th win on Saturday (vs Northwestern), and all of those wins came at Penn State. Only one other active FBS coach has 200 career victories at the major-college level:
Mack Brown
currently sits at 212. (Note: Jim Tressel, Frank Beamer and Chris Ault have over 200 wins, but not all have come at the major-college level).
October, 14, 2010
10/14/10
2:14
PM ET
1.
Mack Brown
is 7-1 against the
Nebraska Cornhuskers
, giving him the best winning percentage in the last 50 years for any coach who's faced the Huskers at least five times. Only six head coaches who qualify under those conditions have a winning record.
2.
The
Alabama Crimson Tide
began this season with the fifth-highest percentage of first-place votes in the history of the AP preseason poll (since 1950). Alabama was the 11th team to get more than 75 percent of the preseason first-place votes, and like the 10 before them, failed to go undefeated. Just shows the difficulty of making preseason predictions.
3.
The
Ohio State Buckeyes
are no stranger to being number one in the AP Poll. One thing the Buckeyes are unfamiliar with, however, is losing on the road as the top team. In fact, Ohio State has won 13 straight road games while being top-ranked. That's the longest active streak in FBS. Their last such loss? November 9, 1974 at unranked Michigan State. But they have a long way to go to catch the all-time leader in that category.

4.
South Carolina's win over Alabama last week was the seventh time since 1990 that a team outside of the top 10 won a home conference game against the No. 1 team in America. Five of the previous six times it happened, that team lost the following week. The only exception was the
Auburn Tigers
in 2001, who needed overtime to beat Louisiana Tech … and then the Tigers proceeded to lose the following week at Arkansas.

5.
The
Florida Gators
have lost their last two games (to Alabama and LSU). The last time Florida lost three straight regular-season games was in 1988, which was Emmitt Smith's final season in Gainesville. That's the longest active streak in the country, and it's not even close. Georgia Tech, Boise State, and Texas (also currently on a two-game losing streak) can go back to 1997 to find the last time they lost three straight regular-season games. The second-longest streak in the SEC is held by LSU, which last lost three straight in 1999. Everyone else in the SEC has had a three-game losing streak at least once since 2007.
October, 13, 2010
10/13/10
1:16
PM ET
Few things could be sweeter for Nebraska than a victory over Texas in its final season as Big 12 foes.
That's because, political issues aside, Texas has dealt Nebraska some of its most crushing defeats since the conference was founded.
It started with the inaugural Big 12 Championship Game in 1996. Nebraska was ranked No. 3 and, in that pre-BCS era, was positioned to play No. 1 Florida State in the Orange Bowl. Unranked Texas, however, had other plans, and a late comeback attempt by the Huskers was foiled by a gutsy fourth-down call by Longhorns coach John Mackovic on his own side of midfield. Texas went on to win, 37-27, and Nebraska's bowl spot against FSU was taken by Florida, which ultimately won the national title by beating the Seminoles.

Nebraska's first shot at revenge came in 1998, when new Texas coach
Mack Brown
took his unranked Longhorns to Lincoln. But the No. 7 Huskers couldn't contain eventual Heisman winner Ricky Williams, who rushed for 150 yards, and freshman Major Applewhite threw a TD pass with less than three minutes remaining to give Texas a 20-16 win, snapping Nebraska's school-record 47-game home winning streak.
A year later, the Cornhuskers made the trip to Austin with a No. 3 ranking and took a 13-3 halftime lead over 18th-ranked Texas. The Horns struck back, however, and ultimately won the game with another late TD pass by Applewhite, 24-20. Nebraska came back several weeks later to thump Texas in the Big 12 Championship Game, but the damage had been done. The Huskers finished third in the final BCS Standings, edged out for the coveted No. 2 spot by undefeated Virginia Tech.
By 2002, Nebraska had built another substantial home winning streak -- this one a national-best 24 games. Naturally, it was time for Texas to come into town and crash the party. Chris Simms had a big day through the air, but Nebraska found itself trailing just 27-24 in the final minute with the ball in the red zone. Before a game-tying field goal could be attempted, Nathan Vasher picked off Nebraska QB Jammal Lord at the goal line to end the game.

And then there was last year. You know the story. Texas was trying to earn a spot in the BCS National Championship Game against Alabama, and Nebraska was trying to get its first signature win in the Bo Pelini era. The defense on both sides was suffocating, as Ndamukong Suh vaulted himself into the Heisman discussion and probably kept Colt McCoy from winning the award in the process. But the ultimate victory went to the Longhorns, who answered a late score by Nebraska with a 46-yard field goal on the final play (after one second had been put back on the clock, following McCoy's sideline incompletion).
Nothing the Huskers do on Saturday would be able to erase those memories, but a win over Texas would probably feel like a nice parting gift to the Big 12.
October, 7, 2010
10/07/10
1:36
PM ET
1.
Alabama (18 straight games) and Nebraska (12 straight) are each carrying long streaks of allowing 21 points or fewer. How impressive is that? No other FBS team has a streak longer than four games. Two other teams, Rutgers and West Virginia, have done it in every game this season. But both of those teams have played four games and their streak does not extend into last season.
2.
Urban Meyer and Les Miles both started their SEC coaching careers in 2005, and Meyer is one of the few FBS coaches with a better record than Miles since that time. When you factor in the 2007 BCS title, Meyer and Mack Brown are the only two coaches who have been inarguably more successful than Miles during this stretch.
NOTE:
Boise State's Chris Petersen began in 2006, so he doesn't make the list.
3.
It's not often that Alabama and San Jose State are mentioned in the same sentence, but that is the case this week. The Spartans will join the Crimson Tide as the only FBS teams to have played four ranked opponents after this weekend. San Jose State travels to No. 21 Nevada this week after having already lost to ranked teams Alabama, Wisconsin and Utah.
4.
Denard Robinson
became just the second player with two 200-yard rushing and passing games in the same season, joining Vince Young in 2005. It was Young's final season and he led the Longhorns to the national title. Robinson's numbers through 5 games are better than Young's that season.
5.
On Saturday, Georgia will attempt to avoid its first five-game, single-season losing streak since 1953. Pretty amazing considering that every other current SEC team has had at least one such losing streak since then, including some perennial powerhouses. A bit of trivia … other than Georgia, which current SEC schools have the fewest five-game, single-season losing streaks since 1953?
Answer: Auburn and Tennessee with one each.
September, 25, 2010
9/25/10
8:30
PM ET
Here's some quick notes on the mid-afternoon action of a busy college football Saturday:

No. 1 Alabama 24, No. 10 Arkansas 20
• The
Alabama Crimson Tide
took advantage of two
Ryan Mallett
interceptions in the fourth quarter to rally and beat the
Arkansas Razorbacks
, remaining unbeaten.
• Arkansas led 20-7 in the third quarter, but gained just 48 yards the rest of the way with a pair of turnovers, allowing Alabama to rally for its 18th consecutive win (the longest active streak in the country).
• Mallett threw for 250 yards and a score and rushed for another in the first half as Arkansas led 17-7. He finished with 357 passing yards and three interceptions, a career high.
•
Mark Ingram
had a 54-yd TD run in the first quarter. It's his third run of over 45 yards this season after having two all of last year. He finished with 157 yards and two TD.
•
Greg McElroy
completed six-of-nine pass attempts in the fourth quarter and is now 17-of-23 in the fourth quarter when trailing in his career.
• Alabama is now 4-0 vs. Arkansas under Nick Saban and has won 17 consecutive SEC regular-season games.
• Arkansas falls to 0-12-1 in its last 13 games involving top-10 teams.
No. 2 Ohio State 73, Eastern Michigan 20
• The
Ohio State Buckeyes
scored on their first six drives and finished with their most points in a game since 1950, when they scored 83 vs the
Iowa Hawkeyes
.
•
Dane Sanzenbacher
caught four TD, tying a school record he now shares with Terry Glenn (1995) and Bob Grimes (1952).
•
Terrelle Pryor
threw four TD passes, ran for a TD and also caught a TD pass. He's the only FBS player in the last seven seasons to reach each of those totals in a single game. In fact, only three other players have thrown
three
TD passes while also catching a TD and running for a TD over that span. Most recently, Mike Kafka did it last year for Northwestern.
• Eastern Michigan has lost 16 straight, spanning the entirety of Ron English's tenure as head coach.
UCLA 34, No. 7 Texas 12
• The
Texas Longhorns
committed five turnovers and were outrushed by 206 yards. Texas suffered its worst home loss of the
Mack Brown
era (since 1998).
•
Johnathan Franklin
rushed for 118 yards and a TD for the
UCLA Bruins
, who defeated a top-10 team on the road for the first time since a win over the 10th-ranked
Arizona Wildcats
in 1998. It is their first win over a non-conference top-10 team since 2000 (
Michigan Wolverines
) and only the fourth non-conference home loss for Texas under Mack Brown.
• In their last 2 visits to Austin, the Bruins have outscored Texas 100-15. 264 of UCLA's 290 yards came on the ground.

No. 16 Stanford 37, Notre Dame 14
•
Stepfan Taylor
ran for 108 yards, while
Andrew Luck
threw for 238 yards and a TD (but throws his first two interceptions of the season) as the
Stanford Cardinal
win in South Bend for the first time since 1992. That day, the opposing coaches were Bill Walsh for Stanford and Lou Holtz for Notre Dame.
• The
Notre Dame Fighting Irish
have now lost 11 straight games vs. opponents ranked in the AP Top 25 (five straight at home). The last time Notre Dame beat a ranked team was Sept. 9, 2006 when it beat No. 19 Penn State, 41-17, in South Bend.
•
Dayne Crist
threw for 307 yards, a TD and an interception (which was returned for a TD by
Owen Marecic
) and
Michael Floyd
caught eight passes for 112 yards for the Irish, who lose their 3rd straight game overall.
• At 1-3, Notre Dame is off to its worst start since 2007, when it began 0-5.
• Stanford has now defeated Notre Dame two games in a row for the first time in the history of the series.
No. 20 USC 50, Washington State 16
• Lane Kiffin improves to 4-0 as the
USC Trojans
' head coach, and becomes the fifth coach in USC history to start his tenure with four straight wins.
• The Trojans piled up season highs of 50 points and 613 yards.
• It's the first 4-0 start for USC since 2007 and its eighth straight win over the
Washington State Cougars
.
• Washington State has now lost 12 straight to FBS opponents.
No. 23 Penn State 22, Temple 13
• The
Penn State Nittany Lions
trailed 13-9 at the half, but shut out the
Temple Owls
in the second half on the way their 28th straight win over Temple.
• Penn State's 28-game win streak vs. Temple is now two shy of the FBS record for most consecutive wins over an opponent in a non-consecutive series (held by the
Clemson Tigers
over the
Virginia Cavaliers
). Penn State's streak of 16 consecutive double-digit wins over the Owls is, however, snapped.
•
Evan Royster
ran for a career-high 187 yards on 26 carries (matching a career high) for Penn State. He had just 110 yards on 31 carries in his first three games this season. His performance moved him into sixth on the Penn State all-time rushing list. He's just 105 yards behind Tony Hunt for second on the list, and 183 behind Curt Warner for the school record.
• Senior kicker Collin Wagner had a career-high five field goals for Penn State.
• Temple drops to 1-14-1 all-time against Big Ten teams, with the only win coming vs. Wisconsin in 1990.
September, 16, 2010
9/16/10
10:07
PM ET

The last time the sixth ranked
Texas Longhorns
traveled to Lubbock, TX (2008), the
Texas Tech Red Raiders
handed them a 39-33 loss, which cost the Longhorns their No. 1 ranking and ultimately cost them the Big 12 South title and a shot at the BCS championship. In fact, Texas Tech has upset a top-10 Texas team twice in the Longhorns' previous four visits. The 2008 Longhorns were ranked No. 1, and the 2002 teams was ranked No. 4.
Saturday night (8 ET on ABC/ESPN2), Texas QB
Garrett Gilbert
will make his first true road start of his collegiate career. Despite the Longhorns holding a 9-3 advantage over Texas Tech under
Mack Brown
, the Longhorns are only 3-3 in Lubbock, and one of their wins was by four points.
NEXT-LEVEL:
Gilbert has been very effective against added pressure from defenses. Against the
Alabama Crimson Tide
in the BCS Championship game last season, Gilbert was able to handle pressure, but struggled when the Crimson Tide dropped into coverage. Gilbert has beaten blitzes this season as well, completing seven passes in 10 attempts against added pressure from the
Rice Owls
and
Wyoming Cowboys
.
NEXT-LEVEL:
Gilbert struggled against Alabama in the National Championship game with his downfield throws, completing just two of 13 attempts thrown at least 15 yards downfield. And thus far in 2010, it doesn't appear that Gilbert has improved in this area.
September, 15, 2010
9/15/10
8:39
PM ET
By
Gregg Found
| ESPN.com


You'll be forgiven if you looked at this weekend's
Alabama Crimson Tide
at
Duke Blue Devils
football matchup and thought to yourself "what the heck are those two teams doing playing each other"? But savvy readers, as all who read this blog are, will also think "hey check it out – the basketball national champion is playing the football national champion!"
Because you were so astute and observant, you now get to stump your friends with this trivia question – when was the last time that the reigning basketball champ played the reigning football champ on the gridiron?
It's not as common as you might think. Since the NCAA basketball tournament expanded in 1985, it has only happened three times. And the last such matchup is full of similarities to this weekend's Alabama-Duke matchup.
For one, Alabama was involved. For another, a Tobacco Road school was involved. And a third similarity: the defending basketball champ had just taken over the title from its biggest rival.
Here's your answer: the 1993 Gator Bowl was the last such time, when the
North Carolina Tar Heels
(under
Mack Brown
) played Alabama (under Gene Stallings). North Carolina was coming off its title win against the
Michigan Wolverines
in the Chris Webber "Timeout" game. "Bama was defending a 13-0 season and national championship victory against the Miami Hurricanes in the Sugar Bowl. The Crimson Tide won the bowl game, 24-10.
You'll notice in the chart that each time, the football champ won the game. Most would guess the trend will continue this weekend.