Stats & Info:

Major League Baseball
August, 5, 2014
Aug 5
4:09
PM ET
By
Justin Havens & Michael Bonzagni
| ESPN.com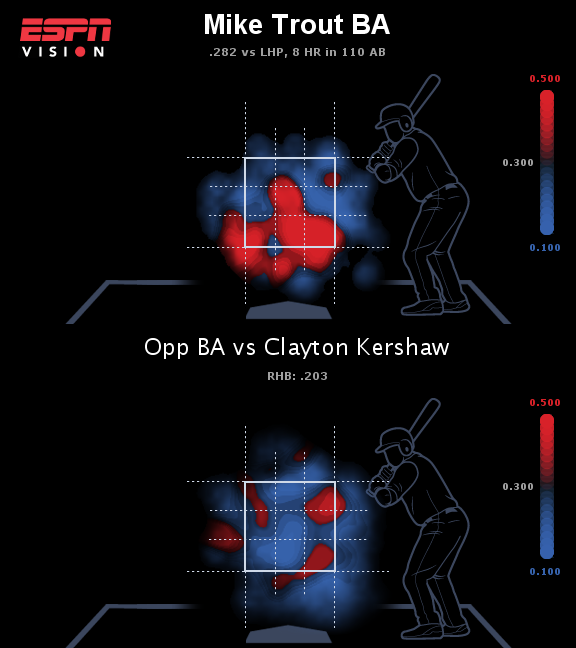 ESPN Stats & InformationThe Trout-Kershaw matchup will test the strengths of both players.
Hollywood loves a good blockbuster, and Tuesday night's battle in Chavez Ravine between the
Los Angeles Angels
and
Los Angeles Dodgers
will be no exception.
It will be the first ever regular-season meeting between
Mike Trout
and
Clayton Kershaw
.
Here are a few of the top stats to know for Tuesday night's marquee matchup.
Best of the best
Trout debuted for the Angels in 2011 (the season Kershaw won his first Cy Young award), but made a name for himself in 2012.
Since then, Trout has been arguably the best hitter in baseball, while Kershaw could be considered the game's best pitcher.
Trout leads all position players in WAR since the start of 2012 and Kershaw leads all pitchers in WAR over the same stretch.
Not only are they both at the top of their games in 2014, but each has started his career in historically impressive fashion.
Trout has produced more WAR through age 22 than any position player in MLB since 1900. His 26.1 WAR from 2011 on is ahead of Ty Cobb's 25.5 and Ted Williams' 23.6 through their seasons at age 22.
Meanwhile, Kershaw has produced more WAR through his age 26 season (this season) than any pitcher to debut in the last 40 years. His 37.4 WAR since 2008 is ahead of Dwight Gooden's 36.5 and Bret Saberhagen's and Roger Clemens' third-place tie at 35.7 through their seasons at age 26.
Strength vs. strength
One thing to keep an eye on will be how Trout handles Kershaw's pitches in the lower third of the strike zone and below.
Kershaw ranks at or near the top in baseball in effectiveness with pitches down in the zone.
It's also worth noting that Kershaw has thrown an increasingly high percentage (46.0) of his pitches down, a jump from 37.3 percent a season ago and 36.5 percent in 2012.
Meanwhile, Trout has crushed pitches down in the zone, leading MLB with a .382 batting average, .763 slugging percentage and 17 home runs this season on pitches in that location.
Fastballs early, curveballs late
When thinking about how Kershaw might pitch to Trout, consider how Trout has fared against each of the types of pitches Kershaw throws.
Eighty-five percent of Kershaw's first pitches this season have been fastballs, while Trout ranks in the bottom third of the league in batting average against fastballs. Against first-pitch fastballs, Trout is hitting .250 this season, which ranks in the 13th percentile across MLB.
Trout has also struggled to hit pitches thrown up in the zone.
If Kershaw can survive deep in the count, he has thrown the curveball on 36 percent of his two-strike pitches up in the zone this season, the highest rate of any starter in MLB. Trout has seen 131 curveballs up in the zone in his career and has produced zero hits on just seven swings.
July, 30, 2014
Jul 30
2:31
PM ET
By
ESPN Stats & Information
| ESPN.com
Elsa/Getty Images
Mike Trout and the Angels face the Orioles on "Wednesday Night Baseball"
Two of the top three records in baseball are on the line during ESPN's "Wednesday Night Baseball" (7 ET on ESPN/
WatchESPN
) as the
Los Angeles Angels
take on the
Baltimore Orioles
.
While the Angels have the better record at 63-42, the 59-46 Orioles are the ones atop their division. The Angels have the
Oakland Athletics
, with the best record in baseball, ahead of them in the AL West.
Last night the Orioles secured another walk-off win on
Manny Machado
's 12th-inning home run. That ties the O's with none other than the Angels at eight walk-off wins apiece this season, good for second in the majors.
Both Teams are Hot
From June 9 on, these are two of baseball's three hottest teams. The Angels are tied with the
Tampa Bay Rays
for the MLB lead at 29 wins during that span. The Orioles are third during that stretch with 28 wins.
The Angels have taken care of business when it counts, posting a 37-11 record against teams that are .500 or worse, the best such record in the majors. They also lead the league with 33 comeback wins.
After another late victory last night, the Orioles are now 12-3 in extra-inning games this season, the best record in baseball.
Starting Pitchers
Garrett Richards
will toe the mound for the Halos. Only one starting pitcher has a higher average fastball velocity than Richards this season.
Richards has allowed only one home run to a right-handed batter in 2014, the fewest of any qualified starter in the majors.
Orioles starter
Kevin Gausman
is no slouch in the velocity department, either. His fastball is averaging 95 mph this season, which would rank fifth among starting pitchers if he'd thrown enough innings to qualify.
Gausman (in his second season) has never faced an Angels hitter in his MLB career.
Stats About the Bats
Already off to a great start in his career,
Mike Trout
's next home run will be his 87th. That would tie him with
Ken Griffey Jr
. and Johnny Bench for seventh most before age 23 in MLB history.
Albert Pujols
has had 208 plate appearances in which he put the ball in play against the shift this season, the most of any right-handed hitter in the bigs.
For the Orioles,
Chris Davis
has struggled with off-speed pitches this season. A year ago he had a .310 batting average and 25 home runs against off-speed pitches. This season he is hitting .131 and has managed only five home runs against those same pitches.
Meanwhile
J.J. Hardy
has been big at short stop with 81 home runs the past four seasons. That's second in MLB among shortstops behind only
Troy Tulowitzki
, who has 84.
July, 30, 2014
Jul 30
11:45
AM ET
By
ESPN Stats & Information
| ESPN.com
Kim Klement/USA TODAY SportsThe Tampa Bay Rays have a lot to celebrate during their turnaround.
Following a loss to the
St. Louis Cardinals
on June 10, the
Tampa Bay Rays
were 18 games under .500 at 24-42, the worst record in Major League Baseball. Since then the Rays are an MLB-best 29-12. Just how rare is a turnaround like this?
Should the Rays win Wednesday (12:10 ET vs
Milwaukee Brewers
), they'll reach .500 for the first time since April 22 when they were 10-10. According to the Elias Sports Bureau, only three times in MLB history has a team reached .500 after being as many as 18 games under .500 in the same season. None of the previous three, however, would go on to make the playoffs.
The 1899 Louisville Colonels were led by a 25-year-old shortstop named Honus Wagner. That ball club started the season 16-38 but rallied to go 57-35 over their next 92 games. They finally returned to .500 baseball on October 3. Unfortunately, it was too late in the season by then and the Colonels finished ninth in the National League, 28 games out of first place.
The Tampa Bay franchise has actually been here before. Then known as the Devil Rays in 2004, the team found itself at 10-28 on May 19 but went 25-7 over its next 32 games to reach .500 on June 25. The turnaround was short-lived, however, and the team posted a 35-56 record the rest of the way. While the comeback fueled a then-franchise record 70 wins, the team still finished fourth in the AL East and 20 and a half games out of playoff position.
The most-recent such comeback came in 2006 by the Florida Marlins. That team was led by 23-year-old
Miguel Cabrera
and 22-year-old rookie shortstop
Hanley Ramirez
. The Marlins tumbled to an NL-worst 11-31 record on May 21 before proceeding to go 57-37 to reach .500 on September 3. However, the Marlins went 10-16 the rest of the way and finished fourth in the NL East, again with no playoffs to show for it.
So what's fueling the Tampa turnaround this season?
The Rays have been one of the most disciplined teams at the plate since June 10. Prior to that date the Rays ranked 17th with a .317 OBP as a team. From June 11 on the Rays have a .346 OBP as a team, the best mark in baseball over that time span.
Ben Zobrist
has tallied 27 walks from June 11 on, second in MLB behind only
Paul Goldschmidt
's 36 walks.
And finally, the Rays have chased only 25 percent of pitches outside of the strike zone from June 11 on, again the best mark in baseball over that time span.
While trade rumors have quieted for their ace
David Price
, the Rays could make a run at history and become the first team ever to make the playoffs after being 18 games below .500 in the same season.
July, 29, 2014
Jul 29
2:20
PM ET
By
John Fisher
| ESPN Stats & Info
AP Photo/Alex BrandonRyan Howard has struggled to find a consistent role in the Phillies' starting lineup.
Last week
Ryan Howard
sat four games in a six-game stretch, including three in a row. Two of those three straight were against left-handed starting pitchers, but Thursday he sat against
Tim Hudson
, the pitcher he's faced the most in his career. Howard holds a .328 career BA (22-67) with 7 HR and a 1.112 OPS against Hudson.
Howard is having the worst full season of his career including a career-low .380 slugging percentage. He turns 36-years-old in November, he's still owed $60 million after this season and he can block trades to 21 teams.
Could this be the end of the line for the former National League MVP?
Howard Can't Hit Righties
The biggest reason behind Howard's disappointing season is his performance against right-handed pitchers, which has always been better than his performance against lefties.
In 2009, Howard hit .320 and slugged .693 against righties. This season he's hitting .221 and slugging .356 against them.
In 2011, his last full season, he hit 30 HR in 387 AB against righties. In the past 3 seasons combined, he's hit 26 HR in 656 AB against righties.
He Can't Handle Fastballs
The book on Howard used to be a steady diet of offspeed pitches that he would chase, especially if he was behind in the count.
In 2011, Howard saw 41% fastballs, the lowest figure of any qualified hitter in baseball. But after he tore his Achilles in that year's playoffs, pitchers haven't been afraid to throw him heaters or pitches in the strike zone anymore.
From 2009-2011 Howard ranked 11th in MLB in slugging percentage against fastballs and 10th against pitches in the strike zone. From 2012 on he ranks 130th in slugging percentage against fastballs and 110th against pitches in the strike zone.
He's not even punishing the slower fastballs that he used to crush. In 2010, he slugged .851 and only missed 16% of his swings against fastballs from righties that were 91 MPH or slower. This season, he's slugging .405 and missing 22% of his swings against those fastballs.
No Power at a Power Position
Howard is giving the Phillies almost nothing at a power position. The list of first basemen with similar slugging percentages this season have never been in Howard's class as a slugger. He currently ranks 22nd in slugging percentage among 25 players with 100 plate appearances at first base.
He's had plenty of opportunities to produce, tied with
Albert Pujols
and
Casey McGehee
for the MLB lead at 234 plate appearances with runners on base, but his .255 batting average with runners on has him in a tie for 107th in MLB this season.
July, 19, 2012
7/19/12
1:33
PM ET
By
ESPN Stats & Information
| ESPN.com
Jared Wickerham/Getty ImagesAndrew McCutchen and the Pirates are hoping to reach the postseason for the first time since 1992.
The
Pirates
entered play Thursday 11 games above .500 and tied with the
Reds
atop the National League's central division. At 51-40, they were tied with the
Giants
and Cincinnati for the second-best record in the NL and tied for fourth in all of Major League Baseball.
They have been one of baseball's hottest teams over the last two months, posting an NL-best .634 win percentage since June 1 (only the
Yankees
at .732 have been better). Following wins against the
Rockies
on Tuesday and Wednesday, all is well in Pittsburgh. That is, unless you flash back a season ago.
The Pirates were all alone in first place of the central division on Tuesday, July 19, 2011, and were hoping to finish off a sweep of the Reds the following day. Pittsburgh had won three straight and five of its past six games and were sitting a season-best seven games above .500.

Unfortunately for the Pirates, that would be the high-water mark for a 2011 season that unraveled and unraveled quickly. Beginning on July 20, the Pirates lost 15 of their next 18 games and would eventually finish 24-games back of division-winning
Milwaukee
. Their .313 win percentage (21-46) after July 19 was the worst in the National League.
But what's different this time around?
Andrew McCutchen
leads the majors in batting average (.369), slugging (.649), and OPS (1.072) and the MVP candidate has been the catalyst for the Pirates during their summer surge.
Since June 1, he has a league-high 66 hits, is hitting a league-best .410, and is tied for the league lead with 40 runs batted in. Last season, McCutchen was hitting .280 on July 19 with 14 home runs. He has 14 home runs since June 1 of this season.

Hanrahan
The Pittsburgh bullpen is also much improved. The Pirates are 43-0 this season when leading after seven innings (five such losses by this time last season) and
Joel Hanrahan
is second in the NL with 26 saves. As a team, they have seen improvement in bullpen ERA (2.64 vs 3.06), opponent batting average (.220 vs .245) and WHIP (1.23 vs 1.30) compared to this point last season.
Finally, their remaining schedule is more manageable this time around. Pittsburgh opponents have a combined win percentage of .466 the rest of the way in 2012. Their opponents' combined win percentage after July 19 was .512 last year.
Only time will tell whether the Pirates can hang on and make their first playoff appearance since 1992. But for now, some encouraging pieces seem to be falling into place.