Stats & Info:

Manny Pacquiao
November, 24, 2013
Nov 24
2:52
AM ET
By
Andrew R. Davis
and
Toby Petitpas
| ESPN.com
Chris Farina/Top RankSuperstar Manny Pacquiao (R) wins a 12-round unanimous decision over Brandon "Bam Bam" Rios at The Venetian Macao Resort in Macau,China.
Manny Pacquiao defeated Brandon Rios by unanimous decision (120-108, 119-110, 118-110) in Macau, China Saturday night in his first fight since being knocked out by Juan Manuel Marquez last December. From the opening bell, Pacquiao used his power and quickness to outland Rios. Over the first six rounds of the fight, Pacquiao landed 117 power punches, four more than Rios would land the entire fight, according to CompuBox.
Pacquiao was effective throwing punches to the head, landing 241 of 281 punches, according to CompuBox, to Rios' face. According to ESPN Stats & Information video tracking, 146 of those punches landed on the right side of Rios' head, as seen in the graphic below.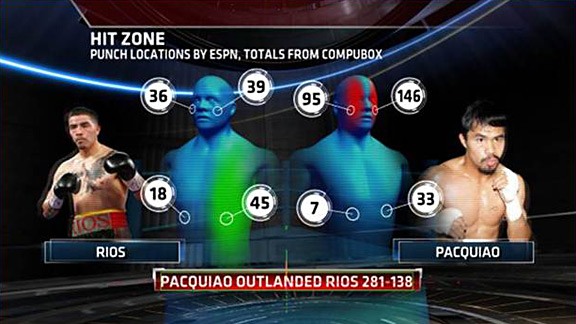 ESPN Stats & InformationPacquiao vs Rios Saturday
Going into the fight, Pacquiao averaged a 47 percent connect percentage with his power punches and that number was right on target Saturday night, with "Pacman" landing 48 percent on Rios (223 of 468) according to CompuBox. While Pacquiao was able to work his power punches on Rios with combinations, "Bam Bam" could not get his power punches working nor could he land combinations. Pacquiao outlanded Rios with power punches in every round but the 8th, where the California native held a 14-9 advantage.
Rios was neutralized by Pacquiao throughout the fight, leading to the lopsided score. Rios is most known for his high-punch output that was seen in his last two fights with Mike Alvarado. Against Alvarado CompuBox calculated that Rios landed 161 punches (144 power) over seven rounds to win by knockout. In the rematch this past March, Rios landed 241 punches (182 power) over 12 rounds in a unanimous decision loss. Yet, against Pacquiao he was unable to get off punches. Rios landed 29 percent of his punches (avg. 34 percent over his past six fights) Saturday, and offered far less in terms of punch output. He threw 42 punches per round, far below his 74 punch output per round over his past six fights, according to CompuBox. In terms of power punches, Rios only threw 22 per round, landing double digits in just five of 12 rounds. According to CompuBox, Rios came into Saturday's fight averaging 54 power punches per round.
Pacquiao had no problem getting off shots. According to CompuBox, "Pacman" threw an average of 69 punches per round over his last nine fights and landed 24. Saturday night against Rios, Pacquiao was at 66 punches per round, landing 23. Pacquiao' s control of the ring and his precision inflicted damage to the head of Rios as seen in the graphic above, helping the Filipino champion gain points on the scorecard en route to the unanimous decision. Although "Pacman" didn't get a knockout for the seventh consecutive fight, he showed the power and speed that made him one of the pound-by-pound fighters of the 21st century.
December, 4, 2012
12/04/12
9:20
AM ET
By
Andrew Davis
and
Tyler Norsworthy
| ESPN.com
AP Photo/Jae C. HongJuan Manuel Marquez is looking for his first win against Manny Pacquiao.
Manny Pacquiao will win
Manny Pacquiao is 2-0-1 against Juan Manuel Marquez according to the judges' scorecards, but the fourth matchup will be his most decisive victory.
Pacquiao has four knockdowns and Marquez none over 36 rounds. All four knockdowns came after a jab leading into his left-handed power punch. As Pacquiao has developed and grown both as a boxer and physically, his usage of power punches has been a welcome addition to his arsenal.
In the first two fights, Pacquiao outlanded Marquez in jabs 91-78, although Marquez landed 38 more power punches (252-214).
In the third fight last November, Pacquiao outlanded Marquez in both jabs (+21) and power punches (+17). Pacquiao also outstruck Marquez in eight of 12 rounds with power punches after being outstruck 14 rounds to eight in the first two fights.
Pacquiao will be the busier fighter of the two, creating more opportunities to use his jab and set up the power punches. Pacquiao has thrown more punches in 32 of the 36 rounds, and has an output differential of 342 punches over the three fights.
Marquez is a classic counterpuncher known for his heart and tenacity, and the Pacquiao camp knows he must be the aggressor at the opening bell to win the early rounds.
Pacquiao won the first round decisively in all three fights, outstriking Marquez 34-26 with 24 of those being power punches. In Rounds 1-4 of the trilogy, Pacman landed 15 more punches and 40 percent of his power punches to Marquez's 36 percent. Of 36 judges' scores, Pacquiao won 23 to Marquez's 13.
--
Andrew Davis
Juan Manuel Marquez will win
Despite three close battles with Manny Pacquiao, Mexican legend Juan Manuel Marquez has been unable to score a victory.
Marquez's strength has been with his counterpunching, opening up chances to throw power punches with his right hand. Marquez threw more than 25 power punches per round in 16 of 36 rounds, winning 11 of them (68.8 percent).
When Marquez landed at least 10 power punches in a round he won the round 72 percent of the time. If Marquez throws more than 25 power punches and lands 40 percent of them, he should have the approval from the judges.
Marquez needs to avoid a slow start. Pacquiao has thrown 146 more punches than Marquez in the first three rounds during their previous fights; an additional 16.2 punches thrown per round.
Marquez has landed just 26.8 percent of his punches in the first three rounds and has lost seven of the nine rounds, including losing Round 1 on all nine scorecards.
Despite Pacquiao throwing 342 more punches than Marquez over the first three fights, Marquez landed just 13 fewer punches. Marquez landed 31.3 percent of his punches while Pacquiao landed 26.2 percent.
Marquez needs to pick his spots to counter Pacquiao and attack with power in order to get the upper hand in the fourth encounter.
--
Tyler Norsworthy
Statistical support for this story from Compubox