Stats & Info:

Marc Normandin
May, 24, 2010
5/24/10
11:21
AM ET
By
Marc Normandin, Baseball Prospectus
| ESPN.com
Expectations were high for the 21-year-old
Rick Porcello
heading into this season. He had finished his first major league campaign with an ERA of 3.96, an impressive feat for a pitcher so young with so little professional experience. He had also closed out the season with a tantalizing look at what the future holds, striking out eight Twins in game No. 163 of the regular season while giving up just a pair of runs over 5 2/3 innings. The start to 2010 has been tougher than his debut.
The main differences between 2009 and 2010 for Porcello so far are his BABIP and his walk rate. One of those issues is Porcello's to deal with, while the other, at least in part, can be blamed on the defense behind him. The Tigers
rank No. 19
in Defensive Efficiency this season, which has helped Porcello along to a .352 BABIP, well above the league average. In 2009 they were No. 9, and Porcello was at .281 -- some regression may have been expected, but that's about 50 points too much. It's not a surprise though, given his 55 percent ground-ball rate and nearly 2.0 G/F ratio.
As for the walks, they are a side effect of Porcello's attempts to induce ground balls. He throws a ton of pitches low and away, trying to keep the opposition from having anything to drive: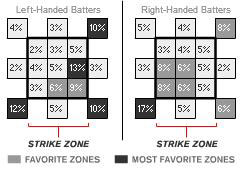 It has worked, insofar as his home run rate has dropped to 0.6 from 1.2, but opponents are swinging at just under 24 percent of pitches out of the zone against Porcello, so they aren't pulling the trigger often enough to help with the young hurler's whiff rate or his walks. They are, however, making contact at an above-average rate at his offerings within the strike zone, which is part of the reason that his BABIP is as high as it is.
While the walk rate wasn't an issue against the Dodgers on Sunday afternoon -- Porcello allowed two free passes over six innings -- the hits allowed were. Porcello scattered nine hits thanks to a porous Tigers defense, but was able to get out mostly unscathed thanks to some timely double plays. He lowered his ERA for the fourth start in a row, and has a 3.26 ERA over 19 1/3 innings pitched this month after a rough April, but he's still not pitching the way he should.
Porcello has strikeout stuff -- he has a four-seamer that tops out at 95 mph and that he throws at 92-93 consistently -- but he sticks with the slower two-seamer for the sake of movement and to induce ground balls. That's why, if you look at his average velocity, you'll see a pitcher who stays around 90 and is reliant on his defense for success, rather than one who is blowing away opponents like you would expect. Until Porcello takes matters into his own hands and stops pitching with the same kind of strategy as a
Jon Garland
or a
Tim Hudson
, he's going to have these ups and downs.
Marc Normandin is an author of Baseball Prospectus.
May, 6, 2010
5/06/10
1:30
PM ET
By
Marc Normandin, Baseball Prospectus
| ESPN.com
It seems forever ago that
Brandon Wood
was one of the top prospects in the game (remember when he hit 43 homers at Class A in 2005?), but his star and the optimism surrounding him have faded with each successive stint in the big leagues. Now out of minor league options, this is his last chance to stick with the Angels.
While in the minors, Wood looked like a powerful Three True Outcomes player (home runs, walks and strikeouts making up the majority of his plate appearances). But in the majors he has devolved into something more like a 1.5 True Outcomes player, with plenty of strikeouts, very few walks, and a handful of homers. The problem seems to be that he doesn't make adjustments.
Wood was able to draw walks at Triple-A and showed plenty of power there (22 homers in 428 plate appearances in 2009), but once he gets to the bigs, his approach at the plate has failed him. Major league pitchers have had him figured out since he debuted in 2007, and Wood has not adjusted one bit. They attack him with first-pitch strikes to put him behind in the count (64.3, 65.2 and 69.1 percent first-pitch strikes the last three seasons, with the league average sticking around 58 percent). He's forced to swing at pitches out of the zone, something pitchers gladly give him plenty of opportunities to do -- for his career, he's swung at 38 percent of pitches outside of the strike zone, including nearly 42 percent this season. That would put him among the top 10 in baseball if he had enough plate appearances to qualify.
John Lackey
and
Daniel Bard
of the Red Sox mostly had their way with him last night using this same strategy. Wood came up to bat three times, saw a first pitch strike in all three at-bats (he swung at one, a slider from Lackey, and fouled it off). Lackey worked him inside, outside and high, getting Wood to miss badly on a few pitches he couldn't do anything with high and in or just by elevating his fastball. Bard made him miss high and then chase low and away with a slider, putting him away in three pitches.
Wood did hit a home run, but it was on a mistake pitch from Lackey. On a 1-2 count, Lackey left a fastball inside where Wood could turn on it instead of getting him to chase, which, if you have seen any of the past four seasons, is the way to send Wood packing. He's still a dangerous hitter on pitches like that, but as Bard showed later (and Lackey himself showed earlier) you can avoid that problem more often than not by throwing outside the zone once Wood is behind in the count.
At this stage for Wood, the hope is that he can turn into a Gary Gaetti-type hitter -- he won't pick up many hits, and he won't walk much, but there's plenty of power there. But considering he's hitting .185/.205/.272 in 84 PAs, time is running out for Wood, who's now 25, to prove himself.
Marc Normandin is an author of Baseball Prospectus.
May, 3, 2010
5/03/10
11:25
AM ET
By
Marc Normandin, Baseball Prospectus
| ESPN.com
Despite immense talent,
B.J. Upton
has had a mostly disappointing career. Not bad, mind you, but disappointing. Early on, finding him a position on the field was difficult, and it hampered his development. Then, shoulder problems sapped his power.
We received a glimpse of Upton's potential in 2007 when he hit .300/.386/.508 (batting average/on-base percentage/slugging percentage). In 2010, he's now another year removed from his November 2008 shoulder surgery and has made some tweaks to his swing, and it looks as if Upton's power has finally returned. His .242/.330/.440 line won't blow you away, but there are reasons to be bullish about the
Tampa Bay Rays
' 25-year-old center fielder.
Late last year, TMI contributor
R.J. Anderson wrote a post over at the DRaysBays blog
in which he broke down Upton's swing. He noticed that Upton was swinging with his shoulder flying open, which hurt him on outside pitches and prevented him from driving the ball to the opposite field.
This year, his shoulders look more level as his bat comes through the zone and appear better in sync with the lower half of his body. His swing, which always is fast because of his powerful and quick wrists, doesn't have the same odd hitch that it had last season, and it's allowing him to drive the ball to all fields. Check out this spray chart: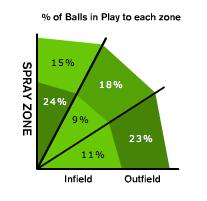 Upton was mostly a pull hitter last season, but he's used the whole field thus far this season, which is promising. Also, his batting line is better than you think. For starters, Upton's batting average on balls in play is .273. His career number is .338, so he's probably been a bit unlucky thus far. More notable is his isolated power, which currently sits at .198 after hovering around .130 the past two seasons. The last time it approached .200 was in the aforementioned 2007 season, when it was .209.
Upton's 2007 season hinted that he was a potential monster player. If he's finally over his shoulder problems, as it appears he is, Tampa Bay's offense, which is already loaded, would be downright scary. The Rays are already No. 1 in this week's ESPN.com MLB Power Rankings, and Upton could make them even better.
Marc Normandin is an author of Baseball Prospectus.
April, 28, 2010
4/28/10
11:23
AM ET
By
Marc Normandin, Baseball Prospectus
| ESPN.com
After a successful experiment in the spring that ended with entrance into the rotation, former reliever C.J. Wilson has rattled off four straight quality starts to begin 2010. His continued success would go a long ways towards ensuring the Rangers stick at or near the top of the American League West, so the question is whether or not that is possible. After all, relievers usually end up as relievers because they're not good enough to start.
Wilson always had a deep repertoire for a reliever, with a four-seam fastball that could hit 95, a change-up and a slider. As a starter, he's dropped the four-seamer in favor of a two-seamer with movement that tails away from right-handers, moving between 89 and 92 mph. He uses all of these pitches low and inside to hitters, focusing on picking up ground balls off the end of bats and forcing opponents to pop up the ball off the lower half of their bats. So far, he's been successful. Wilson has a 1.15 ground ball/fly ball ratio, and has yet to allow a home run.
This tactic was on display last night against the White Sox, as Wilson allowed two runs over six innings in a 4-2 Rangers win. He induced three straight grounders to third to begin the game, working low in the zone and forcing White Sox hitters to swing at pitches they couldn't do anything with. Wilson showed a great understanding of how to pitch contextually, which is impressive for a reliever who, even with the deep pool of pitches to pull from, relied heavily on his fastball and its velocity in the past.
Just 59 of Wilson's 104 pitches were strikes, but, in the same vein as his last two starts he was able to pick up enough ground ball outs (11) that it didn't matter. He previously had 13 ground ball outs against the Red Sox and 10 versus the Yankees. The Rangers infield defense is solid enough that they can contribute to Wilson's success, and he strikes out enough hitters (five last night, 7.4 per nine on the season) that he can get himself out of a jam as well.
There were plenty of reasons to doubt that Wilson could succeed as a reliever, such as stamina and ability to retire right-handed hitters. Thus far he's making Texas look smart.
Marc Normandin is an author of Baseball Prospectus.
April, 16, 2010
4/16/10
11:07
AM ET
By
Marc Normandin, Baseball Prospectus
| ESPN.com
Atlanta Braves
righthander
Tim Hudson
faced the
San Diego Padres
in Petco Park yesterday afternoon, hoping to follow-up on his strong start against the Giants to begin the year. On a basic level, it looks like Hudson was solid, allowing two runs in 5 2/3 innings to pick up his first win of the season. This is a promising sign for a pitcher who missed most of last season recovering from Tommy John surgery. But if you take a closer look at his performance, you'll see some major red flags.
Hudson, who had great command of his pitches early, started to miss his spots consistently in the third inning. Jerry Hairston worked the count to 3-2 before reaching on an infield single, and then Hudson handed out free passes to both
Adrian Gonzalez
and
Kyle Blanks
before escaping the jam. Hudson had similar command problems in the next inning when he again issued two free passes.
He seemed to have regained his control in the fifth, as he retired the side with three straight groundball outs, but in the sixth he started to leave his sinker up, and
Will Venable
homered to right.
Matt Stairs
followed with a double to center, and then
Everth Cabrera
singled him home. Hudson was removed from the game and the Braves pen ended the threat, keeping Hudson's ERA for the season down at an impressive -- or at least impressive-looking -- 2.84. For the game Hudson had zero strikeouts and five walks, which is the kind of ratio that would typically earn you an early shower, as opposed to a win.
Hudson has recorded just two strikeouts in 12 and 2/3 innings thus far. And while he's never been much of a strikeout pitcher, he whiffed 5.5 per nine in his previous five seasons with Atlanta. He currently stands at 1.4, failing to register a whiff against a Padres team that is currently fourth in the majors in punch outs, and on a day when
David Eckstein
, the lone Friar that is difficult to fan, was on the bench.
In his defense, Hudson has induced 29 ground balls this year, and sinkerballers can succeed without a ton of strikeouts. Atlanta's infield defense is good, but with
Troy Glaus
and
Chipper Jones
on the corners, it isn't great. Therefore, Hudson is going to need to pick things up and earn some outs on his own, rather than relying on the players behind him. If his sinker isn't sinking, or he's not hitting his spots (Hudson threw just 55 strikes on 100 pitches yesterday) he's going to allow a lot of baserunners, and won't always be as lucky with well-timed outs as he was in yesterday's contest. As the season progresses, keep an eye on Hudson's K-rate -- if it remains low, so will the Braves' title chances.
Marc Normandin is an author of Baseball Prospectus.