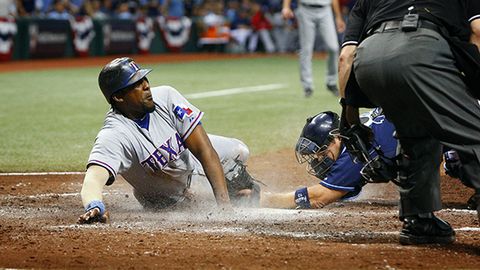 Kim Klement/US Presswire
One Ranger who's had success against the Yankees is Vladimir Guerrero.
Top Things To Know
The Texas Rangers have lost nine straight postseason games against the New York Yankees. They were outscored in the last six of those contests, 23-2. The good news: None of the hitters from those 1998-1999 Rangers teams are still playing for Texas.
The Yankees significantly outrate the Rangers from a historical perspective with their 27 World Series titles, but on the field, they were even-steven this season, with each team winning four times when they matched up head-to-head. Home-field proved to be key: the Yankees swept three games at home against the Rangers, while the Rangers went 4-1 in their home meetings with the Yankees and were 51-30 at home during the regular season.
Yankees vs Rangers
2010 Regular Season
Neither of the 2010 AL MVP candidates -- Josh Hamilton and Robinson Cano -- were factors against the other team during the regular season. Hamilton hit .250 with one RBI in five regular-season games against the Yankees. Cano hit .233 with one RBI in eight games. Cano, who had some struggles against left-handed pitching towards the end of the regular season, was 3-for-7 against lefties in the ALDS. Hamilton is still looking to right himself after going 2-for-18 in the ALDS. He went 1-for-11 at Yankee Stadium this season, but was 7-for-14 there in 2009.
Deciding Factor
The Yankees would seem to have a significant edge in the back of the bullpen. Mariano Rivera righted himself in the ALDS after some late-season struggles, while Neftali Feliz looked a bit nervous in his ALDS appearances. Both closers were vulnerable against their respective opponents in the regular season. Rivera's experience, and an 0.99 ERA in the ALCS features only one year with any blips -- 2004. Other than that, he's a perfect 10-for-10 in LCS save chances.

If the 22-year-old Feliz can get a save at Yankee Stadium, he'd be the youngest pitcher to record one against the Yankees there in the postseason. The current mark is held by 23-year-old Steve Howe, who closed out the Yankees to win the 1981 World Series for the Los Angeles Dodgers in the Bronx.
Most Interesting Matchups
Derek Jeter is a .432 career hitter combining regular season and postseason play against Cliff Lee. That's the highest batting average against Lee for any hitter with at least 25 plate appearances against him.
If the game is close in the late innings, Rangers DH Vladimir Guerrero has good experience against both Kerry Wood and Rivera. He's 8-for-15 in his career against Wood, mostly from Wood's days as a flamethrower for the Cubs. He's also 4-for-11 against Rivera, though Rivera did get him to ground out with the tying run on third base to end a 7-6 Yankees' win on Aug. 11.
Decisions, Decisions
The Yankees chose to pitch Phil Hughes in Game 2 and Andy Pettitte in Game 3, rather than the other way around. That may have something to do with Hughes having good history in Rangers Ballpark in Arlington. In 15⅓ innings there, he's never allowed an earned run. Pettitte, early in his career, had some dreadful appearances in that stadium (8.22 ERA there), and is being pushed back to Game 3.
Pettitte has never pitched a postseason game in that ballpark, though he's faced Texas three times at Yankee Stadium. That sets up an interesting Game 7 scenario that would put Pettitte against Lee. Pettitte has never started in Game 7 of a postseason series for the Yankees.
The Rangers have to decide if they're going to play Jeff Francoeur in right field against both CC Sabathia and Pettitte. Francoeur was 8-for-20 with no strikeouts against left-handed pitchers in the regular season after being traded by the Mets to the Rangers. He opened the scoring in Game 1 of the LDS with an RBI hit against lefty David Price.

Stat of the Day
Lee enters this series with the Yankees with a 6-0 career postseason record. According to the Elias Sports Bureau, the best unbeaten postseason record for a pitcher whom the Yankees beat in a postseason game was 4-0, by former Milwaukee Braves starter Lew Burdette, and ex-Red Sox ace Pedro Martinez.