Stats & Info:

Masahiro Tanaka
July, 10, 2014
Jul 10
10:01
PM ET
By
Justin Havens
| ESPN Stats & Info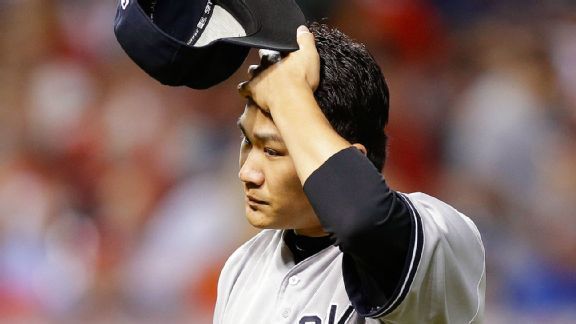 AP Photo/Tony DejakMasahiro Tanaka's rookie season will be on hold due to a partially torn ligament in his throwing arm.
The
partially torn ligament
in
Masahiro Tanaka's
throwing arm derails what's been a solid rookie season for the
New York Yankees
ace.
Tanaka's season has been a successful one: 2.51 ERA, 135 strikeouts to 19 walks in 129 1/3 innings, and the Yankees have won 13 of his 18 starts.
But Tanaka hadn't pitched well of late, going 1-3 with a 4.25 ERA. And maybe more telling, his strikeout rate dropped 10 percentage points in that span, to 19 percent after he posted a 29 percent strikeout rate across his first 14 starts.
One of the big differences? Tanaka has had less success getting batters to swing at pitches out of the strike zone.
• In his first 14 starts, Tanaka induced an average of 23 swings at pitches out of the strike zone per game. In his past four starts, he's averaging a little more than 18. His two games with his fewest number of swings at pitches out of the zone have come in his past four starts.
• In his first 14 starts, 39 percent of Tanaka's pitches out of the zone resulted in swings – the highest rate among starters in MLB. Since that point, he ranks a good-not-great 15th among starters.
• In his first 14 starts, batters hit .121 with two strikes, and 52 percent of his plate appearances that reached two strikes ended in a strikeout. In his past four, batters are hitting .260 with two strikes, and only 42 percent of his plate appearances that reached two strikes have ended in a strikeout.
• Perhaps because of this, he's being forced to throw more strikes – and batters had more success against pitches in the strike zone. He threw 44 percent of his pitches in the zone in his first 14 and 48 percent since. In his first 14 starts, he allowed 23 hard-hit balls on pitches in the strike zone per 100 at-bats; in his past four, he's averaged 33 hard-hit balls per 100 at-bats.
The injury is yet another blow to the Yankees starting rotation.
Of the pitchers on the Yankees starting rotation on Opening Day, all but
Hiroki Kuroda
are on the disabled list.
CC Sabathia
,
Ivan Nova
and
Michael Pineda
are all on the 60-day disabled list.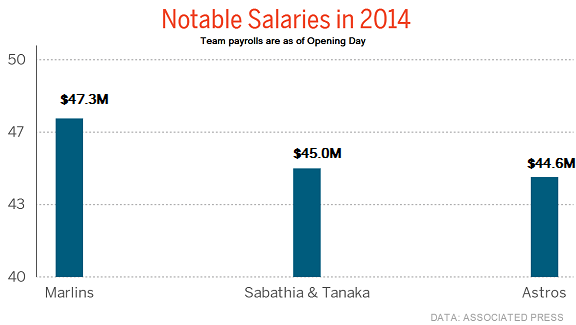 July, 6, 2014
Jul 6
8:50
PM ET
By
ESPN Stats & Information
| ESPN.com
The American League and National League All-Star rosters for next Tuesday's contest in Minnesota were announced on Sunday. Here's a look at some of the notable statistical storylines from Sunday's selections.
Jeter's All-Star Finale
New York Yankees
shortstop
Derek Jeter
is slated to make his ninth All-Star start at shortstop. That would be third-most in major-league history, trailing only
Cal Ripken
Jr. (14) and Ozzie Smith (11).
Jeter
The Elias Sports Bureau notes that Jeter would be the second player to start an All-Star Game at shortstop after turning 40 years old. Cal Ripken, Jr. was the AL's starting shortstop in the 2001 All-Star Game at age 40, after a position switch on the left side of the infield that was orchestrated by
Alex Rodriguez
.
The only other non-pitcher who represented the Yankees in an All-Star Game at age 40 or older is Johnny Mize (age 40 in 1953).
Jeter will tie Joe DiMaggio for third-most All-Star starts by a Yankee. Only Mickey Mantle (13) and Yogi Berra (11) have more.
A very Athletic team
The
Oakland Athletics
had the most players selected to the All-Star team with six (not including
Jeff Samardzija
, who was picked as a representative of the
Chicago Cubs
). It is their most All-Star selections since 1975, when they also had six.
The Athletics will only have one starting position player- third baseman
Josh Donaldson
(who will join Sal Bando as the only Athletics third basemen to ever start an All-Star Game). In fact, the American League's eight starting position players will come from eight different teams, the first time that has happened for the American League in All-Star Game history (which dates back to 1933).
You don't have to be a closer
Three relief pitchers who are not closers were selected as All-Stars—Dellin Betances of the Yankees,
Tony Watson
of the
Pittsburgh Pirates
and
Pat Neshek
of the
St. Louis Cardinals
.
Betances ranks second in the American League in opponents' batting average (.129), trailing only Wade Davis (.120) of the
Kansas City Royals
.
Neshek and Watson are the only two pitchers in the majors (minimum 30 innings) who have a sub-1 ERA and WHIP this season.
Neshek ranks second in the NL in opponents' batting average (.134), trailing only
Jonathan Broxton
(.114). Neshek's .343 opponents' OPS is the lowest in the majors among those who have faced at least 100 batters this season.
Home-team reps
The
Minnesota Twins
will have two All-Star representatives, though neither one is six-time All-Star
Joe Mauer
.
Catcher
Kurt Suzuki
and closer
Glen Perkins
were both selected. Perkins will enjoy the honor as a St. Paul, Minnesota native. The last player to win All-Star Game MVP honors in his home ballpark was
Pedro Martinez
in 1999.
Neshek, who went to Park Center Senior High School just outside Minneapolis (and who previously pitched for the Twins) will also be well-received by the home-team fans.
Who starts on the mound?
The All-Star Game starting pitchers will not be named until next week, but the managers for both leagues will have interesting dilemmas.
Dodgers starter
Clayton Kershaw
and Cardinals starter
Adam Wainwright
are separated in ERA by only .04 (Kershaw is at 1.85, Wainwright at 1.89), with
Johnny Cueto
right behind them at 1.99.
The last Dodgers pitcher to start the All-Star Game was
Brad Penny
in 2006. The last Cardinals pitcher to start it was
Chris Carpenter
in 2005.
Mariners starter
Felix Hernandez
leads the AL with a 2.11 ERA, but there figures to be some clamor for Yankees rookie
Masahiro Tanaka
(2.27 ERA) to get the start. The only Mariners pitcher to start an All-Star Game is
Randy Johnson
(1995 and 1997). The last Yankees pitcher was
Roger Clemens
in 2001.
June, 18, 2014
Jun 18
11:58
AM ET
By
Steven Martinez
| ESPN.com
Jim McIsaac/Getty ImagesMasahiro Tanaka has 14 quality starts in 14 appearances in the major leagues. Is his record strong enough to make him the All-Star Game starter for the American League in his rookie season?
Masahiro Tanaka
is the American League leader in ERA and wins, but has his performance warranted selection as the league's starting pitcher for the All-Star Game?
Let's take a closer look at his case.
Dominating the American League
Tanaka's AL superiority doesn't stop at wins and ERA this season.
He also leads the circuit in WHIP (0.95), and ranks 2nd in strikeout rate (29.1% of plate appearances), strikeouts per 9 innings (10.2).
He's also been remarkably consistent. Every one of Tanaka's 14 major-league starts has been a quality start (at least 6 IP and 3 or fewer ER allowed), which makes this the 2nd-longest such streak to start a career in MLB history.
Avoiding Contact
But it's not just what Tanaka is doing -- it's the overpowering manner in which he's doing it.
He gets batters to chase pitches out of the strike zone at a higher rate (38.5%) than any other pitcher in the majors, and when they swing, they miss at a 29.9% clip, the highest in the American League.
Batters are swinging on 15 percent of all the pitches he throws, the highest rate of any pitcher in the majors.
Difference-Making Pitch: Splitter
The difference-making pitch for Tanaka has been his devastating splitter. He throws the splitter at a higher rate than anyone else (nearly 1 out of every 4 pitches).
He has 60 strikeouts with his splitter this season, more than twice as many as any other pitcher in baseball, and the pitch has accounted for more than half of his strikeouts this season.
This season, batters have taken 246 swings against Tanaka's splitter and have missed 120 times, both the most of any pitcher on that pitch by far. Opposing batters are hitting .125 in at-bats ending with Tanaka's splitter.
When he's gotten into trouble this season, he's gotten out of it with the splitter, as batters are 2-35 with 20 K against Tanaka's splitter with runners in scoring position this season.
May, 18, 2014
May 18
9:56
PM ET
Our weekly look at baseball's oddities spends a lot of time on crooked numbers. But when there were 19 team shutouts, including six of the solo variety, around the majors this week, we thought we'd give the zeroes some love.
•
Masahiro Tanaka
threw the
New York Yankees
'
first individual shutout
of the season, and joined
Andy Pettitte
(2002) as the only Yankees with one against the
New York Mets
. Tanaka is also the first Yankee with a shutout in any of his first eight MLB starts since Scott Nielsen blanked the
Minnesota Twins
in 1986.
Tanaka also got his first MLB hit on Wednesday; according to Elias, the Pirates'
Jeff Karstens
in 2008 was the last to record his first shutout and first base hit in the same game. No Yankee had done it since Ron Klimkowski in 1970. (Klimkowski, mainly a reliever, made only six starts.)
• On Thursday the Subway Series turned to
the major-league debuts
of
Chase Whitley
and
Jacob deGrom
. Whitley threw 4 2/3 scoreless frames, while deGrom allowed the game's only run in the seventh. The scoreless tie after six innings was the longest in modern history for a game where both pitchers debuted.
Whitley and deGrom also made history with hits in their first at-bats. They're the first pair of pitchers with hits in their first
game
since 1963, when Fritz Ackley of the
Chicago White Sox
and Denny McLain of the
Detroit Tigers
both did it. And in their first at-bat? That was September 25, 1944, when the Cubs' Charlie Gassaway and Phillies' Charlie Ripple turned the trick. (For Ripple, who pitched only 11 career games, it would be his
only
major-league hit.)
Though Whitley did not get the win, it was the first time in over a century that the Yankees won a 1-0 game where their starting pitcher made his debut. On September 15, 1908, Pete Wilson threw a complete game against the
Boston Red Sox
at the Huntington Avenue Grounds.
• Wednesday and Thursday were also the first back-to-back shutouts in the (modern) Subway Series. The last time one New York team blanked another in consecutive games was July 1-2, 1957, when the Dodgers beat the Giants. Pitchers for Brooklyn: Don Drysdale and Sal Maglie.
•
Johnny Cueto
threw his
second shutout of the year
for the
Cincinnati Reds
, a three-hitter with two walks. Cueto has gone at least seven innings in all nine starts this season, allowing no more than five hits and two runs in any of them. That breaks the live-ball-era record of eight straight outings set by
Johan Santana
in mid-2004. And according to Elias, Cueto's is the longest such streak to start a season since at least 1900. Cueto is also the first Reds pitcher to have two shutouts by May 15 since Rick Mahler in 1989.
•
Drew Hutchison
of the
Toronto Blue Jays
shut out the
Texas Rangers
on
three hits and one walk
. The 23-year-old is the youngest Jay to throw a three-hitter (or less) since
Chris Carpenter
blanked Anaheim on September 9, 1997. Only one Toronto pitcher held an opponent to four baserunners and zero runs at a younger age: Phil Huffman one-hit Oakland in August 1979, two months after turning 21.
•
Kansas City Royals
starter
Danny Duffy
earned a spot in franchise lore
by retiring the first 20
Baltimore Orioles
. He ties
Yu Darvish
of the Rangers for the longest perfect-game bid of the season, and he's just the second pitcher in Royals history to have one reach 6 2/3 innings.
Bret Saberhagen
did it twice (1985 and again during his no-hitter in 1991, h/t Elias). Although Duffy did not finish Saturday's game,
Billy Butler
's first-inning single stood up for the Royals' first-ever 1-0 victory over the Orioles.
• The Tigers
shut out the Red Sox
1-0 on Friday. The Tigers had not won a 1-0 regular-season game at Fenway Park since September 10, 1976, and that was a rain-shortened five-inning affair (Ben Oglivie homered). They last won a nine-inning version on April 15, 1974, on a Norm Cash homer. Before that you have to go back to 1929.
Lastly, a different kind of shutout note courtesy of a question my colleague, Steve Martinez, asked the Elias Sports Bureau. Starling Marte was shut out in Game 1 of Sunday's doubleheader against the Yankees, going 0 for 4 with four strikeouts. He then became the first player to homer in the second game of a doubleheader
after
striking out at least four times in the first game in nearly 39 years. The last was Larry Hisle for the 1975 Twins.
May, 15, 2014
May 15
12:33
AM ET
By
Katie Sharp & Mark Simon
| ESPN.com
The
New York Yankees
finally ended their six-game losing streak to their cross-town rival
New York Mets
as Masahiro Tanaka's stock and standing among major league pitchers continues to rise. He threw his first major league shutout in the win.
All Tanaka all night
Tanaka became the second Yankees pitcher to throw a shutout against the Mets, joining
Andy Pettitte
, who threw one in 2002. Tanaka became the first Yankee to throw a shutout with at least eight strikeouts and no walks since
Mike Mussina
on Aug 17, 2003, against the Baltimore Orioles.
The Yankees improved to 7-1 when Tanaka starts. They are 13-18 when any other pitcher starts. Tanaka has now won 34 straight regular-season decisions dating back to his time in the Japanese League.
Tanaka is the second Yankees rookie with a shutout in the past 25 years, joining
Orlando Hernandez
(1998). He's the first Yankees pitcher age 25 or younger to throw a shutout since
Sterling Hitchcock
in 1995.
Tanaka now has more base hits than Mets pitchers have all season. He's the first Yankees rookie pitcher with a hit since
Tyler Clippard
got one in 2007, also against the Mets.
Lastly, Tanaka is the only pitcher that is 6-0 in the majors. He has won 34 straight regular-season decisions, if you include his time in the Japanese League.
How he won
Tanaka matched his season high with 22 swings-and-misses against a Mets team that is strikeout prone. He also had 22 in his second start of the season against the Orioles.
The Mets had trouble with both Tanaka's slider and his splitter. Tanaka threw the former 20 times and the Mets did not put any of them into play. They took seven swings, missing on six and hitting one foul ball. The pitch netted Tanaka three of his eight strikeouts.
Tanaka threw 28 splitters, against which the Mets hit into eight outs and managed only one baserunner.
The other Yankees rookie star
Yangervis Solarte
continued his hot hitting with a home run against Mets rookie starter
Rafael Montero
. Solarte leads the AL with a .336 batting average, a hair ahead of Tigers DH
Victor Martinez
.
Solarte is establishing a reputation as a very tough out. He has a .476 on-base percentage against right-handed pitching, with nine extra-base hits and 15 walks (compared to six strikeouts) in 82 plate appearances.
Solarte's numbers against right-handers are good, wherever he is pitched, as noted in the chart on the right.
May, 14, 2014
May 14
11:15
AM ET
By
ESPN Stats & Information
| ESPN.com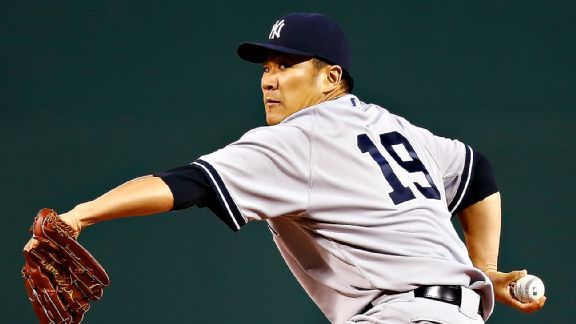 Jared Wickerham/Getty ImagesMasahiro Tanaka has struck out 58 batters in his first seven starts.
The
New York Yankees
and
New York Mets
enter the third game of their four-game Subway Series (7 ET on ESPN) with identical 19-19 records, but the teams are heading in opposite directions. The Mets have won three in a row while the Yankees have lost a season-high four straight games.
All eyes will be on the two young starting pitchers, so let's take a deeper look at
Masahiro Tanaka
and
Rafael Montero
.
Tanaka Time
When the Yankees signed Tanaka to a 7-year, $155 million contract this offseason, Yankees General Manager Brian Cashman tried to temper expectations for the 25-year-old Japanese pitcher by saying he would be a "
really solid, consistent No. 3 starter
".
Fortunately for the Yankees (who have seen three-fifths of their opening day rotation go on the disabled list), Tanaka has been the team's ace so far this season, going 5-0 with a 2.57 ERA and 58 strikeouts in his first seven starts.
Tanaka's ability to get batters to swing at pitches out of the zone is a key part of his success.
Despite throwing fewer pitches in the strike zone than all but four qualified starters, Tanaka still ranks in the top 10 in strike rate because of his MLB-best chase percentage of 42 percent.
The splitter is his signature put-away pitch, throwing it almost half the time with two strikes.
Of the 95 two-strike splitters he has thrown, more than one-third (33) have resulted in strike three. Those 33 strikeouts via the splitter are nearly twice as many as any other pitcher in the majors.
Tanaka's splitter was literally unhittable during a three-game stretch from April 16-27. During those three outings, he threw 79 splitters, which netted 29 outs and just one baserunner (a walk to
Chris Iannetta
on April 27).
The Mets have faced only a handful of pitchers that feature a split-fingered fastball this season. In a small sample, they have not fared well with one hit and four strikeouts in 18 at-bats (.056 BA).
Montero's Debut
For the Mets, highly-regarded prospect Rafael Montero will make his major-league debut Wednesday night, becoming the first Mets pitcher to start in the Subway Series in his MLB debut.
Montero will look to keep a Mets streak going. Each of the last three starters to make his major-league debut for the team has not allowed a run.
Matt Harvey
,
Collin McHugh
and
Zack Wheeler
combined for 18⅓ scoreless innings in their respective starts over the last two seasons.
According to the Elias Sports Bureau, the Mets are the only team in the modern era (since 1900) to have a streak of three straight pitchers whose MLB debut was a scoreless start of at least five innings pitched.
Montero had a 2.63 ERA and 4.3 strikeout-to-walk ratio in 72 minor league appearances (67 starts), including a 3.67 ERA in eight minor league starts this season.
Perhaps most impressive is that he's allowed only 19 home runs in 390 career minor-league innings. Also, in every one of his professional seasons, he has received a promotion. In other words, he's never stayed at one level for even one whole season.
April, 27, 2014
Apr 27
3:19
PM ET
By
ESPN Stats & Information
| ESPN.com
The star power will be out in full force as the
New York Yankees
host the
Los Angeles Angels
of Anaheim on Sunday Night Baseball. That starts on the pitchers mound, as the Yankees will start rookie ace
Masahiro Tanaka
.
Let's take a look at some of the statistical storylines our broadcast crew will be following.
Trout and Pujols may not be the biggest concern
The biggest Yankees-killer among the Angels hitters is not one of their big-time stars, but second baseman
Howie Kendrick
.
Kendrick is hitting .351 in 211 career at-bats against the Yankees, including a 20 for 47 stretch over the last three seasons.
The only active player with at least 150 plate appearances and a better batting average is Miguel Cabrera, .373.
Kendrick has swung a hot bat recently regardless of opponent. He's 17 for 44 (.386) with a pair of opposite-field home runs over his last 10 games.
What to Watch for from Tanaka: First Time Through
Buster Olney walked you through the Tanaka-
Mike Trout
matchup, as it relates to Trout's issues with splitters (hitters chase the Tanaka splitter 61 percent of the time).
One other thing to keep an eye on is how long it takes Tanaka to get going.
Opponents are hitting .306 with an .852 OPS the first time through the order against Tanaka, but only .151 with a .436 OPS the rest of the game.
Worth noting along those lines: Trout is hitting .455 with five homers in the first inning of games this season. His only other homer this season came in the ninth inning.
What to Watch for from Richard: Two-Strike Success
Garrett Richards
is facing the team against whom he made his major league debut a few seasons ago, but he's come a good ways since then. Richards has a 2.52 ERA in four starts this season. In two of those games, he pitched at least six innings and allowed one hit.
Opponents are hitting .155 against Richards this season. They are 2 for 41 against him in two-strike situations.
Richards' premier two-strike pitch of choice is a slider that drops below the knees, against which opponents are 0 for 15 (with two walks).
Jeter streaking
Derek Jeter
is 3 for 6 in this series and carries a note of distinction into tonight's game. His current 15-game hitting streak against the Angels is his longest active one versus any opponent.
His career-long hitting streak against the Angels is 16 games, from 1998 to 2000. His longest hitting streak versus any team is a 25-gamer against the Tigers from 1999 to 2001.
Jeter's next run scored will be the 1,882nd of his career, matching Hall-of-Famer Tris Speaker for 11th-most all-time.
Watch the Shift
The Yankees have had 149 shifts against batted balls in play this season, which ranks second-most in baseball entering Sunday, behind only the Astros (243) and well ahead of the third-place Indians, 102.
The Angels have several hitters who figure to see shifts today, most prominently
Albert Pujols
and
Raul Ibanez
.
Pujols has been shifted the third-most often of any right-handed hitter since the start of last season (
Edwin Encarnacion
and
Jose Bautista
rank 1-2).
He's hitting .250 when hitting a ground ball or short line drive against the shift this season. That's considerably better than Ibanez who has hit 25 grounders and short liners against shifts this season, but has only two base hits.
April, 16, 2014
Apr 16
8:25
AM ET
By
Marty Callinan
| ESPN.com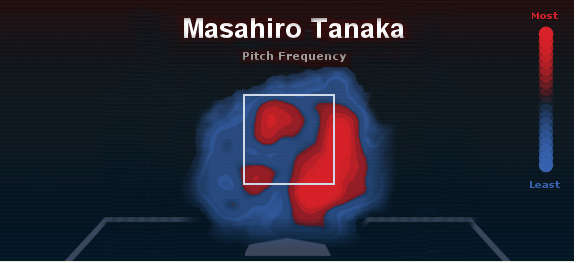 Masahiro Tanaka kept the ball away from lefty hitters in his first two starts.
Today marks start no. 3 for Masahiro Tanaka, as he'll face the Chicago Cubs at Yankee Stadium.
Tanaka completed seven innings in each of his first two Major League starts with a 1-0 record, a 3.21 ERA and a strikeout per nine rate north of 11.5. Let's take a look at just how good Tanaka has been:
Historical context
Tanaka struck out eight Blue Jays and recorded a win in his MLB debut. He followed that up with 10 strikeouts against the Orioles. According to the Elias Sports Bureau, Tanaka's 18 strikeouts are the most for any pitcher in his first two starts with the Yankees.
If Tanaka strikes out eight or more Cubs Wednesday, he will join Stephen Strasburg as the only pitchers in the last 100 years to strike out eight or more batters in each of his first three Major League starts.
Tanaka faces the Cubs Wednesday, who rank 25th in strikeout percentage this season at 24.1 percent.
According to the Elias Sports Bureau, Tanaka is also going for the following:
- Most strikeouts in first three appearances as a Yankee (27 by Bob Turley in 1955)
- Most strikeouts in first three career appearances, with all three coming as a Yankee (25 by Al Leiter in 1987)
- Most strikeouts in first three career appearances in AL history (25 by Leiter in 1987 and Chris Archer in 2012)
Pitch type
Of his 198 pitches on the season, Tanaka has thrown 95 fastballs, 43 splitters, 42 sliders, 13 curveballs and five cutters. Hiroki Kuroda is the only qualified starter who has thrown a higher percentage of splitters than Tanaka's 21.7 percent. However, no one has missed more bats with the splitter than Tanaka (15).
Part of why Tanaka's splitter has been so successful early on is the velocity. With an average velocity of 87.1 miles per hour, Tanaka's splitter is 4.6 miles per hour slower than his fastball. That is the smallest difference among 12 starters who have thrown 10 or more splitters in 2014.
The fastball and splitter may look similar coming out of Tanaka's hand, but the difference in vertical drop between the two pitches has been extreme.
Tanaka's fastball is dropping at an average of 11.6 feet per second when it crosses the plate, right around the league average of 12.0 feet per second.
Tanaka's splitter averages a drop of 17.0 feet per second as it crosses the plate. His 5.4 feet per second difference in vertical break between fastball and splitter ranks second behind Tim Hudson.
Pitch location
In the image atop this article, the hot zone on the right comes from Tanaka keeping his splitter down for batters on both sides and his fastball down and away to lefties. The one near the upper left corner of the strike zone (from pitcher's perspective) is partially due to Tanaka leaving a few sliders up in the zone to righties.
Hitters have made Tanaka pay on the few pitches he has left up in the zone. Tanaka has only left two splitters up and Melky Cabrera hit one of those 400 feet for a home run. Tanaka left an 83 mph slider up to the Orioles' Jonathan Schoop and that one landed in the second deck at Yankee Stadium for a 407 foot home run.
The pitch sequence in Adam Jones' second at-bat on April 9 represents the best we have seen from Tanaka in terms of location. Tanaka kept all seven pitches in the at-bat down or below the zone.
The first three pitches were all fastballs that went away, in and away. The heaters got Tanaka ahead in the count 1-2 and they were followed by a slider low and away, a splitter in the dirt and another slider low and away. Tanaka went back to the splitter in a 2-2 count and recorded the strikeout on a swing and miss from Jones.