Stats & Info:

Matt Carpenter
October, 13, 2014
Oct 13
3:17
AM ET
By
ESPN Stats & Info Staff
| ESPN.com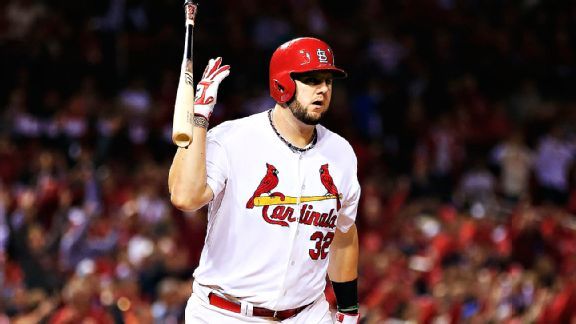 Jamie Squire/Getty ImagesMatt Adams' eighth-inning blast was one of four Cardinals home runs of historic proportion in Game 2.
To say that the 2014
St. Louis Cardinals
were not a home run hitting team during the regular season would be a gross understatement. St. Louis' 105 home runs ranked last in the National League, and 29th overall in the majors, only ahead of the
Kansas City Royals
with 95. That was the lowest home runs total by a Cardinals team in the wild-card era, which includes the shortened 1995 season. But few teams have been more adept at hitting home runs in the postseason -- at least so far this October -- than St. Louis.
This postseason the Cardinals are launching one home run every 17 at-bats, which more than three times more frequently than their rate of one home run every 52 at-bats during the regular season.
Matt Carpenter
started off Sunday's long ball barrage with his third-inning blast off of perennial Cardinals postseason victim
Jake Peavy
. The solo shot was the fourth of this postseason by Carpenter in his 22nd at-bat. He hit eight home runs in 595 at-bats during the regular season.
Carpenter's four home runs are tied with fellow Missouri third baseman
Mike Moustakas
for the most this postseason. All four of those came as a leadoff hitter, which ties him with
Carl Crawford
for third most in any postseason by a leadoff hitter. Crawford hit his for the Dodgers last season. Another Dodger, Davey Lopes hit five home runs from the leadoff spot in 1978, which is one behind Lenny Dykstra's six leadoff home runs for the 1993 Phillies.
Next to join the home run parade was
Oscar Taveras
, who became the second-youngest Cardinal to hit a postseason home run by depositing a
Jean Machi
pitch down around the right-field foul pole. Only 21-year old
Albert Pujols
, who took
Randy Johnson
deep in Game 2 of the 2001 National League Division Series, was a greener Redbird than the 22-year-old Taveras.
Taveras was pinch-hitting for reliever
Carlos Martinez
when he hit the game-tying shot, becoming the first player in Cardinals postseason history with a game-tying or go-ahead pinch-hit home run.
The seventh inning has been disproportionately productive for the Cardinals this postseason. The team has scored 23 total runs, 14 in the stretch inning.
The eighth inning brought more heroics as
Matt Adams
stepped to the plate against hard-throwing
Hunter Strickland
. Adams went down 1-2 in the count but ripped Strickland's offering 394 feet into the sea of red. Adams was the batter who sank
Clayton Kershaw
with a seventh-inning, three-run shot in the Cardinals' NLDS Game 4 comeback victory. With that second swing Adams became the first player with two go-ahead homers in the seventh inning or later in a postseason since
David Ortiz
in 2004, according to Elias Sports Bureau research.
Adams' home run was the fourth that Strickland has allowed in four postseason appearances. In 50 appearances during the regular season in the minors and majors combined, Strickland allowed three home runs.
But closer
Trevor Rosenthal
couldn't hold the lead, surrendering the game-tying run on a wild pitch that allowed pinch runner
Matt Duffy
to speed around from second base.
However in the bottom of the ninth,
Kolten Wong
, who until Sunday was best remembered for getting picked off first base to end Game 4 of the 2013 World Series, hit the fourth St. Louis home run of the night, a walk-off job, to even up the series.
Wong became the fourth Cardinal to walk-off with a home run, joining
David Freese
in the bottom of the 11th inning against the Rangers in Game 6 of the 2011 World Series,
Jim Edmonds
in the 12th inning of Game 6 of the 2004 NLCS against the Astros and Ozzie Smith in the bottom of the ninth off Dodgers closer Tom Niedenfuer in the 1985 NLCS.
Wong also became just the fourth second baseman to end a postseason game with a home run, joining
Jeff Kent
in the 2004 NLCS for the Astros,
Alfonso Soriano
in the 2001 ALCS for the Yankees and Bill Mazeroski, who hit one of the most famous home run in baseball history, in Game 7 of the 1961 World Series for the Pirates.
October, 11, 2013
10/11/13
11:46
AM ET
Getty ImagesDon Mattingly will manage his first LCS, while Mike Matheny has made it both years as a manager.
The
St. Louis Cardinals
host the
Los Angeles Dodgers
in Game 1 of the NLCS tonight (8:37 ET/ESPN Radio). It should be quite the pitcher's duel between
Zack Greinke
and
Joe Kelly
.
Since the All-Star break (including the postseason), Greinke ranks second and Kelly third in the National League in ERA among qualified starters.
The only NL pitcher with a better ERA during that span is Greinke's teammate
Clayton Kershaw
.
Let's take you through some storylines for tonight's game.
Joe Kelly stats to watch
Kelly gets the ball in Game 1 for the Cardinals after a strong close to the season. Including his postseason start, Kelly is 7-2 with a 2.03 ERA in 57⅔ innings in his last 10 appearances (nine starts).
One of the keys to that: 57 percent of the balls in play against him were ground balls, compared to 47 percent in his first 27 appearances.
One of Kelly's forte's all season has been his ability to escape trouble. He allowed a .161 batting average with runners in scoring position, the fifth-lowest batting average among the 157 pitchers who faced at least 100 batters in those situations.
Zack Greinke stats to watch
Greinke has plenty of familiarity with the Cardinals. He's 6-2 with a 3.18 ERA against them in the past three seasons.
He's also 5-0 with a 1.39 ERA in his last eight road starts. In those, he's allowed only two home runs in 51⅔ innings pitched.
The first 12 starts of Greinke's Dodgers tenure (including a post-brawl injury) looked like a disappointment. But he's been even better than advertised since, posting a 1.65 ERA over his last 17 starts, spanning 114⅔ innings pitched.
The big bats: Beltran and Ramirez
Carlos Beltran's
BA/HR combination is rare in postseason history. Not only does he have the second most home runs (16) in NL postseason history (trailing only Albert Pujols' 18 home runs), he's one of five players to have a career .330 batting average and 10 home runs in the postseason.
The others are
Albert Pujols
(.330 BA/18 HR), Steve Garvey (.338 BA/11 HR), George Brett (.337 BA/10 HR) and Lou Gehrig (.361 BA/10 HR).
Hanley Ramirez
hit .345 with a 1.040 OPS and 20 home runs in only 86 games for the Dodgers this season. He's continued that strong performance into the postseason, registering one of the highest OPS marks in the history of the NLDS.
Matchup to watch: Carpenter vs Greinke
Matt Carpenter
was an MVP candidate for the Cardinals this season, thanks to a .318 BA, .873 OPS and 126 runs scored.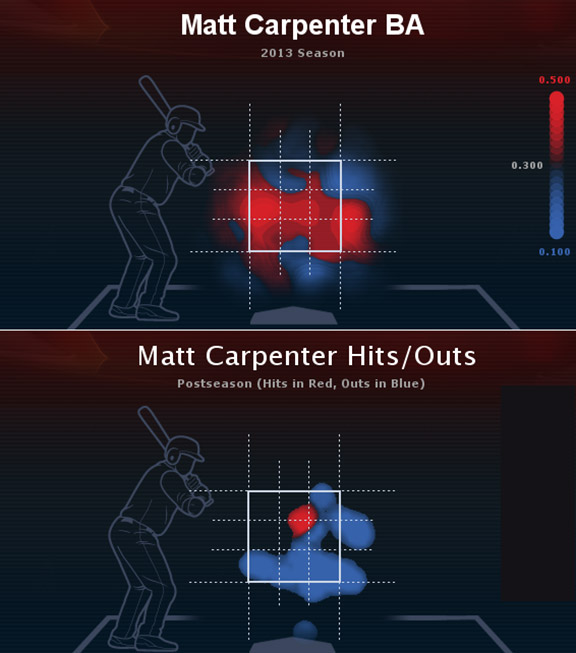 But he's struggled mightily in the Division Series, going 1-for-19. A big part of his problem appears to be pitches on the outer half. He's swinging and missing at more than double the rate that he did in the regular season.
Figure that Zack Greinke is armed with that knowledge, and if so, he may go with his changeup often to Carpenter.
Lefties hit .417 off Greinke's changeup in his first 12 starts and .130 in his next 17. Nearly 92 percent of his changeups to lefties have been located on the outer half of the plate in those last 17 starts.
October, 9, 2013
10/09/13
11:56
PM ET
What were the biggest statistical keys for the
St. Louis Cardinals
in their NLDS win over the
Pittsburgh Pirates
?
Adam Wainwright was the best pitcher in the series
The Cardinals ace was awesome in both Game 1 and Game 5. He's now 5-0 with a 1.25 ERA in his past six home starts, combining regular season and postseason. He's 4-0 for his career in postseason play.
Wainwright
Wainwright became the fourth Cardinals pitcher to throw a complete game while allowing one run or fewer in a winner-take-all postseason game, joining Dizzy Dean (1934, against the Tigers), Danny Cox (1987 NLCS, against the Giants) and
Chris Carpenter
(2011, against the Phillies).
Wainwright's curveball wasn't as good as it was in Game 1, in which he threw 27 of 33 for strikes, and it netted 11 outs and yielded no hits. But it was good enough to record six strikeouts, including the series-ender against
Pedro Alvarez
. He threw it more often in Game 5 (45 percent of his pitches) than he did in any start in his career.
Complete games in winner-take-alls have been a trend the past four seasons. Five pitchers have them: Wainwright, his teammate Carpenter,
CC Sabathia
,
Justin Verlander
and
Cliff Lee
.
The Cardinals made the plays when they had to
The Cardinals had some defensive blips in Game 2 but made big plays in key spots in this series.
Yadier Molina
threw out
Josh Harrison
trying to steal as the tying run in the eighth inning of Game 4 to aid that win.
In Game 5,
Pete Kozma
made two nifty plays at shortstop and
Matt Carpenter
made a pair of catches on line drives that resulted in double plays.
Carpenter's first catch, on a line drive hit by Alvarez in the second inning, snuffed out an early rally.
It also validated the use of a defensive shift by Cardinals manager
Mike Matheny
.
The Cardinals have ranked among the teams that shifted least often
over Matheny's first two seasons.
But since Alvarez had the lowest rate of hitting ground balls to the opposite field among those who qualified for the NL batting title (four percent of balls hit), the Cardinals had Kozma and Carpenter shifted. Thus, Carpenter was in the perfect spot to make the catch.
The Pirates lacked support at the top
The Pirates got some punch from Alvarez and
Andrew McCutchen
had his share of base hits, but a couple of hitters didn't perform as they usually did.
The Pirates' 1-2 punch of
Starling Marte
and
Neil Walker
were a combined 1-for-38 in the series.
Cardinals pitchers put on a clinic in how to get Marte out, getting him 13 times on pitches on the outer half of the plate or off the outside corner.
Walker set a Pirates postseason record for worst oh-fer in a series with his 0-for-19.
October, 3, 2013
10/03/13
1:28
AM ET
For each of the eight remaining postseason teams, the Stats & Information team will offer a look at a key hitter and use Next-Level data to analyze how he might best be approached by opposing pitchers.
Cardinals infielder
Matt Carpenter
was one of baseball's most notable breakout players in 2013. After showing signs of being a capable hitter as a 26-year-old rookie in 2012, Carpenter had a terrific offensive season primarily playing second base in 2013.
The Elias Sports Bureau noted that Carpenter became the fifth player to lead the majors in hits, runs and doubles in the same season, along with Ross Barnes (in 1876!) and baseball legends Nap Lajoie, Ty Cobb and Pete Rose.
How do you get Carpenter out? It's not an easy task.
General Theme: Try to take advantage of his patience
Carpenter is a discerning hitter. He swung at only 37 percent of pitches thrown to him in 2013, the second-lowest rate in the majors (only
Mike Trout
was a hair lower) in 2013.
A pitcher can take advantage of that on the first pitch of Carpenter's at-bats. He only swung at 12 percent of first pitches thrown to him this season, the seventh-lowest rate in baseball.
Carpenter is not afraid to take a strike. In fact, the 717 called strikes he saw were the most in the majors … by 110 (
Brian Dozier
of the Twins ranked second with 607).
What makes Carpenter so good is that he can work behind in the count. His .298 batting average when the pitcher was ahead in the count ranked second in the majors this season, trailing only Joe Mauer's .312.
Righties: Work him upstairs
Carpenter is 6-foot-3 but is not a power hitter. He's someone who likes the ball down in the strike zone where he can crush line drives for singles and doubles.
When Carpenter made contact with a pitch in the lower half of the strike zone or below, it had about a one-in-six chance of being an extra-base hit. When he made contact against a pitch in the upper half of the zone or above, that dropped to one-in-12.
Game 1 starter
A.J. Burnett
is going to have his work cut out for him. Carpenter is 9-for-21 with two doubles, two triples and four walks against him.
Burnett's best chance may be to just skip Carpenter entirely. On August 15, Carpenter with 3-for-3 against him with an infield hit on a changeup, a double on a curveball, and a triple on a 94-mph fastball.
Lefties: Take him higher
Carpenter had a .294/.353/.467 slashline in 222 plate appearances against left-handed pitching this season. A lefty wanting to get Carpenter out should also work up in the strike zone, but has to raise the ball higher than a right-hander would.
Carpenter's weakness is in the sliver that represents the top of the strike zone and the area above that. He went 6-for-36 when an at-bat against a lefty ended with a pitch to that spot and hit .323 when it ended anywhere else.
Carpenter is a good breaking ball hitter. He misses on those swings about half as often as other left-handed hitters, and when he makes contact, he does damage. Only
Prince Fielder
had more hits on breaking balls from lefties than Carpenter's 21.
But both
Francisco Liriano
and
Tony Watson
may have the right mix. They were able to get Carpenter with soft stuff in 2013. He went 3-for-16 against them, with 10 of the 12 outs (he reached on error once) coming against breaking pitches.
The best defense
Carpenter is not normally a candidate to be shifted against, as he tends to spray his line drives.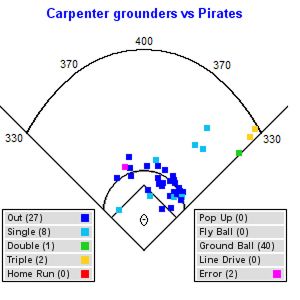 However, the Pirates, who employ shifts as often as any team this season, may take a chance on shifting him, having their third baseman play more where a shortstop plays and moving their shortstop behind second base.
The reason for that: Of the 40 ground balls Carpenter has hit against the Pirates the last two seasons, only six were to the left of second base, and only one was anywhere near where a third baseman would typically play.
The image on the right shows Carpenter's ground-ball tendencies against the Pirates this season.
September, 28, 2013
9/28/13
12:03
AM ET
By
ESPN Stats & Information
| ESPN.com
The
St. Louis Cardinals
have won the NL Central for the first time since 2009, clinching their eighth division title in the wild-card era (since 1994).
Their 95 wins are the most they've had in a season since 2005, when they won 100 games.
Historically, winning a lot of games doesn't correlate with the Cardinals' chances to win the World Series. Their last three World Series wins (2011, 2006, 1982) have come in seasons in which they've had 92 or fewer wins.
The Cardinals are now tied with the
Atlanta Braves
for the best record in the National League and have clinched home-field advantage in the Division Series. They will face either the Dodgers,
Pittsburgh Pirates
or
Cincinnati Reds
.
Clutch offense
The key for the Cardinals this season has been their clutch hitting. They're batting .330 with runners in scoring position this season, far ahead of any other team. The next-closest team is the
Detroit Tigers
, who are batting .283 with runners in scoring position. The next-closest NL team is the
Colorado Rockies
at .271.
The Cardinals' batting average with runners in scoring position is the highest by any team in the last 40 seasons.
Leading the way for the Cardinals in that regard is
Allen Craig
, whose .454 batting average with runners in scoring position is the third-highest by any player in the last 40 seasons (minimum 100 at-bats). Only Hall of Famers George Brett (1980) and
Tony Gwynn
(1997) have had higher averages.
Matt Carpenter
has had a breakout season for the Cardinals. Carpenter is one hit shy of his 200th hit this season, which would make him sixth player in MLB history with 200 hits, 55 doubles and 125 runs scored in a season. The other five players are Ed Delahanty (1899), Tris Speaker (1923), Chuck Klein (1930), Charlie Gehringer (1936) and
Todd Helton
(2000), according to the Elias Sports Bureau.
September, 22, 2013
9/22/13
3:16
PM ET
The final Sunday Night Baseball telecast of the 2013 season pits the St. Louis Cardinals against the Milwaukee Brewers with the NL Central race still very much up for grabs (8 PM ET, ESPN). Here are five stats our broadcast crew will be talking about today.
1--
The Cardinals clinched at least a Wild Card berth with a Nationals loss earlier this afternoon.
Mike Matheny
becomes the fifth manager in Cardinals history to lead the team to the postseason in back-to-back seasons. He's the second to do so in his first two full seasons as the club's manager, joining Gabby Street (1930-31).
2--
Joe Kelly
will look to stay hot for the Cardinals. Since the start of July he's gone 9-1 over 13 starts with a 2.18 ERA. He's been one of 12 Cardinals pitchers in his age 25 season or younger (age as of June 30) to pitch for them this season, most of any team in MLB.
Kelly averages 94.8 mph with his fastball, eighth-fastest among starters this season. His mound opponent,
Wily Peralta
, is right behind him at 94.7 mph.
3--
Matt Carpenter
could be the fifth Cardinal in the modern era (since 1900) to lead the league in hits, doubles and runs in the same season. The last to do so was
Albert Pujols
in 2003.
Carpenter has fallen behind with an 0-2 count 126 times this season. In those plate appearances, he's batted .339 with a .357 on-base percentage and .545 slugging percentage, by far the best in baseball. The major-league average slashline after falling down 0-2 is .167/.196/.248.
4--
Carpenter's teammate,
Matt Holliday
, his hitting .343 since returning from the disabled list on July 27. Holliday's 70 hits and 44 RBI are the most in the majors in that span.
5--
Brewers centerfielder
Carlos Gomez
is having a fantastic season. He has a career high 21 home runs and is four steals shy of becoming the 30th different player (and first with the Brewers) to have a 20-homer/40-steal season He ranks second in the NL in Wins Above Replacement (7.8) this season.
Gomez leads all major-league centerfielders in Defensive Runs Saved with 37 this season. No other centerfielder has more than 25.
September, 15, 2013
9/15/13
9:41
PM ET
Back in June we did a
whole post on triples
. So it's only fitting that we also devote one to interesting and unusual stats about the week in doubles before the season's out.
• In a week with several more high-scoring games, two teams-- the
Houston Astros
on Tuesday and the
Oakland Athletics
on Wednesday-- each hit eight doubles in a game to tie the big-league season high. It was the first time Houston had eight two-baggers in a game in a decade (September 12, 2003 versus Atlanta), and just the second time any team had done it at Safeco Field (the Twins on April 17, 2007).
• In addition to hitting two of those doubles,
Jose Altuve
also stole three bases, including two swipes of third. Only 10 players in the past 50 years have had two doubles and three steals in a game; the others include
Rickey Henderson
, Paul Molitor, Joe Carter, Tim Raines and Lou Brock.
• That Wednesday game for the Athletics was a lopsided 18-3 win over the
Minnesota Twins
that saw Oakland's first double-digit inning since June 18, 2000. (It was also the first score of exactly 18 this season, filling in every number from 0 to 20.) The Athletics became the first team to hit eight doubles in Target Field's four-season history. The Orioles, earlier this season, had been the only team to hit seven.
•
Robinson Cano
of the Yankees, on Friday, was one of three players this week to have three doubles in one game. Cano has had four three-double games for the Yankees, the first being May 30, 2007. Since then only two other Yankees have even done it once:
Jorge Posada
in 2008 and
Mark Teixeira
in 2011.
• Twins catcher
Josmil Pinto
has made the most of his September callup; he had seven hits in his first 10 at-bats and is still hitting ,405 over his 11-game major-league career. In Monday's win over the Angels, Pinto became the first Minnesota hitter with three doubles since another catcher,
Joe Mauer
, in August 2009.
Pinto also became the first player with a three-double game in his first 10 career appearances since
Nick Evans
of the Mets did it in his debut on May 24, 2008. The only other catcher in the live-ball era with that distinction is Tim Spehr of the Royals (July 28, 1991).
•
Mark Trumbo
of the Angels also hit three doubles in Tuesday's win over Toronto. He added a homer and a single for his first career five-hit game. He's just the second batter in Angels history with a homer and three doubles in a game.
Juan Rivera
in September 2008 was the other.
Behind cleanup hitter Trumbo,
Josh Hamilton
and
Chris Iannetta
also each had three hits with at least one homer and two RBI in that game. They're the first 4-5-6 hitters to do that in the same game since
Brian Jordan
,
John Mabry
, and Gary Gaetti teamed up for the Cardinals against the Cubs on July 12, 1996.
Thanks to hits behind him, Trumbo also scored on all five trips around the bases. Only two other players in the live-ball era have posted a homer, three doubles, and five runs scored in one game. They are Dodger great Steve Garvey (1977) and HOF'er Willie Stargell for the Pirates in a 20-10 outburst against the Braves on August 1, 1970.
• Two players on Saturday reached the 50-double plateau for the season.
Manny Machado
of the Orioles now stands six shy of the team record of 56, set by
Brian Roberts
in 2009. Meanwhile, the Cardinals'
Matt Carpenter
won't approach Joe Medwick's mark of 64 in 1936, but he has joined some elite company. Since the team joined the NL in 1892, the only other Cardinals with 50 doubles in a season are Medwick, Enos Slaughter,
Albert Pujols
, and Stan Musial.
And Machado's teammate,
Chris Davis
, hit his 50th home run on Friday night to tie franchise record owned by
Brady Anderson
. But Davis also hit his 40th and 41st doubles this week, becoming just the third hitter ever to have a season with 50 homers and 40 doubles. The others are Albert Belle (1995) and Babe Ruth (1921).
July, 31, 2013
7/31/13
4:53
PM ET
By
John Fisher, ESPN Stats & Info
| ESPN.com
Joe Sargent/Getty ImagesMark Melancon has the best ERA among relievers this season (minimum 40 innings pitched).
The
St. Louis Cardinals
and
Pittsburgh Pirates
meet in the fourth game of a five-game series tonight at 7 p.m. ET on ESPN and WatchESPN, with Pittsburgh dominating the series recently.
Here's a look at the rarity of the Pirates' dominance of this matchup and the strengths of each team.
Pirates' recent dominance
The Cardinals were swept in a doubleheader Tuesday for the first time since 1996. That snapped a streak of 22 doubleheaders played without being swept, which had been the longest active streak in baseball, according to the Elias Sports Bureau.
After winning the first three games against St. Louis, the Pirates are seeking to sweep a five-game series for the first time since September 1996. The Cardinals haven't been swept in a series of at least five games since losing all six games at the Polo Grounds against the New York Giants in September 1916. The last five-game sweep in the majors came in 2006, when the Yankees swept the Red Sox.
The Pirates have won five straight games against St. Louis, and they have not won six straight meetings since winning 13 in a row during the 1992 season. That was the last time the Pirates made the playoffs and finished better than .500.
Cardinals get clutch hits
The Cardinals hit well with runners in scoring position. St. Louis is batting .334 with runners in scoring position, the best in the majors by a large margin. Elias tells us that .334 clip would be the best average with runners in scoring position over the past 50 seasons.
How wide is the Cardinals' lead in batting average with runners in scoring position? They could go hitless in their next 131 at-bats with runners in scoring position and still lead the majors. They could also go hitless in their next 235 at-bats with runners in scoring position and still lead the National League.
The Cardinals have four of the top nine hitters in baseball with runners in scoring position:
Allen Craig
,
Matt Carpenter
,
Yadier Molina
and
Carlos Beltran
. Craig leads the majors with a .475 average with runners in scoring position, which would be the best mark for a season since George Brett hit .469 in 1980.
Shutdown pen in Pittsburgh
The Pirates' bullpen has been the key to their success this season. Pittsburgh's bullpen leads the majors in opponent's batting average and WHIP and ranks second in bullpen ERA.
The Pirates are all but guaranteed to win if they lead late in the game, as they are 49-2 when leading after seven innings and 54-1 when leading after eight innings.
Even with closer
Jason Grilli
on the disabled list, the Pirates have two elite relievers.
Mark Melancon
leads all relievers (minimum 40 innings) with a 0.89 ERA, while Justin Wilson's 2.08 ERA ranks in the top 10 among National League relievers.
July, 28, 2013
7/28/13
3:16
PM ET
By
ESPN Stats & Information
| ESPN.com
The
Atlanta Braves
host the
St. Louis Cardinals
on "Sunday Night Baseball" 8 ET on ESPN. Here are five stats to know about tonight's contest:


1.
The Cardinals are hitting .337 with runners in scoring position this season, leading the majors by a wide margin. In fact, they could go hitless in their next 138 at-bats with runners in scoring position and still lead the majors (assuming all other teams' averages stay the same).
If the season ended today, the Cardinals would have the highest batting average with runners in scoring position by any team over the last 50 seasons. Currently, the 1996
Colorado Rockies
have the highest mark over the last 50 years at .311.
The Cardinals have four of the top 10 hitters with runners in scoring position in baseball.
Allen Craig
leads the league at .485,
Matt Carpenter
is fourth,
Yadier Molina
is sixth, and
Carlos Beltran
is ninth.
2.
Craig is putting up MVP-like numbers this season. If the season ended today, his .485 batting average with runners in scoring position would be the highest by any player in the last 40 seasons. The highest during that span is .469 by George Brett in 1980.
In fact, three of the four previous players who have hit .440 or better with runners in scoring position over the last 40 seasons are Hall of Famers (Brett,
Tony Gwynn
in 1997, and Paul Molitor in 1987) and the other (
Ichiro Suzuki
in 2001) is a likely Hall of Famer. Two of those four players -- Brett and Ichiro -- won the MVP award that season.
Despite Craig's clutch hitting, however, he ranks only sixth on the Cardinals in wins above replacement. Carpenter, Molina, Beltran,
Adam Wainwright
and
Shelby Miller
all have a higher WAR this season than Craig.
3.
Miller has a 2.62 ERA in his first 20 career starts, the seventh-lowest ERA all time by a Cardinals pitcher in his first 20 starts.
Miller's fastball has been his key to success this season. He leads the majors in strikeouts with a fastball (91), one ahead of teammate
Lance Lynn
. His average fastball velocity has increased as the season has gone on. It averages 95 mph in July after averaging 92.8 in April.
4.
Andrelton Simmons
is one of the best defensive players in the league. He has 10 more defensive runs saved than any other player in baseball over the last two seasons despite playing at least 600 fewer innings than the two players in second place on that list. He ranks second in DRS this season, one shy of
Carlos Gomez
. Among shortstops, Simmons (25) has nearly double the number of DRS as the next-best player on that list (
Pedro Florimon
, 13).
5.
Kris Medlen
has struggled lately, posting a 5.53 ERA in his last seven starts (2.87 in his first 13 starts this season). Opponents are hitting .324 over Medlen's last seven starts.
June, 9, 2013
6/09/13
3:39
PM ET
Five stats you'll likely hear quite a bit more about on the matchup between the St. Louis Cardinals and Cincinnati Reds on "Sunday Night Baseball" at 8 ET (ESPN/WatchESPN).

1.
The Cardinals enter the day with the best record in baseball (40-22) and are 21-10 on the road. The biggest key to the Cardinals' success is timely hitting.
The team is hitting .339 with runners in scoring position. The last NL team to hit at least .300 in those situations over a full season was the 2000 Rockies (.309).
No other NL team is even hitting .300.
The team has five of the NL's top 15 in hitting with runners in scoring position, including major league leader
Carlos Beltran
(22-for-47, .468).
2.
The pitching matchup pits
Lance Lynn
against
Bronson Arroyo
. The Elias Sports Bureau notes that Lynn is one of three pitchers in the past 20 seasons to win at least eight of his first nine decisions in back-to-back years, joining
Curt Schilling
and
Kevin Brown
.
Arroyo has a rough recent history against the Cardinals (1-7 in his last 11 starts) but has been great at home this season (5-1 with a 2.64 ERA). His 48 wins at Great American Ball Park are 11 more than any other pitcher.
3.
The Cardinals have a couple of hot hitters. One of them is
David Freese
, who enters the game with the longest current hitting streak in the majors at 18 games. Should Freese get a hit tonight, he'd have the longest hitting streak by a Cardinals third baseman since Terry Pendleton hit in 19 straight games in 1987.
The last Cardinals third baseman with a 20-game hitting streak was Joe Torre, who hit in 22 straight games en route to the NL MVP in 1971.
Notable for Freese is that he's been able to get hits against pitches out of the strike zone (you can see the two red squares near the right-hand batter's box in our interactive heat map above).
Freese has seven hits on pitches out of the zone during the streak. He had only two all season prior to that.
4.
The other red-hot Cardinals hitter is
Matt Carpenter
, whose hitting streak is currently 17 games. Carpenter has been a huge boost to the leadoff spot since taking it over on May 2. Prior to that, Cardinals leadoff hitters were batting .211 with a .295 on-base percentage. Since then, those numbers are a major league best .361 and .456.
Carpenter is among the NL's most disciplined hitters. His swing rate of 39 percent ranked second-lowest in the NL entering Sunday. His rate of missing swings was just 10 percent, ranking eighth in the league.
5.
The Reds' lineup is keyed by
Joey Votto
and
Shin-Soo Choo
, who rank 1-2 in the NL in on-base percentage this season.
But one hitter who has been particularly valuable this year is cleanup batter
Brandon Phillips
.
Phillips is hitting .429 with runners in scoring position (fourth in the NL) and an NL-best .328 with two strikes. Phillips is on pace for the first 100-RBI season of his career.
For more notes, stats and trends on the game, follow along with the "Sunday Night Baseball" Gamecast, which can be found on the Scoreboard page.
October, 17, 2012
10/17/12
11:33
PM ET
Busch Stadium was a very pleasant place for Cardinals utility man
Matt Carpenter
through the first month of the 2012 season.
In his first 48 at-bats there, Carpenter had 11 extra-base hits, including three home runs. After a home run on May 15, his slugging percentage at Busch was a booming .771.
But it took until Game 3 of the NLCS for that sort of power to return. His first home run at home since May 15 played a huge role in Wednesday's rain-soaked win.
Carpenter had been struggling to hit with much thump anywhere prior to Wednesday's long ball.
He had only one extra-base hit in his last 47 at-bats entering the day, when he came in as a replacement for injured rightfielder
Carlos Beltran
.
But
Matt Cain
threw a 2-2 pitch into one of Carpenter's hot spots-— over the middle-third of the plate height wise, on the inside corner. Carpenter had 43 hits and a .355 batting average against pitches thrown at that height this season, and even better numbers when you just isolated his performance against right-handed pitching.
It was a great bounceback from the 0-2 hole that Carpenter faced earlier in the at-bat. But that's a situation Carpenter has thrived in this season.
He's now 18-for-62 (.290 batting average) in at-bats that end after an 0-2 count this season. That's well better than the major-league average of .168.
Not your typical postseason win
Cardinals starter
Kyle Lohse
also enjoyed the benefits of home, a place where he was 8-1 with a 2.33 ERA during the regular season. His home-game ERA ranked third-best in the NL, trailing only Game 3 counterpart Matt Cain (2.03) and
Clayton Kershaw
(2.05).
Lohse's specialty in game 3 was stranding baserunners. He allowed seven hits and five walks in 5 2/3 innings, but got his first career postseason home win.
Lohse became the second pitcher in postseason history to win a game in which he allowed at least 12 baserunners in fewer than six innings pitched. The other was George Earnshaw of the 1929 Philadelphia Athletics.
The Giants were 7-for-20 with runners in scoring position in the first two games of the NLCS, but were 0-for-7 in Game 3.
Pen and Blink
The Cardinals bullpen threw another 3 1/3 scoreless innings to lower its postseason ERA to 1.93.
Among the contributors was
Trevor Rosenthal
, who brought the heat to finish the sixth inning.
Rosenthal got
Angel Pagan
to ground out, the sixth time this postseason he's gotten an out with a pitch registering 100 miles-per-hour or faster. He only got three such outs in the regular season.
Cardinals closer
Jason Motte
recorded a six-out save, the first by a Cardinals reliever since June, 2011, and the first by a Cardinal in postseason play since
Steve Kline
notched one against the
Arizona Diamondbacks
in 2001.
Elias Sports Bureau Stat of the Day
In best-of-seven postseason series tied 1-1, the Game 3 winner has won 60 out of 83 times. That's a series winning percentage of 72 percent. Since 2008, the team that won to go up 2-1 has won all eight series.