Stats & Info:

Matt Prater
December, 24, 2011
12/24/11
8:07
PM ET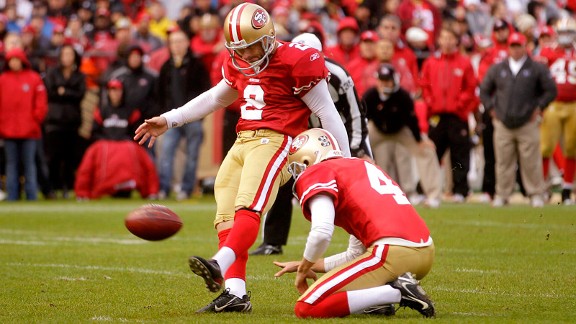 Ben Margot/AP Photo
David Akers has made his first season with the 49ers the most memorable one of his career.
In a season that has been statistically dominated by quarterbacks,
San Francisco 49ers
kicker
David Akers
has shone a spotlight on those who play his position.
Akers set the NFL's single-season record for field goals made, with the four he hit on Sunday giving him 42, breaking the mark of 40, set by
Neil Rackers
in 2005.
Akers has made 85 percent of his 49 tries this season, a percentage a shade above the league average of 83 percent entering Sunday. He's 7-for-9 from 50 yards or longer, after making only six field goals of 50 yards or longer in the previous six seasons combined.
Those seven makes are tied for the most field goals from those distances this season with
Cleveland Browns
kicker
Phil Dawson
.
Akers set the record on a day in which his teammates' quest for an individual share of a record concluded.
The 49ers had their streak of consecutive games without allowing a rushing touchdown snapped at 15. The Elias Sports Bureau notes that matches the mark for the longest streak in the Super Bowl Era (since 1966), set by the
Chicago Bears
from 1986 to 1987.
The record was the latest in a series of notable accomplishments by kickers this season. Here's a list of notable kicking accomplishments from 2011.
Week 1 (Sept. 12) – Sebastian Janikowski's record-tying field goal
Janikowski tied the NFL record for longest field goal with a 63-yard blast in a 23-20 win for the
Oakland Raiders
over the
Denver Broncos
.
Janikowski has had a heck of a season when it comes to distance kicking. In Week 5 against the
Houston Texans
, he made field goals of 50, 54, and 55 yards, tying the NFL single-game record with three field goals of 50 yards or more.
Week 3 (September 26) Dan Bailey's 6-for-6
Dallas Cowboys
kicker
Dan Bailey
beat the
Washington Redskins
by himself, going 6-for-6 in an 18-16 win. The game-winner was a 40-yarder with 1:47 left. Bailey's six field goals ties the NFL rookie record. The only other two rookies to do it are Garo Yepremian in 1966 and
Jeff Reed
in 2002.
Week 7 (October 24) Josh Scobee's 4-for-4 on Monday Night Football
The
Jacksonville Jaguars
edged the
Baltimore Ravens
, 12-7, with all 12 points coming from
Josh Scobee
, who joins Janikowski by kicking three field goals of 50 yards or more in a game, tying an NFL record.
Week 14 (Dec. 11)- Matt Prater makes field goals of 59 and 51 yards to beat the Bears
Matt Prater hit a 59-yard field goal to tie in the final seconds of regulation, then hit a 51-yarder in overtime to give the Denver Broncos a dramatic 13-10 win over the Bears. The Broncos rallied from a late 10-0 deficit to win.
Week 16 (December 24) David Akers breaks the NFL record for field goals in a season
With his third field goal in Sunday's game against the
Seattle Seahawks
, Akers broke Neil Rackers' NFL record for field goals in a season, with that kick giving him 41. He'd hit the game-winning field goal later in the game.
Akers' other notable accomplishment this season was breaking Jerry Rice's single-season 49ers record for points scored.
December, 13, 2011
12/13/11
3:42
PM ET
By
Jason Starrett
| ESPN.com
Behind the play of their young quarterback, the final seven minutes of regulation have been "Tebow Time" for the
Denver Broncos
.
Tim Tebow
has helped lead the Broncos back from 4th-quarter deficits in each of their last four games. This season, he has thrown for more yards in the 4th quarter than the first three quarters combined, and his 96.3 Total QBR in the final seven minutes of the 4th quarter is the highest among NFL quarterbacks with at least 40 action plays.
But the Broncos success late in games hasn't all been about Tebow. Below are nine
other
reasons why Denver has gone 7-1 over the last eight weeks.
All numbers below are from the final seven minutes of regulation since Week 7, the first game that Tebow started this season.
Bronco Defense

• 6 sacks (T-most in NFL) including 5 by
Von Miller
and
Elvis Dumervil
(T-most among any teammates in NFL)
• 13.1 opponent Total QBR (2nd in NFL:
Seahawks
, 4.1)
• 0 rush TD and 0 20-yard rushes allowed
• 0 pass TD and 0 30-yard passes allowed
• 46.5 completion percentage allowed (6th in NFL) and 2 interceptions (T-6th in NFL)
Punter Britton Colquitt
• 2 punts downed inside the opponent's 20-yard line (T-5th in NFL) since Week 7 with no touchbacks
• No punts blocked and no punt return TD allowed
• 41.3 net yards per punt (T-7th in NFL, min. 3 punts)
Kicker Matt Prater
• Made 4 of 5 FG attempts (T-most in NFL) including both attempts from at least 45 yards away (most in NFL)
December, 12, 2011
12/12/11
5:27
AM ET
By
Alok Pattani
| ESPN.com
Ron Chenoy/US PRESSWIRETim Tebow improves to 7-1 as a starter this season after leading the Broncos to their sixth straight win and third overtime win in 2011.
For the seventh time in eight weeks the
Denver Broncos
won with
Tim Tebow
as their starting quarterback. This despite Tebow recording a QBR below 50.0 for the third straight week and for the sixth time in those eight starts.
Tebow and the Broncos came away with another improbable comeback victory on Sunday against the Bears, rallying from a 10-point fourth-quarter deficit and winning in overtime.
As is customary for him since taking over as starter, Tebow struggled early on, completing barely over a third of his passes and committing two turnovers as the Broncos were shut out for the first 55+ minutes of the game. But he was able to turn it around on the Broncos' final three drives, leading the team to 13 points and an eventual victory.
However, if you look at Tebow's game in total, he wasn't actually that great. In a game that was close throughout…
- He was sacked five times and committed two turnovers (1 Int, 1 fumble)
- On eight third down pass plays, he went 3-7 with an interception and a sack, converting only two first downs
- On seven third down rush plays (including designed rushes and scrambles), he converted only two first downs
- The Broncos' 15 offensive drives resulted in eight punts (including seven 3-and-outs), and only two made it inside the Bears' 30
For these reasons, despite making some big plays, Tebow finished with a Total QBR of just 32.9 for the game since he did not lead the Broncos to many points.
For those who say "Yeah, but he came through in the clutch yet again!", take a look at when and how the game was actually won and lost. The two largest impact plays of the game in terms of changes in win probability both took place in overtime:
- Marion Barber's lost fumble took the Bears' win probability from 63.3% to 29.8%, a decrease of 33.5%.
- Matt Prater's game-winning 51-yd FG took the Broncos' win probability from 70.0% to 100.0%, an increase of 30.0%.
Keep in mind that both of these plays greatly increased the Broncos' chances of winning the game in overtime, but Tim Tebow was not on the field for either one of them.
Meanwhile
Eli Manning
had another clutch fourth quarter performance and finished with a 77.1 Total QBR, good for 9th best in Week 14.
After throwing one bad interception with less than seven minutes left in the fourth quarter, Manning was nearly flawless in leading the Giants back from a two-score deficit over the Cowboys.
Manning went 8-11 for 122 yards and seven first downs on New York's final two drives (discounting the kneel at the end of the game), both culminating in touchdowns. The interception dropped his Total QBR from 79.7 to 62.8, but he was able to raise it back up to 77.1 with his clutch play in the game's final six minutes.
For more information about how Total QBR is calculated, go here.
December, 11, 2011
12/11/11
8:58
PM ET
Justin Edmonds/Getty ImagesMatt Prater's leg strength is a match for Tim Tebow's comeback ability.
Within all the amazement from Sunday's overtime win for the
Denver Broncos
over the
Chicago Bears
, let's not forget that Broncos kicker
Matt Prater
played a significant role in further enhancing the legend that has become
Tim Tebow
.
The two combined in an effective manner. Tebow was a short-range star in the fourth quarter. Prater was most effective on plays of great length.
Prater hit a 59-yard field goal to tie the game with two seconds remaining and a 51-yard field goal to win the game in overtime, atoning for a blocked field goal attempt earlier in the game.
The Elias Sports Bureau noted that the Broncos were the second team in NFL history to win four straight games in which they trailed in the fourth quarter (joining the 2009 Colts).
Prater is the second kicker in NFL history with a pair of overtime field goals that were at least 50 yards long (the other was a 52-yarder to beat the Dolphins in Week 7). The other kicker to do that was
Greg Davis
, who had one in 1989 and another in 1994.
Also, according to Elias, this was the first game in NFL history in which each kicker made a field goal attempt of at least 57 yards. Bears kicker
Robbie Gould
made a team-record 57-yarder earlier in the fourth quarter.
Prater is now 12-for-16 on field goal attempts of at least 50 yards since his career began in 2007.
His 75 percent accuracy rate on those kicks is the second best among current kickers who have tried at least 10 field goals of that length in the last five seasons, trailing only
Rob Bironas
of the
Tennessee Titans
, who is 15-for-19 (79 percent).
Incidentally, Gould is among those right behind them at 11-for-15 (73 percent).
The distance kicking success is part of a season-long trend. Prater's game-winning field goal was the 75th field goal of at least 50 yards this season, a league record for most in a season, shattering the mark of 66 set in 2008.
As for Tebow, it was another improbable performance by a quarterback who started 3-for-16 through the first three quarters, but finished 18-for-his-last 24 for 191 yards and a touchdown.
Broncos receivers dropped four passes in the first three quarters of the game, but dropped only one of his last 21 pass attempts.
Tebow changed his approach in the fourth quarter. His average pass attempt through the first three quarters went 17 yards in the air. But most of his fourth quarter throws were shorter than that.
Tebow was 15-for-17 for 133 yards in the fourth quarter and overtime on throws that traveled fewer than 15 yards in the air.
Tebow was at his best, stepping outside the pocket. In the fourth quarter and overtime, video review showed him to be 4-for-4 for 49 yards and a touchdown on throws made from outside the pocket.
Tebow now has six game-winning drives in the fourth quarter or overtime in 11 career starts. Elias notes that among players to debut since 1970, no one has more game-winning drives in his first 11 starts than that.
This was the Broncos third overtime win of the season, tied for the second-most such victories in NFL history (the 2003
Carolina Panthers
had four).
All three victories were started by Tebow … and finished by Prater.
October, 27, 2011
10/27/11
8:03
PM ET
US Presswire
Sebastian Janikowski tied an NFL record with a 63-yard field goal against the Broncos in Week 1.
One of the potentially unrecognized, but quite significant, stories of the 2011 NFL season is the success of field goal kickers on long-distance kicks.
Through seven weeks, NFL kickers have made nearly 87 percent of their field goal tries, a rate that if managed through the duration of the season, would be the best in NFL history.
The reason that the success rate is so high is not due to the performance of kickers on shorter kicks. It's due to their performance on longer ones.
The NFL success rate on field goal attempts of 40-to-49 yards this season is 80.8 percent. If that rate can be maintained, it would be far better than the current NFL record of 74.5 percent set in 2008.
But the story actually grows in significance as we move the distances back.
NFL kickers are 41-for-58 on field goal attempts of at least 50 yards this season. That's a success rate of 71 percent, which is extraordinary based on historical data. The NFL record, 63.8 percent was set in 2008.
If kickers can keep at their current success rate and pace (41 field goals of 50-plus yards in 103 games), it's possible that there could be 100 made field goals from at least 50 yards this season. That would shatter the current record of 66, also set in 2008.
Here's a look at several notable kicks of at least 50 yards this season:
Nick Folk, New York Jets
In the Jets' win over the Cowboys in Week 1, Folk hit the winning field goal, a 50-yarder with 27 seconds to play in the fourth quarter.
Sebastian Janikowski, Oakland Raiders
Janikowski tied the NFL record with a 63-yard field goal to end the first half in a 23-20 Week 1 win over the Broncos. Then in Week 5, Janikowski tied another NFL record with three field goals of at least 50 yards in a 25-20 win over the Texans.
Matt Prater, Denver Broncos
In the Broncos comeback win over the Dolphins in Week 7, Prater kicked the winning field goal, a 52-yarder midway through overtime.
Josh Scobee, Jacksonville Jaguars
Scobee matched Janikowski by making three field goals of 50 or more yards in a Monday Night Football win over the Ravens in Week 7. He made a 51-yard kick late in the fourth quarter to help clinch the win.