Stats & Info:

Matt Thornton
May, 4, 2011
5/04/11
3:16
AM ET
Francisco Liriano
's no-hitter against the
Chicago White Sox
was the 248th in major league history and 246th in the regular season. Liriano walked six and struck out two, becoming just the second pitcher since 1900 to have four more walks than strikeouts in a no-hitter according to the Elias Sports Bureau. Pittsburgh's Cliff Chambers walked eight and struck out four when he no-hit the Braves in 1951.
Francisco Liriano's no-hitter last night is a great example of a statistical oddity in baseball. Looking inside the numbers at the no-hitter, Liriano did not do much differently than in his previous 5 starts that yielded a 9.13 ERA. In fact in some cases, his numbers were worse.
His miss pct on his "out pitches" (changeup and slider) were actually worse than his season total
On top of that, Liriano's no-no wasn't all that special. Last year,
Edwin Jackson
, Liriano's opponent on the mound Tuesday, threw a no-hitter against the
Tampa Bay Rays
also in a 1-0 game. In fact, the strike percentage, called strikes and three-ball counts from both of those games were nearly identical.
Although it's the first no-hitter of this season, Liriano's was the seventh this decade. From 2000-2009, there were a total of 15 no-hitters.
Here's more on how Liriano was able to no-hit the White Sox:
• He adjusted to the White Sox as the game went on. Chicago swung at just 34.1 percent of Liriano's pitches, the lowest percentage against the Twins' left-hander over the last three seasons. From innings 1-3, Liriano threw just 38.7 percent of his pitches in the strike zone. That number increased to 43.6 in innings 4-6 and 48.6 in innings 7-9.
• The White Sox did not hit the ball out of the infield in the last four innings, as Liriano threw 59.6 percent of his pitches down in that span, compared to 46.5 in the first five innings.
• Twenty-one of Liriano's 26 changeups were low. He got five outs with his changeup in the last four innings (including a double play), and none left the infield.
• Liriano had six innings of 12 pitches or less. It's even more impressive considering that he threw first-pitch balls to 19 of the 30 White Sox hitters he faced.
While Liriano got the no-no, one could argue that he wasn't even the best pitcher in U.S. Cellular Field Tuesday. Jackson and reliever
Matt Thornton
outpitched Liriano in several categories.
Finally, Liriano was just the second active starting pitcher to throw a no-hitter after previously undergoing Tommy John surgery joining
Anibal Sanchez
of the Marlins.
April, 16, 2011
4/16/11
9:00
AM ET
Thorn in Chicago's Side
The White Sox finished 14 games over .500 last season thanks in part to a strong bullpen. Chicago relievers combined for a 3.73 ERA in 2010, which ranked fifth in the AL. The squad also blew only 14 saves, third fewest in the American League. But manager Ozzie Guillen's all-too-public rant this week on the state of his bullpen has made it clear that this year has already gone very differently. Through 12 team games Chicago's save percentage is a scant 14.3, worst in baseball. The six blown saves are already nearly half of the team's total last year.
Which man is the biggest culprit? Closer
Matt Thornton
, who has four blown saves in as many opportunities. Thornton's strength in 2010 has become his weakness in 2011, and that is eliminating batters with two strikes against them. Last year, the lefty converted 79 percent of two-strike at-bats into outs, six percent above the average player according to Inside Edge. So far in 2011 that number is hovering around 53 percent.
Of the seven hits Thornton has allowed in two-strike counts this season, six have come off of his fastball. It's not certain who is the closer moving forward, but
Sergio Santos
is a likely candidate.
Other Staff Shining in Philly

Contreras
The offseason was full of talk over the Phillies dominant starting staff. While that aspect is starting to come around this season, the bullpen has quietly posted the lowest ERA in baseball (1.93). Hitters have amassed just a .214 batting average and a miniscule .541 OPS, second lowest in MLB this season. The Philadelphia bullpen has kept at-bats economical as well (averaging 3.83 pitches per plate appearance which ranks among the top 10 in baseball).
Jose Contreras
has performed admirably as interim closer for
Brad Lidge
; he's yet to allow a run in three appearances while collecting two saves.
He's Back
Brian Wilson
has made a nice return this season. In a four-day span between April 12-15, Wilson earned three saves in as many appearances. He allowed no runs or walks, just a single hit and struck out four in those games. Wilson also utilized his fastball nearly 60 percent of the time and did not allow a hit off of that pitch. His velocity is a bit down, as in that stretch his fastball averaged 94.3 miles per hour (fastball averaged 95.7 miles per hour last season), but it hasn't seemed to hurt him.
August, 31, 2010
8/31/10
7:24
PM ET
By
Michael Lynch
| ESPN.com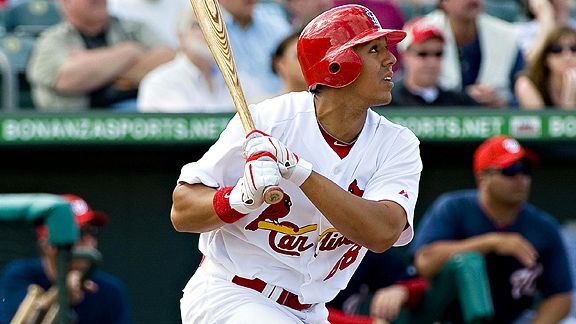 Scott rovak/US Presswire
Even if he wins the National League Rookie of the Year, it still wouldn't make the Cardinals outfielder the most famous Jo(h)n Jay.
Among players with 200 plate appearances, the
Texas Rangers
'
Josh Hamilton
leads MLB with a .356 batting average. In fact, the top four are all veterans, but fifth is
St. Louis Cardinals
' rookie
Jon Jay
(.330 entering Tuesday).
Of course, the Cardinals' outfielder will have to do a lot more if he wants to become
the
Jo(h)n Jay. The rookie will probably forever live in the shadow of the founding father with a similar name, John Jay. In addition to serving as the 1st Chief Justice of the United States, Jay was also a president of the Continental Congress.
Now it's time to get waist-deep in an endeavor of absolute nerdiness. What other notable athletes share names with one-time members of the Continental Congress, and which person is more famous? We'll let you decide. Dig in!
Who is William Floyd?
History Book says:
Floyd was born in Brookhaven, N.Y., in 1734. After serving as a major general in the Suffolk County Militia, he went on to represent New York in the Continental Congress and then served in Congress from 1789-91. He also served as a Senator in 1809.
Sports Page says:
Member of Florida State's 1993 National Championship team, Floyd remains the last fullback taken in the first round of the NFL Draft. The San Francisco 49ers selected him 28th overall in 1994. He became the first rookie in nearly 30 years to score three touchdowns in a playoff game and helped lead the 49ers to a Super Bowl in his rookie season (scoring at least one TD in all three 49ers playoff games).
Who is Joseph Galloway?
History Book says:
A loyalist who proposed a compromised plan for union at the Continental Congress, Galloway eventually moved to England, though some believe Galloway, N.J., is now named for him.
Sports Page says:
"Joey" Galloway is 26th in NFL history with 10,777 receiving yards. Galloway had more than 1,000 receiving yards in 2007 at the age of 36 -- only Jerry Rice had a 1,000-yard season at a more advanced age.
Who is Benjamin Hawkins?
History Book says:
North Carolina farmer who attended College of New Jersey (Princeton), but left to join the Continental Army. In addition to serving in the Continental Congress, he also served in Senate.
Sports Page says:
"Ben" Hawkins led the NFL in receiving yards in his second season for the Philadelphia Eagles in 1967. He was also known for playing with his chin-strap unbuckled.
Who is Arthur Lee?
History Book says:
American diplomat who studied medicine and law abroad and was called upon to drum up support for the colonies from Spain and Prussia.
Sports Page says:
Point guard who led Stanford to the 1998 Final Four with clutch play in a come-from-behind win over Rhode Island in the Elite 8. He's also remembered for making choking gestures as Rhode Island's Tyson Wheeler missed crucial late free throws.
Who is Joseph Montgomery?
History Book says:
Pennsylvania minister who served during the Revolutionary War before his time as a rep in the Continental Congress.
Sports Page says:
"Joe" Montgomery is a former running back from Ohio State who was drafted by the New York Giants in the second round of the 1999 NFL Draft. He played three seasons in the NFL with the Giants and Panthers.
Who is Robert Morris?
History Book says:
Known as the "Financier of the Revolution," Morris was a merchant and signer of the Declaration of Independence, Articles of Confederation and the Constitution. Two universities (one in Pennsylvania, one in Illinois) now bear his name.
Sports Page says:
"Rob" Morris, a linebacker out of BYU, was selected by the Colts in the first round of the 2000 NFL Draft. Morris played for the Colts from 2000 to 2007, winning one Super Bowl.
Who is John Morton?
History Book says:
Signed the Declaration of Independence and was instrumental in the writing of the Articles of Confederation.
Sports Page says:
Scored a game-high 35 points for Seton Hall in its 1989 National Championship game loss to Michigan. Morton was just the fifth player to score at least 35 points in the NCAA Tournament Finals, joining Bill Walton, Gail Goodrich, Jack Givens and Lew Alcindor. He played three seasons in the NBA. (Honorable mention: former WR "Johnny" Morton)
Who is Jacob Read?
History Book says:
A lawyer from Charleston, he represented South Carolina in the Continental Congress and later the U.S. Senate.
Sports Page says:
A wide receiver out of Grambling State, "Jake Reed" amassed four consecutive 1,000-yard receiving seasons for the Minnesota Vikings in the mid-1990s.
Who is David Ross?
History Book says:
A major in the continental army, he also served as Maryland's rep in the Continental Congress.
Sports Page says:
Currently a back-up catcher for the
Atlanta Braves
(his sixth team since debuting in 2002).

Who is Matthew Thornton?
History Book says:
Irish-born doctor was prominent in New Hampshire politics and signed the Declaration of Independence.
Sports Page says:
White Sox middle reliever
Matt Thornton
made his first All-Star team in 2010.
Who is James White?
History Book says:
A delegate for North Carolina in the Continental Congress, White was a Philadelphia-born physician, lawyer and politician.
Sports Page says:
James "Flight" White is known as one of the best dunkers in basketball history (capable of two-handed dunks from the free-throw line). He played collegiately at Florida and Cincinnati before being selected in the second round of the 2006 NBA Draft. He has drifted back and forth between the NBA, D-League and overseas pro leagues ever since.
May, 11, 2010
5/11/10
3:33
PM ET
By
Kenton Wong, ESPN Stats
and
Info
| ESPN.com
This week on the TMI Power Poll we look at middle relievers. It was the most hotly contested Power Poll yet, with six different guys receiving at least one first-place vote.

Other notable courtesy of Baseball Tonight researcher Mark Simon:
Todd Coffey - Nobody in MLB sprints from bullpen faster

Also receiving votes: Neftali Feliz, Dan Wheeler, Sergio Romo, Jeremy Affeldt, Manny Corpas, Pedro Feliciano, Brad Ziegler, Darren Oliver, Mike Wuertz, Carlos Villanueva, Hisanori Takahashi, Kevin Jepsen, Peter Moylan, Grant Balfour, J.P. Howell, Hideki Okajima, Hong-Chih Kuo, Shawn Camp, Nick Masset, Kris Medlan, Rafael Betancourt, Darren O'Day, Alfredo Aceves, Tim Byrdak, Todd Coffey, Sergio Santos, Takashi Saito, Ramon Troncoso
March, 30, 2010
3/30/10
10:53
PM ET
By
Erik Manning, FanGraphs
| ESPN.com
As expected, the White Sox will continue to use
Bobby Jenks
as their closer this year, despite having a superior bullpen arm in
Matt Thornton
. For the past two seasons, Thornton has been a buried treasure, posting better numbers than the Southside's closer. For that matter, his FIP (a defense-independent measure of ability) has been better than many other team's closers.
The White Sox aren't the only team that does not have their best relief pitcher throwing in the ninth.
Kevin Jepsen
of the Angels is a better pitcher than
Brian Fuentes
, and the Mariners'
Brandon League
could very well be better than
David Aardsma
. In one extreme case, the 2007 Indians continued to use
Joe Borowski
as their closer despite his bloated 5.07 ERA, while they reserved
Rafael Betancourt
for the eighth inning. Betancourt posted a minuscule 1.47 ERA and 2.22 FIP that year.
For fans that follow these teams, it's frustrating to see the manager continue to go to the well with these "proven closers" while neglecting to give these elite arms their fair shot at saving games. Well, the aggravation of fans aimed towards the manager in most cases is unnecessary. No, they aren't using their assets in the best possible way, but the impact isn't a big as you might think.
With the help of Tom Tango, FanGraphs provides a stat that measures the magnitude of every game situation called Leverage Index, or LI for short. Here's the gist, and this takes us back to what
Sky shared about the Twins loss of
Joe Nathan
earlier in the month:
-The average situation (think of the starting pitcher's role) has an LI of 1.
-Closers appear in situations with an average LI of about 1.8, meaning runs allowed by closers are a little less than twice as damaging as the average run.
-Set-up men will see LIs in the 1.3 to 1.6 range.
So while closers on average pitch in more crucial situations, the set-up man pitches in some pretty important situations as well, and often more frequently.
For a practical example we'll use Jenks and Thornton of 2009 White Sox. What happens if we go back into 2009, only with Jenks and Thornton swapping roles? Jenks posted a FIP of 4.47 over 53 1/3 innings, with an average LI of 1.9. This made him good for 4 runs above replacement level, or about half a win. Thorton threw 72 1/3 innings, with a 2.47 FIP, with an average LI of 1.5. That made Thornton good for 26 runs above replacement level. If you give Thornton's innings and leverage to Jenks, and vice versa, the difference in runs above replacement comes out to be about a single run. That's all.
Part of the extra value that a set-up man has is he isn't restricted to just the ninth inning with a lead. Many non-save situations are crucial to a team's chances of winning, and in fact, a lot of high leverage situations happen when a team is trailing by just one run -- a situation where a manager will almost never use his closer, even though keeping the score close gives his team a chance for a come from behind victory.
Non-closer relievers can be extremely valuable in these middle innings, high leverage situations, so it's not the end of the world if your team's manager chooses to employ an inferior pitcher to close out games. Thornton, Jepsen, and League will provide plenty of value, even if they don't rack up many saves.
Erik Manning is an author of FanGraphs.