Stats & Info:

Memphis Tigers
March, 22, 2014
Mar 22
8:24
PM ET
By
Ryan Feldman, ESPN Stats & Information
| ESPN.com
Sunday's NCAA Tournament slate features eight compelling Round of 32 games, and we've got you covered with a look at the key matchups in each contest.
KANSAS vs STANFORD
Stanford
is the third-most efficient team in the country on pick-and-roll, ball handler plays, averaging more than a point per play on those plays.


Kansas
ranks 221st in points per play allowed while defending pick-and-roll, ball handler plays.
That could be a big factor with
Joel Embiid
not there to protect the rim on pick-and-roll plays.
WICHITA STATE vs KENTUCKY
Kentucky
ranks second in offensive rebound percentage (42.1%) and scores 9.4 points per game on offensive rebound putbacks, fifth-most in the country.
Wichita State
ranks fifth in the country in defensive rebound percentage (74.2%) and only allows 4.3 points per game on offensive rebound putbacks, 17th-fewest in the country.
IOWA STATE vs NORTH CAROLINA
Iowa State
relies heavily on 3-point shooting. The Cyclones rank in the top 25 in 3-point attempts and 3-pointers made per game.
North Carolina
is holding teams to 30 percent 3-point shooting in its last 14 games. The Tar Heels have held 13 of their last 14 opponents below 40 percent on 3-point shooting. They're only allowing 5.4 3-pointers per game in their last 14 games.
TENNESSEE vs MERCER


Mercer
's opponents are attempting 23.1 3-pointers per game in its last 10 games. Mercer is 9-0 when its opponents attempt at least 24 3-pointers (12-1 when they attempt at least 23), including a win over Duke (37 attempts).
Tennessee
hasn't had more than 24 3-point attempts all season. They average 17.1 3-point attempts per game.
UCLA vs STEPHEN F. AUSTIN
UCLA
ranks in the bottom 20 of the country in turnover percentage. The Bruins only turn it over on 14.9 percent of their possessions.
Stephen F. Austin
forces 16.2 turnovers per game, eighth-most in the country. However, SFA is only forcing 11.6 turnovers per game in its last five games.
CREIGHTON vs BAYLOR
Creighton
is 23-1 this season when shooting at least 35 percent on 3-pointers (4-6 when shooting less than 35 percent). Creighton is 15-1 when making at least 11 3-pointers (12-6 when making 10 or fewer).
Baylor
's opponents are shooting 38.5 percent on 3-pointers in its last 10 games. Baylor has allowed higher than 40 percent 3-point shooting in five of its last 10 games and at least eight 3-pointers in six of its last 10 games.
VIRGINIA vs MEMPHIS
Memphis
ranks second in the country in transition offense with 21.2 points per game. The Tigers rank 21st in transition field goal percentage (59.3%).


Virginia
excels in transition defense. The Cavaliers allow seven transition points per game, second-fewest in the country. Virginia also ranks in the top 25 in field goal percentage defense in transition.
Pace will be a factor, as well. Virginia has the third-slowest pace (60.7 possessions per game), while Memphis ranks 34th in pace (71.2 possessions per game).
ARIZONA vs GONZAGA
Gonzaga
is very efficient on offense, ranking in the top 10 in field goal percentage and 3-point percentage.
Arizona
ranks third in defensive efficiency, allowing 89.5 points per 100 possessions. The Wildcats are 15-0 this season when allowing fewer than 90 points per 100 possessions.
Gonzaga hasn't faced a single team all season that ranks in the top 30 in offensive efficiency.
March, 11, 2014
Mar 11
11:21
AM ET
By
Ryan Feldman
| ESPN.com
Championship Week can be unpredictable as teams try to improve their NCAA tournament résumés, whether it's to vie for a No. 1 seed or just to get into the field.
ESPN's Basketball Power Index (BPI)
measures how well each team performs based on game result, margin, pace of game, location, opponent strength and the absence of any key players.
Using BPI, we are able to project the chances for each team to win its major conference tournament. The probabilities take into account the matchups in each bracket based on each team's BPI. The team with the best BPI isn't necessarily always the favorite if that team has much tougher matchups than other teams in the tournament.
According to BPI, the
Arizona Wildcats
have the best chance of any team in one of the seven major conferences (American, ACC, Big East, Big Ten, Big 12, Pac-12, SEC) to win its tournament. They have a 63 percent chance of winning the Pac-12 tournament.
Pac-12
Arizona has more than a six times better chance of winning the Pac-12 tournament than any other team. The
UCLA Bruins
have the second-best chance at 10 percent.
Pac-12 best chances: Arizona 63 percent, UCLA 10 percent, Oregon 10 percent, Arizona State 5 percent, Stanford 4 percent
SEC
The
Florida Gators
are the prohibitive favorites in the SEC tournament with a 57 percent chance to win it. The
Kentucky Wildcats
(25 percent) are the only other SEC team with better than a 7 percent chance. The No. 9 seed
Missouri Tigers
have a slightly better chance to win the SEC tournament than the No. 3 seed
Georgia Bulldogs
.
SEC best chances: Florida 57 percent, Kentucky 25 percent, Tennessee 7 percent, Arkansas 3 percent, Missouri 2 percent
American & Big East
The
Louisville Cardinals
(American) and
Villanova Wildcats
(Big East) are both close to 50 percent in terms of their chances of winning their respective conference tournaments.
The
Memphis Tigers
have an edge playing on their home court in the American Tournament, but they still have a significantly worse chance than Louisville and
Cincinnati
. Memphis does, however, have a greater probability of winning the tournament than higher-seeded teams
Southern Methodist
and
Connecticut
. With its home-court advantage, Memphis would be a favorite against any team in the tournament other than Louisville.
American best chances: Louisville 49 percent, Cincinnati 18 percent, Memphis 14 percent, SMU 12 percent, Connecticut 8 percent
No team other than Villanova or
Creighton
has better than a 6 percent chance to win the Big East tournament. There's a 44 percent chance that Villanova and Creighton meet in the Big East championship game.
Big East best chances: Villanova 48 percent, Creighton 31 percent, Xavier 6 percent, St. John's 6 percent, Providence 4 percent
ACC

Perhaps the most interesting conference tournament is the ACC, where the No. 3 seed
Duke Blue Devils
are the favorites at 27 percent. The No. 1 seed
Virginia Cavaliers
(25 percent) and No. 2
Syracuse Orange
(23 percent) are close behind.
ACC best chances: Duke 27 percent, Virginia 25 percent, Syracuse 23 percent, Pittsburgh 12 percent, North Carolina 7 percent
Big Ten
Another interesting conference tournament is the Big Ten, where four teams have between a 17 percent and a 26 percent chance of winning the tournament. The No. 2 seed
Wisconsin Badgers
are the favorites at 26 percent, while the No. 1 seed
Michigan Wolverines
are only the third favorites.
Big Ten best chances: Wisconsin 26 percent, Ohio State 19 percent, Michigan 19 percent, Michigan State 17 percent, Iowa 11 percent
Big 12
The
Kansas Jayhawks
have a 37 percent chance to win the Big 12 tournament, but their path isn't easy. They could face the teams with the fourth- and second-best chances of winning the tournament in the quarterfinals and semifinals.
The No. 8 seed
Oklahoma State Cowboys
, with a 10 percent chance of winning it, could face Kansas in the quarterfinals. The No. 4 seed
Iowa State Cyclones
, with an 18 percent chance, could face Kansas in the semifinals. Both teams have a 35 percent chance of beating Kansas, according to BPI.
Big 12 best chances: Kansas 37 percent, Iowa State 18 percent, Oklahoma 16 percent, Oklahoma State 10 percent, Baylor 6 percent
January, 27, 2014
Jan 27
3:54
PM ET
By
Ryan Feldman
| ESPN.com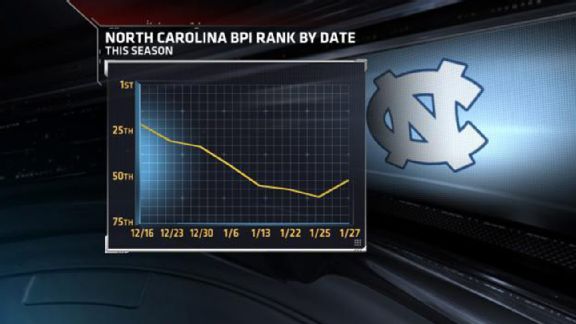 ESPN Stats & InformationNorth Carolina's BPI rank is starting to rebound after a season-long tumble.
The best college basketball team this month isn't
Arizona
or
Michigan
or
Syracuse
or
Florida
or
Kansas
. It's the
Virginia Cavaliers
.
Virginia leads all teams in
BPI
in January.
The Cavaliers were ranked as low as 55th on Jan. 2 after a 35-point loss on Dec. 30 against
Tennessee
. But they've won six of seven games this month, all against ACC opponents.
They're now 21st in BPI, their highest rank this season. All six of their wins this month have a BPI game score better than 95. Game score is on a 0-100 scale.
Virginia's five losses have all come against teams ranked in the BPI top 55, three of them by four points or fewer.
Memphis streaking
In the last week, the
Memphis Tigers
have risen 12 spots from No. 48 to No. 36 in BPI. That's tied with
Arizona State
for the largest jump in the last week among teams currently ranked in the top 50.
Two of the Tigers' six best performances in terms of BPI game score have come in the last week: a 23-point win against
Houston
and a 22-point win against
South Florida
.
The Tigers have two top-15 wins to bolster their resume, both away from home: a five-point win on a neutral court against No. 9
Oklahoma State
and a six-point win on the road at No. 14
Louisville
.
All four of their losses have come against teams ranked in the BPI top 35: Oklahoma State, Florida,
Cincinnati
and
Connecticut
.
Memphis is one of four teams with multiple wins against the BPI top 15 without any losses outside the BPI top 35. The others are Syracuse (BPI No. 4),
Villanova
(15) and
San Diego State
(22).
Ups and downs for UNC
The
North Carolina Tar Heels
have had quite the turbulent season. They're the only team with two wins against the BPI top seven this season. Michigan and Kansas are the only other teams with two wins against the BPI top 10.
The Tar Heels have defeated No. 5
Kentucky
, No. 7
Michigan State
and No. 14 Louisville. Michigan is the only other team with three wins against the BPI top 15.
North Carolina was No. 22 in BPI after its win against Kentucky in mid-December. But since then, the Tar Heels have been in a free fall.
They dropped outside the top 40 for the first time on Jan. 6 after a loss to
Wake Forest
. They dropped outside the top 50 three days later after a loss to
Miami (FL)
.
They reached their low point on Saturday, falling all the way to No. 61. But after their 19-point win against
Clemson
on Sunday, the Tar Heels jumped back up to No. 50. The win against Clemson was their second-best BPI game score of the season, 98.7 (only their win against Michigan State, 99.5, was better).
Tough week for Harvard, Colorado and Villanova
Of teams currently in the BPI top 50, no teams fell further in the last week than
Harvard
,
Colorado
and Villanova.
Harvard fell 12 spots from No. 26 to No. 38 after a 15-point loss to No. 223
Florida Atlantic
on Tuesday. It was by far Harvard's worst performance of the season in terms of BPI game score.
In fact, Harvard's 8.4 BPI game score against Florida Atlantic is the worst performance this season by any team currently ranked in the top 50.
Colorado and Villanova each fell 10 spots in the last week. Colorado now is No. 46, Villanova is No. 15.
March, 12, 2012
3/12/12
9:51
PM ET
We recap our best notes from the 8 vs 9 matchups in the 2012 Men's Basketball Championship. Check this blog and check here all week for more bracket tips.
• Since the tournament expanded to 64 teams in 1985, a 9-seed beats an 8-seed in the first round at least once each year except 2000 and '02. A 9-seed swept an 8-seed in the first round four times: 1989, '94, '99 and 2001.
• Since '85, an 8-seed beats a 9-seed in the first round more often (56-48) but 9-seeds have a better win percentage (.412) than 8-seeds (.364) over the course of the entire tournament.

• Defending champ
UConn
is the 9-seed in the South. A 9-seed has never won the Men's Basketball Championship (lowest seed to win the title: 8-seed Villanova in '85).
• No. 8
Memphis
vs No. 9
Saint Louis
will be their 58th meeting. The teams played in four different conferences together: the Missouri Valley, Metro, Great Midwest, and Conference USA.
• The top BPI differential in an 8 vs 9 game?
Kansas St
(23 BPI) vs
Southern Miss
(46 BPI). Closest differential in an 8-9 game?
Iowa State
(32) vs UConn (33).

• This will be the third time Iowa State plays an 8-9 game in the first round. In 1993 the Cyclones lost to UCLA as an 8-seed, and beat Minnesota as a 9-seed in 2005.
• Of the eight teams that make up the 8-9 seeds, Southern Miss (0-2) is the only one that has never won a tournament game
• Only once have multiple 8-seeds reached the Final Four: In 2000, (8) Wisconsin lost to (1) Michigan State, and (8) UNC lost to (5) Florida.
• Iowa State, at 32nd, is the lowest-ranked 8-seed according to BPI. Memphis is 10,
Creighton
22 and K-State 23.
• K-State's 14.8 second-chance points per game led the Big 12. Southern Miss allowed 14.0 second-chance points per game in three losses against major-conference teams.

• Collision course: Memphis' 18.5-pt average in transition is tied for fourth in the nation; Saint Louis allows seven points in transition, fourth-fewest in the nation.
• Creighton is the only team in the country shooting better than 50 percent in the half-court this season.
December, 7, 2011
12/07/11
2:31
PM ET
Columbia with strangest win of 2011
Columbia had arguably the most bizarre win of the season on Tuesday.

Consider that the Lions did not lead Holy Cross until a go-ahead free throw with two seconds remaining, and they trailed by 20 points in the second half, a seemingly insurmountable deficit given that Columbia scored only 14 points in the first half. But the Lions but roared back with a 15-0 run, ultimately winning 46-45. Columbia shot just 24.7 percent from the field, the lowest for any team that played on Tuesday. It was the worst shooting performance in a win for an Ivy League team in at least the past 15 years. Columbia has won six in a row, its longest win streak in 30 years.
Withey breaks out for Kansas
The last time Long Beach State visited Allen Fieldhouse back in 1993, the 49ers upset No. 1 Kansas. The Jayhawks managed to hold them off this time around thanks to players like
Jeff Withey
. He posted his second career double-double, and he fell one block shy of a triple-double in Kansas' 88-80 win over Long Beach State. Withey finished with 13 points and 13 rebounds. His nine blocks were one shy of Cole Aldrich's single-game school record. It would have been Kansas' first triple-double since Aldrich set that record in 2009.
Denmon and Missouri hit from deep

Marcus Denmon
hit a respectable 15 three-pointers over Missouri's first six games. But he's been prolific in the last two games, going 13-for-20 from long range. Denmon led all scorers with 28 points in Missouri's 81-71 win over Villanova. He's hit half of his shots from three-point range this season, while teammate
Kim English
has hit 54.9 percent. Those two have combined for 56 threes this season, the most by any pair of teammates (just ahead of the 54 that
Robbie Hummel
and
Ryne Smith
have combined on for Purdue).
Barton does it all for Memphis
Will Barton
had a career night in Memphis' 71-54 win over Miami. The sophomore posted career-highs with 27 points and 14 rebounds. He's the first guard to reach those total since Colorado's Alec Burks last season. Barton is averaging 24.5 ppg and 13.5 rpg over the past two games. He's one of nine Division I players averaging at least 19 points and 8 rebounds this season.
Raffa gets Ellis his 700th win

Coastal Carolina improved to 8-1 with an 80-58 win over Citadel on Tuesday. It marked the 700th win of Cliff Ellis' career, with 78 of those at Cumberland College of the NAIA. Ellis now has 622 wins as an NCAA coach, eighth most among active coaches. The Chanticleers got a career-high 28 points from
Anthony Raffa
, who is averaging 22.7 ppg with a 65.1 field goal percentage in three games this month. During that span, the 6'1" guard is shooting 78.1 percent from two-point range.