Stats & Info:

Michael Carter-Williams
December, 3, 2014
12/03/14
11:31
PM ET
By
ESPN Stats & Information
| ESPN.com
Brace Hemmelgarn/USA TODAY SportsMichael Carter-Williams (right) scored a team-high 20 points in Philadelphia's first win this season.
For the first time this season, the
Philadelphia 76ers
emerged victorious, beating the
Minnesota Timberwolves
85-77 on the road. Entering Wednesday, the Sixers were 0-17, one loss shy of tying the worst start to a season in NBA history, held by 2009-10 New Jersey Nets. Here's how the game unfolded for Philadelphia.
The night opened with the best opening quarter of the season for the 76ers. They allowed 13 points in the first quarter, the fewest they've allowed in any quarter this season. The 76ers held a 10-point lead after the first quarter for the first time this season.
In fact, the 10-point lead was Philadelphia's largest lead after any quarter this season. It went 25 straight games without leading by double digits after the first quarter.
The 76ers led by double digits for more than seven minutes in the first half, after leading by double digits for only four minutes total this season entering Wednesday.
Philadelphia held a lead entering the fourth quarter for just the third time this season. In the end, the Sixers closed it out to record their fifth win in their past 54 games. The win also marked their first win in their past 24 games against Western Conference opponents.
Reigning rookie of the year Michael Carter-Williams was the shining star for Philadelphia. He scored 20 points to go along with nine rebounds and nine assists in 43 minutes of work, the team's leader (outright or tied) in all four categories. He's averaging a triple-double over his past three games (20.7 PPG, 10.7 APG, 10.3 RPG).
Where do the 76ers go from here? They are the fourth team ever to lose at least 17 straight games to begin a season. None of the previous three teams won more than 15 games by season's end (1988-89 Heat went 15-67).
December, 4, 2013
12/04/13
1:03
AM ET
By
ESPN Stats & Information
| ESPN.com
What's to know about the kooky and amazing game between the
Philadelphia 76ers
and
Orlando Magic
on Tuesday night?
Plenty.
The triple-doubles
According to the Elias Sports Bureau,
Michael Carter-Williams
and
Victor Oladipo
are the first pair of rookies to each record a triple-double in the same game in NBA history.
It also marked the first time opposing players had a triple-double in the same game since Nov. 23, 2007, when
Baron Davis
of the
Golden State Warriors
and
Caron Butler
of the
Washington Wizards
each recorded one.
The 21-year-old Oladipo became the youngest Magic player to record a triple-double, edging out Shaquille O'Neal (who got his first at age 21 in 1993) by 46 days and Anfernee Hardaway (1994) by 58 days.
Oladipo finished with 26 points, 10 rebounds, 10 assists and three steals. He's the only Magic player in team history to hit all of those benchmarks in a game.
Carter-Williams' box score combo was 27 points, 12 rebounds, 10 assists and three steals. The last 76ers player to reach all of those numbers in one game was
Charles Barkley
against the Nets on March 19, 1990.
The 76ers have now gotten triple-doubles from a pair of players age 22 or younger (Carter-Williams and
Tony Wroten
) within the last month.
Afflalo scoring in large doses
Arron Afflalo
scored a career-best 43 points in defeat for the Magic.
Afflalo is averaging 25 points per game over his last 10 games, and as the shot chart below shows, he's found a nice comfort zone from the left side of the floor.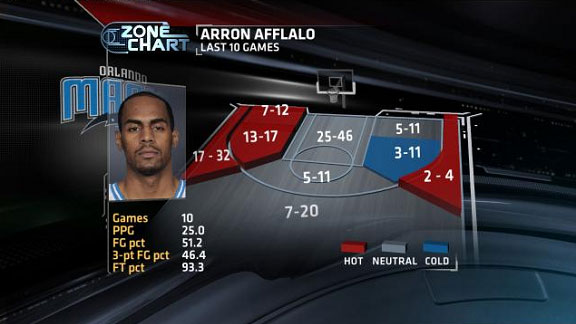 Afflalo was 5 for 8 from those two left-side hot spots from inside the arc on Tuesday, 2 for 6 in the one behind the 3-point line.
Key for 76ers: Rebounding Margin
The 76ers outrebounded the Magic, 56-34. It was their largest rebounding margin in a game in nearly four full years. Their last game with a bigger margin was December 14, 2009, when they outrebounded the Warriors by 33.
The 76ers also held a big edge in the paint. They had nearly as many makes in the paint (29) as the Magic took shots in the paint (30).
Stat of the Night
Lastly, for those who remember the NBA from way back when, Elias offers up one more triple-double nugget: The last time two players recorded their first triple-double in the same game was when Pistons Donnie Butcher and Ray Scott did it on March 14, 1964.
November, 10, 2013
11/10/13
1:08
AM ET
By
Ryan Feldman
| ESPN Stats & Information
Remember all of that talk before the season about tanking? How the
Boston Celtics
and
Philadelphia 76ers
were expected to lose a lot of games in order to position themselves for a top pick in the 2014 NBA draft?
Well, apparently the players and coaches didn't get the memo.
Boston buzzer-beater
The Celtics went to Miami and upset the Heat on a
Jeff Green
buzzer-beater.
That's not normal -– at least with
LeBron James
in the lineup.
The Heat had won 24 consecutive regular-season home games with James in the lineup entering Saturday. They hadn't lost a home game with him since Jan. 4.
The Celtics somehow overcame 58 percent shooting by the Heat, making 10 3-pointers to notch their third straight win after starting 0-4. Perhaps first-year head coach Brad Stevens is already figuring this NBA thing out.
Green's game-winner was his seventh career game-tying or go-ahead field goal in the final 5 seconds of a game. His 64 percent shooting on those shots (7-for-11) is the highest percentage for any player with at least 10 attempts since he entered the league in 2007-08.
Philly facts
The Sixers are another team with a first-year head coach, Brett Brown. After opening 3-0, including an upset win over the Heat to start the season, they lost two straight and looked like they were coming back to earth.
But their performances the past two nights against the
Cleveland Cavaliers
suggest the Sixers are going to compete night in and night out.
After a 94-79 victory versus the Cavs on Friday, the Sixers went for the home-and-home sweep Saturday in Cleveland. The Sixers extended the game to double overtime and almost earned another period but for a
Kyrie Irving
game-winning shot in the final second.
At multiple points down the stretch, the Sixers could've handed it to the Cavs. But a
Thaddeus Young
game-tying shot with 5 seconds left in the fourth quarter, an
Evan Turner
layup with 8 seconds left in the first overtime and a
Michael Carter-Williams
game-tying 3-pointer with 11 seconds left in double overtime kept the Sixers alive time and time again.
Turner set a career high with 31 points, Young was three points shy of his career high with 29 points, and Carter-Williams had a career-high 13 assists.
MCW for ROY?
Carter-Williams has distinguished himself as the early favorite for the Rookie of the Year award. He is the first player with at least 21 points, 13 assists and 7 rebounds within his first seven career games since
Jay Williams
for the
Chicago Bulls
in 2002.
Carter-Williams joined Hall of Famer Oscar Robertson as the only players in NBA history with at least 130 points and 50 assists in their first seven career games.
With college stars like Andrew Wiggins, Julius Randle and Jabari Parker potentially up for grabs in the 2014 NBA draft, teams like the Celtics and Sixers were expected to be in position to acquire as many pingpong ball combinations as possible. But seven games into the season, the Sixers sit in first place in the Atlantic Division with the Celtics just one game back.
April, 4, 2013
4/04/13
2:20
PM ET
By
Ryan Feldman, ESPN Stats & Information
| ESPN.com
It's rare that we get to see an elite point guard matchup in the Final Four like we'll see when
Michigan
's
Trey Burke
and
Syracuse
's
Michael Carter-Williams
meet on Saturday.
This will be just the second time since assists became an official stat in 1983-84 that two players who averaged at least 12 points and six assists per game for the season will meet in the Final Four.
The other meeting was
North Carolina
's
Raymond Felton
against
Illinois
'
Deron Williams
in the 2005 National Championship.
Offense
Carter-Williams ranks third in the country in assists per game this season, while Burke is 12th. Both account for about 40 percent of their teammates' field goals while they're on the court.
Although Carter-Williams averages more assists, Burke has the edge in most other offensive categories. Burke averages more points per game, shoots a higher field-goal and 3-point percentage and turns the ball over less often.
Burke also has the higher offensive rating (an estimate of points produced per 100 possessions) this season. Burke produces about 124 points per 100 possessions, while Carter-Williams produces 106.
Pick-and-Roll
Burke excels in the pick-and-roll. He averages more than one point per play on pick-and-roll plays including passes. More than a third (237 of 696) of his points are from pick-and-roll plays and he's shooting 44 percent on those plays.
Plus, Burke has created 251 points for teammates on pick-and-roll plays. Fifty-five percent of his pick-and-roll passes go to spot-up shooters (his teammates shoot 43 percent on those attempts), 35 percent go to players rolling to the basket, and 10 percent go to cutters.
What's more, Burke's teammates are shooting 49 percent and averaging 1.1 points per play when he passes them the ball on pick-and-roll plays.
Contrary to Burke, only 15 percent of Carter-Williams' points (70 of 472) come from pick-and-roll plays. Carter-Williams averages just 0.6 points per play when he creates plays for himself on pick-and-rolls, and he shoots 37 percent on those plays.
Defense
Carter-Williams has the edge defensively. He averages nearly three steals per game and has a better defensive rating. He also allows just 87 points per 100 possessions, the second-best defensive rating among Power 6 point guards (only
Oklahoma State
's
Marcus Smart
is better).
Burke and Carter-Williams are both solid on-ball defenders. Burke holds opponents to 36 percent shooting and 0.75 points per play in on the ball situations, while Carter-Williams holds opponents to 32 percent shooting and 0.79 points per play.
So who is the more valuable point guard overall? For that we turn to win shares and player efficiency rating. Win shares are an estimate of the number of wins contributed by a player due to his offense and defense. Player efficiency rating is the overall rating of a player's per-minute statistical production.
The answer is Burke. He has the edge in win shares and player efficiency rating this season.
December, 4, 2012
12/04/12
12:46
PM ET
By
Jeremy Lundblad, ESPN Stats & Information
| ESPN.com
Player of the Night – Adrien Coleman, Bethune-Cookman
Adrien Coleman
, a transfer from
Nebraska
, went off for 29 points and eight rebounds as the
Wildcats
beat
Stetson
86-63. But it was Coleman's efficient shooting that made this special, giving Bethune-Cookman its highest team field-goal percentage in 12 years. Coleman went 13-14 from the field, a 92.9 field-goal percentage. It's been four years since a Division I player attempted at least 14 shots and posted a higher field-goal percentage (
Stephen F. Austin
's Matt Kingsley).
Stat Sheet Stuffer - Jamaal Franklin, San Diego State
Jamaal Franklin
put up 18 points, 15 rebounds and four assists, as the
Aztecs
beat
Texas Southern
74-62. He joins
Mason Plumlee
as the only players averaging 19 and 10 this season. More specifically, Franklin is averaging 19.9 ppg, 10.7 rpg and 3.0 apg. The last two players to maintain a 19-10-3 average over the course of a season were David West (2002-03
Xavier
) and
Tim Duncan
(1996-97
Wake Forest
).
Distributor of the Night – Michael Carter-Williams, Syracuse
The nation's assists leader continues to hand them out at a furious pace.
Michael Carter-Williams
had 11 assists to go with his 11 points, as
Syracuse
made easy work of
Eastern Michigan
. Six games into the season, he's already exceeded his assists total from 2011-12. If Carter-Williams keeps this up, he could be the first Big East player to lead the nation in assists-per-game since Mark Jackson in 1986.
Long-Distance Shooter of the Night – Ray Gallegos, Nebraska
Coming off a redshirt year,
Ray Gallegos
has looked like a different player in 2012-13. On Monday, he scored 20 points for the second consecutive game to lead Nebraska over
USC
. That included a career-high six 3s. Gallegos already has more points this season (98) than he did in either of his first two seasons in Lincoln. Picked by many to finish at the bottom of the Big Ten, Nebraska stands at 6-1 with other wins over Wake Forest,
Valparaiso
and
Tulane
.
Freshman of the Night – Jordan Reed, Binghamton
Jordan Reed
scored 26 points and added 10 rebounds, but
Binghamton
came up short against
Monmouth
. Reed was one point shy of Ben Dickinson's school record for points by a freshman since joining Division I. At 18.7 ppg, Reed is third nationally among freshmen and tops among freshmen guards. He joins
Longwood
's
Michael Kessens
as the only freshmen averaging a double-double.