Stats & Info:

Michael Morse
July, 8, 2014
Jul 8
11:26
AM ET
By
ESPN Stats & Information
| ESPN.com
Mike Ehrmann/Getty ImagesYoenis Cespedes will attempt to defend his 2013 Home Run Derby title.
The Gillette Home Run Derby (Monday, 8 p.m. ET, ESPN/WatchESPN) captains
Troy Tulowitzki
and
Jose Bautista
will announce their teams this evening on the 6 p.m. ET edition of "SportsCenter." The ESPN Home Run Tracker team put together the lineups it would most like to see, using data from every home run hit this season.
American League
Yoenis Cespedes
Yoenis Cespedes
hit a total of 32 home runs in last year's Home Run Derby, eight more than any other contestant. Target Field has a shorter power alley in left-center field than Citi Field (377 feet vs. 385 feet), although it does have a slightly longer distance to the foul pole (339 feet vs. 335 feet).
Of Cespedes' 32 homers in last year's derby, 26 were hit to the left of center field.
Nelson Cruz
Nelson Cruz
leads the majors with 28 home runs. He also has 19 homers off fastballs this season, four more than any other player.
Cruz has hit 2.1 miles worth of home runs this year, which leads the majors. He's also shown some of the most raw power in baseball, being tied for fourth in the American League with five homers of at least 425 feet.
Jose Abreu
Jose Abreu
has 27 home runs, second-most in MLB behind Nelson Cruz. Abreu is one of three players to hit two or more miles worth of home runs this year.
David Ortiz
David Ortiz
is one of four players to hit a 475-foot home run this season. Ortiz's 482-foot homer on April 22 traveled 119.9 mph off the bat, the highest for a home run this year.
Ortiz has 16 homers of at least 400 feet this season, tied for fourth-most in the league. The only players with more than Ortiz are
Edwin Encarnacion
(injured),
Mike Trout
(has already declined derby consideration) and
Giancarlo Stanton
.
National League
Giancarlo Stanton
Stanton's average home run to this point in the season has traveled 423.8 feet, the longest of any player with at least 10 homers. Stanton's average is no sample-size fluke either: His 21 homers are the most of the 11 players averaging at least 410 feet per home run.
Stanton has nine homers this year that traveled at least 425 feet, most of any player in the league. Stanton has five 450-foot home runs; no one else in the league has more than two. Stanton has more 450-foot home runs than any other team in MLB.
Michael Morse
Michael Morse
has eight 425-foot home runs, two 450-foot home runs and an average distance of 420.5 feet. All of those are second in the league behind Giancarlo Stanton.
Morse ranks in the top 10 in the National League in average distance, speed off the bat and apex among players with at least 10 home runs.
Justin Upton
Justin Upton
has hit four 440-foot home runs, trailing only Stanton and Morse for the most in the majors. His 477-foot homer on April 10 is the fourth-longest in baseball this season and the longest at Turner Field since September 2010.
Ian Desmond
The shortest of the 15 home runs hit by
Ian Desmond
this year was calculated at 387 feet, making him the only player who has hit at least 15 homers that all traveled at least 375 feet. His average home run distance is 416.4 feet, the fifth-longest in the majors (mininum 10 HR).
Desmond's 462-foot shot on April 21 is the second-longest home run recorded at Nationals Park since ESPN began tracking home runs in 2006.
May, 4, 2014
May 4
10:33
PM ET
What's to like about the
San Francisco Giants
, who are now 20-11 this season after sweeping the
Atlanta Braves
over the weekend?
The Giants are winning on the strength of one thing that's to be expected of them-- pitching- and another that's a bit unexpected-- power. And it's happening even without contributions from some players you would expect to be major factors.
Pitching
When their game ended on Sunday, the Giants ranked second in the majors in ERA at 2.99, behind only the team they just swept (the Braves are at 2.72).
That the Giants have this record is impressive considering that
Madison Bumgarner
,
Tim Lincecum
,
Matt Cain
and
Ryan Vogelsong
are a combined 6-8, with the latter three all having ERAs above 4.00.
Bumgarner had been due for a good day and had one on Sunday, allowing one run in six innings, with a season high 19 swings-and-misses against a strikeout-prone Braves lineup.
Tim Hudson
has made up for the shortcomings of his teammates as a near-perfect fit, with a 2.17 ERA, 31 strikeouts and only two walks in 45 2/3 innings.
The Giants' bullpen, which gave them three scoreless innings on Sunday, a day in which they didn't use
Sergio Romo
, has been fantastic. Their 1.86 ERA ranks second-best in the majors and an 0.94 WHIP rates first.
Power
The Giants rank second in the majors with 41 home runs this season. They've now hit 28 in 16 games on the road after getting an unexpected two from shortstop
Brandon Crawford
in Sunday's win.
Brandon Belt
and
Michael Morse
have been the ones to spur this surge, combining for 16 home runs, 13 of which have come away from AT&T Park. Morse hit one in each of the first two games in this series before going 0 for 3 with three strikeouts in the series finale.
The Giants have needed those home runs to make up for a .227 road batting average, which ranks 23rd in the majors. They've also lacked in situational hitting. They're hitting .238 with runners in scoring position this season after going 0 for 13 against the Braves in the series.
They've done this without much power input from
Pablo Sandoval
, whose rough start this season has produced only two home runs and a .170 batting average.
Counting on this to continue may be a little dicey. The Giants have ranked 16th and 14th in the National League in home runs in each of the last two seasons.
One player who can help pick things up on the offensive front is catcher
Buster Posey
, whose bat is starting to come around after a slow start. Posey is 11 for 26 in his last seven games after hitting .224 through April 26.
Posey had struggled early covering the outer half of the plate. He has more hits against those pitches in his last seven games (eight) than he did in his first 22 games this season (seven).
Looking ahead
The Giants have seven more games left on this road trip, with the next three coming in Pittsburgh. They may have to look to a different means of getting things done on the offensive front.
PNC Park hasn't rated particularly homer-friendly this season. It ranks 25th in the majors by ESPN.com's Park Factor ranking.
May, 1, 2014
May 1
11:02
AM ET
By
ESPN Stats & Info
| ESPN.com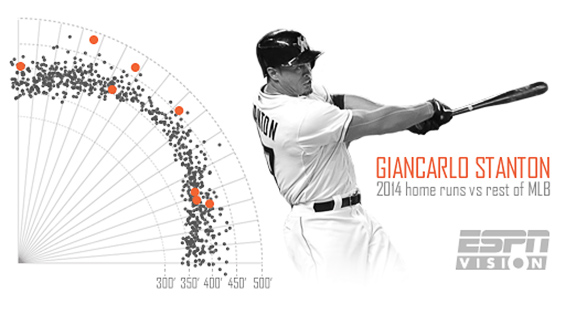 ESPN Stats & Info
Giancarlo Stanton crushed the ball in April, earning him our Home Run Hitter of the Month award.
ESPN Stats & Info's Home Run Tracker Team tracks every home run hit in the majors. Here are a few standout performances from the month of April.
Home Run Hitter of the Month: Giancarlo Stanton
Giancarlo Stanton dominated the home run headlines in April, hitting three of the nine longest homers of the month. On April 4, he launched an
Eric Stults
pitch 484 feet to left center field for the longest home run in the history of Marlins Park and the longest home run of the 2014 season.
Stanton wasn't done there, as he added a 469-footer on April 12 and a 457-footer on April 15. There have been 13 home runs hit of 450+ feet in all of MLB this season, and Stanton has hit three of those. In fact, since his rookie season in 2010 no hitter has hit more 450+ foot home runs.
Performance of the Month: Michael Morse
At Coors Field on April 23, Michael Morse hit a 458-foot homer off
Tyler Chatwood
in the second inning and a 450-foot homer off him in the third inning, the two longest home runs of the season at Coors Field. Morse became just the third player since ESPN began tracking home runs in 2006 to hit two 450+ foot home runs in the same game.
It was quite an April for Morse as he added 449 and 442 foot home runs as well and finished the month with a major league leading 440 foot average home run distance, 42.5 feet further than the MLB average (397.5).
Other notable performances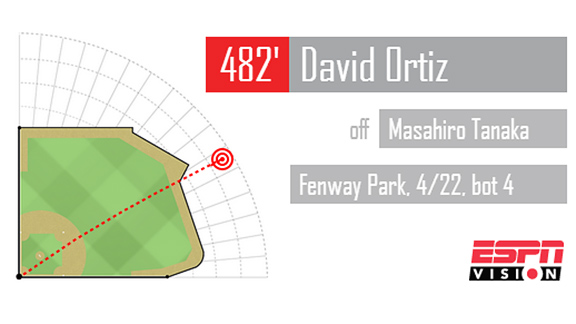 ESPN Stats & Info
Ortiz hit the longest home run by a Red Sox hitter since ESPN Stats & Info began tracking home runs.
• On April 22
David Ortiz
hit a ball 482 feet off
Masahiro Tanaka
at Fenway Park, the second longest homer of the season. Not only was it the longest homer for Ortiz since ESPN began tracking homers in 2006, but it was also the longest home run by any Red Sox hitter. It was the second longest home run hit by anyone at Fenway Park in that period, trailing only
Vladimir Guerrero's
484-foot shot against
Curt Schilling
on July 30, 2006.
The ball left Ortiz's bat at 119.9 mph, the fastest off-bat speed for any home run hit this season. It is the third fastest speed for any home run in the last four seasons.
• White Sox slugger
Jose Abreu
set an all-time rookie-record with ten home runs before May. Abreu is the only hitter in the American League to hit three home runs of at least 430 feet. On top of that, Abreu hit the two longest homers at Comerica Park this season despite only playing four games in Detroit.
• Earlier this month
Albert Pujols
became the 26th member of the 500 home run club with a 430-foot homer at Nationals Park. Since ESPN began tracking home runs, six players have reached the 500 homer mark and Pujols' traveled the furthest (430 feet).
January, 20, 2013
1/20/13
11:41
AM ET
By
ESPN Stats & Information
| ESPN.com
Brad Mills/USA TodayMike Morse's new home may not be the best fit for his swing.
Each week, Stats & Information takes a closer look at notable MLB moves. This week's take looks at the three-way deal that led to new homes for Mike Morse and John Jaso.
Michael Morse Traded to Seattle Mariners
Morse is going to a Seattle team that sorely lacked right-handed power, ranking second-to-last in the AL in slugging percentage by righties. How much will Morse, who saw his slugging percentage drop by 80 points from 2011 to 2012, be able to help the Mariners?
One concern going forward is the decline in his pull-side power. After hitting 15 homers to left field in 2011, Morse last year managed just three left-field home runs and his slugging to left field was cut in half.
This decline in pull power was not a product of bad luck. Last season more than 80 percent of the balls he hit to the left side of the park were grounders and he hit just seven flyballs to left field.
The silver lining in this lack of pull power was an increase in opposite field power. His isolated power rose more than 200 points when hitting to right field and he led all right-handers last year in opposite-field slugging percentage and homers.
This increase in opposite-field power was no fluke. He also led all righties in opposite-field flyball distance and the percentage of at-bats ending in a hard-hit ball to right field.
Last year at Safeco Field not a single home run was hit to right field by a right-handed batter. This offseason the Mariners moved the fences in at Safeco. However, the right-field dimensions changed just four feet, compared to 12 feet in left field.
If Morse can't regain his pull-side power stroke in 2013, his impact on the power-starved Mariners might be minimal.
-- Katie Sharp
Oakland Athletics acquire catcher John Jaso
Three things to know about what the Athletics are getting with the acquisition of catcher John Jaso in the three-way deal that netted the Mariners Morse.
1.
This is significant help in an area of need for the Athletics. Oakland catchers had a .204/.262/.325 slashline last season, ranking worst in the American League in all three stats.
Jaso will significantly boost that on-base percentage in particular. He had the eighth-best on-base percentage in the majors last season (.394) among those with at least 300 plate appearances.
2.
That said, Jaso's stats favor his usage against right-handed pitching only. His .164 career batting average against left-handers is the lowest of any active position player with at least as many plate appearances as Jaso has against lefties.
Jaso had a very good season against right-handed pitching last year, hitting .302 with 10 home runs.
That coincided with much improved performance against pitches in the lower-half of the strike zone or below, as the chart on the right shows.
Jaso's .419 on-base percentage against righties last season trailed only
Joey Votto
,
Prince Fielder
,
Joe Mauer
, and
Robinson Cano
.
3.
You may be giving up a little bit defensively. Jaso has -7 Defensive Runs Saved in his career, hurt by a 20 percent caught stealing rate that is well below the major league average of 27 percent.
But staff aces don't object to throwing to him.
In two seasons with the
Tampa Bay Rays
, Jaso had a 3.09 ERA in 189 1/3 innings handling
David Price
(who had a 3.14 ERA with other catchers). Then last season with the Mariners, he caught
Felix Hernandez
12 times. Hernandez posted a 2.50 ERA with Jaso (including a perfect game and a 1-0 shutout against the
New York Yankees
.) and a 3.42 ERA with others.
-- Mark Simon
November, 10, 2011
11/10/11
3:34
PM ET
By
Justin Havens
| ESPN.com
While this offseason's free agency class is headlined by the likes of
Albert Pujols
,
Prince Fielder
and
Jose Reyes
, there are a number of secondary options who stand to receive lucrative contracts in their own right. Two of them – third baseman
Aramis Ramirez
and reliever
Ryan Madson
– are likely to be a bit overvalued by suitors, but for entirely different reasons.
Aramis Ramirez

Ramirez
While Ramirez rebounded from a replacement level 2010 campaign to post a .306/.361/.510 line with 26 home runs and 93 RBI, there were indicators across-the-board that point towards a potentially quick decline for Ramirez, a concern relevant to any team interested in signing him.
Ramirez is becoming increasingly less patient as the years go by, both in the form of chasing pitches outside of the strike zone and in generating walks. In 2010 and 2011, Ramirez has posted walk rates of 6.7 and 6.9 percent, respectively, representing a clear decline from his 11.2 percent mark in 2008 and 8.2 in 2009. Perhaps more telling, the rate at which Ramirez is swinging at pitches outside of the strike zone is rapidly increasing since 2008.
In addition to the steady increase, Ramirez's 2011 mark was the 5th-worst in the NL in 2011, behind only
Alfonso Soriano
,
Alex Gonzalez
,
Yuniesky Betancourt
and
Michael Morse
. Coupled with the decline in his plate discipline is the idea that he is not long for third base defensively. After posting a +11 mark at the hot corner according to Defensive Runs Saved in 2008, Ramirez has been below-average in each season since – and there's a pattern; Ramirez graded out at -4 in 2009, -10 in 2010 and -12 in 2011. The 2011 mark ranked 2nd-to-last among NL third basemen.
Ryan Madson

Madson
This offseason, Madson is one of the most coveted free agent relievers in baseball. That was to be expected, fresh off his first full season as the
Philadelphia Phillies
closer, complete with 32 saves and a 2.37 ERA in 60 2/3 innings. Whether or not the reported lucrative deal with the Phillies materializes, someone will pay Madson. The reason he stands to make $40 million or more this offseason has little to do with a significant jump in his skills, however, and more to do with the fact he now has the official 'closer' label.
In 2010, Madson posted five saves. In 2011, he registered 32. That would seem to indicate a noticeable jump in value or performance from Madson. In reality, he was nearly identical, with some actual decline in key spots.
The difference was largely in an unsustainable home run rate – Madson allowed home runs on 0.9 percent of plate appearances, which was the 16th-best mark out of the 339 pitchers who registered at least 200 plate appearances this season. Had Madson entered the market after 2010 – when he demonstrated much the same skill set he did in 2011 – he would likely not have been offered anything approaching $40 million.
Whether or not offering a reliever that sort of money is a wise proposition is a different question entirely. In the history of the game, six relievers have received contracts of three or more years at an average annual value of at least $9 million –
B.J. Ryan
,
Billy Wagner
,
Francisco Cordero
,
Mariano Rivera
,
Francisco Rodriguez
and
Rafael Soriano
. It would be fair to say that only Rivera returned the sort of performance expected.
Rafael Soriano
: signed after 2010 season; posted highest ERA (min 30 IP) since 2002 and missed much of the season due to injury.
Francisco Rodriguez
: signed after 2008; 62 saves in final year with
Los Angeles Angels
, never saved more than 35 with
New York Mets
. Suspended in 2010, traded in 2011 to avoid vesting option.
Mariano Rivera
: signed after 2007; posted ERA below 2.00 in each season of contract.
Francisco Cordero
: signed after 2007; strikeout rate dropped from 10.0 to 7.8 to 7.3 to 5.4 over life of deal. Posted an Expected Fielding Independent Pitching (xFIP) below 4.00 once during contract (2008).
Billy Wagner
: signed after 2005; innings pitched and saves both declined each season he was with Mets.
B.J. Ryan
: signed after 2005; Just 155 1/3 innings pitched in 5 seasons; missed majority of three different seasons (2007, 2009, 2010).
Clearly, the Phillies, or any other team, may give pause to signing Madson, or any other reliever, to such a lucrative contract given the history of performance for those who have received such a contract in the past.
July, 1, 2011
7/01/11
8:00
AM ET
Curtis Granderson is well on his way to a career high in home runs this season. And, according to ESPN's Home Run Tracker, Granderson also hit the highest round-tripper in the month of June.

Moreland
No Doubter: Longest true distance (Mitch Moreland, Texas Rangers)
Moreland's June 20 blast off the Astros'
Mark Melancon
traveled 472 feet. That matched the distance of last month's winner,
Mark Trumbo
. Among players with at least 10 home runs hit this season, Moreland is second in average distance per HR (422.3 feet).
Wall-Scraper: Shortest true distance (Adam Lind, Toronto Blue Jays)
On June 16, Lind's HR off
Kevin Gregg
went 333 feet. Believe it or not, this is not even Lind's shortest home run of the season. On May 1, Lind hit one that went 330 feet off
Ivan Nova
.
Moonshot: Highest apex (Curtis Granderson, New York Yankees)
On June 9, Granderson took
Josh Beckett
deep at Yankee Stadium. The first-inning shot traveled just 364 feet, but was hit 147 feet in the air. It took 6.35 seconds to leave the yard, and rode an 8 mph gust of wind out of the park.
Line Drive: Lowest apex (Carlos Peguero, Seattle Mariners)
Like Yogi Berra once said, "this is like deja vu all over again." Peguero's June 25 line drive off
Chris Volstad
went 344 feet, 1 foot shorter than his award-winning shot in May off
Scott Baker
. June's award-winner registered an apex of 39 feet, and left the ballpark in 2.96 seconds.

Morse
Fast-Ball: HR with fastest speed off bat: (Michael Morse, Washington Nationals)
On June 5, Morse took
Joe Paterson
very deep at Chase Field -- a true distance of 454 feet that registered 117 mph off the bat. All of Morse's home runs this season have measured in the triple digits for speed off the bat, averaging 106.78 mph.
Mother Nature: HR impacted greatest by climate (Brent Lillibridge, Chicago White Sox)
His June 1 HR off
Tim Wakefield
was aided by a 22 mph wind gust, carrying the ball an extra 55 feet. Without that gust, Lillibridge's home run -- which registered a speed off the bat of just 91.7 MPH (which was the third slowest this season) -- would have been a lazy fly ball, traveling 315 feet.
Player Power Surge: Greatest Combined Distance (Carlos Pena)
Pena totaled 4,054 feet of home runs in June, besting
Prince Fielder
by 27 feet and
Paul Konerko
by 85 feet. All three players tallied 10 home runs, but Pena managed to hit 6 of his 10 over 409 feet.

Matusz
Server: Pitcher Who Allowed Most total HR distance (Brian Matusz)
Matusz had a rough June, allowing 3,589 feet of total home run distance. The main culprit for Matusz? Interleague play. Of the nine home runs he allowed last month, seven came against National League opponents.
Launching Pad: Stadium that totaled the greatest HR distance (Oriole Park at Camden Yards)
Someone ordered the fireworks early in Baltimore, as Oriole Park at Camden Yards allowed 47 home runs for a total distance of 18,826 feet. No other stadium in baseball came close to topping that total in June.