Stats & Info:

Michigan State
September, 14, 2012
9/14/12
6:08
PM ET
By
ESPN Stats & Information
| ESPN.com
Matt Cashore/US PresswireNotre Dame RB Cierre Wood returns from a two-game suspension Saturday against Michigan State. Wood rushed for 61 yards and two touchdowns last season against the Spartans.
In the only matchup between teams ranked in the AP Top-20 this weekend, No. 10
Michigan State
hosts No. 20
Notre Dame
at 8pm ET on ABC. The Spartans and Fighting Irish have split their last 10 meetings with the home team winning each of the last four contests.


The last time these two teams met in East Lansing, Michigan State defeated Notre Dame, 34-31, on a fake field goal in overtime two seasons ago. The 29-yard TD pass from Aaron Bates to Charlie Gantt gave the Spartans their first and only lead of the game.
Including that win, Michigan State is 9-1 in games decided by eight points or fewer since 2010. The win was also the second of what is now 15-straight wins at home for Michigan State, the fourth-longest active streak among FBS schools.
Notre Dame enters the game at 2-0 and hopes to win its first three games of the season for the first time since starting 8-0 in 2002. The Irish have entered their matchup with Michigan State at 2-0 twice since then (2005 & 2008) and lost each of those games on the road.
Should the Irish come away with the win, it would be their first win over a team ranked in the AP Top-10 since 2005 when they knocked off No. 3 Michigan. They have lost nine straight such games since then, the longest streak in Notre Dame history.
One player the Irish will need to slow down if they hope to come up with the road win is Michigan State RB
Le'Veon Bell
. Bell ranks sixth in the nation with 140.0 rush yards per game but has been limited when opponents have stacked the line of scrimmage.
Against defensive fronts with seven or more players in the box, Bell has averaged 3.5 yards per carry on 32 attempts with 37 yards after contact. Against fronts with six or fewer in the box, he has averaged 5.6 yards per carry on 30 attempts with 74 yards after contact.
You can expect Notre Dame to bring a safety or two up to help against the run because Spartans QB
Andrew Maxwell
has yet to stretch the field consistently. He's completed only 38.9 percent of his pass attempts 10 yards or more downfield this season.
Speaking of defense, it's tough to ignore the numbers that Michigan State has put up in two games this season.
The Spartans enter the weekend as one of three teams in the FBS yet to allow an offensive touchdown in 2012 and the other two (Florida State & TCU) have played only schools from the FCS. The 225.5 total yards they have allowed per game lead the Big Ten and rank eighth in the FBS.
Last weekend, Tommy Rees replaced Everett Golson at quarterback for Notre Dame's final offensive drive against Purdue, which led to a game-winning field goal. However, head coach Brian Kelly said Golson will be the starter on Saturday.
Elsewhere in the backfield, the Irish hope the return of RB
Cierre Wood
will provide a spark against Michigan State like he did last season in South Bend. Wood, suspended the first two games of 2012, rushed for 61 yards and a pair of touchdowns in Notre Dame's upset win over the No. 15 Spartans last season.
February, 12, 2012
2/12/12
5:47
AM ET
A scan of the college basketball box scores each night guarantees all kinds of statistical oddities and standout performances. Here are some we found from Saturday.
Indiana State 78, Southern Illinois 68
Indiana State made all 12 of its 3-point attempts Saturday, the most 3-pointers without a miss in a single game in NCAA history. The previous record for most threes without a miss was nine, done by Minnesota against Penn State on Jan. 11, 2009.
Lipscomb 99, Stetson 91 (OT)
Lipscomb scored 25 points in the extra session, one shy of the NCAA Division I record for points in an overtime period. The record of 26 was done by Vermont on Jan. 24, 1998, against Hartford.

Duke 73, Maryland 55
Duke's
Miles Plumlee
had 22 rebounds in 28 minutes off the bench, the most rebounds by a bench player since Sean May had 24 against Duke on March 6, 2005 (May did not start that game because it was North Carolina's Senior Day). Plumlee is the first player this season with at least 20 rebounds in fewer than 30 minutes of playing time.
Michigan State 58, Ohio State 48
Ohio State's
Jared Sullinger
had 17 points, 16 rebounds and 10 turnovers in the Buckeyes' loss Saturday. It's the first "triple-double" using points, rebounds and turnovers in Division I this season. Jerrell Williams of La Salle had the last one on Jan. 19, 2011, against Duquesne.
Kansas 81, Oklahoma State 66
The Jayhawks'
Jeff Withey
had 18 points, 20 rebounds and seven blocks in the win. He's the first player to reach all three of those levels in the same game since VCU's Larry Sanders put up the exact same line on March 9, 2009, in the CAA championship game against George Mason.

Texas 75, Kansas State 64
Texas attempted 48 free throws to Kansas State's 12. That free-throw differential of 36 is the largest in a game involving a Big 6 team this season and the third-largest overall. Texas' 48 free-throw attempts are the second most by a Big 6 team on the season (Washington attempted 59 on Jan. 10 against Seattle).
Texas Tech 65, Oklahoma 47
Oklahoma scored just six points in the paint, the fewest points in the paint in a game by a Big 6 team this season.
St. Bonaventure 69, Duquesne 48
Florida Atlantic 86, North Texas 81 (2OT)
St. Bonaventure's
Andrew Nicholson
scored 21 points and grabbed 23 rebounds in the Bonnies' win, and North Texas'
Tony Mitchell
scored 22 points and grabbed 20 rebounds in the Mean Green's double-overtime loss. They became just the sixth and seventh players this season to record a 20-20 game. Nicholson's 23 rebounds are the second most in a game this season, trailing only
Cameron Moore
of UAB who had 24 on Dec. 28.
Seattle 100, Longwood 99 (OT)
Seattle's
Chad Rasmussen
was 6-for-17 from the field in the Redhawks' win, with all of his attempts coming from 3-point range. That is the most 3-pointers attempted in a game without attempting a 2-point field goal.
Arkansas-Pine Bluff 64, Southern 58
Trillion of the Night:
Jamar Harris
of Arkansas-Pine Bluff played 12 minutes without accumulating a single stat in his team's 64-58 win over Southern.
November, 17, 2011
11/17/11
5:26
PM ET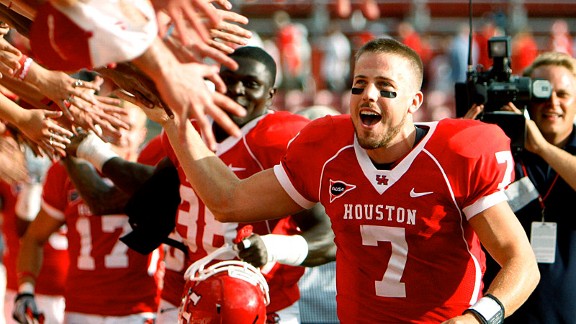 Thomas Campbell/US PresswireThe Houston Cougars are on the verge of celebrating something that hasn't been done in college football in more than 120 years
Nickel Package looks at the top five statistical storylines for the week ahead in college football.

1.
The
Houston Cougars
are off to their best start in school history thanks to a high-scoring attack that has produced at least 49 points in each of their last seven games. That is the longest such streak by any team since Harvard did so in eight straight games in 1887. Yes, that's 1887, not 1987.
This isn't the only streak to watch for Houston. The Cougars have scored at least 35 points in all 10 of their games this season. If they can keep that up throughout the entire season, they would join some elite company.
Among teams to play at least 10 games in a season, only Nebraska scored 35 points in all of its games, doing so in 1995. That Cornhuskers team won the national championship.

2.
Michigan State
is the highest ranked Big Ten team in the BCS Standings this week at 15th. That's the worst ranking for the highest Big Ten team in the standings since Dec. 3, 2000 when Michigan was 16th.
In fact, since then there have been 85 releases of the BCS Standings and the Big Ten has had a team in the top 10 in all but six of them.

3.
Oklahoma visits Baylor this week in search of remaining perfect all-time against the Bears. OU has won all 20 meetings between the schools, outscoring Baylor 749-271.
Of all the other BCS-AQ schools, there are only two other instances where a team has a perfect record against a current conference foe (minimum 10 games).
Penn State is 15-0 all-time against Indiana and Florida State is 15-0 against Duke. Both teams extended those streaks already this season.

4.
Iowa State
hosts second-ranked Oklahoma State on Friday on ESPN. ISU is 0-18 all-time against teams ranked in the top two of the AP Poll.
This is the first time the Cyclones will meet a top two team that isn't named Oklahoma or Nebraska. Of those 18 losses, 11 have come against Oklahoma and seven have been to Nebraska. The average margin of defeat in those games has been 35.7 PPG.

5.
Howard Schnellenberger's Florida Atlantic squad is the only winless team in FBS entering this week's matchup at Troy (0-9).
If the Owls can't get a win in any of their remaining three games, Schnellenberger will become the fourth head coach in the poll era (since 1936) to win a national championship and have a winless season.
The others?
Jim Tatum, Ara Parseghian and Lou Holtz .
Tatum won a championship with Maryland in 1953, but was winless with North Carolina in 1956.
Parseghian was winless with Northwestern in 1957, but later won titles with
Notre Dame
in 1966 and 1973.
Holtz won a title with Notre Dame in 1988, but was winless 11 years later with South Carolina.
November, 21, 2010
11/21/10
8:17
PM ET
This week used to mark a pivot point when it came to the BCS Standings, but that hasn't been the case the last two seasons.

This is the 13th season of the BCS. Teams ranked No. 1 at this point in the season have reached the BCS Championship Game in 10 of the previous 12 years. However, in the last two seasons, the No. 1 team at this point of the season did not play in the title game ('08 Alabama, '09 Florida). Oregon, ranked No. 1 for the fourth straight week, is hoping that the old version of that precedent holds up. Boise State and TCU are among those hoping it does not.

It wasn't a major week for the standings in terms of changes. In fact, this marks the first time in BCS history that the top seven remained unchanged for three straight weeks. The most notable thing to happen was that No. 4 Boise State cut the deficit it needs to overcome to pass TCU for the No. 3 position.

The gap still looms large, relatively speaking, for both those schools with regard to with No. 2 Auburn. Likewise, Stanford and Wisconsin were able to trim LSU's cushion in the No. 5 spot.

Also of note is that the Big Ten put three teams in the Top 10. Michigan State re-entered in the No. 10 slot after being out of the top 10 in the previous three weeks.
November, 20, 2010
11/20/10
3:51
PM ET
The Wisconsin running game was on the ball, or shall we say on the Ball, in Saturday's win over Michigan.

Though Michigan quarterback
Denard Robinson
danced and doged his way to the FBS record for most rushing yards in a season by a quarterback, that was overshadowed by the performance of Badgers running back
Montee Ball
.
Ball, who finished with 173 yards rushing, became the fifth player to rush for four touchdowns in a game against Michigan, an elite list that includes the likes of Vince Young and college football legend Red Grange. Wisconsin dominated on the ground throughout, rushing the ball on 33 of its 34 offensive plays in the second half. Ball's teammate,
James White
, added 181 yards rushing and two scores.
Ball's two touchdowns made it such that the Badgers now have three running backs who have each met the following statistical measures this season:
• rushed for 500 yards
• rushed for 10 touchdowns
• rushed for 100 yards in at least three games
It also was, according to the school, the second time in school history that two players have rushed for at least 150 yards in the same game. The only other time was against Wyoming on Oct. 6, 1973, when Billy Marek had 226 yards and Ken Starch had 184 yards.
Robinson did become the first player in NCAA history (not just FBS) with 1,500 passing yards and 1,500 rushing yards in a season. But that's a statistical footnote in defeat.
The other Big Ten team in the state of Michigan was more fortunate.
The Michigan State senior class set a school record for most wins by earning its 32nd against Purdue on Saturday, but this one may have been as tough as they come. It required a rally from 15 points down in the fourth quarter and kept alive hopes of a share of the first Big Ten title for the team since 1990.

Here's why that win for the No. 12 Spartans was huge.
If Ohio State, Wisconsin, and Michigan State all finish 7-1 in conference play, the BCS Standings will determine the Big Ten's automatic bid to the NCAA. Thus, no team has control of its fate. A Spartans loss would have changed matters significantly.
Michigan State's seniors broke the mark of the 1990 senior class, which finished with 31 wins. The Spartans reached 10 wins for the third time in school history and improved to 7-0 at home this season. The last time Michigan State finished unbeaten at home was when it went 6-0 in 1999.