Stats & Info:

Mickey Mantle
October, 11, 2012
10/11/12
9:04
PM ET
By
ESPN Stats & Information
| ESPN.com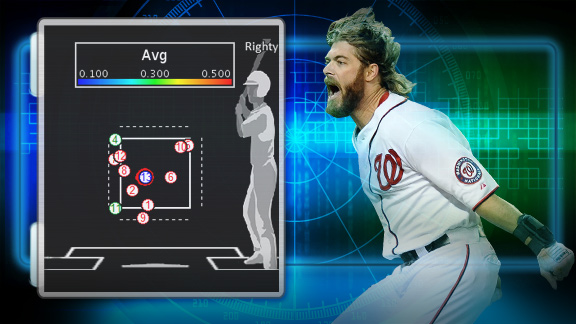 ESPN.com IllustrationJayson Werth's walk-off home run against Lance Lynn came on the 13th pitch of the at-bat.
Over the past five years, no one has seen more pitches per plate appearance than
Jayson Werth
.
That patience paid off on Thursday. Werth needed 13 pitches to etch his name in Nationals lore.
Werth's walk-off solo home run gave the
Washington Nationals
a 2-1 win, forcing a Game 5 against the
St. Louis Cardinals
.
It was the first postseason walk-off home run ever hit in Washington, DC.
He's just the third player to hit a postseason walk-off home run against the Cardinals, joining
Jeff Kent
(2004 NLCS) and Mickey Mantle (1964 World Series).
Werth is also just the fifth leadoff hitter with a postseason walk-off home run, and the first since Scott Podsednik in the 2005 World Series.
Facing the first batter of the inning,
Lance Lynn
got ahead to an 0-2 count. Werth hadn't hit a home run after falling behind 0-2 this season.
But 11 pitches later, Lynn threw a 96 mile-per-hour fastball right down the middle.
In his career, Lynn had thrown 371 pitches of at least 95 mph. This was the first that wound up in a home run.
The 13 pitches matched the longest plate appearance of Werth's career, and he once hit a home run on the 12th pitch against
Oliver Perez
. The last known walk-off homer on the 13th pitch or later was by
Garret Anderson
on September 15, 1997.
Werth now has 14 career postseason home runs, one shy of tying Babe Ruth for eighth all-time. Only Albert Pujols (18) has more postseason home runs in the National League.
It is the 12th walk-off home run hit with a team facing postseason elimination. Of the previous 11, all but Carlton Fisk's 1975 Red Sox went on to win the series.
April, 17, 2011
4/17/11
10:11
AM ET
By
Jeremy Lundblad & Mark Simon
| ESPN.com
Sunday marks the 58th anniversary of one of the most famous home runs in
New York Yankees
history, Mickey Mantle's 565-foot blast off Washington Senators pitcher Chuck Stobbs at Griffith Stadium, a home run so long it landed in the backyard of a house located beyond the ballpark.
It's also a day for long baseball games. On this date in 2008, the
Colorado Rockies
and
San Diego Padres
clashed for 22 innings, with the Rockies winning, 2-1. On this date in 2010, the
New York Mets
and
St. Louis Cardinals
dueled for 20 innings before the Mets finally prevailed, also 2-1.
Will the Sunday Night Baseball matchup between the Yankees and
Texas Rangers
(ESPN, 8pm ET) feature any tape-measure home runs? Or will this be another game of tape-measure length? Let's size up the pitching matchup for these two teams as we look at some of our best notes to know for this contest.
According to the Elias Sports Bureau, since earned runs became official in both leagues in 1913, tonight's Rangers starter,
Alexi Ogando
, is the only pitcher to go at least six innings, allowing no earned runs and two or fewer hits in each of his first two career starts.

Ogando
How is Ogando doing it?
• The high fastball has been very effective. Review of Pitch F/X data shows that hitters have swung at 24 of his fastballs in the upper third of the strike zone and above. They've missed 11 of them, which gives him a miss rate among the highest of anyone in baseball (45.8 percent) with that pitch.
• He's thrown his slider for strikes 72 percent of the time (the major-league average is about 63 percent). He's also increased the frequency of his slider to left-handed hitters from last season, now throwing it nearly one of every three pitches.
• He's allowed the leadoff man in an inning to reach base twice in 13 plate appearances this season, continuing a trend from last year, in which the leadoff man reached only 17 percent of the time against him.
Ogando's mound opponent,
CC Sabathia
, is 8-3 career against the Rangers in the regular season, but that doesn't tell the full story. Sabathia went 5-0 with a 2.48 ERA against the Rangers from 2001 to 2003, but is 3-3 with a 5.40 ERA in nine starts since then.
The matchups to watch for Sabathia are those against third baseman
Adrian Beltre
(3-for-22 against Sabathia, but has two hits in his last three turns) and utility man
Michael Young
, who figures to start based on his history versus the Yankees lefty. Young went 0-for-his-first-11 against Sabathia, but is 12-for-27 in the regular season since, as well as 3-for-6 in the postseason.
Sabathia is winless in his first three starts of 2011. He's had only two other seasons in which he went that deep into a season without getting a win: 2003 (winless in first six) and 2008 (winless in his first four).
The Yankees starter may be looking for an offensive boost in this game. In the last two games, that has been provided by the Yankees outfield.
Entering Friday, the Yankees outfielders were hitting a combined .195 and slugging .339. But the combination of
Nick Swisher
,
Curtis Granderson
and
Andruw Jones
has boosted that with a 9-for-20 effort this weekend. Granderson hit a home run against Ogando in the 2010 ALCS. He might be the best pick for a tape-measure shot tonight. Last season, Granderson had the Yankees' longest home run of the year, one on Opening Day that went an estimated 455 feet, according to
Hittrackeronline.com.
For another take on This Date in Baseball History, this one involving the Rangers and Sunday Night Baseball analyst Bobby Valentine, check out the SweetSpot Blog from earlier this week.
February, 9, 2011
2/09/11
2:27
PM ET
Less than three years after replacing future Hall-of-Famer
Brett Favre
in Green Bay,
Aaron Rodgers
led the Packers to a fourth Super Bowl title. His performance earned him the No. 1 spot in this week's
Cross-Sport Power Rankings
.

Rodgers
Since taking over in 2008, Rodgers ranks among the league leaders in passing yards (fourth), touchdown passes (fourth) and passer rating (third). More importantly, he's matched Favre in the most crucial stat of all: championships.
Is Rodgers on his way to having the best career by a player or coach who faced the tough task of replacing a legend? The Stats & Information Group has compiled a list of 10 worthy contenders for that title. Do you disagree with anyone on our list? Feel free to comment below.
10. Kevin Harvick
He replaced Dale Earnhardt for Richard Childress Racing following Earnhardt's death in the 2001 Daytona 500. Just weeks after the tragedy, Harvick won at Atlanta in only his third career Sprint Cup start. Harvick has won 13 other NSCS races in a career that's spanned 10 seasons. In 2010, Harvick's third-place finish in the points race was the best of his career.
9. Leroy Kelly
After Jim Brown completed arguably the greatest career by a running back in NFL history in 1965, Kelly faced the nearly impossible task of replacing the Browns legend. Kelly, who had just 43 rushes in the two seasons he played alongside Brown, rushed for more than 1,100 yards in 1966, leading the league with 5.5 yards per rush. He was inducted into the Pro Football Hall of Fame in 1994.
8. George Seifert
Taking over for three-time Super Bowl champion Bill Walsh in 1989, Seifert and
Joe Montana
led the 49ers to a Super Bowl win over the
Denver Broncos
, joining Don McCafferty as the only head coaches to win the Super Bowl in their first season. (Seifert added a second ring five years later with a different starting quaterback,
Steve Young
.) During his eight seasons in San Francisco (1989-96), the 49ers won 98 games, 13 more than any other franchise.
7. Cristiano Ronaldo
Ronaldo
The 2008 FIFA World Player of the Year took over the storied No. 7 jersey for Manchester United in 2003, following in the footsteps of George Best, Eric Cantona and David Beckham. Ronaldo scored more than 80 goals in the Barclays Premier League and led the Red Devils to three straight league championships (2007-2009).
6. Jimmy Johnson
Dallas went 1-15 in 1989, Johnson's first season after taking over for Tom Landry, the head coach of the Cowboys for the team's first 29 seasons. Things improved quickly for Johnson after drafting
Emmitt Smith
in 1990. The team won back-to-back Super Bowls following the 1992-93 seasons.
5. Sidney Crosby
The 2007 Hart Trophy winner and Stanley Cup champion benefited from playing with the man he replaced as the face of the Penguins franchise when Mario Lemieux came out of retirement in 2005. Since his one season with Lemieux, Crosby has led the league in points (2006-07) and goals (2009-10 along with Steven Stamkos). He also took the Penguins to consecutive Stanley Cup Finals, beating the Red Wings in 2009.
4. Carl Yastrzemski
Yastrzemski had more to worry about than playing left field in the shadow of the Green Monster during his 1961 rookie season with the Boston Red Sox. He was replacing Ted Williams, arguably the greatest hitter in the history of baseball. Yaz hit .266 as a rookie, but finished his 23-year career with a .285 batting average, 452 HR and more than 1,800 RBI. The Hall of Famer was a near-unanimous choice for the 1967 AL MVP Award after winning the Triple Crown, a feat no other major leaguer has accomplished since.
3. Tim Duncan
Duncan was lucky to land on a Spurs team just one season removed from seven straight playoff appearances. The Spurs also featured an established post presence in 1994-95 NBA MVP David Robinson.

Duncan
They quickly formed one of the league's best defensive duos, leading the Spurs to NBA titles in 1999 and 2003. Duncan won consecutive NBA MVP awards playing alongside Robinson in 2001-02 and 2002-03, and continued to dominate following Robinson's retirement. To date, the four-time NBA champion is one of just 13 players in league history with 21,000 points and 11,000 rebounds.
2. Mickey Mantle
Mantle replaced Joe DiMaggio in centerfield for the Yankees in 1952, the second season for the 20-year-old. That summer, Mantle earned the first of 14 straight All-Star selections. Overall, the three-time American League MVP finished his career with 536 HR, third-most in MLB history at the time of his retirement in 1968.
1. Steve Young
He finally took over as the 49ers starting quarterback in 1991, after serving as an understudy to Hall-of-Famer Joe Montana from 1987-90. In 1992, he was named the league MVP and started a stretch of seven straight Pro Bowl selections. Young added another MVP Award in 1994, guiding the 49ers to their fifth Super Bowl title.
Young was inducted into the Pro Football Hall of Fame in 2005, and entered the 2010 season as the top-rated passer in league history among qualifiers. However, Young no longer holds that distinction, having been dislodged atop the career passer rating list by none other than Aaron Rodgers.
October, 7, 2010
10/07/10
3:12
AM ET
It wasn't pretty for
CC Sabathia
, but the
New York Yankees
are now 5-1 in Sabathia's six postseason starts. As for the
Minnesota Twins
, they have now lost 10 straight postseason games -- the fifth team in MLB history to lose at least 10 straight playoff games. Seven of those 10 losses have come against the Yankees.

•
Mark Teixeira
gave the Yankees the lead for good, when he hit a 3-2 pitch from
Jesse Crain
for a two-run home run in the seventh inning. During the regular season, Teixeira hit an HR off Crain ... in the 7th inning ... on a 3-2 count. (Although that HR was at Yankee Stadium.)
• Yankees scored four runs in the sixth inning. In the 2009 postseason, the Yankees had just one inning where they scored four runs or more: Game 5 of ALCS, New York scored six runs in the top of the 7th inning in a 7-6 loss to the
Los Angeles Angels
.
•
Joe Mauer
struck out in two of his three plate appearances against Sabathia. During the regular season, Mauer has struck out against Sabathia nine times, his most strikeouts against any pitcher.
• The Twins scored first, taking a 2-0 lead in the second inning. Minnesota has now scored first in each of the last eight postseason games against the Yankees, and are just 1-7.
•
Michael Cuddyer
was the only Twin who got to Sabathia (2-3, two-run HR). The rest of the Twins were a combined 3-19 against the Yankees starter, including 0-4 (with a bases-loaded walk) with runners in scoring position.

FROM ELIAS SPORTS BUREAU:
The team winning Game One has won each of the 12 Division Series played over the last three years. The last team to lose a Division Series after winning Game One was the 2006 Yankees, who beat Detroit in the opener but lost the next three.
Friday was quite a day in baseball. Let's get you caught up on some of the notable happenings in a busy night around the league...


• The
New York Yankees
hit six home runs against their rival, the
Boston Red Sox
-- and LOST! Since 1920 (the dawn of the Live Ball Era) this is the third time the Yankees have hit at least six home runs and lost, but it is the first time it has happened in a home game. It's the fourth time in the Live Ball Era that the Yankees have hit at least six home runs against the Red Sox. It's the first of the four games that the Yanks have lost.
•
Alex Rodriguez
cracked two of the Yankees' homers and now has 610 career HR. The pair of dingers moved him past
Sammy Sosa
(609 career HR) for sole possession of sixth-place on MLB's all-time HR list.
• Yankees' starter
Andy Pettitte
was shelled for seven runs and 10 hits in 3 1/3 IP.
CC Sabathia
also allowed seven runs and 10 hits in the Yankees' last game. This marks just the second time in the last 65 years that the Yankees had a starting pitcher allow seven or more runs and 10 or more hits on consecutive days.
•
Jed Lowrie
became the first Red Sox player in history to record four hits, three RBI and three runs scored in a road game against the Yankees.
Some quick hits on other action:
• The
San Francisco Giants
defeated the
Colorado Rockies
, 2-1, thanks to a two-run HR by
Pat Burrell
and eight innings of two-hit, one-run ball from
Tim Lincecum
. The Giants have now allowed 3 runs or fewer in 18 straight games, which is two games shy of matching the 1917 White Sox' Modern Era record (since 1900). Over this 18-game span, the Giants sport a 1.18 team ERA. However, they own a rather modest 12-6 record thanks to an anemic offense that has offered just 3.6 runs per game of support over this stretch (four of the six losses have come via shutout).
• The
Philadelphia Phillies
extended their win streak to 11 games with a 3-2 win over the
New York Mets
. The Phillies' win streak is the longest an MLB team has had in the month of September since the 2007 Rockies also won 11 straight. The win streak is the longest by the Phillies since they had a 13-game streak in 1991 (a Phillies team that won just 78 games). The win gives Philadelphia 93 wins this season, matching their total from last season. If the team wins out, it can match the franchise record for single-season wins (101) set in 1976 and 1977.
• The
Tampa Bay Rays
picked up their third straight win with a 5-3 victory over the
Seattle Mariners
.
Rafael Soriano
picked up his 44th save of the season, setting a franchise record.
Jason Vargas
took the loss for the Mariners and has now lost seven straight starts. That is one shy of tying the franchise record shared by
Randy Johnson
, Mike Parrott and Rick Honeycutt.
• And
Toronto Blue Jays
' slugger
Jose Bautista
just keeps on mashing. He hit two more HR to push his MLB-leading season total to 52. He has eight multi-HR games this season after having just two in his career entering the season. His 52 home runs this season are identical to his total in 1,471 minor league at-bats. His 52 HR are 15 more than the next highest total in the American League (37 by
Paul Konerko
). According to the Elias Sports Bureau, only three players in American League history have posted a larger advantage over the second-place HR hitter in that particular year: Babe Ruth (six times), Jimmie Foxx and Mickey Mantle.