Stats & Info:

Miguel Gonzalez
February, 27, 2013
2/27/13
9:47
AM ET
By
ESPN Stats & Information
| ESPN.com
Rick Osentoski/USA TODAY SportsMatt Wieters has made consecutive All-Star teams and won back-to-back Gold Gloves.
With Baseball Tonight visiting
Baltimore Orioles
spring training camp today, here's a look at notable "Stats to Know" about the team that was among baseball's biggest surprises last season.
No Star Power
The Orioles won last year without a superstar everyday player. Their Wins Above Replacement leader among position players was
Adam Jones
(3.4).
Three other teams had no position players record a 3.5 WAR or higher and they (
Colorado Rockies
,
Houston Astros
, and
Seattle Mariners
) combined for a .399 winning percentage.
The Orioles WAR leader among pitchers was
Jason Hammel
(2.9), making Baltimore one of 10 teams that had no pitchers with a WAR of 3.0 or better. Of those, only the Orioles and Brewers (83-79) had winning records.
Tough to replicate this
The Orioles will be challenged to replicate their success in close games last season.
They went 29-9 (.763) in one-run games, the best winning percentage in baseball history among teams to play at least 30 one-run games. They also went 16-2 in extra-inning games, had 24 last at-bat wins (most in the majors), only five last at-bat losses (fewest in the majors), and went 74-0 in games in which they led after seven innings.
What a relief!
The Orioles got the most out of their bullpen last season. Baltimore was the only team in baseball that ranked in the top five in both innings pitched and lowest ERA by relievers in 2012.
The Wieters effect
Matt Wieters
has been very valuable to the Orioles, not just for his offense, but for his work behind the plate.
Wieters has made consecutive All-Star teams and won back-to-back Gold Gloves. His 31 Defensive Runs Saved since 2009 are second-most in the majors among catchers behind
Yadier Molina
.
Over the last two seasons, Orioles pitchers have a 4.15 ERA with Wieters catching and a 5.33 ERA with others behind the plate.
Player to watch: Manny Machado
Expectations are high for third baseman
Manny Machado
, who was valued at 1.5 Wins Above Replacement for his 51-game stint late last season.
Perhaps most impressive was the power he displayed at age 19. Since 1920, only three third basemen had a higher slugging percentage than Machado (.445) during their age-20 season or younger and among them are Hall of Famers Jimmie Foxx and Eddie Mathews.
Pitcher to watch: Miguel Gonzalez
Miguel Gonzalez
, who didn't make his debut with the Orioles until late May, was one of the team's best starting pitchers down the stretch.
Gonzalez was 4-1 with a 2.35 ERA in his last seven starts of the season (including his playoff start against the Yankees).
Gonzalez significantly improved the areas in which he had the most control, as noted in the chart on the right.
October, 10, 2012
10/10/12
8:46
AM ET
By
Mark Simon & John Fisher, ESPN Stats & Information
| ESPN.com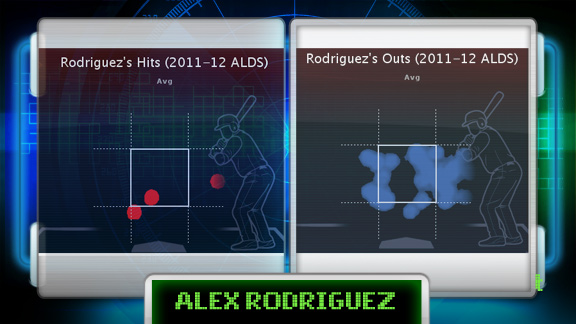 What's wrong with
Alex Rodriguez
?
The
New York Yankees
third baseman is 1-for-9 with five strikeouts in this series against the
Baltimore Orioles
. And is 3-for-27 with 11 strikeouts in the last two postseasons overall.
His postseason performance, other than 2009, has been a bit of an issue.
Consider some of these
career
numbers.
He's hitting .175 with 23 strikeouts in 57 postseason at-bats with runners in scoring position.
He's hitting .129 with 13 strikeouts in 31 at-bats with runners in scoring position and two outs.
His batting average/on-base percentage/slugging percentage slashline is .237/.343/.412 with runners on base.
Rodriguez has not homered in his last 70 postseason at-bats (the longest streak of his career). Since his last postseason homer (October 31, 2009), he is hitting an even .200 in postseason play.
What's his current issue
Rodriguez is having trouble catching up to fastballs.
He struck out against a 96 mile-per-hour sinker from Orioles closer
Jim Johnson
to end Game 2.
Rodriguez had 13 strikeouts on pitches at least 96-MPH or faster in the regular season, which tied for fifth-most in baseball, despite the fact he missed 40 games.
But speed hasn't necessarily mattered. Any fastball has been a struggle for him.
Since September 23, Rodriguez is 7-for-35 in at-bats ending with fastballs, sinkers, cutters or splitters. All seven hits are singles. Only three of the 26 balls he's put into play have been classified by our hit-tracking system as "hard-hit."
Rodriguez hasn't homered since September 14 when he hit one against
Tampa Bay Rays
starter
David Price
. He has 25 strikeouts and no home runs in 77 at-bats since his last home run. He has one extra-base hit on his last 35 fly balls/line drives.
Wednesday's Matchup: Gonzalez vs. A-Rod
Orioles Game 3 starter
Miguel Gonzalez
has never faced Rodriguez, so what can the Yankees slugger expect to see?
As we noted last night the Orioles have done a nice job working the edges of the plate against A-Rod. They've thrown 40 of their 47 pitches to Rodriguez in this series to the inner-third (or off the inside corner) or the outer-third (or off the outside corner) of home plate.
Gonzalez is more apt to work the outside part of the plate, as the numbers show that he's much more likely to work a right-handed hitter away than inside.
It makes sense for the Orioles to keep pitching Rodriguez away until he proves he can hit a pitch to that area with authority.
Since September 7 (including the first two games of this series), Rodriguez has seen 211 pitches on the outer-third of the plate, or off the outside corner.
Those 211 have resulted in 28 outs, six walks, and only two hits, both singles.
Narrow that even further to the 82 pitches that have been on the outside corner.
Those have resulted in 18 outs and just one hit.