Stats & Info:

Mike Conley
April, 18, 2014
Apr 18
6:53
PM ET
The top chart above shows each playoff team's leader in clutch-time usage percentage this season, along with his true shooting percentage (which weighs three-point field goals greater and accounts for free throw shooting). Clutch-time is defined as situations in which the game is within five points in the final five minutes of the fourth quarter and overtime.
The bottom chart shows each of those 16 players' overall Player Efficiency Rating along with his PER in clutch-time situations.
Kevin Durant less efficient
Durant
First, no playoff team leans more on a player in clutch time than the
Oklahoma City Thunder
do with
Kevin Durant
. He's the only one of the 16 who has a clutch-time usage percentage over 40 percent, and Durant's is nearing 46 percent. However, his efficiency numbers drop off in crunch-time, as his PER drops from nearly 30 in all situations to just over 25 in crunch-time. That's still above league average, but it's below average among these 16 "go-to" guys.
His main opponent for league MVP,
LeBron James
, increases his already-high efficiency numbers in crunch-time, despite the
Miami Heat
leaning on him heavily.
Harden: Mister Clutch?
Harden
Watch out for the
Houston Rockets
and
James Harden
. Harden has the highest clutch-time efficiency rating of the 16 players, with the second-highest usage rate.
Mike Conley
also ups his performance in crunch-time, which could put the Thunder on upset alert if the
Memphis Grizzlies
point guard gets hot late in their series.
Sticking with the Western Conference,
Stephen Curry
has hit all 31 of his crunch-time free throws this year, but has shot just 28 percent from 3-point range for the
Golden State Warriors
in those situations.
Who could struggle
Despite the
Brooklyn Nets
second-half surge, their clutch-time leader,
Joe Johnson
, is the worst of the 16 team leaders in terms of PER.
LaMarcus Aldridge
has also struggled in crunch-time for the
Portland Trail Blazers
, with an effective field goal percentage of 33 percent.
One of the main takeaways is that the crunch-time leader for the eighth-seeded
Dallas Mavericks
is not former NBA season and Finals MVP
Dirk Nowitzki
, but instead
Monta Ellis
, who has taken possessions at a slightly-higher rate than Nowitzki.
January, 29, 2014
Jan 29
2:04
PM ET
By
ESPN Stats & Information
| ESPN.com
Joe Murphy/NBAE via Getty ImagesMike Conley has made a case to be an All-Star by becoming more of a scorer.
The NBA will announce its full All-Star Game rosters on Thursday, and a number of players have made a case to make their first appearance in the game. ESPN Stats & Information is taking a five-part look at these players.
1.
The Future, Part I (John Wall and Anthony Davis)
2.
The Future, Part II (DeMarcus Cousins, Lance Stephenson, Damian Lillard)
3.
Emerging Talent, Part I (DeMar DeRozan, Ty Lawson)
4.
Emerging Talent, Part II (Serge Ibaka, DeAndre Jordan)
5. The Veterans (Mike Conley, Arron Afflalo, Kyle Lowry)
Here is our look at some worthy veterans; we explore the cases for
Mike Conley
,
Arron Afflalo
and
Kyle Lowry
to be named to the All-Star Game.
Mike Conley
In the midst of his seventh season, Mike Conley is having one of his best campaigns. He is averaging career highs in a handful of categories, including scoring, field goal percentage and player efficiency rating (PER).
Earlier this season, Memphis Grizzlies' big man
Marc Gasol
was out of the lineup for nearly two months with an injured knee. In his absence, Conley became a more aggressive scorer.
Conley has a pair of 30-point games this season – he had only one such game in his first six seasons combined. He also has 14 20-point games this season, while registering 17 such games all of last season.
While Conley has been scoring, he has been efficient, too. He has a 20.8 player efficiency rating this season. Only
Chris Paul
and
Stephen Curry
have been more efficient in terms of PER among Western Conference point guards (minimum 30 starts).
Arron Afflalo
At 28 years of age, Arron Afflalo is having a career year, averaging highs in player efficiency rating, points, rebounds and assists. He is one of the top 20 scorers in the league and one of the top 15 3-point shooters in terms of percentage.
Afflalo and
Damian Lillard
are the only NBA players averaging at least 20 points per game while shooting over 40 percent from 3-point range. If that holds up all season, Afflalo would be the first player in
Orlando Magic
franchise history to average those numbers.
Afflalo is achieving these career-bests while being asked to do more. He is averaging a career-high 24.0 usage percentage, six percentage points higher than his career average entering this season.
Kyle Lowry
In his eighth NBA season, Kyle Lowry is averaging career highs in several categories, including points per game (16.4), assists per game (7.5) and effective field goal percentage (53.3).
Lowry has been the
Toronto Raptors
' best player this season, leading the team to a surprising 23-21 record, good enough for third in the Eastern Conference.
Lowry is averaging a career-high 36.3 minutes per game (13th in the NBA). He ranks seventh in the NBA in win shares (7.0), an estimate of the number of wins contributed by a player, putting him in an All-Star class.
December, 1, 2012
12/01/12
6:09
PM ET
By
Kenton Wong
| ESPN Stats & Information
Russ Isabella/US PresswireDamian Lillard is one of the early favorites for Rookie of the Year.
Damian Lillard
came out of a school not known for basketball greatness in Weber State. Prior to Lillard, no player out of Weber had ever averaged over 6.5 PPG or 1.7 APG in their NBA career. Lillard, through 16 games, is averaging 18.4 PPG and 5.9 APG for the
Portland Trail Blazers
.
Although Lillard will almost assuredly be the best player ever to come out of Weber State, he should be setting his career goals to the heights of other great point guards to come out of his hometown: Oakland, California.
Oakland's finest
Lillard starred at Oakland High School a couple of decades after two Bay Area legends patrolled high-school courts:
Jason Kidd
at Saint Joseph of Notre Dame HS in Alameda and
Gary Payton
at Skyline HS in Oakland. Lillard actually started high school at Kidd's alma mater before transferring.
So far in his career, Lillard has proven to be a better scorer than either Payton or Kidd were as rookies – averaging nearly 10 more points per game 16 games into his career.
Pure shooter
A big reason for Lillard's success has been his outside shot. He's shooting 51 percent from 15-24 feet and 37 percent from outside of 25 feet – both above the league average this season.
Last season for Weber State, Lillard did a lot of his damage on 3-pointers, making nearly three per game while shooting 41 percent from that range. The adjustment to the NBA 3-point line hasn't hurt his production from deep much. He's making two-and-a-half 3-pointers per game and connecting on 40 percent of them.
Good value
The Trail Blazers average 102 points per 100 possessions with Lillard on the court as opposed to 97 per 100 possessions without him.
Lillard has already established himself as one of the most valuable point guards in the league this season. In terms of the 'Value Added' metric, Lillard is one of the top 10 most valuable point guards in the league this season.
Value Added is the estimated number of points a player adds to a team's season total above what a 'replacement player' (for instance, the 12th man on the roster) would produce.
If Lillard continues this pace as an impressive scoring point guard, he'll quickly join the conversation as one of the top young floor generals in the league. Mike Conley is the only point guard averaging at least 15 points and five assists per game with a higher 3-point percentage this season than Lillard.
It's been a while since Portland has had a point guard like Lillard. The last time a Trail Blazer averaged 15 points and five assists while shooting 40 percent from 3-point land? Terry Porter in 1992-93.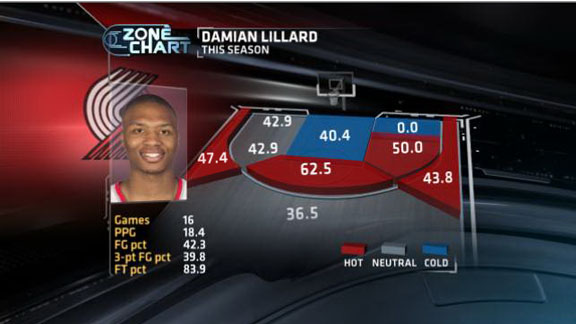 ESPN Stats & Information