Stats & Info:

Mike Gonzalez
October, 23, 2011
10/23/11
11:45
AM ET
By
Mark Simon & Katie Sharp
| ESPN.com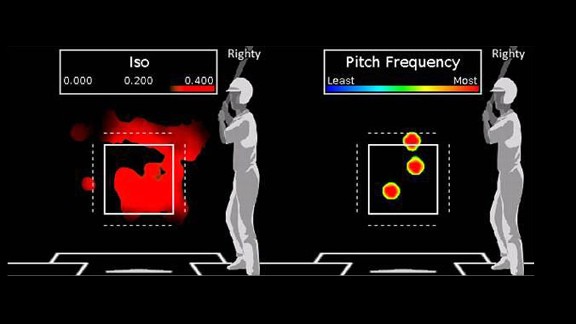 Left: Albert Pujols' power hot zones in 2011
Right: The 3 pitches Pujols hit for HR in Game 3 of the World Series (all were in his hot zones).
Click here to create your own Pujols heat maps and images.

The emphasis in the 2011 World Series shifted from pitching to hitting in Game 3 and the ramifications were such that both teams will have some fatigued relievers in Sunday night's Game 4.
In the fourth through sixth innings, the
St. Louis Cardinals
and
Texas Rangers
combined for 17 runs, more than twice as many as were scored in the first two games. They had just five fewer hits over those three frames than in the 18 innings of Games 1 and 2.
This could play a major role not just in this game, but for the rest of the series.
With that in mind, here are a few things to watch for in Game 4
Mound Matchup
The last time
Edwin Jackson
was on the mound, the Cardinals celebrated a trip to the World Series following their 12-6 win in Game 6 of the NLCS. Jackson, who got just six outs in the game, became a historical footnote as the second starter in major-league history to allow three homers in two innings or fewer in a postseason game.
Two of the three longballs he allowed in that game came on inside pitches to right-handed batters, a spot that has given Jackson trouble all season. Righties are slugging .642 in at-bats ending with a pitch on the inner third of the zone or closer this season, a rate that is nearly 200 points higher than the league average.
The tailing fastball of Rangers starter
Derek Holland
against right-handed hitters could be worth watching on Sunday night. That pitch was among Holland's most effective during the regular season. According to the data from Pitch F/X (the pitch-tracking system in major-league ballparks), his fastball averaged 11 inches of "tailing break," the most among starting pitchers in baseball.
The Tigers were ready for it in Game 4 of the ALCS. Their right-handed hitters got four hits against it, including home runs from
Miguel Cabrera
and
Jhonny Peralta
in the first two innings. That's as many hits as he allowed on fastballs away to right-handed hitters in his last seven regular-season appearances (spanning 119 pitches).
Pujols and Freese the perfect combo
Albert Pujols
and
David Freese
each have 16 RBI this postseason, marking only the second time in postseason history that two teammates have had at least 16 RBI in a postseason. Three members of the 2002
San Francisco Giants
did it-
Rich Aurilia
(17)
Barry Bonds
(16), and
Benito Santiago
(16).
Neither has faced Derek Holland in a major league game. But Pujols is 8-for-17 against left-handed pitching this postseason, including his home runs against
Mike Gonzalez
and
Darren Oliver
. Freese has been all-or-nothing against lefties. He's 6-for-15, but with seven strikeouts.
Cruz Control
Nelson Cruz
is 2-for-10 in the World Series with a home run, but the Cardinals have done their best to limit his damage. He's whiffed four times in the three games, twice on pitches at the very top of the strike zone, twice on pitches down around his toes.
The Cardinals approach has been virtually the opposite of how the Tigers pitched to Cruz in the ALCS. In that six-game series, Tigers right-handed pitchers threw Cruz 40 pitches (out of 90 total) on the inner-third of the plate, or that missed inside.
In the three World Series games, Cruz has seen 38 pitches from right-handers. Only four have been inner-third or missed inside.
April, 13, 2010
4/13/10
1:18
PM ET
By
Jeremy Lundblad, ESPN Stats & Info
| ESPN.com
Today's Trivia: April 13 is the anniversary of both Pete Rose's first hit (1963 off of Bob Friend) and his 4,000th hit (1984 off of Jerry Koosman). Which pitcher did Rose have his most hits against?

Quick Hits: More fun with tiny sample sizes. This time, with the help of Baseball Tonight researcher Mark Simon, let's take a look at some strangeness pertaining to closers.

* Jon Rauch has had an odd go of it, so far. He's started 13 of 19 hitters with an 0-1 count. Those hitters are batting .385 against him. The six hitters that he's started with a 1-0 count are hitless.

* For the first time in his career, Jonathan Papelbon has more walks (2) than strikeouts (1) in a season.

* Via Fangraphs, hitters have only swung at 11 percent of pitches that Mike Gonzalez has thrown out of the strike zone. Last year, they swung at nearly 31 percent.

* Also via Fangraphs: In three appearances, hitters have made contact on 94.7 percent of their swings against Rafael Soriano. Last year, they made contact on 71.3 percent (16th-best among the 341 pitchers to throw at least 50 innings)

* Jose Valverde, who has always been more of a flyball pitcher, has induced eight grounders compared to only one fly.

* Matt Capps has allowed two doubles and five walks in four appearances, yet has only been charged with one run. Opposing hitters are 0-for-8 with runners in scoring position.

Key Matchups: Brandon Inge is 0-for-14 in his career against Brian Bannister, which matches his history with Bruce Chen for Inge's most at-bats without a hit against a pitcher. It is also the most Bannister has faced anyone without allowing a hit. Gary Sheffield is 0-for-12 against him.

Jorge Cantu is 6-for-20 all-time against Bronson Arroyo, which normally would not be significant enough to be mentioned in this space. However, Cantu is swinging for history on Tuesday. He has at least one hit and one RBI in all seven games this season. According to the Elias Sports Bureau, he can tie the MLB record tonight for consecutive games to start a season with both a hit and an RBI. George Kelly did it in eight straight games for the 1921 Giants. The good news for Cantu? He has four hits in his last five at-bats against Arroyo, including a pair of home runs.

Today's Leaderboard: Two of the hitters struggling most so far this season are leading the majors in pitches per plate appearance. David Ortiz leads the way with 5.0, followed by Milton Bradley. Are they struggling with patience or because of it? According to baseball-reference.com, Ortiz has been caught looking at 37 percent of the strikes thrown his way, well above his career average of 25 percent. He has also only swung at eight percent of first pitches. His career average is 28 percent.

Trivia Answer: Rose had 64 hits off of Phil Niekro, four more than he had against Don Sutton. A big part of that were 266 plate appearances against the knuckler, 72 more than against Sutton. Fun fact: Rose did not strike out once in his final 101 plate appearances against Niekro.