Stats & Info:

Mike Krzyzewski
January, 31, 2015
Jan 31
10:18
PM ET
By
ESPN Stats & Information
| ESPN.com
Rich Barnes/Getty ImagesJustise Winslow and Jahlil Okafor led Duke to a win over undefeated Virginia.
For the second time in his career, Mike Krzyzewski has defeated a team with a 19-0 record or better. The last such team that Duke beat was 34-0 UNLV in the 1991 Final Four. Duke went on to beat Kansas for the title that year.
How did the Blue Devils hand the Cavaliers their first loss of the season? Let's take a closer look.
Dominate the paint
The Blue Devils scored 44 points in the paint, their most in ACC play this season. It was the most allowed by Virginia since March 16, 2012, when it allowed 44 in a loss to Florida.
Entering the game, Virginia had allowed 19.2 points per game in the paint, second best in the nation.
Justise Winslow
led all Blue Devils with 14 points in the paint.
Jahlil Okafor
made five of his six attempts in the paint for 10 points.
Found shooting touch in second half
Duke did not make a shot from outside the paint in the first half and went 0-for-6 on those attempts.
In the second half, the Blue Devils found their shooting touch, scoring 18 points on 3s.
After Duke missed its first nine 3-point attempts, it closed out the game going 6-for-8 from long distance, including hitting its final four 3-point attempts.
In the final 2:58 of the game, Duke outscored Virginia 11-0. Duke went 4-for-4 from the field in that time, with four different players making each shot.
Transition offense
Duke scored 15 points in transition, the most Virginia has allowed this season. Entering the game, the Cavaliers had allowed an average of 5.2 points in transition, the second-lowest in the nation.
February, 20, 2014
2/20/14
9:31
AM ET
By
Ryan Feldman
| ESPN.com
Streeter Lecka/Getty ImagesRoy Williams (left) and Mike Krzyzewski (right) have their teams playing well in recent weeks.
North Carolina and Duke come into Thursday's matchup as two of the hottest teams in college basketball. Since January 21 (the last 4 weeks), North Carolina and Duke are No. 1 (95.3) and No. 2 (94.8), respectively, in
BPI
.
HOW DUKE HAS IMPROVED
Offensive rebounding
Duke is grabbing 40.7 percent of its own misses over its last nine games, compared to an offensive rebound percentage of 29.7 in its first 17 games. The Blue Devils are averaging 15 offensive boards per game in their last nine games.
That improved offensive rebounding has led to four more points per game on offensive put-backs in the last nine games compared to the first 17.
Jabari Parker
In his last nine games, Jabari Parker is averaging 20 points and 11 rebounds per game on 47 percent shooting.
During that time, 72 percent of Parker's field-goal attempts have come in the paint. In his first four ACC games, only 37 percent of his field-goal attempts came in the paint.
Parker's pick-and-roll defense has also improved recently. Opponents shot 74 percent against him on pick-and-roll plays in his first 16 games, but that figure has fallen to 23 percent in his last 10 games.
Deeper rotation
Lately, Andre Dawkins, Rasheed Sulaimon, Amile Jefferson and Marshall Plumlee have received more playing time.
Dawkins, Sulaimon, Jefferson and Plumlee are combining to average about 20 more minutes in the last 10 games than they did over the team's first 16 games.
During this recent stretch, the foursome is contributing nine more points, two more offensive rebounds and three more assists per game.
Sulaimon has taken on more of a ball-handler role, averaging 3.8 assists per game in his last 10 games more than doubling his average (1.5) from his first 15 games.
HOW NORTH CAROLINA HAS IMPROVED
North Carolina has been terrific in its last seven games, averaging nearly 16 more points per game than in its first five conference games. The Tar Heels are shooting 35 percent from beyond the arc in their last seven games compared to 23 percent in their previous five games.
Much of the improvement has to do with the play of James Michael McAdoo and Marcus Paige.
James Michael McAdoo & Marcus Paige
James Michael McAdoo is averaging 16 points and eight rebounds per game in his last seven games and has been especially efficient on post-up plays, shooting 50 percent in his last seven games, up from 39 percent the rest of the season.
Marcus Paige, meanwhile, has been a more efficient half-court scorer in recent games and can thank his improved accuracy on jump shots -- making 48 percent of his shots over the last seven games.
His effective field-goal percentage on jump shots in those games is 67 percent, compared to 50 percent earlier in the season.
Paige has also been a more efficient distributor, averaging about two more assists per game with a 2.7 assist-to-turnover ratio over his last five games.
March, 17, 2012
3/17/12
6:38
PM ET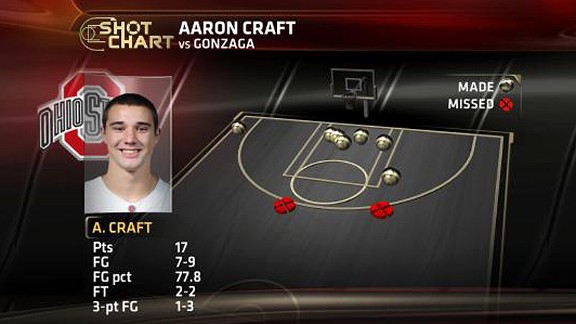 Aaron Craft was 7-for-9 from the field, 5-for-5 in the paint on Saturday.
Guard play was the story of the early-afternoon games in the Men's Basketball Championship on Saturday. Here's a closer look at the wins by the
Syracuse Orange
and
Ohio State Buckeyes
, each of whom advanced to the Round of 16.
(1) Syracuse 75, (8) Kansas State 59
Syracuse's win was the 47th in the Men's Basketball Championship for head coach Jim Boeheim. That's tied for the fifth-most all-time with John Wooden (who did all of his coaching before the tournament expanded to six rounds). Boeheim is two wins behind Jim Calhoun for fourth-most, 32 behind all-time leader Mike Krzyzewski.
The Syracuse bench dominated, going 10-for-15 from the field (including 3-for-4 on 3-pointers) and 10-for-11 from the free throw line. The Orange bench outscored
Kansas State's
reserves, 33-0.
In particular, Syracuse was at its best with
Dion Waiters
on the floor. The Orange outscored Kansas State 47-30 in the 24 minutes in which he played, and tallied all 12 of their transition points with him in the game.
Scoop Jardine
was also a catalyst. He scored 14 of his 16 points in the second half, and also had eight assists for the game, his most since February 8th.
During Jardine's career, Syracuse is 17-1 when he has at least eight assists.
Syracuse held Kansas State to just 18 percent shooting (6-of-33) outside the paint. That's the lowest percentage by a Syracuse opponent on those types of shots in the last three Men's Basketball Championships.
The Orange shot 67 percent in the second half, including 5-for-5 from 3-point range.
Kansas State was able to hang in with Syracuse for much of the game because of its offensive rebounding.
Jordan Henriquez
had 11 of the team's 25 offensive rebounds, one shy of the tournament record set by Bo Kimble in 1990.
Looking ahead, the Orange have lost their last three games in the Round of 16 since winning the national championship in 2003.
(2) Ohio State 73, (7) Gonzaga 66
The Buckeyes are headed to the Round of 16 for the third straight season, the longest such streak since the Sweet 16 began in 1975.
Ohio State's
Aaron Craft
finished with his first career double-double, recording 17 points and 10 assists. His seven baskets tied a career high. Craft was 5-for-5 in the paint and finished with a team-best 10 of the Buckeyes' 24 paint points.
In two seasons, Craft never had more than nine assists in a regular-season game, but he's now had at least 10 assists in the Round of 32 twice. Last year against George Mason in the Men's Basketball Championship Round of 32, Craft had 15 assists.
Ohio State made nine 3-pointers, with Craft assisting on seven of them.
The Buckeyes accounted for 27 of their 73 points (37 percent) on 3-pointers, their highest percentage of points from 3-pointers in a game this season. Entering Saturday, they ranked last in the Big Ten in percentage of points from 3-pointers (20 percent).
Rebounding was also a key. Gonzaga dominated the offensive glass in the first half, with nine offensive rebounds and 13 second-chance points. The Buckeyes clamped down in the second half, limiting the Bulldogs to four offensive rebounds and two second-chance points.
Ohio State entered Saturday allowing opponents to grab only 25 percent of their missed shots, the best percentage in the Big Ten.