Stats & Info:

Milwaukee Brewers
July, 24, 2012
7/24/12
11:43
PM ET
US PresswireCarlos Ruiz tags out Norichika Aoki to save a run in the Phillies 7-6 win over the Brewers.
The
Philadelphia Phillies
had little to celebrate at Citizens Bank Park this season, with a 19-29 home record that ranked last in the NL entering Tuesday. But they found some magic against the
Milwaukee Brewers
again tonight, scoring six runs in the eighth inning to rally from a season-high five-run deficit in the 7-6 win.
This was the second consecutive game that the Phillies won after trailing by three or more runs in the eighth inning or later. According to the Elias Sports Bureau, they had done that only once before in franchise history, with a pair of walk-off wins over the
Pittsburgh Pirates
at Baker Bowl in August 1899.

Carlos Ruiz
had a three-run, bases-clearing double to tie the score at 6-6. The last Phillies player with a bases-loaded, game-tying double in the eighth inning or later at home was
Ron Gant
in 1999 against the
Atlanta Braves
.
Hunter Pence
followed Ruiz with the game-winning single for his team-leading fifth go-ahead hit in the eighth inning or later this season. The rest of the Phillies have combined for only four such hits in 2012.
Zack Greinke
did his best to keep the Brewers in the game with both his arm and his bat. He tossed seven innings of one-run ball and allowed just three hits, bouncing back after starting the month with a 9.00 ERA in his first four July starts.
Greinke worked the bottom of the strike zone, throwing sixty percent of his pitches in the lower third of the zone or below. The Phillies were hitless in 13 at-bats ending in a pitch to that location, including all five of his strikeouts.
Good news for Brewers fans is that Greinke appears to have put his road woes in the past.
He is 3-1 with a 2.54 ERA in his last eight starts away from Miller Park, a far cry from the 7.03 ERA he posted in his first five road starts this season.
Greinke also chipped in at the plate with his third career home run. It was the first time
Cliff Lee
allowed a homer to an opposing pitcher in his career.
Speaking of Lee, he was lucky to not get a loss in this game. He allowed 12 hits and four homers, matching his career-highs in both stats. Three of the four longballs came on the first pitch, becoming the first pitcher this season to allow three first-pitch homers in the same game.

National Treasure
The
Washington Nationals
improved to 8-3 versus the
New York Mets
this season, as
Gio Gonzalez
(7 IP, 0 ER, 2 H) earned his 13th win. Gonzalez fell behind 14 hitters 1-0 but battled back to retire 11 of them, allowing only one hit.
The Mets' post-break slide continues as they have now dropped 11 of their last 12 games.
R.A. Dickey
(6 IP, 4 ER) lost for the first time in his last 17 starts, also snapping his 11-game win streak. He has a 6.49 ERA in July after posting a 2.15 ERA in the first three months of the season.
Jordany Valdespin
tried to rally the Mets with his MLB-leading fifth pinch-hit homer in the eighth inning. The five pinch-hit homers are a Mets single-season record and two shy of the major-league record shared by
Dave Hansen
(2000 Dodgers) and
Craig Wilson
(2001 Pirates).
June, 23, 2012
6/23/12
12:11
AM ET
By
ESPN Stats & Information
| ESPN.com
Baseball took center stage Friday night with a full slate of games and some terrific pitching performances across the country.
DUELING ACES ON SOUTH SIDE
The best pitchers' duel of the evening came in Chicago, where
Chris Sale
and
Zack Greinke
combined for 17 shutout innings as the
Milwaukee Brewers
beat the
Chicago White Sox
1-0 in 10 innings.
This was just the third extra-inning 1-0 win on the road in Brewers franchise history; the other two came against the Rangers in 1976 and the Angels in 2004.
Sale blanked the Brewers for eight innings with seven strikeouts and now has a ridiculous 0.56 ERA in his last four home starts.
He did a great job finishing off the Brewers, who were 1-for-14 in two-strike at-bats. He also challenged them inside, throwing 49 of his 109 pitches on the inner half of the plate or further in. The Brewers were hitless in 10 at-bats ending in a pitch to that location.

Greinke did Sale one better, allowing just three hits over nine scoreless innings in the win. Greinke kept the ball low, throwing 52 of his 100 pitches down in the zone or below, and White Sox hitters were 1-for-14 in at-bats ending with a pitch in that location.
All 11 of Greinke's sliders were down, as held the White Sox hitless with three strikeouts in four at-bats ending with the pitch. Opponents are 2-for-19 against his slider over his last four starts.
Rickie Weeks
was the hero for Milwaukee with the go-ahead hit in the top of the 10th inning. He has four multi-hit efforts over his last five games and is 10-for-16 (.385) during that stretch. Weeks was hitting .162 in his first 60 games of the season.
HOME SWEET HOME
Watch out Cincinnati, here come the
Pittsburgh Pirates
. The Pirates beat the
Detroit Tigers
4-1 for their fifth win in their last six games, and now are just a game behind the
Cincinnati Reds
in the NL Central.
A.J. Burnett
tossed six scoreless innings as he improved his home ERA to 1.11 this season, the second-best mark among NL pitchers.
Burnett has won his last seven starts overall, becoming the first Pirates pitcher to win at least seven consecutive starts since Dock Ellis won eight in a row in 1974.
Burnett relied on his fastball, throwing it a season-high 75 percent of the time (73 of 98 pitches). Tigers hitters were 1-for-16 with two strikeouts in at-bats ending in a heater, and missed on seven of their 31 swings.

HEATING UP IN TEXAS
The
Texas Rangers
are officially the majors' hottest team as they extended their win streak to seven games in a 4-1 win over the
Colorado Rockies
. The Rangers have also won 10 of their last 11 games and lead all of baseball with a 44-27 record.
Roy Oswalt
was better than good in his first start of the season, throwing 110 pitches and allowing just one run in 6T innings. Oswalt lowered his ERA to 1.89 in 13 career starts versus the Rockies, his best versus any National League team.
May, 20, 2012
5/20/12
6:30
PM ET
By
ESPN Stats & Information
| ESPN.com

Greinke
No team could use a stretch of favorable pitching matchups more than the
Minnesota Twins
, who entered Sunday with the worst record in the majors at 14-26. But, as teams far better than the Twins have learned the hard way, facing Zack Greinke at Miller Park is anything but favorable for opposing hitters.
Greinke won again at home Sunday, allowing just one run and striking out six as the
Milwaukee Brewers
smashed the Twins 16-4. It was Greinke's 18th straight win in a home decision, with the last 14 coming since he arrived in Milwaukee from Kansas City.
With the win, Greinke became the first pitcher to win 18 straight home decisions since
Kenny Rogers
won 19 consecutive decisions at home with four different teams from 1997 to 2000.
Greinke and Rogers are two of the six pitchers with a win streak of at least 18 in home decisions in the live-ball era (since 1920). They're joined by Roy Face, Frank Viola, Ray Kremer and Lefty Grove, who had two separate streaks of at least 18 wins in home decisions (18 from 1932-33, 20 from 1938-40).
Greinke hasn't lost a home start since July 26, 2010, when he allowed eight runs over four innings in a 19-1 loss to the Twins.
Greinke wasn't the only Brewer to make history Sunday.
Jonathan Lucroy
drove in seven runs, tying a franchise record. He joined
Carlos Ruiz
(May 2, 2012) as the only catchers to have at least seven RBI in a game in the last two seasons.
Elsewhere in the majors Sunday,
Max Scherzer
had a career-high 15 strikeouts, one shy of a
Detroit Tigers
franchise record, in a 4-3 win over the
Pittsburgh Pirates
.
Scherzer induced 26 swings-and-misses, the most by any pitcher this season and the most since
Brandon Morrow
had 26 on May 5, 2010 vs the
Cleveland Indians
.
Scherzer became the second AL pitcher to strike out at least 15 in seven or fewer innings in the last 90 years.
Baltimore Orioles
starter
Mike Mussina
struck out 15 in seven innings against the
Boston Red Sox
on September 24, 2000.
In other MLB action Sunday:
"
Stephen Strasburg
hit his first career home run and earned the win in the
Washington Nationals
9-3 win over the Baltimore Orioles. Strasburg is now hitting .375 this season and has an extra-base hit in four of his last five games.
"
Josh Beckett
allowed one run on seven hits as the Red Sox beat the
Philadelphia Phillies
5-1. Beckett has now won consecutive starts for the first time since August 2011 and has allowed one run in his last 14T innings.
" The Phillies fell to 1-5 in Cliff Lee's starts this season after he allowed five runs, his most since July 2011, to the Red Sox. The Phillies were 22-10 in Lee's 32 starts last season.
May, 1, 2012
5/01/12
5:38
AM ET
Stats & Info insights into this morning's top sports stories

Braun
1. GOING, GOING BRAUN:
Ryan Braun
was a one-man wrecking crew for the
Milwaukee Brewers
in San Diego. Braun hit three home runs in a game for the first time in his career and even added a RBI-triple in the ninth inning. Braun became the first player with a 3-HR game at Pecto Park, which opened in 2004. He also became the sixth player in the Live-Ball Era with three HR and a triple in a game, and the first since Fred Lynn in 1975. Braun's 15 total bases set a Brewers franchise record (previous record was 14 by
Richie Sexson
). He also tied a career high with six RBI.
2. KEMP TOUCH THIS:
Matt Kemp
hit his major-league leading 12th HR of the season in the
Los Angeles Dodgers
6-2 loss to the
Colorado Rockies
. Kemp's 12 HR by April 30 are the fifth-most in MLB history. Kemp finished April with a .417 BA, 12 HR and 25 RBI. He's just the third player since 1920 (when RBI became official) to hit .400 with 10+ HR and 25+ RBI in the month April (excludes any March games) joining
Larry Walker
in 1997 and Tony Perez in 1970.

3. KNICKS TIE RECORD:
The
New York Knicks
tied a NBA record by losing their 12th consecutive postseason game, falling to the
Miami Heat
in Game 2. New York's last win in the playoffs came more than 11 years ago on April 29, 2001.
4. MAVERICKS IN A HOLE:
The
Oklahoma City Thunder
took a 2-0 lead in their series against the defending NBA champs with a three-point win over the
Dallas Mavericks
. The Elias Sports Bureau tells us that it's the fourth time in NBA history that a defending champion has lost its first two playoff games and the previous three all went on to lose the series. Keep in mind that two NBA defending champions missed the postseason entirely the following season -- the 1970 Celtics and 1999 Bulls.
5. YU GOT IT:
The
Texas Rangers
improved to 5-0 this season with
Yu Darvish
on the mound with a 4-1 over the
Toronto Blue Jays
. Darvish gave up one earned run in seven innings and struck out nine batters to earn his fourth win. Darvish became the sixth rookie starting pitcher to go 4-0 or better in April since rules for rookie status were implemented in 1957.
November, 22, 2011
11/22/11
3:12
PM ET

Braun
After going from 1983 to 2007 without a single postseason appearance, the
Milwaukee Brewers
once again played into October in 2011 for the second time in four seasons. It was that team success that helped to propel
Ryan Braun
to his first National League MVP award.
Braun becomes just the third Brewers player to capture the MVP, joining Robin Yount in 1989 and 1982 and Rollie Fingers in 1981. It comes in a season where he became the first player in franchise history to post a .330 batting average along with 30 home runs and 100 RBI. Further adding to the accolades, he became the first Brewers player since Tommy Harper in 1970 to hit 30 home runs and steal 30 bases in a season.
While the final points total revealed just how close Braun and his primary competition for the award,
Matt Kemp
, were in 2011, Braun dominated the first-place votes, receiving 20 out of 32.
Kemp received 10, with Braun's teammate
Prince Fielder
and
Justin Upton
of the
Arizona Diamondbacks
each picking up a single first-place vote.
The tale of Braun's MVP cannot be fully told without discussing what ultimately cost Kemp the recognition -- team success. A look at both traditional and advanced statistics suggest that, in terms of performance, Kemp contributed the superior 2011 season.
For the traditionalists, Kemp exceeded Braun in on-base percentage, home runs, RBI and stolen bases. For those who prefer advanced metrics, Kemp led the National League in Wins Above Replacement (WAR) while Braun ranked third, and Kemp ranked third in Win Probability Added (WPA) with Braun fourth.
The difference, of course, was that the Brewers and Braun won the NL Central while Kemp and the Dodgers languished out of contention for much of the year before a late-season surge pushed them above .500.
Ultimately, a Kemp win would have been historically unprecedented, entirely because of the lack of success the
Los Angeles Dodgers
had this season. Much as
Jacoby Ellsbury
and
Jose Bautista
saw support erode when their teams missed the postseason, Kemp likely suffered from much the same fate.
Had the voters selected him, the Dodgers' win percentage this season would have been the worst of all-time for a team that had both the Cy Young and MVP in the same season.
Only one team in MLB history has had the MVP and Cy Young awards won by different players in the same season and not made the postseason -- the 1962 Dodgers with Maury Wills and Don Drysdale. Those are steep odds that Kemp was facing and, ultimately, that lack of team success cost him the 2011 MVP.
October, 10, 2011
10/10/11
9:21
AM ET
By
Doug Kern
and
Mark Simon
| ESPN.com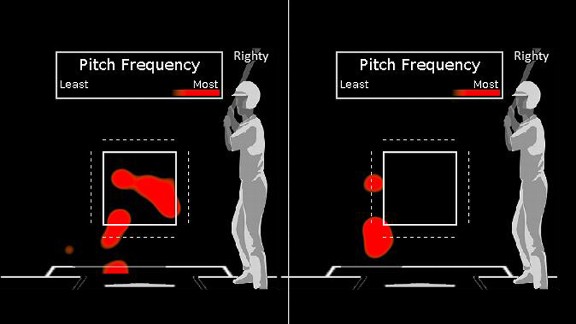 Left: Where Edwin Jackson threw his two-strike slider in July/August
Right: Where Jackson has most thrown his two-strike slider in September/October.
Edwin Jackson
's success will be largely predicated on his ability to maintain the success he's had using the slider as a putaway pitch over the last seven weeks.
In his last 11 appearances, including his NLDS start against the Phillies, Jackson has had great success finishing hitters off with his key pitch. He's used it to get 42 outs, while yielding only five hits. His ratio of getting better than eight outs for every hit he's allowed with that pitch is twice the rate that he was getting this season prior to that.
The difference over the last couple of months for Jackson is the location of the pitch. Earlier in the season, Jackson hung a few too many to right-handed hitters over the middle of the plate. But in the last month, the pitch has had a greater drop, hitting the edges of the plate, or tumbling out of the strike zone.
The heat maps above show the difference in Jackson's slider location in July and August versus what it was in September.
The
Brewers
have seen plenty of Jackson's slider over the last two seasons, and they're a bit overeager against it. Jackson has gotten strikes with his slider nearly 70 percent of the time against the Brewers since 2010. They've chased more than half of the ones he's thrown out of the strike zone. Comparitively, other teams chase that pitch from him about one-third of the time.
Over the last two seasons, Jackson has rung up 18 strikeouts of Brewers batters in four games. Twelve of those have been on the slider, 11 of them swinging-- and all 11 on sliders out of the zone.
Three games in action on the diamond Sunday, with plenty to digest. Here's the Stats & Info roundup on the Sunday that was:
Tigers 5, Yankees 3 (series tied 1-1)


Detroit starter
Max Scherzer
became the third pitcher to throw at least six scoreless innings, allowing 2 hits or fewer, in a postseason game against the Yankees in Yankee Stadium (other two are Warren Spahn and
Cliff Lee
).
Miguel Cabrera
became the first Tigers player with three hits and three RBI in a postseason game since Kirk Gibson in Game 5 of the 1984 World Series.
Cabrera is the fifth player in Tigers history with such a game, joining Hank Greenberg (twice), Al Kaline, Alan Trammell (twice) and Gibson.
Looking ahead:
The last eight times the Yankees have played in a division series, their Game 2 result matched the series result.
Brewers 9, Diamondbacks 4 (Brewers lead series 2-0)


Milwaukee won Game 2 of a postseason series for the first time in five tries. Their 9 runs tied the second-most they'd ever scored in a postseason game. It also tied the second-most runs allowed by the Diamondbacks in a postseason game.
Brewers pitchers struck out a team postseason-record 13, surpassing the mark of 11 set in Game 3 of the 1982 ALCS against the Angels.
The Brewers bullpen, which had a 1.14 ERA in September, pitched four scoreless innings of relief. They've thrown five scoreless innings this series.
Looking ahead:
While the Brewers are now 8-4 at home in postseason history, they're just 3-8 on the road.
Cardinals 5, Phillies 4 (series tied 1-1)


The Cardinals bullpen allowed no runs and one hit in six innings of relief. It's the second time in team history the Cardinals came back from four or more runs down to win a postseason game. The other such rally came in Game 3 of the 1987 NLCS against the Giants, according to the Elias Sports Bureau.
It's the second time in Phillies history they blew a lead of four or more runs in a postseason game, with the other coming in Game 4 of the 1993 World Series against the Blue Jays, also according to Elias.
Albert Pujols
hit the go-ahead RBI in the seventh inning, his third such RBI in the seventh inning or later of a postseason game. His three go-ahead hits in the seventh or later are the most by a Cardinals player in the postseason.
Cliff Lee lost his third straight postseason decision (started out 7-0), allowing five runs. His four earned runs allowed matched the number he'd allowed in 32 1/3 LDS innings prior to Sunday.
Lee is the first NL pitcher to allow at least five runs and 12 hits in a postseason game since Slim Sallee of the 1917 Giants.
Of note:
With this series being even, there are three League Division Series even for the first time since 2003.
October, 1, 2011
10/01/11
3:45
AM ET
The
Arizona Diamondbacks
and
Milwaukee Brewers
kick off the National League Divisional Series on Saturday at 2:07 ET. It's a matchup of two teams that played nearly even against each other during the regular season.
Inside the Series
Arizona won the regular-season series, 4-3, but the teams finished identical in nearly every offensive category.
In their head-to-head matchup, they scored exactly 28 runs apiece, hitting nearly the same amount of home runs with eerily similar batting profiles.
Miguel Montero
starred for Arizona, batting .421 (8-for-19) with two home runs against Milwaukee. For the Brewers,
Ryan Braun
batted .417 (5-for-12) with a pair of home runs in just three games against Arizona.
On the Mound
Yovani Gallardo
gets the Game 1 call for the Brewers. The five-year veteran enters the postseason coming off a stretch where he struck out at least 10 batters in each of his final three starts (36 total). He became the first Brewers pitcher with double-digit strikeouts in three straight starts.
Gallardo finished with more than 200 strikeouts for the third straight season, the only pitcher in Brewers history with three 200-strikeout seasons.

Kennedy
Opposite Gallardo will be NL Cy Young Award candidate
Ian Kennedy
. Kennedy won 21 games during the regular season, tied for fifth-most in Diamondbacks history.
Kennedy was particularly locked in after the All-Star Break, posting a 12-1 mark with a 2.11 ERA and strikeout rate of 8.8 per nine innings pitched. His ERA after the break was more than a run better than before it (3.44 ERA before the All-Star Break).
Good When It's Close
Arizona-Milwaukee pits two of the best teams in baseball in one-run games.
The Diamondbacks finished an MLB-best 28-16 in one-run games. Last year they were just 19-23 in one-run games, sixth-worst in MLB.
Much of the credit is owed to Arizona's improved bullpen. They posted a 3.71 ERA and converted 82 percent of their save opportunities, second-best in NL.
It's a major turnaround from their 5.74 bullpen ERA in 2010, the worst by an NL bullpen since the end of World War II.
The Brewers didn't finish too far behind, however, posting a 30-18 record in one-run games (second-best in MLB).

Axford
Brewers closer
John Axford
anchored the Milwaukee bullpen, finishing the season with a franchise-record and NL-best 46 saves.
After blowing two saves in the first seven games, he converted his final 43 save opportunities of the season.
Fighting History
The Diamondbacks are the fifth team in MLB history to make the playoffs after dropping at least 96 games the previous season.
But such rebounds have yet to yield a World Series champion. Two teams, the 1991
Atlanta Braves
and 2008
Tampa Bay Rays
fell short in the World Series. The other two, the 1999 Diamondbacks and 2007
Chicago Cubs
, were eliminated in the NLDS.
July, 6, 2011
7/06/11
12:50
AM ET
Tuesday saw several notable historic achievements around Major League Baseball. Below is a series of notes and tidbits from Tuesday's slate of action.
1. Throwback night for the New York Yankees

In the Yankees' 9-2 win over the
Cleveland Indians
, both
Curtis Granderson
and
CC Sabathia
joined the ranks of history. Granderson hit two home runs, giving him 25 on the season. Not only does that already exceed his total from all of 2010, but it gives both he and
Mark Teixeira
25 HR on the season.
The Elias Sports Bureau confirmed that the only other time in which the Yankees had two players with at least 25 HR before the All-Star break came in 1961. That season, Roger Maris and Mickey Mantle did so en route to Maris' then-record-setting 61 home run season.
On the pitching side of the ledger, Sabathia became the fifth pitcher in the last 20 seasons to win at least 12 games before the All-Star break in consecutive seasons. Sabathia also firmly established himself in Yankees history, as he and Ron Guidry in 1978 are now the only Yankees pitchers with 2 straight starts of 10 or more strikeouts and zero runs allowed. Some additional details on how Sabathia won on Tuesday:
• Once again, Sabathia had his slider working. He had nine strikeouts with the pitch, his most since July 13, 2008. The Indians swung at 16 Sabathia sliders, missing on 13, the most misses by a team against Sabathia's starter since that start in 2008. The Indians missed on 81.5 percent of their swings against Sabathia's slider, highest by a team against Sabathia since 2006 in a start in which he threw at least 12 sliders.
• Sabathia went to his slider with two strikes more than in any of his starts in the last three seasons. Sixteen of his 27 two-strike pitches were sliders (59.3 percent), his highest percentage of two-strike sliders in the last three seasons. Indians hitters were 0 for 12 in at-bats ending with a slider; all of those at-bats ended in two-strike counts. The 12 outs with his slider are the most in a start by Sabathia since July 13, 2008.
• He had even more success with his slider when he kept it down. Twenty of Sabathia's 28 sliders were down in the zone or below it, and Sabathia got eight of his nine slider strikeouts on those low pitches. Indians hitters missed on 11 of 12 swings against Sabathia's slider when it was low.
• Sabathia had more velocity on his fastball than in any start this season. His fastball Tuesday averaged 95.6 MPH, almost a full mile per hour more than in any previous start this season. Sabathia's fastball has averaged more than 94.1 MPH three times this season, all in the last three starts.
2. The Good and the Bad in Reds-Cardinals


With his 23rd home run of the season,
Lance Berkman
now has 350 career home runs. That ties him with Chili Davis for fourth all-time among switch hitters. On the flip side, the starter for the
Cincinnati Reds
--
Edinson Volquez
-- once again struggled in the first inning.
He entered Tuesday with a 12.00 first-inning ERA and six first-inning home runs allowed. On Tuesday, Volquez yielded two more first-inning home runs. His road ERA now stands at 6.35 for the season.
3. Pirates Up, Brewers Down in NL Central


The
Pittsburgh Pirates
won their 45th game this season and, consequently, moved four games above .500. Last season, Pittsburgh did not get win No. 45 until September 3. It's the first time since April 26, 2009 that the Pirates are four games above .500.
The
Milwaukee Brewers
' loss Tuesday was their second straight home loss. They hadn't lost two straight home games all season. They had been the only team this season not to lose consecutive home games.
4. Another night, more struggles for Adam Dunn
In a season that has seen his OPS drop 282 points from 2010, Adam Dunn once again struggled on Tuesday. Dunn went 0-5 with three strikeouts in the
Chicago White Sox
loss to the
Kansas City Royals
. That marks Dunn's 75th game over the last 10 seasons where he went hitless with three or more strikeouts. That is easily the most such games during that span, a full 25 games ahead of second-place
Jack Cust
. It was Dunn's 12th such game this season.
April, 27, 2011
4/27/11
12:09
AM ET

Ethier
With his RBI double in the first inning Tuesday,
Los Angeles Dodgers
outfielder
Andre Ethier
extended his hit streak to 23 straight games. According to the Elias Sports Bureau, it's the longest hit streak in April in MLB history.
Ethier broke the record of 22 games set by Joe Torre in 1972. It's the longest hit streak by a Dodger since Paul LoDuca's 25-game streak in 2003.
Ethier is now hitting .386 (34-for-88) this month, including a scorching .407 (11-for-27) the last week.
Elsewhere around the diamond:
•
Paul Konerko
hit a go-ahead two-run home run in the eighth inning as the White Sox won consecutive games for the first time since April 9-10. The home run was Konerko's 15th career go-ahead home run in the eighth inning or later, according to
Baseball-Reference.com
.
According to the Elias Sports Bureau, Konerko now has 10 home runs in the Bronx, all of which have come as a member of the White Sox. That's the third-most home runs for a White Sox player at the old-or-new Yankee Stadiums, behind Joe Kuhel (16) and
Harold Baines
(11).
• Rafael Soriano's struggles continued for the Yankees, allowing two runs in one inning of work Tuesday. He has now allowed 9 earned runs in 10⅓ innings this year (allowed 12 ER in 62⅓ IP last year). This is the third time this season that Soriano has allowed multiple runs in a game -- he only had two such outings in 2010.

Braun
• The
Milwaukee Brewers
defeated the
Cincinnati Reds
for the first time this season. The Brewers had lost 19 of their last 22 against the Reds.
Ryan Braun
has reached base in 23 straight games to start the season, tying Robin Yount's team record set in 1983. Additionally, Braun and teammate
Prince Fielder
homered in the same game for the 28th time since Braun broke into the majors in 2007 -- the most by teammates over that span, according to Elias.
• With a win against the
Kansas City Royals
,
Justin Masterson
(6 IP, 3 ER) became just the third
Cleveland Indians
pitcher to win each of his first five starts with an ERA under 2.20, joining
Cliff Lee
(2008) and Bob Lemon (1955), according to Elias. Masterson now is 5-0 against the Royals.
•
Zach Britton
(4-1) allowed one run in six innings in a win against the
Boston Red Sox
. He is the first Orioles rookie to win four games in April since
Willis Roberts
in 2001. According to Elias, he's also the first Orioles pitcher with at least four wins in his first five career starts since Wally Bunker in 1964.
• In his third win of the season,
Seattle Mariners
starter
Felix Hernandez
got at least six runs of support for the third time this season in six starts. Last season, the Mariners scored at least six runs in only three of Hernandez's 34 starts.
March, 31, 2011
3/31/11
8:43
PM ET
By
ESPN Stats & Info
| ESPN.com

Back-to-back home runs by
Rickie Weeks
and
Carlos Gomez
in the top of the first inning were only the start of the action at the Great American Ball Park on Opening Day. Even after Weeks and Gomez made the
Milwaukee Brewers
the first team to start a season with consecutive home runs since the 1969
Cincinnati Reds
, there was still plenty of history to be made Thursday.
Trailing 6-3 entering the bottom of the ninth, Ramon Hernandez's third career walk-off home run capped the Reds four-run rally and gave Cincinnati its third straight win over the Brewers. The Elias Sports Bureau says Hernandez is the first catcher with a walk-off homer in his team's first game of the season since Gary Carter's solo home run in the bottom of the 10th inning gave the
New York Mets
a 6-5 win over the
St. Louis Cardinals
on April 9, 1985.
Late rallies are nothing new to the Reds, who finished third in the majors with 45 come-from-behind wins in 2010. But even the biggest Reds fan couldn't have been confident entering the bottom of the ninth facing a three-run deficit. Historical data shows that teams trailing by three runs entering the bottom of the ninth inning win only 5.4% of the time. Don't tell that to the Reds, who are now 1-0 for the first time since 2007.
Elsewhere in the majors Thursday:
•
Albert Pujols
' 2011 season got off to the worst start possible as he went 0-5 and grounded into a career-high three double plays against the
San Diego Padres
. Pujols is the first player in MLB history to ground into three double plays on Opening Day, according to the Elias Sports Bureau. He's also the first player to go 0-5 with three or more GIDP in any game since
Miguel Tejada
on September 10, 2009.
• The
New York Yankees
won their 11th straight Opening Day game when playing at home, a streak that dates back to 1986. That ties an MLB record also held by the New York Mets, who won 11 straight Opening Day games at home from 1971-89.
•
Jason Heyward
became the second player ever to homer on Opening Day in each of his first two seasons as the
Atlanta Braves
blanked the
Washington Nationals
2-0. The Elias Sports Bureau tells us Heyward joined Kaz Matsui, who did it in 2004 and 2005.
March, 31, 2011
3/31/11
8:00
AM ET
By
ESPN Stats & Info
| ESPN.com
The first six of the 2,430 scheduled MLB games this season will be played on Thursday. Here's one thing you need to know about each:

Detroit Tigers at New York Yankees, 1 ET on ESPN
The Yankees have won the last 10 times they have played an Opening Day game at home. Their last loss was in 1982 vs the
Chicago White Sox
, when Ron LeFlore's single in the top of the 12th provided Chicago's margin of victory. The only team in MLB history to have a longer win streak in Opening Day games played at home is the
New York Mets
11-game streak from 1971-89.
Atlanta Braves at Washington Nationals, 1:05 ET
Hopefully the Nationals pitching staff has an easier time with the Braves lineup than the
Chicago Cubs
did on Opening Day last season. Atlanta blasted the Cubs 16-5 on Opening Day last year behind five RBI from
Yunel Escobar
and four from
Jason Heyward
. The Braves 16 runs tied the most scored by a team on Opening Day over the last 30 seasons.
Milwaukee Brewers at Cincinnati Reds, 2:10 ET
Which team will draw first blood in what could be the most competitive division in the majors in 2011? AccuScore ran 10,000 computer simulations of the 2011 season, with the Reds coming out on top of the NL Central 37.7% of the time. But Cincinnati just edged out the Cardinals (29.2%) and Brewers (26.1%) in the only division that had three different teams win the division in more than 25% of simulations.
Los Angeles Angels at Kansas City Royals, 4:10 ET
The Royals will look to get 2011 started on the right foot against the Angels, but history is not on Kansas City's side. Among current MLB franchises, the Royals have the worst winning percentage on Opening Day (35.7%) of any club. Kansas City is 15-27 all-time in its first game of the season.

Pujols
San Diego Padres at St. Louis Cardinals, 4 ET on ESPN
Will
Albert Pujols
again own Opening Day? Last year against the Reds, Pujols homered twice, recorded four hits and scored four runs in the Cardinals 11-6 win on Opening Day. He became the third player in MLB history with two HR, four hits and four runs in a team's opener, joining
Dmitri Young
(2005) and
Xavier Nady
(2008). Pujols is one of seven players in the live-ball era (since 1920) with two games with two home runs on Opening Day. The others are
Adam Dunn
,
Juan Gonzalez
, Eddie Mathews,
Raul Mondesi
, Xavier Nady and Joe Torre.
San Francisco Giants at Los Angeles Dodgers, 8 ET on ESPN
The Giants road to a repeat starts tonight in Los Angeles. The odds are against San Francisco. Only three NL teams have repeated as World Series champions, and just one in the last 85 years (1975-76 Reds). The Giants won the World Series in 7.6% of AccuScore's simulations of the 2011 season, trailing only the Phillies (15.7%), Red Sox (10.7%) and Rangers (8.0).