Stats & Info:

Milwaukee Bucks
June, 27, 2014
6/27/14
11:29
AM ET
By
ESPN Stats & Information
| ESPN.com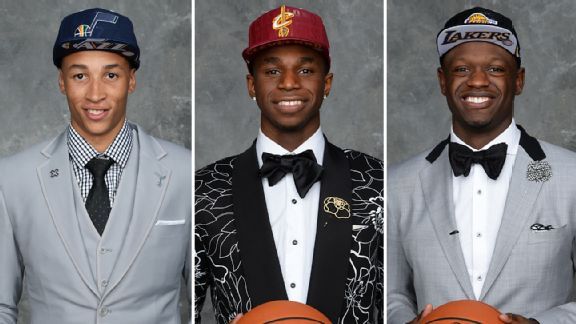 Getty ImagesAndrew Wiggins (center), Dante Exum (left) and Julius Randle all found NBA homes Thursday night.
After
Andrew Wiggins
joined
Anthony Bennett
in Cleveland (both the only Canadian-born players to be drafted first overall), the 2014 NBA Draft was only getting started.
Here's a look at some of the top stats and storylines from one of the most anticipated NBA Drafts in league history.
Parker, Embiid fill out Top 3
With Wiggins off the board, the
Milwaukee Bucks
selected Jabari Parker second overall. Parker was part of an elite group of freshmen to dominate both inside and out in college during the last 15 seasons.
The
Philadelphia 76ers
chose
Joel Embiid
with the third pick, giving Kansas as many top-three picks in this draft as it had in the rest of the common draft era combined (
Danny Manning
and
Raef LaFrentz
).
When healthy, Embiid, along with last year's lottery pick
Nerlens Noel
, should help a Sixers team that ranked 28th in the NBA in rebounding percentage last season. In his freshman season, Embiid led all Big-7 players with a 20.5 rebounding percentage.
Randle continues Kentucky tradition
From one storied program to another, former Kentucky standout Julius Randle was selected by the
Los Angeles Lakers
with the seventh pick in the first round.
After the Lakers finished last in the NBA in both offensive and defensive rebounding percentages, Randle will be expected to duplicate his double-double dominance from Day One.
Only Michael Beasley recorded more double-doubles in a freshman season than Julius Randle did last year.
Vonleh, McDermott stand out for Midwest
Noah Vonleh
went to the
Charlotte Hornets
with the ninth selection. Vonleh led the Big Ten in field goal percentage (50 percent) on catch-and-shoot plays, ahead of Michigan's
Nik Stauskas
(minimum 25 plays).
This was the first time Indiana had top-10 picks in consecutive drafts since 1976-77.
Doug McDermott
, who became the first Creighton player selected in the first round since
Benoit Benjamin
in 1985, continued the lottery legacy of Wooden Award winners.
Since 2005, every Wooden Award winner has been a lottery pick. The last winner to not go in the lottery was
Jameer Nelson
, who was drafted 20th overall in 2004.
UCLA trio pulls a first since 1979
The UCLA Bruins had three players selected in the first round of the NBA Draft for the first time since 1979.
Freshman point guard
Zach LaVine
was drafted by the
Minnesota Timberwolves
with the 13th pick. The
Memphis Grizzlies
turned some eyes by selecting Bruins shooting guard
Jordan Adams
with the 22nd selection. And sophomore point guard
Kyle Anderson
sealed the deal when he went to the
San Antonio Spurs
with the final pick of the first round.
Anderson is one of three players in the last 30 seasons to average at least 14 points, eight rebounds and six assists in a season , joining Memphis State's Anfernee Hardaway (1992-93) and Ohio State's
Evan Turner
(2009-10).
June, 23, 2014
6/23/14
1:01
PM ET
By
Jungkyu Lee
| ESPN.com
Cleveland Cavaliers – Post presence
According to Synergy Sports Technology, the Cavaliers averaged 6.0 post-up points per game last season, 26th in the league. On the defensive end, they ranked second-to-last in blocks per game.
Best fit – Jabari Parker
In his only season at Duke, Parker averaged 3.6 post-up points per game, shooting 55.4 percent on such shots.
Milwaukee Bucks – Inside presence
The Bucks grabbed just 71.4 percent of available defensive rebounds in the regular season, ranking 29th in the league. The team also allowed 108.9 points per 100 possessions, which trailed only the Jazz for the worst defensive efficiency.
Best fit – Joel Embiid
By himself, Embiid rebounded 27 percent of opponent's missed shots when on the court, the highest rebound percentage in the Big 12.
Philadelphia 76ers – Overall efficiency
Philadelphia was outscored by 10.7 points per 100 possessions last season, the worst rate by any team since the 2011-12 Charlotte Bobcats.
Best fit – Andrew Wiggins
The 76ers ran 151 more plays in transition than any other team last season, but scored only 49 percent of the time (worst in NBA). Wiggins could thrive in this run-and-gun system and would raise the team's efficiency, as he scored on 69 percent of his transition plays in his only season at Kansas, the best individual rate in the Big 12.
Orlando Magic – Playmaking in transition
The Magic struggled on both ends in transition, ranking 29th in transition offensive efficiency and 27th in transition defensive efficiency.
Best fit – Dante Exum
Although Exum has not played in the United States, he showed off amazing speed and quickness at the NBA draft combine in May. His 10.75 seconds in lane agility and 3.19 seconds in the three-quarter court sprint ranked second and eighth (tie), respectively. The combined rank of his times was the second-fastest, trailing just
Zach LaVine
among 51 players who participated in both events.
Utah Jazz – Defensive presence
The Jazz ranked last in defensive efficiency and struggled to pressure the ball, ranking second-to-last in opponent turnover percentage.
Best fit – Marcus Smart
Smart was one of the best defenders in the college ranks last season, ranking top-10 nationally in opponent points per game (5.3) and opponent field goal percentage (27.6 percent). Smart also ranked third in the nation with 2.9 steals per game and had a 5 percent steal rate, seventh in the nation.
Boston Celtics – Inside offensive presence
The Celtics struggled with offensive efficiency and were especially poor in the paint, ranking 27th in paint points per game last season.
Best fit – Aaron Gordon
Although Gordon was a poor jump shooter, he did a lot of damage inside the paint when it mattered the most: the NCAA tournament. Of his 57 points during Arizona's tournament run, he scored 42 points in the paint on 61.8 percent shooting.
Los Angeles Lakers – Rebounding
The Lakers were abysmal on the glass during the regular season, ranking last in offensive, defensive and total rebounding rate.
Best fit – Noah Vonleh
Vonleh led the Big Ten in rebounds per game last season and in defensive rebounding percentage, grabbing 27 percent of opponent's missed shots in his only season at Indiana.
Vonleh also has an added dimension as a smooth jump shooter. He shot 16-of-33 on 3-point attempts, which would have ranked eighth in the nation percentage-wise if he had qualified with enough attempts. He also led the Big Ten with a 50 percent catch-and-shoot field goal percentage (minimum 25 attempts), ahead of sharpshooters such as
Nik Stauskas
and
Gary Harris
.
February, 4, 2013
2/04/13
3:19
PM ET
By
Justin Havens, ESPN Stats & Information
| ESPN.com
Larry Sanders
,
LeBron James
and
Tyson Chandler
are making runs at under-the-radar milestones this NBA season. A glance at what each player can accomplish:
Larry Sanders
Sanders, of the
Milwaukee Bucks
, leads the NBA in blocks per game at 3.11. Why is that interesting? He's doing it while averaging 25.5 minutes per game.
Since the NBA started tracking blocks in 1973-74, there have been eight previous instances of a player recording three or more blocks per game while averaging fewer than 30 minutes (minimum 2,000 minutes).
But there have been only three instances in which a player averaged fewer than 30 minutes and led the league in blocks per game.
Sanders will clear the 2,000-minute mark if he stays healthy and plays at roughly his current pace for the remainder of the season.
At his current 25.5 minutes per game, he would set the mark for fewest minutes per game for a player who led the league in blocks per game, edging out Manute Bol and Mark Eaton.
LeBron James
There have been 16 previous seasons in NBA history in which a player posted a Player Efficiency Rating (PER) of 30.0 or better (minimum 45 games played). James' PER is a league-best 30.37. Assuming he can keep it up, James would become the second player in history with four or more seasons with that mark, joining Michael Jordan.
Tyson Chandler
For the third time in the past three seasons,
New York Knicks
center Chandler is making a run at the record books. Chandler's True Shooting Percentage -- which takes into consideration 2-point field goals, 3-point field goals and free throws -- is in rare territory once again, at 70.1 percent on the season. That is just fractionally behind his own record from last season (70.8).