Stats & Info:

Nate McLouth
September, 13, 2012
9/13/12
12:43
AM ET
By
ESPN Stats & Information
| ESPN.com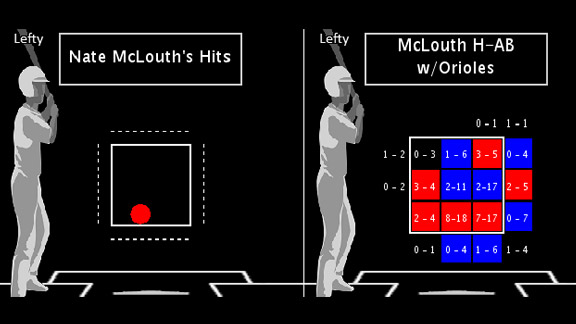 Nate McLouth got a pitch in a good spot for his walk-off winner.
This seems to be the week of "Who would have thought he'd be the star?" as baseball's pennant pushes move into the home stretch.
In each of the last three days, there have been some unlikely difference makers on contending teams. Pitchers like
Philadelphia Phillies
starter
Kyle Kendrick
and
Oakland Athletics
closer-for-a-day
Jerry Blevins
have made significant impacts.
On Wednesday, it was a day for a hitter.
Orioles outfielder
Nate McLouth
was the night's unlikely star. He continued a run of fine play since the Orioles picked him up not long ago. McLouth got the second walk-off hit of his career in the win over the Rays.
The game-ending hit came on a pitch right to the hottest of McLouth's hot zones-- knee-high over the middle of the plate. He's found his hitting stroke on pitches down in the strike zone.
Earlier this season, when McLouth was struggling, he was 3-for-15 against pitches in the lower-third of the strike zone, putting 45 percent of his swings against those lower-third strikes into play.
But with the Orioles, McLouth is has three hot spots (as noted in the heat map above) on those pitches—and instead of fouling them off, he's making good contact. Sixty percent of his swings have been put into play.
McLouth got the winning hit on a slider-- his third hit against a breaking pitch in his last two games. In his season-opening stint with the Pittsburgh Pirates, McLouth managed just one hit off a breaking ball among the 50 he saw.
Who would have thought it?
Other Players this week

Monday:
Phillies starter Kyle Kendrick beats the Marlins, with his pitch of choice being a changeup that netted seven strikeouts and 13 outs overall.
After going 4-9 with a 4.86 ERA in his first 27 outings of the season, Kendrick is 5-1 with a 1.49 ERA in his last six starts.

Blevins
Tuesday:
Athletics reliever Jerry Blevins came out of the bullpen to escape a first-and-third-no-out jam to protect a one-run ninth inning lead against the
Los Angeles Angels
of Anaheim.
Blevins got a strikeout and a ground-ball double play to end the game. It earned him his second save in 205 career major league appearances, his first since the 2010 season.

Wednesday:
In addition to McLouth, utility infielder
Marco Scutaro
had two RBI for the
San Francisco Giants
in a win over the Rockies, giving him 30 RBI in 179 at-bats with his new team. Scutaro had the same 30-RBI total with the Rockies earlier this season, but did so in 377 at-bats.
Who would have thought when Scutaro played his first game with the Giants on July 28 that his RBI total from then to Sept. 13 would match
Hunter Pence
and be one better than
Buster Posey
?
June, 1, 2010
6/01/10
9:00
AM ET
By
Ben Jedlovec, Baseball Info Solutions
| ESPN.com
Now that Memorial Day has passed, let's look back at May's top defensive plays, according to the Plus/Minus system. The top Plus/Minus plays aren't always the flashiest plays; sometimes, the fielder was positioned perfectly or got a tremendous read on the ball off the bat and was able to make the play with relative ease. We'll go position by position:
First Base --
Ryan Raburn
,
Detroit Tigers
, May 26, Bottom 7:
Michael Saunders
hit a hard ground ball that traveled over the base and into foul territory. Raburn (only 42 career innings at first base) dove, made the play and flipped to
Jeremy Bonderman
covering first. Not only does it go for a hit 97.5% of the time, but also that ball usually goes for a double.
Second Base --
Mike Aviles
,
Kansas City Royals
, May 25, Top 4:
Vladimir Guerrero
is enough of a pull hitter that the Rangers employed the rare right-handed shift on him a few times last season. Apparently, Mike Aviles has been doing his homework, since he was ready for him. On a ground ball to the shortstop side of second base, Aviles ranged way beyond what is normal range for a second baseman and threw out the red-hot Guerrero. Aviles received a +0.99 for that play.
Shortstop --
Stephen Drew
,
Arizona Diamondbacks
, May 15, Bottom 7:
Martin Prado
sent a rocket toward the 3B/SS hole that seemed destined for left field; in fact, hard ground balls at that angle go for hits 99.3% of the time. Drew laid out, came up with the ball and threw from his knees to nab Prado at first base. Drew also received +.99 plus/minus points for the play.
Third Base-
Jhonny Peralta
,
Cleveland Indians
, May 24, Top 8 and
Don Kelly
, Tigers, May 12, Top 6: Here's an example where the flashy play isn't necessarily the higher-rated play. Kelly's play definitely looked harder, but Peralta was positioned closer to the line and managed to range deeper into foul territory and stay on his feet. Kelly's play was made just 6% of the time over the past year, but Peralta's play was made only 1% of the time and saved a certain double.
Left Field-
Conor Jackson
, Arizona Diamondbacks, May 25, Bottom 5: At Coors Field, Conor Jackson tracked down a
Brad Hawpe
fly ball deep in the left-center field gap. Had his momentum not carried him so far away from the infield, Jackson also would have doubled
Todd Helton
off of first. It wasn't a flashy play, but Jackson had to cover a lot of group to save a sure RBI and extra-base hit. Similar balls fall for hits 88% of the time.
Center Field-
Nate McLouth
,
Atlanta Braves
, May 14, Top 2: After struggling with deep-hit balls near the wall earlier in his career (see the in-depth study in The Fielding Bible – Volume II), McLouth has played noticeably deeper, and it shows.
Chris Young
sent a deep fliner to left-center which McLouth caught at a dead sprint before crashing into the wall. Similarly-hit balls were caught only 11% of the time over the past year.
Right Field-
Shin-Soo Choo
, Cleveland Indians, May 1, Top 9: With no-pop
Drew Butera
up in the ninth, Choo cheated in a bit; he should have cheated more. Butera placed a soft fliner in shallow right, but Choo made a diving catch to save the hit, garnering a +.875 plus/minus score on the play.
April, 20, 2010
4/20/10
11:13
PM ET
By
ESPN Stats & Info
| ESPN.com
Darnell McDonald
was the hero for the
Boston Red Sox
Tuesday night, getting his first career walk-off hit. It helped overcome a franchise-record nine stolen bases by the
Texas Rangers
. The last time the Red Sox allowed nine stolen bases in a game was October 3, 1913 at Washington.
The game-winner came after he tied the game with a 2-run HR in the 8th inning. The last time a player hit his first career HR as a Red Sox player in the 8th inning or later to tie or put his team ahead was another Red Sox "immortal":
Jonathan Van Every
, April 29, 2009 vs Indians.
--------------------
Another player who came up big in a big spot has had significant more hype around him this season: Atlanta's
Jason Heyward
. He hit a game-tying HR with two outs in the 9th inning to help the Braves send their game vs the
Philadelphia Phillies
into extras. Atlanta would eventually win on a
Nate McLouth
walk-off HR.
Heyward now has 16 RBI in his first 13 games. The Elias Sports Bureau tells us that Heyward's RBI total is tied for the most by any player under the age of 21 in his first 13 career games since 1920.
Most RBI in First 13 Career Games
Under Age 21, Since 1920
2010 Jason Heyward, 16
1939 Ted Williams, 16
2003
Jose Reyes
, 12
1958 Orlando Cepeda, 11
--------------------
Maybe the most impressive starting pitcher in the early-evening slate of games on Tuesday was
John Danks
.
Danks made batters miss 55 percent of his pitches out of the strike zone were swung at by the
Tampa Bay Rays
. (The MLB average is 31 percent). Danks threw first-pitch strikes on 71 percent of his plate appearances (MLB average is 58 percent. He wasn't automatic, but he was close. 93 percent of his two-strike counts on Tuesday became outs (MLB average is 72 percent).
March, 28, 2010
3/28/10
8:17
AM ET
By
Mark Bowers, ESPN Stats & Info
| ESPN.com
Looking for an under-the-radar fantasy possibility at second base? Then why not take a nice long look at
Martin Prado
? With the
Kelly Johnson
era at an end in Atlanta, Prado is poised to have a breakout season. Not only did Prado have a pretty decent season last year, but he should be the Braves 2B starter from day one batting in the second spot behind
Nate McLouth
and in front of
Chipper Jones
. Take a look at how some of Prado's numbers compared with MLB and NL second basemen last year. Note the production that Prado had despite the low number of at bats. With Kelly Johnson gone and Prado cemented as the everyday second baseman fantasy owners should expect an uptick in production. In 2009 Prado was 20th among MLB second baseman with 503 Total Plate Appearances and 21st with 450 At Bats. For better or worse Bobby Cox has been known to stick with players once he's decided that's who he wants, so look for Prado to see a significant improvement in that category.
Reasons to be Skeptical
Unfortunately, there are some reasons to worry about Prado's overall run production. First off, Nate McClouth hasn't exactly been tearing the cover off the ball this spring so it appears that batting in the second hole for the Braves might often mean batting with the bases empty and one out.
Perhaps a larger worry, and the two are probably connected, should be Prado's inability to create runs last year. In fact, Prado (5.42) lagged far behind leaders
Ben Zobrist
(8.12) and
Chase Utley
(7.98) in terms of producing runs per 27 innings in 2009. Of course it should also be noted that Zobrist and Utley were both almost two full runs ahead of their closest rival (
Brian Roberts
). Still, McClouth's inconsistency coupled with Prado's seeming difficulty in producing runs is some cause for alarm.
Other Variables
With Chipper Jones coming off one of his worst seasons of his career there are two schools of thought: he's due to bounce back, or it's the end of a great career. Last year Jones posted a career low in RBI and had his lowest OPS since his rookie season. Still, the fact remains that if Jones gets 600 at-bats he drives in over 100 runs and if Prado is batting in front of him than fantasy owners are going to be the beneficiary of those RBI. Furthermore, there seems to be a growing feeling in Atlanta that given the closeness between Chipper and Bobby Cox that Jones would be willing to play through some injuries that in the past may have sidelined him.
Conclusion
Prado isn't a player that you should draft before some of the other stalwart second basemen out there like Utley, but he is a very solid option for those willing to wait a little bit longer on draft night. I look for him to continue the improvement that he had last season and for his numbers to increase in 2010.
March, 21, 2010
3/21/10
8:35
AM ET
By
Kenton Wong, ESPN Stats & Info
| ESPN.com
Rookies can be enigmatic. It's part of the process of assimilating into the big leagues.
Andrew McCutchen
was a great example of this in 2009. After the Pirates traded All-Star centerfielder
Nate McLouth
to the Braves in early June, McCutchen was called up to play centerfield and had an interesting debut season. The phenom finished the season with a .286 BA, 12 HR and a .365 OBP - very respectable numbers for a rookie and enough for him to finish 4th in the NL Rookie of the Year voting.
If 2009 was any indication, the opposition might want to pitch around McCutchen come August. On the 1st of the month, the Pirate hit 3 HR against the
Washington Nationals
becoming just the 5th different Pirate to accomplish the feat since 1970 (
Aramis Ramirez
, Darnell Coles, Bill Robinson and Willie Stargell are the others). McCutchen also drove in 6 runs in the game making him just the 4th player in MLB history to hit 3 HR and drive in 6 from the leadoff spot.
That was just the beginning to a very productive August for McCutchen. In a month with no federal holidays, McCutchen was all business. He hit twice as many homers in August as he did in the rest of the season combined.
Once August ended McCutchen went into a slump, batting just .154 and slugging .192 in his next 13 games. Just as many writers were ready to write off his season as having hit the dreaded "rookie wall", McCutchen flipped the switch and finished on a tear, with a .463 OBP from September 16th on.
So with more big league at-bats coming in 2010, the Steel City faithful hope Andrew McCutchen can maintain his spurts of greatness over longer stretches. For a team that hasn't been to the postseason since 1992 and hasn't finished in the top half of the NL Central since 1999, McCutchen is one of few bright spots for the Pirates – that makes the 23-year-old One2Watch4.