October, 20, 2013
10/20/13
6:15
PM ET
By
ESPN Stats & Information
| ESPN.com
Maddie Meyer/Getty ImagesGeno Smith made the necessary adjustments on his throws to beat the Patriots.
What were the biggest keys to the Jets win over the Patriots on Sunday?
Brady containment
Tom Brady
entered the day ranked fifth-worst in the NFL at completing throws more than 10 yards downfield. The numbers didn't get any better on Sunday.
Brady was 4-for-20 on throws more than 10 yards downfield in this game. He is 14-for-50 (28 percent) on those throws over the last three games.
In 2011 and 2012, Brady had a completion rate of 48 percent on those throws, which rated 13th-best in that span.
Brady had his third game this season with a sub-50 percent completion rate, his most such games in any season.
Below is a look at Brady's completion rate by throw distance this season, illustrating his overall struggles on his longer throws.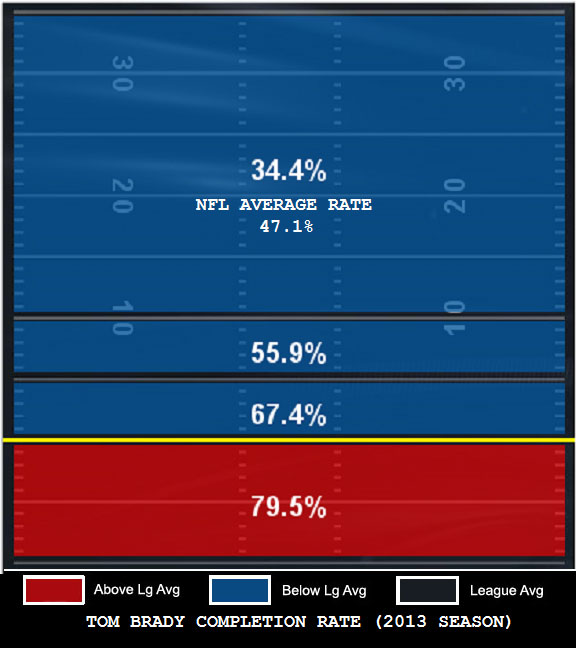 Rob Gronkowski
was targeted a career-high 17 times by Brady, but had only eight receptions. It was only the third time since Gronkowski joined the team that he and Brady failed to connect on at least half of their attempts in a game.
Four of Brady's passes to Gronkowski were either defended or intercepted, three of which were intercepted or defended by safety
Antonio Allen
. Allen had no pass breakups entering the game.
The Jets rarely sent heavy pressure, sending four or fewer pass rushers on 43 of Brady's 49 dropbacks (88 percent).
Brady completed 20-of-41 passes against that pressure, including the interception returned for a touchdown, and was sacked three times.
Geno Smith was good enough
Geno Smith
had one blip, with his early pick-six, but got the job done in the end.
Smith completed 7-of-16 passes more than 10 yards downfield, without throwing an interception, after throwing three in 15 attempts in the Week 2 loss against the Patriots.
Smith has only one interception on those passes in wins this season, compared to five in losses.
Smith became the fourth quarterback to lead his team on a game-winning drive in each of his first four career wins since the AFL and NFL merged in 1970. The Elias Sports Bureau notes that the other three are Lynn Dickey,
Troy Aikman
and
Bruce Gradkowski
.
Unsung hero: Nick Folk
Though some may attach an asterisk to this, since he had a missed kick wiped out by that controversial penalty in overtime, Nick Folk continued his run of perfection through 2013.
Folk went 3-for-3 on his field goal tries on Sunday, making him 16-for-16 on field-goal attempts this season (the most consecutive kicks made to start a season in Jets history).
Folk has three game-winning field goals this season, one with two seconds left against the Buccaneers, one with no time left against the Falcons, and the one in overtime against the Patriots. Elias notes that is the most game-winning kicks in the final minute in regulation or any point in overtime in a single season in Jets history (
Mike Nugent
had two in 2007).
Folk has seven field goals this season of at least 40 yards, including all three game winners (48, 43 and 42 yards respectively). He totaled eight such kicks in each of the last two seasons.
October, 27, 2011
10/27/11
8:03
PM ET
US Presswire
Sebastian Janikowski tied an NFL record with a 63-yard field goal against the Broncos in Week 1.
One of the potentially unrecognized, but quite significant, stories of the 2011 NFL season is the success of field goal kickers on long-distance kicks.
Through seven weeks, NFL kickers have made nearly 87 percent of their field goal tries, a rate that if managed through the duration of the season, would be the best in NFL history.
The reason that the success rate is so high is not due to the performance of kickers on shorter kicks. It's due to their performance on longer ones.
The NFL success rate on field goal attempts of 40-to-49 yards this season is 80.8 percent. If that rate can be maintained, it would be far better than the current NFL record of 74.5 percent set in 2008.
But the story actually grows in significance as we move the distances back.
NFL kickers are 41-for-58 on field goal attempts of at least 50 yards this season. That's a success rate of 71 percent, which is extraordinary based on historical data. The NFL record, 63.8 percent was set in 2008.
If kickers can keep at their current success rate and pace (41 field goals of 50-plus yards in 103 games), it's possible that there could be 100 made field goals from at least 50 yards this season. That would shatter the current record of 66, also set in 2008.
Here's a look at several notable kicks of at least 50 yards this season:
Nick Folk, New York Jets
In the Jets' win over the Cowboys in Week 1, Folk hit the winning field goal, a 50-yarder with 27 seconds to play in the fourth quarter.
Sebastian Janikowski, Oakland Raiders
Janikowski tied the NFL record with a 63-yard field goal to end the first half in a 23-20 Week 1 win over the Broncos. Then in Week 5, Janikowski tied another NFL record with three field goals of at least 50 yards in a 25-20 win over the Texans.
Matt Prater, Denver Broncos
In the Broncos comeback win over the Dolphins in Week 7, Prater kicked the winning field goal, a 52-yarder midway through overtime.
Josh Scobee, Jacksonville Jaguars
Scobee matched Janikowski by making three field goals of 50 or more yards in a Monday Night Football win over the Ravens in Week 7. He made a 51-yard kick late in the fourth quarter to help clinch the win.
January, 12, 2011
1/12/11
11:16
AM ET
By
Daniel Braunstein
| ESPN.com
Fans saw kickers play a pivotal role in the Wild Card playoffs last weekend. In the Jets-Colts tilt, Adam Vinatieri's 50-yarder to give the Colts the lead was answered by a
Nick Folk
game-winning 32-yard field goal as time expired. Meanwhile in Philadelphia,
David Akers
missed two crucial field goals in the Eagles' five-point loss to the Packers. With that in mind, let's take a look at the remaining kickers in the divisional round.
Billy Cundiff, BAL:
Cundiff had 40 touchbacks this season, tied for the most in NFL history. The Ravens allowed just four touchdowns and forced six turnovers on drives following those touchbacks. In the Ravens' wild-card win over the Chiefs, Cundiff had two touchbacks, both of which led to Chiefs turnovers. Despite his strong leg, Cundiff is just 1-for-7 on field goals of 50 yards or more over the last six seasons.

Suisham
Shaun Suisham, PIT:
Since replacing the ineffective
Jeff Reed
, Suisham has made 14-of-15 field goals, including 8-of-9 from 40-to-49 yards. Reed missed two from that range in Pittsburgh's three-point loss to Baltimore in Week 4.
Nick Folk, NYJ:
After missing badly on a 53-yard field goal against the Patriots in Week 13, Folk has converted his last eight attempts, including the game-winner against the Colts. The eight straight made field goals is tied for the second longest streak in Folk's career. He also holds the NFL record for most career extra points without a miss at 168.
Shayne Graham, NE:
Signed when
Stephen Gostkowski
was placed on injured reserve, Graham has converted all 12 of his field goal attempts for the Patriots this season, though he has missed two extra points. Graham is the only kicker in the last 10 years to miss at least two extra points in a season without missing a field goal.
Mason Crosby, GB:
He's 15-of-16 on field goals in his career in games played in domes, with the only miss a 52-yarder at Minnesota in 2008. Crosby made his only kick in Atlanta's Georgia Dome in Week 12 this season, a site he and the Packers re-visit Saturday.
Matt Bryant, ATL:
Over the last six seasons, Bryant has missed just one field goal from between 30 and 39 yards. His conversion rate of 98 percent (49-for-50) in that time is tops among kickers with at least 20 attempts from that range.

Mare
Olindo Mare, SEA:
Mare's 88.0 field goal percentage (73-for-83) is third in the NFL since he joined the Seahawks in 2008. In the two years before he arrived in Seattle, Mare had made just 36 of 53 (67.9 percent), worst in the NFL among kickers with at least 20 field goal attempts.
Robbie Gould, CHI:
Gould is 6-for-6 in his postseason career, the second-most postseason field goals without a miss over the last 10 years (
Garrett Hartley
). Four of Gould's field goals were from beyond 40 yards.
December, 11, 2010
12/11/10
4:25
PM ET
Prior to Monday night, the last time the
New York Jets
lost a game by at least 40 points was in 2006 against the
Jacksonville Jaguars
. The next week they recovered, beating the
Miami Dolphins
at home, 20-17. They face the Dolphins at home this week, hoping for a similar result.


Two Jets have had significant issues recently and will likely play a role in whether the Jets bounce back. Let's take a closer look at their struggles and how they relate to this contest.
Mark Sanchez
In his first six games this season, Mark Sanchez threw for nine touchdowns and two interceptions. In his last six games, he has seven touchdowns and nine picks, including three interceptions in the loss to the Patriots. According to our video review team, Sanchez joined
Matt Moore
and
Rusty Smith
as the only quarterbacks this season to have three underthrown passes get picked off in a game.
One telling thing to watch could come the first time the Dolphins blitz with a defensive back.
Last week, the Dolphins blitzed the Browns from the secondary seven times and were effective, allowing only three completions for 27 yards. That's a contrast to their season totals. Miami has allowed opponents to complete 70 percent of passes against the secondary blitz. No NFL team has done worse.
Sanchez ranks second in the NFL this season with a 107.0 passer rating when the opponent blitzes with a defensive back. Though he went only 1-for-4 against the Miami secondary blitz in Week 3, the one completion was a 67-yard touchdown throw to
Braylon Edwards
in the third quarter, which put the Jets ahead to stay.
That touchdown came on a blitz in which Miami had four defensive backs on the field (as opposed to a nickel or dime defense). When the Dolphins have blitzed in those four defensive back situations, opponents are 10-for-11 for 145 yards, and more significantly, no sacks allowed.
Nick Folk
Nick Folk has reverted back to the ways that led him to be cut by the Cowboys last season. The Jets lead the NFL in missed field goals with nine and are second-to-last in field goal percentage at 71.9 percent.
After a stretch in which Folk made 9-of-10 field goals, he's since gone 7-for-13. Five of the misses have come from 47 yards or longer, so they haven't been easy tries (all seven makes have been inside 40 yards), but they've been important ones. All six of Folk's missed kicks have come in situations in which the Jets led or trailed by six points or less.
If the game comes down to a late kick, Jets coach Rex Ryan may not have confidence in his man, but Dolphins coach Tony Sparano should feel good about taking a shot with
Dan Carpenter
, who is tied for the NFL lead in field goals of 40 yards or longer, with 13 makes in 19 tries.
Carpenter is 4-for-6 from 50 yards and beyond, the only kicker in the league with that many field goals of that distance. That could be the difference in a matchup that has historically been a close one. The last four Dolphins-Jets matchups in New Jersey have been decided by seven points or fewer.