Stats & Info:

Ohio Bobcats
December, 19, 2013
12/19/13
10:25
AM ET
By
Alok Pattani
| ESPN.com
With bowl season upon us, we can project the winners of the 35 Football Bowl Subdivision bowl games using the
Football Power Index
.
FPI is a predictive measure of team strength that uses the elements of team offensive, defensive and special-teams performance (adjusted for opponent) that correlate most with future results.
We can use each team's FPI and the site of the game (all bowl games are treated as neutral) to calculate the expected point differential in a matchup and the percentage chance of each team winning.
In prior years, FPI has done reasonably well in projecting bowl winners (taking the team with the higher chance as the "winner"), getting about 65 percent of games right since 2004.
There have been some lean years in the past, but FPI has been quite good in the three most recent bowl seasons, accurately projecting 70 percent of winners in those games.
FPI takes into account only a team's on-field performance to date in the given season. It doesn't explicitly take into account players who are out with injuries or for other reasons, coaching movement before the bowls or differing levels of motivation that are sometimes thought to exist in bowl games.
In the 2013 regular season, starting with games on Sept. 26, FPI accurately projected 74 percent of winners.
FPI believes there to be a very clear favorite (80 percent or more to win) in four of the five BCS matchups, with
Ohio State
and
Clemson
as the most evenly matched BCS opponents.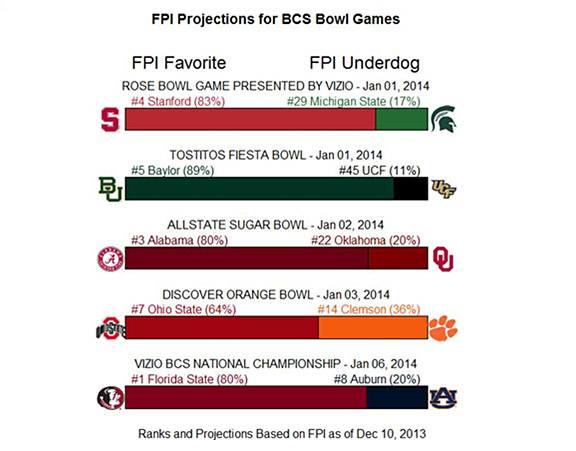 The projections for all 35 bowl games this season are below. A couple of things that stand out:
The two most-lopsided matchups, according to FPI, involve a Pac-12 team facing a Big 12 opponent from Texas. FPI has
Oregon
as 91 percent likely to defeat
Texas
in the Valero Alamo Bowl and Arizona State as 91 percent likely to beat
Texas Tech
in the National University Holiday Bowl.
The most-even matchup, according to FPI, is
Kansas State
versus
Michigan
in the Buffalo Wild Wings Bowl, with the teams separated by a little more than a point in FPI (the Wildcats are 53 percent favorites). The closest "high-profile" bowl game is the AT&T Cotton Bowl between
Oklahoma State
and
Missouri
, with the Cowboys 54 percent likely to win, according to FPI.
The Vizio BCS National Championship is the only bowl game with both teams ranked in the top 10 in FPI. Three other games involve two FPI top-20 teams:
Wisconsin
-
South Carolina
in the Capital One Bowl;
Oklahoma State
-
Missouri
in the Cotton Bowl and
Ohio State
-
Clemson
in the Discover Orange Bowl.
October, 21, 2012
10/21/12
9:02
PM ET
By
ESPN Stats & Information
| ESPN.com
Five statistical items of note from this week's release of the BCS Standings:
1--
This is the first time since 2008 that
Alabama
has been No. 1 in back-to-back standings.
It's the 12th straight week that an SEC team is atop the BCS standings.
That's tied for the longest streak in BCS history.
The Big Ten and Big 12 have each previously had a 12- week streak.
2--
No. 3
Kansas State
tied its highest rank ever in the BCS standings. It ranked third in the last six standings in 1998.
Kansas State is the third Big 12 team to reach the Top-3 in the BCS standings since Texas lost in the BCS Championship game at the end of the 2009 season.
3--
No. 7
Oregon State
earned its highest ranking since it was No. 6 in the final BCS Standings in 2000. The Beavers are 4-0 all-time when ranked in the Top 10 of the BCS Standings.
4--
No. 10
Georgia
is ranked in the Top 10 in the BCS standings for the first time since November, 2008.
5--
There are three teams in the BCS Standings who were not in last week's standings-
Michigan
,
Ohio
, and
Wisconsin
. Ohio is in the BCS Standings for the first time in school history and is the first MAC team in the BCS Standings since
Northern Illinois
in 2000.
March, 24, 2012
3/24/12
12:20
AM ET
By
ESPN Stats & Information
| ESPN.com
Tyler Zeller's
historic game was barely enough to help the
North Carolina Tar Heels
reach the Elite Eight.
This win over the
Ohio Bobcats
kept an impressive streak alive. The Tar Heels have now won each of their last 11 Sweet 16 games and are 5-0 all-time in Sweet 16 games against double-digit seeds.
How the Tar Heels won
Zeller finished with 20 points and 22 rebounds. He's the fifth player to have a 20-point, 20-rebound game with at least four blocked shots in the Men's Basketball Championship since 1975, as noted in the chart on the right.
Zeller's eight offensive rebounds were one more than Ohio had for the entire game.
Reggie Bullock
supported the effort with a rare statistical combination.
He's the fourth player in tournament history to have at least 10 rebounds, five assists, and five 3-pointers, joining Mitch Richmond (1987 Kansas State), Hersey Hawkins (1988 Bradley), and Ray Allen (1996 Connecticut).
Stilman White
, starting in place of injured guard
Kendall Marshall
, was the only Tar Heels player who didn't turn the ball over. He's the first North Carolina player to play at least 32 turnover-free minutes, and finish with at least six assists in the Round of 16 or later since Kenny Smith in 1985.
How Ohio hung in
North Carolina won despite committing 24 turnovers, its most in a game since 1989, when it had 26 against Loyola Marymount. Ohio's defense entered forcing an average of 17 turnovers per game, best among those teams left in the Sweet 16.
The Tar Heels also survived an inefficient game from
Harrison Barnes,
who took a season-high nine 3-pointers and finished with a career NCAA tournament-low 12 points.
Barnes was 16-for-31 in the paint in the first two games of the tournament, but just 0-for-1 in this contest.
Oh, so close
This was the seventh time that a team seeded 13th or lower played in the Round of 16. None has won, but Ohio was the first of those teams to take the game to overtime.
Ohio's
D.J. Cooper
, just missed the game-winner in regulation for Ohio. He went 3-for-20 from the field, tied for the second-worst shooting percentage by a player since college basketball went to a shot clock in 1986.
The only one to fare worse in a game with at least 20 shot attempts was Loyola Marymount's Bo Kimble in 1988 -- a 3-for-21 effort that also happened to come in a loss against North Carolina.
Ohio finished the season 1-5 when Cooper took at least 17 shots (Ohio was 28-3 in all other games).
Looking ahead
What's next for North Carolina?
The last time a No. 1 seed played an overtime game in the Sweet 16 was 2006, when
Villanova
and
Connecticut
did it.
Both of them won those Sweet 16 games and lost in the Elite Eight.
March, 21, 2012
3/21/12
6:26
PM ET
By
ESPN Stats & Information
| ESPN.com
Our Sweet 16 preview continues with a look at the matchups in the Midwest Regional on Friday:
(13) Ohio vs. (1) North Carolina, 7:47 ET


According to
North Carolina
head coach Roy Williams, the Tar Heels are preparing to play Friday's game without starting point guard
Kendall Marshall
.
Without Marshall as the primary ball handler, the Tar Heels could have difficulty getting past the
Ohio Bobcats
tomorrow. Ohio forces 17.2 turnovers per game, the fifth-highest mark in the nation and most among the remaining Sweet 16 teams.
Marshall has also shined as the team's offensive catalyst during the tournament, creating 80 points in his two games from either his own scoring or assists. Against Creighton, Marshall was responsible for 45 of the team's 87 points (55 percent).
If Marshall is not able to play, North Carolina's ability to finish in the paint and in transition will likely be hurt. Nearly 30 percent of his 201 assists since the start of ACC play have come in transition.
Also, two-thirds of Marshall's assists in that time frame have resulted in paint shots.
Tyler Zeller
has been the biggest benefactor during this stretch, with 43 percent of his field goals coming off passes from Marshall.
Ohio's most indispensable player is guard
D.J. Cooper
, who will be on the court Friday, and the Bobcats are certainly happy about that. Cooper has scored or assisted on 71 of Ohio's 127 points (56 percent), the highest percentage for any player remaining in the field.
(11) North Carolina State vs (2) Kansas, 10:17 ET


One key battle to watch in this Sweet 16 matchup will be the ability of
North Carolina State's
big men to dominate
Kansas'
forward-center tandem of
Thomas Robinson
and
Jeff Withey
around the basket.
The Jayhawks have allowed just 22 points in the paint per game this season, which leads the Big 12 and is second among major conference schools. The Wolfpack are averaging 33 paint points per game this season, which ranks second in the ACC and 11th among the Power 6 teams.
However, NC State struggled to find its inside game against Georgetown in the third round. The Wolfpack shot less than 35 percent and scored just 20 points on attempts in the paint, including only six in the second half.
If Kansas is going to advance to the Elite Eight, the Jayhawks might want to improve their mid-range game. Kansas is shooting 27 percent outside the paint in the tournament, the worst among the remaining teams in the field.
March, 19, 2012
3/19/12
3:04
AM ET
By
ESPN Stats & Information
| ESPN.com
Kevin C. Cox/Getty ImagesCincinnati is heading to the Sweet 16 for the first time since 2001, one of four Ohio teams still alive in the NCAA tournament.
Teams from the state of Ohio make up one-fourth of the schools in the Sweet 16 this season after Cincinnati and crosstown rival Xavier won their games. The Bearcats and Musketeers join the
Ohio Bobcats
and
Ohio State Buckeyes
in the next round.
It's the first time in NCAA tournament history that four schools from a single state have advanced to the Sweet 16 in the same season.
East Region
(6) Cincinnati 62, (3) Florida State 56
The Bearcats will be making their sixth Sweet 16 appearance and first since 2001. Cincinnati went on a 12-6 run over the final minute and a half of the game, which began with a
Dion Dixon
steal and dunk.
Sean Kilpatrick
led the Bearcats with 18 points and Cincinnati recorded 13 steals to just five for Florida State. Florida State fails to reach consecutive Sweet 16s for the first time since 1992-93.
Cincinnati now takes on No. 2 seed Ohio State in the Sweet 16 Thursday. These schools met twice for the National Championship in 1961 and 1962 with the Bearcats winning both times.
South Region
(10) Xavier 70, (15) Lehigh 58
Another team from Cincinnati, Xavier, will be making its sixth Sweet 16 appearance as well.
Kenny Frease
scored a career-high 25 points shooting 84.6 percent (11-13) from the floor and also grabbed 12 rebounds. He's the first player to record those numbers in a NCAA tournament game since Blake Griffin in 2009.
Lehigh which scored 19 points in transition versus Duke on Friday scored just seven against Xavier. The Mountain Hawks entered the tournament averaging nearly 16 points per game in transition, which ranked in the top 25. Lehigh's loss brings No. 15 seeds to 0-6 all-time in the Round of 32.
Xavier next takes on No. 3 seed Baylor on Friday.
(2) Kansas 63, (10) Purdue 60
After a late scare, Kansas is headed to its 19th Sweet 16 and fifth in its past six seasons.
Thomas Robinson
scored 11 points and 13 rebounds for his 25th double-double of the season, which ties Drew Gooden's school record in 2002. The Jayhawks scored 17 points in transition including their final six points.
Robbie Hummel
ends his Boilermakers career scoring a team-high 26 points as Purdue loses in the Round of 32 for the second straight year.
Kansas faces No. 11 seed North Carolina State on Friday hoping to advance to the Elite Eight for the second straight season. The Wolfpack have not been to the Regional Finals since 1986.
Through the Round of 32, no games in this year's Men's Basketball Championship have gone to overtime. It's the first time since seeding began in 1979 that there hasn't been a single overtime game in the Round of 64 and Round of 32.
March, 18, 2012
3/18/12
10:10
PM ET
By
ESPN Stats & Information
| ESPN.com
Jamie Squire/Getty ImagesThe Ohio Bobcats celebrate the first trip to the Sweet 16 in school history.
Two blowouts and a Cinderella story headline the early evening action on Sunday:
(13) Ohio 62, (12) South Florida 56
The slipper still fits for the
Ohio Bobcats
, as they advance to the Sweet 16 for the first time in school history. Ohio is the seventh team seeded 13th or lower to make the Sweet 16 and the first since Bradley in 2006.
This was the 10th meeting between 12- and 13-seeds all-time, but just the second time that a 13-seed emerged as the winner.
Ohio won on the strength of its perimeter shooting, connecting on half of its 18 3-point attempts against the
South Florida Bulls
. The Bobcats actually made more 3-pointers (9) than 2-pointers (8), shooting just 32 percent inside the arc, while being outscored 32-12 in the paint.
Walter Offutt
led the long-distance barrage, making all four of his 3-point attempts and scoring a team-high 21 points. Offutt entered the game having missed 14 of his 18 shots from beyond the arc over the previous six games.
(1) North Carolina 87, (8) Creighton 73
The Tar Heels advance to their 25th Sweet 16, the most all-time, but the victory over the
Creighton Bluejays
was bittersweet.
Kendall Marshall
scored 18 points on 7-of-8 shooting and dished out 11 assists but suffered a fractured right wrist late in the game.

Marshall put up one of the most unique statistical lines in NCAA tournament history before the injury. He joins North Carolina State's Chris Corchiani as the only players in tournament history with at least 18 points and 11 assists while shooting 85 percent or better from the floor.
Marshall was responsible for 45 of the team's 87 points, which ties Lehigh's
C.J. McCollum
and Michigan State's
Draymond Green
for the most points created in a tournament game this year. In six career NCAA tournament games, Marshall has created an average of 32 points per game, including 23 from his assists.
(7) Florida 84, (15) Norfolk State 50
The
Norfolk State Spartans
were trying to become the first 15-seed to reach the Sweet 16, but instead got schooled in Statistics 101 on Sunday, getting a lesson in
Regression to the Mean
.
Just two days removed from knocking off 2-seed Missouri while shooting better than 50 percent both inside and outside the arc, the Spartans misfired on 20 of 24 3-point attempts and 48 of 66 shots overall against the
Florida Gators
.
A game after averaging a season-best 1.34 points per possession against the Tigers, Norfolk State averaged just 0.76 points per possession against Florida, its third worst in a game this season.
The Gators found themselves down 6-4 early in the game, but went on a blistering 25-0 run to take control and cruised to the victory. The 34-point win is the second-largest in a NCAA tournament game in school history, behind a 43-point victory over Jackson State in 2007.
December, 12, 2011
12/12/11
1:59
PM ET
Marshall dishes out 16 for UNC

Kendall Marshall
matched a career-high with 16 assists in North Carolina's 84-78 win over Long Beach State on Saturday, equaling the team assist total for the 49ers. It's the most assists in a game this season, and it's the most since Marshall himself had 16 last February against Florida State. Only three Tar Heels have ever registered more assists in a game: Raymond Felton (18), Jeff Lebo (17) and Ed Cota (17). North Carolina is 13-0 in Marshall's career when he has nine or more assists.
Cooper finally gets his triple-double
On three different occasions, Ohio's
D.J. Cooper
has fallen two rebounds shy of a triple-double. With a minute left on Saturday, he was one rebound short, before hauling in a
Kevin Bailey
miss with 40 seconds remaining. Cooper finished with 14 points, 10 rebounds and 10 assists in the Bobcats' 72-54 win over Portland. He's the first player listed under 6'0" to register a triple-double since Alabama A&M's Trant Simpson in 2009. Ohio is 7-1 for the first time since 1969-70.
Kentucky loses despite efficient shooting
The top-ranked team in the country shot 55.6 percent from the floor and still lost?! That's just one bizarre fact coming out of Indiana's 73-71 win over Kentucky. It was the Wildcats' highest FG pct in a loss since 2007. Kentucky's
Terrence Jones
only attempted three shots, the fewest of his career. The Hoosiers won despite scoring only seven points in the final 7:45, all by
Christian Watford
. It was Indiana's first win over an AP No. 1 team since beating Duke in the 2002 NCAA Tournament.
Young's career night
IUPUI's
Alex Young
has more career points than any active Division I player. On Saturday, he scored a career-high 43 points in the Jaguars' 84-76 win over Western Kentucky. Young set a school record for a Division I game, eclipsing Odell Bradley's total of 42, which he reached twice in 2004. It's the most in any IUPUI game since Carlos Knox tallied 45 points against Drury in 1998. Young's total is the most Western Kentucky has allowed since La Salle's Ken Durrett scored 45 in January 1971.
Enquist, Cougars can't miss

Washington State had its best shooting night in over 15 years in Sunday's 93-55 win over Santa Clara. The Cougars connected on 67.4 percent of field goals, its best since 67.6 percent against Boise State in 1996.
Brock Motum
scored a career-high 27 points to lead the way, and
Charlie Enquist
connected on all seven of his field goal attempts. Enquist is now 28-for-34 on the season, an 82.4 field goal percentage. That's the highest among all Division I players attempting at least three shots per game.