Stats & Info:

Ole Miss Rebels
October, 30, 2014
Oct 30
9:42
AM ET
By
Toby Petitpas, ESPN Stats & Information
| ESPN.com
USA TODAY SportsAuburn always scores 20 points under Malzahn (left), while Freeze's Rebels haven't allowed more than 20 in 2014.
In its win last week against
South Carolina
,
Auburn
looked just like Auburn from last season. The Tigers had season highs in rushing yards (395), yards per rush (8.4) and runs of 30 yards or more (3). At the same time, they had a season-low 15 passing attempts.
It was a return to the formula that helped the Tigers win the 2013 SEC championship. Entering Saturday's game, Auburn had passed on 37 percent of its plays, 7 percentage points higher than in 2013.
Against South Carolina, Auburn passed on a season-low 24 percent of its plays, one week after passing on a season-high 49 percent in the loss to
Mississippi State
. To be fair, Auburn was trailing most of the second half against the Bulldogs and needed to pass.
This week, the Tigers travel to
Ole Miss
, which leads the nation in per-game scoring defense (10.5) and defensive efficiency (19.6), which measures the points a defense contributes to the team's scoring margin and adjusts for the offenses faced.
It is a classic something-has-to-give matchup. Consider:
-Ole Miss is the only FBS team that has not allowed more than 20 points in a game this season, whereas Auburn has never been held to fewer than 20 under Gus Malzahn.
-Since Malzahn took over as head coach, Auburn is 15-0 when it runs for at least 250 yards and 3-3 when it does not. Ole Miss is winless (0-7) in three seasons under Hugh Freeze when its opponent rushes for more than 200 yards, including last week's loss to LSU.
-Ole Miss has allowed three rushing touchdowns this season, tied for third fewest in the FBS. Auburn scored five rushing touchdowns last week against South Carolina.
Auburn outside offense

Under Malzahn, Auburn has been one of the best perimeter rushing teams in the nation. Since the start of last season, it has more rushing yards outside the tackles (4,122) than 90 FBS teams have total rushing yards. On such runs, the Tigers have averaged 7.8 yards per carry, second best among Power 5 schools behind Wisconsin (8.7).
Last week against South Carolina, Auburn had its best perimeter running game of the season, gaining a season-high 228 yards outside the tackles, including five touchdowns. The Tigers had more rushing yards outside the tackles on Ricardo Louis' 75-yard touchdown than they had the previous game in their loss at Mississippi State.
Speaking of that loss, the 2014 Bulldogs were the fifth team to hold Auburn to less than 6 yards per carry outside the tackles under Malzahn. The Tigers are 2-3 in those games, with both wins coming by six points or fewer.
Ole Miss can stop it

Until last week, Ole Miss had been stout against the run. But crazy things happen under the lights in Tiger Stadium. The Rebels allowed 264 rushing yards to LSU, 19 more than they allowed in their previous four games combined. LSU had four runs of 15 yards or more; Ole Miss had allowed eight such runs entering the game, including four in its previous five games.
Despite last week, Ole Miss ranks fourth in the FBS in defensive efficiency on rushing plays. It has held opponents out of the end zone (allowed 3 TDs), forced turnovers (4 fumble recoveries) and limited teams on third down (31 percent conversion rate, sixth in the FBS).
Ole Miss has excelled on defense in the same area in which Auburn excels on offense. The Rebels have allowed 4.0 yards per rush outside the tackles, third fewest in the SEC. On such runs, the Rebels have allowed one touchdown and the second-lowest percentage (12 percent) to gain 10 yards or more in the SEC behind Alabama (9 percent).
In last season's matchup, an eight-point Auburn win, the "Landshark" defense looked more like a fish out of water. Auburn had 175 rushing yards outside the tackles on 23 carries, including six runs of 10 yards or more. It is the most yards, yards per carry and 10-yard rushes that Ole Miss has allowed on such plays the last two seasons. If Ole Miss can improve in this area Saturday, it might be able to "set the edge" on the scoreboard as well.
September, 30, 2014
Sep 30
9:34
AM ET
By
ESPN Statistics & Information
| ESPN.com
Kevin C. Cox/Getty ImagesAmari Cooper will match up against a stingy Ole Miss pass defense.
The SEC West has been dominant in the first month of the season. Consider these stats:
Given the quality of the division, it's no surprise that six of the 10
toughest remaining schedules
belong to teams in the SEC West.
This week will be the first real conference test for many of the SEC West's top teams. Three of the weekend's best games (and perhaps the three best, period) -- Alabama at
Ole Miss
, Texas A&M at
Mississippi Stat
e and
LSU
at Auburn -- all involve SEC West teams. Below is one matchup to watch in each of these games.
Alabama at Ole Miss
Matchup to Watch: WR Amari Cooper vs. Ole Miss pass defense
Amari Cooper
is averaging an FBS-high 163.8 receiving yards per game and has the longest active streak of 100-yard receiving games in the nation (six). Ole Miss, on the other hand, is allowing 133.5 passing yards per game and has not allowed a receiver to crack the 100-yard mark this season.
Cooper has accounted for 49 percent of Alabama's receiving yards and has 41 more targets than any other Alabama receiver. He has more yards after the catch (320) and more receptions of 20 yards or longer (10) than Ole Miss has allowed this year.
The Rebels must limit Cooper downfield, after the catch and on third down. QB
Blake Sims
is 9-of-10 with seven first downs when targeting Cooper on third down, which is a big reason Sims leads the nation in third-down
QBR
.
Ole Miss leads the SEC in most major passing categories on defense and has eight more interceptions than passing touchdowns allowed, the highest margin in the country. To continue this success, the Rebels must contain Cooper, who statistically has been the best wide receiver in the nation this season.
Texas A&M at Mississippi State
Matchup to Watch: Texas A&M receivers vs. Mississippi State secondary
Texas A&M is averaging more than 400 passing yards per game and has an FBS-high 27 completions of 20 yards or longer this season. It will face a Mississippi State defense that has allowed the most passing yards per game in the SEC and has had trouble stopping big passing plays.
On Saturday, the Bulldogs will need to limit Texas A&M's receivers after the catch. The Aggies have 340 more yards after the catch than any other SEC team and are averaging 8 yards after the catch per reception (fourth in SEC).
Determining which receiver to try to shut down may be a challenge. The Aggies have seven receivers with at least 100 receiving yards this season (tied for second-most in the FBS) and have an FBS-high nine players with a receiving touchdown.
LSU at Auburn
Matchup to Watch: Auburn's run game vs. LSU run defense
Since Gus Malzahn took over as coach, Auburn has run on 69 percent of its plays and ranks third in the FBS in rushing yards per game, behind two triple-option offenses. Auburn is 13-0 in the last two seasons when it runs for at least 250 yards and 3-2 when it does not.
One of those losses came
at LSU last season
, when Auburn was limited to 213 rushing yards and 4.1 yards per rush. LSU forced Auburn to pass on 40 percent of its plays, Auburn's second-highest percentage in a game last season.
Without DT
Ego Ferguson
and
Anthony Johnson
, however, LSU has not had the same rushing defense as the one the slowed Auburn in 2013. LSU is allowing the third-most rushing yards per game in the SEC and has allowed two opponents to rush for at least 250 yards. LSU did not allow any team to reach that mark in 2013.
LSU has allowed the sixth-most rushing yards in the nation to opposing quarterbacks, which is not a good sign considering Auburn's
Nick Marshall
ranks third among active quarterbacks with 1,341 rushing yards since the start of last season. Nonetheless, if LSU can follow the blueprint that it set in 2013 -- and that
Kansas State followed
in 2014 -- by limiting Auburn's run game and forcing Marshall to pass, it might hand Auburn its first loss of the season for a second straight year.
December, 19, 2013
12/19/13
10:25
AM ET
By
Alok Pattani
| ESPN.com
With bowl season upon us, we can project the winners of the 35 Football Bowl Subdivision bowl games using the
Football Power Index
.
FPI is a predictive measure of team strength that uses the elements of team offensive, defensive and special-teams performance (adjusted for opponent) that correlate most with future results.
We can use each team's FPI and the site of the game (all bowl games are treated as neutral) to calculate the expected point differential in a matchup and the percentage chance of each team winning.
In prior years, FPI has done reasonably well in projecting bowl winners (taking the team with the higher chance as the "winner"), getting about 65 percent of games right since 2004.
There have been some lean years in the past, but FPI has been quite good in the three most recent bowl seasons, accurately projecting 70 percent of winners in those games.
FPI takes into account only a team's on-field performance to date in the given season. It doesn't explicitly take into account players who are out with injuries or for other reasons, coaching movement before the bowls or differing levels of motivation that are sometimes thought to exist in bowl games.
In the 2013 regular season, starting with games on Sept. 26, FPI accurately projected 74 percent of winners.
FPI believes there to be a very clear favorite (80 percent or more to win) in four of the five BCS matchups, with
Ohio State
and
Clemson
as the most evenly matched BCS opponents.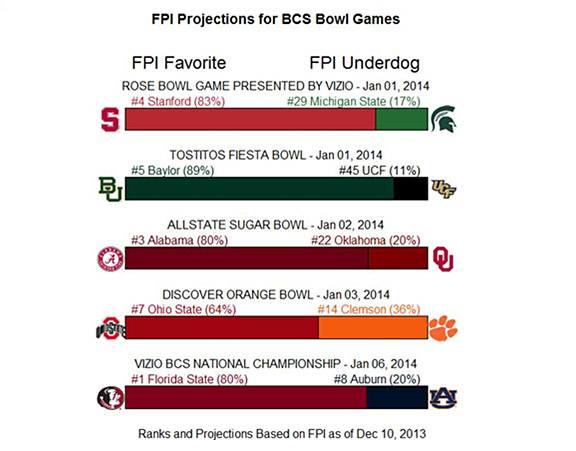 The projections for all 35 bowl games this season are below. A couple of things that stand out:
The two most-lopsided matchups, according to FPI, involve a Pac-12 team facing a Big 12 opponent from Texas. FPI has
Oregon
as 91 percent likely to defeat
Texas
in the Valero Alamo Bowl and Arizona State as 91 percent likely to beat
Texas Tech
in the National University Holiday Bowl.
The most-even matchup, according to FPI, is
Kansas State
versus
Michigan
in the Buffalo Wild Wings Bowl, with the teams separated by a little more than a point in FPI (the Wildcats are 53 percent favorites). The closest "high-profile" bowl game is the AT&T Cotton Bowl between
Oklahoma State
and
Missouri
, with the Cowboys 54 percent likely to win, according to FPI.
The Vizio BCS National Championship is the only bowl game with both teams ranked in the top 10 in FPI. Three other games involve two FPI top-20 teams:
Wisconsin
-
South Carolina
in the Capital One Bowl;
Oklahoma State
-
Missouri
in the Cotton Bowl and
Ohio State
-
Clemson
in the Discover Orange Bowl.
November, 22, 2013
11/22/13
1:02
PM ET
By
Mackenzie Kraemer, ESPN Stats & Info
| ESPN.com
After missing the last four games with a shoulder injury,
James Franklin
returns to
Missouri's
starting lineup this Saturday at
Ole Miss
(7:45 ET on ESPN). While
Maty Mauk
was very effective in his place, Franklin's ability to keep the offense in manageable down-and-distances could be vital in keeping Missouri on the path to the SEC championship game.
Keeping Missouri on schedule

Franklin has been very good on early downs, posting an 82 Total QBR on first and second downs, best among qualified SEC quarterbacks.
In six games this season, Franklin completed 69 percent of his passes on first and second down, tending to throw shorter passes that kept Missouri's offense out of third-and-long situations.
Without Franklin, Missouri faced more difficult third downs. Despite playing in 15 percent more plays, Franklin had just 13 dropbacks on third downs needing eight yards or more. Mauk had 21 dropbacks in those situations.
In Missouri's only loss against
South Carolina
, the Tigers faced an average third-down distance of 9.1 yards, a season high.
On pass plays (including sacks), Ole Miss allows opponents to convert 45 percent of third downs of seven yards or fewer, fourth-worst in the SEC. On third downs of eight yards or more, opponents convert just 16 percent of third downs on dropbacks, second-best in the SEC.
Struggling under pressure
Franklin has struggled to deal with pressure on third-and-long situations. When needing at least six yards, he has more sacks (seven) than first downs (six).
Overall on third down, he has been sacked eight times in 40 dropbacks. His 20 percent sack rate is third-worst among qualified FBS quarterbacks.
He has not converted on third down all season when under duress. In 13 dropbacks when hurried or knocked down, he has completed one pass while being sacked eight times. He is the only quarterback in the SEC not to convert a single first down in such situations (minimum 10 dropbacks).
In two SEC games while Franklin was healthy, he was sacked on six of 10 dropbacks when pressured, including three of four times on third down.
When Franklin has not been under duress, he has converted 48 percent of his third-down dropbacks into first downs, tied for third-best in the conference.
First real test
Ole Miss will be Franklin's first real test of the season. In Franklin's previous starts he faced one FCS team (Murray State) and five FBS teams that had an average
defensive FPI rank
of 78.
In Mauk's four starts, he faced teams with an average defensive FPI rank of 44.
October, 15, 2013
10/15/13
11:30
AM ET
By
Albert Larcada, ESPN Stats & Info
| ESPN.com
Best QB performance of the season: Bryce Petty vs. Buffalo – Sept. 7, 2013
Petty put up video game numbers against Buffalo, going 13-of-16 for 336 yards with two touchdowns. He threw no interceptions, was not sacked, and did not fumble. He also added a five-yard touchdown run for good measure. Add in the fact that Buffalo's QBR allowed this season in all other games against FBS schools is 26.7, and Petty's opponent-adjusted QBR for the game was 99.5 -- the best for any quarterback in a single game this season.
Most dominant performance of the season: Baylor vs. UL-Monroe – Sept. 21, 2013
The ESPN Stats & Information win probability model calculates the chance each team has to win at the start of every play. Taking the average win probability across all plays can give a good idea on how dominant the team was in the game. By this measure Baylor had the most dominant performance of the season against an FBS team. Its average win probability per play against UL-Monroe was 93.5 percent. By the end of the first 13 minutes, Baylor led 35-0 and had a 98 percent chance to win. It never looked back from there. Four of Baylor's five wins have come with an average in-game win probability of 90 percent or higher.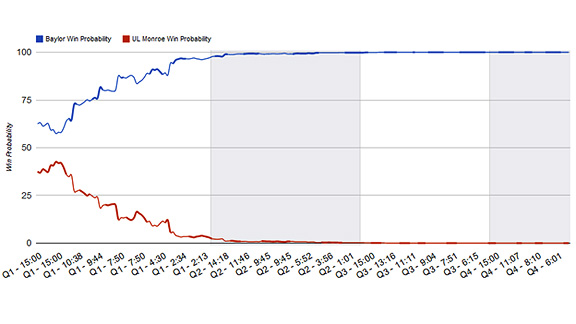 Best offensive performance of the season: Baylor vs. West Virginia – Oct. 5, 2013
If the top quarterback game and the most dominant game weren't enough, Baylor also put up the best offensive performance of the season in an entirely different game. Baylor put up 73 points against an otherwise above average defense in West Virginia. The Bears won the game by 31 points, and their rush EPA (expected points added) of +30 tells us that margin was almost entirely covered by Baylor's ground attack. Overall Baylor's offensive EPA in the game was +41. Adjusting for West Virginia's above average defense, the Bears' opponent-adjusted offensive EPA was +49 -- the highest for any offense in a single game this season.
Game changing play of the season: Ole Miss at Vanderbilt – Aug. 29, 2013
On the opening Thursday night of college football, Ole Miss and Vanderbilt gave us one of the most memorable games of the season. After surrendering the lead just seven seconds earlier, Ole Miss running back
Jeff Scott
rushed for a 75-yard touchdown
to put the Rebels back ahead by three with 1:07 left in the fourth quarter. According to Stats & Info's win probability model, this play took the Rebels' chance of winning from 13 percent to 88 percent -- the largest one-play swing for any BCS-AQ school all season. After several wild swings in the fourth quarter, this play put Ole Miss ahead for good.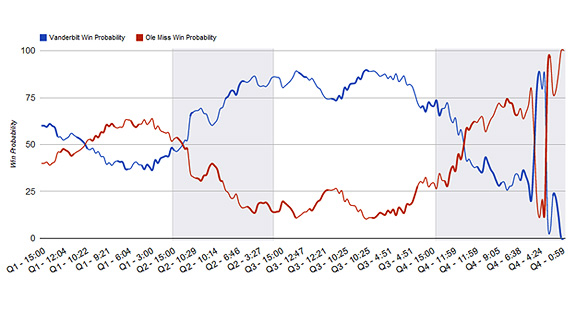 October, 13, 2013
10/13/13
6:11
AM ET
By
Toby Petitpas
| ESPN.com
Below are some storylines from Week 5 of the college football season using ESPN's new set of analytical storytelling metrics for college football. For more background on these metrics, read Dean Oliver's
primer on all of them
and his
explanation of college Total QBR
. For complete college Total QBR information, go
here
.
Texas A&M comes back to win
Texas A&M and Ole Miss combined for 41 points in the fourth quarter of the Aggies' 41-38 win. There were five touchdowns, two lead changes and three ties in the fourth quarter.
Texas A&M's win probability was 73 percent following Josh Lambo's 37-yard field goal on the first play of the fourth quarter.
The Aggies' win probability fell below 15 percent on two separate drives during the final 12 minutes. They had a 14.7 percent chance of winning before
Johnny Manziel
completed a 27-yard pass on third down with nine yards to go from their own 26 yard-line with the team trailing 31-24. Then they had a 14.6 percent chance of winning before Manziel ran for 13 yards on a fourth down and seven from Ole Miss' 45 yard-line with a 38-31 deficit.
Texas A&M is the fourth team this season to win in regulation when it had less than a 15 percent win probability on two separate drives in the fourth quarter.
The Aggies started their final drive with a 52 percent chance of winning the game.
Stanford's offense struggling
Stanford's offense added -0.9 expected points toward its scoring margin in its 27-21 loss at Utah. It was the first time that the Cardinal had a negative offensive EPA in back-to-back games since David Shaw became the head coach in 2011. The Cardinal had two turnovers that led to six points for the Utes, doubling the amount of points off turnovers that Stanford had allowed entering Saturday.
Ty Montgomery
had a 100-yard kickoff return for a touchdown in the second quarter, his second straight game with a return touchdown. Stanford's special teams finished the game with an EPA of +2, its third game this season in which it had a higher EPA than the offense.
Kevin Hogan
had a below average Total QBR for the second straight game (average = 50). Hogan started off strong with an 82.3 Total QBR in the first quarter, but finished with a 26.6 in the final three quarters.
Business as usual for Marcus Mariota
In Oregon's 45-24 win at Washington,
Marcus Mariota
posted a 92.2 Total QBR, 27.1 points higher than the sum of the Huskies' three previous opponents combined. It was Mariota's FBS-high fifth game with a Total QBR of at least 90 this season.
Mariota finished the game with 454 total yards and was responsible for four touchdowns, including two in the fourth quarter.
He has 852 total yards, 11 touchdowns and no turnovers in his last two games. Mariota and Oregon State's
Sean Mannion
are the only two players this season with at least three touchdowns in six games.
Notable quarterbacks
•
AJ McCarron
posted a 85.2 Total QBR in Alabama's 48-7 win at Kentucky. McCarron finished with career highs in pass yards (359) and completions of 20 yards or more (8). McCarron has a 91 Total QBR in his last two games, after starting the season with a 67.4.
•
Johnny Manziel
had a 88.7 Total QBR in Texas A&M's win. In the fourth quarter, he completed 8-of-10 passes for 126 yards and had six carries for 51 yards and a touchdown.
February, 7, 2013
2/07/13
11:36
AM ET
By
Mackenzie Kraemer
| ESPN.com
1
– Alabama's class rank. Every year that head coach Nick Saban has had a full season to recruit (since 2008), the
Crimson Tide
have had a top-three class. No other school has even had a top-10 class each of the past six years. Alabama received commitments from three of the top-10 running backs, plus
Derrick Henry
(No. 9 in ESPN 300, No. 1 Athlete), the leading rusher in high school football history.
3
– Number of Ole Miss's recruits ranked in the top 20 of the ESPN 300. Since ESPN recruiting rankings were introduced in 2006,
Ole Miss
had never had a single top-20 recruit. Head coach Hugh Freeze received letters of intent from two of the top five recruits, including the top ranked player in the ESPN 300, DE
Robert Nkemdiche
.
7
– Number of players since November who have decommitted from
USC
, and all were in the ESPN 300. USC's class was ranked No. 1 for more than three months between July and November, but now it's ranked 14th. Two of those decommits,
Eldridge Massington
(No. 172 in ESPN 300, No. 21 WR) and
Kylie Fitts
(No. 86 in ESPN 300, No. 8 DE) flipped their commitments to rival UCLA. The Bruins finished the day with the 12th-ranked class, the first time since 2006 they finished ahead of their crosstown rival.
7
– The number of top-10 recruiting classes Urban Meyer has had since 2006, and not one of those classes ranked lower than sixth. The only other coach with seven top-10 classes is Mack Brown. This year, Meyer and
Ohio State
scored the No. 3 recruiting class, headlined by CB
Eli Apple
(No. 11 in ESPN 300, No. 3 CB).
7
– The number of top-five recruiting classes
Florida
has had since 2006, most among all schools. Entering National Signing Day, the Gators had the top-ranked class before finishing the day second. Florida is one of three schools with multiple five-star recruits this year (Ole Miss and Notre Dame).
12
– The number of four-star recruits
Vanderbilt
has received letters of intent from. The past two seasons, James Franklin has recruited 15 players with a grade of 80 or better. In the previous four seasons, Vanderbilt didn't recruit a single such player.
14
- The number of SEC schools with top-40 recruiting classes. All 14 schools have top-40 classes, with none lower than 36th (Kentucky). Six of those schools are ranked in the top 10, the most any conference has had since 2006.
15
– Texas' class rank, the Longhorns' lowest since 2006.
Texas
had been the only school with a top-10 class every year since 2006. Texas still had the highest ranked recruiting class in the Big 12.
15
– Number of players in the ESPN 300 that have yet to sign letters of intent. Eleven have yet to commit to any school while four have yet to sign their letters of intent for various reasons.

16
- The number of states Notre Dame's 23 recruits reside in.
Notre Dame
has the No. 4 class this season, the highest ranked class it has had since 2006. It's Notre Dame's sixth top-10 class and third straight under Brian Kelly.
February, 4, 2013
2/04/13
8:43
PM ET
By
Jonathan McDonald
| ESPN.com
ESPNU will have 11.5 hours of live National Signing Day coverage on Wednesday, with announcements coming from 17 of the top prospects in the country. Here's five stats you need to know to be ready for a busy day:
1.
For the third straight year a defensive end (
Robert Nkemdiche
) has been crowned top player in the ESPN 150. Coincidentally, the top two players in the country are both defensive ends and both from the Atlanta area. This is the first time in the eight-year history of the ESPN 150 that the top two prospects have played the same position and only the seconnd time that the top two prospects have hailed from the same state (2012 being the other)
2.
For the sixth straight year under Nick Saban,
Alabama Crimson Tide
looks to land a Top-3 class. But for the first time since 2010, the Crimson Tide may not have the best recruiting class in the SEC, an honor which currently belongs to
Florida.
Notre Dame Fighting Irish
is looking to lock up its first Top-3 class in the history of the ESPN 150. Notre Dame's class is headlined by the 2012 High School Butkus Award winner
Jaylon Smith
, the No. 7 player in the country. Smith is the highest rated prospect at any position to choose Notre Dame since
Manti Te'o
in 2009. Te'o was the 2012 recipient of the collegiate Butkus Award.
3.
The SEC currently claims five of the top 10 classes. That's tied for the most Top-10 classes from one conference in the history of the ESPN 150, something the SEC also accomplished in 2007 and 2010.
What may come as a shock is to see
Ole Miss Rebels
among the SEC heavyweights.
Coach Hugh Freeze is one of four current coaches in his second year with a school to have a Top-15 class. Urban Meyer, Kevin Sumlin, and Jim Mora are the others.
More good news for Ole Miss: it remains in the running for three prospects that are ranked No. 1 at their respective positions, including top prospect Nkemdiche.
4.
The 11 SEC states produced 85 of the players in the ESPN 150 and 175 of the players in the ESPN 300. Florida leads the way as the home state of 30 of the ESPN 150, 12 more than Texas which produced the second-most. All told, the state of Florida has produced 230 of the 1,200 prospects ESPN has graded in the ESPN 150 since 2006, almost 20 percent.
5.
Christian Hackenberg
, the nation's top quarterback, is slated to go to
Penn State Nittany Lions
to play for Bill O'Brien.
Hackenberg will become the highest rated quarterback to sign with a Big Ten school since Terrelle Pryor five years ago. The No. 2 QB in the class,
Max Browne
, is headed to
USC Trojans
, where he will practice alongside the No. 3 QB from 2011,
Max Wittek
.
Browne will become the fifth QB in the Top 60 of the ESPN 150 to sign with USC since 2007. That's more than every other school in the country, and every conference except the SEC and Pac-12 over that span.
September, 27, 2012
9/27/12
2:13
PM ET
By
ESPN Stats & Information
| ESPN.com
1.
Heading into its game this week at No. 1
Alabama
,
Ole Miss
is scoring nearly 37 points per game. Therefore, the Rebels might be a test for a Tide defense that has allowed a total of three touchdowns in its last nine games against SEC competition.
Ole Miss was one of the teams that managed a single TD against the Tide defense last year;
Florida
and
Mississippi State
were the others. What's amazing is that Alabama doesn't even have the SEC's longest active streak of allowing no more than one TD to a conference opponent's offense. After last weekend's game against Auburn,
LSU
has now done that in 11 consecutive games.
2.
Connor Shaw
missed on his first pass of the game last week against
Missouri
but then completed his last 20 pass attempts. With four more consecutive completions, he'll tie
Tennessee's
Tee Martin in 1998 for the longest SEC streak of consecutive completions. Martin's streak was the national record for 13 years until
East Carolina's
Dominique Davis
(36 straight completions) broke it last year.

How do Shaw's odds look against
Kentucky
, his opponent this weekend? Only once in its last 19 games has Kentucky allowed a passer to complete four straight to start a game.
Louisville's
Teddy Bridgewater
did it against the Wildcats in the season opener this year. And Shaw will have to top his performance from last year against Kentucky. In that game, Shaw threw an incompletion on his second pass attempt.
3
.
Michigan State
is looking to win consecutive games with
Ohio State
after beating the Buckeyes last year 10-7 in Columbus. Ohio State has not lost back-to-back meetings with a conference opponent since
Wisconsin
beat the Buckeyes in 2003 and 2004.
That Ohio State streak of eight years without consecutive losses to any conference opponent is the longest active streak among BCS-AQ conference teams. Ohio State has played 62 Big Ten games since losing those two straight to Wisconsin. If Michigan State can't break the streak this week,
Nebraska
will have a chance to end it next week when it meets Ohio State in Columbus.
4.
Taylor Martinez
is completing 56 percent of his passes thrown 15 yards or more downfield this season. Martinez completed less 40 percent of such throws in each of his first two seasons as a starter.

Why is this improvement important? The Cornhuskers are 7-0 against AQ-opponents when Martinez completes at least half of his 15-yard throws and 4-9 when he does not, including last season's loss to Wisconsin. Martinez finished that game with as many interceptions (three) as completions on 15-yard throws. It is his only career game with multiple interceptions on such throws.
5.
This past weekend,
Arkansas
became the first preseason top-10 team since 2000 Alabama to pick up a third loss by the end of September. This weekend against former SWC rival – and new SEC rival –
Texas A&M
, the Razorbacks can join an even more exclusive club of futility.
With a loss, Arkansas would join the 1984
Pittsburgh Panthers
as the only preseason top-10 teams to have four losses by the end of September. The 1984 Panthers began 0-4 after being ranked third in the preseason poll and finished the season 3-7-1.
February, 10, 2012
2/10/12
2:30
PM ET
By
Tyler Korn, ESPN Stats & Info
| ESPN.com
And Then There Were None
Murray State becomes the last Division I men's team to lose, falling to Tennessee State, 72-68. Murray State led by as much as 13 in the second half, but allowed Tennessee State to outscore them 37-20 in the final 14:45.
Not only is it the first loss for Murray State, it's the first career loss for Racers head coach Steve Prohm.
Although Murray State just lost for the first time this season, should the Racers be concerned about not even making the Men's Basketball Championship?
Murray State has five regular season games remaining, including next Saturday at home against No. 13 Saint Mary's. If the Racers lose two of those five games, lose in the Ohio Valley Conference Tournament and don't get an at-large bid, the Racers would wind up on this list.
Gonzaga hands No. 13 Saint Mary's its first loss since December

Kevin Pangos
scored 27 points (5-6 from 3-point range) and
Elias Harris
contributes 10 points and 10 rebounds as Gonzaga hands Saint Mary's its first WCC loss of the season and snaps its 12-game winning streak. The Bulldogs have beaten the Gaels in three of their past four meetings and three straight times when Saint Mary's has been ranked. Gonzaga has defeated Saint Mary's in 15 of its last 16 meetings in Spokane.
Mississippi State avoids being swept by Ole Miss for first time since 1998

Arnett Moultrie
had 18 points and nine rebounds to lead the Bulldogs.
Dee Bost
added 15 points and a career-high 13 assists. Mississippi State has won 13 straight home games and avoids being swept by its rival, something that hasn't been done since 1998. Mississippi State is 13-1 at home against Ole Miss under Rick Stansbury.
Reginald Buckner
had 15 points and 9 rebounds for the Rebels, who have lost three of their four games against ranked opponents this season.
Scott Wood misses a FT
In North Carolina State's 61-52 win over Georgia Tech,
Scott Wood
had his streak of consecutive free throws made end at 66. The 66 straight made free throws is the fourth-longest streak in Division I history.
Vanderbilt hosts GameDay and Kentucky
This will be the 179th meeting between these SEC rivals, with Kentucky leading the all-time series 135-43. The 135 wins against Vanderbilt are the second-most for Kentucky against any one opponent (Tennessee, 148).
The Wildcats have opened SEC play winning their first 10 games for the first time since the 2004-05 season. The past three times Kentucky started 10-0 in the SEC, the Wildcats reached at least the Elite 8 in the each time, including winning the national championship in 1996.
For Vanderbilt, the Commodores will look to earn their eighth win and seventh home win against the AP No. 1-ranked team.
If the Commodores pull the upset, they'll move into a tie for the fourth-most wins all-time against the No. 1-ranked team, along with being tied for the most home wins all-time against the No. 1-ranked team. In fact, the past four times Vanderbilt hosted the No. 1-ranked team, the Commodores won the game.
January, 19, 2012
1/19/12
11:23
AM ET
Player of the Night - Rodney McGruder

After a 1-3 start in the Big 12,
Kansas State
badly needed a win Wednesday against
Texas
. Rodney McGruder made sure of it with a career-high 33 points, as the
Wildcats held on to win, 84-80
. McGruder kept the Wildcats above water early, scoring 13 of their first 26 points. He's really stepping up at home. In three conference games in Manhattan, McGruder is averaging 27.7 PPG with a 62.5 field goal percentage.
Filling Up The Stat Sheet – Colt Ryan

Two weeks ago,
Doug McDermott
torched
Bradley
for 44 points. On Wednesday, it was Colt Ryan's turn. The
Evansville
junior scored a career-high 39 points in a
90-67 win
over the Braves. Ryan was just one point shy of being the first Evansville player to score 40 in a game since Parrish Casebier in Dec. 1992. Ryan finished 8-for-14 from 3-point range. He's joins
Villanova's
Maalik Wayns
as the only players with at least 39 points, nine rebounds and three assists in a game this season.
Breakout Game – Reginald Buckner

Arnett Moultrie
has been the talk of the SEC, but he was overshadowed Wednesday, as Reginald Buckner scored a career-high 19 points to go with 15 rebounds as
Ole Miss
topped
Mississippi State
,
75-68
. Buckner entered the game averaging just 5.9 PPG.
Bench Stars – Jorge Brian Diaz and Dylan Talley

Jorge Brian Diaz knocked down a pair of free throws with 11 seconds remaining give
Nebraska
a
70-69 upset win
over
Indiana
. It's the Cornhuskers' first win over Indiana since 1920. Diaz and Dylan Talley, both bench players, combined for 17 points in the second half, as the Cornhuskers erased a seven-point halftime deficit.
Ugly Stat Line of the Night - Jordan Theodore

Jordan Theodore entered Wednesday on track to be the first Big East player to average 16 points and seven assists per game since Sherman Douglas in the late 1980s. But in
Seton Hall's
84-76 loss
to
Villanova
, Theodore couldn't find the bottom of the net. He went 2-for-16 from the field, including 0-for-8 from two-point range.