February, 20, 2014
Feb 20
5:22
PM ET
By
Andrew Davis
| ESPN.com
Getty ImagesSidney Crosby (left) and Patrick Kane (right) will face off Friday in the Olympic semifinals
In the NHL-era of the Winter Olympics, Canada has gone 3-1-0 against the United States. The United States' only win came in the 2010 preliminaries, which was later avenged by Canada in the gold medal game.
The two teams will meet in the Olympic semifinals for the first time ever Friday. The United States is hoping its high-scoring offense will lead it back into the gold medal game, while Canada will be relying on its defense.
USA crashing the net
The United States has scored a tournament-high 20 goals this Olympics, scoring at least five times in three of its four games played. The U.S. is on pace to top its previous goal scoring high in the NHL-era of the Olympics (26), set by the 2002 silver-medal winning team.
The U.S. has been focusing on getting to the net to score goals in the tournament. Fourteen of its 20 goals scored have been from shots taken directly in front of the net, most this Olympics.
That works out to 70 percent of its total goals scored. No other team in the semifinals has scored more than half of its goals from in front. Canada goaltender
Carey Price
has allowed only three goals this Olympics, one of which was from in front.
Canada winning with defense
The United States' goal-scoring will be put to the test against Canada's defense and goaltending. Canada has allowed the fewest goals (three) and shots (74) this Olympics.
Canada is allowing a mere 19 shots per game in the tournament. The U.S. has averaged 30 shots in its four games, with a low of 25 against the Czech Republic.
Not only has Canada's defense been bringing offenses to a halt, it has been providing much of the offense as well.
Defensemen
Drew Doughty
(four goals) and
Shea Weber
(three goals) are among the top three scorers for Canada this Olympics. Six of their seven combined goals have come from the faceoff circles or further out.
Canada has relied on defensemen scoring due to a goal-shortage from its offensive stars.
Sidney Crosby
,
Chris Kunitz
,
Corey Perry
,
Jonathan Toews
,
Patrice Bergeron
,
Rick Nash
,
Patrick Marleau
and
Martin St. Louis
are among the names without a goal in Sochi. Canada also lost
John Tavares
, who is third in the NHL in points this season, to injury.
When Canada has scored, it has been to the stick side of the goaltender. Seven of Canada's 13 goals have been scored that way this Olympics, but U.S. goalie
Jonathan Quick
has allowed only one such goal.
What's at stake?
If Canada wins, it will have an opportunity to win back-to-back gold medals for the first time since the 1948 and 1952 Olympic Games.
If the United States wins, it will have the opportunity to take home the gold medal for the first time since the 1980 "Miracle on Ice" team. The U.S. has not medaled outside of North America since 1972 (silver).
July, 13, 2012
7/13/12
11:06
PM ET
By
Ryan Feldman
| ESPN Stats & Info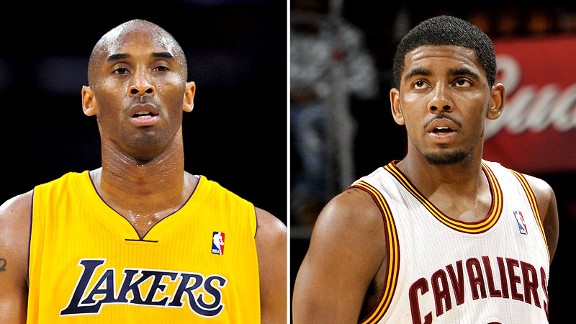 Getty ImagesKyrie Irving challenged Kobe Bryant after a Team USA practice to a game of one-on-one.
Who would win a one-on-one matchup?
Kobe Bryant
or
Kyrie Irving
?
Irving challenged Bryant to a one-on-one game with the loser donating $50,000 to charity.
In order to analyze this hypothetical matchup, let's take a look at how each player performed last season on various play types that represent pure one-on-one situations using Synergy Sports Technology.
SINGLE-COVERED ISOLATION PLAYS
OFFENSE
The majority of a one-on-one matchup between two guards would likely be comprised of single-covered isolation plays.
Irving scored the second-most points per play on single-covered isolation plays last season of the 63 players with at least 100 plays, trailing only
Chris Paul
. Of those same 63 players, Kobe ranked 21st. Irving shot 49 percent, while Bryant shot 38 percent.
DEFENSE
On defense, it's a different story.
Of the 99 players to defend at least 75 single-covered isolation plays last season, Kyrie allowed the third-most points per play. Only
Steve Blake
and
Dorell Wright
were worse. Of those same 99 players, Bryant ranked 24th. Kyrie allowed opponents to go to the free throw line 15 percent of the time, the sixth-highest percentage, while Kobe only sent opponents to the charity stripe on six percent of those plays, the 10th-lowest percentage.
SINGLE-COVERED POST-UP PLAYS
OFFENSE
Irving only had nine single-covered post-up plays last season, but he was very effective on those nine plays, shooting 5-of-9 (55.6 percent) with no turnovers or free throws.
Although a small sample size, Irving's 1.11 points per play on single-covered post-up plays was better than Bryant's 0.94.
Of the 225 players with at least nine single-covered post-up plays last season, Irving scored the sixth-most points per play, while Bryant ranked 53rd.
Kobe's most effective post-up move is facing up from the right block. Of the 31 players with at least 20 of those plays, Bryant had by far the most points per play (1.46) and highest field-goal percentage (71).
DEFENSE
Neither player spent much time defending single-covered post-up plays, but when they did, Kobe was more effective. He held opponents to 28 percent shooting and the ninth-fewest points per play of the 265 players to defend at least 25 single-covered post-up plays.
Of those same 265 players, Kyrie ranked 63rd in points per play allowed. He held opponents to 38 percent shooting. Irving's strength defending those plays was the ability to not commit fouls. His opponents only reached the free throw line on five percent of those plays, the 13th-lowest percentage. Kobe's opponents got to the free throw line 15 percent of the time, which ranked 189th.
JUMPERS OFF THE DRIBBLE
OFFENSE
Kobe gets the edge in jumpers off the dribble. He shot 40 percent, which ranked 26th of the 95 players with at least 100 jumpers off the dribble last season, while Irving shot 35.3 percent, which ranked 62nd. In effective field-goal percentage, which factors in 3-pointers as well, it's a little closer. Kobe was 41 percent (ranked 42nd), while Kyrie was 40 percent (52nd).
DEFENSE
Kobe held opponents to 33 percent shooting on jumpers off the dribble last season, the 24th-lowest percentage of the 157 players to defend at least 100 jumpers off the dribble. Irving's opponents shot 42.2 percent, which ranked 133rd.
July, 12, 2012
7/12/12
1:11
AM ET
By
Ryan Feldman & Gregg Found, ESPN Stats & Info
| ESPN.com
US PresswireWould the current U.S. Olympic team have a chance against the Dream Team?
Kobe Bryant
believes the 2012 U.S. Olympic team would beat the 1992 Olympic team. Is he correct?
According to AccuScore, which ran 10,000 computer simulations, the 1992 team would win 53.1 percent of the time and by an average margin of one point per game.
No one will ever know the true answer, but let's take a look at the Next Level analytical facts about the rosters at each point of their careers to help make the case either way.
REBOUNDING AND DEFENSE
Much has been made about the current team's weak frontcourt. The 1992 team had four players who grabbed at least 15 percent of available rebounds in 1991-92 (
Charles Barkley
,
Patrick Ewing
,
Karl Malone
,
David Robinson
). The current team has three players at that rebound rate last season (
Tyson Chandler
,
Blake Griffin
,
Kevin Love
).
The 1992 team had two players (Ewing, Robinson) who blocked at least 5 percent of the shot attempts they faced in 1991-92. No 2012 player had a block percentage higher than 3.4 last season (Chandler).
SHOOTING
Four current members had a true shooting percentage (a measure of shooting efficiency that takes into account 2-pointers, 3-pointers and free throws) of at least 60 last season (Chandler,
Kevin Durant
,
James Harden
,
LeBron James
). Chandler (70.8 in 2011-12) led the NBA each of the past two seasons. Only one of the 1992 members had a 60 true shooting percentage (Barkley), although three others fell just short of that threshold in 1991-92 (Malone, Robinson,
John Stockton
).
PASSING
Five Dream Team members assisted on at least 25 percent of their teammates' field goals in 1991-92 (Larry Bird,
Clyde Drexler
,
Michael Jordan
,
Scottie Pippen
, Stockton), plus Magic Johnson had a 49.3 assist percentage in his most recent NBA season (1990-91). LeBron,
Chris Paul
,
Russell Westbrook
and
Deron Williams
had a 25 assist percentage or better last season, but none were as high as Stockton (53.7), who was in the midst of leading the league in assist percentage for 10 straight seasons.
AGE, EXPERIENCE AND CHAMPIONSHIPS
The 1992 team was about 2½ years older on average (28.8-26.2). Other than Bird and Magic, every Dream Team member was 30 years old or younger. Every member of the current team is 29 or younger, other than Kobe, who is 33.
But the NBA experience level is about the same. The 1992 team had, on average, 7.3 years of experience per player. This year's team has 7.1.
As far as NBA titles, give the edge to the 1992 team. Its players had a combined 12 championships as they entered the Olympics -- five by Magic, three by Bird and two each from Jordan and Pippen.
The 2012 version has seven championships among them, carried by Kobe's five. LeBron and Chandler each have one. The current team has members of each of the past four NBA champions, while the 1992 team had members of the then-past two champions.
PLAYER VALUE/EFFICIENCY
Using average win shares per 48 minutes in their previous NBA seasons, (including Magic's 1990-91 season and not including
Christian Laettner
), the 1992 squad's average is higher by 9 percent (.215-.198). Prefer player efficiency rating to win shares? The Dream Team's PER was 3 percent higher (23.8-23.0).
IN THEIR PRIME?
Other than Laettner, all 11 Dream Team members are Hall of Famers. And only two could be considered in the twilight of their careers. Bird had just finished his last NBA season, while Magic had retired the previous year, although he made a brief comeback in 1995-96. As for this edition, one could make the case that all but the 33-year-old Kobe on the roster could appear on another Olympic team again.
The 2012 team gets under way with an exhibition game Thursday against the Dominican Republic on ESPN at 9 p.m. ET. Only time will tell whether this team is the modern-day Dream Team.