Stats & Info:

Omar Infante
December, 13, 2013
Dec 13
7:07
PM ET
Robert Deutsch/USA TODAY SportsOmar Infante's specialty is making sure bat meets ball.
The
Kansas City Royals
made what they think is an upgrade to their infield by agreeing to a four-year deal with free agent second baseman
Omar Infante
on Friday.
They're counting on two different things from Infante—that his offensive numbers from last season can be maintained, even though they're a bit abberational, and that his defensive numbers from last season were an aberration, and will return to what they were in past seasons.
Offense
Infante hit .318, with a .345 on-base percentage and .450 slugging percentage last season. He had the fourth-highest batting average among anyone in the American League with at least 250 plate appearances last season.
He also ranked as the third-toughest hitter in the league to strike out, fanning in only 9.2 percent of his plate appearances last season.
Infante was among the game's best two-strike hitters last season, hitting .272 with a .430 slugging percentage in those situations, each of which ranked fifth-best in the majors (among those with at least 100 two-strike plate appearances).
These numbers differ from his career totals and recent trends in a couple of ways. He hit .218 in two-strike situations from 2008 to 2012, and his five two-strike home runs were one more than he had from 2009 to 2012 combined.
Royals second baseman had a .243/.296/.304 slashline last season. Their .600 OPS at the position rated 28th among the 30 major-league teams. It marked the third straight season that Royals second baseman ranked in the bottom seven of the league in that statistic.
Defense
The one thing that the Royals did get out of their second baseman last season was defense. Their second basemen combined for 18 Defensive Runs Saved, the most of any team in the major leagues.
Infante normally rates as a steady second baseman. He had 13 Defensive Runs Saved at the position from 2010 to 2012. But last season, he finished with -5 Defensive Runs Saved.
Infante's rating was hurt by issues handling line drives and popups. He may be helped moving to Kansas City and working with Royals outfielders
Lorenzo Cain
and
David Lough
, each of whom had positive ratings on balls hit to the shallowest parts of the outfield.
The contract
Infante will reportedly net $30.25 million over the course of the deal. He joins
Jason Vargas
, who received $32 million over four years, as the team's two primary free-agent signings. It's the first time in Royals history that they've signed two free agents to contracts worth $30 million in the same offseason.
He's the 11th free agent this offseason to agree to a contract worth $30 million. The last offseason with more such deals was in 2006-2007, when there were 14.
July, 24, 2012
7/24/12
11:27
AM ET
By
Justin Havens
| ESPN.com
The major league baseball trade deadline is just a week away (July 31 at 4 ET). Yesterday we looked at the
available pitchers
, and today we examine the hitters likely to be moved before the deadline.
Chase Headley
Why trade him?
Headley is relatively young (28), the
San Diego Padres
are in rebuilding mode, and he reportedly has many suitors around baseball. Though he's affordable, the Padres may be interested in making room for prospects on the way up.
Why acquire him?
Headley is one of best regular third baseman in baseball and is not a free agent until after the 2014 season. He's also been much more productive away Petco Park, hitting .307 with a .869 OPS on the road over the last two seasons compared to a .251 batting average and .692 OPS at home.

Upton
B.J. Upton
Why trade him?
B.J. Upton is a free agent at season's end, and there's some question as to whether the
Tampa Bay Rays
would re-sign him.
Why acquire him?
Upton is having one of the worst seasons of his career to this point, but his combination of moderate power and speed is rare. He is just one of three players to have at least 150 stolen bases and 90 homers combined since the start of 2007.
Justin Upton
Why trade him?
Upton finished fourth in the NL MVP vote last year but has yet to put together back-to-back star-level seasons. He's owed $38.5 million from 2013-15, and the
Arizona Diamondbacks
could get multiple future/present contributors in a deal.
Why acquire him?
He has been regarded as a potential superstar since he was drafted, and his age (24) makes him appealing to contenders and rebuilders alike. However, he has struggled this year, and one issue has been his inability to turn on pitches on the inner half of the plate. After hitting 22 homers on those pitches in 2011, he has just two in 2012.

Victorino
Shane Victorino
Why trade him?
Victorino is a free agent at the end of the 2012 season, and the
Philadelphia Phillies
are 14 games out of first place in the NL East and 11 back of the NL Wild Card.
Why acquire him?
Though he has struggled this year, Victorino has been among the most productive center fielders in baseball since the start of 2007. His WAR of 20.1 during that span is behind only
Curtis Granderson
among center fielders.
On Monday, the Florida Marlins traded second baseman Omar Infante and right-handed pitcher Anibal Sanchez to the Detroit Tigers for right-handed pitcher Jacob Turner and two minor leaguers.
Omar Infante
Why did the Marlins trade him?
Infante was one of the few players on the
Miami Marlins
roster who was not a) a long-term piece or b) too expensive to move. He helped the Marlins add an asset or two for 2013 and beyond.
Why did the Tigers acquire him?
Infante is very affordable (owed $8 million for the rest of 2012 and 2013 combined) and has continued a multi-year trend of increasing his power output. His Isolated Power was just .084 in 2009 but has steadily risen to .155 in 2012, above the MLB average for second baseman (.126).
As you can see in the chart, the Tigers clearly needed offensive help at second base. Infante is a huge upgrade for a team with the worst OPS by second basemen this season at the time of the deal.
November, 16, 2010
11/16/10
8:08
PM ET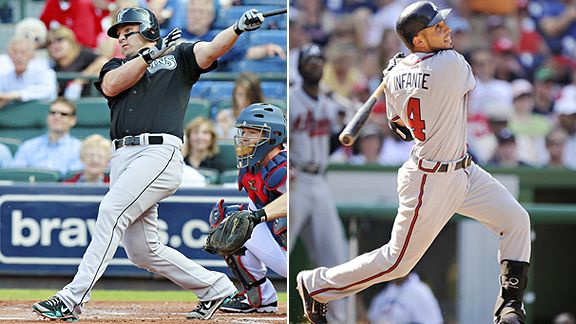 Getty Images
Dan Uggla and Omar Infante figure to both make significant impacts on their new lineups in 2011.
The statistical implications of the deal sending
Dan Uggla
from the
Florida Marlins
to the
Atlanta Braves
for
Omar Infante
and
Mike Dunn
are significant.
In obtaining Uggla, the Braves not only acquire the premier middle infielder in terms of home run hitting, but also, next to
Albert Pujols
, one of the best right-handed power hitters in the National League.
Uggla's 154 home runs are the most by a middle infielder in his first five seasons, in major league history (18 more than Ernie Banks). They also trail only Pujols for most home runs by an NL right-handed hitter in these last five seasons.
After watching what Uggla did to them at Turner Field, Braves fans will be quite happy to be able to root for him and not against him. Uggla is a .354 career hitter at Turner Field. His batting average is the third-best of anyone there since the ballpark opened in 1997. His .652 slugging percentage there trails only a pair of immortals --
Barry Bonds
and Pujols.
Those concerns that the Braves dealt with in the postseason regarding their defense may not go away though. Baseball Info Solutions rates Uggla tied for the worst among second basemen in baseball in terms of defensive runs saved (a metric that measures ability to turn batted balls into outs and turn double plays) and he's rated among the worst in three of the last four seasons.
Historically, Uggla's biggest issue is fielding balls hit to the left of where the second basemen typically plays (the first base/second base hole), though he did improve from a minus-12 to a minus-6 in BIS's plus-minus rating (the batted balls into outs component of Runs Saved) on balls hit that way from 2009 to 2010, meaning that new first baseman
Freddie Freeman
may have some extra ground to cover.
Trading their top home run hitter is nothing new for the Marlins. Each of the top four players on the Marlins all-time home run list (Uggla,
Mike Lowell
,
Miguel Cabrera
, and
Derrek Lee
) have been traded away by the franchise during the prime of their careers. With 124 home runs,
Hanley Ramirez
is 30 behind Uggla's mark and can take aim in 2011.
Ramirez's new teammate, Infante happens to have a skill in which he ranks best in baseball at something. Last season, Infante hit .345 with runners in scoring position, and over the last four seasons, his .352 batting average in such situations is tops in the majors. The Marlins rated 16th among teams in 2010 with a .258 batting average with runners in scoiring position.
Last season, Infante played at least 15 games at second base, shortstop, third base and in the outfield, giving the Marlins a bit more versatility as well.
Dunn may also have some important value to a Marlins bullpen whose ERA jumped from 3.89 in 2009 to 4.01 in 2010 (in a year in which most ERAs decreased). In 19 innings, he struck out 27 (while walking 17) and he's shown the ability to get left-handed hitters out, holding them to 8-for-42 with 18 strikeouts and no home runs.
October, 8, 2010
10/08/10
6:07
AM ET

Lincecum
In the Giants first postseason appearance since 2003 they had an ace up their sleeve in the form of
Tim Lincecum
. He used 119 pitches to toss a two-hit, 14 K shutout and give the Giants a 1-0 lead over the Braves in the National League Division Series.
What else did he do?
•Became the second pitcher in MLB history to strike out at least 10 and allow two hits or fewer in a shutout in a postseason debut. The other was Ed Walsh of the 1906 White Sox.
•The 14 strikeouts are tied for third-most in a postseason shutout, trailing only Bob Gibson and
Roger Clemens
(17).
•Tied the record for strikeouts in a postseason debut, which was previously done three times (last by Mike Scott of the 1986 Astros).
•Became the third pitcher to throw a 1-0 shutout with 10 or more strikeouts, joining Mike Scott and Dave McNally (1969 Orioles).
•Became the first pitcher to throw a 1-0 shutout in his postseason debut since Mike Scott.
•Set the Giants single-game postseason record with 14 K, beating the previous mark of 10 (done four times).
How was he able to dominate?
Lincecum had good command of his fastball as the Braves were only one-for-12 against the pitch. The lone hit (
Omar Infante
's double to lead off the game) came on a fastball up-and-away. That's the corner where Lincecum is most vulnerable (.293 opp BA).
The Braves' eagerness to chase meant Lincecum could go out of the zone and still get strikes. Only 44 percent of his pitches were in the zone, second-lowest in a start since the All-Star break, yet Lincecum got 24 strikes on bad balls (17 swings-and-misses, three fouls, two called and two in play). Eleven of his strikeouts came on balls out of the strike zone.
Lincecum forced 31 swings and misses, which is easily a career high and the most for ANY pitcher in ANY game this season. The Braves missed 56.4 percent of their 55 swings.
Lincecum never faced more than four batters in an inning, and the Braves were 0-8 with runners on base and their chase percentage jumped to 44 pct with runners on.
Lastly, an interesting fact about the second inning: Lincecum struck out the side on nine swings and misses. There were some called balls mixed in, so it's not nine pitches, but every strike in that inning was a whiff.
August, 26, 2010
8/26/10
1:51
PM ET
By
Lee Singer
and
Dan Braunstein
| ESPN.com
In the Colorado Rockies' come-from-way-behind 12-10 victory Wednesday afternoon against the Atlanta Braves
, their win probability (based on teams throughout history in similar situations) dipped as low as 1.2 percent in the fourth inning:
• The Rockies trailed 3-0 after the top of the first, meaning their win probability was 28.9 percent even before they came to bat.

• After the top of the second, the Rockies trailed 7-0 - a win probability of 7.0 percent.
• When
Omar Infante
homered in the third inning to give the Braves a 10-1 lead, the Rockies' win probability fell to 2.2 percent.
• With the score still 10-1,
Brian McCann
doubled leading off the top of the fourth, and the Rockies' win probability dipped to its lowest point at 1.2 percent.
• Trailing 10-6 in the sixth inning, the Rockies' win probability sat at just 15.5 percent until a
Ryan Spilborghs
two-run double increased it to 30.8 percent, cutting the score to 10-8.
• The Rockies' win probability did not get above 30.8 percent until the eighth inning, when Carlos Gonzalez's two-run single tied the game at 10. The Rockies win probability jumped all the way from 24.9 percent to 61.2 percent with the hit.
• When
Troy Tulowitzki
followed with the go-ahead single to make it 11-10, the Rockies' win probability went up to 84.9 percent, and increased to 93.1 percent with Todd Helton's RBI single providing the final run.
• The Rockies' win probability did not dip below 90 percent from that time forward as they closed out the Braves in the 9th.
The Cincinnati Reds' 12-11 victory over the San Francisco Giants
on Wednesday featured several win probability swings:
• The Reds scored four runs in top of the first inning and had a win probability of 82.4 percent before the Giants even came to bat.

• After the Reds scored four more runs in the third inning to take an 8-1 lead, their win probability stood at 96.4 percent.
• When
Homer Bailey
singled to give Cincinnati a 10-1 lead in the fifth inning, the Reds' win probability was all the way up to 99.5 percent, its highest point until the game was over.
• The Giants cut the lead to 10-5 after six innings, but the Reds' win probability was still high at 97.4 percent.
• Even when
Juan Uribe
homered in the eighth to make it 10-8, the Reds still had a win probability of 85.2 percent.
• The biggest win probability jump of the game occurred on Andres Torres' eighth-inning double, which tied the game at 10 and knocked the Reds' win probability from 65.3 percent down to 26.2 percent.
• When Aubrey Huff's sacrifice fly in the eighth gave the Giants an 11-10 lead, the Reds' win probability fell to 14.6 percent.
• The Reds entered the 9th inning trailing 11-10. After
Ryan Hanigan
flied out leading off the top of the inning, the Reds' win probability was at its lowest point at just 8.3 percent.
• After
Drew Stubbs
reached second base on an error, Paul Janish's game-tying single in the 9th took the Reds' win probability from 21.9 percent up to 56.1 percent, the third-biggest jump of the game.
• The Reds took a 12-11 lead in the 12th inning on a
Joey Votto
single, which brought the Reds win probability from 48.1 to 84.9 percent, the second-largest win probability movement of the game.
• Torres came to bat in the ninth inning with runners on first and third and two out, with the Giants trailing 12-11. The Reds' win probability was at 80.9 percent at this juncture. Torres grounded out to end the game, bringing the Reds' win probability to 100 percent.