Stats & Info:

Orel Hershiser
August, 27, 2013
8/27/13
2:56
PM ET
By
ESPN Stats & Information
| ESPN.com
AP Photo/Jeff RobersonClayton Kershaw has made things difficult for opposing hitters throughout 2013.
Clayton Kershaw
looks to keep his amazing 2013 going when the
Los Angeles Dodgers
face the
Chicago Cubs
tonight.
Kershaw's history against the Cubs is stellar-- he's made four starts against them and allowed two runs or fewer in each.
But what about Kershaw and big-picture history?
With the help of
Baseball-Reference.com
, here's a snapshot of where Kershaw stands in statistical history with what is likely six starts left in his season.
Amazing ERA
Kershaw enters with a 1.72 ERA. In the last 30 seasons, only two pitchers have qualified for the ERA title with an ERA that low at season's end: Dwight Gooden (1.53 for the
New York Mets
in 1985) and
Greg Maddux
(1.56 in 1994 and 1.63 in 1995, both with the
Atlanta Braves
).
It is extraordinarily rare for a left-handed pitcher to finish a season with that low an ERA. In baseball's live ball era, the only one to do so was Hall-of-Famer Carl Hubbell, who had a 1.66 ERA for the 1933 New York Giants. The last before him was Rube Marquard, who posted a 1.58 ERA for the 1916 Brooklyn Robins (who became the Dodgers).
Also rare: for a southpaw to finish with that good of an ERA relative to his league. Baseball-Reference tracks ERA+, which measures that, adjusting slightly for his primary ballpark.
Kershaw's ERA+ is currently 207 (his ERA is 1.72, the NL ERA is 3.74). Only three lefties since 1900 have had an ERA+ that good, the last being Ron Guidry (208 for the 1978
New York Yankees
). Only one of those three was a National Leaguer—Jack Pfiester for the 1907 Chicago Cubs (216).
Unhittable
Opponents are hitting .182 against Kershaw this season. The last ERA-title qualifying pitcher to finish a season with that low an opponents' batting average was
Pedro Martinez
(.167) for the 2000
Boston Red Sox
.
The last lefthander to do so was a former Dodger, though only for a few moments: Sid Fernandez (who made two appearances for the 1983 team) held hitters to a .181 batting average for the 1985 Mets.
There have been six pitchers in the divisional era (since 1969) that finished a season with an opponents' batting average that low. The only Dodgers pitcher among them was
Hideo Nomo
, whose was also .182 in his rookie season, 1995.
For those looking to make the inevitable comparison to Sandy Koufax, the Dodgers legendary lefty had one season with an opponents' batting average that low, 1965, when opposing hitters batted .179 against him.
And if you prefer OPS to batting average, Kershaw's currently stands at .495. Only three pitchers have held opposing hitters below .500 since Bob Gibson and Luis Tiant both did so in the Year of the Pitcher, 1968: Nolan Ryan (.496, 1981
Houston Astros
), Maddux (.482, 1995 Braves), and Martinez (.473, 2000 Red Sox).
The Whiffs
Kershaw currently has 188 strikeouts and it seems inevitable he'll reach 200, perhaps as soon as tonight.
He would become the third Dodgers pitcher to record at least four straight seasons with 200 or more strikeouts, joining Koufax (six straight from 1961 to 1966) and Don Drysdale (four straight from 1962 to 1965).
Scoreless Streak
Lastly, perhaps it's wishful thinking, but Kershaw enters tonight with a 16-inning scoreless streak. If he throws seven scoreless innings of each of his next six starts, he'll match Don Drysdale for the second-longest scoreless streak in major-league history.
And he would be one inning shy of Orel Hershiser's record streak. That streak began 25 years ago Friday.
November, 17, 2011
11/17/11
3:05
PM ET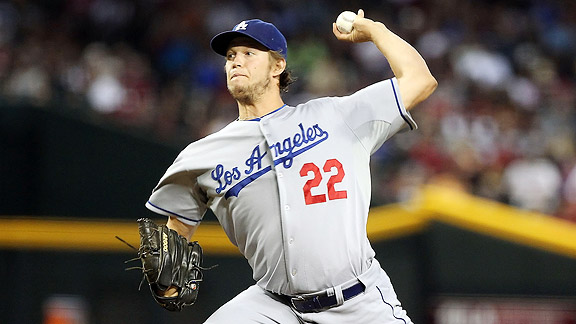 Christian Petersen/Getty ImagesClayton Kershaw was able to hone in on the changes needed to go from good to dominant
The Dodgers may not have had the best of seasons in 2011, but their ace,
Clayton Kershaw
, had a season that evoked the names of some of the best pitchers in Dodgers history.
Kershaw is the Dodgers first pitcher to win the Cy Young Award since reliever
Eric Gagne
in 2003 and the first Dodgers starter to win it since Orel Hershiser in 1988.
Kershaw finished with 21 wins, 248 strikeouts, and a 2.28 ERA. The last pitcher to hit or better all three of those benchmarks in a season was
Pedro Martinez
for the 1999 Red Sox.
The only two other
National League
pitchers to reach these plateaus in the last 40 years are Steve Carlton (1972 Phillies) and Dwight Gooden (1985 Mets). The last Dodgers pitcher to do so was Hall-of-Famer Sandy Koufax in 1966.
Kershaw was the first Dodgers pitcher to lead the National League in wins since
Brad Penny
and
Derek Lowe
in 2006, the first to be best in ERA since
Kevin Brown
in 2000, and the first to top the leader board in strikeouts since
Hideo Nomo
in 1995.
Kershaw was 12-3 with a 1.93 ERA in 18 starts this season against teams that finished the year with winning records. The Elias Sports Bureau notes that the only other pitcher with more than eight such wins this season was
Ian Kennedy
(9-2, 2.97 ERA in 14 starts).
Elias also notes that Kershaw closed the season with a flourish. His 1.31 ERA after the All-Star Break is the best of any pitcher in Dodgers history.
He and
Justin Verlander
each won the Pitching Triple Crown, the first time that had been done in both leagues in the same season since Hall-of-Famers Dazzy Vance (Dodgers) and Walter Johnson (Senators) won in 1924.
What made Kershaw better than he'd been in previous seasons?
Considering that the difference in Kershaw's batting average on balls in play from 2010 to 2011 was minimal (.279 in 2010; .274 in 2011), what most made Kershaw dominant was his strikeout increase (from 212 to 248) and walk decrease (from 81 to 54).
That came from Kershaw changing the mix of pitches with which he got outs in 2011.
In 2009 and 2010, Kershaw was a pitcher who got 70 percent of his outs with his fastball. Last season, he evolved into someone who used his heater to get outs just over half of the time.
The big jump for Kershaw was in the increased use of his slider as his dominant out pitch (something
we noted in August
). It got one-third of his outs in 2011, a rate that was basically double what it got in 2010.
That was even more pronounced with two strikes, as Kershaw went from throwing breaking pitches 35 percent of the time in 2010 to doing so in 60 percent of his two-strike counts last season.
Kershaw's high rate of success with his slider was evident in this stat: He struck out 138 hitters with his slider, the most strikeouts with that pitch in the majors.
The image below illustrates Kershaw's change in approach. The image on the left shows the location of Kershaw's strikeout pitches to right-handed hitters in 2010. The image on the right shows a much different look for 2011.
The red shading accounts for an area in which Kershaw whiffed 62 hitters last season, nearly double the number the number he had in that location in 2010.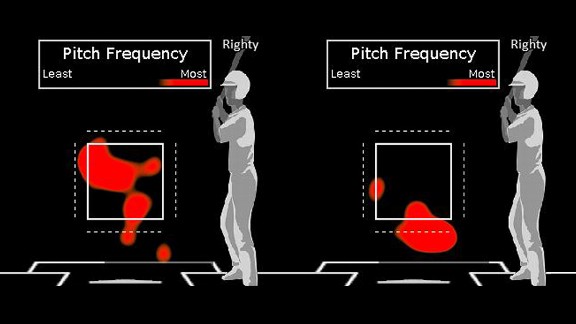 Where Clayton Kershaw got strikeouts most often in 2010 (left) and 2011 (right)
Click here to create your own Kershaw heat maps and custom images

September, 14, 2010
9/14/10
2:39
PM ET

Today's Trivia:
The
St. Louis Cardinals
'
Adam Wainwright
(18-10, 2.38 ERA), who pitches tonight, and the
Philadelphia Phillies
'
Roy Halladay
(18-10, 2.44 ERA) have a good chance at 20 wins and an ERA below 2.50. Can you name the last National League pitcher with both of those qualifications who did not win the Cy Young?
On Monday, we took a peek at the American League Cy Young contenders. Today it's the National League's turn.
• There are currently four NL pitchers with an ERA below 2.50. The last time that happened was 1998. In three of the previous four seasons, there wasn't one.
• It would not be unrealistic for Halladay to reach all of the following milestones: 20 wins, 250 innings, 200 strikeouts and an ERA below 2.50. Since 1975, only seven pitchers have done that. All won the Cy Young.
• Though wins and losses are certainly not great indicators of a pitcher's effectiveness, the fact remains that they are key components in the minds of many voters. So too are losses. Consider that of the last 32 Cy Young winners in both leagues, only
Pat Hentgen
in 1996 had 10 or more losses.

• Wainwright and Halladay both have 18 wins and an ERA under 2.50. Both also have double-digit losses. So how does 18-6 with a 2.30 ERA sound? Well, that's what
Josh Johnson
could be if the
Florida Marlins
bullpen hadn't blown seven of his wins this season. According to the
Elias Sports Bureau
, that's the most in the majors.
• Both Wainwright and Halladay should probably have 20 wins already. Each has only two no-decisions, but all four of them should have been wins. Wainwright has a 0.62 ERA in his two no-decisions, while Halladay's is 1.17. Amazingly,
Johan Santana
has a 2.10 ERA in nine no-decisions.
• At 18-6, the
Colorado Rockies
'
Ubaldo Jimenez
leads the NL in winning percentage (.750), though he is just 3-5 since the All-Star break. However, the last four pitchers with at least 18 wins and six or fewer losses have won the Cy Young. The last to miss out was
Mark Prior
is 2003, a year in which closer
Eric Gagne
won the award.
• Will the stretch run eliminate the Cardinals' candidates? Over the last month,
Chris Carpenter
has a 3.96 ERA, while Wainwright checks in at 4.50. Similarly, Jimenez is just 1-3 with a 3.51 ERA despite Colorado's surge. Meanwhile, Halladay is 4-2 with a 2.89 ERA.
• In 2008,
Tim Lincecum
had the lowest opponent OPS in the majors. He did so again last year. Both seasons brought home the Cy Young. So who is it in 2010? Mat Latos' .561 opponent OPS ties Lincecum's 2009 number for the lowest by a qualifying starter since
Roger Clemens
(.544) in 2005. Clemens finished third that year with Chris Carpenter winning.
• Carpenter leads the NL with 24 quality starts, but five pitchers are just one behind. However, if you make the qualifications seven innings and two earned runs of fewer, a clearer picture emerges. Halladay has 18 such starts, while no other pitcher has 16.
Key Matchups:
The
Colorado Rockies
'
Carlos Gonzalez
has nine career hits against the
San Diego Padres
'
Jon Garland
, three more than he has against any other pitcher. In fact, six of those nine hits are doubles. That means he has as many doubles off of Garland as he has hits off any other pitcher. He doesn't have more than two doubles off any other pitcher. In his last eight at-bats against Garland, "CarGo" has four doubles and a single.
Facing a must-win series against the
Minnesota Twins
, the
Chicago White Sox
send
John Danks
to the mound. Though he leads the team with 13 wins, the White Sox are just 2-6 in his last eight starts. The lefty will have to contend with
Michael Cuddyer
on Tuesday. He's hit .467 against Danks with five home runs in 45 at-bats. That's two more home runs than he has against any other pitcher. However, all five came last season, as Danks has kept him in the park in all 15 at-bats this season.
Trivia Answer:
The last five NL pitchers with at least 20 wins and an ERA below 2.50 have won the Cy Young. The last to come up short was
David Cone
in 1988, despite a 20-3 record and 2.22 ERA. Of course, the man he lost out to, Orel Hershiser, also had those marks with a 23-8 record and 2.26 ERA.
July, 6, 2010
7/06/10
1:23
PM ET
By
Jeremy Lundblad, ESPN Stats & Info
| ESPN.com
Quick Hits
: The importance of a first-pitch strike can be summed up rather simply. After a 1-0 count, the league average is .275 with a .827 OPS. But after a count goes to 0-1, those numbers plummet to .229 BA and .619 OPS. Let's take a look at some notable trends on the first pitch:
Among starting pitchers, only Carlos Silva (70.0) throws a higher percentage of first-pitch strikes than Cliff Lee (69.0). So it should be little surprise that batters come out swinging. Opponents swing at 39.2 percent of Lee's first pitches. The last starter with a higher rate? Johan Santana's 39.7 in 2005.
Somehow Scott Downs has put together a solid season in the Toronto bullpen despite a 45.0 first-pitch strike percentage. After a 1-0 count, opponents are hitting just .217 against Downs.
James Shields has given up 34 hits on the first pitch, and is on pace to allow the most for the second straight year. Opponents are hitting .540 against him on the first pitch (league average is .339).
Shields has also allowed seven first-pitch home runs. The entire Yankees' pitching staff has allowed just four.
Chris Carpenter has hit four batters with the first pitch. That is more than seven teams have all season.
As a team, no one swings at the first pitch more than the Blue Jays (33.2 percent) or less than the Red Sox (19.1). Not surprisingly, the Blue Jays have the fourth-worst batting average on the first pitch (.310), while the Red Sox are fourth-best (.371).
Of Geovany Soto's eight home runs, five came on the first pitch. He has the highest first-pitch OPS (2.115) of any player with at least 20 plate appearances ending on the first pitch.
Pablo Sandoval has grounded into nine double plays on the first pitch this season. That's more than six teams and almost twice as many as the Mets (5).
Brett Gardner has only swung at the first pitch 18 times all season and has the second lowest percentage of swings in the majors behind Franklin Gutierrez. Gardner has made those swings count, having gone 5-for-8 on the first pitch.
Today's Trivia
: Orel Hershiser retired 10 years ago today. Who is the winningest Dodgers pitcher since July 6, 2000?
Today's Leaderboard
: Given that no one swings at a higher percentage of first pitches, it should be no surprise that
Vladimir Guerrero
leads the majors with 22 RBI on the first pitch.
Delmon Young
is next with 21. In his career, Guerrero has 382 RBI coming on the first pitch. That's 78 more than the next active player (
Manny Ramirez
).
Key Matchups
:
Zack Greinke
is a perfect 3-0 with a 1.86 ERA in his career against the Mariners. Consider that the second, fourth and fifth hitters in the Mariners lineup are a combined 3-for-51 (.059), and it's easy to see why.
Chone Figgins
is 0-for-16 against Greinke and hasn't even walked. Meanwhile,
Jose Lopez
(1-for-17) and Franklin Gutierrez (2-for-18) have not fared much better.
Vernon Wells' overall numbers (19 HR, .872 OPS) may have warranted his All-Star selection, but much of that is courtesy of an electric April. Over his last 25 games, Wells is hitting just .191 with a .651 OPS. Could Tuesday be the start of a turnaround? Wells is 8-for-20 with four home runs in his career against
Carl Pavano
. No other player has more than three long balls against the Twins hurler. Wells is hitting .600 with three home runs in his last 10 at-bats against Pavano.
Trivia Answer
: Since the day of Orel Hershiser's retirement, Derek Lowe's 54 wins are the most in a Dodger uniform. Chad Billingsley could tie that total in his next start. Only the Pirates have fewer wins from their wins leader over that span. For comparison, Hershiser won 135 games over 13 seasons with the Dodgers.