Stats & Info:

Orlando Hudson
March, 28, 2011
3/28/11
8:59
AM ET
Arizona Diamondbacks

They struck out a major-league record 1,529 times in 2010. However, two players no longer with the team --
Mark Reynolds
and
Adam LaRoche
-- accounted for 25 percent of those strikeouts (383 of 1,529).
Gerardo Parra
was second among all leftfielders in 2010 with a +/- rating of +19. (Parra turned 19 more batted balls into outs than the average left fielder would have.) The only left fielder with a better +/- than Parra last season was
Carl Crawford
.
Colorado Rockies

The Rockies hit .298 at home in 2010, but just .226 on the road. The 72-point differential in their home-road batting average was the worst in baseball.
Carlos Gonzalez
was one of 15 players who hit 30 home runs and had 100 RBI last season. Of those 15 players, Gonzalez drew the fewest walks (40).
Los Angeles Dodgers

Once again, the Dodgers will have a big question mark in left field. (Currently,
Jay Gibbons
and
Marcus Thames
are the leading candidates for the starting position.) In 2010, the Dodgers' leftfielders combined to hit .261, with a .322 on-base percentage and .392 slugging percentage. Those numbers were the lowest for Los Angeles' leftfielders in all three categories since 2005.
Despite playing 162 games for the first time in his career,
Matt Kemp
saw his batting average, OBP and slugging percentage all drop at least 40 points from 2009 to 2010. He also struck out 31 more times, from 139 to a career-high 170.
San Diego Padres

There's no replacing
Adrian Gonzalez
's offensive production, one reason why their offseason moves might have revolved around improving defensively. New second baseman
Orlando Hudson
was a major-league best +23 among second basemen last season. New shortstop
Jason Bartlett
ranked ninth at his position, +6.
The core of their bullpen, the best in the majors last season, returns in 2011. The Padres' relief corps ranked first or second in ERA, opponents' batting average, strikeouts per 9 IP and strikeout-to-walk ratio, and fourth in home runs per 9 IP. Their strikeout-to-walk ratio was 18 percent higher than the next-best team.
San Francisco Giants

Barring injury,
Tim Lincecum
likely will become the eighth pitcher in the modern era (since 1900) with 1,000 strikeouts in his first five seasons. The seven pitchers who reached this milestone: Tom Seaver (1,155), Bert Blyleven (1,094), Dwight Gooden (1,067),
Kerry Wood
(1,065), Grover Cleveland Alexander (1,036),
Hideo Nomo
(1,031) and Mark Langston (1,018). In four seasons, Lincecum has 907 career strikeouts.
The Giants finished the season on a tear thanks to their pitchers, who put together one of the best calendar months in the live ball era (since 1920). The Giants posted a 1.78 ERA in September, the fifth-lowest in a month since 1920, and their .182 opponents' batting average was the second-best for a single month in that span.
-- Mark Simon and John Fisher contributed to this report
March, 9, 2011
3/09/11
3:47
PM ET
By
Justin Havens
| ESPN.com
If
Chase Utley
does indeed miss significant time, just how much will the
Philadelphia Phillies
miss him?

Utley
Wins Above Replacement (WAR), which looks at how many wins a player contributes to his team above and beyond a replacement-level talent, suggests Utley's absence could be severe.
Over the last four years, Utley has been worth anywhere from four to eight wins more valuable than his likely replacement,
Wilson Valdez
.
For reference, the Phillies last season won the National League East by six games.
Although the Phillies last season averaged 4.7 runs per game whether or not Utley was in the lineup (he missed 43 games last season with a thumb injury), there's no replacing his productivity.
In the games that Utley did not play last season, Phillies second basemen hit just .253, scored 18 runs and 15 RBI, according to the Elias Sports Bureau.
And, since 2005, no second baseman has more home runs (162), extra-base hits (403) or RBI (572) than Utley.
Defensively, Utley's absence would be felt just as much as his offense. Last season he ranked second only to
Orlando Hudson
in defensive runs saved at +14. Since 2005, Utley ranks first -- by a wide margin -- among second basemen in defensive runs saved at +108.
Mark Ellis
is second at +73.
December, 19, 2010
12/19/10
9:00
AM ET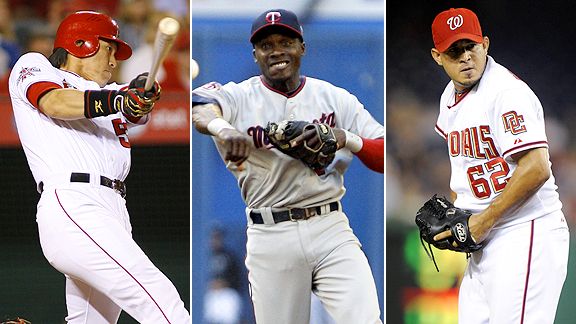 Getty Images
Hideki Matsui, Orlando Hudson, and Joel Peralta all have skill sets that should benefit their new teams.
There were other free agents signings besides Cliff Lee's last week. Here's a quick take on a few whose value may not match Lee's, but may be quite meaningful to their new employers.
Two teams on opposite coasts each made a one-year commitment to bats with a history of performing best when it matters most.
There are multiple stats that measure clutch performance and all agree that Athletics DH Hideki Matsui's numbers are very good.
He ranks first among active players by Elias's performance in batting average in "Late-Inning Pressure Situations" at .335 and sixth via
Baseball-Reference.com's
"Late-and-Close" metric at .318, seven points behind leader
Joey Votto
. His .955 OPS in the latter stat rates fifth-best.
Such a stat doesn't value new Yankees catcher Russell Martin's .737 OPS as highly, but another does. Statistician Tom Tango devised a means to look a player's performance based on the importance of the situation (known as
leverage
).
A low-leverage plate appearance has little determination on the outcome of the game (say a turn in the fifth inning with a team up, 5-0). A high-leverage situation is one in which the probability of winning the game can swing widely (such as batting in certain innings with multiple men on base and the score tied or within a run).
High-leverage situations make up about 10 percent of a player's plate appearances in a given season and they represent his most valuable turns. These appearances don't necessarily have to come late in the game. They just have to be ones in which a team's win probability can dramatically turn with success or failure.
Martin ranks 12th among all players in batting average (.324) and eighth in on-base percentage (.437) in high-leverage situations since 2002 (the first year for which
Fangraphs
has data), numbers that if maintained, will make him very popular among Yankees fans, perhaps almost as popular as Matsui, who similarly thrived in such situations.
-- Mark Simon
---
While
Orlando Hudson
's offense might be in decline, his defense remains excellent and that's what appeals most to the
San Diego Padres
, who signed him to a two-year deal.
Hudson tied Rays second baseman
Sean Rodriguez
for the major-league lead in the metric
Defensive Runs Saved
.
There was some concern entering 2010 that Hudson's defensive reputation had begun to outpace his performance.
Between 2008 and 2009, Hudson had fallen to middle-of-the-pack defensively after an extended run near the top of the leaderboard. The 2010 season served as a statistical bounceback.
-- Justin Havens
---
This winter is turning into the Offseason Of The Relief Pitcher.
Eleven relievers have signed multi-year free agent contracts. Only three offseasons since the winter of 1990 have seen more such signings –- 1999-2000 (15), 2003-2004 (15), and 2005-2006 (16) -- and only two have seen more money spent than the current $127 million (2005-06 leads with $213 million).
But it's a fiscally prudent signing that is most interesting.
Joel Peralta
joins a depleted
Tampa Bay Rays
bullpen after dominating righties for the
Washington Nationals
last season, holding them to a .145 batting average and .174 on-base percentage -– both of which were topped only by the former closer in Tampa Bay,
Rafael Soriano
.
Peralta had career-best numbers last year -- a 2.02 ERA and .521 OPS, both of which ranked in the top 10 among NL relievers. A .219 batting average on balls in play (third-lowest in the majors), along with a strand rate of 84.9 percent (10 points better than his career rate), might suggest that a repeat performance in Tampa Bay is unlikely.
However, Peralta's other peripherals –- his strikeout rate, walk rate and chase percentage -- also were the best of his career, indicating some improvement that made him, in the Rays view, worth the $900,000 investment. His fastball, against which opponents hit .140 and his split-fingered fastball (which got misses 49 percent of the time, according to Inside Edge) could be capable replacements for
Joaquin Benoit
's nasty changeup.
-- Katie Sharp
August, 3, 2010
8/03/10
1:46
PM ET
By
Gregg Found
| ESPN.com
Today's Trivia
: After pitching 1,198 innings in the American League (all with the Indians and Yankees),
Jake Westbrook
made his National League debut on Monday for the
St. Louis Cardinals
.
Can you name the active AL pitcher who has thrown the most career innings but never pitched for the NL? What about the active NL pitcher who has thrown the most innings but never pitched for the AL? We'll give you the top 3 in each league at the bottom of this document.
Quick Hits on non-contenders who have owned contenders this season, on the heels of the
Houston Astros
improving to 5-2 in St. Louis this season (they're 15-28 on the road against all other teams).
• The jury is still out on whether the
Detroit Tigers
are a contender, but they're 3-1 against the Yankees this season. All other AL Central teams are 6-15 against the
New York Yankees
.
• The
Tampa Bay Rays
only have a losing record against one AL team this season (the
Texas Rangers
), but they have losing records against four different NL teams, including the
Arizona Diamondbacks
(1-2) and
Florida Marlins
(2-4).
• The
Cleveland Indians
can claim dominance over the
Chicago White Sox
this season, going 8-4 against Ozzie Guillen's club. Cleveland is 12-14 against the rest of the division.
• The Rangers need to stay away from AL East bottom-feeders. Texas is 3-9 against the
Toronto Blue Jays
and
Baltimore Orioles
this season.
• If the
Philadelphia Phillies
could beat the
Chicago Cubs
and
Pittsburgh Pirates
, they'd be a lot closer to the
Atlanta Braves
in the standings. Philly is 4-8 against the Cubs and Pirates this season, but 6-0 against the other two NL Central non-contenders (
Milwaukee Brewers
and Astros).
Today's Leaderboard:
Today is Sid Bream's 50th birthday, so let's celebrate the player who memorably scored from 2nd base with 2 outs in the bottom of the 9th in Game 7 of the 1992 NLCS to send the Braves to the World Series. Who, in Bream's footsteps (pun not intended), has scored from 2nd base on a single most often this season?
It would be Martin Prado, who recently was placed on the disabled list.
And, since you're wondering, which MLBers have a 100 percent success rate? It's a tie among two guys who are 6-for-6:
Asdrubal Cabrera
and
Kyle Blanks
.
Key Matchups
:
• Here's the daily A-Rod vs Opposing Starter update: Rodriguez is 4-13 (.308 BA) in his career against Blue Jays starter
Ricky Romero
. But he has never homered off Romero and has only one extra-base hit (a double). And Romero really has Rodriguez's number this season – A-Rod is 0-5 with 2 strikeouts and a double play in his last 5 AB's against Romero.
•
Bud Norris
has gained a reputation as a Cardinals-killer in his career (4-1 with a 1.60 ERA vs STL, 5-9 with a 6.35 ERA vs all other teams) despite getting knocked around by the Cardinals in his most recent start against them. But Norris still owns plenty of Cardinals individually.
Felipe Lopez
is 0-8,
Matt Holliday
is 4-16,
Colby Rasmus
is 2-13 and
Skip Schumaker
is 2-14. What about the Great Pujols? Not great either, just 3-14 and no home runs.
• In a battle of the newly-acquired players for NL West teams, give a strong edge to
Ted Lilly
when he pitches against
Ryan Ludwick
tonight. Ludwick is batting just .192 (5-28) with twice as many strikeouts (10) as hits (5) in his career against Lilly.
•
Pat Burrell
hasn't been an everyday player this season, but he should find himself starting tonight against the Rockies'
Aaron Cook
. Pat the Bat is batting .591 (13-22) and slugging .773 against Cook. Of all the pitchers Burrell has faced at least 20 times, Cook is the pitcher Burrell has hit the best.
Trivia Answer
: Your top AL guys who have never pitched for the NL:
Mark Buehrle
(2,193.1 IP),
John Lackey
(1,641.2) and
Kelvim Escobar
(1,507).
As for the other way around, it's the recently-traded
Roy Oswalt
(1,938.1 IP),
Randy Wolf
(1,823.1) and
Ryan Dempster
(1,769.2).
March, 8, 2010
3/08/10
4:00
PM ET
By
Tom Tango, Inside The Book
| ESPN.com
Last week,
we built a team of 25 free agents on one-year deals for a total cost of less than $100 million
. The obvious next question is: How many games could this team win?
To figure it out, let's examine each player, come up with a reasonable assessment of where they stand relative to other players at their positions, and see how much better or worse they are than average.
First let's start with the infield, which is probably where the team is strongest. We have four infielders for second base, shortstop, and third base (
Orlando Hudson
,
Orlando Cabrera
,
Adrian Beltre
, and
Felipe Lopez
), plus a utility player that can also play in the outfield (Jerry Hairston). Offensively, these players are a tick above average for their position group, and defensively, they are well above average. It's fair to say that this group would be one or two wins above average.
We also have a small strength in our first baseman and designated hitter (Nick Johnson, Adam Laroche). They are average to slightly above-average hitters for their positions. And both have a capable glove at first base. Overall, a slight positive, maybe gaining us another win above average.
Our catchers (Yorvit Torreabla and Rod Barajas) make up a roughly average tandem among catchers. They are neither an advantage or a disadvantage for this team, relatively-speaking.
Our outfield (Johnny Damon, Coco Crisp, Gabe Gross, and Randy Winn) is going to hurt us a little bit on the hitting side. As a group, they are passable hitters, but they're all slick with the leather, so that makes up for it a little bit. Overall, this group is a slight negative, maybe one win below average.
Among our position players, we have pretty much a team that is barely above average.
With our starting staff, we have one star in Rich Harden, and four pitchers who are pretty much the definition of a league-average starter. Given the health-risk that Harden poses, we can say that our starting staff is about as average as it gets.
Our top relief tandem (Rafael Soriano, Matt Capps) offers us about average performance for a relief ace and set-up guy. Once again, these pitchers will neither hurt or help us relative to the average team.
The rest of our bullpen is fungible, just like it is for most teams. We have Kelvim Escobar who's effective when healthy, but rarely healthy. Kevin Gregg and Tyler Walker are fairly reliable, and Brendan Donnelly and Javier Lopez can handle mop-up duty.
Overall, we have ourselves pretty close to a .500 team. And we built this team with zero cost in future years, as they all signed to one-year deals. And though we have no player development system to speak of, the combination of quality free agents available this off-season, coupled with the slowdown in the economy, gave us a chance to build a bargain-level competitive team. With a little more cash for a
Matt Holliday
or
John Lackey
, this team could compete in some divisions.

Tom Tango writes for Inside The Book
March, 5, 2010
3/05/10
1:05
PM ET
By
Eric Seidman, Baseball Prospectus
| ESPN.com
Most of the baseball talk in Minnesota these days revolves around
Joe Mauer's
contract extension saga, and for good reason: He is the best catcher in baseball and the face of a franchise with hopes of contending. The Twinkies potential to make the playoffs does not rest squarely on Mauer's shoulders, however, as GM Bill Smith made sure to improve what was arguably the team's most glaring weakness a season ago.
By trading for shortstop
J.J. Hardy
and signing second baseman
Orlando Hudson
, Smith not only brought in two of the better defenders at their respective positions, but solid hitters who look extra tasty when compared to who they will be replacing.
The Twins managed to rally back to a tie for the AL Central at the end of last season and went onto win a one-game playoff to qualify for the playoffs, but that was in spite of the awful performance they got from the men in the middle of the diamond.
Orlando Cabrera
,
Alexi Casilla
,
Nick Punto
and
Matt Tolbert
each saw their fare share of time at shortstop and second base, and their overall
True Average (TAv)
amounted to a pathetic .229 mark. Hardy and Hudson, although on different teams, combined for a .262 TAv that vastly exceeded the Twins in-house options. So what does the new keystone combo for the Twins project to produce this season?
Baseball Prospectus' PECOTA projection system sees Hudson as capable of putting up a .271 TAv with Hardy coming in at .261. Weighted together, their .266 TAv would rank sixth amongst middle-infield combos in the junior circuit:
The acquisitions of Hudson and Hardy represent a very important point in the world of statistical analysis: A team does not need to acquire a superstar at one position to improve more than marginally. The Twins brought in two solid players who might not get picked first in a sandlot game, but are certainly above average, and being above average is Ruth-ian compared to who they penciled in at those spots last year. If Gardenhire's gang once again plays meaningful baseball into October, Joe Mauer is likely to be a big reason why, but do not underestimate the contributions of Hudson and Hardy and the upgrade they will provide.

Eric Seidman is an author of Baseball Prospectus
March, 4, 2010
3/04/10
2:10
PM ET
By
Tom Tango, Inside The Book
| ESPN.com
Nearly $2.7 billion was spent on
player salaries
last season. That is an average of almost $90 million per team. This excludes minor league salaries, signing bonuses for draft picks and all other player development costs.
But what if a team decided to scrap its entire player development system, put an extra $10 million into player salaries, and tried to build a roster for under $100 million, using only players who'd sign one-year deals? What kind of team could you put together?
ESPN's
free agent tracker
allows you to select all players who signed one-year deals for 2010. Of those, we will remove each player who re-signed with his former team. So here is the best team $100 million can buy for one year.
Catcher:
There were eight catchers in our pool, who signed for a collective $10.4 million. This is not going to be a strength. I'll go with
Yorvit Torrealba
and
Rod Barajas
.
Running cost:
$1.75 million
Infielders (2B, SS and 3B):
We'll go with five players here:
Adrian Beltre
at third,
Orlando Cabrera
at short and
Orlando Hudson
at second, with
Felipe Lopez
and Jerry Hairston as our utility infielders. (Hairston can also provide support in the outfield.) We've got a fairly strong bunch here, who come at a collective $21.1 million.
Running cost:
$22.85 million
Outfielders:
We'll go with four here.
Coco Crisp
in center,
Johnny Damon
in LF and
Gabe Gross
in RF, with
Randy Winn
as the fourth outfielder gives us an outfield costing $15.1.
Running cost:
$37.95 million
1B/DH:
I like
Nick Johnson
and
Adam LaRoche
for that role, who come at a collective $11.75.
Running cost:
$49.7 million
Alright, we just filled up half our team, 13 position players, at just under $50 million. All we have to do is spend the other $50 million on 12 pitchers.
Starters:
There's some decent starters here, and we'll grab most of them:
Rich Harden
,
Brad Penny
,
Jon Garland
,
Doug Davis
, and
Brett Myers
. That's a $30.65 million starting staff.
Running cost:
$80.35 million
Relievers:
Our closer and setup guy are
Rafael Soriano
and
Matt Capps
, who come at around $11 million, while the other five relievers are righties
Kevin Gregg
,
Brendan Donnelly
,
Kelvim Escobar
and
Tyler Walker
, with lefty
Javier Lopez
for a total of $7 million. That's 12 pitchers for just over $48 million.
Running cost:
$98 million
There you have it: the best one-year free agent team $100 million can buy. But the question is: How many games can they win? I'll look at that in part 2.
Tom Tango writes for Inside The Book.