Stats & Info:

Ozzie Guillen
April, 11, 2012
4/11/12
12:56
PM ET
By
ESPN Stats & Information
| ESPN.com
AP Photo/Wilfredo Lee
Roy Halladay celebrates after throwing a perfect game against the Marlins on May 29, 2010.
The
Miami Marlins
and
Philadelphia Phillies
continue their three-game series tonight (ESPN2, 7 ET). This will be the first game for the Marlins without manager Ozzie Guillén, who was suspended five games by the team for his comments regarding his respect for Cuban dictator, Fidel Castro. This is the first time Guillén has been suspended in his managerial career. Joey Cora will make his managerial debut in the interim.
Starting Pitchers
Josh Johnson
and
Roy Halladay
have started against each other four times, with Johnson's teams winning three of the four games. Since Halladay joined the Phillies in 2010, they have faced off three times, with both pitchers going at least seven innings. In those games, a grand total of six runs were scored – and one perfect game was thrown (by Halladay).
The key for Johnson tonight will be how he commands his slider. Last season, opponents were 5-for-68 (.074) on at-bats ending in his slider. The league average was .217. Right-handed hitters were just 2-for-40 (.050) against the slider, with
Albert Pujols
and
Justin Turner
recording the only hits.
However, in his first outing this season, Johnson had trouble commanding the slider and allowed two hits off the pitch, both to David Frese.
In his first start this season, Halladay recorded the win over the
Pittsburgh Pirates
after throwing eight innings, allowing two hits, no earned runs and striking out five. The key to his success against the Pirates was his cutter, which has become his main weapon of choice. In that outing, Halladay threw only seven regular fastballs among the 92 pitches he threw.
Key Stat
The Phillies offense has been anemic to start the season. Their four extra-base hits are the fewest in the majors and no team but the
Minnesota Twins
have scored fewer than the Phillies' 2.0 runs per game. Not since 1997 have the Phillies scored as few as eight runs in their first four games of the season. Philadelphia finished 68-94 that season and in last place in the NL East.
Player to Watch
Giancarlo Stanton
has yet to hit a home run this season after hitting a career-high 34 last year. Overall, Stanton improved across the board in 2011, compared to his rookie year. He cut his strikeouts down, increased his walk rate from the league average to better than 83 percent of the league, all while increasing his power output. His 5.7 Wins Above Replacement, according the Baseball-Reference, ranked second among MLB rightfielders (
Jose Bautista
, 8.5).
Interesting Fact
Stanton's full name is a sonorous mouthful: Giancarlo Cruz Michael Stanton. He is not Italian, and Giancarlo is not a family name – his parents just liked it. In school, Stanton, a California native, went by Giancarlo until the fifth grade.
Will Cohen contributed to this post
December, 5, 2011
12/05/11
10:32
AM ET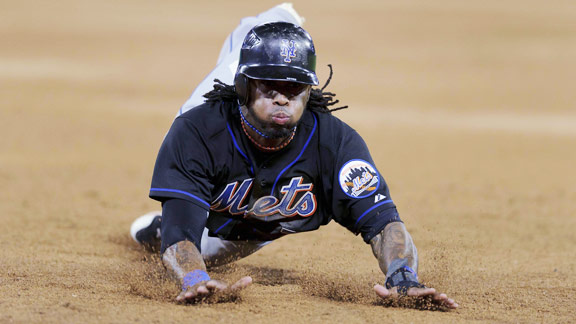 Steve Mitchell/US Presswire
Jose Reyes will bring his high-energy style of play to the Miami Marlins in 2012
Free-agent shortstop
Jose Reyes
and the
Miami Marlins
agreed to terms on a 6-year, $106 million contract Sunday. It's the second-largest contract in total value ever given to a shortstop behind the $252 million deal signed in 2000 by
Alex Rodriguez
, and it also more than doubles the largest contract ever given out by the Marlins.
It's been a busy last few months for the Marlins, beginning with the hiring of manager Ozzie Guillen in September. Since then, the team has unveiled new uniforms, a new ballpark and a name change, as well as signing free-agent closer
Heath Bell
.
The addition of Reyes means one of the year's top free agents is now claimed. Among free-agent position players, Reyes had the best 2011 season based on Wins Above Replacement, but injuries have been a concern lately. After playing in an average of 158 games a season from 2005 to 2008, Reyes has dealt with injury issues in each of the past three seasons, playing 36, 133, and 126 games from 2009 to 2011.
When he has played, he's been more productive at the plate in the last three years, however. From 2005 until 2008, Reyes batted .287 with an OPS of .783. In the last three seasons, those numbers have risen to .306 and .804 respectively.
In 2011, Reyes won the NL batting title with a .337 average, and his .379 average against fastballs, cutters and sinkers was the best in the National League.
His value on the bases is also a big upside; since 2005, Reyes ranks second among active players in stolen bases (338) and first in triples with 93. He ranks fourth among shortstops in that span with 30.5 Wins Above Replacement, trailing
Jimmy Rollins
(31.1),
Hanley Ramirez
(31.1) and
Derek Jeter
(30.8).
The addition of Reyes likely means that Hanley Ramirez will be moving to third base. Both have missed significant time due to injury in the last two years, but when they were on the field last season, Reyes was a more productive player. He posted a career-high BABIP of .353, well above his .314 career BABIP. Ramirez, however, saw a career-low BABIP of .275.
April, 2, 2010
4/02/10
5:45
PM ET
By
Mark Simon, ESPN Stats & Info
| ESPN.com
"This is the stupidest thing ever, but I love it."

That is my favorite quote about one of my favorite things- an annual baseball predictions contest we've made an in-house staple of our Research department here at ESPN. Nothing's at stake, other than pride and bragging rights, but every year, 40-50 of my colleagues and friends partake at our favorite pastime- predicting.

In order to make our predictions contest, now in its seventh season, distinct, we include a series of questions that you might not see anywhere else. Here are a few of my favorites from this year's edition.

Whose home run total will be greater? Johnny Damon...or David Wright?

Damon won last year, and won easily, 24-10, thanks to the short right field porch at Yankee Stadium. It won't be as easy this year in Comerica. But how much ground can Wright make up? And how much will the slicing in height of the centerfield fence benefit his cause?

What player will hit the most home runs out of the No. 2 spot?

The contest includes a category called "Nothing Wrong with Being Second." Last year's leaders: Aaron Hill (36), Johnny Damon (22) and Michael Young (18).

Will David Ortiz hit a triple?

How in the world is he going to do that, you might ask? Well, keep in mind that Ortiz's triple-hitting skills are underrated. He's hit at least one triple (but never more than three) in each of the last 10 seasons.

In what month will Mariano Rivera last blow a save?

We've seen a bunch of "October" responses from our early entrants, but that's a major roll of the dice. Rivera hasn't blown a postseason save chance since 2004.

Will there be an inside-the-park grand slam in 2009?

We always like to include a reference to at least one odd event. An initial search tells us that there hasn't been one in the majors since 1999. But before you rule out the possibility, consider last year's "odd event" question: Will the 2009 season include an unassisted triple play? Eric Bruntlett fans know the answer to that one.

Will there be a 40 home run hitter in the American League?

There was one every year from 1990 to 2007, even in the strike-shortened season of 1994. But we haven't seen one the last two seasons.

More or less: Joe Torre's ejection total- 1.5

Being in Los Angeles may have mellowed Torre a bit. Ejections guru David Vincent has Torre for two ejections in every season from 2004 to 2008, but none in 2009.

More or less: Albert Pujols go-ahead HR: 14.5

Pujols had 19 go-ahead home runs last year, but only four came after the All-Star Break. And if 19 seems high, consider that he only had nine in 2008.

Will LeBron James sign to play for a team in whose city all the MLB teams (one or two) finish above .500?

Only one of my colleagues has answered "Yes" to this one, leading me to believe that most people think he's either sticking in Cleveland, or that the Mets aren't finishing above .500. Could be the latter.

Total tweets for Ozzie Guillen by the All-Star Break: More or less than 549.5

Trying to end on a funny note here, but my colleague Ryan McCrystal deserves kudos for this one. Don't be shocked if we do an analytic study measuring the average number of tweets after a White Sox loss as compared to after a White Sox win. Guillen's at 148 and counting at the time of this writing.
March, 10, 2010
3/10/10
11:20
AM ET
By
Jay Jaffe, Baseball Prospectus
| ESPN.com
It's tough to beat Ozzie Guillen for
entertainment value
. But one of Guillen's funnier bits is unintentional, and has caused a bit of confusion for those of us trying to make sense of the
Chicago White Sox
's roster construction.
While Ozzie has made his love for small-ball well known, his teams have been overly reliant on the long ball. So reliant that BP colleague Joe Sheehan christened the
Guillen Number
, which measures the percentage of a team's runs derived from homers. Last year, the White Sox ranked third in the majors at 41.0 percent, trailing only the Yankees (45.1 percent) and the Phillies (42.1 percent). In fact, they've been among MLB's top four during every year of Guillen's tenure:
Over the winter, Guillen pressed GM Kenny Williams to provide him with a more flexible roster. In reacting to the team's shedding of sluggers
Jim Thome
and
Jermaine Dye
and the addition of
Juan Pierre
, he declared that aggressive baserunning would be a major point of emphasis. The skipper's statement highlights the fact his team has been hemorrhaging runs on the base paths over the past few seasons, according to our Equivalent Stolen Base Runs (
EqSBR
) and Equivalent Base Running Runs (
EqBRR
) metrics, the latter of which incorporates not only steals and caught stealing but also advancement on hits and outs:
In all, the team has cost itself between four and five wins via baserunning over the past six years, which at least explains why Guillen thinks it's an area in which the team needs to improve. Still, that won't mean a whole lot more runs scored, particularly if the Sox can't rise above last year's measly rankings of 20th in OBP (.328). PECOTA, our projection system, is cautiously optimistic, forecasting a .339 OBP and 750 runs scored, which would rank 15th in the majors, but consider the notable arrivals and departures in the White Sox lineup over the past year, and their baserunning performance last season:
Incoming
Andruw Jones
: -1.8 EqBRR
Juan Pierre: 30 steals for the Dodgers, but 12 caught stealing and just 0.3 EqBRR
Alex Rios
: 24-for-29 in stolen base attempts, but just 0.1 EqBRR, continuing a multiseason trend of good stolen base percentages but otherwise wayward baserunning
Mark Teahen
: Like Rios, an efficient base stealer (8-for-9) who runs into outs otherwise (-1.3 EqBRR)
Outgoing
Jermaine Dye: -0.2 EqBRR
Chris Getz
: 25-for-27 in stolen bases, and a team-high 6.2 EqBRR
Scott Podsednik
: 30-for-43 in stolen bases (team highs in both SB and CS), 1.5 EqBRR
Jim Thome: Team-low -5.4 EqBRR
Furthermore, only three Sox are
forecast
to reach at least 10 steals (Pierre, Rios and
Alexei Ramirez
), while five are forecast for at least 20 homers (
Carlos Quentin
,
Paul Konerko
, Ramirez,
Gordon Beckham
and Rios). So don't expect the Sox to change all that drastically. This is a still a team built for power, not speed.
Jay Jaffe is an author of Baseball Prospectus
.