Stats & Info:

Pedro Alvarez
October, 6, 2013
10/06/13
10:45
PM ET
By
ESPN Stats & Information
| ESPN.com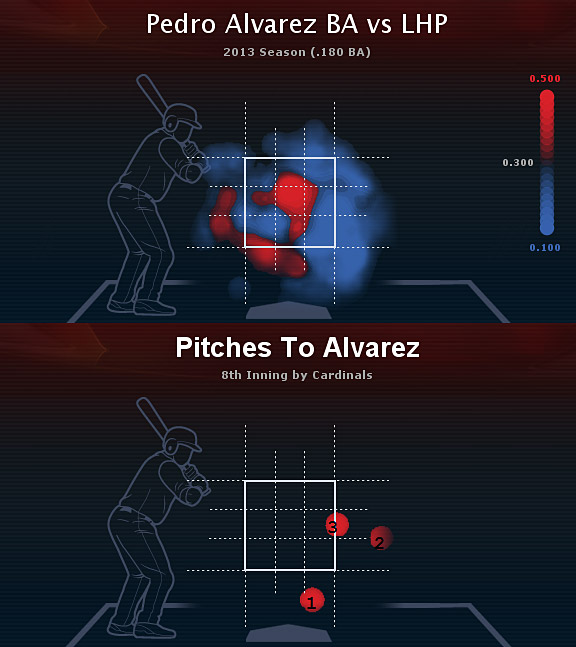 Pedro Alvarez
entered Sunday hitting .180 against left-handed pitching. That was the fourth-lowest batting average of any hitter who had at least 100 at-bats against lefties in 2013.
But there was more to know about Alvarez that made what happened in his decisive at-bat in the Pittsburgh Pirates' Game 3 win over the St. Louis Cardinals even more unlikely.
Alvarez was facing Cardinals left-hander
Kevin Siegrist
with the score tied and runners on first and second with one out in the bottom of the eighth inning.
The two had gone head-to-head five times previously. In those five meetings, Siegrist threw 23 pitches, 18 of them that were either on or just off the outer third of the plate.
Alvarez took 13 swings against Siegrist, fouling off eight, missing two and putting three in play (a fly ball to shallow center, a ground out to shortstop and a grounder to second). The five at-bats all ended in outs, including that grounder to second in Game 2.
Siegrist had the right idea in pitching Alvarez away. A look at pitch-performance data shows that Alvarez was feeble against those pitches for the past couple of months.
On July 22, Alvarez got a base hit on a 93-mph fastball just off the outside corner from Nationals left-hander
Ian Krol
.
Over the remainder of the regular season and including Game 2, Alvarez saw 147 pitches from left-handers that were on, or just off, the outside edge.
Those pitches resulted in 33 outs, three walks, and most notably no hits.
Alvarez missed on nearly half his swings (27 of 59) against them.
On top of that was something else working against Alvarez.
Siegrist throws his fastball hard enough to clock in the mid- to upper 90s on the radar gun.
Alvarez saw 46 pitches from lefties during the 2013 regular season that registered at least 95 mph. He had little chance against them. He went 0-for-10, reaching base once when one missed for ball four.
Alvarez did not have a hit against a fastball thrown that hard by a lefty since July 16, 2012, when he homered against
Rex Brothers
of the
Colorado Rockies
.
When Siegrist got Alvarez out in Game 2, it was on a pitch thrown 97 mph.
After seeing a pair of fastballs to the outer edge at 96 and 97 mph from Siegrist in Sunday's at-bat, Alvarez had a pretty good idea what was coming.
He was able to time his swing on a fastball thrown 95 mph and ground it to the right side. This one got through, plating
Josh Harrison
with the go-ahead run.
Alvarez (and
Marlon Byrd
) has now driven in five runs in four games this postseason. That matches the most in Pirates history through a player's first four postseason games (Bob Robertson had five for the 1971 Pirates).
And he moved them one step closer to advancing to the National League Championship Series.
July, 14, 2013
7/14/13
9:00
PM ET
By
ESPN Stats & Information
| ESPN.com
John Sleezer/Kansas City Star/MCT via Getty ImagesPrince Fielder will try to repeat as Home Run Derby champ.
The 2013 Chevrolet Home Run Derby kicks off at 8 p.m. ET Monday night on ESPN at Citi Field. History suggests that one of the five left-handed batters in the competition is going to win it.
Seven of the past eight and 14 of the past 17 Home Run Derby winners have been left-handed hitters, including each of the past five: Fielder,
Robinson Cano
(2011), David Ortiz (2010), Fielder (2009) and
Justin Morneau
(2008).
Since the first individual competition in 1995,
Frank Thomas
(1995), Sammy Sosa (2000),
Miguel Tejada
(2004) and
Vladimir Guerrero
(2007) are the only righties to win.
Let's take a quick look at each of this year's contestants.
Pedro Alvarez, Pittsburgh Pirates
Alvarez was a late addition to the Home Run Derby, replacing
Carlos Gonzalez
. He leads the NL with nine "no-doubt" home runs this season, meaning homers that our video-tracking crew deemed cleared the fence by at least 20 vertical feet and landed at least 50 feet past the fence.
He's trying to become the first player to win the Derby as a member of the Pirates.
Robinson Cano, New York Yankees
This will be the third straight Home Run Derby for Cano, who went homerless in the 2012 Derby as the competition's defending champ. Cano was the fifth player in the last 15 years to go homerless for a Derby.
Cano has two home runs in 57 at-bats at Citi Field. Each traveled an estimated 440 feet.
Yoenis Cespedes, Oakland Athletics
Cespedes will be making his Home Run Derby debut and the best argument for him winning would be in how the ball jumps off his bat upon contact. His average home-run distance and speed-off-the-bat are both best among Derby participants this season.
Cespedes is trying to be the first Athletics player to win the Derby since
Mark McGwire
in 1992.
Michael Cuddyer, Colorado Rockies
Cuddyer, a childhood friend of NL Derby captain
David Wright
, is making his first Home Run Derby appearance.
Only 10 of Cuddyer's 16 home runs this season would have been home runs at Citi Field, the fewest of any player.
Chris Davis, Baltimore Orioles
Davis will try to be the first Orioles player to win the Home Run Derby since Miguel Tejada in 2004.
Davis enters the All-Star Break with 37 home runs, tied for the second-most by anyone before the Break. The only player with more was
Barry Bonds
with 39 home runs in 2001.
Since the individual competition began in 1995, the major-league leader in homers at the break has never won the Derby.
Jose Bautista
came closest, as runner-up last year.
Prince Fielder, Detroit Tigers
Fielder is a two-time Derby winner and the defending Home Run Derby champ.
If Fielder was to win, he'd be the second repeat champ and the second three-time winner, joining Ken Griffey Jr. (1994, 1998, 1999) in both cases.
Fielder's 63 Derby homers rank fifth-most all-time. He's 14 behind the all-time leader, David Ortiz.
Fielder's average distance of 396.4 feet and average speed-off-the-bat (102.4 mph) are the lowest for any of the Derby entrants.
Bryce Harper, Washington Nationals
Harper will try to become the first Nationals/Expos player to win the Home Run Derby.
This is Harper's first major-league Derby, but he made a huge impact in a previous competition,
as a 16-year-old using a metal bat
at the 2009 High School Power Showcase.
Harper had one six-homer stretch in the competition in which his homers averaged 469 feet and 121 mph off the bat.
His longest homer in regular-season play was a 444-foot shot against the
Miami Marlins
last September.
David Wright, New York Mets
Wright will try to become the first Mets player to win the Home Run Derby (he was runner-up in 2006) and the first to win it in his home ballpark under the current Derby rules.
Wright enters with only three home runs in 159 at-bats at Citi Field this season. Since the ballpark opened in 2009, he's hit 37 homers at home and 50 on the road.
Here's a look at the home-run spray charts for Wright and the other entrants in this year's competition: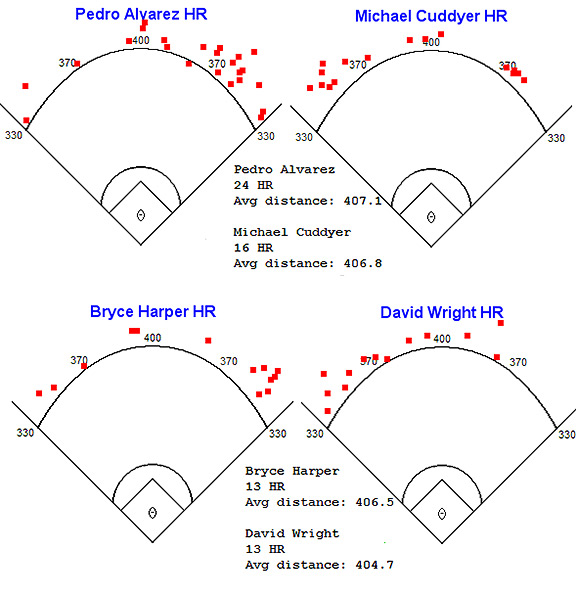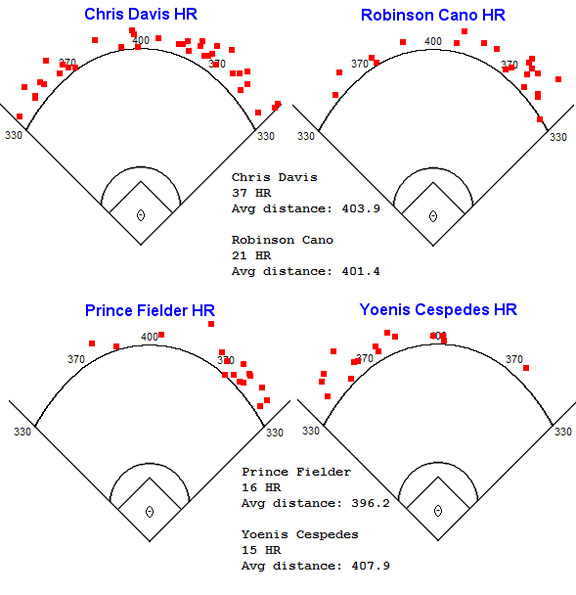 July, 10, 2013
7/10/13
1:57
PM ET
By
Jeremy Mills, ESPN Stats & Info
| ESPN.com
AP Photo/Jim CowsertYoenis Cespedes, who earned a spot in Monday's Home Run Derby, looks to end his 15-game homerless drought, the second-longest streak of his career.
The
Oakland Athletics
and
Pittsburgh Pirates
complete a three-game series at PNC Park at 7 p.m. ET on ESPN/WatchESPN. Here are five stats that will surely be talked about on tonight's telecast.
1.
The Athletics have already won the series (their fifth straight series win) and will look to maintain their undefeated record all time against the Pirates.
According to the Elias Sports Bureau, Oakland's 11-0 mark against Pittsburgh is the best record without a loss for any team against another in the modern era (since 1900).
2.
Oakland was 13 games behind the
Texas Rangers
on June 30 last year before winning 57 of its last 83 games to capture the division.
The Athletics have kept the hot streak going into this season. They have 111 wins since June 30, 2012, six more than any other team in baseball.
3.
Yoenis Cespedes
has a spot in the Home Run Derby on Monday, but he might not be the most deserving player in this contest. Cespedes has gone 15 straight games without a homer, the second-longest streak of his career.
In the other dugout,
Pedro Alvarez
leads the National League with 13 home runs since the beginning of June.
In fact, his 23 home runs not only lead the team, but are the most by a Pirates player before the All-Star break since Willie Stargell hit 30 in 1973.
4.
The Pirates might be starting their annual summer swoon. Pittsburgh is 2-6 so far in July and has fallen 1½ games behind the
St. Louis Cardinals
after holding a two-game division lead on June 30.
The Pirates are 134-104 through June the last three seasons and 70-105 from July 1 to the end of the season.
5.
You should expect another low-scoring game tonight. Oakland won the first two games of the series 2-1. The A's have eight wins this season when scoring two or fewer runs -- that leads the majors (tied with the Pirates).
The Athletics now have 18 one-run wins this season. Only the
Arizona Diamondbacks
have more (19).
Misc.
•
Josh Reddick
had 20 home runs at the All-Star break last season, but he has hit only 16 in 135 games since then.
• A's closer
Grant Balfour
is 24-for-24 in save situations this year and has converted 42 straight save opportunities (his last blown save came on April 29, 2012). The 42 straight saves are a franchise record (the old mark was 40 straight by Dennis Eckersley).
• The Pirates have four players on the All-Star roster –
Andrew McCutchen
, Alvarez,
Jason Grilli
and
Jeff Locke
. It's the first time since 1981 that Pittsburgh has sent this many players to the Midsummer Classic.
•
Starling Marte
has 27 stolen bases, the most for the Pirates since
Tony Womack
had 31 in 1998.
July, 8, 2013
7/08/13
11:00
AM ET
By
ESPN Stats & Information
| ESPN.com
David Wright
and
Robinson Cano
pick to participate in the 2013 Home Run Derby when selections are announced tonight at 6 ET on "SportsCenter"? Members of ESPN's Home Run Tracker team weighed in.
NL
Justin Upton, Atlanta Braves
Upton has only one home run since May 17, but his shortest home run is 404 feet. Remarkably, his 427.9 average home run distance is highest among all players with more than one home run. Upton has two 460-foot home runs and six others of at least 425 feet. Of his 15 home runs, 13 would have cleared the fence at Citi Field.
Jay Bruce, Cincinnati Reds
Bruce has eight home runs that have gone at least 425 feet, tied with Upton for the most in the NL.
June solidified Bruce's nomination, as he hit his five longest home runs of the season, all at least 430 feet. His headline home run was a 472-foot blast off
Patrick Corbin
, the third-longest home run this season.
Pedro Alvarez, Pittsburgh Pirates
Alvarez edges out
Paul Goldschmidt
by the narrowest of margins, getting the nod because he's hit two home runs over 450 feet this season and has three others over 430 feet.
Fourteen of his 22 home runs have been at least 400 feet, and all but four of his home runs would have been out at Citi Field.
Alvarez has nine home runs classified by
www.hittrackeronline.com
as "No Doubt" home runs, the most in the majors. ("No Doubt home run" means the ball cleared the fence by at least 20 vertical feet and landed at least 50 feet past the fence).
AL
Mark Trumbo, Los Angeles Angels of Anaheim
Although Trumbo ranks ninth in the AL with 19 home runs, nine of those went at least 425 feet, the most in baseball. His average home run distance is 417.7 feet, fourth in the majors (among players with a minimum of 10 home runs), and all but three of his home runs would have been out at Citi Field.
His
475-foot home run
off
Dan Straily
on April 29 is tied for the longest home run of the year.
Chris Davis, Baltimore Orioles
Davis leads the majors with 33 home runs, showing power to all fields.
Davis has not hit a home run over 440 feet this season; seven have gone at least 425. His eight home runs to center field are the most in baseball.
Nelson Cruz, Texas Rangers
Cruz has 22 home runs this season, including ones that went
450
feet and
445
feet. Nineteen of those homers would have been out at Citi Field.
Although his average home run distance is 410.4 feet (12th among players with at least 10 home runs), when excluding his opposite-field home runs, his average home run distance is 419 feet.
June, 27, 2013
6/27/13
1:49
PM ET
Joe Sargent/Getty ImagesPedro Alvarez and the Pirates have won six straight games to climb back atop the NL Central.
With Wednesday's win against the
Seattle Mariners
, the
Pittsburgh Pirates
moved into a tie atop the NL Central (and grabbed a share of the best record in baseball) with the
St. Louis Cardinals
.
Pittsburgh has won a season-high six straight games, its longest win streak since winning six straight back in 2008. It's the first time the Pirates had at least a share of first place in the division since April 29 when they owned a half-game lead over the Cardinals.
After stumbling to start June (1-4), the Pirates have gone 13-5 since to climb back atop the division. That 13-5 mark is best in the National League and second only to the
Toronto Blue Jays
for the best overall mark in that span.
During that stretch, they've gotten major production from the hot corner. Third baseman
Pedro Alvarez
has batted .353/.421/.750 with 7 HR and 20 RBI since June 7 including two hits in four at-bats on Wednesday.
Alvarez's tear has helped him raise his batting average 43 points from below the Mendoza line on June 5 (.199) to .242 through Wednesday.
One key to his turnaround has been connecting on pitches up in the zone, specifically fastballs. Through June 5, Alvarez batted .115 on pitches up in the zone with no home runs. On fastballs, he had just one hit in 22 at-bats ending with the pitch in that span.
He's had no such trouble since June 7. Alvarez is batting .556 on pitches up in the zone in his last 18 games (best in NL - min. 20 PA), with two home runs. Both of those home runs came on fastballs up, a pitch he's hit at a .500 clip (7-14) during the run.
Alvarez's recent success is just one reason the Pirates might be primed for an extended stay atop the division.
Over their next nine games, Pirates' opponents have a combined .440 win percentage (Brewers, Phillies and Cubs). Conversely, the Cardinals play their next six games on the road against the
Oakland Athletics
and the
Los Angeles Angels
, followed by a three-game set against the
Miami Marlins
.
If the Pirates can string together a few more wins, they'd find themselves within reach of their longest win streak since 2004, when they won 10 straight.
Despite the recent success, the Pirates got off to strong starts in each of the past two seasons, only to collapse in the second half. They haven't posted a winning season since 1992, the last time the club made the playoffs.
No doubt the Pirates are hoping the third time's the charm.
November, 27, 2012
11/27/12
6:14
PM ET
By
Justin Havens, ESPN Stats & Info
| ESPN.com
As with most things related to
Josh Hamilton
, there are two sides. And as one of the most fascinating free agents in history, both of those sides will undoubtedly be scrutinized.

Hamilton
What cannot be debated is that since Hamilton's arrival, the
Texas Rangers
have been a much better team than before his arrival.
Not all of that can or should be attributed to Hamilton himself; however, it's not a coincidence that the Rangers' offensive production ticked up noticeably in the five years he's been with the club (2008-12) compared to the five years before the Rangers' trade with the
Cincinnati Reds
that brought Hamilton to Texas.
How can we quantify the impact made by Hamilton?
From 2003-07, the Rangers team OPS was .781, they averaged 5.2 runs per game and about 1.3 home runs per game. From 2008-12 – the "Hamilton era" – the Rangers team OPS was .783, they averaged 5.1 runs per game and about 1.2 home runs per game. In other words, the Rangers offense simply remained steady after the arrival of Hamilton.
Not exactly.
When one compares the Rangers production to the major-league average over the two five-year spans, it becomes clear just how much better the Rangers' offense was with Hamilton.
The Rangers' run scoring went from about 9 percent above the league average to more 14 percent above league average. Similarly impressive advances were made in the team batting average and OPS (see chart).
Clearly, the departure of Hamilton would have a distinct impact on the Rangers' offense.
After all, when you look at strictly offensive performance from 2012, Hamilton's +4.4 offensive Wins Above Replacement (oWAR) -- which removes the defensive component from WAR – was the second-best mark on the Rangers behind
Adrian Beltre
.
In a vacuum, that production could have been the difference between the Rangers making and missing the postseason. His offensive production would be missed.
But, there's always another side with Hamilton, and in this case it's his defense. Despite producing 4.4 oWAR in 2012, Hamilton's net WAR production was a relatively modest 3.4.
Why? Because Hamilton was a net negative on defense, costing his team more than a win with his glove.
To compound the issue, most of Hamilton's worst defensive work was done while he was producing his worst offensive stretch of the season.
From Aug. 1 through the end of the regular season, Hamilton produced a Minus-9 Defensive Runs Saved mark, compared to being nearly league-average from the beginning of the year through July (-1 DRS).
Only four players --
Pedro Alvarez
,
Jose Altuve
,
Shin-Soo Choo
and
Chris Nelson
-- were worse over the final two months.
Which is why Hamilton's departure, while it would undoubtedly impact the offense, may not hurt the Rangers all that much overall.
Craig Gentry
, a cheap and ready-made outfield replacement, produced +2.8 WAR in 2012 on the back of some outstanding defensive work.
And while it might seem impossible that a player who hit one home runs in 269 plate appearances could be a replacement for Hamilton, who hit 43 home runs, the numbers suggest it would far less of a net loss for the Rangers than one would initially think.
That's why there are always two sides to everything Josh Hamilton. In this case, we're not talking about on the field versus off the field, but rather in the batter's box versus in the outfield.
August, 29, 2012
8/29/12
11:54
PM ET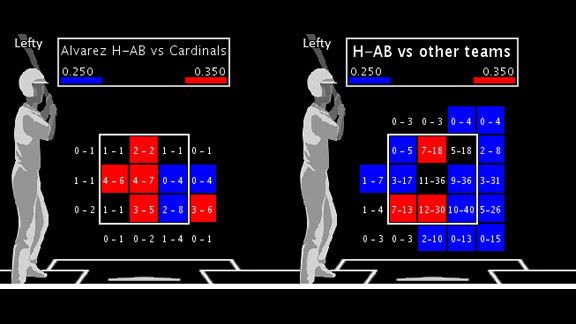 Everyone but the Cardinals seems to know how to get Pedro Alvarez out.
There is perhaps no player in baseball whose performance against one team has been as significant this season as
Pittsburgh Pirates
third baseman
Pedro Alvarez
has been against the
St. Louis Cardinals
.
With a homer and three RBI in Wednesday's nationally-televised win, Alvarez now has seven home runs and 23 RBI against the Cardinals this season (including a 19th-inning shot in their last matchup). He's the first player from any team to hit those combinations in a season against the Cardinals since the "Baby Bull," Greg Luzinski, did so for the 1977
Philadelphia Phillies
.
The Elias Sports Bureau tells us that the last player with at least seven homers and 23 RBI against a team was
Evan Longoria
for the 2009
Tampa Bay Rays
against the
Boston Red Sox
.
He's the first Pirates player to hit both of those plateaus against the Cardinals since Ralph Kiner in 1950.
The chart on the right shows Alvarez's performance this season against the Cardinals compared to the rest of the major leagues. He has nearly half as many RBI in about 15 percent of the games.
In fact, Alvarez has struggled so much against other opponents that he leads the National League and ranks second in baseball in the highest percentage of plate appearances to end in a strikeout (32 percent).
But now he's on a roll, and maybe so are the Pirates, who had back-to-back shutouts against the Cardinals for the first time since 1992.
How is Alvarez doing this?
The Cardinals have pitched Alvarez inside a little bit more often than other teams (38 percent of Cardinals pitches have been on the inner-half of the plate or closer to him, compared to 31 percent from the rest of baseball). Alvarez has taken full advantage of this.
In the series, Alvarez saw 21 pitches on the inner-half or closer and pounded seven hits against them, including two home runs on Tuesday and the home run on Wednesday.
The Cardinals were lulled into this approach from their success working Alvarez in that area earlier this season.
In their previous series against the Pirates in St. Louis, Alvarez also saw 21 pitches on the inner-half and had no hits.
In fact, prior to this series, Alvarez hadn't hit a home run on a pitch to that location since July 20. He had missed on 23 of his past 62 swings (37 percent) on inner-half-or closer pitches in that span.
What's next?
The unfortunate thing from Alvarez's perspective is that he has no more games left against the Cardinals in the regular season.
But the schedule does soften for the Pirates, whose next three series are against the
Milwaukee Brewers
,
Houston Astros
, and
Chicago Cubs
.
Alvarez has just two home runs in 92 at-bats against those three teams in 2012.
August, 19, 2012
8/19/12
9:58
PM ET
By
ESPN Stats & Information
| ESPN.com
AP PhotoPedro Alvarez celebrates after his game-winning homer in the 19th inning on Sunday.
Just over a year ago, the
Pittsburgh Pirates
were one of the surprise teams in the majors, tied for first in the NL Central with a 53-47 record after a win over the
Atlanta Braves
on July 25, 2011.
The next day the Pirates lost 4-3 in 19 innings in Atlanta on a controversial call at the plate. They went into a tailspin following that loss, finishing the season 19-42 after July 26, the worst record among NL teams in that span.
Fast forward to August 19, 2012 and the Pirates once again are one of the surprise teams in MLB. They are in possession of the second wild card at 66-54, as they played the rubber game of a three-game series with the
St. Louis Cardinals
.
The Pirates soon found themselves in another 19-inning game, and in a sweet reversal of fortune, scored three runs in the top of the 19th inning to win 6-3, further strengthening their bid for a postseason spot.
Pedro Alvarez
was the hero for the Pirates, becoming the first Pirate ever to homer in the 19th inning or later, according to the Elias Sports Bureau. The last major-league player to homer that late in a game was
Mike Cameron
for the
Seattle Mariners
in a walk-off win over the
Boston Red Sox
on August 1, 2000.

Alvarez
The game-winning home run came on a curveball from the southpaw
Barret Browning
. Prior to that hit, Alvarez had just three singles in 32 career at-bats (.094) ending in a curveball from a left-handed pitcher. He had missed on nearly half his swings and almost half of the outs he made were strikeouts.
The Elias Sports Bureau tell us that the last team to score at least three runs in 19th inning or later was the Montreal Expos against the
Houston Astros
on July 7, 1985. The last time the Pirates did that was July 31, 1912 at the Boston Braves.
The game was the longest game ever played between the Pirates and Cardinals franchises, according to Elias. Sunday was the 2,306th game played between the two rivals since they both joined the National League in 1892. They played 76 additional times in the American Association from 1882-1886.
With the win, the Pirates improved to 4-0 in extra innings. They are the only undefeated team in extras this season. The Cardinals dropped to 3-9 in extra-inning games. Only the Astros at 1-11 have a worse record in extras this season.
April, 26, 2011
4/26/11
3:17
PM ET
Today's Trivia:
It was 50 years ago today that Roger Maris hit the first of his 61 home runs in 1961. (He went homerless in his first 10 games of the season.) Maris would win his second straight American League MVP that year. Who is the only player to win back-to-back American League MVP awards since?
On Monday, we looked at American League hitters who were slumping. Here's a look at the numbers behind some of the notable slumps in the National League:

Gonzalez
• The Rockies
Carlos Gonzalez
is just 3-for-34 on at-bats ending in a fastball. At .088, that's the lowest of any regular in the majors this season. Last season, he hit .379 with 14 home runs on at-bats ending in a fastball.
• The
Los Angeles Dodgers
James Loney
(.170 BA) is swinging at 53.5 percent of pitches, way up from 42.2 percent last season. It's most noticeable on the first pitch where he's swinging at 39.4 percent compared to 21.9 percent in 2010.
• It's the soft stuff getting to the
Pittsburgh Pirates
Pedro Alvarez
(.216). He's 2-for-17 on at-bats ending in a change-up and 2-for-14 on sliders.
• Marlins' shortstop
Hanley Ramirez
(.194) actually is 5-for-14 with three doubles against left-handed pitching, but righties have been a different story. A career .313 hitter against right-handers, Ramirez is hitting .151 against them this season. Of his swings against right-handed pitching, 27.1 percent have been swings and misses, up from 19.9 percent last season.
•
Dan Uggla
has a .174 batting average on balls in play (BABIP), which puts him ahead of only
Angel Pagan
among 99 National League qualifiers. (The league average is .297.) However, that's not just a matter of luck. Only 10.8 percent of Uggla's hits have been line drives, down from 22.5 percent in 2010.
• When you look at the National League players who hit the highest percentage of ground balls, speedsters
Jose Tabata
and
Michael Bourn
not surprisingly top the list. But sixth on that list is
Raul Ibanez
(.179) who is hitting 60.0 percent grounders, up from 44.6 percent in 2010.
• Given that he hit .196 in 2010, it's hard to call
Carlos Pena
's .169 batting average a slump. However, the fact that he has only one extra-base hit (a double) would qualify as a power slump. All 28 of his home runs in 2010 came on pitches middle-away. This season, he's hitting just .125 on those pitches.
Trivia Answer:
Frank Thomas
(1993-94) is the only player to win back-to-back American League MVP awards since Maris.
August, 16, 2010
8/16/10
8:28
PM ET
By
Stats & Information
| ESPN.com
Some highlights (or lowlights) from Monday's games:
AMERICAN LEAGUE
• The Rays had five hits off
Cliff Lee
in the 8th inning. Entering Monday, hitters had been 4-21 in the 8th inning against Lee since he joined the Rangers.
• Lee also allowed four earned runs in the 8th inning against Tampa Bay. Entering the game, Lee had allowed a total of four earned runs in the 8th inning this season in 15.1 innings.
• Lee is now 2-4 in eight starts with a 3.92 ERA against the AL East this year (8-2, 2.06 ERA in his other 13 starts). The Rangers have lost five of the eight games Lee has started.
• Monday was the fifth game in 2010 that
Carlos Pena
had a go-ahead RBI in the 7th inning or later.
•
FROM THE ELIAS SPORTS BUREAU:
Monday's 3-1 Yankees loss to Detroit was the longest 9-inning game of the season with four or fewer runs in the game (3 hours, 48 minutes).
•
Derek Jeter
grounded into a double play with the bases loaded to end the Yankees' 3-1 loss to the Tigers. It was the fifth time he's grounded into a double play to end a game in his career, the first since 2005. It was also the first time he's done it with the bases loaded. Jeter is now 1-12 with the bases loaded this season (.083 BA). That's the second-worst BA with the bases loaded this season in the American League.
• The Orioles won 5-4 in 11 innings. It was their 10th walk-off win of the season, tied with the Padres for the most in MLB. The O's have just 42 wins, but 11 of them have come in extra innings.
NATIONAL LEAGUE
• The Braves' 4-3 come-from-behind win over the Dodgers was their 20th last at-bat win in 2010, the most in MLB.
• Dodgers now have six losses this season when leading after eight innings -- the most in the National League, passing the Brewers and Diamondbacks.
• Dodgers reliever
Hong-Chih Kuo
has now allowed seven runs this season, and all of them have come on the road.
•
Chad Billingsley
has not allowed a home run in his last 81.1 innings. That's the second longest active streak in MLB behind the Twins'
Francisco Liriano
(95.1).
• The Padres are 70-47, the first time in franchise history (since 1969) that they are the first National League team to win 70 games.
• Trade deadline pickup
James McDonald
now has a 2.55 ERA in three starts with the Pirates. Pittsburgh rookie
Pedro Alvarez
has 14 RBI in his last 12 games.
June, 27, 2010
6/27/10
9:16
PM ET
By
Doug Kern ESPN Stats & Information
| ESPN.com
You often hear talk about "five-tool players" in baseball. We had plenty of hitting for average on Sunday (
Jose Guillen
and
Josh Hamilton
both extended their hit streaks to 21 games). We had some power-- more than 70 extra-base hits and two dozen home runs (including the longest one by distance this season). Fielding and throwing didn't give us too many issues.
Baserunning, on the other hand...
No matter which game you watched, there was bound to be at least one of those "head-scratcher" plays. The ones where you look at your TV and say, "what was he thinking?" At the risk of Monday-morning, er, Sunday-night quarterbacking, we present a sampling of the unnecessary, and sometimes obscure, outs that were run into on the basepaths Sunday.
Tampa:
Justin Upton
on third.
Chris Young
grounds back to the pitcher. Upton gets run back and tagged out. Young thinks the defense isn't paying attention and tries to take second, where he's also tagged out.
Tampa: Pinch runner
Carl Crawford
doubled off first when
Sean Rodriguez
lines one to third base.
Chicago:
Gordon Beckham
strikes out, but his backswing gets in the way of
Geovany Soto
as he tries to nail a stealing
Alexei Ramirez
. Ramirez gets called out for the interference of his teammate.
Cincinnati:
Corky Miller
thrown out trying to stretch a single into a double.
Anaheim:
Jason Giambi
thrown out at third trying to advance on a pitch in the dirt.
New York:
Jeff Francoeur
thrown out trying to tag and take third on a ball to shallow right.
Oakland:
Jose Tabata
's ground ball hits runner
Pedro Alvarez
between first and second. Oh, by the way, it's the final out of a one-run game.
(Bonus question: If you're keeping score, how do you write THAT down?)
Florida:
Jorge Cantu
is called for interference while trying to break up a double play at second base. The batter,
Dan Uggla
, is called out as a result.
Milwaukee:
Rickie Weeks
thrown out trying to stretch a single into a double.
Baltimore:
Miguel Tejada
thrown out trying to stretch a single into a double.
Baltimore: In the bottom of the eighth in a tie game,
Julio Lugo
legs out a double and then immediately gets himself picked off second.
(Bonus answer: Infield single for the batter. The putout is awarded to the closest fielder, in this case the first baseman.)
** The trunk with the Mets' bats in it finally arrived back at Citi Field. Six consecutive Mets batters went double, homer, homer, triple, single, single, during the fifth inning on Sunday. That's 15 total bases in a single inning. The Mets hadn't had 15 total bases in a GAME since last Tuesday.
** The aforementioned triple was off the bat of
Jason Bay
, marking his 1,000th career hit. The last time a player had a triple for his 1,000th career hit was almost exactly three years ago, when then-Oriole
Aubrey Huff
did it on June 29, 2007.
** The Pirates committed four errors and managed to lose Sunday's game to Oakland without allowing an earned run. Even for them, that's impressive. They haven't done that since June 29, 2002, when the Tigers scored on a missed catch at home plate and a passed ball to beat them 2-1.
** One afterthought on the Oakland/Pittsburgh series: On Saturday, the two teams donned "throwback" uniforms from the 1970s. (They say styles have a 30-year cycle, so watch for neon green to make a comeback soon.) But you have to forgive those two teams for wanting to "turn back the clock". During the '70s they combined for five world championships, including four straight from 1971-74. Since then, they have ONE (Oakland's in '89).
**
Jamie Moyer
didn't quite pitch IN the '70s, but at the rate he's going, he might well pitch INTO his 70s. Moyer became the all-time leader in home runs allowed on Sunday when
Vernon Wells
took him deep in the third inning.
Bonus question #2: Those 42 parks include ALL of the current 30 stadiums except two. We'll spot you Target Field because it just opened. What's the other current park where Moyer has yet to surrender a dinger? ** After being no-hit by
Edwin Jackson
on Friday, the Rays put together a two-hit attack against Arizona on Sunday. They did at least score a run this time. Ironically, the last team that was held to two or fewer hits twice in a series was these same Diamondbacks. That was in late May against the Giants.
** Combined with their amazing five-hit performance on Saturday, the Rays ended up with seven base hits over the entire three-game series. The Elias Sports Bureau tells us that the last team to finish with seven or fewer hits in a three-game series was the 1965
New York Mets
. They were one-hit by the Milwaukee Braves on both September 10 and 11 before "exploding" for five hits (and a 1-0 victory!) in the series finale on the 12th.
Bonus answer #2: Busch Stadium in St Louis. Moyer surrendered three long balls in the PRIOR Busch Stadium (which closed in 2005), but has made only two visits to the current building.
April, 27, 2010
4/27/10
2:25
PM ET
By
Kevin Goldstein, Baseball Prospectus
| ESPN.com
In his column today,
Doug Glanville takes a look at Mark Teixeira
, a player who didn't find a position until he got to the majors. Not finding a true defensive home until reaching the majors is nothing new. When it comes to signing amateur players, tools and athleticism rule the day, and the difficulty of each position needs to be accounted for. The best athlete on a high school team plays shortstop, but once you drop that player into professional baseball, he might only be a first baseman. With that in mind, here are five big-name prospects who will likely end up at a different position than the one they are playing in the minors.
Dustin Ackley, 2B, Mariners:
The second overall pick in the 2009 draft might just be the most interesting defensive case in the minors. He was primarily a first baseman during his college career at North Carolina, but that was because he was recovering from Tommy John surgery and couldn't throw. He's a plus-plus runner with up-the-middle athleticism, and while most teams thought center field was his most logical landing spot, the Mariners initial play is second base, a position at which he has no experience. Though he's been struggling with his bat at Double-A this year (he's hitting .153), scouts say he looks surprisingly comfortable with the glove.
Pedro Alvarez, 3B, Pirates:
Like Ackley, Alvarez is also a second overall pick (2008) with questions about his ultimate defensive home. Nobody has questions about his bat, but at 6-foot-3, 225 pounds (and probably more than his listed weight), his range at the hot corner is a bit limited, although his hands and arm are solid. The Pirates kept him out of winter ball in the offseason so he could focus solely on conditioning, but they're likely just holding off the inevitable move to first base. Expect a Jim Thome-like transition where at least the first few big league years are spent at third.
Jesus Montero, C, Yankees:
Montero is one of the best hitters in the minors, period. But if the 20-year-old can't stick at catcher, it's difficult to figure out where his future lies for the Yankees other than as a massive trade chip. First base is Montero's only other option, and Teixeira is signed through 2016. To his credit, Montero wants to be a catcher, and he's putting the time in to improve, but the 6-foot-4, 225-pounder is slow behind the plate, and he's thrown out just one out of 14 attempted base stealers this year at Triple-A Scranton. Few believe he can stick at catcher, but many think he could help in the big leagues at DH this year. However, Montero currently has a .715 OPS, so it's not as if he is banging down the major league door.
Miguel Sano, SS, Twins:
Sano was the biggest prize in last year's International market, and the Twins surprised many by giving him a $3.15 million signing bonus. He's listed as a shortstop, but one will notice that few players signed at 16 years old are ever listed as anything but shortstops or outfielders. At 6-foot-3 and 200 pounds, Sano has almost already grown out of shortstop, and could make his debut later this year at third base, with some thinking that right field could be his final destination. He is yet to play a professional game, so this will play itself out over the next few years.
Josh Vitters, 3B, Cubs:
The third overall pick in 2007, Vitters is in some ways a younger version of Alvarez. Scouts are mixed on his defense. Some see a solid-but-unspectacular defender at third base that projects as an acceptable big leaguer, while others think he's destined for a move to first base or the outfield. From years of experience covering prospects I've learned that if there are even whispers of a defensive move for a prospect, they tend to happen, as the bar at the big league level is higher than we often realize. Therefore, don't expect Vitters (or Alvarez for that matter) to stick at third.
Kevin Goldstein is an author of Baseball Prospectus.