October, 13, 2012
10/13/12
2:09
AM ET
By
ESPN Stats & Information
| ESPN.com
The
Washington Nationals
hadn't won a postseason series since 1981 back when they were the Montreal Expos.
No D.C. team had won a postseason series since 1924.
With one more out (or even one more strike), all of that would have changed.
Instead, the
St. Louis Cardinals
completed the greatest comeback ever in a winner-take-all postseason game, winning 9-7 to advance to the NLCS.
Washington's offense jumped out early thanks in part to Bryce Harper's bat. He became first teenager to triple in a postseason game, and then the second youngest to hit a home run (behind
Andruw Jones
).
Ryan Zimmerman
and Mike Morse added long balls to make it 6-0. All three coming off Cardinals' starter
Adam Wainwright
.
He was just the third pitcher to allow three home runs in a postseason winner-take-all game, joining Bob Gibson (1964 World Series) and Don Newcombe (1956 World Series). Gibson's Cardinals won that game.
Incredibly, Wainwright's teammates mounted a comeback on Friday.
No team had ever come back from more than four runs down in a winner-take-all postseason game, according to the Elias Sports Bureau.
The Yankees climbed back from four runs behind the Red Sox in Game 7 of the 2003 ALCS. The 1925 Pirates did the same to the Senators in Game 7 of the World Series.
But coming back from six runs down? That was unprecedented.
In fact, only four teams had overcome six run deficits to win any postseason game, according to Elias.
After Morse's home run put the Nationals up 6-0, the Cardinals had a 3.7 percent chance of winning the game according to FanGraphs.com's win probability calculator. It was still just the third inning.
The lead had been cut to 7-5 going into the ninth inning, as the Cardinals bats came to life.
But even two runs presented a nearly unprecedented comeback in a do-or-die game.
According to Elias, the 1992
Atlanta Braves
were the only team to overcome a multiple run deficit in the ninth inning of a winner-take-all postseason game. Francisco Cabrera's walk-off, two-run single capped that rally in Game 7 of the NLCS against the Pirates.
Carlos Beltran
led off the ninth with a double. He finished the night 3-3 with a pair of walks. In doing so, Beltran joined Babe Ruth as the only players to reach base five times (either by walk, hit or hit-by-pitch) in a winner-take-all game.
Drew Storen
managed to get the next two batters out. With
Yadier Molina
coming to the plate, the Cardinals' win probability had again dipped to 3.5 percent.
In each of the next two plate appearances (both walks), Storen was one strike away from the win. If that sounds familiar, it's because the Cardinals were one strike away from elimination in Game 6 of the 2011 World Series.
Daniel Descalso
tied the game with a bases-loaded single. Later,
Pete Kozma
plated two more runs for the first ninth-inning RBI in his brief career.
It had been 88 years since a rookie provided a game-winning RBI in a winner-take-all game. That was the Senators' Earl McNeely in Game 7 of the 1924 World Series.
The remarkable comeback continued a walk along a postseason tightrope for the Cardinals. They've now won six straight in elimination games, tying their own MLB record.
October, 10, 2012
10/10/12
6:06
PM ET
By
ESPN Stats & Information
| ESPN.com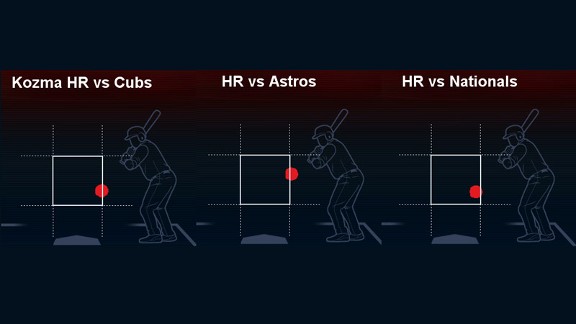 Pete Kozma has made the most of the inside pitches he's seen this season.
When
St. Louis Cardinals
starter
Chris Carpenter
needed to be at his best, he was. The result of that was an eventual rout for the St. Louis Cardinals against the
Washington Nationals
in Game 3 of the NLDS.
Let's take a closer look inside Carpenter's performance and inside his victory.
Winning with his arm and with his bat
Carpenter threw 5 2/3 scoreless innings to improve to 5-0 with a 2.09 ERA in his last six postseason starts. Combining the regular season, he's now 7-1 with a 3.17 ERA against the Nationals.
Carpenter's team is 13-3 in his postseason starts (.813 win percentage), the best team win percentage for anyone who has made at least 10 postseason starts
Carpenter now has won four postseason games in which he hasn't allowed a run. Only
Tom Glavine
has more such wins (6).
The Elias Sports Bureau noted that Carpenter is the second pitcher to start a regular season game without getting a win, but start a postseason game and get a win.
The only other was Virgil Trucks for the 1945
Detroit Tigers
.
Carpenter also tied the Cardinals postseason record for hits in a game by a pitcher with two. That had been done seven times previously in Cardinals history, most recently by
Jeff Suppan
against the
Los Angeles Dodgers
in the 2004 NLDS.
How Carpenter survived his jams
Carpenter only lasted 5 2/3 innings because of his pitch count—106 pitches. And it was a high-stress workload. He threw 73 pitches with at least one man on base.
The key pitch for Carpenter when he was in trouble was his slider.
Carpenter went to the slider 11 times with a man on base and netted four very important outs with the pitch.
He struck
Michael Morse
out swinging with one to end the first inning, got a pair of outs with it to strand a runner on second base in the second inning, and got
Kurt Suzuki
to fly out to
Jon Jay
with a man on second with one to end the fourth inning.
Carpenter got strikes with nine of his 11 sliders despite throwing only five of them in the strike zone.
Kozma likes the inside pitch
Cardinals shortstop
Pete Kozma
hit a three-run home run to put this game away early.
Kozma has made the most of his playing time since the season-ending injury to
Rafael Furcal
. In 86 at-bats, he's hit line drives at a 31 percent rate.
In Game 3, he did something he'd previously done a couple of times this season- hook an inside pitch over the fence. The image atop this article shows the pitch locations for Kozma's three home runs in 2012.
Kozma has relished pitches on the inner-half of the plate this season. Of his dozen extra-base hits (combining regular season and postseason), eight have come on pitches to that area.
Stat of the Game
Elias tells us that the Cardinals are the fourth team in postseason history to win consecutive games by at least eight runs in the same series.
The other three are the 1960
New York Yankees
(in the World Series against the
Pittsburgh Pirates
), the 2007
Boston Red Sox
(in the ALCS against the
Cleveland Indians
), and the 2008
Tampa Bay Rays
(in the ALCS against the Boston Red Sox).