Stats & Info:

Pittsburgh Panthers
September, 2, 2013
Sep 2
1:38
PM ET
By
Alok Pattani, ESPN Stats & Info
| ESPN.com
For the past few years, college football's opening weekend has had a great Labor Day game on ESPN. (On Monday, the
Pittsburgh Panthers
host the No. 11
Florida State Seminoles
at 8 ET on ESPN.) Each of the past five Labor Day games on ESPN, the deciding score came with less than two minutes left in the fourth quarter or in overtime.
Here's a closer look at the last five "Monday Night Football" openers.
2012: Virginia Tech def. Georgia Tech, 20-17 (OT)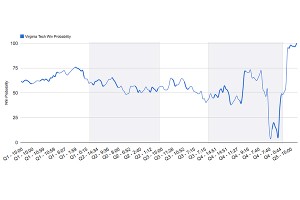 ESPN Stats & InformationVirginia Tech's win probability dropped below 5 percent late in the fourth quarter before rallying to tie the game and eventually win in OT.
A low-scoring affair
through three quarters
(7-7), each team had two lead-changing scores in the fourth quarter. Georgia Tech quarterback Tevin Washington found
Deon Hill
for a 10-yard touchdown to give Georgia Tech a 17-14 lead with 44 seconds left. But
Logan Thomas
and Corey Fuller hooked up twice to put Virginia Tech in position for Cody Journell's game-tying 41-yard field goal as time expired to send the game into overtime. In overtime, Virginia Tech picked off Washington, and Journell hit a chip-shot field goal to help the Hokies avoid the upset at Lane Stadium.
2011: Maryland def. Miami, 32-24
In a back-and-forth game that some remember for the debut of Maryland's "unique" uniforms, quarterback
Danny O'Brien
threw for 348 yards, including a 52-yard pass to Kevin Dorsey late in the fourth quarter that helped set up the
Terrapins' game-winning field goal
. Miami had one last chance, but
Stephen Morris
' fourth-down pass was intercepted and returned 54 yards for a touchdown by Cameron Chism, giving coach Randy Edsall a win in his Maryland debut.
2010: Boise State def. Virginia Tech, 33-30
In a much-anticipated matchup of
preseason Top-10 teams
at FedEx Field, Virginia Tech rallied from an early 17-point deficit and took a 30-26 lead midway through the fourth quarter. Boise State quarterback Kellen Moore capped off a game-winning drive, finding Austin Pettis for a 13-yard touchdown with just more than a minute left. The win extended the Broncos' win streak to 15 games.
2009: Miami 38, Florida State 34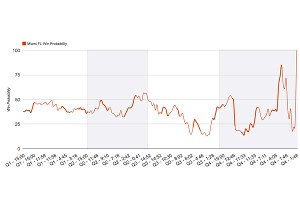 ESPN Stats & InformationMiami's win probability dropped below 20 percent several times in the second half before scoring the game's final points.
With both Miami and Florida State attempting to return to national relevance, the in-state rivals traded punches all game long. Miami's win probability dropped below 20 percent several times in the second half before scoring the game's final points. Miami running back Graig Cooper's three-yard run with 1:53 left in the game was the fourth touchdown scored in the fourth quarter, and gave the Hurricanes a four-point lead. But Miami had to withstand a last-gasp attempt by the Seminoles: Christian Ponder's pass to Jarmon Fortson on 3rd-and-goal from the two-yard line was ruled incomplete in the end zone, and Miami held on to hand Bobby Bowden another
heartbreaking loss in Tallahassee
.
2008: UCLA 27, Tennessee 24 (OT)
UCLA quarterback Kevin Craft threw
four first-half interceptions
, but the Bruins trailed by only seven points at halftime. The teams one-upped each other in the final minutes of the fourth quarter, with Craft leading a 70-yard drive for the apparent game-winning score with just 27 seconds to play. However, Tennessee's Daniel Lincoln kicked a 47-yard field goal as time expired to tie the game at 24 and force overtime. After UCLA's Kai Forbath made a 42-yard field goal, Lincoln missed a 34-yarder that would have forced a second overtime.
August, 24, 2012
8/24/12
11:48
AM ET
By
Michael Freer, Sharon Katz
| ESPN.com
The Big East Conference enters 2012 season with more questions than answers as conference realignment saw the
West Virginia Mountaineers
move to the Big 12 and the return of the
Temple Owls
. (In 2013, Pittsburgh and Syracuse will leave for the ACC. Boise State, Houston, Central Florida, SMU, San Diego State and Memphis will join the conference.)
Only the
Louisville Cardinals
cracked the preseason AP Top 25 (ranked 25th) as the conference tries to prove its worth to doubters around the nation.

One thing is for certain: the Big East is wide open heading into this season, with no team finishing worse than 5-7 in 2011.
Here are 10 statistics that may help sort out the top of the conference:
1.
Temple returns to the Big East after leaving the conference in 2004. In 14 seasons in the Big East from 1991-2004, Temple managed just 30 wins in 156 games.
2.
Despite finishing 5-7 last season, the
South Florida Bulls
outgained their opponents by an average of 81.4 yards per game, tops among all current Big East teams.
3.
The team with the worst yards per game margin was the
Connecticut Huskies
(-53.5). After ranking at the top of the Big East in rushing yards per game from 2008-2010 (187.3), the Huskies managed just 118.5 per game in 2011. That ranked seventh in the eight-team conference.
4.
After starting the season 4-0, USF lost seven of its last eight games. Four of South Florida's losses (Cincinnati, Rutgers, Miami and West Virginia) occurred in the final seconds or overtime. According to the number of points that South Florida scored and allowed throughout the season, the Bulls should have won 2.6 more games using the logic based upon Bill James' "Pythagorean Win Percentage" for baseball.
5.
Louisville also struggled in close games. All six of the Cardinals' losses last season came by nine points or fewer, tied for the most losses by single digits last season with Central Florida, Miami (FL) and Ohio State.
6.
Since 2007, the
Cincinnati Bearcats
have had four seasons of at least 10 wins. The rest of the teams in the Big East have combined for three.
7.
Over the last three seasons, Cincinnati ranked first in the Big East in points per game, total yards per game, yards per play and touchdowns.
8.
Despite Cincinnati's offensive dominance, the
Pittsburgh Panthers
are the only current Big East team with a winning conference record in each of the last four seasons.
9.
Over the last seven years, the
Syracuse Orange
are 5-22 in regular-season games played in November and December (0-4 last season). That is the worst win percentage among current Big East teams, and the seventh-worst in FBS.
10.
The
Rutgers Scarlet Knights
are the beneficiary of one of the best schedule stretches of any team in college football this season. Following a Sept. 22 game at Arkansas, Rutgers will play on the road just once over the next 55 days. That's nearly two months! And that one road game is at Temple, which is approximately 65 miles from the Rutgers campus.
January, 31, 2012
1/31/12
7:10
PM ET
By
Mackenzie Kraemer
| ESPN.com
For more than seven years, Texas, Pittsburgh and Villanova have been staples in the NCAA tournament. However, as of now, none is in Joe Lunardi's bracket. Texas, Pittsburgh and Villanova each have at least eight losses and RPIs of 59, 75 and 90, respectively.
Currently, the Longhorns are the fifth team out as they hope to extend their 13-year streak of making the tournament. As for Pittsburgh and Villanova, both schools likely will not be so lucky.

Texas Longhorns (13-9, 3-6, RPI: 59; 13-year NCAA tournament streak)
What's gone wrong:
Many of Texas' problems can be traced to the offseason. Between graduation and Tristan Thompson, Cory Joseph and
Jordan Hamilton
leaving for the NBA, the Longhorns lost 84.6 percent of their minutes and 83 percent of their scoring from last season. No returning player started a game last year, and only
J'Covan Brown
averaged more than 2.3 PPG. As a result, Texas is the 324th most-experienced team in the nation, averaging less than a year's experience per player, according to kenpom.com. That inexperience manifests itself in the team's 1-6 record in road/neutral-site games. It also forces Brown (19.7 PPG, 3.9 APG) to shoulder most of the scoring load. He takes the most shots per game (16.1) among major conference players (minimum 16 games).
Reasons for hope:
With a .207 adjusted points per possession advantage over its opponents (24th in D-I), Texas statistically should be a tournament team. However, one reason Rick Barnes' squad is the fifth team out is Texas' 0-7 record in games decided by six points or fewer, including Monday's one-point loss vs fourth-ranked Missouri. With an RPI of 59 and no bad losses on their résumé, the Longhorns can easily make the tournament if they can win close games. Road games against Texas A&M, Oklahoma, Oklahoma State and Texas Tech give the Longhorns several opportunities to improve their record away from Austin.

Pittsburgh Panthers (14-9, 3-7, RPI: 75; 10-year NCAA tournament streak)
What's gone wrong:
Pittsburgh already has its most losses since it last missed the tournament in 2000-01. Like Texas, Pittsburgh is forced to rely on one player to take most of its shots.
Ashton Gibbs
is averaging 16.4 points per game on 14.3 shots. However, Pitt's biggest issue has been its defense, which has allowed 66.6 PPG and 1.02 points per possession (199th in D-1), most since that 2000-01 season.
Reasons for hope:
After losing its first seven Big East games, Pittsburgh is coming off back-to-back-to-back wins against Providence, Georgetown and West Virginia. Point guard
Tray Woodall
, who has missed 11 games this year with a groin injury, had 22 assists and 10 turnovers in those three games. In five Big East games without Woodall, Pittsburgh was 0-5, posting 60 assists and 77 turnovers. In five conference games with him, the Panthers have 82 assists to just 62 turnovers. The opportunity is there for Pittsburgh to make a run with five straight games against unranked opponents.

Villanova Wildcats (10-12, 3-7, RPI: 90; 7-year NCAA tournament streak)
What's gone wrong:
Villanova is in danger of its first losing season since 2002-03. Without any scholarship seniors, the Wildcats are 2-9 in road/neutral-site games. The defense (0.98 points per possession) is the worst in the Jay Wright era, and forces turnovers on only 16.7 percent of possessions, worst among major-conference teams. Offensively, no team in the Big East shoots worse than Villanova (42.1 percent). Like Brown and Gibbs,
Maalik Wayns
(18.4 PPG, 13.7 FGA per game) is forced to carry a heavy offensive burden.
Reasons for hope:
Despite its reputation as "Guard U," Villanova is seventh in the nation in rebounding at 40.8 rebounds per game. With 12 losses, the Wildcats may need to run the table to have any shot at the NCAA tournament.
January, 13, 2012
1/13/12
11:10
PM ET
Streeter Lecka/Getty ImagesHarrison Barnes will be among the players College GameDay will be assessing on Saturday afternoon.
Let's get you warmed up for the first College GameDay road show of the season (live from Tallahassee, Fla. at 10 a.m. ET on ESPN) by taking a look at some notes and nuggets from our college hoops advanced stats research team (a group we call the "Stats in the Paint" team).
Saturday's Matchups
(2) Kentucky at Tennessee, Noon ET
Key stat:
In its first two conference games of the season, Kentucky has shot 50 percent against zone defenses and 39 percent against man-to-man. That's noteworthy, because the Wildcats have faced zone defenses on about 60 percent of their offensive possessions in those two games.
(3) North Carolina at Florida State, 2 p.m. ET
Key stat:
Though Florida State allows 87.1 points per 100 possessions on defense (13th in the nation), it has trouble on the offensive end.
The Seminoles turn the ball over on 26 percent of their possessions, worst in the ACC and 11th worst in the country.
Oklahoma State at (4) Baylor, 3 p.m. ET
Key stat
: Baylor is averaging 9 steals per game, and 21 points per game off turnovers (best in the Big 12). That's helped by
Perry Jones III
, who is 9-for-9 on transition 2-point field goal attempts this season.
Teams on the rise

• Murray State ranks 10th in the nation in transition points with 307. In three games against teams currently in the RPI's top 50, the Racers shot 77 percent and averaged 23 points per game in transition.
• UNLV is averaging 113.9 points per 100 possessions this season, 15th most in the country. The Runnin' Rebels get assists on 65 percent of their baskets, 11th-best in the nation.
Teams that are flailing
• Pittsburgh averages just 56.1 points per game with its FIRST-chance on a possession this season, which is fourth worst in the Big East and ranks 52nd out of 74 Big Six conference teams.

• Opponents are shooting nearly 60 percent in transition against Xavier in the Musketeers' last eight games; opponents were shooting 47 percent in transition in Xavier's first eight games.
Tell Me Something I Don't Know
Among the topics Rece Davis, Digger Phelps, Jay Bilas and Hubert Davis plan to tackle:
Is Doug McDermott the new Jimmer Fredette?
McDermott entered Friday averaging 24.5 points per game, which ranks second in the nation. He's made the most field goals in Division 1 (158) and is shooting over 60 percent from the field this season.
McDermott has scored 30 percent of Creighton's points this season and takes 36 percent of the team's shots while he's on the floor, comparable to Fredette, whose rates were 36 percent and 38 percent.
Creighton has played three games against Big Six conference opponents this season (all wins).
In those games, McDermott shot 66 percent from the field. In four games against Big Six foes, Fredette struggled, especially in the half court. McDermott made two-thirds of his shots in half court, and averaged 1.28 points per play. Fredette only made 42 percent and averaged 0.95 points per play.
The big difference in their games is in trips to the free-throw line. McDermott is just 15th in the Missouri Valley Conference and 402nd in the nation in free throws made. Fredette ended the 2010-11 season ranked first in the nation in that stat.
January, 12, 2012
1/12/12
11:10
AM ET
Going into the season, a loss to
Rutgers
was nearly unimaginable for
Pittsburgh
. Out of the question was a performance like Wednesday's 62-39 loss.

Among other humiliating numbers, it was the Panthers' fewest points in a game since scoring 36 back on December 4, 1973 (also against Rutgers). Worse yet, this loss came at home. The Panthers had their fewest points at home since scoring 38 in a loss vs Westminster on January 5, 1950.
The 23-point loss is their worst since moving to the Petersen Events Center in 2002. The Panthers shot just 21.1 percent, their worst shooting performance under Jamie Dixon. It's the lowest field goal percentage by a Big East team in conference play since
West Virginia
shot 20 percent in 2008. In the first half, Pittsburgh shot just 12.5 percent from the field.
Ole Miss snaps 542-game streak
Ole Miss
snapped a streak of 542 consecutive games with a three-point field goal, but still came away with a 71-63 win over
Arkansas
. It's the 12th time this season that a team won without making a three.

Since they won, it's easy to make light of the failure to connect from deep, but long-distance shots are a big problem for the Rebels. On the season, they are hitting just 27.3 percent of threes. Of 339 Division I teams, that ranks 328th.
Nicholson paces Bonnies
St. Bonaventure
got a huge game out of senior
Andrew Nicholson
, who finished with 30 points, 13 rebounds and six blocks in an 81-73 win over
Dayton
. It's the first such 30-10-5 game this season.

You don't see many games like this in high-level conferences. He's the first Atlantic 10 player to do it since Ahmad Nivins in 2008. The last Power 6 conference player with a 30-10-5 game? Kevin Durant.
Frazier can't do it alone
Penn State
is going to need someone other than
Tim Frazier
to contribute if the Nittany Lions want to turn the season around. In Wednesday's 70-58 loss to
Nebraska
, Frazier outscored the rest of his team 30-28.

The career-high performance came largely because no one else could score. His teammates combined to shoot 10-for-44 (22.7 percent) from the field. Frazier is the only Penn State player averaging in double figures this season.
January, 6, 2012
1/06/12
11:14
AM ET
Rare Big East win for DePaul

DePaul
outscored
Pittsburgh
7-0 in the final 10 seconds of the game to come away with an
84-81 win
. The Blue Demons had lost 16 straight Big East home games and had only won two Big East games in the past three seasons combined. All three of DePaul's conference wins over the past four seasons have been by three points or fewer. Meanwhile, Pittsburgh has lost four straight games for the first time during the Jamie Dixon era.
Monster performance for North Texas freshman
North Texas
outlasted
South Alabama
78-73 in overtime
courtesy of a monster performance from freshman
Tony Mitchell
, who finished with 34 points and 16 rebounds. He's the first freshman to put up at least 30 points and 15 rebounds since
Jared Sullinger
last season.
In fact, over the last five seasons, the only other freshmen to pull it off were Fordham's
Chris Gaston
and Michael Beasley, who had five such games. Mitchell, who was once
Missouri
bound, was playing in just his seventh game.

Jones happy to be back in San Diego
Rob Jones
saved his best game for his former team. The
St. Mary's
senior scored a career-high 31 points to go with 12 rebounds in a
78-72 win
over
San Diego
.
Jones spent his first two seasons at San Diego before transferring in 2009. In fact his previous career-high of 27 came as a freshman at San Diego back in February 2008. St. Mary's has won 12 of 13 and improved to 14-2.
Seven points at halftime for Louisiana-Monroe

Louisiana-Monroe
had only seven points at halftime in a
58-30 loss
to
Florida Atlantic
. The Warhawks actually had as many turnovers as points in the first half.
Charles Winborne's
three points led the team going into the break.
No one on the team finished the game with more than two field goals. The team shot 19.5 percent on the game, the second worst shooting performance by a D-I team this season. That included 17.9 percent from two-point range. For Florida Atlantic, it set a school record for fewest points allowed in a half and in a game.