Stats & Info:

Placido Polanco
May, 15, 2012
5/15/12
12:14
AM ET
By
ESPN Stats & Information
| ESPN.com
Jim Rogash/Getty ImagesJon Lester tossed his second complete game of the season as the Red Sox won their season-high fourth straight home game.
Jon Lester
narrowly missed out on tossing his first shutout since 2008, but he did manage his second complete game of the year as the
Boston Red Sox
beat the
Seattle Mariners
6-1.
The win was the fourth straight at home for the Red Sox after starting the season with a 4-11 record at Fenway Park. It's their longest home winning streak since taking nine in a row last July.
With the win, Lester improves to 2-1 with a 1.67 ERA in his last four starts, a stark contrast with his 0-2 record and 6.00 ERA through his first four games.
He was able to get the Mariners out by featuring his hard stuff. He threw a fastball, cutter or sinker on 94 of his 119 pitches. The only time this season that he threw a similar number was against the
Chicago White Sox
on April 28, when he pitched seven scoreless innings and struck out a season-high seven batters.
The Mariners' lack of plate discipline played into his hands as well. He didn't walk a hitter and only threw six pitches when facing a three-ball count. That was despite the fact that less than half of his pitches – 58 of 119 – were actually in the strike zone. He tied a season-high inducing 14 swinging strikes.
He threw 12 curveballs in the game, right at his season average, but used it as his out pitch. Lester recorded four outs, including two strikeouts, without allowing a hit against his curve.
On the flip side, the Mariners lost for the ninth time in their last 10 road games. They had started the season by winning eight of their first 12 games away from Safeco Field.
Seattle starter
Jason Vargas
allowed home runs to
Daniel Nava
and
Kelly Shoppach
during his outing. He has allowed seven homers this season, all of them on the road.
Quick Hits
•
Bryce Harper
hit his first career home run. He's the youngest player to homer in the majors since
Adrian Beltre
hit seven home runs in 1998.
• Speaking of the
Washington Nationals
, they scored eight runs in today's win against the
San Diego Padres
, becoming the last team in the majors to reach that mark this season.
•
Adam Dunn
homered off
Drew Smyly
, the first time he went deep against a southpaw since hitting two homers against
Clayton Kershaw
in August 2010. His last 30 homers had been against right-handed pitchers.
It was his 12th home run of the season, surpassing his total of 11 from last year.
•
Emilio Bonifacio
stole his MLB-leading 18th base on Monday. He has yet to be caught stealing this season. No other player in the majors has more than seven steals without being caught.
• On the career hit front,
Derek Jeter
and
Placido Polanco
both reached milestones on Monday.
Jeter went 1-for-5 to move past Robin Yount into sole possession of 16th place on the all-time hit list. Polanco became the 17th active player to reach 2,000 career hits.
May, 7, 2012
5/07/12
2:15
PM ET
The
New York Mets
face the
Philadelphia Phillies
tonight (ESPN, 7 ET) with
Roy Halladay
getting the nod for Philadelphia.

Halladay
A key tonight will be Halladay's velocity, which has decreased significantly over the last several seasons. In 2010, Halladay's cutter averaged 91.3 miles per hour. This season, it has dipped to 88.9.
His sinker has also suffered the same fate. In 2009, his sinker averaged 92.6 mph and topped out at 95.8. In 2012, that average is at 90.6 with a max of 92.8.
No pitcher in baseball has thrown more innings than Halladay in the regular season since 2006, and he has the most complete games of any active pitcher, 16 more than the next-closest.
Tonight's opponent has yet to solve Halladay, however. Since joining the Phillies in 2010, Halladay is 7-0 with a 1.68 ERA in seven starts against the Mets. He has posted a 1.66 ERA with 15 strikeouts and just one walk in three starts at Citi Field, and he didn't allow a run in two of those starts. He has never allowed a home run to a current Mets batter.
Halladay is also 20-3 against the NL East since the Phillies acquired him with a 2.24 ERA and a K-to-BB ratio of 8.39.
His opponent tonight,
Jonathon Niese
, is off to a relatively strong start this season thanks to his opponents' batting average on balls in play. Last season it was .344, the highest in the majors. This year it's down to .250, lower than 97 other pitchers.
Niese is allowing runs mainly because he's having trouble keeping the ball in the ballpark. He has a groundball-to-flyball ratio of 1.10, the same as 2011, but last season only seven percent of fly balls he allowed were home runs. This season, that's up to 10.8 percent.
A key matchup tonight will be Niese against
Placido Polanco
, as Polanco is 10-24 (.417) against Niese.
November, 1, 2011
11/01/11
11:50
PM ET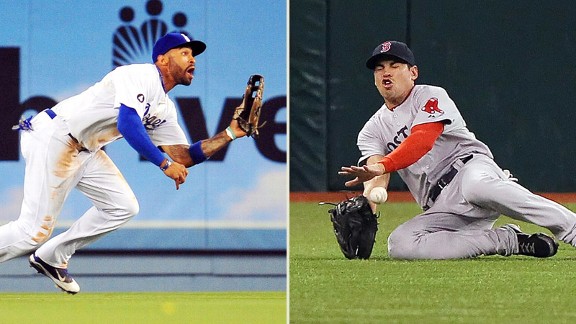 US Presswire
The strong defensive efforts made by Matt Kemp and Jacoby Ellsbury won them Gold Gloves in 2011.
On Tuesday night, ESPN and Rawlings announced the Gold Glove Award winners for 2011. There were 18 players selected for Gold Gloves and nine of them were first-time winners. Here's a closer look at some notable selections this year:
National League
•
St. Louis Cardinals
catcher
Yadier Molina
won his fourth consecutive Gold Glove. The last National League catcher to win four straight Gold Glove was
Charles Johnson
, from 1995 to 1998.
Video review by Baseball Info Solutions (BIS), a company that charts every pitch of every game, showed that Molina led the majors in blocks of pitches that were in the dirt with 657.
• The
Los Angeles Dodgers
outfield duo of
Matt Kemp
and
Andre Ethier
each won Gold Gloves, with Kemp netting his second and Ethier his first. They're the first pair of outfield teammates to win Gold Glove Awards in the National League since
Andruw Jones
and
Jeff Francoeur
for the 2007 Braves. It's also the first time Dodgers outfielders have won Gold Gloves in the same season.
•
Philadelphia Phillies
third baseman
Placido Polanco
became the second player to win Gold Gloves at multiple positions, joining
Darin Erstad
, who won as both an outfielder and first baseman. Polanco also won twice previously as a second baseman.
Polanco, in his second season at third base for the Phillies, saw his errors increase from five in 2010 to eight in 2011. However, a closer look at his defensive skills using advanced metrics shows that he actually made big strides in his defensive play this year.
Polanco finished second to
San Francisco Giants
third baseman
Pablo Sandoval
in defensive runs saved, a stat devised by sabermetricians Bill James and John Dewan that measures a third baseman's ability to turn batted balls into outs and defend bunts.
Polanco really improved in turning grounders into outs. Specifically he was much better on balls hit into the areas where third basemen most frequently field balls and balls hit down the third-base line. According to the plus-minus system from BIS, Polanco went from saving five total bases on balls hit to those spots in 2010 to saving 23 bases this year.
American League
•
Boston Red Sox
centerfielder
Jacoby Ellsbury
became the first Red Sox outfielder to win a Gold Glove Award since
Ellis Burks
in 1990. Like Polanco, Ellsbury made a significant statistical jump in his defensive performance from 2009 (his last healthy season) to 2011.
In 2009, he finished near the bottom among center fielders in defensive runs saved, which for outfielders measures their effectiveness at turning batted balls into outs and the value of his throwing arm as a baserunner deterrent. Ellsbury's defense cost the Red Sox nine runs in 2009, but saved them six runs in 2011, tied for sixth-best in the American League.
• One of the more intriguing selections was in left field where
Kansas City Royals
outfielder
Alex Gordon
became the first Royals outfielder to win a Gold Glove Award since
Jermaine Dye
in 2000.
Gordon won on the strength of his major league-best 20 outfield assists, a Royals record and eight more than any other left fielder. However, Gordon's win deprived
New York Yankees
leftfielder
Brett Gardner
of his first Gold Glove Award.
Gardner tied for the major-league lead in defensive runs saved, saving the Yankees 22 runs with his defense. Video review by scouts at BIS also showed Gardner leading all left fielders in "Good Fielding Plays," which are similar to Web Gem nominees.
August, 17, 2011
8/17/11
2:15
PM ET


The Arizona Diamondbacks and Philadelphia Phillies play the middle game of a three-game set in Philadelphia on ESPN's Wednesday Night Baseball.
Two of the top four teams in the National League square off in the City of Brotherly Love, a city where before Tuesday night's win, Arizona had lost seven straight and eight of the last nine games to the Phillies.
On the mound
Joe Saunders
takes the mound for the Diamondbacks tonight. The lefty has turned around his season of late after an ugly start to the year. After starting 3-7 with a 4.50 ERA, Saunders is 5-2 with a 2.82 ERA over his last 10 starts.
Saunders has not had success against the three Phillies he has faced the most,
Placido Polanco
(9-23, .391 BA),
Raul Ibanez
(8-23, .348 BA) and
Ben Francisco
(5-11, .455 BA).
However, the good news for Saunders is that the player he's faced the next most is
Ryan Howard
(0-9, 4 K).
The Phillies counter with
Cliff Lee
, who's also had a tale of two seasons. Lee got off to a slow start before having one of the best months ever by a starting pitcher in June.
Over the first two months of the year, Lee went 4-5 with a 3.94 ERA, but is 8-2 with a 1.86 ERA since June (including going 5-0 with a 0.21 ERA in five June starts).
How has Lee done it during this turnaround?
By throwing his curveball more often, which has made his changeup even more effective as a secondary pitch even though he's throwing it with the same frequency.
Matchups
There are two bona-fide MVP candidates squaring off in this game -- one who gets mentioned all the time (
Justin Upton
) and one who is routinely passed over (
Shane Victorino
).
Upton is on the short list of NL MVP candidates this season as he's broken through to superstardom. He leads all National League players in Wins Above Replacement and is third among all major leaguers.
Victorino's name doesn't normally come up when National League MVP candidates are mentioned, but maybe it should, especially since Victorino has played just 93 games to Upton's 121.
Stat of the game
The Diamondbacks are 33-27 on the road. They haven't finished a season with a winning road record since 2005 (41-40). One of the biggest keys to that – their pitchers are on pace to allow 67 fewer ROAD walks than last season.
June, 29, 2011
6/29/11
1:09
PM ET
Since scoring 14 runs on June 20 against the
San Diego Padres
, the
Boston Red Sox
have scored a total of 14 runs in their last six games. (Tuesday was the seventh time this season that Boston's been shut out.)


Perhaps that's one reason the
Red Sox will start
David Ortiz
at first base on Wednesday against the
Philadelphia Phillies
(7 ET on ESPN.)
The downturn in offense has coincided with a trip National League ballparks and the loss the designated hitter. With Ortiz out, the Red Sox have had to shorten their lineup. Ortiz primarily was batting fifth in the lineup, but in their last four games -- all in National League ballparks -- the Red Sox have been batting
J.D. Drew
and
Darnell McDonald
in the five-spot. The two have combined to go 3-for-16 (.188) in those games, including 0-for-11 with men on base. This season, Ortiz is batting .312 with eight home runs with runners on base.
The Red Sox are not only losing out in the fifth spot in the order, but are also not getting any offense from their pitchers. Boston is one of five American League teams that has yet to get a hit from a pitcher. In National League parks, the Sox' No. 9 hitters are 1-for-14 (OF
Josh Reddick
had a pinch-hit single). Their No. 9 hitters were batting .258 entering their National League road trip.
Matchups to Watch:
•
Placido Polanco
is 4-for-23 against
John Lackey
, but with only one strikeout and one home run. That means his Batting Average On Balls in Play against Lackey is .143 (3-for-21). Polanco's career BABIP is .312.
•
Ryan Howard
is 0-for-4 in his career against
Jonathan Papelbon
with three strikeouts, and each came on a 3-2 count. His other out was a flyout, also with a two-strike count (0-2)
• Leadoff hitters in an inning is 9-for-30 (.300 BA) vs Bard this season. Everyone else is 13-for-98 (.133 BA)
• Should Terry Francona consider giving
Jacoby Ellsbury
a day off? Ellsbury is 2-for-20 in his last 5 games, but on BABIP, he's struck out only once. He's 1-for-his-last 18 when putting the ball into the field of play.
October, 21, 2010
10/21/10
1:24
PM ET
By
John Fisher
| ESPN.com
A quick preview of Game 5 of the National League Championship Series between the Philadelphia Phillies and the San Francisco Giants.
• The Phillies have won six straight Game 5s, the longest streak in postseason history. The Giants have won five straight Game 5s, tied for the second-longest such streak.
• The last two times the Phillies have been down 3-1 in a best-of-seven series, they've won Game 5.
• The Phillies are 4-0 in Game 5s on the road. Their four-game win streak is tied for the second-longest in postseason history.

• On the other hand, the Giants have won four straight home Game 5s. That's tied for the third-longest streak in postseason history. With a win, they'll tie the
Pittsburgh Pirates
(from 1909-92) for the second-longest streak. The longest is six, by the
New York Yankees
from 1976-2001.
Roy Halladay
and
Tim Lincecum
will take the mound Thursday in a rematch of Game 1. Halladay has pitched twice at AT&T Park in his career, and he's allowed 10 runs in 12 1/3 innings in those two games.
And this season, the Giants have given him problems. His 5.79 ERA against San Francisco is easily his worst against any team he faced more than once this year.
Cody Ross
, who was 3-16 with 0 HR career in the regular season vs Halladay, hit two home runs against him in Game 1.
Pat Burrell
(.381 in 21 at-bats) and
Edgar Renteria
(.364 in 11 at-bats) have hit Halladay well in their careers.
At age 26, Lincecum could become the third-youngest Giants pitcher to win the clinching game of a postseason series. It's a fun list: The top two are
Madison Bumgarner
(2010 NLDS) and Christy Mathewson (1905 WS).
FROM ELIAS SPORTS BUREAU:
Lincecum has 22 strikeouts in his first two postseason games, tying Bob Gibson for the most strikeouts in a player's first two career postseason games. The record for most strikeouts in a player's first three postseason games is 31, also by Gibson.
Lincecum will need to be careful in the middle of the Phillies order.
Placido Polanco
(.333 in nine at-bats),
Ryan Howard
(.318, three HR in 22 at-bats) and
Jayson Werth
(.364, two HR in 11 at-bats) have all had success against the Giants starter.
In fact, six of Howard's seven career hits against Lincecum (three doubles and three home runs) have gone for extra bases!
And Phils manager Charlie Manuel made a move in Game 4, replacing the lefty-hitting
Raul Ibanez
with right-hander
Ben Francisco
. Looking ahead to Game 5, who plays left field will be anybody's guess. Ibanez is just 1-for-12 with five strikeouts in his career against Lincecum, but Francisco has never faced him.
• Jeff Nelson will be the home plate umpire in Game 5. Tim Lincecum has never pitched with Nelson calling balls and strikes, and Halladay is 2-2 in four career starts with a 2.83 ERA.

• For Phillies fans, here's something to hang your hats on. October 21st has been a good day in Phillies history:
1980
- The Phillies win their first World Series, beating the Royals in Game 6.
1993
-
Curt Schilling
pitches a shutout, with the Phillies down 3-games-to-1 in the World Series to the Blue Jays. The Phillies win 2-0 to force a Game 6.
2009
- The Phillies clinch the NLCS by beating the Dodgers, 10-4, in Game 5.
October, 5, 2010
10/05/10
1:10
PM ET
By
John Fisher
| ESPN.com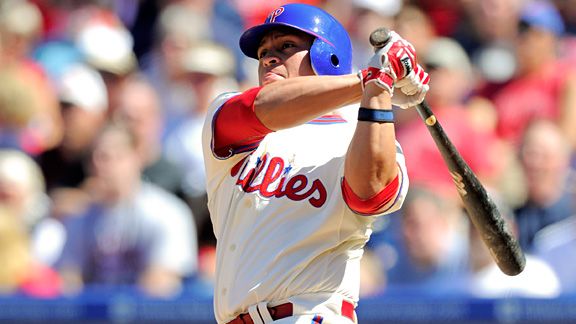 Rich Kane/Icon SMI
Carlos Ruiz has gotten a lot of big hits throughout his Phillies career, especially this season.
A capsule stat-based preview of the Reds-Phillies NLDS matchup
Top things to know
This series will be a matchup of strength vs. strength. The Phillies' starting pitchers led the majors in innings pitched and were fourth in ERA at 3.55. They helped cover for a bullpen that was 18th in ERA (4.02).
The Reds led the National League in hitting (.272) and slugging (.436), and were second in OBP (.338). MVP candidate
Joey Votto
led the league in OBP, slugging and adjusted OPS+ and was second in the NL in offensive WAR, setting career highs in every offensive category.
Deciding factor

Phillies pitchers had the second lowest walk rate in the major leagues (6.8 pct), and the three pitchers the Reds will see most --
Roy Halladay
,
Roy Oswalt
and
Cole Hamels
-- walk hitters with even less frequency. And they come after you right away -- the Phils were third in baseball in first-pitch strike percentage and in the top 10 in percent of pitches thrown in the strike zone.
The Reds hitters, for all their success, are an aggressive bunch -- their swing percentage of 47.0 led the National League and was fourth in the majors. And Cincinnati is second in swing percentage and fourth in chase percentage on the first pitch.
Most interesting matchups
The Phillies will have three lefties in the 3-through-6 spots in their lineup and the Reds have veteran
Arthur Rhodes
and hard-throwing phenom
Aroldis Chapman
to counter. Chapman has never faced Philadelphia, but the middle of the Philly order has had some success against Rhodes:
Chase Utley
is 1-8 with two strikeouts, but
Ryan Howard
and
Raul Ibanez
are 6-19 (.316) combined. Don't forget July 9, when Rhodes allowed a leadoff double to Ibanez and a walk-off HR to Howard in an 11-inning Phils win. And keep in mind that
Jayson Werth
, the righty who will be mixed in with those lefties, has three walks in six career PA against Rhodes.
And Cincinnati has two lefty sluggers in the middle of their lineup that the Phillies will need to neutralize.

Lefty
J.C. Romero
lowered his opponents' BA against left-handed hitters almost 100 points from last season, but Votto is 2-3 against Romero. Plus,
Jay Bruce
tied for fourth in the majors this season (with Howard, among others) with 12 HR against lefties. But the Phils can also trot out
Ryan Madson
-- lefties hit only nine points higher than righties this season against him, and Bruce and Votto are 0-6 in their careers against the setup man. Keep in mind that righty
Drew Stubbs
hit 10 HR against left-handed pitching, just two behind his teammate Bruce.
Statistical secrets
Carlos Ruiz
finished the season hitting .302, becoming just the fourth Phillies catcher since 1901 to finish the season over .300 (min. 400 PA). In the ninth inning or later, he hit a whopping .359 and slugged .692 (5th in MLB, min. 40 PA). Of course Joey Votto is one of the players ahead of him in both categories, hitting .415 and slugging .717. Ruiz's nine extra-base hits after the eighth inning were fifth best in baseball.
Also, the Phillies' three starting pitchers in this series all get groundballs at rates above the MLB average, especially Halladay. To go along with that, according to
Fangraphs
, the Phillies boast the fifth and sixth best players in baseball in Double Play Runs Above Average:
Placido Polanco
and Chase Utley, respectively.
SIG's Picks
Albert Larcada of ESPN Stats & Info did statistical analysis of the last 10 postseasons, looking for the factors that most separate winning and losing teams. He found three -- power hitting, front-end starting pitching and the ability to turn batted balls into outs. Using his findings, he was able to make a projection.
Larcada's system gives the Phillies a 55.7 percent chance to beat the Reds, the fourth-highest percentage of the eight postseason teams.
April, 19, 2010
4/19/10
6:43
PM ET
By
Chris Fallica, ESPN Stats & Info
| ESPN.com
The season is only 2 weeks old, but some surprising names find themselves atop some statistical categories entering Monday.
Who has the most hits in baseball? Odds are prior to the start of the season, you wouldn't have said
Scott Podsednik
,
Placido Polanco
or
Franklin Gutierrez
would lead baseball in hits with 21 on this date. Podsednik leads baseball with a .457 BA.
Even more bizarre,
Ivan Rodriguez
leads the NL with a .444 BA.
I'm sure everyone thought
Jorge Cantu
would be the player with the most RBI with 16.
No
Joe Nathan
, no problem. The Twins
Jon Rauch
has the most saves with 6.
Felix Hernandez
or
CC Sabathia
have to lead the AL in strikeouts, right? Wrong. That honor goes to the Orioles
Brian Matusz
with 23, one fewer than
Tim Lincecum
's ML-leading total 24.
Of course Lincecum leads baseball in K per 9 then... Wrong again. Fellow Giants starter
Jonathan Sanchez
has a higher K per 9 than any starter in baseball (12.41).
Your ML leader in XBH? None other than Blue Jays SS
Alex Gonzalez
with 11. In fact 11 of his 17 hits have gone for extra bases.
Stop the presses, a Nationals pitcher leads baseball in ERA. We told you Stephen Strasburg was the real deal. Wait. It's not Strasburg you are talking about? Nope.
Livan Hernandez
has yet to allow a run in 16 innings this season. In case you missed it, Hernandez' ERA is almost 6 over the last two years.
Matt Garza
leads the AL in ERA at 0.75.
Obviously the Blue Jays knew
Ricky Romero
would have the lowest opponent BA among AL starters at this point (.143). Why else would they have traded
Roy Halladay
? And if you guessed a Cardinals starter led the majors in Opp BA, you guessed right. Except it's not
Adam Wainwright
or
Chris Carpenter
we're talking about. We'd be talking about
Jaime Garcia
, who has held opponents to a .116 BA this season.
April, 14, 2010
4/14/10
2:09
PM ET
By
Jeremy Lundblad, ESPN Stats & Info
| ESPN.com
Today's Trivia
: Happy Birthday to the 1995
Atlanta Braves
. Well, three of them at least.
Greg Maddux
,
David Justice
and
Steve Avery
were all born on April 14. Maddux posted an NL-best 1.63 ERA in 1995. Can you name the two other pitchers on that team that won an ERA title at some point in their career?
Quick Hits
: April has not been kind to leadoff hitters thus far, a trend spotted by Baseball Tonight researcher Mark Simon. With the obligatory acknowledgement that we are only 10 days into the season, let's take a look at the hole at the top spot in the order.
* Apparently, leadoff is the new seventh. Leadoff batters are hitting .249 with an OBP of .316. Meanwhile, the seventh spot is a collective .250 with an OBP of .316
* The No. 1 hitter in the
Texas Rangers
lineup is 1-28 with no walks.
Cincinnati Reds
pitcher Mike Leake had more hits than that in his MLB debut. The No. 1 hitter for the Braves is 2-29.
Arizona Diamondbacks
pitcher
Edwin Jackson
had two hits in an inning.
* The primary culprits have been
Julio Borbon
(1-25),
Melky Cabrera
(2-26), and a pair of Padres:
Everth Cabrera
(1-15) and Tony Gwynn, Jr. (1-11).
* In all, ten teams are hitting under .200 from the top spot in the order.
* Thirteen No. 1 hitters have an on-base percentage below .200 (minimum 15 PA)
* Though
Carlos Gonzalez
has the highest leadoff average (.393),
Jimmy Rollins
has arguably been the most productive leadoff hitter thus far. He's hitting .391 with a .516 on-base percentage. The catch? Rollins appears on his way to the disabled list.
Shane Victorino
, his likely replacement atop the lineup, is a career .227 hitter from the top spot.
Key Matchups
:
Bobby Abreu
has nine career home runs against
Javier Vazquez
, which is five more than he has against any other pitcher. However, that's just the tip of the iceberg. The Elias Sports Bureau unearthed a fascinating element to their head-to-head history. Abreu has three multi-homer games against Vazquez, making him the first to do that against one pitcher since Willie McCovey against Bob Buhl.
Looking to guide the Astros to their first win,
Brett Myers
is 4-2 in his career against the Cardinals. However, the current Cardinals lineup might indicate a different story. Six Cardinals regulars have faced Myers before, and they've combined to hit .392 with nine home runs in just 79 at-bats. For once
Albert Pujols
is bringing down the rest of the group. He is a .310 hitter against Myers with "only" two homers in 29 at-bats.
Today's Leaderboard
: Five players that have made at least 20 plate appearances have yet to strikeout this season. The most surprising would have to be Ivan Rodriguez, who fanned 92 times last season. With one strikeout in 34 PA,
Chase Utley
just missed the list. He had 110 strikeouts last season.
Trivia Answer
: If you guessed
Tom Glavine
and
John Smoltz
... sorry, they never led the league in ERA. Alejandro Pena (1984) and
Jason Schmidt
(2003) would be the correct answers.
April, 10, 2010
4/10/10
2:25
AM ET
By
ESPN Stats & Info
| ESPN.com
It's Friday and we're in love with baseball. Here are some of the best notes from ESPN Stats & Info as we head towards the weekend.
Hitters of the Night:
Edgar Renteria
went 3-5 on Friday against the Braves and tied the game with a 2-run HR in the 9th inning off of
Billy Wagner
. The Giants won in the 13th inning to remain the only unbeaten team in the big leagues at 4-0. Renteria is 11-for-16 so far this season and is being more selective at the plate, especially as pitchers throw him less strikes. Renteria is chasing only 11.9 percent of pitches outside of the zone this season after chasing 19.3 percent last season. The result? Renteria has put the ball in play 57.7 percent of the time he has swung as opposed to just 46.3 percent in 2009.
Placido Polanco
joins Renteria atop the league leaderboard with 11 hits this season, and is pacing a Phillies team that has scored 32 runs already. He's driven in a quarter of those runs himself, and is hitting .579 in the early going. Polanco has also been more selective, and the notorious contact hitter is missing even less this year -- he hasn't struck out yet in 21 PA. And he's jumping all over the few fastballs he sees, swinging at 56.5 percent of heaters. Polanco has seen 46 fastballs this season, swung at 26 of them, and missed ZERO.
Why Rockies Starter Jorge de la Rosa Won:
- Threw first-pitch strikes to 75 pct of hitters (56 pct in '09).
- Allowed 27 pct of swings to be hit in play (38 pct in '09).
- Of 9 swings against his slider, 0 were put in play.
- Retired the leadoff hitter in each of his 7 innings.
March, 18, 2010
3/18/10
11:04
AM ET
By
Sky Kalkman, Beyond The Box Score
| ESPN.com
Over the next couple of days, I'll be optimizing MLB's best lineups by "The Book." No, not the collection of traditional baseball heuristics, but an actual, published book that statistically analyzes those traditional assumptions. Up first, the Philadelphia Phillies, with the following projected starters against right-handed pitching (using ZiPS).
While you could make a good argument that neither deserves to bat this high, Shane Victorino deserves the leadoff spot over Jimmy Rollins. Even if the latter returns to pre-2009 form, his lack of on-base skills and larger percentage of value tied to the home run make him ill suited to set the table.
The two best hitters go in the second and fourth spots. The cleanup hitter actually comes to bat with runners on base more often, with more potential to do damage, but because the No. 2 hole comes to the plate more often overall, these two spots are equally important. Chase Utley is the better on-base threat, so he goes in the No. 2 hole, and Ryan Howard's power bats cleanup.
Why skip over the No. 3 hole? Because it comes to the plate with two outs more often than other top-of-the-order spots, limiting its production. The third hitter is about as important as the fifth hitter, and "The Book" says we should favor lower OBP players with high home run rates -- if there are two outs, the risk-reward of an out versus a home run is a good gamble.
All else being equal, Raul Ibanez would go in the No. 3 hole, but Jayson Werth makes a bit more sense for the Phillies because his right-handed bat will split up Utley and Howard. If the opposing team wants to use a
LOOGY
against both those lefties, Charlie Manuel might as well either get a good matchup in between or force the other team to use two extra relievers.
That leaves us with this top five:
1. Victorino
2. Utley
3. Werth
4. Howard
5. Ibanez
In general, the rest of the order should be penciled in from best to worst overall hitter, but the Phillies probably should put Rollins ahead of Placido Polanco in the No. 6 and No. 7 holes. Rollins' power is much more effective at scoring the
slow-footed
Howard and Ibanez. Plus, his extra-base hits and stolen bases are most useful in front of a singles hitter like Polanco, setting up a classic 1-2 combination lower in the order.
Finally, Carlos Ruiz gets plugged in to the No. 9 hole. Yes, that's right, after the pitcher. Ruiz isn't being punished. In fact, the worse he hits (or the better the pitcher hits), the more motivation there is to move him up to No. 8. Because the pitcher is an easy out, he works to both kill rallies and roll the top of the lineup over without anyone on base. Based on research in "The Book," the second drawback is, on average, more harmful. By putting Ruiz in the No. 9 hole, Victorino and Utley are more likely to come to bat with a runner on base -- it's a twist on the "second leadoff hitter" theory.
All of that leaves us with the following optimal lineup for the 2010 Phillies against right-handed starters:
1. Victorino (S)
2. Utley (L)
3. Werth (R)
4. Howard (L)
5. Ibanez (L)
6. Rollins (S)
7. Polanco (R)
8. Pitcher
9. Ruiz (R)
A longer explanation of some of the batting-order principles in "The Book" can be found in this article. Sky Kalkman writes for Beyond The Box Score.