December, 16, 2013
12/16/13
2:16
AM ET
By
ESPN Stats & Info
| ESPN.com
AP Photo/James D. SmithTony Romo threw two interceptions in the final three minutes against the Packers
Leading 36-31 late in Sunday's game, the Dallas Cowboys appeared in good position to win and pull into a tie for the NFC East lead. Two plays went a long way toward changing that.
Tony Romo's interception with 1:24 left in the 4th quarter against the
Packers
dropped the
Cowboys'
win probability by 51.1 percentage points, the 2nd-most costly 4th-quarter interception in his career in terms of win probability (the most costly was
Darrelle Revis'
interception of Romo in 2011; see chart below). His interception earlier in the quarter dropped the Cowboys' win probability by 17.5 percentage points (from 88.6% to 71.1%) and set up the Packers' go-ahead touchdown.
Romo
has thrown 7 career 4th-quarter interceptions that have dropped his team's win probability by at least 20 percentage points (the Cowboys have lost all 7 games). Using that definition of a costly interception, only
Matt Schaub
(8) has thrown more than Romo since 2006.
Cowboys' defense non-existent
The Cowboys' defense contributed -22.8 expected points to the team's net scoring margin in the 2nd half against the
Packers
. That is the worst defensive EPA by any team in the 2nd half of a game this season.
The Packers scored a touchdown on each of their 2nd-half drives, excluding their final drive, which was 3 kneel downs. The Packers got first downs on 47 percent of their 2nd-half plays and converted 6-of-7 third downs during that span.
The Cowboys' defensive EPA is -6.8 points per game this season. Only the Vikings (-8.0) have been worse.
EPA looks at the impact of every play on each team's potential points, attributing those to the actual unit on the field – offense, defense or special teams. When aggregated over the course of a game or season, EPA numbers show how much each unit contributed to the team's final point margin. EPA takes into account each unit's impact on moving the ball, creating turnovers and scoring points.
Cutler good when it counts
Jay Cutler
had a 99.9
Total QBR
in the 4th quarter, completing 5-of-7 passes for 71 yards and 2 touchdowns in the Bears' 38-31 win over the Browns. Cutler's Total QBR in the 4th quarter this season is 95.2, 1st in the NFL among qualified QBs.
Cutler overcame 2 costly interceptions in the game. His 1st interception, thrown into the end zone on 1st and 10 at the Browns' 14, cost the Bears an expected 4.9 points. Combined with his pick-six in the second quarter, Cutler cost the Bears 11.0 expected points with his 2 interceptions.
Saints leave offense at home
The
Saints'
offense contributed 6.0 expected points to their net scoring margin against the
Rams
, almost doubling their offensive EPA on the road this season (now at 13.3, 15th in NFL). Their offense has added 104.9 expected points at home this season, and no team averages more per game.
Drew Brees
' Total QBR was 35.5 against the Rams and is 55.8 on the road (12th in NFL) this season. It is 80.3 at home (2nd in NFL).
Quick hitters
Eli Manning
's Total QBR was 2.1 against the Seahawks, his worst Total QBR in a game since the start of the 2006 season. Manning threw a career-high 5 interceptions, and converted one of nine third downs. Manning's Total QBR this season is 36.0, more than 10 points worse than his previous low (46.2, 2006).
Matt Cassel
posted a career-high 96.3 Total QBR (min. 15 action plays) against the Eagles.
Brett Favre
(97.5) is the only Vikings quarterback to post a higher Total QBR in a game since 2006 (44-7 win in Week 17, 2009, vs Giants).
The Rams' special teams added 6.4 expected points against the Saints. They blocked a field goal attempt by
Garrett Hartley
, and Hartley missed another field goal wide left late in the game. The Rams' special teams unit has added 2.4 expected points per game this season, 2nd in the NFL behind the Chiefs (3.0).
Carson Palmer
posted an 86.6 Total QBR against the Titans. His Total QBR is 77.6 since Week 8, 2nd-best in the NFL behind Josh McCown (Cardinals: 6-1 during that span).
The Chiefs' offensive EPA was 21.2 against the Raiders, their 2nd-highest total in a game since the start of the 2006 season. The Chiefs' offense added 20.3 expected points from Jamaal Charles' 5 touchdowns (over 95% of their offensive EPA). Charles' last touchdown added 6.2 expected points. EPA is measured on a play-by-play basis, taking the difference between what the expected points an average team would be expected to score in that same situation (based on historical NFL data), from their expected points after the play, and adding them up through the course of a game.
October, 16, 2013
10/16/13
12:01
PM ET
By
Rob Nelson, ESPN Stats & Info
| ESPN.com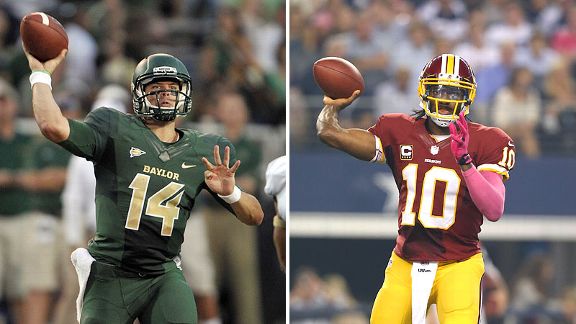 USA TODAY SportsBryce Petty (left) is hoping to rival the success of former Baylor QB Robert Griffin III (right).
Robert Griffin III put Baylor on the map in 2011, accounting for 47 touchdowns and 4,992 yards en route to winning the Heisman Trophy. Griffin finished the 2011 campaign with an opponent-adjusted QBR of 83.2, fourth-best in the FBS that season.
Bryce Petty
, in his first season as Baylor's starting quarterback, has led Baylor to a 5-0 record and a No. 12 ranking in the AP poll. He has posted the second-highest opponent-adjusted QBR (95.1) in the nation. Since the start of the 2004 season, seven quarterbacks have finished with an opponent-adjusted QBR of at least 90 -- three went on to be No. 1 overall picks (Sam Bradford, Cam Newton and Andrew Luck) and one is last season's Heisman Trophy winner --
Johnny Manziel
.
Petty has put up numbers after four games that are comparable to Griffin's. Petty has posted a Total QBR of at least 90 in four games this season, which already gives him more such games than Griffin had in 13 starts during his Heisman year.
Petty leads all FBS quarterbacks in pass yards per attempt (14.9), as Griffin did in 2011. They also have nearly identical numbers when it comes to completion percentage and pass yards per game.
A key to Griffin's success in his Heisman season was his downfield passing. On passes thrown 15 yards or longer, Griffin led all AQ quarterbacks in 2011 with 23 touchdowns and had the third-highest completion percentage (minimum 20 attempts). In a smaller sample size this season, Petty is completing a higher percentage of such throws than Griffin and is averaging 28.4 yards per attempt, the highest among all AQ quarterbacks (minimum 10 attempts).
Petty has also performed better than Griffin did on third down. Petty leads the FBS in yards per attempt (17.0) while completing 70 percent of his passes on third down. Petty has converted 55 percent of his third-down pass plays (pass attempts + sacks) into a first down, the sixth-best rate among FBS quarterbacks.
Griffin completed 68 percent of his third-down passes and averaged 9.8 yards per attempt, both of which ranked in the top four of the FBS. Yet he converted on only 38 percent of his third-down pass plays, partially because he was sacked on nine third downs. Petty was sacked on third down for the first time last week against Kansas State.
Before anointing Petty the next RG III, there are two things to keep in mind:
1. Baylor's first five games have been against FCS Wofford, Buffalo (85th-ranked pass defense), UL-Monroe (68th-ranked pass defense), West Virginia (58th-ranked pass defense) and Kansas State (62nd-ranked pass defense). Petty will have opportunities against better defenses because Baylor plays three of its last seven games against teams with a top-40 pass defense.
2. Petty is not utilized as much in the running game, averaging 44.8 fewer rush yards per game and 9.2 fewer rush attempts than Griffin did. Petty does have four rushing touchdowns, which puts him on pace to equal Griffin's 10 touchdowns in 2011.
October, 14, 2013
10/14/13
11:00
AM ET
By
ESPN Stats & Information
| ESPN.com
USA TODAY SportsAndrew Luck and Philip Rivers rank in the top three in Total QBR.
The Indianapolis Colts and San Diego Chargers meet tonight on "Monday Night Football" (8:25 ET/ESPN). Here are six stats Mike Tirico and Jon Gruden might touch on tonight:
1.
This game features two of the top three leaders in Total QBR this season.
Philip Rivers
is second at 78.5, while
Andrew Luck
is third at 77.1.
Peyton Manning
leads at 90.1.
2.
Milestone watch: Philip Rivers is trying to become the first player ever to throw for 400 yards in three consecutive games, and
Reggie Wayne
needs four receptions to become the ninth player in NFL history with 1,000.
3.
Don't look for
Dwight Freeney
. The longtime Colt, who signed with the Chargers in May, was placed on season-ending injured reserve on Oct. 1 with a quadriceps injury. Freeney had a half-sack in four games with San Diego.
4.
The Chargers lead the series 17-10, including the postseason. The teams are meeting on "Monday Night Football" for the second time (Chargers won 31-0 on Nov. 29, 1993, in Indianapolis).
5.
The Colts are seeking their fourth straight road win dating to last season. They are among only three teams without a road loss this season.
6.
Luck is much improved this season. He has thrown an interception on 1.5 percent of his passes thrown 10 yards or more downfield this season, ranking fifth in the NFL. Last season, Luck threw an interception on 5.6 percent of those throws, ranking 23rd in the NFL. Luck ranked 28th in completion percentage when facing five or more pass-rushers last season, completing just over 50 percent of his attempts. Luck ranks fifth this season, completing nearly 68 percent of his attempts.
October, 5, 2013
10/05/13
10:39
PM ET
By
ESPN Stats & Information
| ESPN.com
Stacy Revere/Getty ImagesJameis Winston had five passing touchdowns against Maryland.
Jameis Winston
has Florida State on its way possibly to its best season of the 21st century.
The redshirt freshman has been quite impressive in his first five games as the Seminoles' starting quarterback.
Winston had five passing touchdowns against Maryland, the most by a Florida State quarterback since Christian Ponder had five in 2009 against Georgia Tech.
Winston now has 17 passing touchdowns, the most by anyone in a player's first five career games over the past 10 seasons.
Winston joins Boise State's Kellen Moore as the only FBS players over the past 10 seasons with a QBR of at least 75 in each of their first five career games.
In three ACC games, Winston has a 93.6 Total QBR, has completed 76 percent of his passes, and is averaging 360 passing yards per game with 13 passing touchdowns and one interception.
Heisman hopeful
How does Winston compare to past Heisman winners in their first five games of the season? He has more touchdowns responsible for (passing and rushing touchdowns) than
Johnny Manziel
(2012) and Cam Newton (2010). And he has fewer turnovers (two) than any of the past three Heisman winners –- Manziel, Robert Griffin III (2011) and Newton.
The rout was on
Winston's superb play led the Seminoles to a dominant victory over No. 25 Maryland 63-0.
Florida State's 63-0 win over Maryland is tied for the largest margin of victory over a ranked team since the AP Poll began in 1936. In 1997, UCLA beat No. 11 Texas, 66-3.
It's the largest margin of victory by any team in an ACC conference game.
It's also the largest shutout win ever by Florida State over a ranked team.
The 5-0 Seminoles are idle next week before clashing with undefeated No. 3 Clemson on Oct. 19 at Death Valley.
September, 21, 2013
9/21/13
11:51
PM ET
By
ESPN Stats & Information
| ESPN.com
The
Baylor Bears
have absolutely dominated their non-conference opponents this season.
Through three games, they've outscored their opponents by a combined score of 209-23, the largest scoring differential through the first three games by any FBS team in the past 10 seasons. Their 209 points are also the most by an FBS team in their first three games over the past 10 seasons.
Sure, Baylor has faced only Wofford, Buffalo and Louisiana-Monroe -– not exactly powerhouse programs. But the Bears have taken care of business and have been rather impressive doing so.
After scoring 69 points against Wofford, 70 points against Buffalo, the Bears scored 70 again this week against Louisiana-Monroe. They're the first FBS team to score 70 points in consecutive games since Ohio State in 1996.
Baylor is the first FBS team to score at least 60 points in three straight games since Oklahoma in 2008, and the first to do so in each of their first three games of a season since LSU in 1930. The Bears are also the first team since LSU in 1930 to score at least 69 points in three straight games.
Baylor quarterback
Bryce Petty
has put up some impressive numbers this season. He has eight passing touchdowns, two rushing touchdowns and no interceptions thus far. He entered Saturday leading FBS in raw QBR (98.3). After posting a 98.5 QBR against Louisiana-Monroe, he is likely to stay on top after this weekend.
Petty and Syracuse's
Terrel Hunt
are the only quarterbacks with multiple games this season of at least 98 QBR. Petty's 99.7 QBR against Buffalo is the best performance by any quarterback this season.
Baylor will open up Big 12 play on Oct. 5 against West Virginia, which has held both opposing quarterbacks this season (Georgia State's
Ronnie Bell
and Oklahoma's
Trevor Knight
) to QBRs below 30.
August, 30, 2013
8/30/13
11:45
AM ET
By
Katie Sharp
and
Mackenzie Kraemer, ESPN Stats & Info
| ESPN.com
Getty Images Getty ImagesAaron Murray (left) and Tajh Boyd (right) are two of the top returning quarterbacks in college football.
Two of the nation's top offensive teams will face off Saturday night, with the
Georgia Bulldogs
and
Clemson Tigers
matched up in the season's first top-10 game (8 p.m. ET on ABC).
Fans will also get an early look at two of the nation's top quarterbacks and Heisman candidates,
Aaron Murray
and
Tajh Boyd
.
Georgia
Georgia returns nine starters from an offense that averaged an FBS-best 7.1 yards per play last season, thanks in part to Murray, who was the only FBS quarterback to average more than 10 yards per pass attempt last year.
While most of Murray's weapons return, he will need to adjust to playing without his best deep threat, Tavarres King. King caught more than 25 percent of Murray's passes that went for 20-plus yards, and his 22.6 yards per reception was the highest among BCS-AQ players last season.
Without King,
Malcolm Mitchell
becomes a full-time receiver after splitting time between receiver and cornerback his first two seasons. Mitchell, Georgia's second-leading receiver last season, did most of his damage on underneath passes, catching a team-high 16 of Murray's completions that went fewer than 10 yards.
Wide Receiver
Michael Bennett
also returns from a torn ACL. Through five games prior to his injury, Bennett led the Bulldogs in receptions, yards and touchdowns.
Murray also needs to prove he can play well against quality competition.
In five starts against top-10 teams since 2011, Murray posted a QBR of just 17.2, 60 points worse than his mark against other opponents. In his only win - last season against Florida - Murray threw for just 150 yards with three interceptions.
Boyd needs to make big plays of his own to snap Clemson's five-game losing streak against Georgia.
Boyd led FBS with 48 completions of at least 25 yards last season. But he will need to adjust to life without DeAndre Hopkins, who caught 20 of those passes. In fact, 28 of Boyd's 36 touchdown passes were caught by players who will not suit up against Georgia.
Clemson
Boyd will need to reconnect with
Sammy Watkins
. After a breakout freshman season, Watkins's numbers dipped last year, particularly against top opponents. Watkins had a total of 61 receiving yards in two full games against ranked opponents (Florida State and South Carolina).
Those teams were successful because they limited Watkins after the catch. He averaged nearly six fewer yards after the catch against ranked teams compared to unranked foes.
Against Florida State, Boyd's six completions to Watkins traveled a combined one yard behind the line of scrimmage and Watkins finished with just 24 receiving yards.
Can Georgia, which finished eighth in pass defense last season, stop Boyd this weekend? The unit must undergo an overhaul this season with seven starters lost and the team's defensive MVP this spring,
Josh Harvey-Clemons
, suspended for Saturday's game.
August, 15, 2013
8/15/13
9:45
AM ET
By
Sharon Katz, ESPN Stats & Info
| ESPN.com
As
an earlier post on our blog noted
, the 2013 college football season has the potential to produce one of the top quarterback classes ever.
Either the first or second-team quarterbacks from every conference (prior to conference realignment) except the Big 12 are back this season, including Heisman Trophy winner
Johnny Manziel
and two-time BCS National Champion
AJ McCarron
.
From the perspective of ESPN's new Total QBR metric (details on the NFL version, with the same principles as the college version,
here
), which quarterbacks are the best of this talented group?
1.
Johnny Manziel, Texas A&M (90.5 Total QBR)
Manziel accounted for an SEC-record 5,116 total yards en route to becoming the first freshman to win the Heisman Trophy. Manziel led the nation in Total QBR on third down (98.6), in the first half (90.1) and on rushing plays (94.0). All of these factors contributed to his FBS-leading 90.5 Total QBR.
2. Marcus Mariota, Oregon (87.8)
Mariota led Oregon to its fifth-straight 10-win season as a redshirt freshman. He was one of two players in FBS to average seven yards per rush and seven yards per pass attempts last season (min 200 attempts). The other was Manziel.
3. Tajh Boyd, Clemson (81.8)
Boyd was one of the top big-play quarterbacks in the nation last season, completing an FBS-high 48 passes of 25 yards or more. As a result, Boyd posted the highest single-season Total QBR of any ACC quarterback since 2004 (as far back as QBR goes).
4.
AJ McCarron, Alabama (81.5)
McCarron won his second-straight BCS Championship last season, and he was much more than a game manager. McCarron posted an above average QBR (above 50) in all 14 of his games last season, and two of the top four games of his career by QBR were his two BCS Championship games. He posted a 90.3 and 95.6 Opponent Adjusted QBR in the 2012 and 2013 BCS Championships, respectively.
5. David Fales, San Jose State (78.3)
Fales led the nation in completion percentage while leading the Spartans to their first 11-win season since 1940. Fales' accuracy and precision were rewarded by Total QBR, as he had the highest unadjusted Total QBR on pass plays in the nation last season.
Total QBR measures all quarterback contributions to scoring accounting for game context and adjusted for opponent strength. It is based on a 0-100 scale, and 50 is average.
December, 4, 2012
12/04/12
7:58
PM ET
By
Michelle Sastri & Albert Larcada, ESPN Stats & Info
| ESPN.com
AP Photo/John RaouxAndrew Luck's QBR is much better than his passer rating.
When ESPN Stats & Information created
QBR
two seasons ago our goal was to incorporate the context and details from all aspects of quarterback play and translate them into a single number.
To tangibly show what we mean let's see how QBR compares to the traditional measure of QB play – the NFL passer rating – to see which quarterbacks have relatively large differences in the grades from each system. Passer rating, as you may know, evaluates a quarterback using completions, yards, touchdowns and interceptions on a per attempt basis without adjusting for the game situation.
Andrew Luck: 6th in QBR (71.6), 29th in Passer Rating (76.1)
Luck is the most extreme example of how QBR and passer rating differ. His traditional stats are poor. He's tied with
Drew Brees
for the most interceptions in the league, his completion percentage is 32nd among the 34 qualified quarterbacks, and his yards per attempt – arguably the best traditional stat in his resume – is right around league average.
A deeper look at Luck's play tells a different story. His high interception total and low completions percentage can be largely explained by how far he is throwing the ball in the air. Luck's average pass attempt travels 10.3 yards downfield, the longest in the league. This not only causes more interceptions, but also means his interceptions are less costly as they are picked off farther from the Colts' end zone. And, of course, deeper throws lead to bigger plays for the offense when completed.
Not only that, but Luck has been deadly with his legs. He has rushed for 21 first downs (third most for QBs) and has gotten a first down on a QB-high 48 percent of rushes. He's been particularly dangerous while scrambling, picking up the most first downs among QBs while having only the fifth-most attempts.
And finally Luck has been at his best when his team needs him the most. On third downs Luck is converting first downs at a well above average rate while gaining 14.7 yards per completion – the best in the league. And we've all seen what Luck can do late in close games. He already has five fourth-quarter or OT game-winning drives in his 12 NFL starts.
Philip Rivers: 29th in QBR (39.2), 16th in Passer Rating (85.1)
The reason for Rivers' higher passer rating is his 65.3 completion percentage, which is eighth in the league and roughly in line with his career average. But the big difference between Rivers this year and in seasons past is where these completions are going. Rivers' average pass attempt travels seven yards downfield, nearly a yard-and-a-half shorter than in any of the past five seasons.
Another important cause of Rivers' decline is his increase in sacks. Last season Rivers was in the better half of the league in sacks per dropback, but this year has taken the second-most sacks in the league despite his average time in the pocket staying the same (2.8 seconds per dropback). As generally occurs when a QB is sacked more often, Rivers is fumbling more. He leads the league with 11 fumbles.
And speaking of late game situations, Rivers has been terrible in the fourth quarter or OT of one-score games. His QBR of 3.1 and passer rating of 32.5 are both by far the worst among qualified quarterbacks. However QBR is weighting these situations more; passer rating is not.
Aaron Rodgers: 8th in QBR (69.8), 1st in Passer Rating (105.0)
Rodgers, the NFL leader in passer rating, has a similar profile to Rivers. His 67.4 completion percentage is buoyed by the fact that his average pass travels only 7.7 yards downfield – the 23rd-longest in the NFL. On throws that travel at least 10 yards downfield Rodgers' completion percentage falls to 51, outside the top 10.
Sacks are also a big problem. Rodgers has taken a league-high 39 despite getting more time in the pocket on his average dropback compared to last season when he ended the season with 36 sacks.
October, 29, 2012
10/29/12
11:56
AM ET
By
ESPN Stats & Information
| ESPN.com
Christian Petersen/Getty ImagesThe key for the Cardinals tonight may be protecting this guy.
First place in the NFC West will be on the line when the
Arizona Cardinals
host the
San Francisco 49ers
tonight on Monday Night Football at 8:30 ET on ESPN.
It's a meeting of two of the league's best defenses. The 49ers currently lead the league in fewest yards allowed per game (272.3) and are tied for first in points allowed per game (14.3). The Cardinals are sixth in yards (312.1) and fourth in points (16.9).
This will be the sixth Monday Night Football meeting between these teams, with the 49ers winning four of the previous five.
49ers KEYS TO VICTORY
The key for the 49ers on the offensive side will be their running game. Under
Jim Harbaugh
, the 49ers are 17-0 when they run the ball at least 25 times and 1-5 when they don't.
If they maintained their current average of 5.9 yards per carry, it would be the NFL's highest single-season mark since the merger.
The other key is reducing turnovers, particularly with their quarterback.
Alex Smith
led the NFL with a Total QBR of 81.1 through Week 5, but his last two games haven't been so good. Smith has thrown five interceptions this season (including four in last two games), matching his total for all of 2011.
Perhaps one of the reasons for Smith's recent struggles is due to a sprained finger in Week 5 against the
Buffalo Bills
. Since that game, his downfield throwing has taken a hit. Smith has gone 5-of-13 (38.5 percent) on throws more than 10 yards downfield his last two games (third-worst), after leading the NFL in completion percentage on such throws (59.5) through the first five weeks of the season.
CARDINALS KEYS TO VICTORY
The key for the Cardinals will be protecting their quarterback
John Skelton
.
The Cardinals have allowed a league-high 35 sacks (seven more any other team). Arizona's passers have now been sacked 29 times in their last four games, the most suffered by any NFL team over a four-game span since the Cardinals themselves were sacked 29 times over four games in November 1997 (according to Elias).
Skelton hasn't been particularly great.
Skelton has thrown an interception in 10 straight games, the longest active streak in the NFL.
Skelton has completed just 44.4 percent of his attempts to
Larry Fitzgerald
more than 10 yards downfield this season, while
Kevin Kolb
has completed 62.5 percent of such passes this season.
But the Cardinals defense has kept them in games this season. They're the only team to hold each opponent this season to 21 points or fewer.
October, 29, 2012
10/29/12
10:16
AM ET
By
ESPN Stats & Information
| ESPN.com
Getty ImagesTom Brady shined on Sunday, while Mark Sanchez did not.
After the
New England Patriots
fell behind the
St. Louis Rams
7-0, quarterback
Tom Brady
took over the game as the Patriots outscored the Rams 45-0 the rest of the way.
Brady's 98.4 Total QBR on Sunday is tied for his highest in a single game over the last five seasons and is the second-highest for any player in 2012, trailing only
Alex Smith
's Week 5 performance that netted him a 99.2 Total QBR.
Brady has had a penchant for stepping up in big games on the road the last few seasons. Sunday marked the seventh time he's had a Total QBR above 90 in a road game since 2010 – most in the NFL.
ANOTHER ROUGH DAY FOR MARK SANCHEZ
On the opposite end of the spectrum from Brady is
New York Jets
QB
Mark Sanchez
. In the Jets' 30-9 loss to the Dolphins, Sanchez had a Total QBR of 12.1. Since coming into the league in 2009, Sanchez has had 12 games in which his Total QBR was under 15 – most in the NFL.
To put those struggles in some perspective, Brady,
Aaron Rodgers
,
Peyton Manning
and
Drew Brees
have combined to have one game with a sub-15 Total QBR in that span.
QUICK HITTERS
•
Tony Romo
dug himself a hole when he posted a Total QBR of 3.3 in the first half of Sunday's loss against the Giants (27 action plays). Since 2008, only
Andy Dalton
in Week 4 of last season has posted that low of a first-half QBR with at least 25 action plays and gone on to win the game.
•
Matt Ryan
had a 95.7 Total QBR in the Falcons' win against the Eagles, his highest since Week 1 against the Chiefs (97.5). Ryan entered the game with a 45.3 career QBR against Philadelphia, his worst against any team he had faced at least twice previously.
• In their Sunday night matchup, Peyton Manning had a 96.3 Total QBR and Drew Brees posted a 24.2. Manning's QBR was his highest since Week 15 of 2009 and his second-highest over the last five seasons. Brees' QBR was his lowest since Week 7 of 2010 and his third-lowest over the last five seasons.
•
Ben Roethlisberger
posted a 90.2 Total QBR in Pittsburgh's win over the Redskins, his third game with a QBR of 90 or better in 2012. Roethlisberger had no more than two such games in any of the previous four seasons.
•
Russell Wilson
had a career-high 93.7 Total QBR in Seattle's loss to the Lions. It's the highest QBR by a player in a loss since
Matt Cassel
in 2010 (Week 6 - 93.8) and the fourth-highest in a loss over the last five seasons.
TOTAL QBR AND WINNING
Total QBR can be used to quantify just how important the quarterback position has become to winning in the NFL. Looking back to previous years, the team with the higher Total QBR has won 86% of regular season games since 2008 (as far back as Total QBR goes). That is higher than the comparable mark for teams with the advantage in total yardage, turnover differential, and NFL passer rating.
Keep in mind that just because a team wins a game with a lower QBR than its opponent does NOT mean that Total QBR was "wrong" or not as good for that game. That just means that the winning team was able to overcome its QB being outperformed by the opposing QB (on a rate basis), usually by playing better in other aspects of the game (rushing game, special teams, etc.).

Complete QBR statistics for all quarterbacks can be found here..