Stats & Info:

Rajai Davis
July, 1, 2014
Jul 1
12:17
AM ET
By
ESPN Stats & Information
| ESPN.com
AP Photo/Duane Burleson
It was a moment of jubilation for Rajai Davis on Monday night.
On a night in which the
Detroit Tigers
honored the 30th anniversary of their 1984 championship team, it was appropriate that they pulled out the sort of win that they did against the
Oakland Athletics
on Monday.
Rajai Davis
joined Alan Trammell (1988) as the only players in Tigers history to hit a walk-off grand slam when the team was down by three at the time of the home run. Trammell was at Monday's ceremony along with double-play mate Lou Whitaker.
Davis, Whitaker and Trammell are the past three Tigers to hit a walk-off grand slam with the Tigers trailing by any margin.
This was Davis' first career walk-off home run and third career grand slam. It was his first grand slam since July 10, 2010, as a member of the Athletics against the
Los Angeles Angels
. The pitcher for the Angels that day was the same pitcher who started the game for the Athletics on Monday,
Scott Kazmir
.
Davis has six home runs in 2014, matching the total he had in 2013. He's only two shy of his single-season career high, set with the
Toronto Blue Jays
in 2012.
Inside the At-Bat
One thing Davis has shown over the past two seasons is that he has the ability to turn on a breaking ball left dangling over the plate from a left-handed pitcher.
Entering his at-bat against Athletics southpaw closer
Sean Doolittle
, Davis was 20-for-44 in at-bats that ended with a breaking ball from a left-handed pitcher dating back to the start of the 2013 season.
He got a slider on both pitches from Doolittle, the first of which he took for ball one, the second of which he crushed over the left-field fence.
What was intriguing is that Doolittle doesn't often throw his slider to right-handed hitters (he throws 90 percent fastballs and 5 percent changeups). But Doolittle had just thrown nine straight fastballs to
Austin Jackson
, the last of which resulted in only Doolittle's second walk of the season (against 57 strikeouts).
The Elias Sports Bureau noted that Doolittle is the first pitcher in baseball's modern era (since 1900) to have at least 50 strikeouts before walking his second hitter of the season.
He'd also struck out
Eugenio Suarez
with a slider earlier in the inning.
Elias Sports Bureau Stat of the Night
We should have known we were getting a walk-off grand slam on Monday ...
Davis hit the fifth walk-off grand slam that came on June 30. There is only one other date with at least five walk-off grand slams, and that is June 11 -- when there have been six.
December, 14, 2013
12/14/13
7:14
PM ET
By
ESPN Stats & Information
| ESPN.com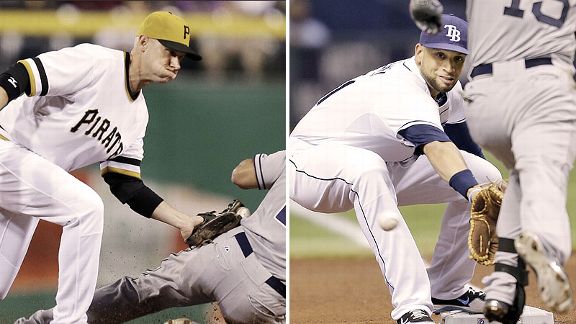 AP PhotoClint Barmes and James Loney are capable of making the tough defensive play.
Most of the time when we look at notable MLB moves, we look at how they improve a team's offense or pitching. But what about how they impact a team on defense? We'll go around the diamond and devote our weekly signings roundup to that subject this week.
Loney handles first base well
First baseman
James Loney
signed on for three more years with the
Tampa Bay Rays
after a season in which he posted his best OPS since 2007. But Loney contributes on the other end too.
Loney doesn't have overwhelming defensive numbers, but he's rated positively in Defensive Runs Saved in each of his eight seasons in the major leagues.
Baseball Info Solutions, a company that does video tracking for major league teams and media, likes certain aspects of Loney's play.
Loney's 259 "Good Fielding Plays" (think: Web Gem nominees) rank second-most among first basemen over the last four seasons, trailing only Joey Votto's 268.
There are certain things that Loney does very well defensively. His long reach comes in handy with foul balls by the stands.
He's made a dozen catches over the last four seasons in which he reached into the seats to pull back a foul ball, the most among first basemen. He's also started the most double plays at that position in that span (50) and has the third-most Good Fielding Plays for handling difficult throws (such as those in the dirt and that required him to reach off the base to get an out), 151.
Loney does make some mistakes, but not enough to offset what he brings. His ratio of Good Fielding Plays to Defensive Misplays & Errors rates 10th-best in that span. In 2012, Rays first basemen averaged 2.3 Good Fielding Plays per Defensive Misplay. Loney had 68 Good Plays and 22 Misplays & Errors, for a ratio of better than 3-to-1 in 2013.
Cano a standout
The Mariners acquisition of
Robinson Cano
should provide them a defensive boost too.
Cano has 21 Defensive Runs Saved over the past two seasons, the fourth-most of any second basemen. He has excelled in ranging far to his left and right to make plays. Cano's 119 "Out of Zone plays" over the last two seasons edge out
Dustin Pedroia
for the most at that position.
Mariners second basemen rated exactly major-league average last season (0 Defensive Runs Saved).
Pirates bring back defensive specialist
Clint Barmes
is about as good as they come defensively. He's not as flashy as someone like
Andrelton Simmons
of the Braves, but Barmes makes up for that with consistency.
Barmes has 89 Defensive Runs Saved as a shortstop since 2003 (which is both the year the stat was first compiled and the season in which Barmes debuted). He rates third among shortstops in that stat and also ranks third when looking at that number on a per-inning basis. Barmes has seven seasons in which he's been credited with at least 10 Defensive Runs Saved (which includes his time playing second baseman). Only
Adrian Beltre
has more, with eight.
He hasn't slowed down at all. His 39 Defensive Runs Saved over the last three seasons rank third in the majors, trailing only Andrelton Simmons (60) and
Brendan Ryan
(51).
-- Mark Simon
Uribe solid at the hot corner
Juan Uribe
, who was reportedly close to an agreement with the Dodgers, had quite a contract year for them after being below replacement level in his first two seasons of his deal.
He ranked third among third basemen with a career-best 15 Defensive Runs Saved last season.
Handling the hot corner means facing a lot of screaming liners, and when it came to Good Fielding Play-grabs of liners, Uribe was tied for third among third basemen last season with five. Only Evan Longoria (8) and Josh Donaldson (6) had more.
-- Kenton Wong
Davis adds to Tigers depth
The Tigers added a capable outfielder, signing
Rajai Davis
to a two-year contract.
Davis will likely platoon with current left-fielder
Andy Dirks
. The two have similar defensive profiles, though Davis rated slightly better in a small sample of games at the position last season.
Last year in just under 400 innings, Davis secured outs on all 63 balls hit into his fielding zone (areas in which more than half of batted balls are turned into outs), and made a defensive misplay or error (per video review by BIS) once every 64 innings, compared to once every 48 innings for Dirks.
Davis will also be a capable backup in center for
Austin Jackson
or right for
Torii Hunter
. He has played 3,200 innings as a centerfielder and 670 as a rightfielder, contributing above-average defense at both positions in his career.
-- Katie Sharp
February, 25, 2013
2/25/13
1:29
AM ET
By
ESPN Stats & Information
| ESPN.com
USA TODAY SportsThe Blue Jays have plenty of new faces-- among them Josh Johnson, Jose Reyes and Mark Buehrle
With Baseball Tonight visiting Toronto Blue Jays spring training camp today, here's a look at notable "Stats to Know" about the team that was among baseball's busiest this offseason.
Postseason Drought
The Blue Jays have not been to the postseason since 1993. The only AL team with a longer playoff drought is the Royals, who haven't been to the playoffs since 1985. The Blue Jays also don't have a 90-win season since that championship year. Every other team in the AL East has at least two since then.
New Starters Mean WAR
The Blue Jays starting rotation will likely feature three new pitchers--
R.A. Dickey
,
Josh Johnson
, and
Mark Buehrle
.
The three have combined for 47 Wins Above Replacement over the last four seasons. Each of the three ranks in the top 17 among pitchers. Johnson rates the highest-- seventh-best, with 19.1 Wins Above Replacement.
Reyes Kickstarts Lineup
Likely leadoff hitter
Jose Reyes
will look to fill a significant hole for the Blue Jays. Toronto's leadoff hitters had a .294 on-base percentage and .650 OPS last season, each of which ranked fifth-worst in the majors.
Shifty Infield
The Blue Jays were among the most frequent users of defensive shifts in 2012. Baseball Info Solutions credited them with 12 Defensive Runs Saved due to shift usage last season, the highest such total in the majors.
One of the most integral players in their defense is third baseman
Brett Lawrie
, who led major league third basemen last season with 20 Defensive Runs Saved.
Edwin Loves the Outer-Half
Edwin Encarnacion
had a breakout season with 42 home runs in 2012. Encarnacion had 27 home runs against pitches that were on the outer-half of the plate (or off the plate), a rate of one for every 55 pitches seen.
From 2009 to 2011, Encarnacion had 26 homers on outer-half pitches, a rate of one for every 108 pitches seen.
A Lethal Power/Speed Combo
The Blue Jays have a chance to finish in the top of the league in both power and speed. Toronto owns three prolific base stealers in
Rajai Davis
,
Jose Reyes
and
Emilio Bonifacio
who rank 3rd, 6th and 13th respectively in stolen bases the last 3 seasons.
The team also features two of the most prominent power hitters in baseball as measured by Isolated Power.
Jose Bautista
(.286) and
Edwin Encarnacion
(.277) ranked 4th and 5th in the MLB by that metric last season (min. 350 PA), the only pair of teammates in the top 10.
Morrow's Continued Progress
While his 'breakout' season was cut short due to injury, it looked like
Brandon Morrow
took a significant step forward in 2012. He also seemed to make a key adjustment – pitching down in the zone rather than up in the zone, decreasing his strikeouts but increasing his effectiveness.
June, 2, 2012
6/02/12
8:49
PM ET
By
Douglas Clawson, ESPN Stats & Info
| ESPN.com
Through the month of May, there have been 996 stolen bases, coming out to roughly 1.3 per game. More than 37 percent of those stolen bases have resulted in runs (when the base runner comes around to score after stealing a base). The
Los Angeles Dodgers
have scored after 17-of-28 (60.7 percent) steals, that's the highest score percentage this season and they are 10-4 when scoring after a stolen base.
Base runners have been successful on 79.5 percent of stolen base attempts when the opposing pitcher does not throw over before their attempt, but that percentage drops to 62.2 if the pitcher throws over at least once.
Here are some other stolen base statistics entering the month of June.
Overall Steals Leader (Through May):
Emilio Bonifacio
has been caught stealing once in 21 attempts. However, Bonifacio has yet to attempt stealing a base other than second.

Bonifacio
The Marlins have stolen 60 bases, 15 more than any other team. They also have the third-highest stolen base percentage in the league (80 percent). At this time last season, the Marlins had only 24 stolen bases, and the third-worst stolen base percentage (58.5 percent).
Newcomer
Jose Reyes
has scored five go-ahead runs after stealing a base this season, most in the majors.
Late-Inning Culprit:
In one-run games this season, the
Chicago Cubs
'
Tony Campana
is 7-for-7 stealing in the seventh inning or later, and has scored after four of those swipes. No other player has more than four steals in such late-game situations. Campana also is 4-for-4 stealing on pitchouts this season. No other player has more than one steal on a pitchout.
Stealing Third:
Toronto's
Rajai Davis
is 5-for-5 stealing third base, and 22-of-23 over the last two seasons. That's the most steals of third base over the last two seasons.
Catcher Oddity:
Baltimore's
Matt Wieters
has thrown out 11-of-30 base stealers this season, the sixth-highest percentage (minimum 15 attempts). Despite his success, Wieters has committed a throwing error on 4-of-30 (13.3 percent) attempts, that's the highest percentage in the league (minimum 10 attempts). Last season, Wieters committed a throwing error on 2-of-91 attempts.
Slow to the Plate:
Base runners have stolen 11 bases, and been caught just once, against
Mat Latos
this season. Seven of those 11 have scored. Both totals are the highest among pitchers.
Rally Killer:
Will Venable
has been caught four times this season to end an inning, the most in the majors. Venable was caught stealing three times on 29 attempts last season, and none ended an inning.
Throwing Over Matters:
David Wright
has been successful on all five stolen base attempts when the pitcher does not attempt a pickoff throw before his stolen base attempt. However, Wright has been caught all five times when the pitcher throws over at least.
March, 29, 2011
3/29/11
11:59
AM ET
Baltimore Orioles

The Orioles enter the season with a streak of 13 consecutive losing seasons, the second-longest active streak behind the
Pittsburgh Pirates
(18). If the Orioles fail to win 81 games this year, their streak will tie for the fifth-longest streak in baseball history.
The Orioles were 32-73 before Buck Showalter took over on August 3 last year. They went 34-23 the rest of the season, the third-best win percentage in the majors from that date. They won 11 of 18 series, after winning just four of their previous 34.
Boston Red Sox

The key to their season could be staying healthy. Last year, the Red Sox had 19 different players make 24 trips to the disabled list, and combined to miss more than 1,000 team games.
A major offensive move this offseason was signing
Carl Crawford
. He will provide much-needed offensive production as a leftfielder, a position where the Red Sox ranked among the worst in the AL. Boston's leftfielders hit .230 with a .303 OBP a year ago, both ranking second-to-last in the AL.
New York Yankees

Derek Jeter
, who turns 37 in June, is looking to bounce back from the worst season of his career. To do so, he'll have to defy history: only two shortstops aged 37 or older have qualified for the batting title and hit over .300 in a season: Honus Wagner from 1911-13, and Luke Appling from 1946-49.
While
A.J. Burnett
was a significant contributor to the Yankees' 2009 title, his 2010 season saw a complete meltdown. Burnett finished with the third-highest ERA among qualified starters last season at 5.26 -- and it got worse as the season went on, as he went just 1-7 after August began. But this season, he won't have to pitch to
Jorge Posada
at all, who will DH full-time. In 38 ⅓ innings last season, Burnett's ERA pitching to Posada was 7.28. While he's always been erratic, his strikeout rate was also his lowest since 2001.
Tampa Bay Rays

According to the Elias Sports Bureau, the Rays will be the first team in major-league history to replace at least six relievers that each pitched in at least 55 games the previous season.
Tampa Bay has led the American League in stolen bases for the past three years, but will have to contend with the departure of Carl Crawford, who leads the league in steals during that timespan.
Toronto Blue Jays

After finishing last in the American League (28th in MLB) with 58 steals last season, the Blue Jays acquired
Rajai Davis
in the offseason, who finished third in baseball with 50 stolen bases in 2010.
The Blue Jays committing five years to
Jose Bautista
in an offseason contract seems to indicate they think most of last year's 'breakout' season was legitimate. After hitting just 59 home runs in his CAREER entering 2009, Bautista blasted 54 last season alone. In addition, his 6.9 Wins Above Replacement (WAR) represent nearly four times his career total entering 2010.
-- Katie Sharp and Justin Havens contributed to this report
November, 21, 2010
11/21/10
9:00
AM ET
The 2010 MLB offseason has just gotten going and the Stats and Information Group has some additional notes to review the notable moves of the past week.
Power Outage for Uggla?
Earlier this week, the Braves acquired second baseman
Dan Uggla
from the Marlins, a move that should bring more punch to the Braves lineup. However, there is one indicator that shows that Uggla's streak of four straight 30-homer seasons may come to an end in Atlanta.

Uggla
The right-handed hitting Uggla is a pull power hitter, with all but three of his home runs in 2010 traveling to left field or left center. Since 2006, Uggla has hit 154 home runs, with 114 hit to left field or left center at an average distance of 392 feet, according to
HitTrackerOnline
.
Uggla's average home run distance to left or left center dropped in 2010 to 385 feet.
Why is a seven-foot drop significant for Uggla?
Turner Field, Uggla's new home ballpark, is slightly less friendly to right-handed hitters than Sun Life Stadium (according to the Park Factors available in the Bill James Baseball Handbook).
Also, Turner had an average home run distance of 399 feet to left and left center in 2010, and 400 feet dating back to 2006.
This could suggest that Uggla will have "warning-track power" in Atlanta. Using data from
Hittrackeronline.com
, we can estimate that of Uggla's 13 home runs in Florida last season, only eight would have been home runs at Turner Field. Those still might turn out to be productive hits such as doubles or triples in 2011, but they just might not leave the ballpark.
Remember too that Uggla goes from no longer facing a team he dominated against (as well as two pitchers--
Tim Hudson
and
Derek Lowe
) to now having to face one with some pretty stellar right-handed pitching (led by
Josh Johnson
), and 30 home runs might be a little more challenging tally to reach in 2010.
-- Derek Czenczelewski
Tough for Benoit to duplicate greatness
The Tigers signed relief pitcher
Joaquin Benoit
last week in an effort to bolster a bullpen that allowed the third-highest batting average in the AL and the third-highest percentage of inherited runners to score among relief pitchers.
Benoit may seem the ideal pitcher to help improve those stats, as he led the AL in opponent batting average and allowed the second-lowest percentage of inherited runners to score. And it's also been documented
here
that Benoit had one of the best relief pitcher seasons of this generation.
However, digging deeper into numbers behind his success reveals a few warning signs.
Benoit's opponents Batting Average On Balls in Play (BABIP) was a tiny .201, tops in the majors among all pitchers with at least 60 innings pitched. He's unlikely to repeat that success, based on a .291 career BABIP and that he's never had a season with a BABIP below .260.
Benoit also stranded an incredible 95.1 percent of his baserunners, also an MLB-best. How unusual was that rate? Consider that the league average strand rate was 72.2 percent and never before had Benoit even registered a mark of 80 percent or above.
-- Katie Sharp
Blue Jays upgrade outfield defense with Davis
Why would the
Toronto Blue Jays
be interested in
Rajai Davis
, whom they obtained from the
Oakland Athletics
? Blue Jays general manager Alex Anthopolous is likely interested in the defensive upgrade he could represent.
Davis would be a noticeable upgrade defensively on any of the outfielders the Jays have used the last two seasons. Baseball Info Solutions tracks plus-minus, reflecting how much better or worse a player is than average at turning batted balls into outs. Davis rated a +14 over the last two seasons, significantly better than any of the other Jays outfield options.
-- Justin Havens
July, 4, 2010
7/04/10
1:15
PM ET
By
John McTigue, Stats & Info
| ESPN.com
Last season
Nyjer Morgan
and
Chone Figgins
tied for the league lead in caught stealing. Both players put up identical stolen base stats, each going 42-for-59 on the season. While Figgins has cleaned up his act on the base paths, Morgan has not.
Figgins' improvement in stolen bases has been staggering. According to Baseball Prospectus, Figgins had an EqSBR of -3.35 last season. EqSBR is a measure of "theoretical runs contributed by a baserunner or baserunners above what would be expected given the number and quality of their baserunning opportunities" so in a nutshell, Figgins was doing more bad than good when he ran. In fact, out of the 846 players Prospectus had listed for the stat last year, Figgins was ranked 841. This season? Figgins leads all of major league baseball in EqSBR at 2.97 and he is 23-for-27 in stolen base attempts.
So how is Figgins cutting down on the caught stealing numbers?
It appears he's just trying harder. There isn't much difference in when Figgins is stealing or who he is stealing against (righty/lefty), just how he is doing in certain situations, most notably when in the inning:
Figgins was 23-for-38 with less than two outs last year. This year, he's 17-for-20. He has only been caught three times combined the past two seasons with two outs. For a player who has only been "out-caught" by
Juan Pierre
and
Luis Castillo
in the 2000s, this change is a pretty notable turn of events.
Nyjer Morgan, on the other hand, continues to struggle on the base paths against both left and right-handed pitchers. Morgan has already been caught 12 times. Statistically, there really isn't much of a difference in his stolen base attempts. Morgan isn't running significantly more or less against left-handed pitchers, or on certain pitch counts, or on certain outs. He's just doing more of the same and according to his -2.99 EqSBR this season (662 out of 663), he's probably costing the Nationals runs.
A few other stolen base trends through June…
--
Rajai Davis
has 26 stolen bases so far this season. On six of those steals, the catcher has committed a throwing error. Last season,
Jacoby Ellsbury
stole 70 bases and on those 70 successes, there were seven throwing errors committed.
--
Carl Crawford
isn't a fan of running against left-handers. Only 11.4 percent of his attempts this season are against southpaws, which is right on par with his 11.8 percentage from 2009. What's interesting though is that Crawford currently hasn't attempted a steal against a lefty in 23 straight attempts (19-for-23, 82.6 percent), with the last one coming on May 16th (a success against
Cliff Lee
). This matches Crawford's streak of 23 straight against lefties in 2009 (23-for-23 over that stretch).
April, 24, 2010
4/24/10
8:25
AM ET
By
John McTigue, ESPN Stats & Information
| ESPN.com
Speed might play the biggest role when it comes to stealing bases, but that doesn't mean players don't have their special tendencies. For example,
Derek Jeter
was 14-for-14 when attempting to steal on the first pitch last season, while
Ichiro Suzuki
made only three attempts in that situation. Everyone is different, so what are some of the interesting trends popping up so far in 2010?
Michael Bourn
Bourn, like the
Houston Astros
, got off to a slow start in 2010. Bourn stole 61 bases in 73 attempts last year (83.6 percent), but through April 18 he was only 1-for-2. That all changed when the Astros hosted the
Florida Marlins
, and Bourn got to face his favorite catcher.
In 2009, Bourn went 7-for-7 in steal attempts with
John Baker
behind the plate. Although they play in different divisions, Bourn attempted more steals against Baker than any other catcher in the league. (
Josh Bard
faced the second-most attempts from Bourn with five.)
So it should come as no surprise that in a three-game series against the Marlins, Bourn went 4-for-4 in stolen-base attempts ... all with Baker catching.
Rajai Davis
Last season, Davis was an equal-opportunity stealer, running on left-handers almost as often as he did right-handers. Of his 2009 attempts, 41.5 percent were against lefties, which was the
highest percentage of the 40-plus stolen-base club
. So far in 2010, that trend is continuing.
Davis is a perfect 8-for-8 in steal attempts in 2010, and four of them have been against lefties.
One other fun trend with Davis: Last year the A's went 26-12 (.684) in games in which Davis stole a base. This year they are 6-1 (.857) when Davis steals a base. Since 2009, they are a combined 53-81 (.396) when he doesn't record a steal.
Nyjer Morgan
In 2009, Morgan tied for the league lead with
Chone Figgins
in times caught stealing, as each was caught 17 times in 59 attempts. Morgan is 4-for-7 in steal attempts this season, and he's second only to
Matt Kemp
in times caught stealing (four times). Perhaps Morgan should rethink his approach a bit.
Last year Morgan was 7-for-12 (58.3 percent) when stealing against lefties and 35-for-47 (74.5 percent) when stealing against right-handed pitchers. In 2010, Morgan is just 1-for-3 (33.3 percent) against lefties and 3-for-4 (75.0 percent) against righties.
Carl Crawford
In 2009, only 11.8 percent of all of Crawford's stolen-base attempts came against lefties. Considering he was just 4-for-9 (44.4 percent) in those situations, it's probably a good thing he chose to run primarily against righties. This season, though, Crawford is getting a little more aggressive.
Crawford is 7-for-8 on the whole this season and is already 2-for-3 against lefties. Last year, Crawford didn't take his third steal attempt against a lefty until June 6.
On Friday,
Tim Kurkjian discussed how steals of third base are becoming more and more common
. No one better exemplifies that than Crawford, who has already stolen third base successfully on all three of his attempts this season. Last season, he didn't steal third base for the third time until July 8. He was 5-for-9 when stealing third base in 2009, and that made only up 11.8 percent of his attempts and 8.3 percent of his successes.
March, 24, 2010
3/24/10
10:37
AM ET
By
John McTigue, ESPN Stats & Info
| ESPN.com
Rickey Henderson
was known to say some…interesting…things throughout his career.
"I wish they had told me (about steroids). My God, could you imagine Rickey on 'roids? Oh, baby, look out!"
"Speeches and me don't get along sometimes. It is kind of like putting a tie too tight on my neck. I'm going to do whatever feels right."
And my personal favorite, when Rickey called Padres GM Kevin Towers looking for a job:
"Kevin, this is Rickey, calling on behalf of Rickey. Rickey wants to play baseball."
But when Rickey Henderson declared that A's outfielder
Rajai Davis
could steal 75-80 bases this year, nobody laughed. Instead, many wondered if he could.
Davis' big hold-up is getting on base and getting playing time and since he's slated to start this year, the latter might not be an issue. The big question is this:
If given the opportunity, should he even try?
Davis is a career 77.5 percent base stealer (93-120) and in 2009 he was successful 77.4 percent of the time. Of the players with 40+ steals last year, Davis ranked fourth in percentage behind
Jacoby Ellsbury
(85.4%),
Michael Bourn
(83.6%) and
Carl Crawford
(78.9%). However, Davis' percentage could have been even better if it weren't for a risky tendency.
Davis' no-fear attitude on the base paths make a quest for 75 steals more of a likelihood given the opportunity, but the risk is obviously there. So is the risk worth it?
Davis scored 18 times after stealing a base last year and while each steal might not have directly contributed to the run, for our purposes, let's just assume they did. Davis got caught 12 times in 2009, so right there you can see his successes slightly outweigh his failures.
To get more analytical, Davis ranked 6
th
in EqSBR (Equivalent Stolen Base Runs) in 2009 at 2.63. According to Baseball Prospectus, EqSBR is defined as the number of theoretical runs contributed by a baserunner above what would be expected given the number and quality of their baserunning opportunities. Ellsbury led EqSBR in 2009 with a 7.06 rating and Figgins, the reigning caught stealing co-champ, had an EqSBR of -3.35.
And while the following might be circumstantial evidence, it is pretty interesting. In 2009, the A's went 27-12 (.692) when Davis stole a base and 48-75 (.390) when he didn't.
So should Davis try to live up to Rickey's expectations? As long as he can keep the positives from outweighing the negatives, then yes. If those caught stealing numbers start to add up though, Davis should probably rethink his tendencies, particularly running against lefties.