Stats & Info:

Ramon Hernandez
April, 19, 2012
4/19/12
1:05
PM ET
By
Jeremy Lundblad, ESPN Stats & Info
| ESPN.com
US Presswire
Edwin Jackson (left and starting tonight) and Gio Gonzalez (right) are part of a pitching staff that leads all starting units in ERA.
The 10-3
Washington Nationals
are in first place in the NL East, the latest into a season that this franchise has been in first place since July 2005, the first season in Washington. That team would up finishing last in the NL East.
And they are 10-3 despite hitting just .249 and averaging 3.8 runs per game. In addition, the Nationals are 3-1 when trailing to start the eighth inning this season. Last year, they were 7-64 under those circumstances.
So what has been one of the main reasons the Nationals are an early-season surprise? The starting pitching staff sports a 1.65 ERA, the lowest by any starting unit in the majors.
In addition, here are some other reasons the Nationals are off to a hot start.
• Opponents are hitting .181 at Nationals Park
• Opponents are hitting .168 with RISP
• Opposing cleanup hitters are hitting .151 with a .367 OPS.
• In 13 games, the Nationals have allowed two HR. By contrast, the
Boston Red Sox
and
Toronto Blue Jays
have allowed 18.
Derek Jeter's Resurgence
Derek Jeter
hit his fourth home run of the season on Wednesday. He hit just six home runs in 2011, and didn't hit his fourth until July 25 (his 79th game of the season).
It's been a far different April for Jeter this season, who had a .272 slugging percentage in April 2011. So what changed?
Jeter is also hitting to the opposite field with authority. Already this season, Jeter has 11 hits to the opposite field, the most in the majors (
David Ortiz
is second with nine).
One more look back at Pudge's career
On April 23,
Ivan Rodriguez
will announce his retirement at Rangers Ballpark in Arlington. He's the all-time leader at catcher in hits, runs and games played. Let's take a look at some other Pudge facts.
• Pudge caught Nolan Ryan (born in 1947) and
Stephen Strasburg
(born in 1988)
• Pudge has more hits (2,844) than the two active hits leaders at catcher COMBINED.
A.J. Pierzynski
and
Ramon Hernandez
have 2,829 between the two of them
• All active catchers have combined for nine Gold Gloves. Rodriguez won 13
• Among catchers to debut in 1991, the last other than Rodriguez to appear in a game was
Tony Eusebio
in 2001
• Pitchers who threw to both Rodriguez and Johnny Bench: Charlie Leibrandt, Jeff Russell, Jay Howell
• His first manager was Bobby Valentine, who was the same age then (40) that Pudge is now
• Ironically, he was closer in age to his first manager (21 years younger than Bobby Valentine) than his last manager (28 years younger than Davey Johnson)
• 2011 will go down as the final season for Pudge,
Jason Varitek
and
Jorge Posada
. Those three combined to catch 5,489 games
Matchup of the Day - Joey Votto vs Adam Wainwright
The best hitter in the NL Central will face arguably the division's best pitcher.
Votto is just 1-for-12 with four strikeouts in his career against Wainwright. That includes 0-for-6 with three strikeouts on at-bats ending in Wainwright's curve.
November, 5, 2011
11/05/11
11:00
AM ET
If you're a team that needs a catcher, second baseman, or centerfielder, you might struggle to find what you're looking for in this year's free agent market. Here's a closer look at what is available among these positions.
Catcher
The first thing to know about the market for backstops is that there are no catchers on this year's free agent market who played in 100 games last season. The only available player who even caught 700 innings was
Rod Barajas
.
The top-rated catcher available statistically is
Ramon Hernandez
, who finished last season with 2.0 Wins Above Replacement. His WAR over the past three seasons is 4.4, the best among free-agent catchers.

Hernandez
For perspective on Hernandez's value, a 2.0 WAR is someone who would barely be considered an everyday player. In fact, his WAR ranked 16th-best among all catchers in 2011.
Aside from his below-average production, another potential reason against signing Hernandez is that he is a Type A free agent. If the
Cincinnati Reds
offer him arbitration, the compensation for another team signing him could be a first-round pick.
Second Base
There are plenty of second baseman in this year's free agent pool, but the market lacks a star player. It does have a large group of players who played a lot of innings, but produced in a limited fashion.
The highest-rated second baseman in Wins Above Replacement are
Kelly Johnson
, who hit .222 with 21 homers for the
Toronto Blue Jays
and
Arizona Diamondbacks
, and
Jamey Carroll
, who had a .359 on-base percentage but no home runs for the
Los Angeles Dodgers
. Both players finished with 2.2 WAR last season.
How thin is the second base market? There are four free agents who played at least 100 games last season and finished with a WAR below 1.0:
Aaron Hill
,
Aaron Miles
,
Adam Kennedy
, and
Orlando Cabrera
.
Center Field
The highest-rated centerfielder by Wins Above Replacement is
Coco Crisp
, who finished with 2.2 WAR in 2011, followed by
Rick Ankiel
at 1.4.
What's interesting about center field is that there are two players who were formerly great centerfielders, who would be highly coveted and could be put in centerfield if a team is willing to take a risk.
Carlos Beltran
showed himself to be an adequate defensive player in right field for the
New York Mets
and
San Francisco Giants
, with two Defensive Runs Saved last season. However, a factor that would work against him moving back to center field is his age, as he turns 35 in April.
Beltran also showed that he is still capable of handling himself at the plate. His .910 OPS was third-best among major-league right fielders last year, and his 39 doubles were surpassed only by Joey Votto among all NL players.
When healthy,
Grady Sizemore
was one of the top centerfielders in the game, averaging 27 homers and 29 stolen bases from 2005-08. However, he's played an average of just 70 games in the last three seasons and has hit .234 over that span.
August, 29, 2011
8/29/11
12:23
PM ET
(The Cincinnati Reds host the Philadelphia Phillies on Monday at 7 p.m. ET on ESPN.)
On almost any other team, a pitcher who has a 2.62 ERA, a WHIP under 1.0 and a wins above replacement (WAR) of 5.0 would be a staff ace.
If you're
Cole Hamels
, that makes you the No. 3 starter in the Philadelphia Phillies' rotation.

Hamels
But really, Hamels is one of three aces on a Phillies staff that's trying to become the first team since the 1988
Los Angeles Dodgers
to finish with an ERA under 3.00. Currently, Philadelphia's team ERA is 3.09.
There are areas where Hamels has been better than both
Roy Halladay
and
Cliff Lee
. Hamels' 0.99 WHIP is the lowest in the National League, and no pitcher has made more starts of seven innings allowing two earned runs or fewer than Hamels has in 2011 (see chart).
If you asked the Reds, chances are they would prefer to face Lee or Halladay. In eight career starts against Cincinnati, Hamels is 7-0 with a 1.43 ERA. (At Great American Ballpark, Hamels is 3-0 with a 1.67 ERA.)
Monday will be Hamels' first start since Aug. 12. He was placed on the 15-day disabled list earlier this month with a left elbow strain.
Very few Reds players have had success against Hamels, but one player who has is catcher
Ramon Hernandez
(4-for-9, home run).
Reigning National League MVP
Joey Votto
has not fared well against Hamels, with just two hits in 16 at-bats. However, Votto is having a great August. He's hitting .353 and has nine home runs -- only
Dan Uggla
has more homers (10) in the National League this month.
Votto's hot August can be traced to his performance when he's been ahead in the count. Votto is 11-for-21 (.524) with four home runs this month when ahead in the count.
If Hamels wants to get Votto out, he should stick to the changeup. Votto is hitting just .222 against changeups this month, and Hamels' opponents have been hitting just .138 against his changeup.
May, 25, 2011
5/25/11
12:36
PM ET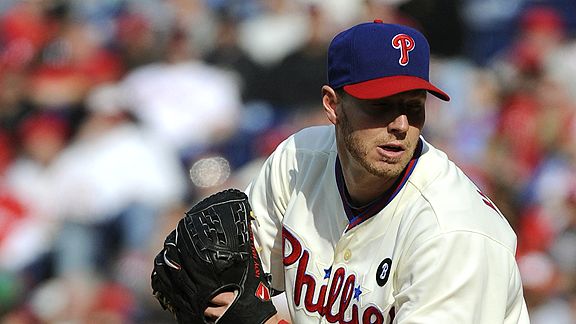 Barbara Johnston/US Presswire
Roy Halladay will face the Reds for the first time since he no-hit Cincinnati in the 2010 NLDS.
(The Philadelphia Phillies host the Cincinnati Reds at 7 p.m. ET on ESPN2.)
On Tuesday, the Reds snapped an eight-game losing streak (including playoff games) to the Phillies.
On Wednesday, the Reds have one more streak to break -- getting a hit off
Roy Halladay
. The last time Halladay faced the Reds, he threw the second postseason no-hitter in baseball history.
Halladay leads all of baseball with 80 strikeouts and is averaging 9.3 strikeouts per nine innings. That's well above his career high of 7.9 set last season. Only three Phillies have averaged better than a strikeout per inning and qualified for the ERA title:
Curt Schilling
in 1997 and 1998,
Brandon Duckworth
in 2002 and
Cole Hamels
last season.
This will be Halladay's sixth regular-season start with umpire Tony Randazzo working behind the plate. In his first two starts (2000 and 2004), Halladay was 0-2 and allowed 10 runs in 10 innings. In his past three (all since the start of 2010), Doc is 2-1 with a 1.44 ERA (four earned runs, 25 innings), 21 strikeouts and three walks.
Several Reds have had success against Halladay, highlighted by
Ramon Hernandez
. His .351 (13-37) average against Halladay is the fourth-highest among players with at least 30 at-bats:
Kevin Youkilis
(.375),
Ivan Rodriguez
(.359) and
B.J. Upton
(.357).
Opposing Halladay will be
Travis Wood
, who took a perfect game into the ninth inning in his only career start against the Phillies before allowing a leadoff double in the ninth. Halladay was the opposing starter in that game, too.
Wood is unbeaten in his past three starts but has failed to pitch seven innings in each of his past nine starts.
The Reds are third in the National League with a .262 batting average but are hitting just .254 against right-handed pitching. Furthermore, Cincinnati is hitting just .239 on the road, compared to .282 at home.
Today's Trivia:
The
Boston Red Sox
last started 0-5 in 1996. Which starting pitcher got the win to break that losing streak?
Quick Hits:
Let's dive into the two remaining undefeated teams.

Texas Rangers
– 6-0 - Best start since 1996 (7-0)
• Timely hitting has been key. The Rangers are batting .320 with RISP and just .235 otherwise.
• Of their 30 hits with no one on base, 10 have been home runs.
• The Rangers lead the majors with 32 extra-base hits, while their 23 singles are tied for the fourth fewest.
• In the first three innings, Texas is hitting .217 (though six of 15 hits are home runs). From the fourth inning on, the Rangers are hitting .320.
• In three-ball counts, opponents are batting .114 with a .373 OBP. Last season, they hit .248 with a .573 OBP.
• The 1-2 hitters in opposing batting orders are a combined 8-fo-47 (.170).
• Over the past two seasons, Rangers starting pitchers have a 2.21 ERA before April 15.

Cincinnati Reds
– 5-0 – Best start since 1990 (9-0)
• The Reds' bullpen has a 1.29 ERA and has held opposing hitters to a .189 BA.
• Eight of the 17 runs allowed this season have come in the first inning, and the Reds have trailed going into the second inning in three of five games. After the first, Reds pitchers have a 2.03 ERA.
• The top three hitters in the order –
Drew Stubbs
,
Brandon Phillips
and
Joey Votto
– are hitting a combined .406.
• Catchers
Ryan Hanigan
and
Ramon Hernandez
have combined for a .476 BA and 1.405 OPS.
• The Reds lead the league with a.339 BA. Take out the pitchers, and the Reds are hitting .349 as a team thus far.
• According to the Elias Sports Bureau, today's
Houston Astros
-Reds game will be the first between a 5-0 or better team and a 0-5 or worse team since 2003. It happened three times that season.
This Date in Baseball History
1977 - The expansion
Toronto Blue Jays
began their major league odyssey with a 9-5 victory over the
Chicago White Sox
at Toronto's Exhibition Stadium. Al Woods, pinch hitting for Steve Bowling in the fifth inning, became the 11th pinch hitter with a home run in his first at-bat.
1979 - Ken Forsch of the Houston Astros pitched a no-hitter against the
Atlanta Braves
to duplicate the no-hitter tossed by his brother Bob of the
St. Louis Cardinals
against the
Philadelphia Phillies
on April 16, 1978. They are the first brothers to pitch no-hitters.

Moyer
1984 – The Detroit Tigers' Jack Morris pitched a no-hitter against the White Sox despite giving up six walks. It was the first Tigers no-hitter since Jim Bunning's in 1958.
Trivia Answer:
Making his first start with the Red Sox,
Jamie Moyer
picked up the win to put an end to Boston's 0-5 start in 1996. Moyer, now an ESPN analyst, held the
Kansas City Royals
to one run and four hits in 7⅓ innings.
April, 4, 2011
4/04/11
1:56
PM ET
Today's Trivia:
With the
Minnesota Twins
and
New York Yankees
set to square off on Monday Night Baseball. Who are the only two players with 40 or more home runs for both franchises?
Quick Hits
-- A look back at some fun home runs numbers from an eventful opening weekend:

Kendrick
• There have been 17 home runs hit by second basemen this season, most of any position. That includes three from the
Los Angeles Angels
of Anaheim's Howie Kendrick. He has more home runs than all shortstops combined (2).
•
Cincinnati Reds
catchers
Ryan Hanigan
and
Ramon Hernandez
are a combined 9-12 with 3 HR and 7 RBI. By contrast, the
Tampa Bay Rays
are 12-91 with 1 HR and 3 RBI.
• The
Texas Rangers
have 3 HR with the count full. Last season, the
Seattle Mariners
had just 5 HR coming on full counts.
• Ike Davis' home run on Sunday came on a 3-0 count. The
New York Mets
didn't have a home run on a 3-0 count last season, and
Carlos Delgado
in 2009 was the last player to do it for New York.
• Scott Rolen's home run on Saturday came on an 0-2 count. Last season, the Reds only had one 0-2 homer.
• The
Boston Red Sox
have allowed at least three home runs in three straight games. Last season, the Red Sox never allowed three home runs in back-to-back games, much less three in a row.
• The Rangers hit 11 home runs in three games against Boston. According to the Elias Sports Bureau, only one other team in MLB history hit as many as 11 home runs in its first three games of a season. That was the 2006
Detroit Tigers
with 15.
• Also from Elias: Boston tied the 1955 Milwaukee Braves' record for home runs allowed in a team's first three games of a season.
• Texas' 11 HR are already more than either the Mariners or
Houston Astros
had last April (both had 9).

Buchholz
•
Clay Buchholz
allowed four home runs Sunday after allowing nine all last season. He's allowed 37 HR in his career, but 12 of those have come in three starts.
• The Angels have more extra-base hits (20) than runs (18). That's in part due to eight of their nine home runs coming with the bases empty. In fact, they have more solo home runs (8) than hits with runners in scoring position (7-42).
• There have been 108 HR hit through 46 games. There were 98 hit through 47 games last year.
Trivia Answer:
Chuck Knoblauch
and Roy Smalley are the only players with 40+ home runs for both the Twins and Yankees. Dave Winfield (31 HR for the Twins) came close.
March, 31, 2011
3/31/11
8:43
PM ET
By
ESPN Stats & Info
| ESPN.com

Back-to-back home runs by
Rickie Weeks
and
Carlos Gomez
in the top of the first inning were only the start of the action at the Great American Ball Park on Opening Day. Even after Weeks and Gomez made the
Milwaukee Brewers
the first team to start a season with consecutive home runs since the 1969
Cincinnati Reds
, there was still plenty of history to be made Thursday.
Trailing 6-3 entering the bottom of the ninth, Ramon Hernandez's third career walk-off home run capped the Reds four-run rally and gave Cincinnati its third straight win over the Brewers. The Elias Sports Bureau says Hernandez is the first catcher with a walk-off homer in his team's first game of the season since Gary Carter's solo home run in the bottom of the 10th inning gave the
New York Mets
a 6-5 win over the
St. Louis Cardinals
on April 9, 1985.
Late rallies are nothing new to the Reds, who finished third in the majors with 45 come-from-behind wins in 2010. But even the biggest Reds fan couldn't have been confident entering the bottom of the ninth facing a three-run deficit. Historical data shows that teams trailing by three runs entering the bottom of the ninth inning win only 5.4% of the time. Don't tell that to the Reds, who are now 1-0 for the first time since 2007.
Elsewhere in the majors Thursday:
•
Albert Pujols
' 2011 season got off to the worst start possible as he went 0-5 and grounded into a career-high three double plays against the
San Diego Padres
. Pujols is the first player in MLB history to ground into three double plays on Opening Day, according to the Elias Sports Bureau. He's also the first player to go 0-5 with three or more GIDP in any game since
Miguel Tejada
on September 10, 2009.
• The
New York Yankees
won their 11th straight Opening Day game when playing at home, a streak that dates back to 1986. That ties an MLB record also held by the New York Mets, who won 11 straight Opening Day games at home from 1971-89.
•
Jason Heyward
became the second player ever to homer on Opening Day in each of his first two seasons as the
Atlanta Braves
blanked the
Washington Nationals
2-0. The Elias Sports Bureau tells us Heyward joined Kaz Matsui, who did it in 2004 and 2005.
October, 8, 2010
10/08/10
2:43
PM ET
A quick look at Game 2 of the NLDS between the Cincinnati Reds and Philadelphia Phillies.
FROM THE ELIAS SPORTS BUREAU:
The Reds take the field in Philadelphia tonight still looking for their first hit of this postseason. Cincinnati's 27 consecutive hitless at-bats in a postseason series is the second longest streak in franchise history. The Reds went 35 consecutive at-bats without a hit (spanning Games 1 and 2) in the 1939 World Series against the Yankees' Red Ruffing and Monte Pearson; that streak is the longest for any team in any postseason series in major-league history.

Oswalt
Dating back to the regular season, the Reds have not scored in their last 30 innings at Citizens Bank Park. The Reds have now lost 7 straight road games at Philadelphia. They will look to snap that streak against
Roy Oswalt
, one of the National League's hottest pitchers. Several Cincinnati hitters have had success against Oswalt in their careers:
Laynce Nix
(9-17, 2 HR),
Ramon Hernandez
(5-11, HR) and MVP candidate
Joey Votto
(10-30, 2 HR).
FROM THE ELIAS SPORTS BUREAU:
Oswalt is 23-3 (.885) in his career against the Reds in the regular season, and his winning percentage is highest among active pitchers with at least 15 decisions against a particular opponent. The Yankees'
CC Sabathia
is next on the list with a 14-2 record (.875) against the Orioles. Meanwhile,
Bronson Arroyo
is 1-5 against the Phillies in the regular season with a 5.54 ERA, his highest earned run average against any National League team.
The Reds counter with Bronson Arroyo, who enters with a 7.41 career postseason ERA. Of the 462 pitchers to throw at least 15 postseason innings in their careers, Arroyo's ERA ranks ninth worst. One matchup to watch is when Arroyo faces
Ryan Howard
, how has two hits and four strikeouts in six career at-bats against the righty.
Umpire Bruce Dreckman will have the plate in Game 2, and both pitchers have pitched well in their careers with Dreckman calling balls and strikes. In five starts, Oswalt has a 2.30 ERA and 29 K vs three BB, but no wins to show for it. Arroyo has four starts, and is 3-0 with a 2.49 ERA, 20 K and 8 BB.