Stats & Info:

Reggie Jackson
January, 17, 2014
Jan 17
1:31
AM ET
By
ESPN Stats & Information
| ESPN.com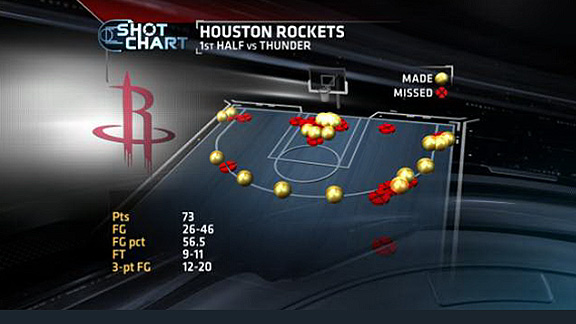 The Houston Rockets' 73 points were their most in any half this season.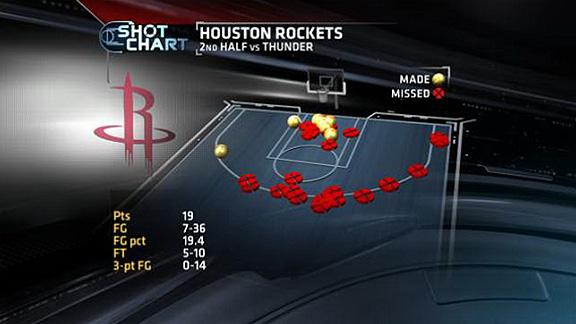 But they couldn't buy a basket in the second half.
The best of halves and the worst of halves for the
Houston Rockets
happened on the same night.
The Rockets set an NBA record for the largest point drop from first half to second half in their loss to the
Oklahoma City Thunder
.
The Rockets scored 73 points in opening half, but managed only 19 in the second half.
The Elias Sports Bureau also noted that the Rockets became the first team to score at least 70 points in the first half, but score fewer than 100 points for the game. They also became the first team to score 40 or more points in a quarter, then follow that up with consecutive quarters in which they scored 10 points or fewer.
They scored more points in the first three minutes (11) of the game than they did the entire third quarter against the Thunder.
The 19 points were the fewest by any team in a half this season and tied for the second-fewest by a team in a half in the shot-clock era, surpassed only by the 16 points the New Orleans/Oklahoma City Hornets scored against the
Los Angeles Clippers
on March 1, 2006.
Of lesser historical significance, but also of note from this game:
•
Kevin Durant
extended his streak of consecutive 30 point games to five, four games shy of his career high.
•
Serge Ibaka
made at least 10 field goals in a game for the sixth time in his career. His 10-for-13 from the field was the second-best shooting performance in those games, trailing only an 11-for-13 against the Rockets last season.
•
Reggie Jackson
scored 23 points. He has scored at least that many in three games this season. In the past two seasons, he scored only 23 or more points once.
December, 27, 2013
12/27/13
11:47
PM ET
By
Ryan Grace
and
Sunny Saini
| ESPN.com
Christian Petersen/Getty ImagesRussell Westbrook is out until after the All-Star break following arthroscopic knee surgery
How much will the
Oklahoma City Thunder
miss
Russell Westbrook
after Friday's announcement that he is out until after the All-Star break? Consider this, Westbrook and
LeBron James
are the only players averaging 20-points, five assists and five rebounds per game this season.
With Westbrook on the court, the Thunder are averaging nearly seven more points and five more assists per game.
They play at a much faster pace and create more fast break opportunities, ranking second in the NBA in pace with 101.1 possessions per 48 minutes.
When Westbrook is off the court, the Thunder rank dips to 16th with 96.7 possessions per 48 minutes.
In the month of December, Westbrook and the Thunder were operating on all cylinders posting a 12-2 record before his injury.
Westbrook's true shooting percentage of 55.3 was on pace for a career high in a given month and the Thunder's point differential of +11.1 was by far the best in the NBA.

Kevin Durant
will also miss his running mate as the two are the highest scoring duo in the NBA this season. Some of that scoring load will now be placed on the shoulders of
Reggie Jackson
who will be reinserted into the starting lineup.
Jackson has averaged a career-high 12.5 points per game and posted a career-best effective field goal percentage of 51 percent this season.
Much of Jackson's success is due to his pick-and-roll efficiency as he's become one of the league's best scorers on pick-and-roll plays averaging 0.89 points per play (League Average: 0.73).
Which lineups work without Westbrook
Without Westbrook, head coach Scott Brooks will have to manipulate his lineup to produce the best results on both sides of the floor.
The Thunder's most offensively efficient lineup, that didn't include Westbrook, featured Durant, Jackson,
Steven Adams
,
Nick Collison
and
Jeremy Lamb
. This group averages 116.3 points per 100 possessions, the best rate among any Thunder lineup that has played at least 40 minutes together.
The most defensively efficient group featured Durant, Jackson,
Kendrick Perkins
,
Serge Ibaka
, and
Thabo Sefolosha
who limited opponents to 78.4 points per 100 possessions.
The Thunder are 3-1 without Westbrook this season, but the numbers show they need their point guard back healthy to maximize their offense and make a legitimate run at an NBA title.
November, 28, 2013
11/28/13
12:28
AM ET
By
ESPN Stats & Information
| ESPN.com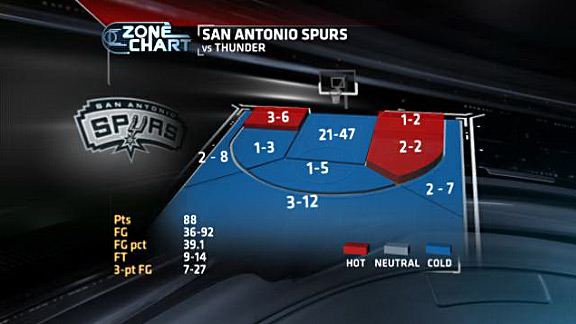 The Spurs had a rough shooting night in their loss to the Thunder
The Elias Sports Bureau noted that Wednesday marked the first time in NBA history that a pair of winning streaks of 11 or more games ended on the same day.
What were the keys to victory for the
Oklahoma City Thunder
and the
Phoenix Suns
in stopping the 11-game winning streaks of the
San Antonio Spurs
and
Portland Trail Blazers
?
For starters, Thunder in control
The Spurs starting five (
Tim Duncan
,
Kawhi Leonard
,
Tiago Splitter
,
Tony Parker
and
Danny Green
) was outscored by eight points in its time on the floor.
The Thunder's starting lineup (
Kevin Durant
,
Serge Ibaka
,
Kendrick Perkins
,
Thabo Sefolosha
and
Russell Westbrook
) outscored the Spurs by seven when on the floor together.
Jackson delivers
On a day in which Durant and Westbrook were a combined 12-for-39,
Reggie Jackson
came off the bench to match his career high in scoring with 23 points in 26 minutes, on 10 of 14 shooting from the field.
Jackson is 19 for 29 from the field in his last three games, including 15 of 21 on his shots in the paint.
Dragic at his best
Goran Dragic
had 31 points and 10 assists for the Suns. It is the second 30-10 game of his NBA career. Dragic was one point shy of tying his career high. He's averaging 22.6 points in his last five games.
Dragic is 8-for-16 in this five-game stretch on 3-pointers taken between the wings (in other words, straight-on, or close-to-straight-on shots. He opened the year by making only 1 of his first 8.
The Suns have gotten the most out of Dragic all season, averaging 109 points per 100 possessions with him on the count, compared to 96 points per 100 possessions with him off the court.
Frye high
Channing Frye
was 10 for 12 from the field, including a perfect 7 for 7 from 2-point range. That marks the best perfect shooting day from 2-point range in his career.
He's also now 14-for-29 from 3-point range in his last four games.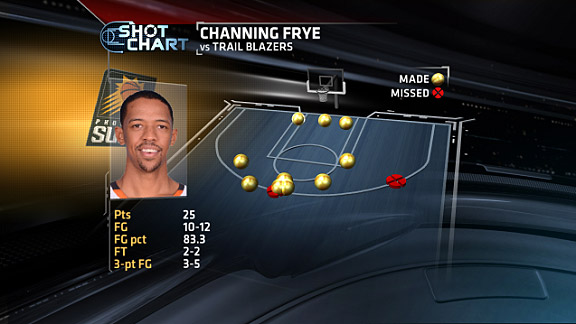 March, 12, 2012
3/12/12
2:40
PM ET
By
Alok Pattani, ESPN Stats & Information Group
| ESPN.com
The College Basketball Power Index (BPI) was not designed to predict which teams would make the field of 68, but rather which teams deserved to make it based on merit.
Of the 68 teams, 63 -- or more precisely, 32 of the 37 at-large teams -- would have made the field if it was selected entirely using BPI. The best at-large team that didn't make it was Arizona (37th), and the worst that did make it was Colorado State (70th).

Iona and Xavier made the field with BPIs that ranked 52nd and 53rd, respectively, which would have put them just outside the field on the BPI bubble. But Colorado State was a more vexing choice, according to BPI, although the Rams likely were helped by an RPI in the top 30. The only at-large teams over the last six seasons with a worse BPI rank than Colorado State were VCU last season (78th) and Michigan (72nd) in 2009.
Talk after the selections was more about if any school was snubbed, it was likely Drexel (which won 25 of its last 27 games) or Pac-12 regular-season champion Washington.
Let's take the biggest snubs by BPI (Arizona and Miami), the most egregious inclusions by RPI (South Florida and Colorado State) and the two teams most people felt were unfairly left out (Drexel and Washington), and scrutinize their résumés.
You can make the case for Colorado State and South Florida based on each team's three top-50 wins, but both also have two bad losses (vs. BPI 101-plus). The Bulls had just two wins against teams in the tournament (Cincinnati and Louisville), and only five of their Big East wins came by double digits. (Four wins came by three or fewer points.) The Rams have nice wins against top Mountain West teams but also double-digit losses to the same conference opponents. For both teams, their RPI is well ahead of their BPI, the likely reason they got in.
Arizona had nine wins vs. top-100 opponents, tied for the most among Miami, USF, CSU, Washington and Drexel. Also, five of the Wildcats' losses came by four points or fewer or in overtime, all to solid opponents, and not one of their losses came by more than 11 points.

Miami has two of the best wins among any team in this group, winning at Duke and beating Florida State by 16 points. The Hurricanes played worse with
Reggie Johnson
out earlier during the nonconference portion of their schedule, which BPI takes into account by deweighting those games. Five of Miami's eight losses since conference play started came by five or fewer points.
Washington beat Arizona twice and Stanford once but lost at least once to every other Top-100 team in the Pac-12. The Huskies won the regular-season title by consistently beating up on the dregs of the conference. They played some good teams close early in the nonconference schedule but were hurt by losses to UCLA and Oregon State to end the season.

Drexel has a lot of wins and ranked 18th in the BPI "raw rating" (before taking into account strength of opponents), but the Dragons were hurt by a weak schedule (185th in BPI SOS). They played only five games against opponents with double-digit BPI ranks, with their best win against 49th-ranked VCU. Despite the great record, Drexel had an unfavorable RPI as well, which likely conspired to keep the Dragons out.
March, 22, 2010
3/22/10
1:57
PM ET
By
Lee Singer, ESPN Stats & Info
| ESPN.com
It didn't take long for
Chris Davis
to find success at the major league level. The Rangers first baseman burst onto the scene as a rookie in 2008 posting a .285/.330/.549 line with 17 home runs in his first 80 big league games. Expectations were high going into 2009, but Davis failed to live up to his rookie hype, sinking to a .238/.284/.442 line in 113 games while striking out 150 times. Through his first two Major League seasons, Davis is in rare air historically.
The Play Index tool on baseball-reference.com shows how historically high, or in this case low, Davis' career contact rate is. In the simplest terms, contact rate measures a hitter's ability to put the ball in play. Davis' contact rate is the lowest in Major League history for a player 23 or under over the course of his first two seasons played. To put it another way, nobody at Davis' age and experience level has struck out at the rate he has. Ever. Still, despite his propensity to swing and miss, hope remains for the first baseman, especially when you compare him to some other sluggers with historically low contact rates at his age.
Eight of the nine other players on the list became All-Stars during their careers, with some ranking among the greatest home run hitters of their generation. What Davis lacks, compared to this group, is plate discipline. Davis' career walk-to-strikeout ratio is .18, the worst of the nine players. For reference, the MLB average in 2009 was .50. Players who struggle to make contact and have well-below-average plate discipline typically don't last long in the big leagues.
However, many of the players on the previous list made improvements in their third seasons.
Five of the players equaled or bettered their contact rate while four did the same for their walk-to-strikeout ratio. Only Reggie Jackson and Darryl Strawberry improved both. Davis has a long way to go to be compared to Jackson or Strawberry, but there are some positives to go on. After spending 44 games in Triple-A, Davis improved his contact rate by almost 20 percent, raising it from 56 percent in the first half to a respectable 73 percent after returning to the big leagues. His walk-to-strikeout ratio still sat at .19, however. With highly-regarded prospect Justin Smoak pushing for playing time at first base, 2010 may be a make or break season for Davis. Season-long improvements in his contact rate and plate discipline will go a long way in determining whether his career path rivals Pete Incaviglia or Reggie Jackson. This makes him One2Watch4.